Engagement Session in Chester Woods Rochester Mn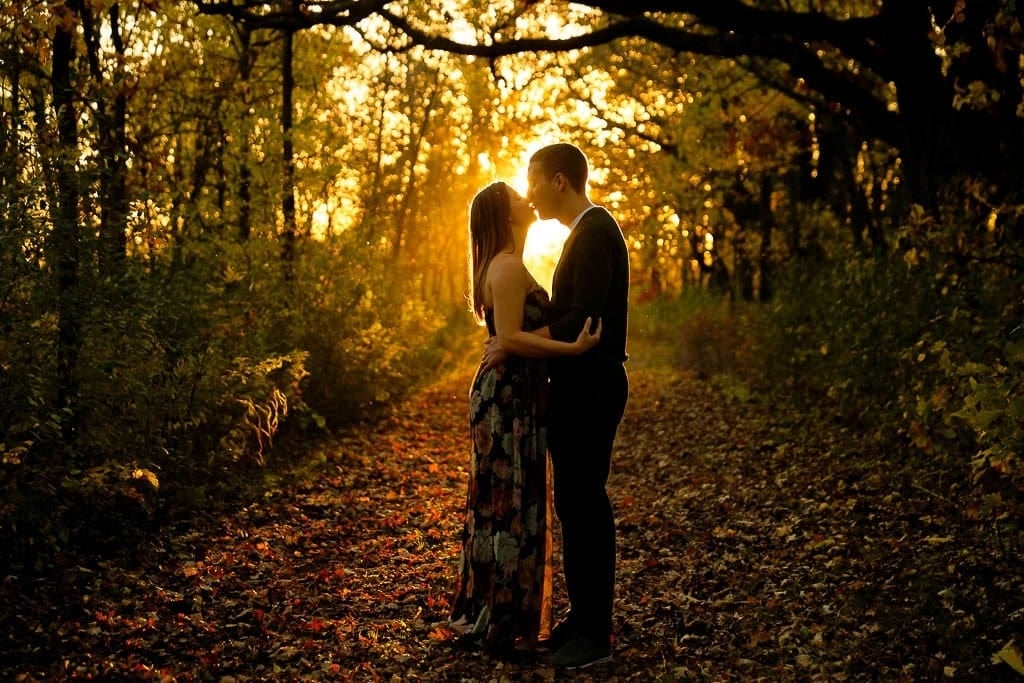 Engagement session Chesterwood Rochester MN
Today, let's come back to the Laura and Alexandre magical engagement which took place in a place that I really love Chester Woods Park, located close to Rochester, MN, in Eyota. It is for me the opportunity to present this amazing park to you.
With an outstanding location, a stunning light and and dazzling couple, I had all the ingredients to capture great images. First let me quickly introduce those two lovers, and how we got in contact.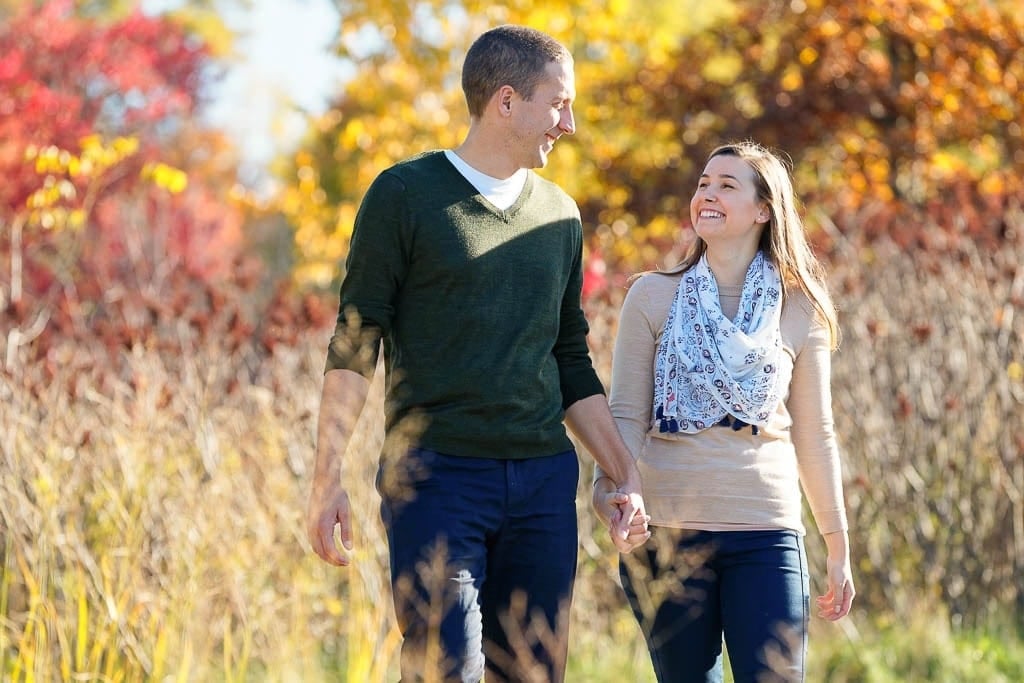 Smart and Beautiful Couple
Laura and Alex are both super smart people working on complicated technology to cure disease. They meet during their studies, and now they are both working for the Mayo Clinic. Contrary to many Mayo Clinic employees, they didn't meet at Minneapolis at the University of Minnesota, but at the University of Ottawa, in Canada!
After Alex made his proposal, he didn't contact me directly, neither Laura. It's actually one of Laura's best friend (living in Canada), who reach me through my website! She was very happy for them and want to offer them this engagement session as a surprise. The less we can say, it's that an awesome gift!
Then I met Laura, during her break time in a coffee shop. After we discussed the details, we meet again a few days later to shoot their engagement session at Chester woods just before the sun set.
Chester Woods, Just an Amazing Park
Located in Eyota, 15 min driving from the MedCity downtown, this park feature numerous natural resources and thus is a real treasure for anyone who loves nature and animals. Indeed, if you are lucky like Laura and Alex were, you path might cross the road of a whitetail Deer or Wild Turkeys.
With 1330 acre of natural lands, the main function of this artificial lake (water reservoir) built by the Olmsted County, is actually to prevent flood. The reservoir sustains a river and features some forests, meadows area, high grass area, and a breathtaking bluff, this park it's definitely a place to enjoy the Southern Minnesota's nature.
Finally, if you like biking and are tired of the Douglas Trail (who connect the MedCity to Pine Island), you might be happy to learn that The Minnesota Department of Natural Resources is building a new trail that will connect with White Waters Park!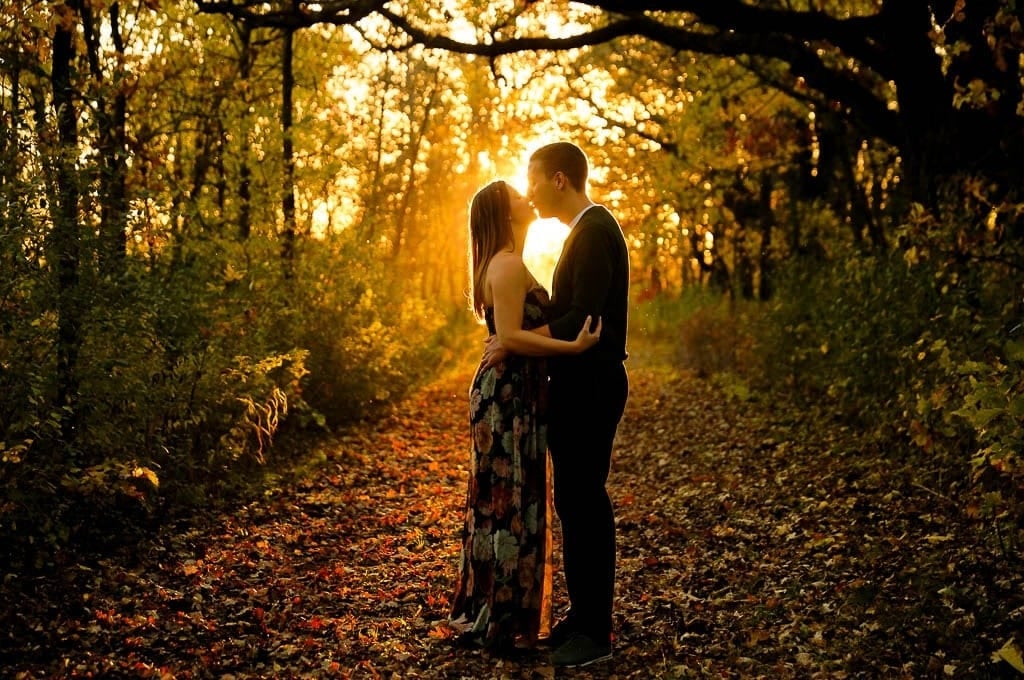 Trails and Campgrounds and other facilities for families
The most popular activities of the park are probably located around the lake. A large campground attracts tourists from other states, such as Iowa, Wisconsin and even Chicago!
Indeed, during the summer, the lake offers a beach for the kids, with several boat ramps, decks, canoe and kayaks renting, and a bunch of fish in the water to catch. You can also find a playground and two picnic areas.
During winter, the lake is covered by people ice fishing or skating.
But, to be honest, the most beautiful (and photogenic part of the park), is located beyond the lake, and you need to walk a bit on the trails to reach it.
Indeed, you can find on the other side of the lake, a trail, on the top of the bluff, with an open view on the valley. That's an amazing place to take a picture.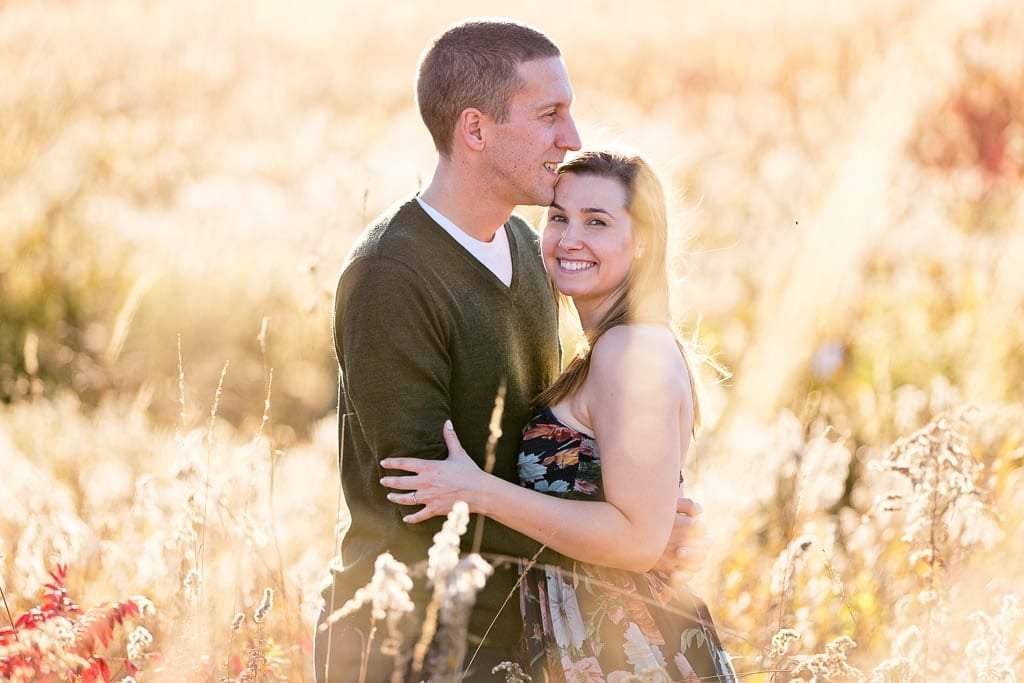 Photogenic High Grass and Meadow
Those high grass is loved by photographers. They allow creating plans, and thus accentuate the depth of field in pictures. The park features a bunch of different plant species, and two tree identification trails to learn more about native Minnesota trees.
A Place for Lonely Less
The Olmsted County explains that the Legacy Trail is designed as a place for reflection. I believe they managed to achieve their goal. Indeed, except close to the water, you almost never cross the path of other residents (or a very few number). And, if you hike further than the river, then you chance to meet a walker are even thinner.
In consequence it's a really good place to take photos for shy people or session that require intimate, such as maternity session!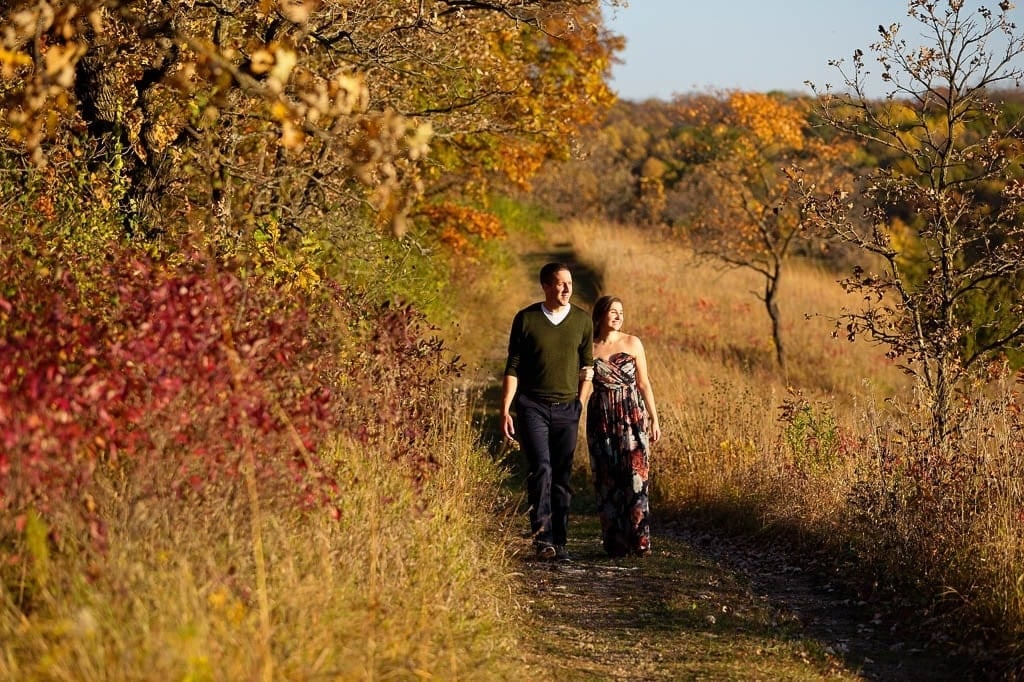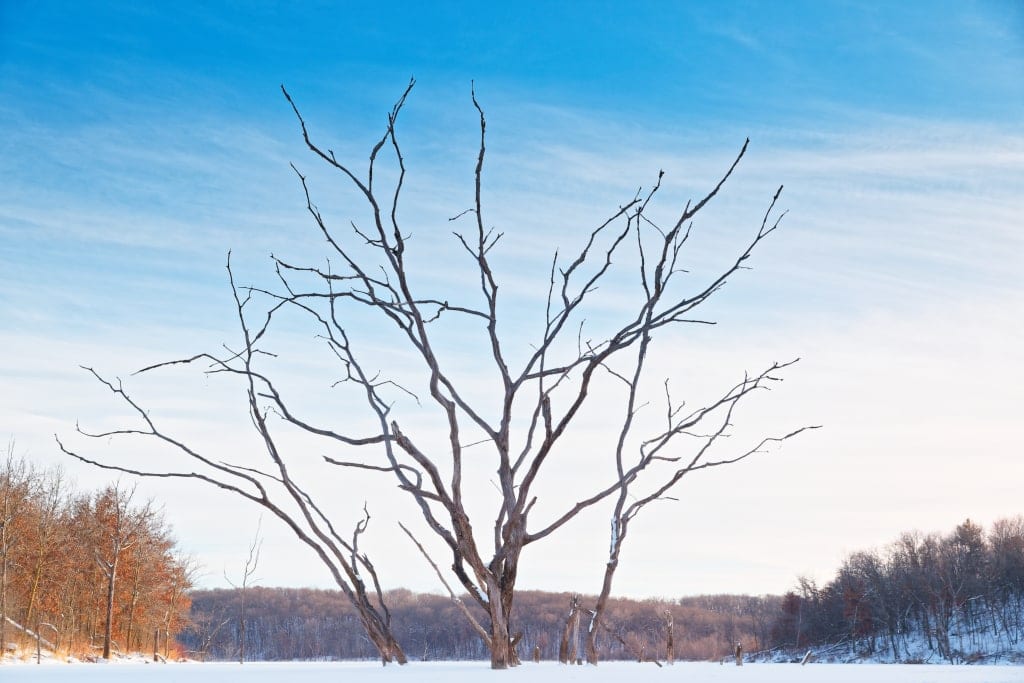 Frozen Lake during winter
I love to shoot engagement in Rochester after a snowy day. Indeed, the snow literally transforms the Minnesota landscape offering a variety of new options. For instance, given that Chester Wood is a recent artificial reservoir (build in 1994 over a forest valley), you can still see the top of some emerged dead oak tree that remains, coming up across the layer of ices when the lake is frozen.
That's a fantastic landscape reminding me some desolated landscape featured in some science fiction movies!
A very small entrance fee
This park is managed by the Olmsted County and you need to pay a small fee at the entrance. That's the only negative point.
Chester Woods vs. Quarry Hill
Chester Woods Park is located only 5 driving from Quarry Hill. This last one, despite its smaller superficies, offers more variety of landscape, which is great for photography. For instance, Quarry hills has some pine tree, that are appreciated for snow pictures, while Chester Woods hasn't.
That said, despite the lack of a lake, Quarry Hill Park can be really crowded during winter. Indeed, this park hosts a lot of events and educational programs.
Chester Woods vs. Oxbow Park
Oxbow Park, located in Byron, is also large park spreading on 624 acres (compared to the 1330 of Chester Woods).
While it does not have any lake, it's crossed by the Zumbro River. The park is surrounded by high hills (allow you 20–30 min to climb to the top). I usually cross the path of deer when hiking in the forest.
Despite two noticeable high grass fields (one close to the entrance, and another one on the top of the hill), it offers significantly less high grass and fewer meadow areas than Chester Woods.
Oxbow Park has a pine area, that are just my best sport for snow pictures!
Finally, this park features a zoo open almost all year long, which is fantastic for kids.
| | | | |
| --- | --- | --- | --- |
|   | Chester Woods | Quarry Hills | Oxbow Park |
| Superficy | 1330 acres | 212 acres | 624 acres |
| Forest | yes | yes | yes |
| Water | 114 acre lake + a river | 1 pound + creek | Zumbro River |
| High Grass area | yes | yes | yes |
| Fishing | yes | no | no |
| Camp Ground | yes | no | yes |
| Play ground | yes | yes | yes (educative one) |
| Center | no, but bathroom | Yes | Yes + a Zoo! |
| Cross Country Ski | yes (but no renting) | Many trails, ski and snow shoeing rental | Only 1 trail |
| Entrance fee | $5 once or $25 annually | no | no |
---
Other Similar Locations in Southeast Minnesota
If you are new to the North Star State (as I am), and you quickly get bored with the dull flat landscape offered between Minneapolis and the MedCity, then you might be interested to learn that there is the entire Southern Minnesota is actually not like Iowa! By contrast, there is a large area covered by high hills! I have been lucky to discover that driving to Chicago and then digging on the internet.
Indeed, the area located between Lanesboro, Winona and the Houston County is mostly hills and rocky mountains. Found bellow three locations that I like, but there are much more.
Whitewater State Park
Located half an hour at east of the Medcity this park offer a spectacular panoramic view on the valley. During summer, you can enjoy a small lake with a beach near the parking, but the park is probably more famous for his hiking trails going true rocky bluff.
Kellogg-Weaver Dunes
Located at the extremity east of the North State (facing the Wisconsin), the Dunes place is a geologic curiosity of Nature. It is covered mostly by high grass, which makes it a great place not only for hacking but for photo sessions.
Great River Bluffs State Park
Located on hour driving to the east, on the bluff, facing the Mississippi, this park offers forest and meadows. It's a nice place for a long walk without meeting anyone.