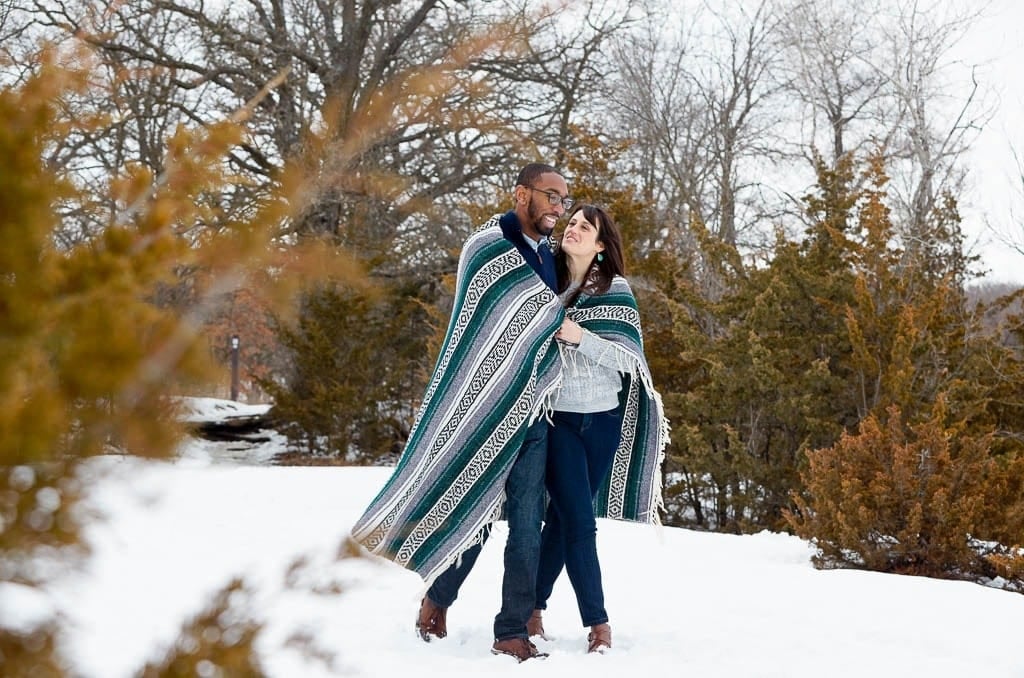 Winter session at Quarry Hills, Rochester Mn
Winter Engagement Session Quarry Hill Rochester MN
I first met Leah and Josh at a the unique wedding fair that does not take place in Minneapolis, but in Rochester, MN at the Civic Center. I had just created French Touch Photography, and It was my very first wedding show (and probably one of the last one).
We immediately got in touch among all other vendors. A couple of days later, we met at the Steam Cafe (Downtown on Broadway), and they told me they were already engaged.
They were planning to host their wedding in a special venue, the Steeplechase Event Center, and also wanted an engagement session in Rochester, Minnesota. As a Wedding Photographer Rochester, MN, I was immediately excited, and suggested them a place famous for families and seniors college to have their portrait taken: Quarry Hill for their photo shoot.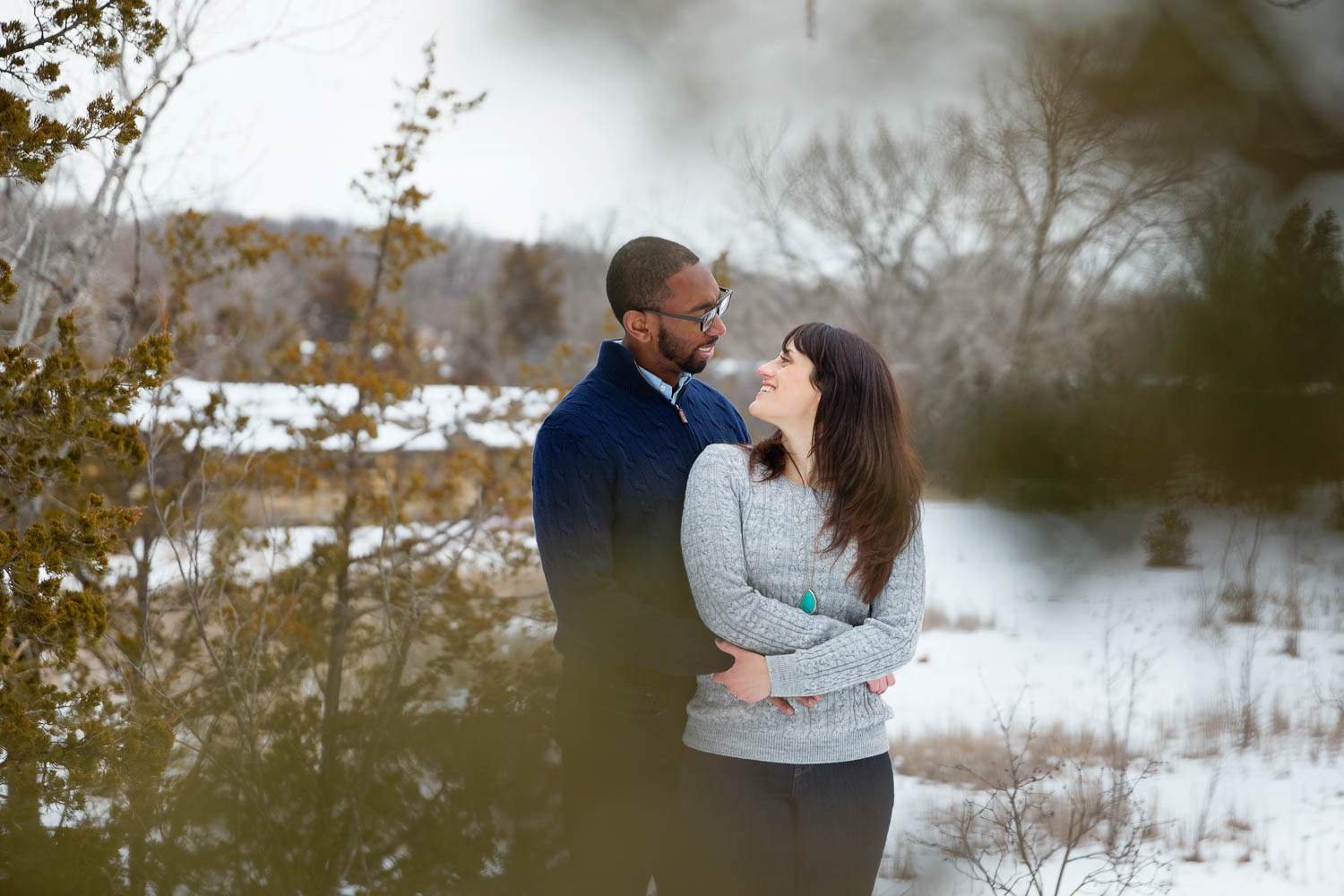 Quarry Hill, a perfect place for your photo session in Rochester, MN.
Love by adults and kids, Quarry Hill is the local park with a nature center. It's not as big as a state park, but big enough for an engagement photography session in Rochester, MN. The park offers beautiful landscapes, with lakes, meadows, wood and scenic overview of the wilderness.
As you may guess from its name, there is a big hill (some would say bluff), quarried in limestone, easily accessible through a trail. All this is concentrated on 20 acres of land, with trails for hikes or walks, and a preserved wildlife environment. It's a lot of diversity for your picture background!
What's more, it's free admission, they don't require photography permits for your engagement session and (usually) there aren't many visitors! So, if you are a resident of Rochester, or if you drive from Minneapolis in order to have your engagement photography done, you should consider this recreation park!
Engagement Session During a Snowy Day
If you are not afraid of low temperature, then snow could be a great asset for your photo session. It is clean and creates a romantic background, even if the sky is cloudy or the sunset is occurring.
For a close-up portrait, it is more or less like a white background in a photo studio but it includes wildlife.
Leah grew up in the Rochester Backcountry and was ready to fight the snow with her tiny boots. She was more than brave!
Josh came to The North State to work for the Mayo Clinic, and it's how he met his beloved. He was not a big fan of the cold, but dealt with it pretty well. He was pretty excited, always smiling and making jokes!
It was very easy for me to take candid photo shoots of this couple. We also did a couple of candid portraits.
A Good Idea for Your Engagement Session: Take a Blanket
It's the kind of props you see a lot in photo sessions: a big blanket. Leah and Josh brought their own from a southern state. It kept them warm and gave to their pictures a touch of something unique.
You can also bring champagne and glasses. (For more ideas, check at my engagement session recommendation page).
We also played with smoke bombs for a couple of minutes and had the sunset for the last pictures.
To conclude, I can't say enough how important is the engagement session. I'm deeply convinced it is the best way to know your professional photographer before your wedding day.
It's imperative that you feel at ease and relaxed with him on your big day while he is capturing all your special moments. Your wedding photograph is your heritage! In fact, at the end of the engagement session we are not strangers anymore. And for Leah and Josh wedding photography, I can't say how much excited I was to capture their ceremony at the Steeple Chase event center. But this is another story!
Other parks in Rochester
Oxbow
With snow covering Minnesota, locations such as Rochester Golf Club would be closed. Luckily, there is another park in Byron, loved by families: Oxbow Park.
It's a great location for engagement session offering a variety of landscapes such as pine forest, open meadows, rivers (Zumbro), forest and hills.
Despite the fact that it has some stone formations, those are not easily usable for photography (difficult access making it dangerous).
Chester Woods Park
If Chester Woods Park is my favorite place to hike in Rochester Minnesota, it's probably because it's spread on acres, offering a large variety of resources, such as an artificial lake, a very large forest, many meadow areas, hills, creaks, high grass and bluff. Contrary to Quarry hills, to enjoy the 12 miles of natural trails you would have to pay the Olmsted County a fee.
Want to learn more about Quarry Hill ?
Did you know that before being the residents famous recreational park, this place had a previous life!
A foundation created in 1960
Create in 1960 it maintains the same direction: to protect the nature and the historical heritage.
Indeed, it has many layers of history! As you can guess by its name, it used to by a limestone quarry. The stone was used to build the Mayo Clinic and other individual houses. Today, lots of historic site remains, such as soap house, a fireplace, a cap shack, a reservoir and a an man-made cave used for food conservation in 1882. Behind, you can find the first cemetery of the Town.
The second layer of history can be found in the limestone itself, featuring many fossils!
Thank to its preservation direction,  the nature center offers a lot of ludic activities, for all kinds of participants: from kids, to adults and seniors.
Children would enjoy not only the play ground (my child is a big fan).  But in addition, parents would also enjoy the large variety education provided in the natural centers. There is actually several volunteers helping at the foundation all year long.
Students would have fun climbing walls, discovering the animal's way of life.
In other words, every individuals can enjoy the numerous activities offers.
More than Protecting the nature of the SW, a place of life
If it can be crowded during the weekend (and not only due to the engagement sessions), it's because Quarry Hill offers more than natural resources, but activities and game for participants such as
miles of trails for hiking
cross-country sky and snowshoeing renting (thanks to volunteers)
Birdwatching and bird education (great for a child)
fossil hunting
fishing and ice fishing
honey bees hives
The nature center hall, with raptors fossils, stuffed animals and aquariums with live animals.
Many educational programs for students (classes, summer camps).
To conclude, more than a photogenic location, Quarry Hill give to the residents a place where individuals can meet create bonds among the community. In other words, it plays the role of the local social organization centered on the nature.