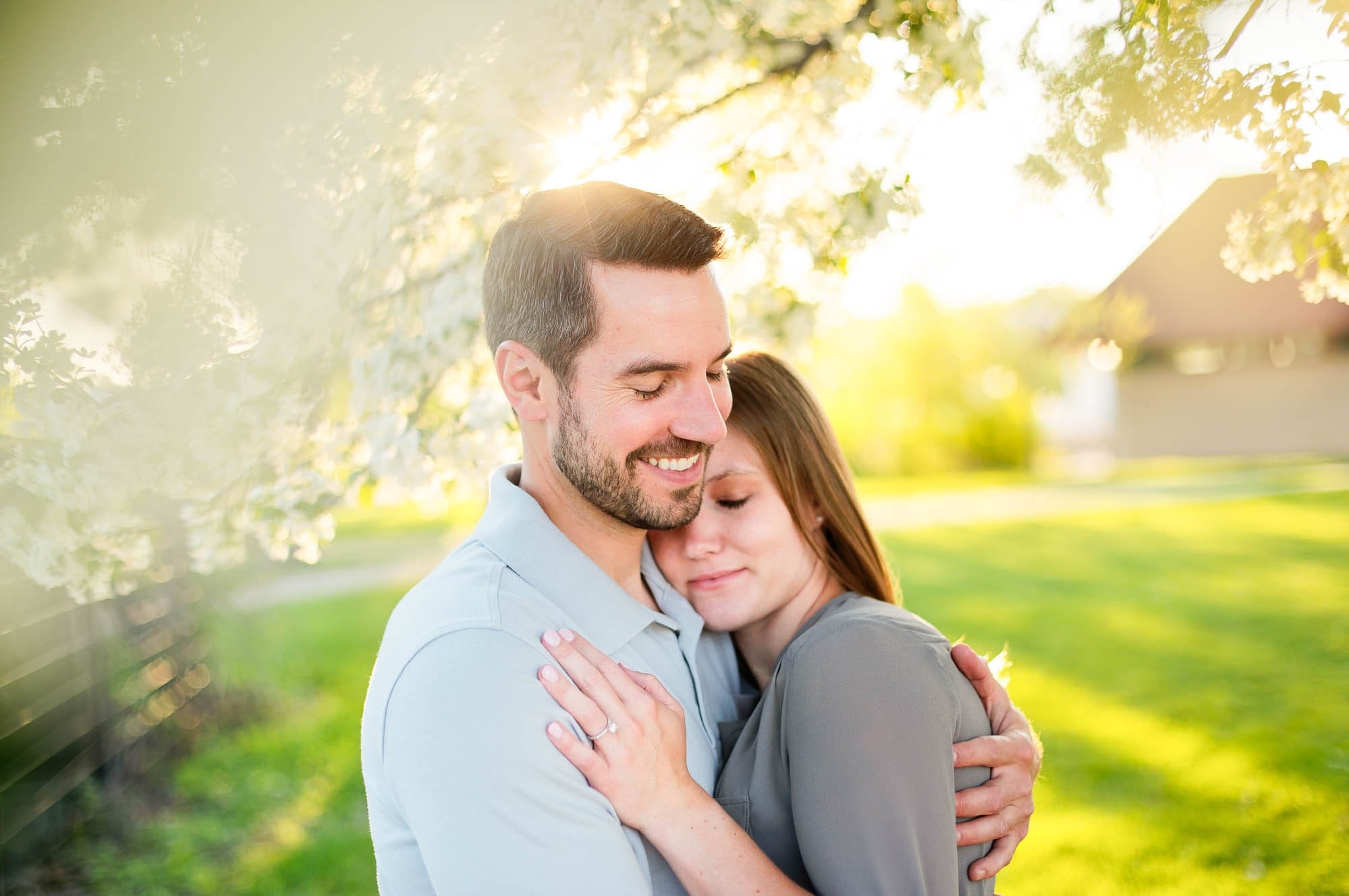 All You Need to Know Before Having your Photos Taken.
Photographer for engagement session Minnesota
After your fiancé bend on his knee asking you to marry him (unforgettable memories), it's time to stand in front of a camera for your engagement session in Minneapolis (or further in Minnesota).
Except if you already got married, that would probably be your first couple session! That's why it is pretty natural that you have a lot of interrogations and need some answers before to book your session.
Why it's so important to do an engagement session
How long before your wedding should we schedule it
What's the best time of the year
What's the best time during the day
Where should we go
What should we do
How should you dress
How many outfits and locations you can pick
By the end of this article, you will know everything!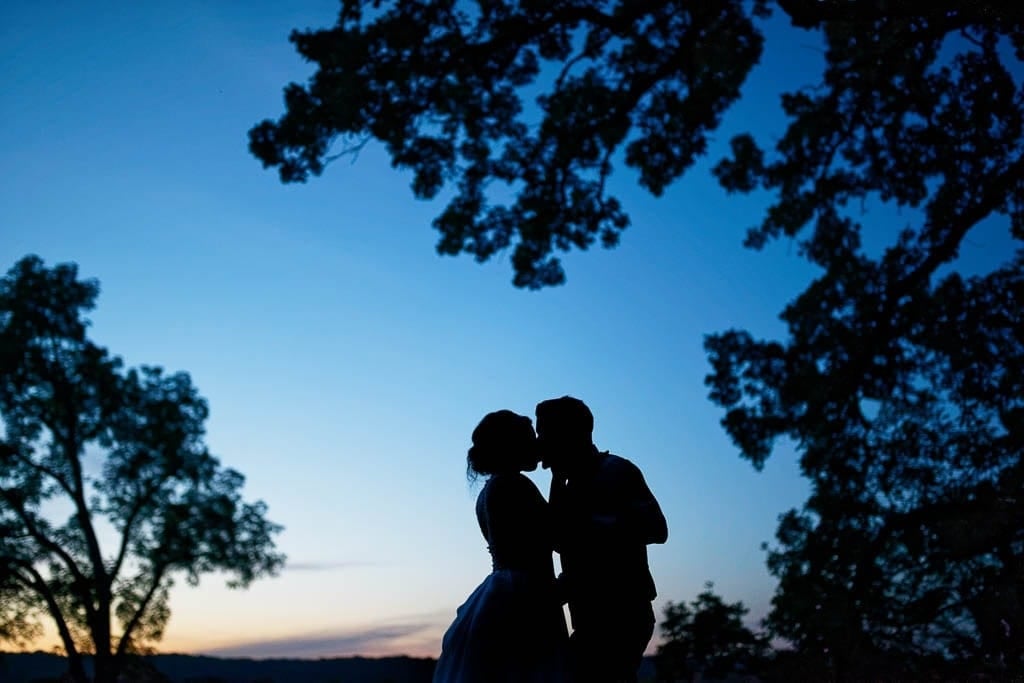 Why a photo session is crucial for you, your families, and me?
When you are searching for the best talented photographer in the cities, you expect to feel at ease in front of his camera. You want to have a great experience, have fun, take pleasure, and most of all, you want to avoid a weird and unpleasant moment doing some cheesy smiles.
For this purpose, having a session prior to your wedding coverage is a must-do.
Indeed, you will meet your vendors during the first face-to-face consultation. That may indicate you if it could match or not, but you won't be absolutely sure before having your pictures taken. That's the only way to really meet a photographer.
1/ You Open the Door to Raw Emotion
This may sound pompous, but think twice. You may realize that it would be much easier to reveal who you really are in front of someone you know than a total stranger.
Of course, we won't be BBF, but, as acquaintance, you will trust me and feel secure regarding my way of taking pictures: with respect.
As a consequence, I usually notice a clear improvement of the raw moments I can catch when I have already worked with the bride and the groom prior to their wedding.
2/ Your photographers would reassure you on the not-posed approach
Most people don't feel confident having their portrait taken. That's totally normal, and I can confess that I hate that too (at least, most of the time I make a weird face as soon as I see a camera). Indeed, except if you are a gorgeous woman or man, you might not like your image so much, and you might even have some apprehensions.
This is a good thing given that my approach is to ask you not to pose. Instead, I try to create an interaction between you two (and sometime me), in order to catch your real smile and authentic reaction.
Indeed, I deeply believe that everyone can be good-looking, even the hugest guy in the world. I am not speaking of changing the face, but more to catch the essence of the soul. There is a nice man (or woman) inside each of us. My job is to make you drop your guard and reveal the child who is inside.
3/ You Learn What to Do
Another important reason to have an engagement session is that you literally learn what to do, and what to avoid. Should you hold hands, or not, how should you kiss, how should you hug, etc.
These are points we will work on, so the day of your marriage, you already have some experience, and everything goes faster and better.
4/ It helps me taking better images of the husband and wife
Finally, the last reason I love these sessions is because it helps me catching better pictures on your big day. I will know what to ask you for. I will know you much better, so I can prepare a couple of jokes for you to make you feel even more at ease.
Finally, this could be compared to test shooting that do fashion photographers. Before shooting a campaign with a model, they first shoot her/him in order to know her/him.
Knowing you better also gives me a better idea on your family and your bridal party. And all that helps me feel reassured and not stressed, makes me highly improve my creativity and thus the level of your photography coverage! Because, after all, I am not just an operator, I am, like you, a human.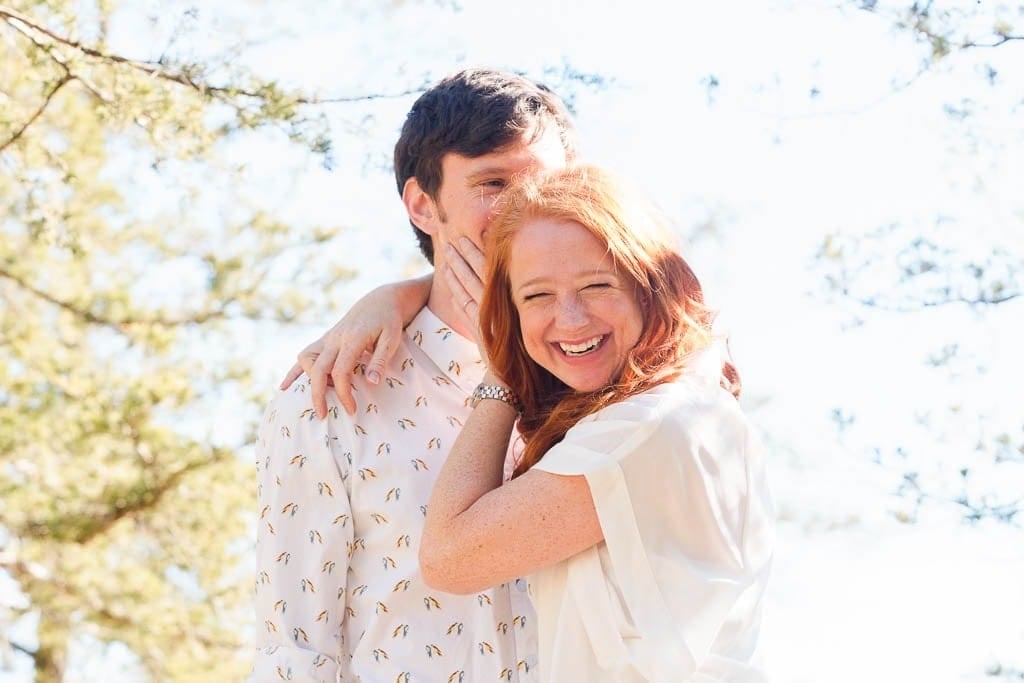 Do you really need an engagement session?
Many photography vendors don't offer this session. It's also a (bad) way to bring the price down. At French Touch Photography, we understand and we simply offer you the session.
There is no vital obligation to do it, but as you understand, that would give you:
a better experience
a faster session on your D-Day
better pictures
When to schedule it?
After talking about the reasons why, let's enter into the practical side of the question. So when should you schedule your session?
How long before your wedding should we schedule it
Most people have their photos taken one year to six months prior to their wedding.
Let's say, for any reason, you don't like your photographer, or the picture. Then, you still have the time to find another one.
What's the best time of the year to have your pictures taken?
You might have noticed that, in Minnesota, 6 to 8 months of the year are pretty cold. So, basically, if you want outdoor pictures, try to choose a warm month.
Some people would look for a session during fall, which offers stunning colors.
Nevertheless, if you are not afraid of low temperatures, a winter session could give you great pictures, especially with snow, or in front of an ice castle!
What's the best hour during the day
We can have the softest light usually early in the morning, or late in the afternoon. The sunset (and the golden hours) varies depending on the month. I invite you to check it on Google to have a better idea.
Mornings are usually calmer than evenings. Also if you are planning on a highly frequented place, mornings might be a better choice.
Regarding popular places, another advice is to pick a weekday, when the location is less busy.
In all situations, try to avoid the noon light, it is the worst, creating some disgraceful shadows on your faces.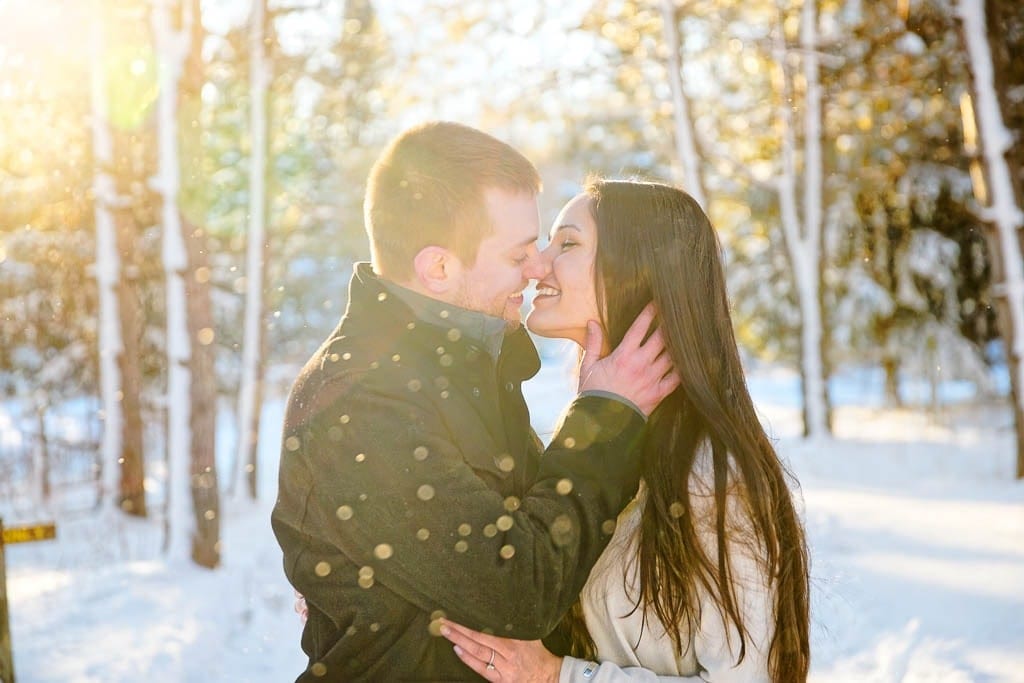 Where can you go in the 10,000 lakes state?
One of the most essential parameters to consider is your location. I have already written a long article on that, including an exhaustive list of locations, that I recommend you to read (you can access it through the FAQ).
There are a lot of nice parks including lakes in the suburb area. I love bluffs located alongside of the Mississippi River, and the Saint-Croix River.
The North of the state, with mountains, lakes, islands, rocks, and pines is extremely photogenic! Tiny towns such as Grand Marais or Lutsen could be a beautiful background for pictures. Of course Duluth is an amazing option, too.
But the south of the 10,000 lakes state has also remarkable beautiful landscapes and authentic old towns (Lanesboro, the hills near Mankato, Albert Lea downtown, etc.).
What are the greatest locations for engagement sessions near the Minneapolis?
If you don't want to travel, be reassured, you probably have a good location just 10min from your home.
Downtown Minneapolis or St Paul for Modern and post industrial
You don't need to cross all Minnesota to satisfy photographers' needs! For instance, the Warehouse District (check  wedding at Neu Neu, alias, 514 Studio), with all its red brick is a photogenic place. The post-industrial style works great especially in cloudy and cold day. The red brick brings a warm touch, and we won't notice the lack of leaves on the trees.
Modern buildings, with glass walls would delight people who love modern architecture.
The two cities have both old and new districts, including old and new buildings, depending on your preferences.
Nature In Twin Cities Suburb Aera
Immediate suburbs, such as Edina, located south of Minneapolis, offers both modern and natural landscapes for families and engagement photos. For instance, the Centennial Lakes Park, with its glass buildings, is pretty modern, offering a lot of different photo spots. But if you drive 10 min, you will find yourself in the middle of the nature. For instance, Frederick Miller Spring is a hill, covered by a wood, and offering breathtaking views on the neighborhood.
Plan B in Case of Bad Weather
If you book a winter session you know that, in addition to an outdoor landscape with snow, you need an indoor location in case of bad weather. That's the same for summer session!
Pay attention to feel comfortable in each place you pick. Check on Saint Paul, it offers a lot of public options, such as the Landmark Center, the Public Library.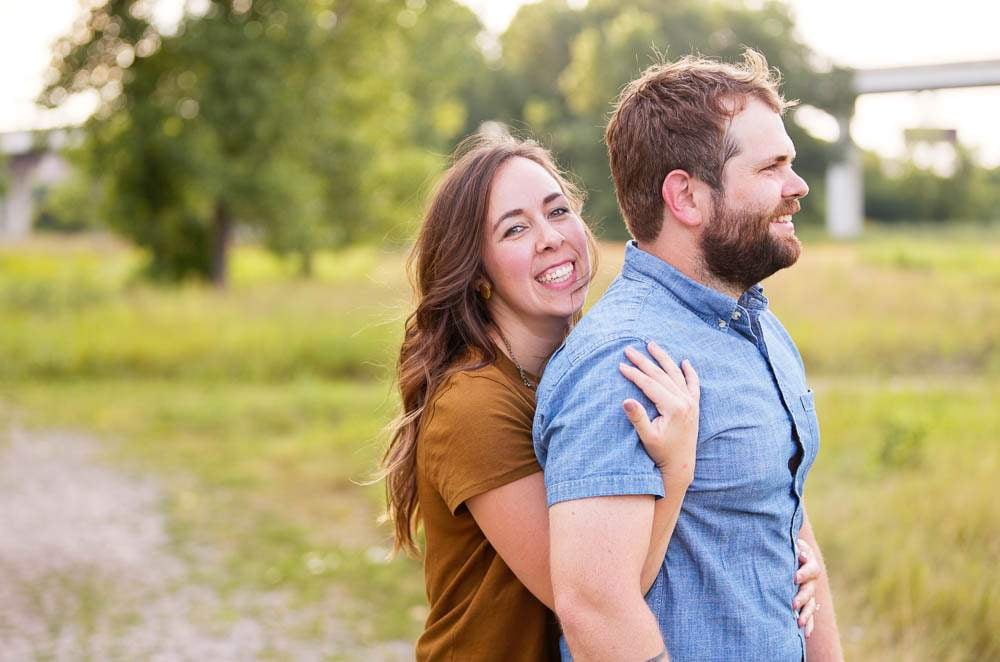 What Should We Do
The perfect situation for photographers is when you have an activity that you love to share. As a result you are deeply involved, and photographers "just" have to seize the moments, which is the essence of candid photography.
So you can play a sport, share an activity together. It could be as simple as drinking a glass of champagne. In one word: have fun!
Nevertheless I do encourage you to do more spectacular activities, such as air balloons, boat, canoe.
Check your local communities for ideas
If you are going into a park, check what activity they offer. You may find some inspiration. Check also the local activities. For instance, you could have fun in a fair.
How should you dress
When you are planning for a photo session, the second concern after the location, is the dressing.
Indeed, the way you dress will directly impact the quality of the images.
Most of the couples usually have 2 outfits. One formal one, used for pictures in the city, and one casual one, used for pictures with nature.
The key is to match the style, and to coordinate (not exactly matching) the colors together.
Dress accordingly to your personality
Clothes say a lot about your taste and who you are. Also, I would suggest you to buy the dress that you have always dreamed of, but also to remain faithful to your tastes.
One common mistake is to wear a sublime dress that you are not used to, and won't be at ease with it.
So stick to your personalities.
How many outfits and locations you can pick
Count 1 outfit for 1 hour of photo session. And depending on the location, we might stay there 30 min to 1 hour.
Some time we do all the session at the same place with only one outfit.
That's really up to you and your fiancé.
Frequently asked question and other considerations
Can you bring our child/children.
Of course! They are part of your family and that would make memories to cherish forever!
Can we bring our dog?
Of course yes!
What about your hair and makeup
Hair and makeup are super important. While most of the girls can handle their own makeup, I would recommend going to your hairstylist no more than one week prior to your session.
Can we bring props
Sure!
What happens in case of rain
If you want an outdoor session and the weather is terrible, then we can reschedule. Portraits are better with a good natural light.
Is there a limit of miles or location you can drive?
The only limit is the number of hours. If you have a package with unlimited hours, then, we can do whatever you want.
How long does it last?
You will see that after 3 hours, we start to be tired! Indeed, it requires a lot of energy!
How long before having our pictures?
Your pictures are ready one to two weeks after your session. You can download all the image on your web gallery.
Do you also provide other kinds of sessions, such as maternity, family portraits, movies?
That's also a question that couples ask me pretty often. Would I move to Minneapolis to take a picture of you when you will be pregnant?
Absolutely. Like most of the photographers, I do more than weddings. I also capture all kinds of pictures except video. I am delighted to do pregnant woman and family sessions. Boudoir session is a bit special and requires a studio. That's why I let boudoir sessions to specialized female photographers.