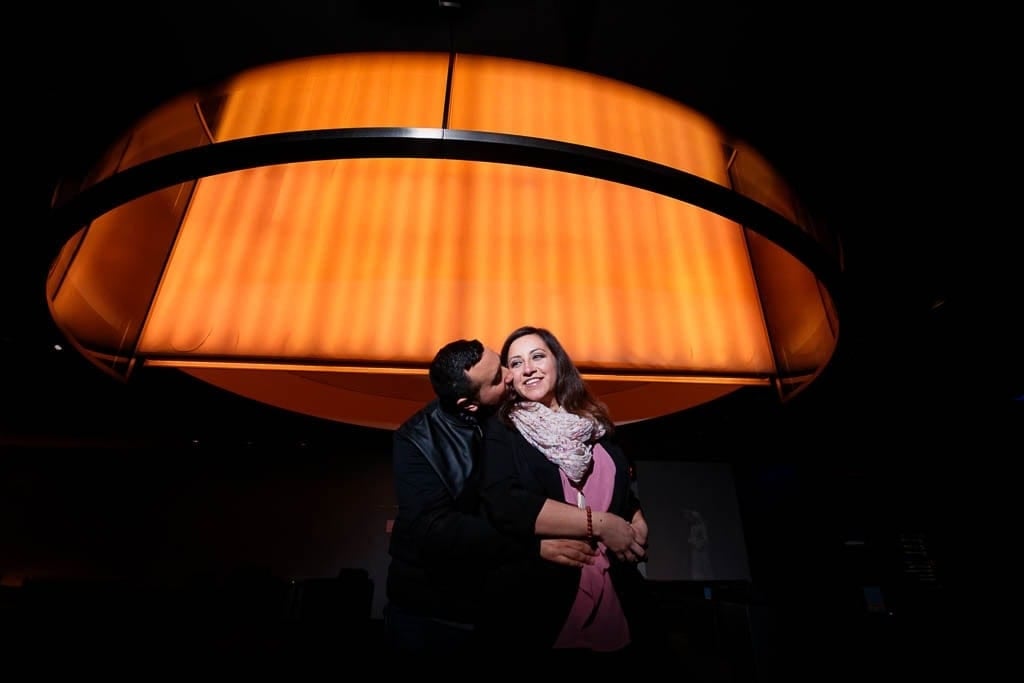 Guthrie theater engagement photos Minneapolis
Guthrie Theater Engagement Photos in Minneapolis
Some couple love nature park in the Twin Cities area (such as the Lebanon Hills in Eagan, MN) to showcase their mutual engagements. Other don't.Instead you prefer to stay in a big city to take advantage of the modern buildings. Then,  you may be interested in the Guthrie Theater. It's quite a famous place where photographers like to go, and it's adjacent to several other great photo spots.
Moreover, you are probably already familiar with this theater. You may have even dated your fiancé there at the beginning of your relationship? Indeed, when a man starts to date his wife-to-be, he usually invites her to the theater, see some production such as (Alice in Wonderland) to make her believe he is a smart and cultivated man, to end up watching Netflix series.
Jokes besides, let's dive into the advantage and the disadvantage of using the Guthrie Theater for your engagement photos.
The Guthrie Theater in Minneapolis, Minnesota
In my opinion, engaged couples who are looking for a professional wedding photographer in Minneapolis to capture with his camera their ceremony day in the Cities are also looking for great professional advice. They probably don't have any experience with wedding photography and need an experienced professional to help them make the distinction between the good ideas and the bad ideas.
So is it a good idea to go to this trendy black cube?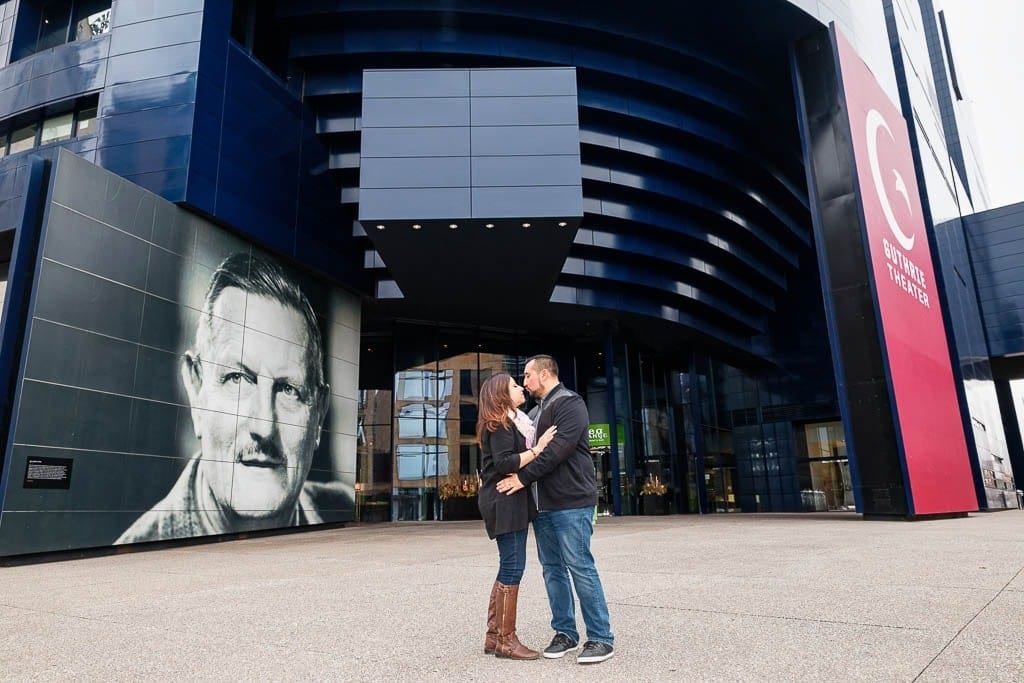 The exterior of the building (and a touch of history)
The architecture itself is quite remarkable. It has been designed by a worldwide famous architect and one of my compatriots: Jean Nouvel. The less we can say is that it's a modern styled building! Roughly, the building looks like a mix between an industrial building and a transformer truck. If you prefer, it looks like a giant spaceship which would have been designed with no consideration to the law of aerodynamic; it's all cubic.
It is a massive building, with a dark blue facade (like a dark jean). Some two-floor high black and white portraits are printed on the side of the facade with the figure of some artists and intellectuals who, a long time ago, actively participated in Minneapolis and St. Paul, MN, art life.
On the side of the building, a giant and massive telescopic arm (or The Endless Bridge) stands over the gold medal Park, facing the Mississippi River and offering a point of view on the Mississippi River, the Saint Anthony falls, and SE Main Street, on the other side of the river.
Fun fact, this building is actually the second building that hosts the Guthrie Theater. The prior location stood in front of the Walker Art Center. Today, it's been destroyed and replaced by the Sculpture Garden.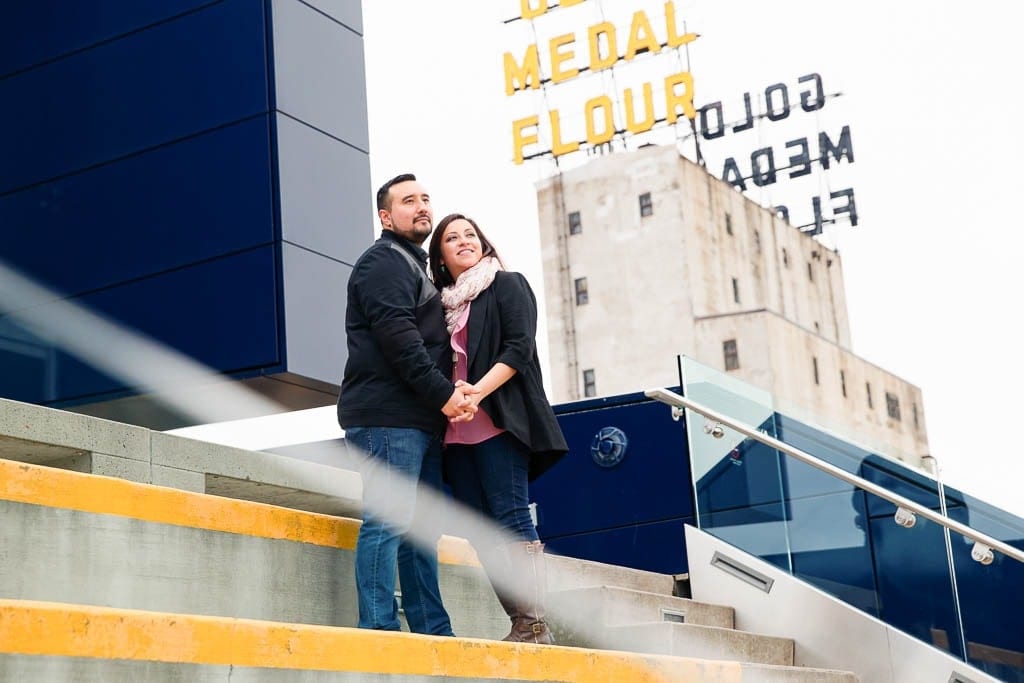 Indoor Option
One of the advantages of the Guthrie Theater is that you don't need any permit to take pictures inside. Also, this location might be a good backup option in case of rain. The inside's spirit of the building is similar to the exterior. The walls are covered with black, long and massive rectangular panels. The material is more functional than beautiful. In other words, it does not attract attention. The rectangular industrial shape is modulated using accentuated and dynamic angles and regular curve lines. There are few openings and windows on the building, but most of the windows are tinted glass.
The Yellow Room for a Ceremony
Yellow room is a medium-sized room, with a low and dark ceiling, with a dark floor reflecting the yellow light coming from the floor-to-ceiling yellow bay windows. The windows offer a scenic view on Minneapolis St Anthony falls and the Stone arch bridge.
Regarding the photography, it's pretty easy to create silhouette pictures. It's fun and always works great. But in order to obtain a natural skin color (not yellow), the photographer would need an external source of light such as a flash. Also, this is maybe not the best place for "natural and candid engagement photos".
Also, if yellow is your favorite color, you might be interested to know that you can rent this room for a wedding ceremony!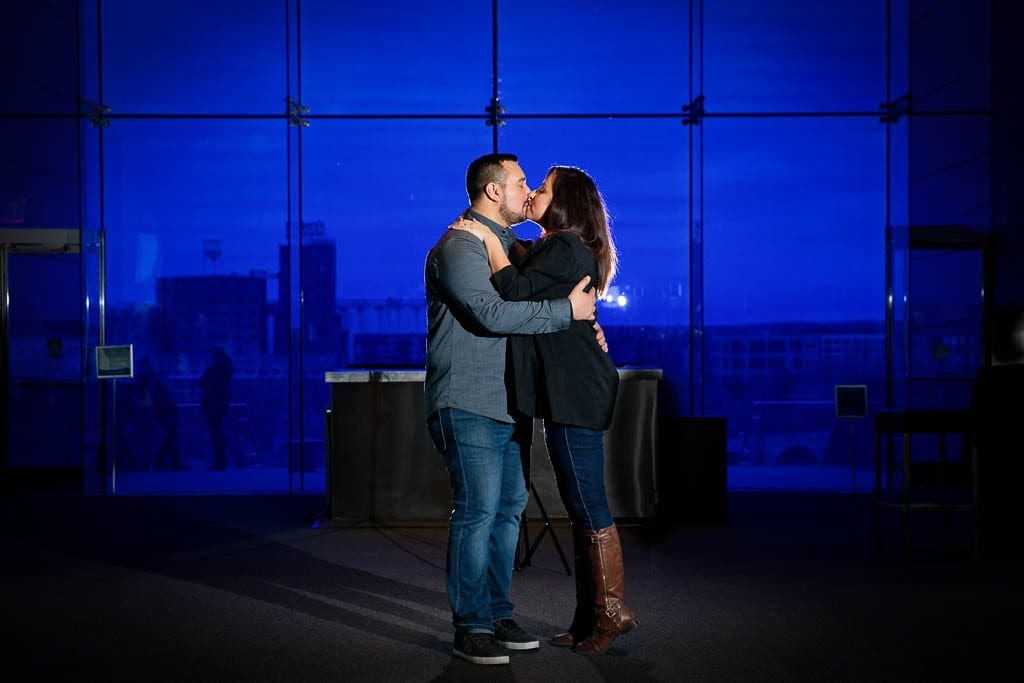 The Blue room
The blue room is located at the extremity of the Endless Bridge and gives access to the balcony. It's almost the same concept as the yellow room, but in blue. The major difference is that only one wall is covered by glasses (and not three). So it's a pretty complicated light for photographers.
Summary of the Guthrie Theater Engagement Session
The Guthrie Theater exterior features a pretty simple dark blue wall (and the red one) which can work as a studio background. It also offers some lines which would work especially for fashion photography and engagement photography. The inside of the Guthrie Theater is a pretty dark place, that could work for funny pictures (silhouette, artistic), but it is not the best fit for candid shots.
For a good light inside the theater, I would recommend using an extra source of light, which implies some static poses.
A good B-plan for photographers
For all these reasons, the Guthrie is a convenient backup option in case of bad weather. Nevertheless, be careful during the winter, this place is famous and so it can be crowded with visitors (coming for the beautiful view on Minnesota's most famous bridge and river).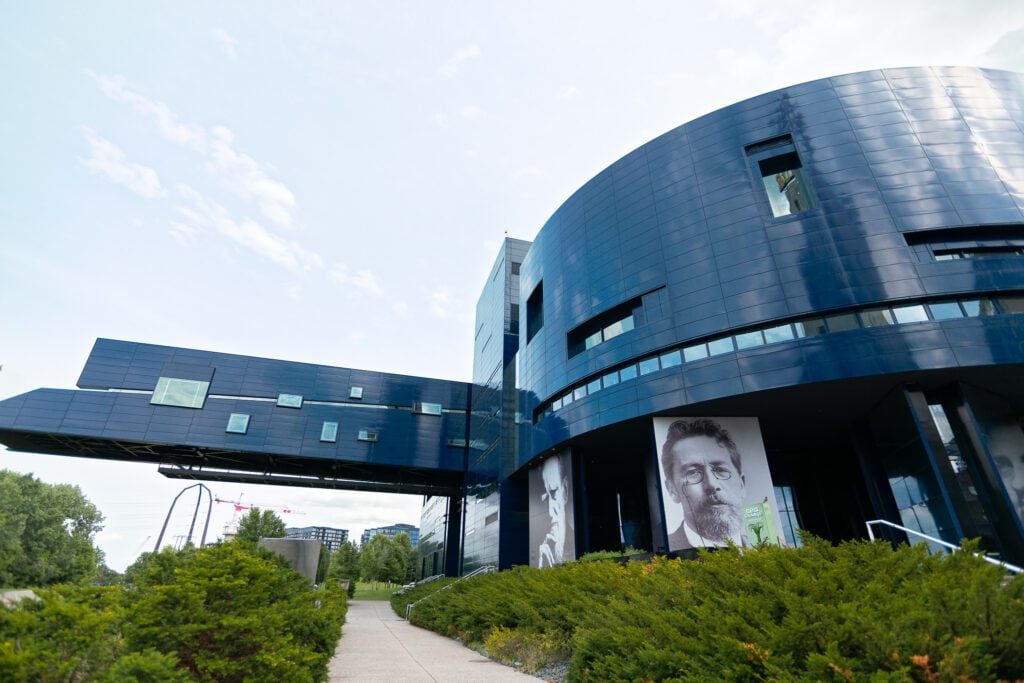 Immediate Outdoor Locations in the Twin Cities Recommend by Photographers
As you may have understood, one of the greatest advantages of the Guthrie Theater is its location. It's close to Minneapolis Downtown, and to other famous Minneapolis photo spots.
Given it's not easy to feel at your ease in front of a camera, and for more variety in engagement photos Minneapolis, I strongly recommend adding another natural or historical location.
Adding an extra location is also an opportunity you to wear a second outfit. For instance, choose a formal or modern one at the Guthrie, and a casual one (jeans and shirt) for the second one.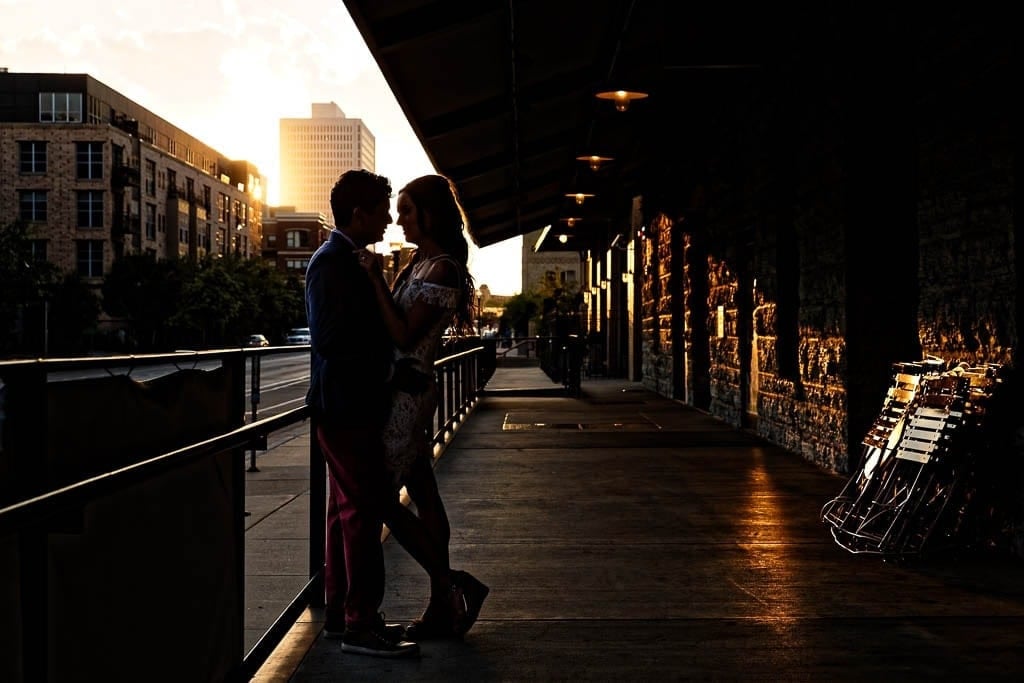 Mill City Museum
The Mill City Museum, loved by photographers, stands adjacent to the Theater. During many years, the historic Mill has been one of the most important places for industrial production and industrial exchange in Minnesota. Today, after a long and expensive transformation, it has been turned into a museum. At the top, you can see a sign "Gold Medal Flour", tribute to the past activity of the building.You can meet many local students and actor communities who love to come and mingle. It is also a decent backup option.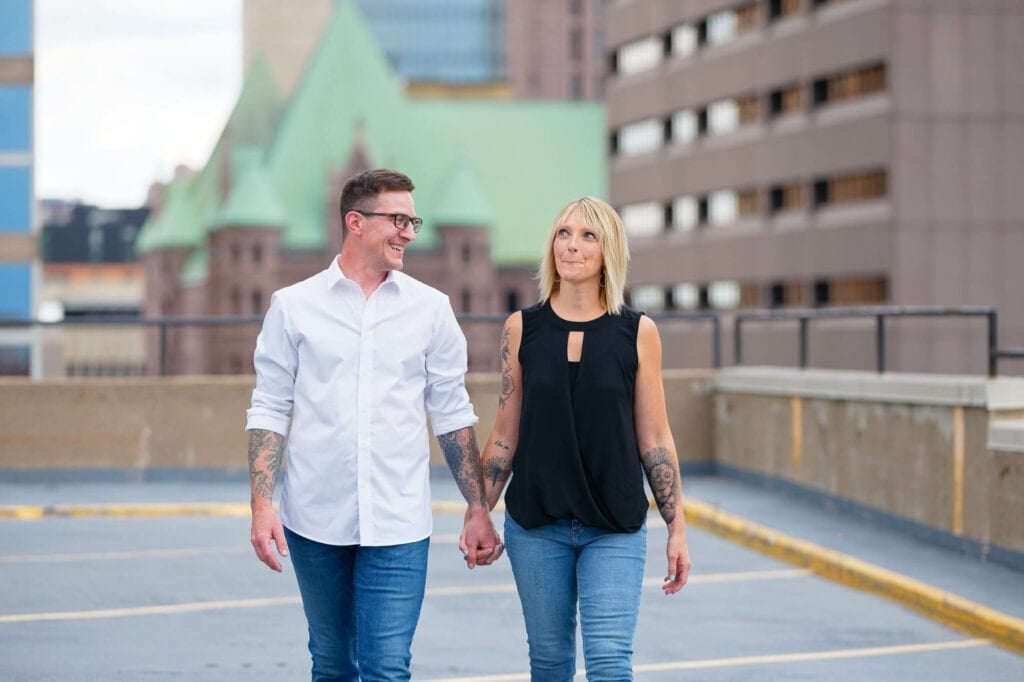 Downtown Minneapolis Minnesota
The nearby downtown Minneapolis area offers several options to take pictures depending on the time of the day. I am especially in love with the rooftop options (check the rooftop engagement session).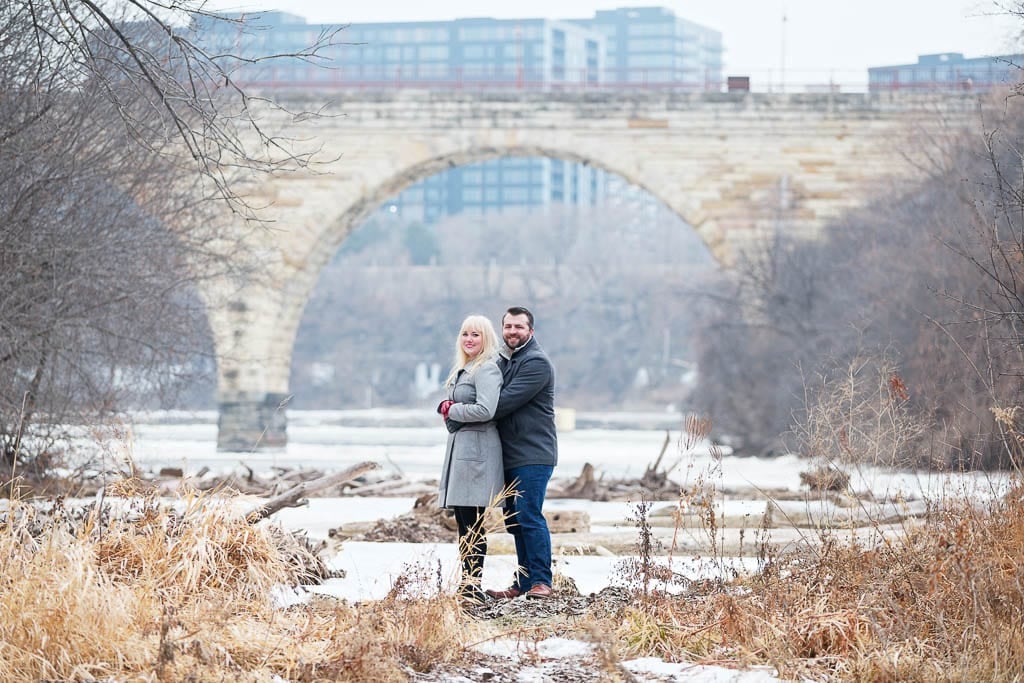 Stone Arch Bridge
It is the most iconic and famous place for engagement sessions and surprise proposals in Minneapolis. If you want to take a photo there, be aware this place can be pretty crowded with tourists doing some family portraits, especially at the end of the day (and that's true for all season!)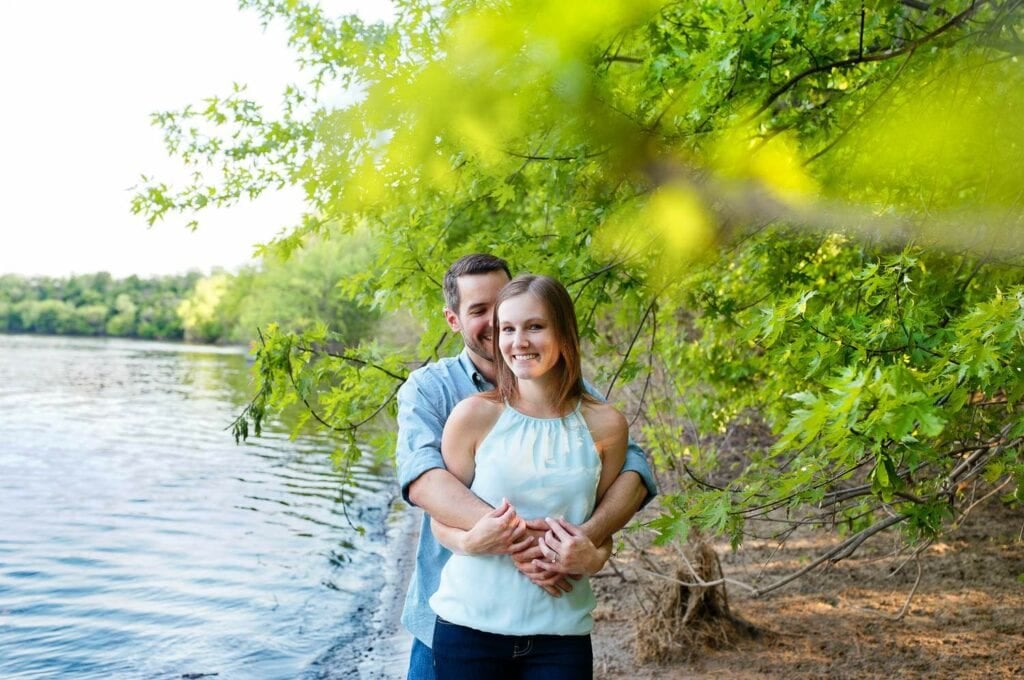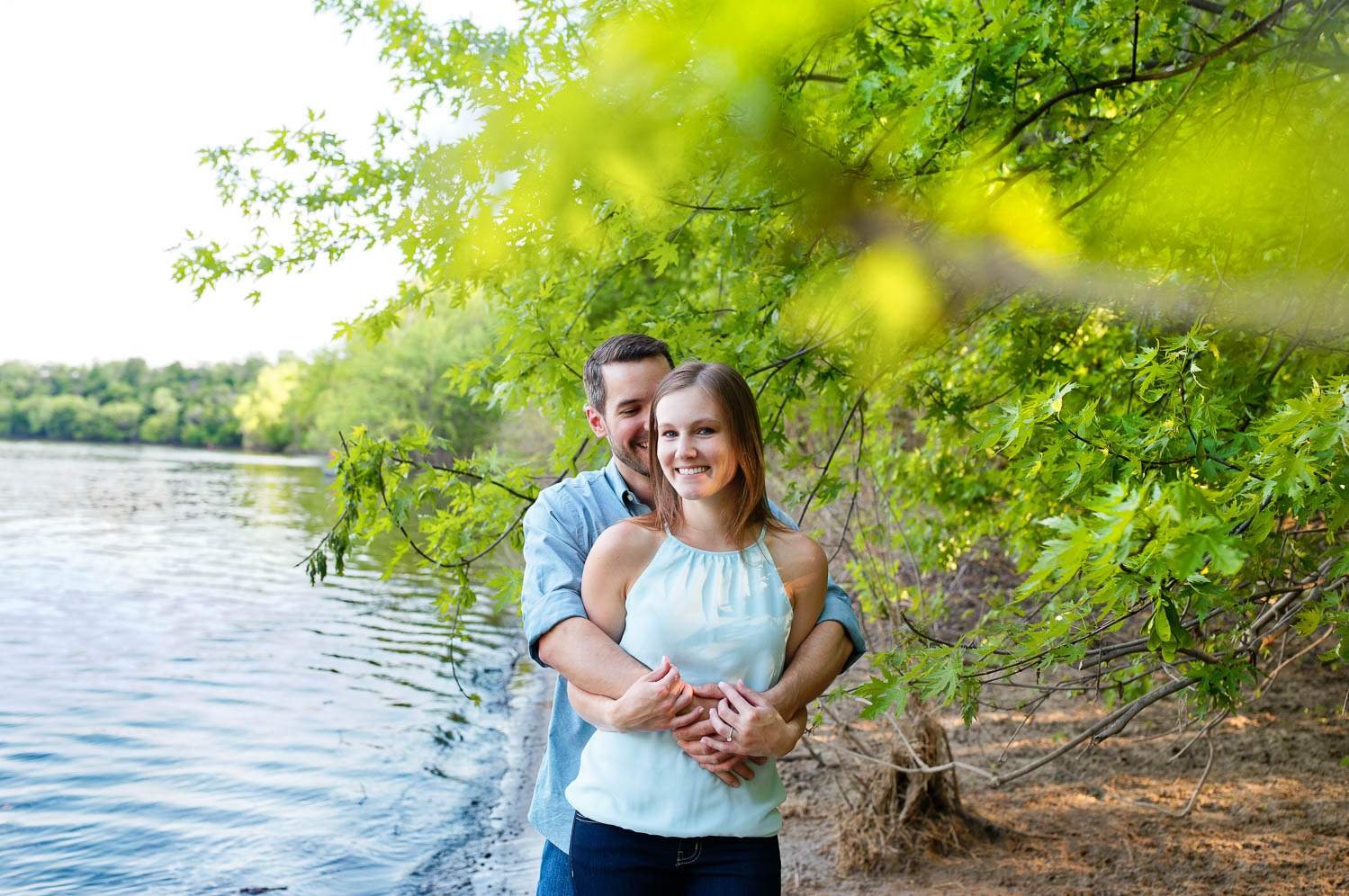 The Parks the Longer of the River
The gold and Medal Park is a pretty new park. If you like bigger trees, you may need to cross the river and walk to the Pillsbury Park, the Father Hennepin Bluff Park (with a view on the Stone arch bridge).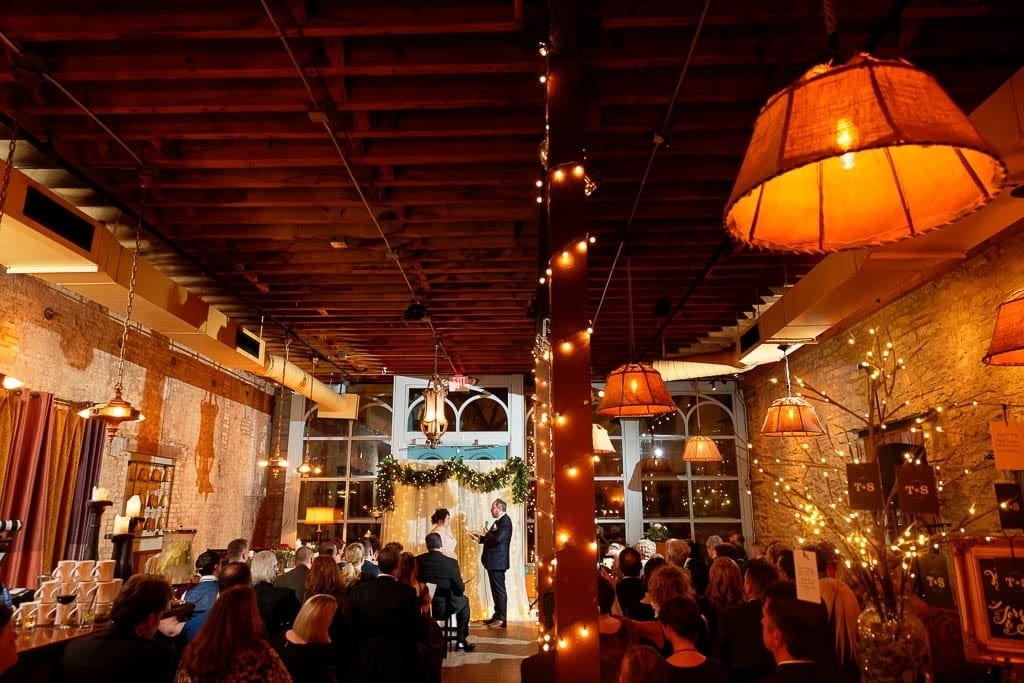 Aster Cafe and Anthony Theater
If you walk all the way to Pillsbury Park, then you should definitely use the exterior of the Aster Cafe and the theater's lights.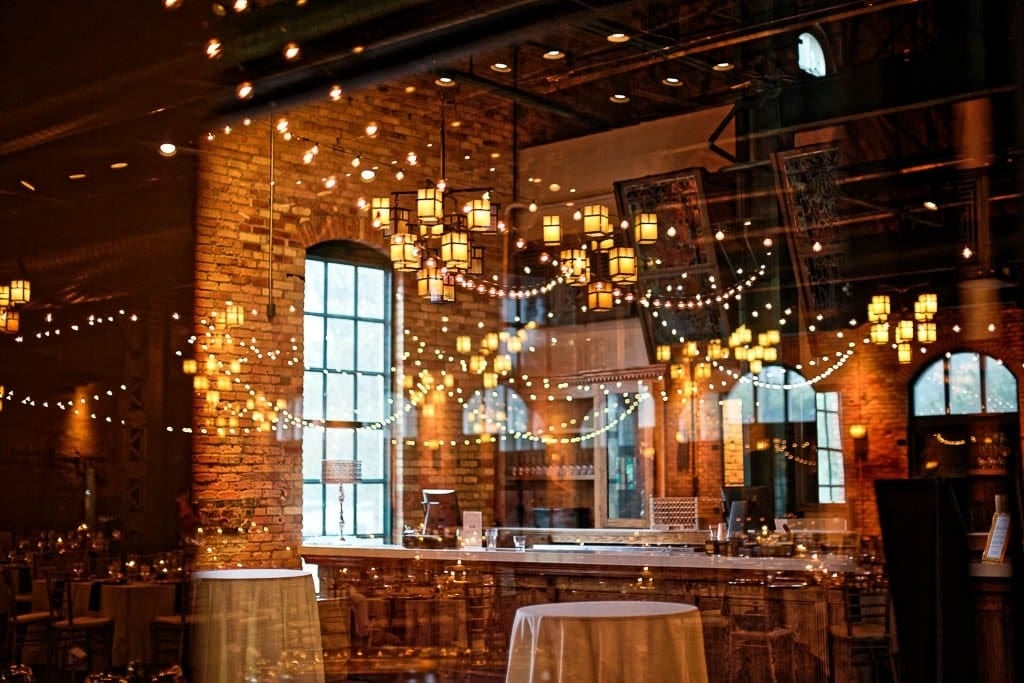 Nicollet Island Pavilion
Located alongside the Mississippi River, under the Hennepin Bridge, it offers not only a stunning view on the city Skyline but also a red brick post-industrial construction (the Pavilion), and an authentic steel bridge.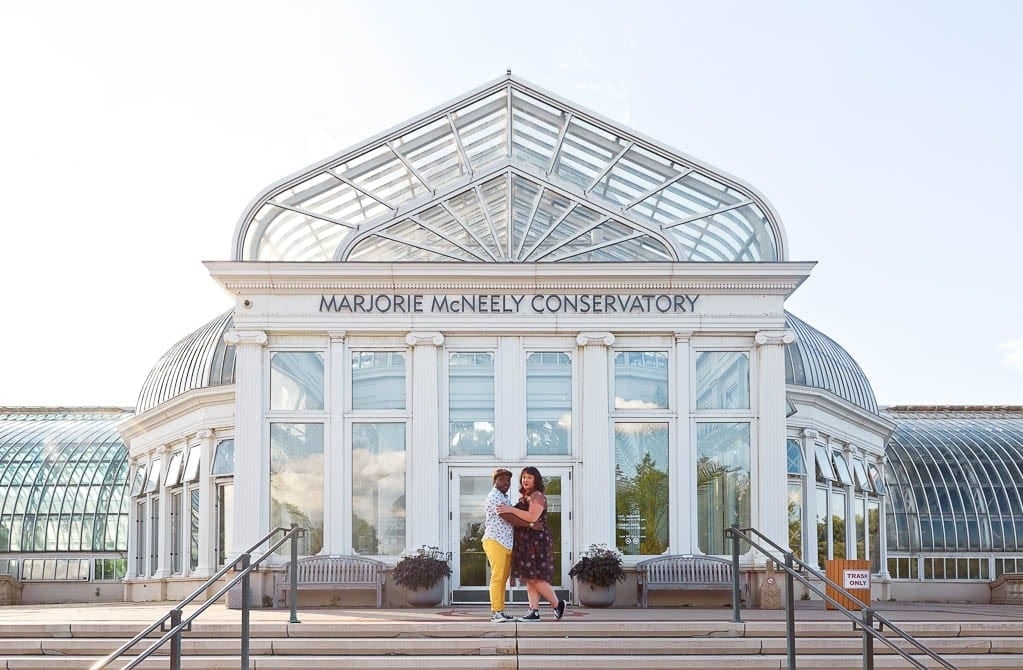 The Como Park in Saint paul, Minnesota
Even if you would need to take your care for a short drive, this place is most of all photographers and couples who want great engagement photos Minneapolis.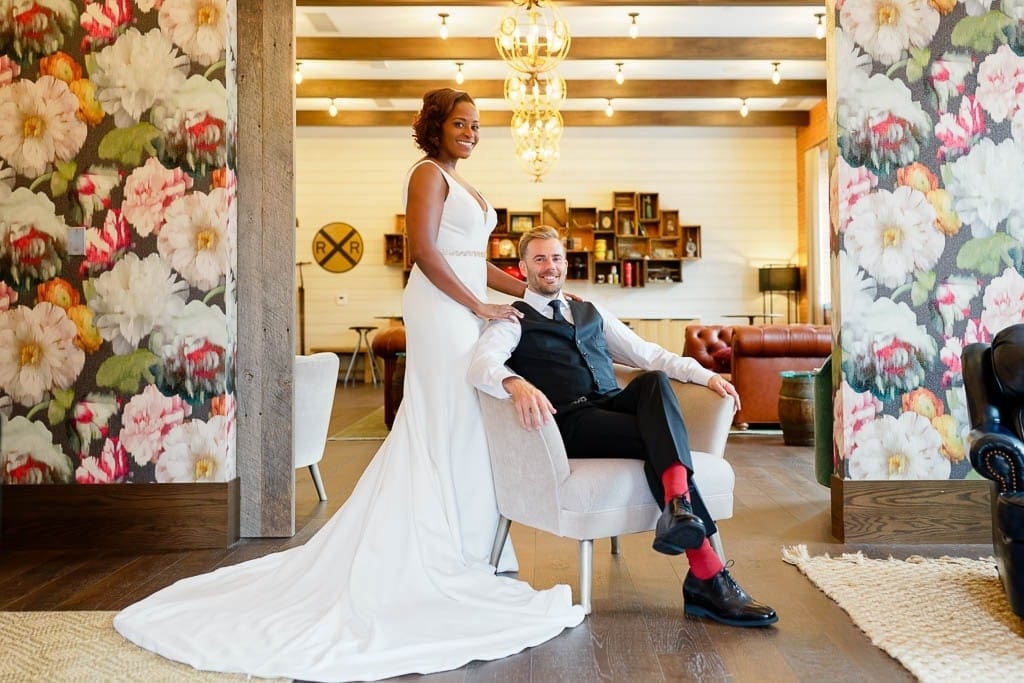 The Renaissance Hotel
Another famous location for engagement pictures in Minneapolis, in the Renaissance Hotel. It used to be a first Minnesota train depot for connecting the city with Milwaukee! With an Italianate renaissance style, this 1899 historic buildings offer a mix of steel beams, stone and red brick for pictures.
What's more, it's located just in front of the Classical Revival style of the United States Federal Office Building (today the Passport Agency) who the facade is nothing but a gorgeous.
What to consider if you are planning a wedding reception at the Guthrie Theater.
In addition to the Yellow Room, the Guthrie Theater disposes of several rooms that you can rent to host weddings.
Advantage of modern venue vs. historical
If you chose a rustic historical venue in the middle of the countryside, such as the Steeplechase Event Center in Mazeppa, MN, you might enjoy a beautiful building in a natural area to a cheap price. The downside of such a choice is that your guests would have to drive a long time not only to come to your celebration but also to go back. In other words, they would probably not drink as much alcohol as they wished, and would live sooner.
What's more, contrary to one-century-old building,  modern venue has been entirely designed and to host events, and are all properly equipped to meet vendors' needs (electric system, new kitchens, multiple rooms, etc.).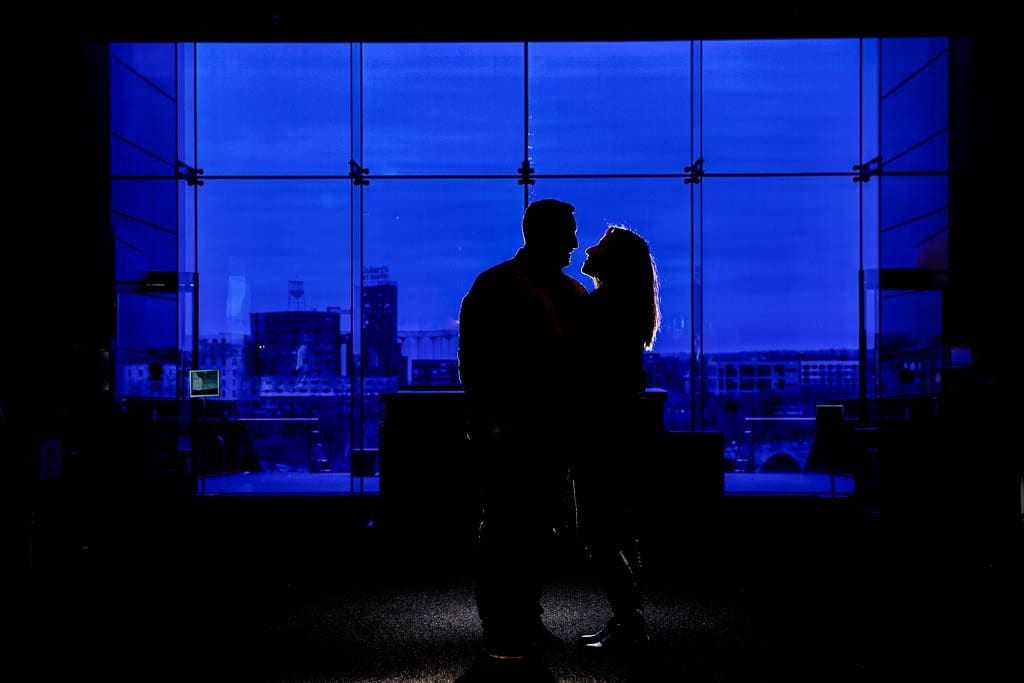 The Lake of natural light
Natural light is obviously not the main advantage of this dark theater but I have good news for you:
First, any dark place can easily be transformed using lighting effects. That's exactly what the theater's team is used to do.
Theaters are made by communities of technicians, lightning directors, and decorators. And that's great because their job is precisely to transform empty rooms into something amazing. Also, a talented Light Jockey would know how to compose with the lights and colors. Indeed, he should be able to transform any room into a stunning and vibrant location where you would be happy to host your event.
The second good news is that, even in such a lowlight situation, a well-equipped and good photographer should be able to set up flashes in order to catch portraits of your wedding celebration (or other events).