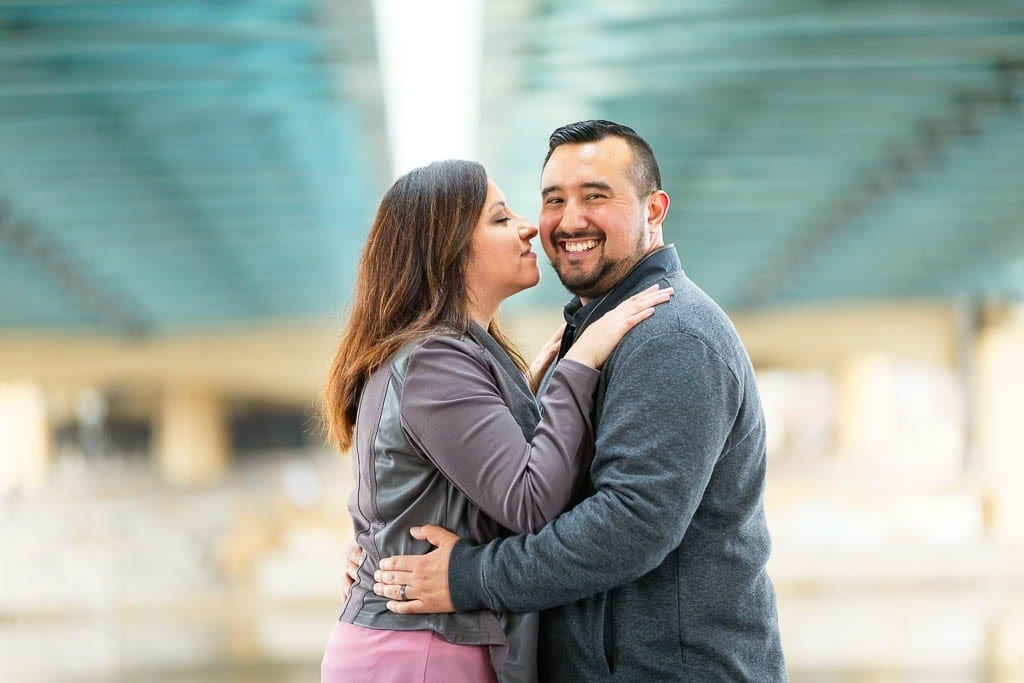 Molly & Domi at the Nicolett Island (and 4 others good spots in MPLS)
Nicollet Island Engagement Session Minneapolis
Nicollet Island is a first-class choice for photo-session in the Twin Cities. Adjacent to Boom Island, with a view on the city buildings and the St Anthony falls (on the Mississippi River). It's also the place that an in-loved couple chose to have their engagement pictures taken: Molly and Dominic.
For me it was my very first time, I capture couples' portraits in the USA. Also I was happy to discover all the neighborhoods.
A fiancé showing Nervousness and an unexpected proposal during their engagement session on Nicollet Island.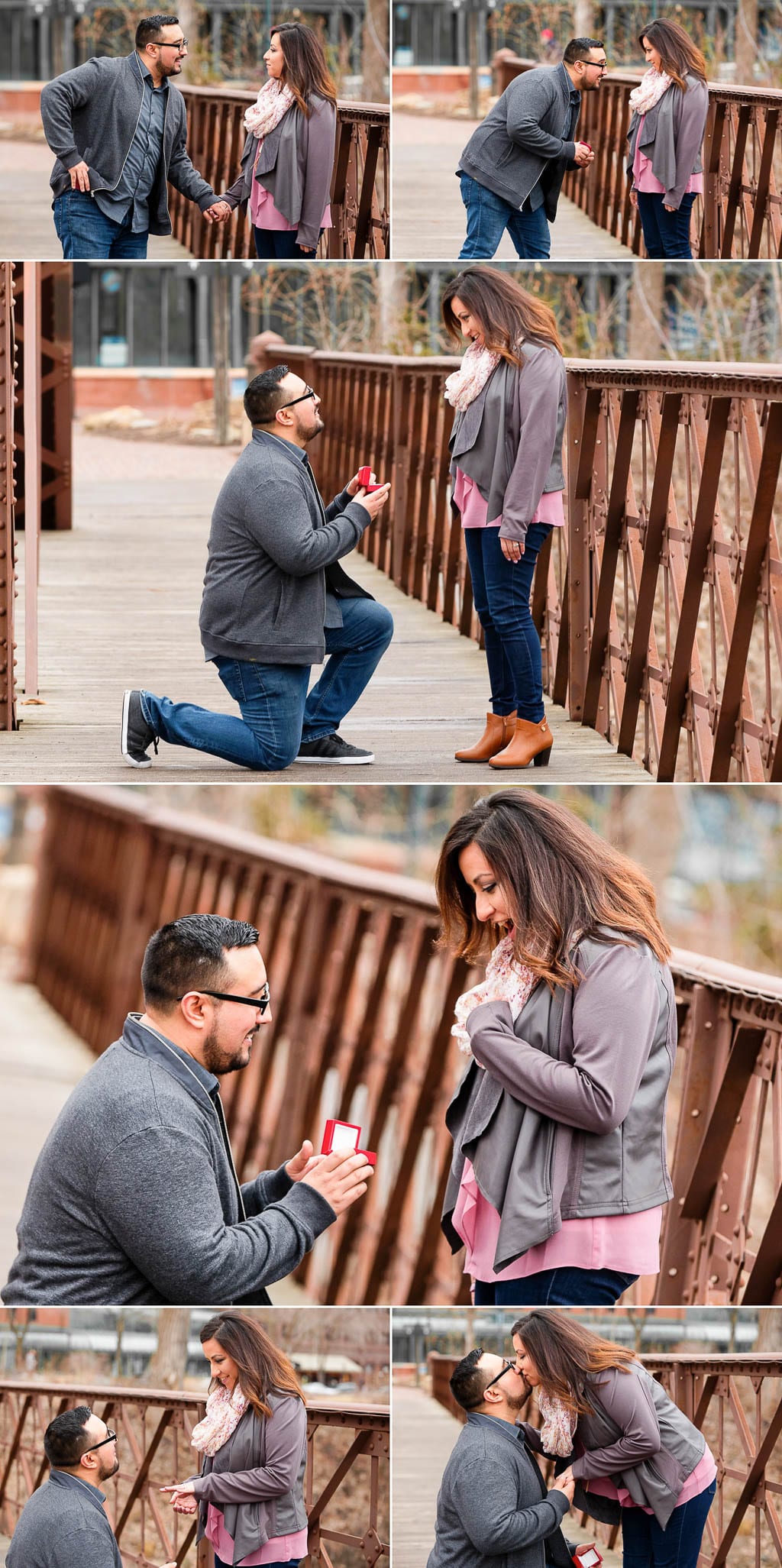 Molly and I got in contact on the internet. We exchange about some locations options, how to dress, and what to bring in their photo session. A few days later, we meet in real, near the Nicollet Island, in front of the Flutter Bridal Co.
Dominic (Dom), looked a bit nervous. While Molly was picking her first outfit among the several clothes she brings in her car, I started to discuss with Dom. At one point, when Molly was turning her back to us, he quickly showed me he was carrying a box in his pocket with a smile in the eyes.
I immediately understood his plan, but could not talk openly, due to the presence of his fiancé. Also I was quite skeptical about his precise plan. I didn't know how nor where, nor when he would propose.
I try to make him understand I will give him a signal, but I think he didn't understand me.
Well, it didn't take long before he posed his knee on the ground and open the box with a diamond ring!
Indeed, it was less than 5 min that we started the photo session when he makes his proposal on the St Merriam Bridge.
Molly was at the same time surprise and undermined about how she should react (especially knowing that I was a few feet away taking pictures). Indeed, Dom had already asked her. So he was actually not taking any risk! Of course she smiled and they hug, and I took pictures.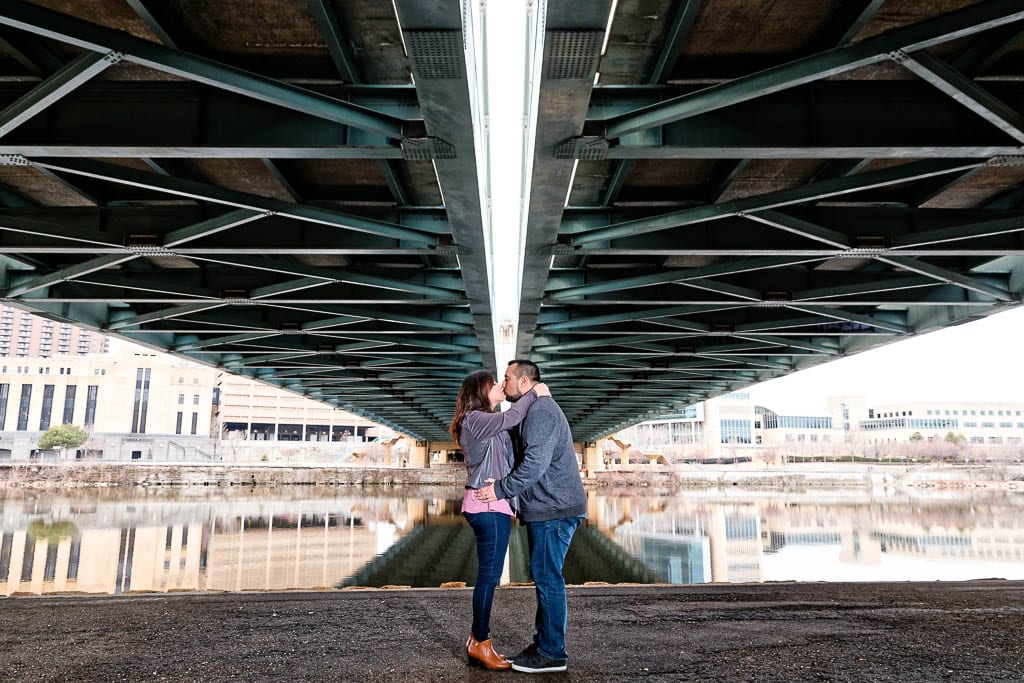 First Part Under the Hennepin Avenue Bridge
Despite Molly hold her ceremony in California, she was looking for the best professional wedding photographer in the Twin Cities, to have portraits taken in front of the camera. I told her that the best locations are the location where they would be at their ease, and to look for quiet places. Also, the underside of the bridge seems a good place to showcase their relationship. That's why reason photographers love large recreational parks such as Boom Island, or Harriet Island for engagement sessions. Quite location is also the one that photographers recommends for maternity sessions.
Near the bridge, stand The Pavillon, which is a nice wedding venue (working with Mintahoe catering). But there was actually a wedding going on, so we didn't use this place.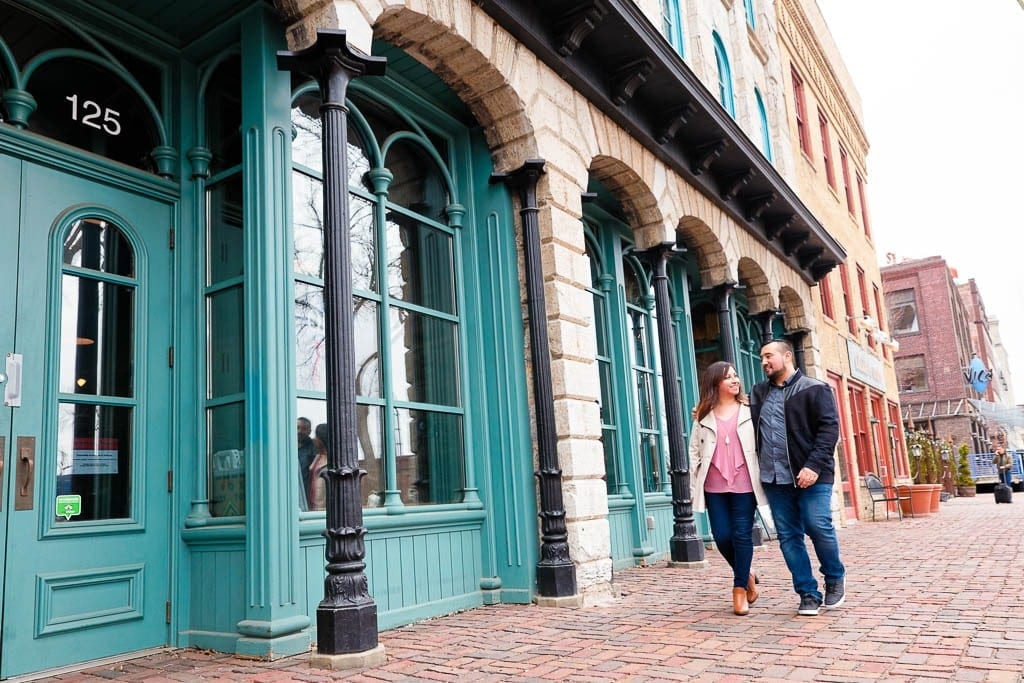 Second Part of Main Street with Laughter
The St Anthony Main Theater and its old electric bulb are one emblematic location of Minneapolis, MN. Actually, all the SE Main St can be used for photos. Indeed, it features a lot of old red brick buildings . Actually, all the constructions form industial period, are very photogenic. Ant that's why little town such as Stillwater is so loved by photographers.
The street also offered a lot of old architectures that we can use as backdrops of images. Let's think about the Aster Cafe or Jefe. The south side of the street is composed mainly by parks such as the Father Hennepin Bluff Park, which offers views on the Mississippi River and the city skyline.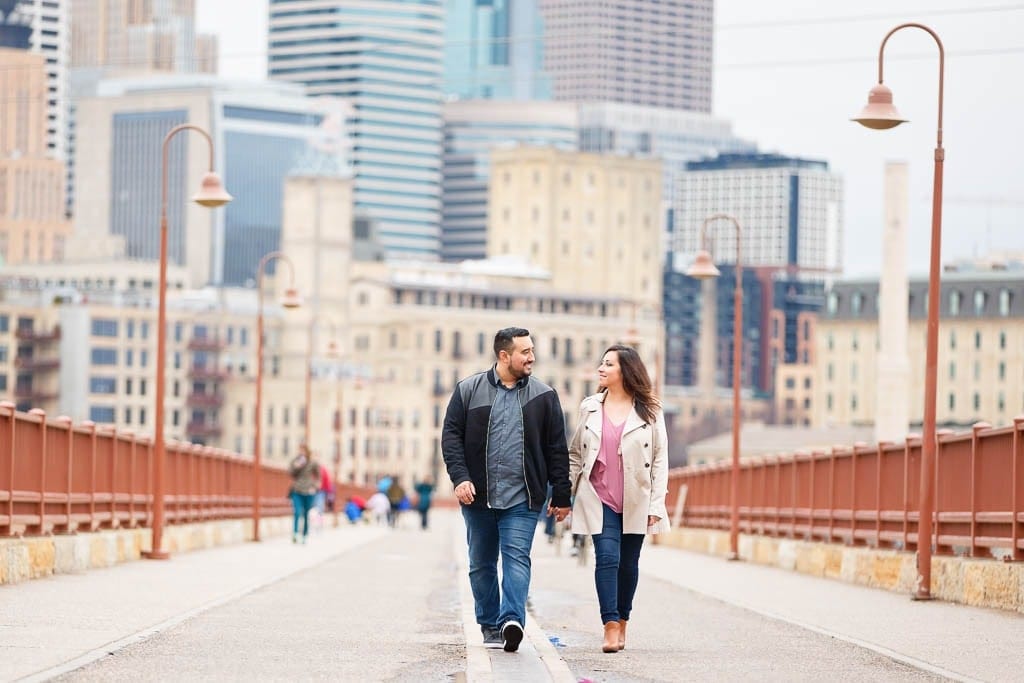 Third Part at the Emblematic Stone Arch Bridge
We quickly stopped at one of the most popular touristic locations in Minneapolis (and probably Minnesota), the Stone Arch Bridge. Of course it was crowded by couples and photographers, but with patience, we managed to capture some great pics. Let's say that the Stone Arch Bridge is as popular than Minnehaha falls during the summer!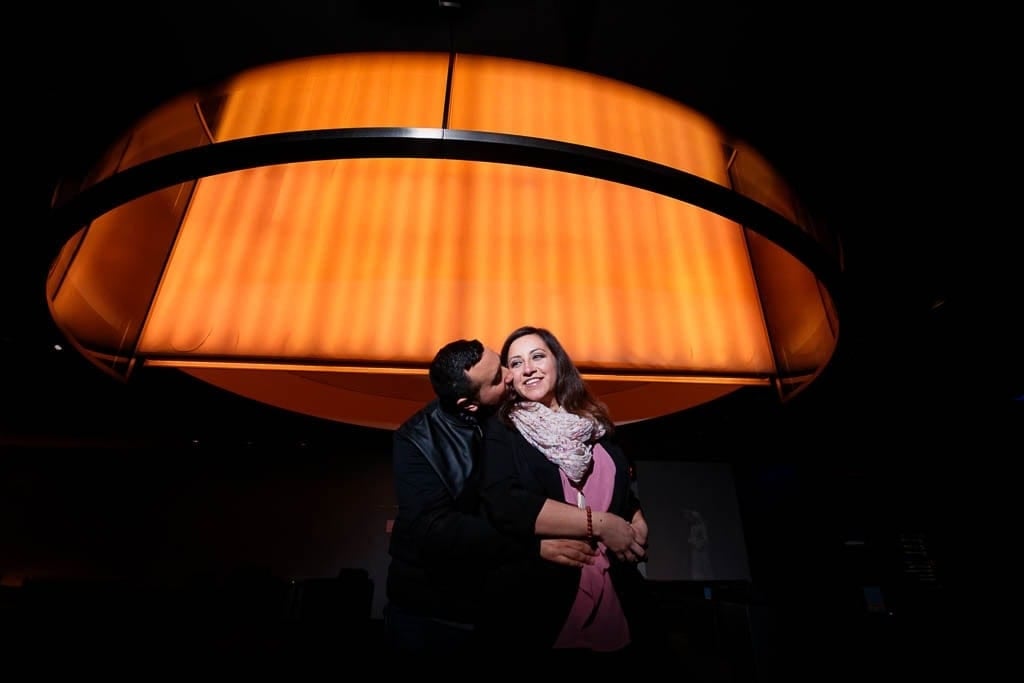 Fourth Part at The Gunthrie
The Gunthrie theater, designed by the French Architect, Jean Nouvel, offered a very unusual location for engagement photos. I had fun to setting up flashes and take Molly and Dom pics inside the edifice. They were hoping to use the view on the Stone Arch Bridge, but it is actually too far away for good photographs.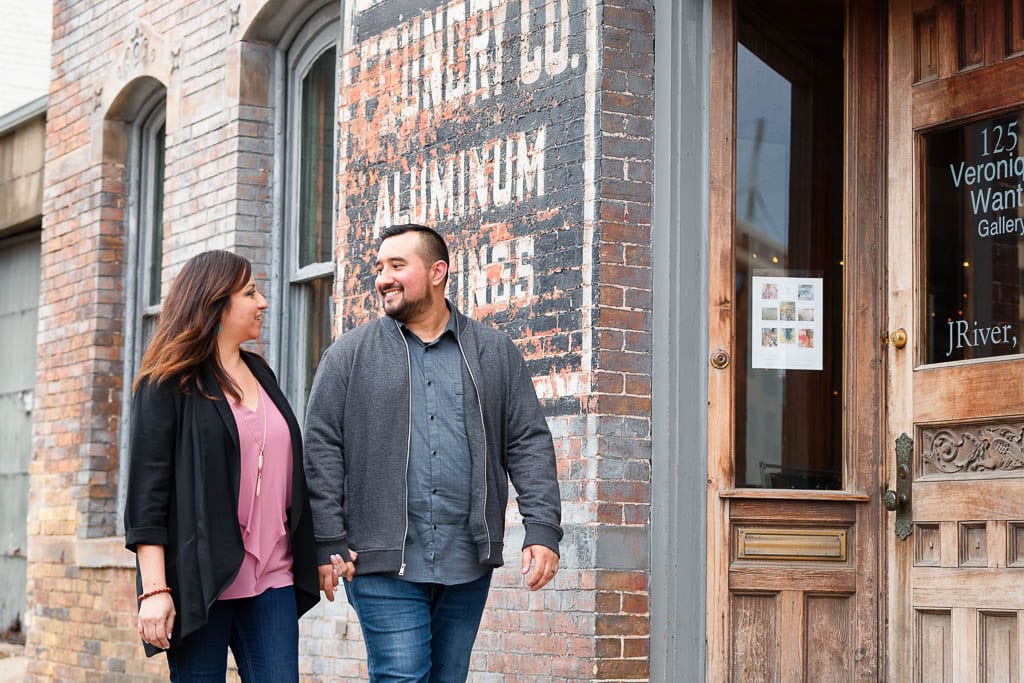 Fifth location and Last Pictures at the Warehouse District
We ended our photo session at the Warehouse District, taking advantage of little coffee shop. That can be a great idea when it's cold outside. We discussed with the owner who was pretty relaxed and accepted with pleasure my camera.
---
Other Locations for Engagement Sessions
Minneapolis if full of great locations to show case your relationship. The first thing to consider, before running to Minnehaha falls, or the Harriet Park, is whether or not, you will be at your ease with random people around, or if you prefer a quiet place. In the second option, your home, or even your condo can be a great option (condo usually features white walls that are great). This is an option that maternity photographers recommend to their clients.
In a more general way, neighborhoods features little park that is tranquil.
If you love nature and are ready to drive north, I would suggest Taylor Falls Park. Indeed, the Taylor falls feature some rock formations, and pine trees that I really love!
Stillwater, MN can also be a great choice for engagements photos. Indeed, Stillwater is an historic industrial town located in front of Wisconsin and the St Croix river. It has a lot of little street with red brick walls.
Of course, if you have the motivation, you can still drive to Colorado and enjoy the sublime landscape for just two of you. In such option, you should also consider hosting your ceremony in Colorado instead of Minnesota!
Don't get me wrong, I love the North Star State, but it's true that other states have breathtaking landscape!