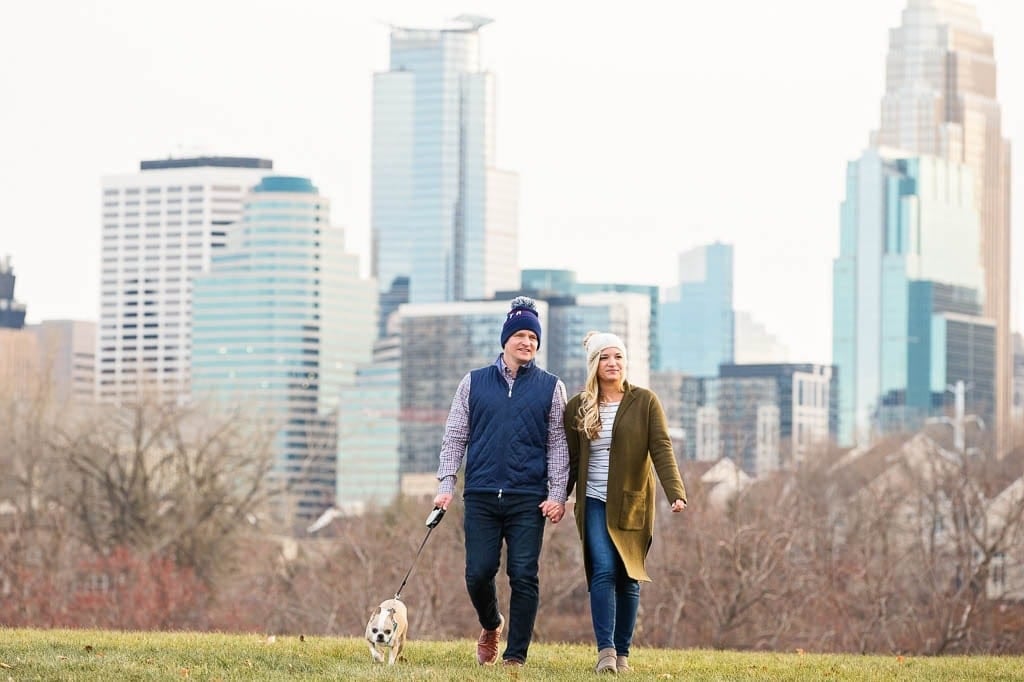 Discover Boom Island Great Place For Photo Session In Minneapolis
After your surprise proposal in the Cities, you are looking for the perfect location for your engagement session. Boom Island is a popular park for families, so you might have heard about it. That said, you don't know the place well (or want the point of view of a professional photographer). In other words, you are wondering how marvelous this location would be for photography.
Let me introduce this location to you, its specificities and what you can expect in your photographs.
What makes the Boom Island a great place for photo session?
its view on City Skyline
it spreads on many acres, and it's not crowded
it has a public restroom
it's easy to park
it has direct access to the river front
it's close to other famous locations for photo sessions
it features a nice industrial iron bridge
it has pines
it's a dog-friendly
The view on City Skyline
First of all, to capture tremendous memories of your engagement session in the cities, your wedding photographer needs a beautiful location.
The most seductive advantage of the Boom Island is, by far, its direct point of view on the city's Skyline. It is located at a perfect distance, so a photographer can take a couple's portrait (using a telephoto lens) and can include in his frame the surrounding vegetation and the city skyline on the backdrop. For comparison, the Island located at the east of the park is is much closer to downtown. Thus it doesn't offer such a view (you would have only one or two immediate adjacent construction on your picture's background).
The view on the city includes many skyscrapers, and as a result the metropolis looks bigger and more dynamic. The view presents a myriad of building heights, instead of only one big building. It's the typical representation of the city you have in the movies.
It Spreads on Many Acres and It's Not Crowded
This recreation area is very big and each time I have been there, it was not full of people. So in comparison with the popular Stone Arch Bridge of the famous SE Main St, you would have the feeling to be alone. That's really ideal for shy people who are not especially comfortable taking pictures with another family, having their own family pictures taken a couple of feet away.
Overall, the Boom Island is big enough so you can isolate yourself and focus on the photo session.
Restroom
That's the kind of point we don't often consider, but bathrooms are always welcome, especially for ladies who need to change their outfits!
Easy to park
That may sound like a detail, but that's really convenient. Indeed, it can be difficult to find a parking spot at more popular photo spots such as the Stone Arch Bridge Area.
Direct Access to the Mississippi River Front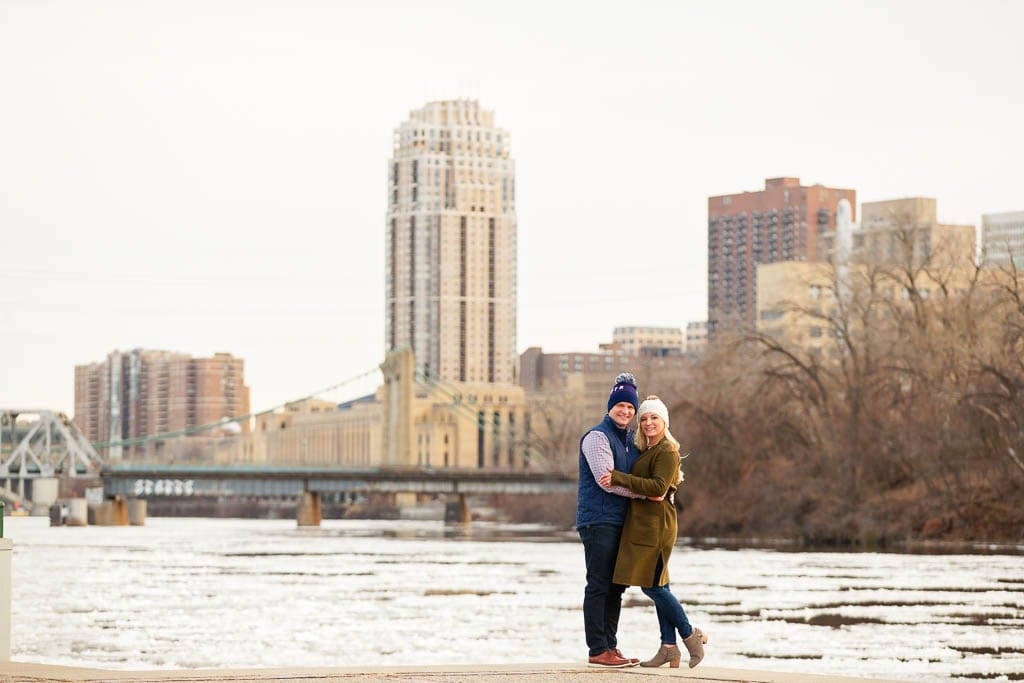 The boom Island Park has some concrete floor slab alongside the river front, so you don't have to walk in the mud or in the sand. Therefore, you can easily take some pictures with the Mississippi River, which creates nice backdrops.
Connected to Nicollet Island
Do not confuse it with Harriet Island (also famous for engagement session)! It's located close to Main Street and its old buildings, such as the St Anthony Theater. The island offers a wedding venue, a bridge, a park, and a view on the city. It is a pretty popular location. You can access from boom island by taking a pedestrian bridge.
Close to Other Famous Location for photo session in MPLS
You want your image to be different than the other sessions? Then you might wish going in several locations, in order to have a variety types of backdrops. The park is located very close to Downtown and all the famous spots love by photographers in Minnesota!
Serious alternative to the popular Como Park and Minnehaha falls Park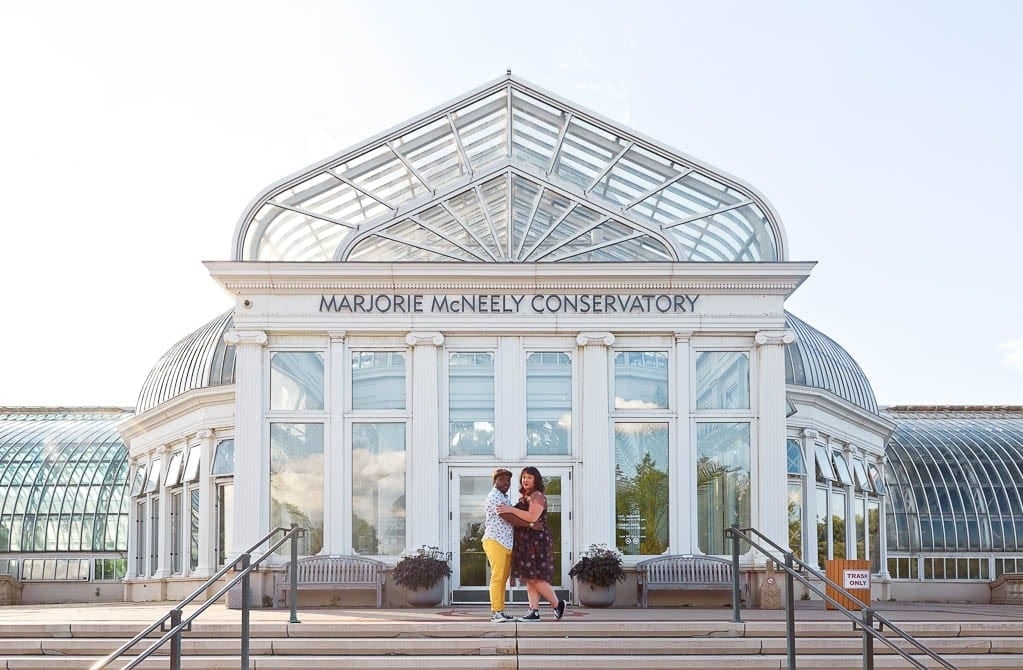 Boom Island is a valuable alternative to those parks, which are probably two most famous among photographers to take couples's pictures (maybe I should add the Rose Garden on Lyndale avenue).
Nice Industrial Iron Bridge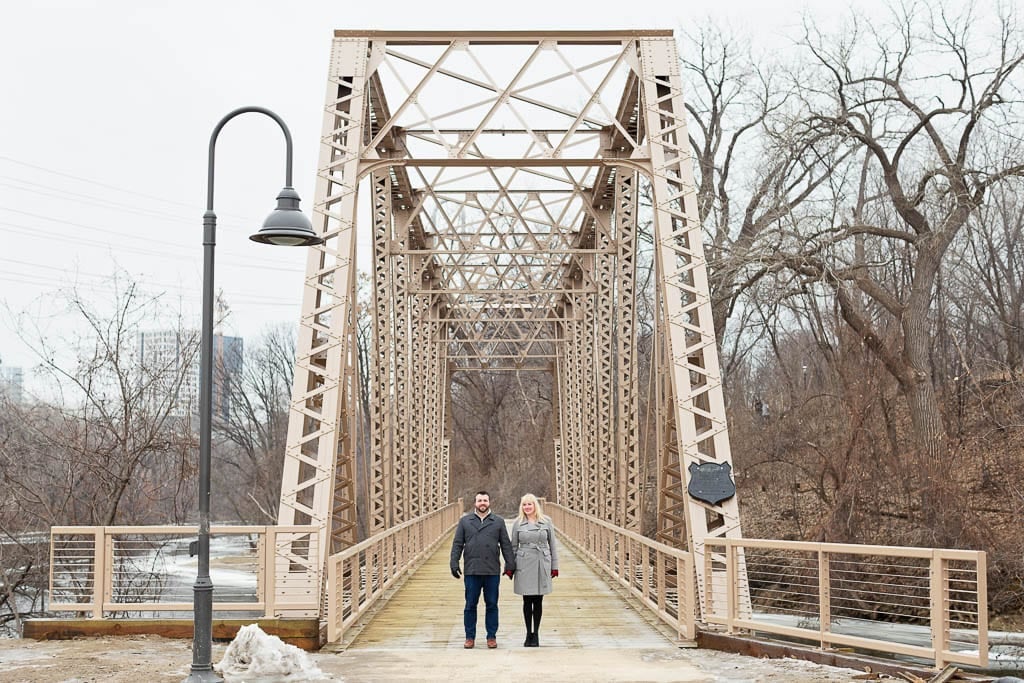 You will find a nice industrial iron bridge. It's always a good "accessory" to include in your pictures, bringing memories and imagination associated with the industrial period.
Pines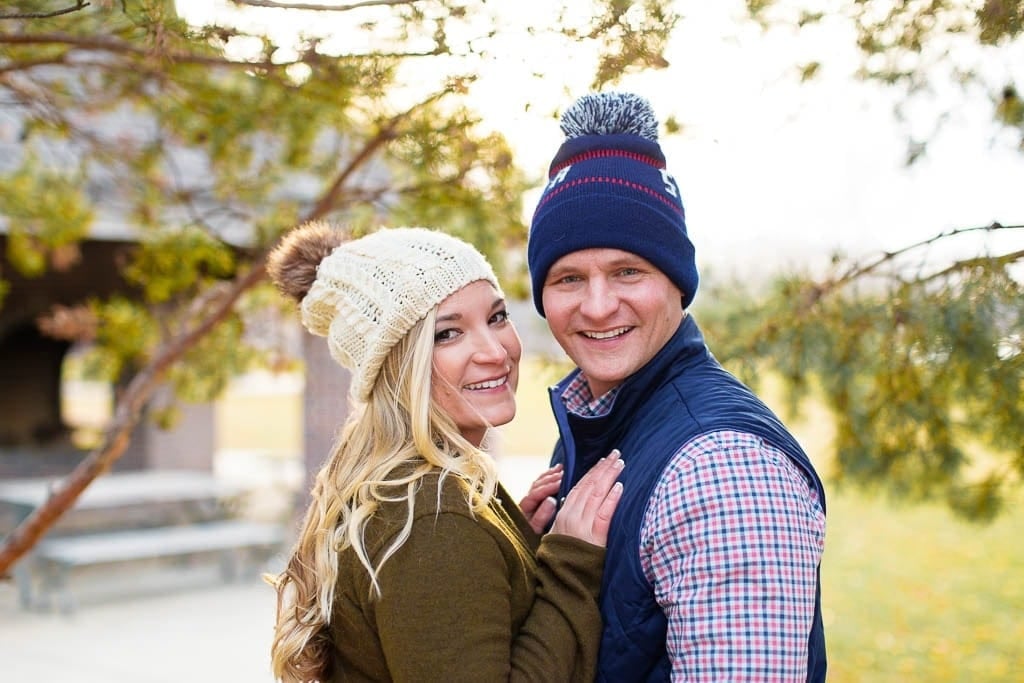 You will find some pines on the Island Boom Park. There are not a lot, but enough for some pictures. And as you may have already guessed, the major advantage of pines regarding photos is that they are evergreen. It means it works all the yearlong for your photographs! So it is perfect for winter pictures, too!
Dog Friendly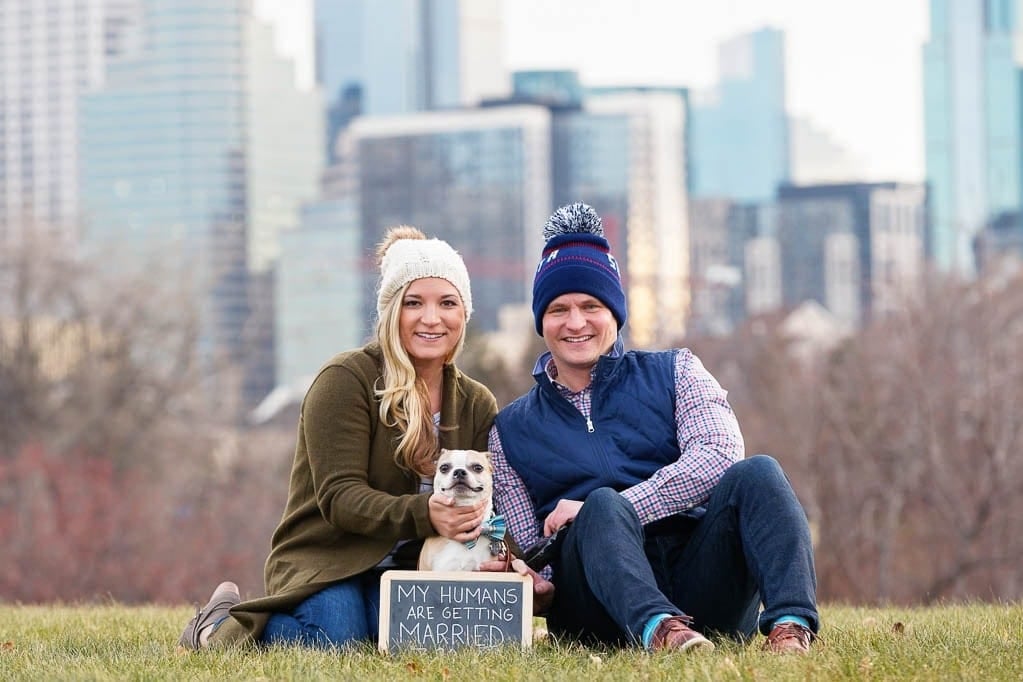 It's a detail that some people would like to consider. It's a dog-friendly park when you can keep your dog unleashed! So it will delight people who want to include their fury friend in their pictures.
No Permit Need
It's free, except the parking. Keep in mind that anywhere you will go to the city you will have to pay for parking.
What are the few Disadvantages of Boom Island
No immediate outstanding edifice
There are no beautiful historical or modern edifice you can enjoy for their architecture, where you can sit on the stairs and stand on the porch.
But it's a park, and most of the parks don't offer that.
Outside location, so weather dependent
Like most of the parks, there is no indoor option, so you are totally weather dependent.
Each time I have been there for sessions, I remember we have been exposed to the famous Minnesotan winds!
No Brick Walls
There is no construction at all, except the restroom,
It means no beautiful red brick walls to use in the pictures.
No Rooftops
If you like rooftops for your engagement session in Minneapolis, you might be happy to know that they many one located not further than 5 min driving. Rooftops offers an amazing view on the city.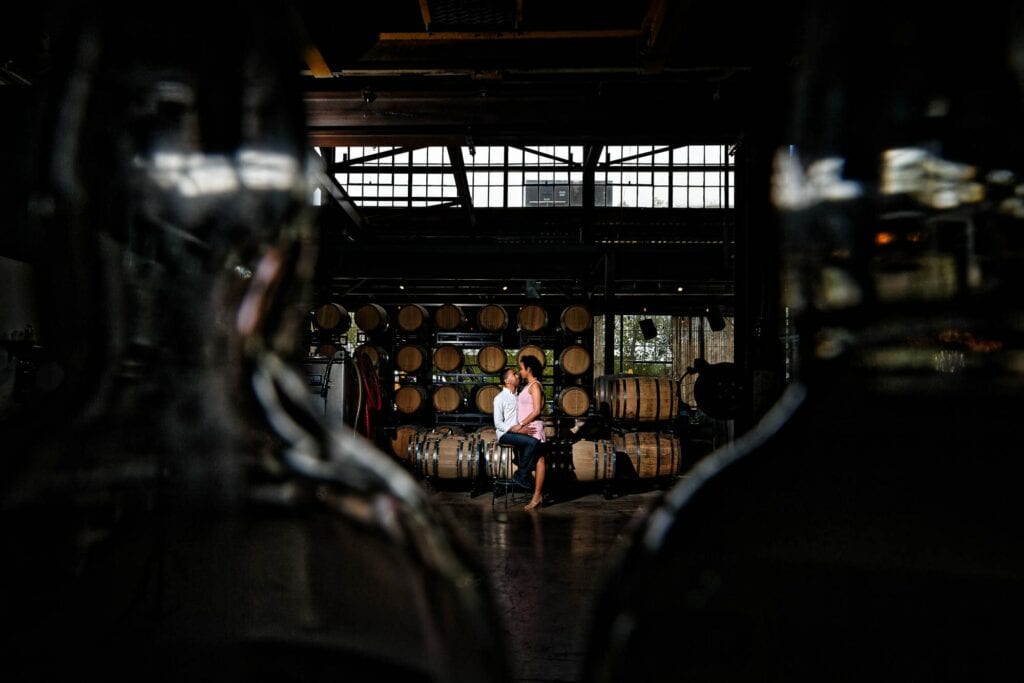 Adjacent Breweries to stay warm during winter
If you are planning a winter session in Boom Island, Minneapolis, then a brewery (such as the Harriet Brewery) usually works finely. They offer an original backdrop for your pictures and a perfect emplacement to warm up.
Or Historic Streets and Coffee Shop
In case of bad weather in Minnesota, families go warm up to a coffee shop in Minneapolis. If the location is beautiful, like Nina Coffee, then we might take advantage of it for more pictures.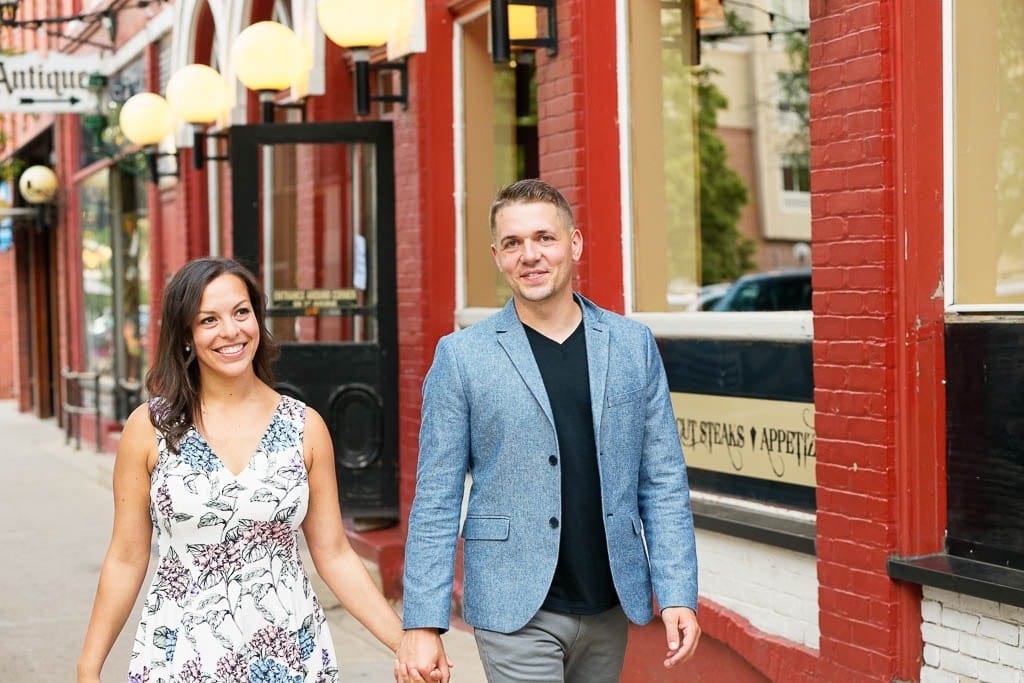 Pretty flat not many deciduous trees
The area is mostly flat, and except for a few spots, it's only lawn. So maybe it's not ideal for a fall photo session if you want a variety of fall colors in your pictures. Though, there are some deciduous trees along the long of the riverfront which could work sublimely.
The lack of trees also implies that there is no spot to hide. So you can be isolated from other people by distance, but you can't really hide in a corner, or among some bushes. It's flat.
---
What should you consider if you plan an engagement session at the Boom Island?
Bring some comfortable shoes, because we will probably walk a lot.
The best light, regarding the sun's direction, is early in the morning or late in the evening, shortly before the sunset.
If you choose Boom Island Park, then you may want to complete the session going to another photo spot (mostly in St Main Street and its historic buildings), or a rooftop downtown, a theater (such as the one on St Anthony Main or one of the many located on Hennepin Ave), or a pub.
Bring food if you wish to feed ducks. Indeed, often there are some ducks or geese close to the riverfront, and I have seen some people feeding them. That could produce funny photos.