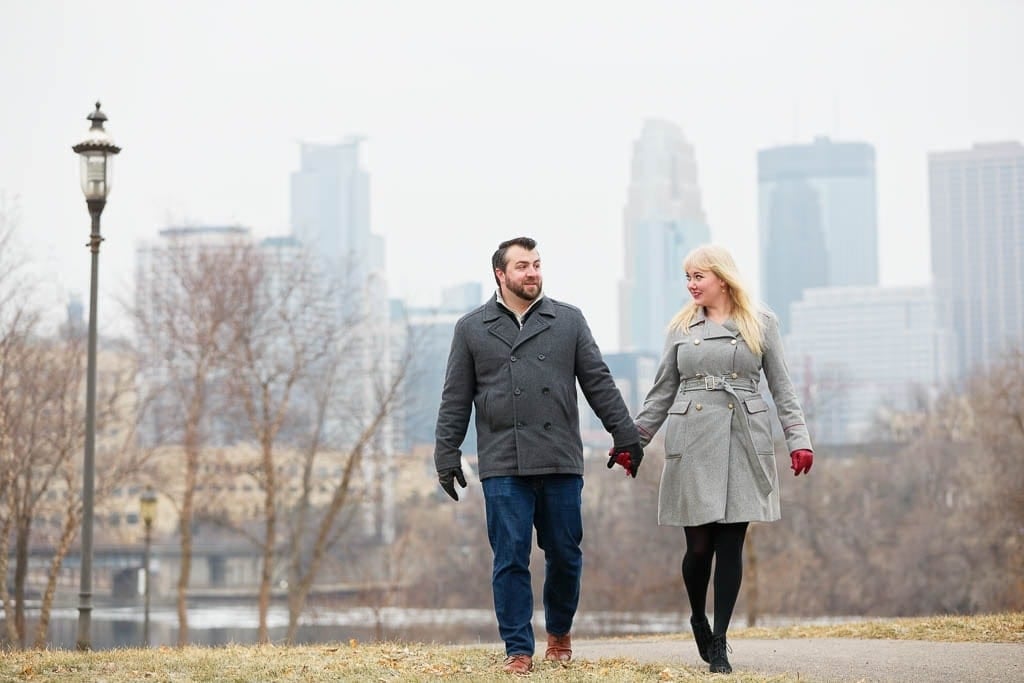 Winter Photo session at the Boom Island MPLS
Allison and Reid: Winter Photo Session at the Boom Island Park Minneapolis Mn
I first met Alison and Reid, a few months ago, in a coffee shop in Saint Paul,MN.
While Reid made his surprise proposal in Illinois, they decided to have their engagement session in Twin Cities, and the wedding in Minneapolis. I showed them my wedding albums, explained to them my way of working (as I always do) and they decided to hire me for covering their wedding.
They are planning to get married in one of the most astonishing venues of the Twin Cities, the American Swedish Institute. So, of course, I was super happy.
She is the dreamer and he is the serious guys. Or maybe it's the opposite. She is an architect (which is the kind of work that requires rigor) and she designs buildings such as schools (impressive!)
He is coordinating the activities of the Boy Scout Association of half the Wisconsin! Both of their activities sound pretty neat. They lived in Milwaukee, but given they are both from the North Star State, they decided to host their reception at the Swedish institute.
A couple of months later, they were about to shoot their engagement pictures in the Twin Cities with their professional photographer. To have the best light, we met shortly after sunrise at the Stone Arch Bridge (Minneapolis) for the first part of their session. This is the second and last part.
Boom Island, a place for photo session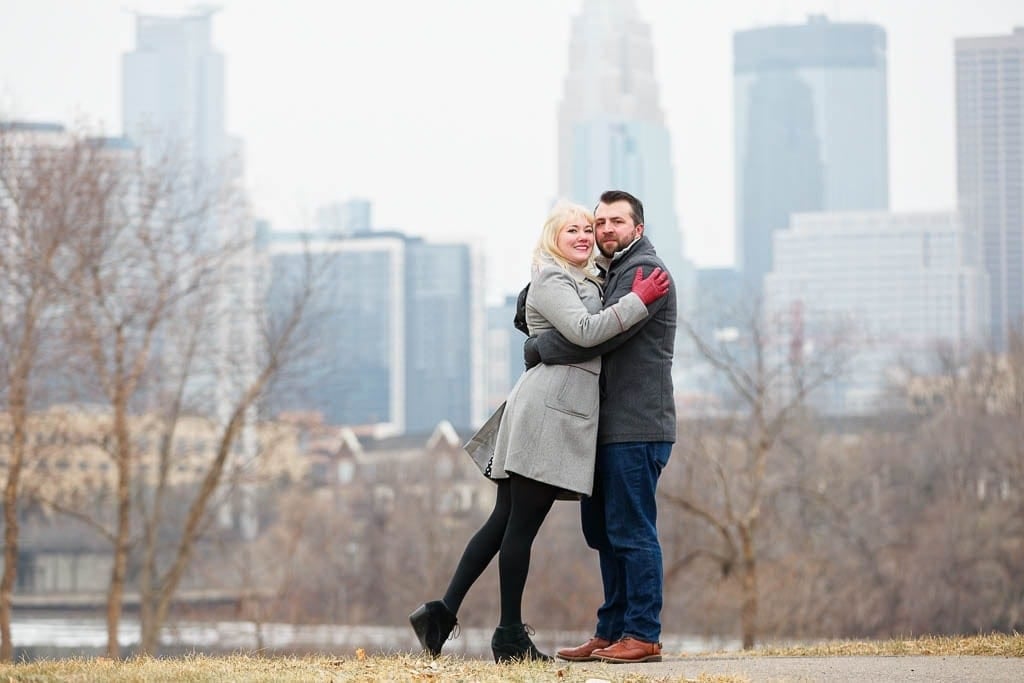 Close to downtown
The boom Island Park is located in the north-west of the city, near Minnetonka.
It is situated close to the famous Main District, and in consequence close to all the other well-known photography spots such as the Stone Arch Bridge, the Mill City Museum, the Guthrie Theater, Nicollet Island and the Hennepin Bridge. This park is mostly known and used by the local Minnesotan community as a picnic recreational area.
The park is spread on several acres. It is pretty flat, with some pine trees and a few deciduous trees. It offers primarily a vast lawn, in addition to direct access to the Mississippi River front.
Despite its name, the Boom Island is not an island anymore. Indeed, in his previous life, it served as a sorting place for the log industry. Since then, they filled back the black channel that separated it from the rest of the land.
A lot of mini sessions and family sessions take place at the park.
A lot of in-love couples and families come there, not so much for the nice large grass-covered field, but mostly for the outstanding point of view offered on the City's Skyline (much better than the Nicollet Island's). Moreover, it is a huge park and thus barely crowded. Indeed, each group can easily be isolated from other people and so enjoying the nature without any immediate interaction with visitors.
These two points are actually great advantages for photo sessions. Indeed, a nice background is great for a photographer. It is also a necessity to be able to help his clients to be relaxed, whereas it is with a couple or a family! And the less a location is crowded, the easiest it is to relax.
We didn't meet many people, mostly some local boys petting their dog. Yes, it's a dog-friendly park!
Winter photo session at Boom Island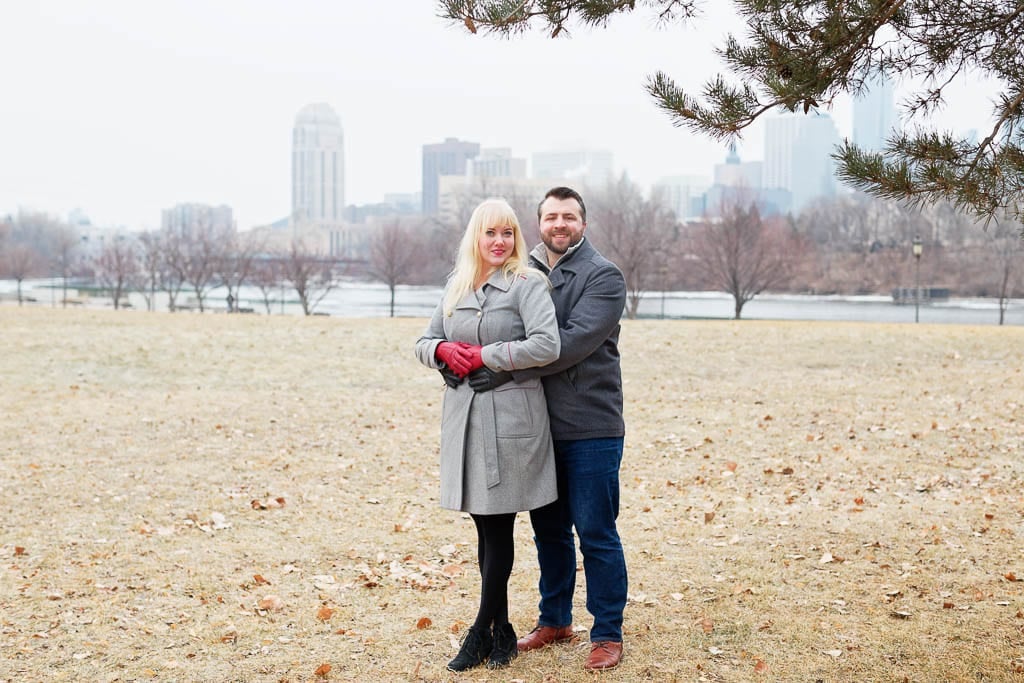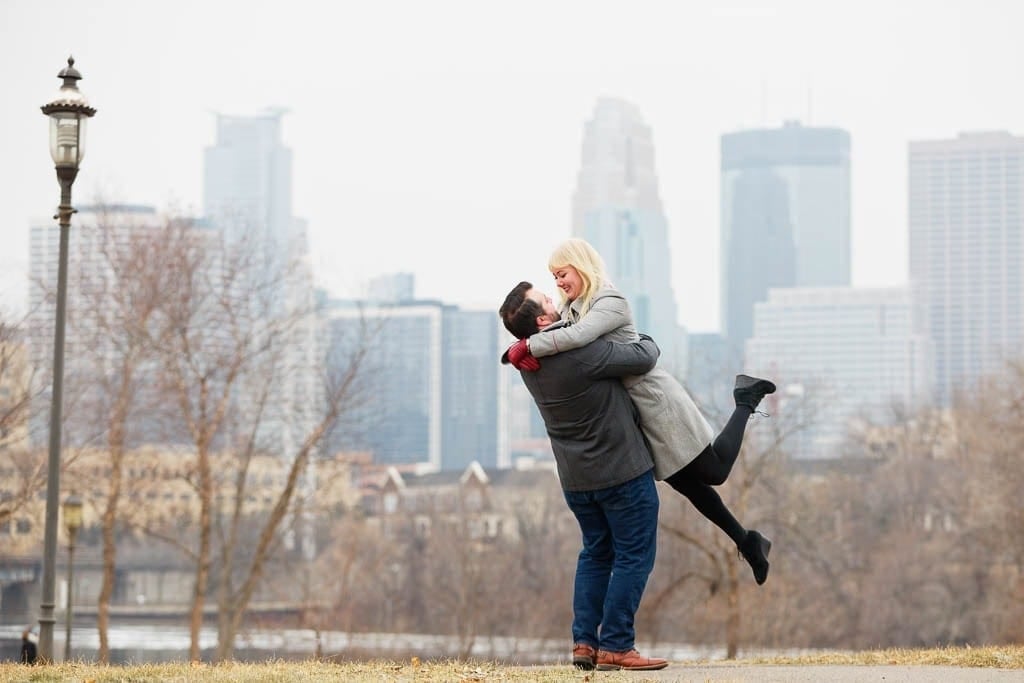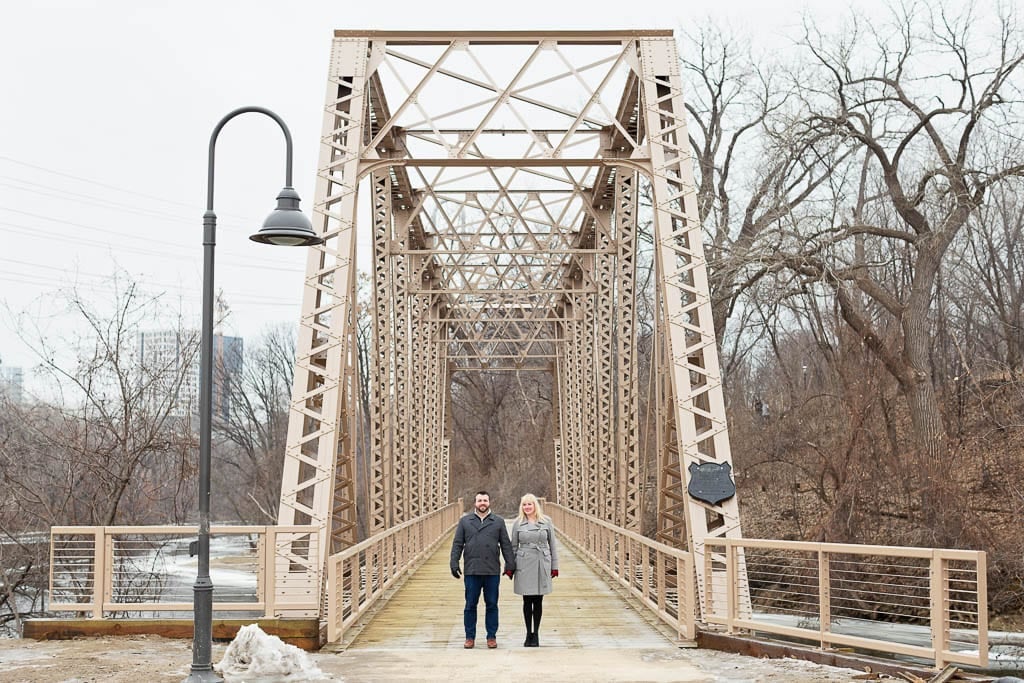 Well-dressed partners to tackle a winter day
As you probably know, besides the Vikings team and the Mayo Clinic, The North Star Sate is also famous for its exquisite winter temperatures. And on this winter day, the falls were probably completely frozen. Several times a year you wish that next summer will last forever. But let's stop this digression. I hope I don't sound too much sarcastic! Actually, when I'm telling my French friends that I am living in the 10 000 lakes state, they usually start to mention Fargo (the movie where they dye frozen in the car).
Anyway, as you understood, it was one of those freezing days with a lot of wind.
As I had suspected, Alison had coordinated their outfits, and Reid played the game. The shopping was well done, and they both wore a nice coat of high quality craft felt made from wool. They both had some leather gloves (black for Reid and Red for Alison). And, as you may notice, Alison matched her gloves with her coat red line and her lipstick's color.
It was a smart, efficient and elegant way to dress regarding the temperatures! Indeed, when clients show up with a massive winter coat looking like a ski outfit, suddenly taking great pictures becomes more complicated for the photographers.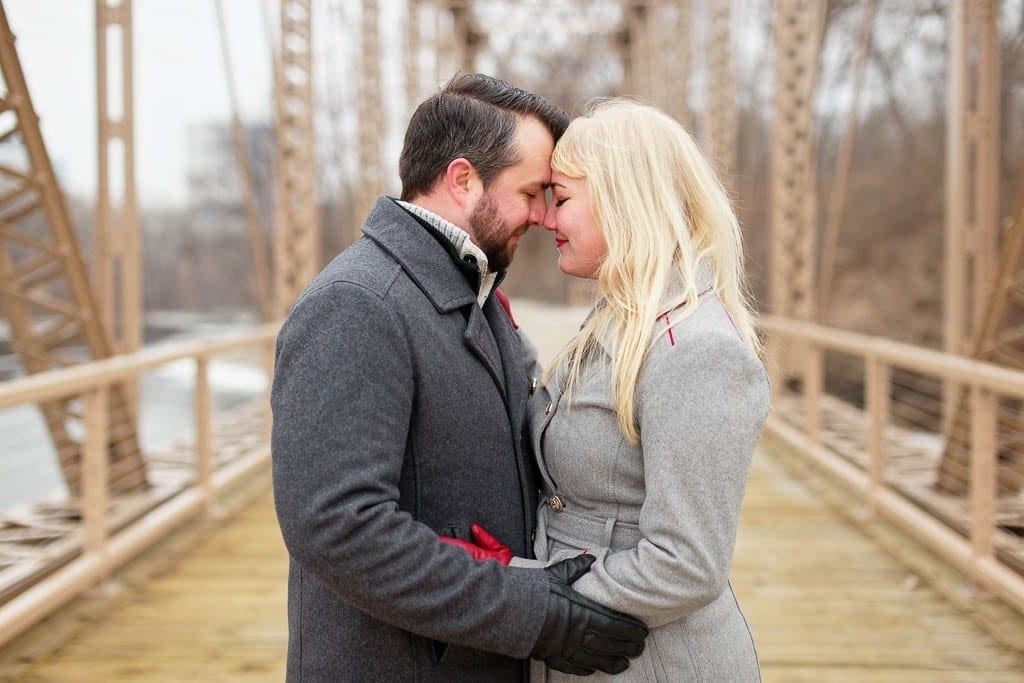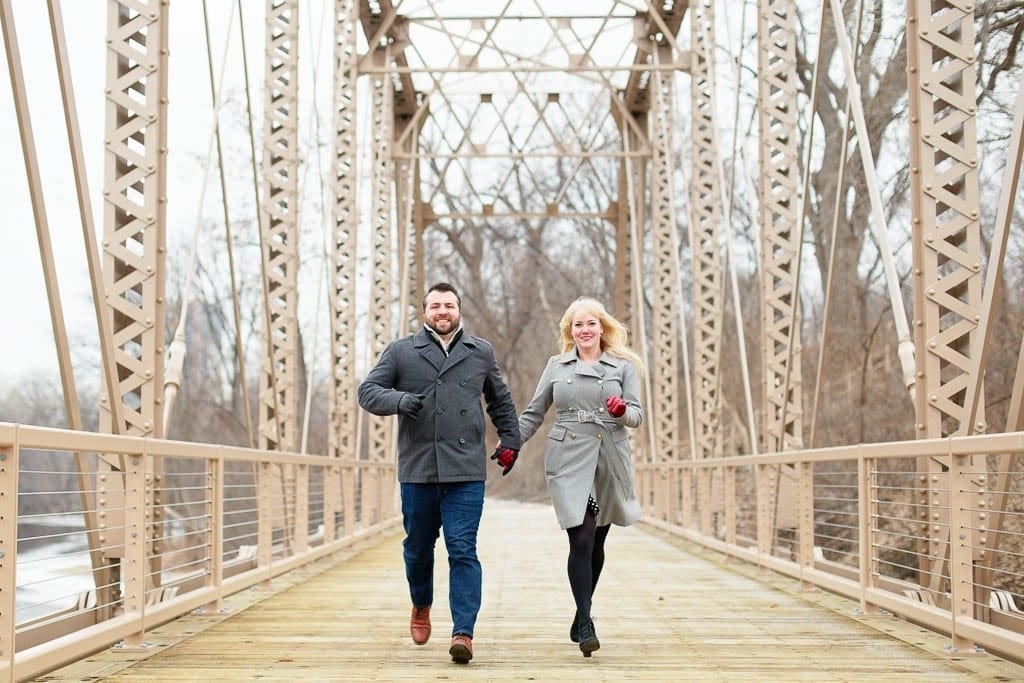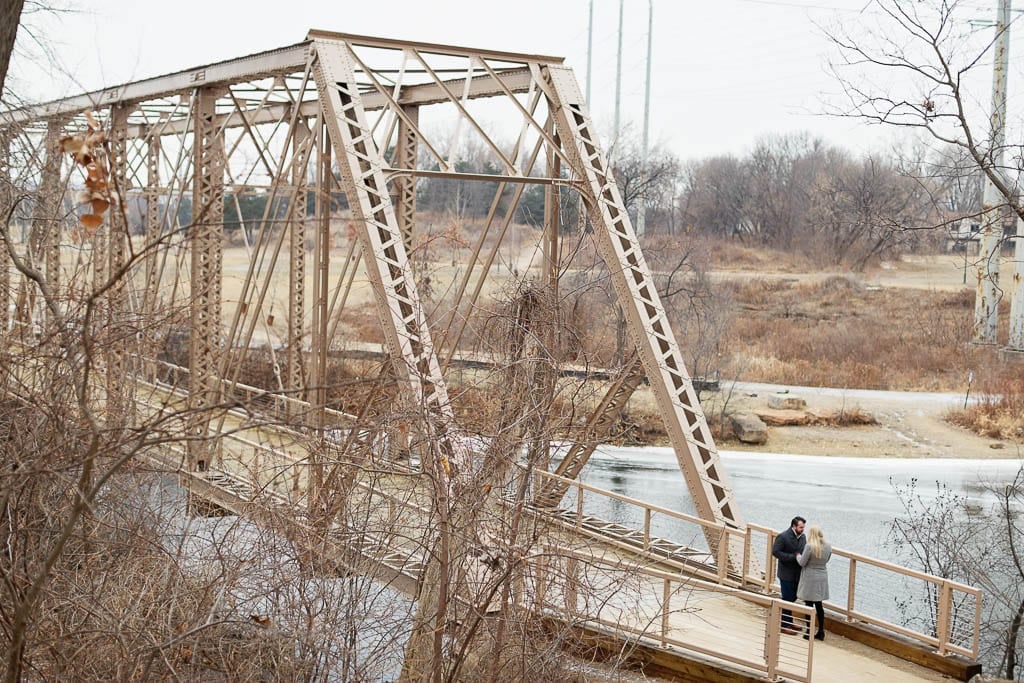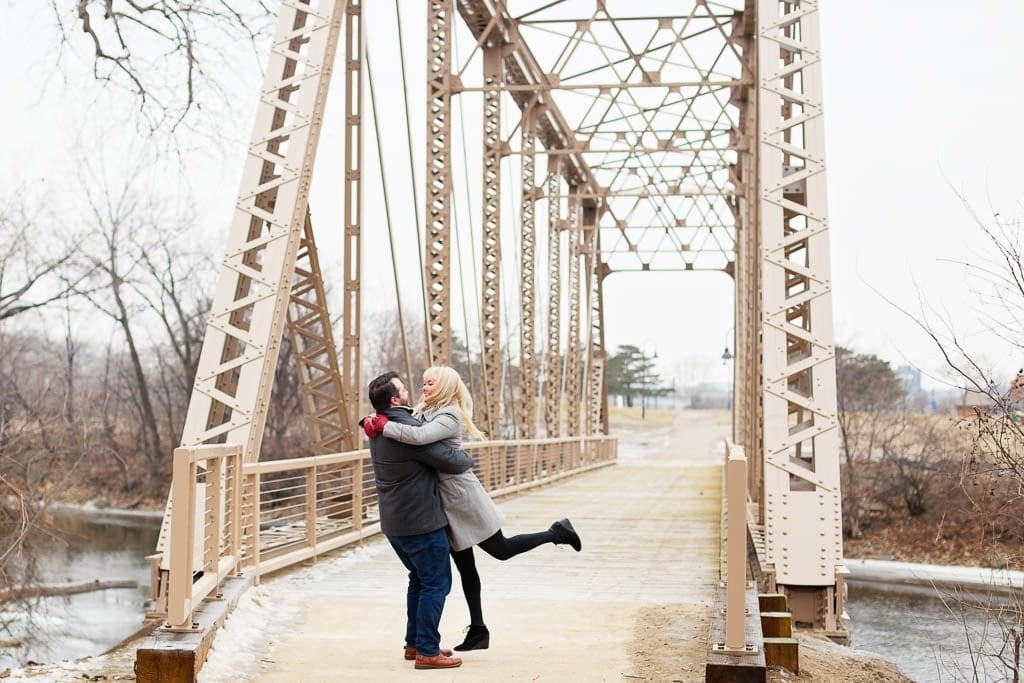 A Calm Morning
For Alison and Reid's photo session, we used the view of the city, which was grayish on this cloudy day. We also used the pine trees and the old fashion industrial bridge going over the Mississippi River. The wind was blowing and, despite our warm clothes, we were all freezing. Nevertheless those two lovers managed to have fun! And I hope you enjoy the pictures.
Alison and Reid are a very nice couple, and I am looking forward to cover their wedding day at the Swedish Institute!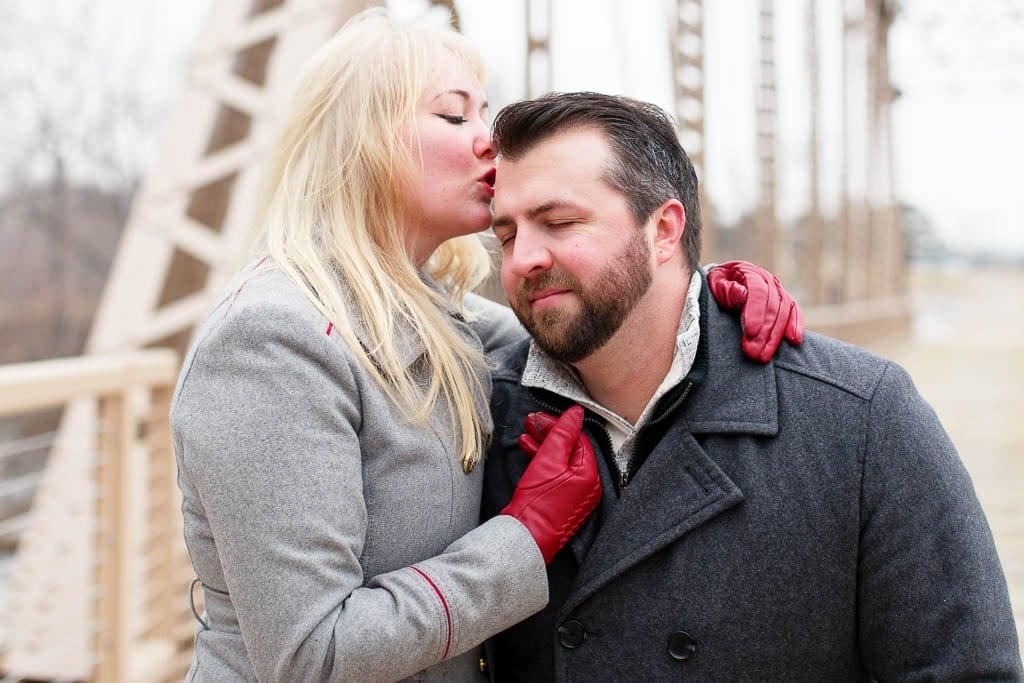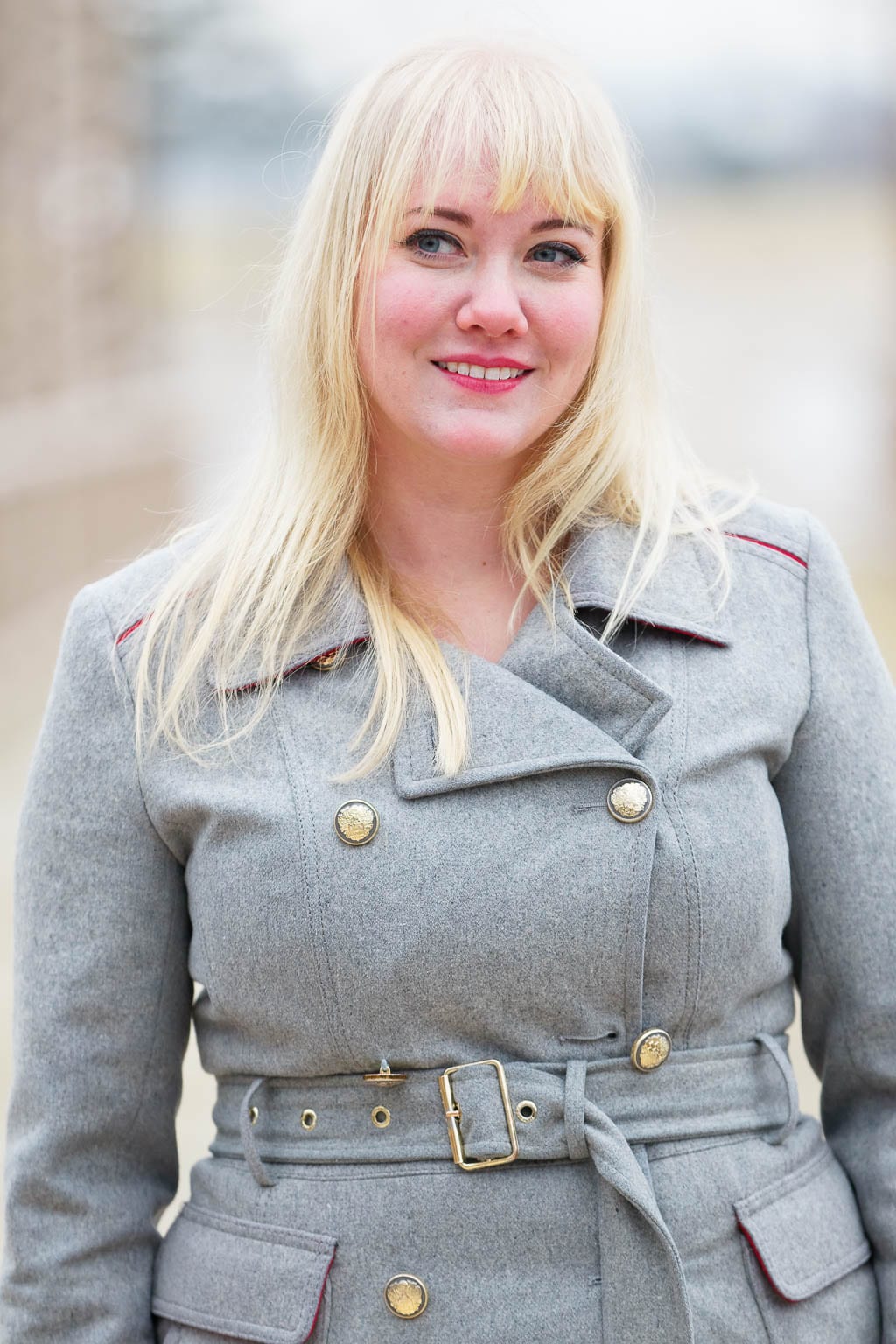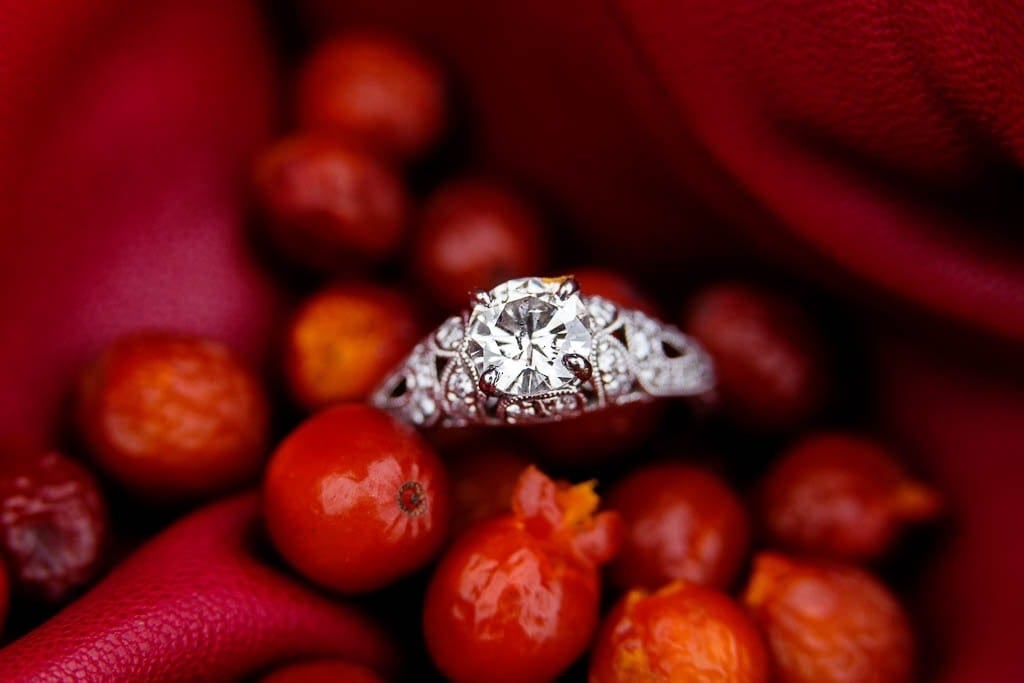 ---
A variety of locations to marry with Boom Island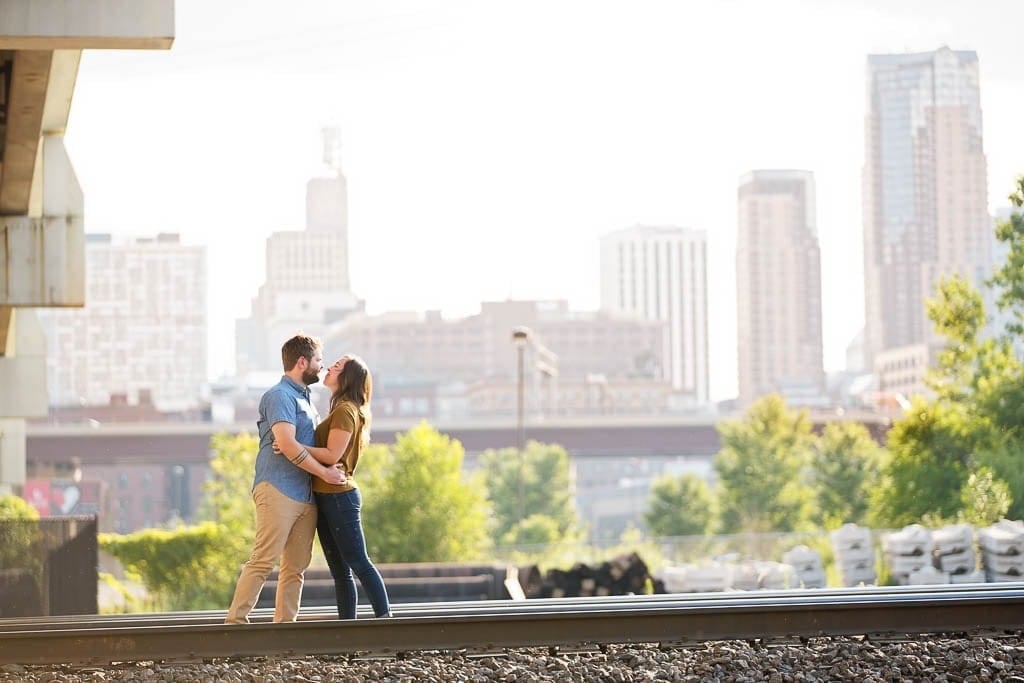 Bruce Vento Sanctuary
Bruce Vento Sanctuary is a recreation area, located 15 min driving from Minneapolis, offer a view on the city skyline of Saint Paul, Minnesota. It's for people who really love the city skyline but want a quieter location that the Harriet Island (which also offer a pretty amazing panoramic point of view of the city). Located alongside the railway, and under the highway bridge (much bigger than the Hennepin Bridge), it features a slightly different experience than the Boom Island. It offers high grass thus creates a high contrast with the city.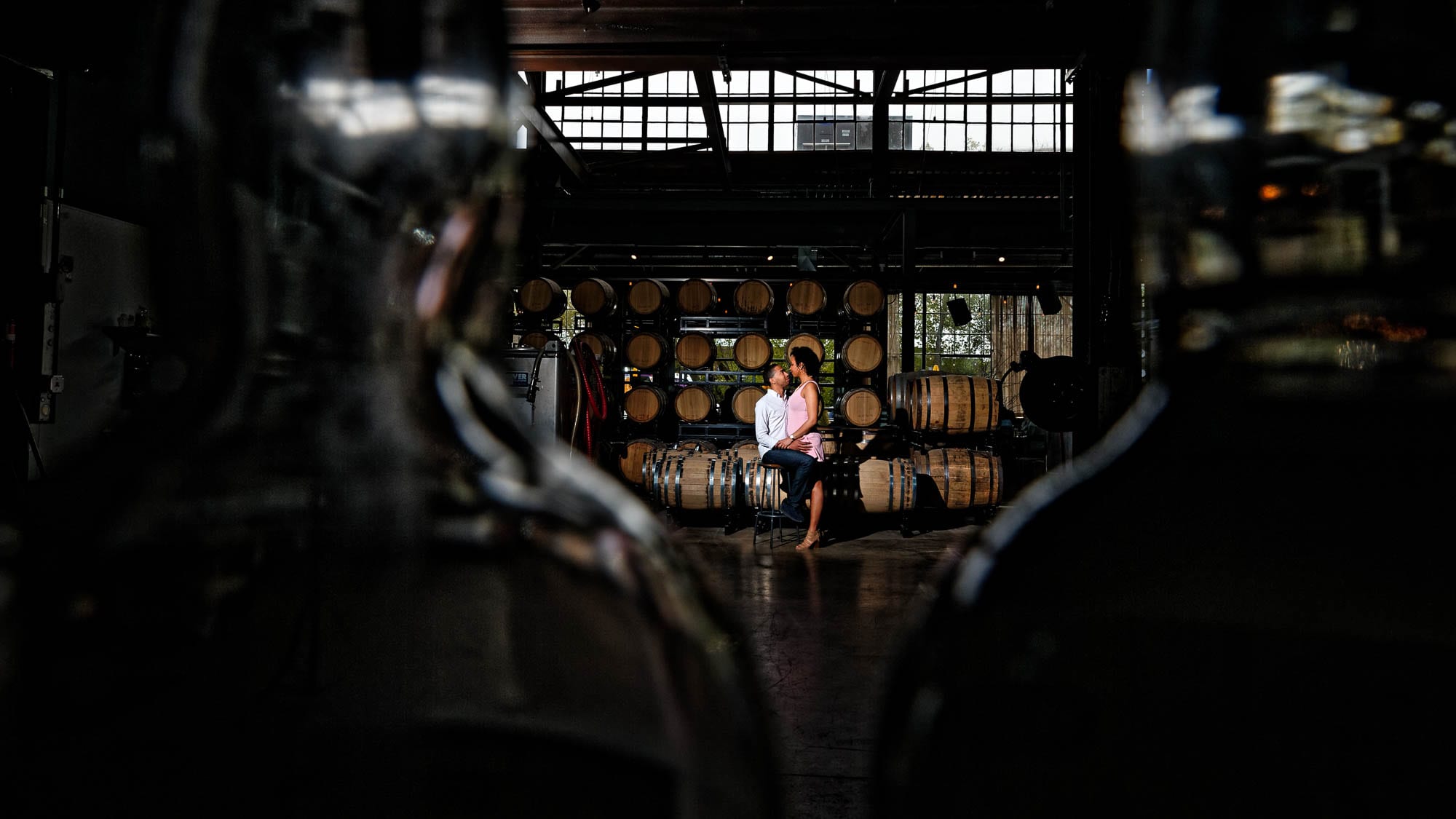 Brewery
After your photo session in Boom Island, you can take advantage of one of the numerous breweries located between St Anthony Theater and Harriet island.
You might like or not the smell of beer. Nevertheless, Breweries can be some very good solution during the winter. Indeed, they usually feature some nice barrels, and have a floor to ceiling glass windows that allow lots of natural light to enter.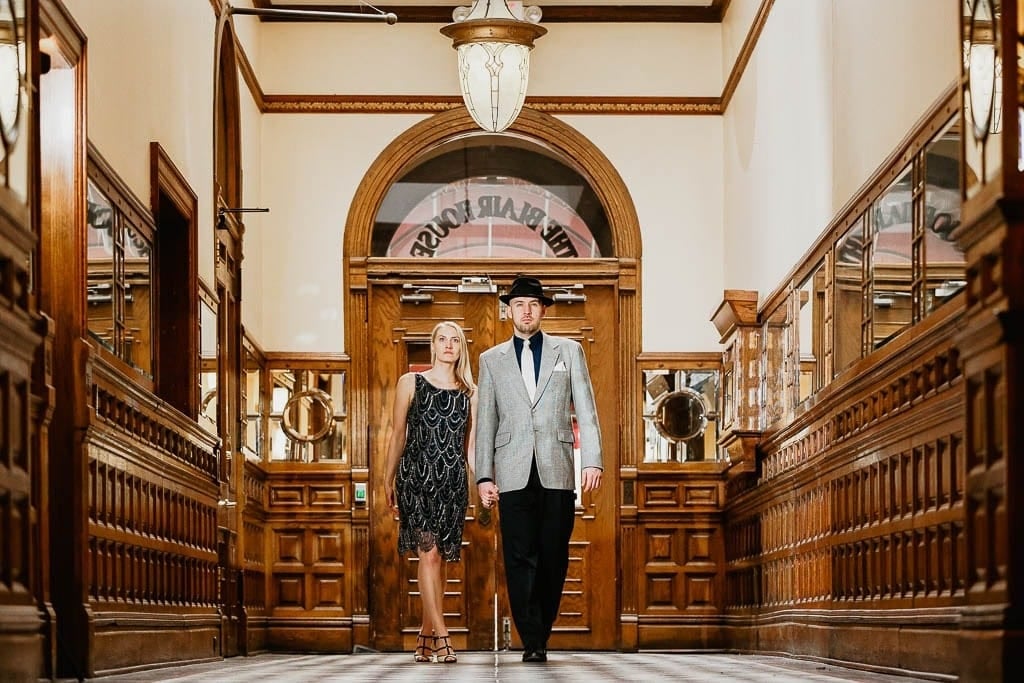 Coffee Shop
Need to warm up during a cold engagement session in Minneapolis. Coffee shops such as Nina's cafe (in St Paul, Minnesota), offered a warm and historic atmosphere to your pictures. It can be a good idea to start a session or just to stop a few minutes before heading to another location.
Weisman Museum
If you like modern architecture, then you won't be disappointed with its exterior!
Mill City Museum
Located near the Stone arch Bridge, it's an old industrial building. With almost 10 000 square feet, there should be enough room for a few couple pictures. It's a great indoor location in case of rain.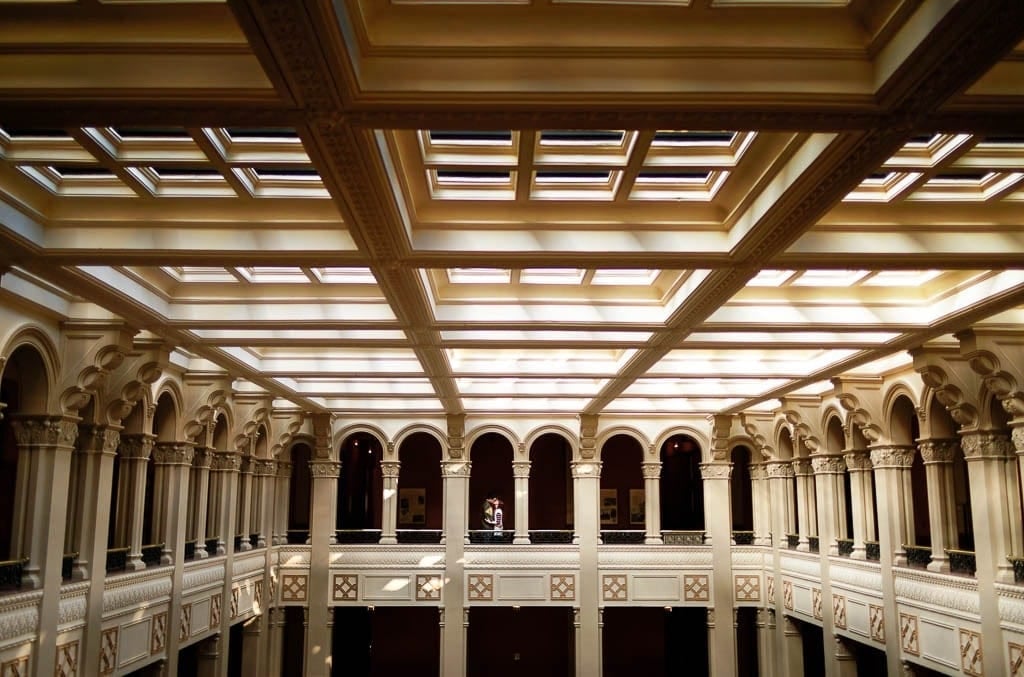 Landmark Center
Located on Washington Street, in St Paul Downtown this century-old building is a real jewel.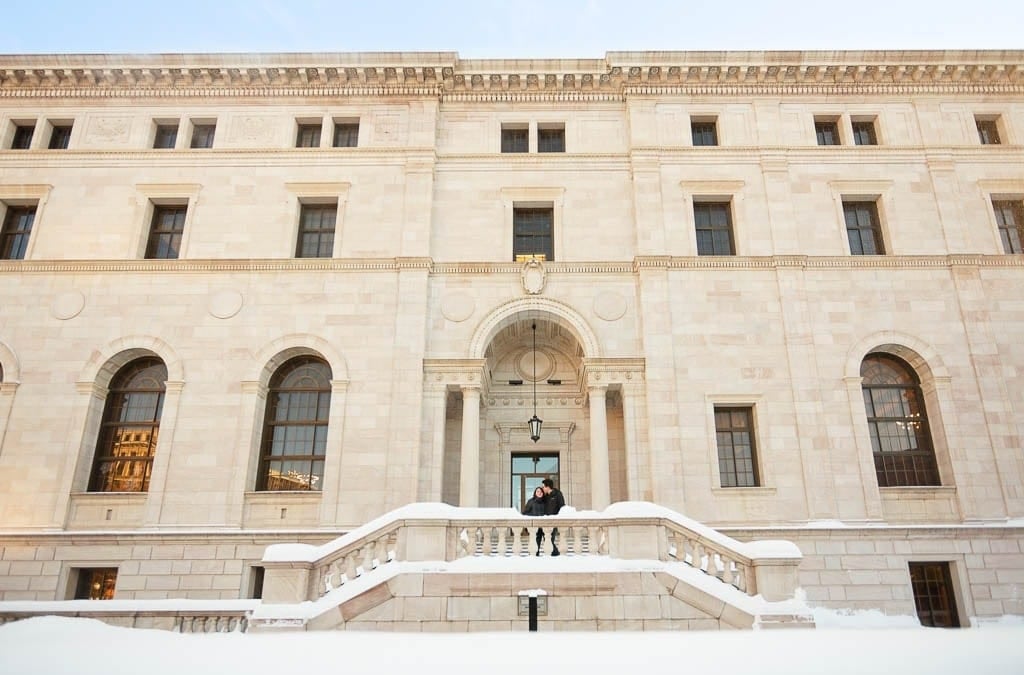 Georges Latimer Library
Also Located in St Paul Cowtown on Washington Street, this building is beautiful all year long!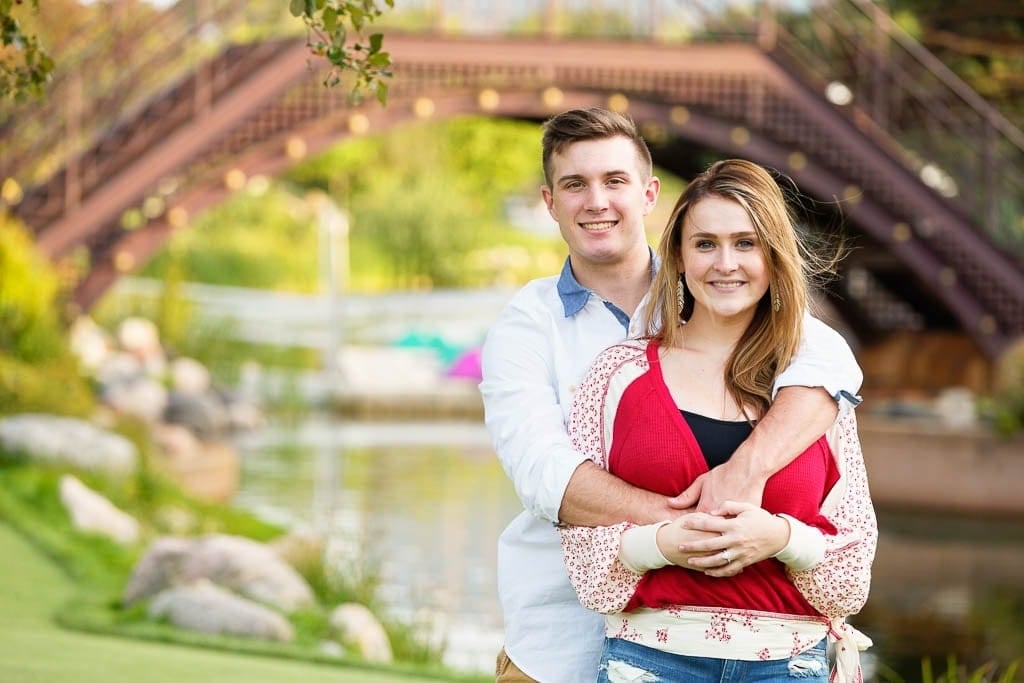 Centennial Lake, Edina, MN
Built around a man-made reservoir, this place is a mix of nature and modern and romantic architecture. Located in the south area, near Minnetonka, it's a very popular choice for pictures.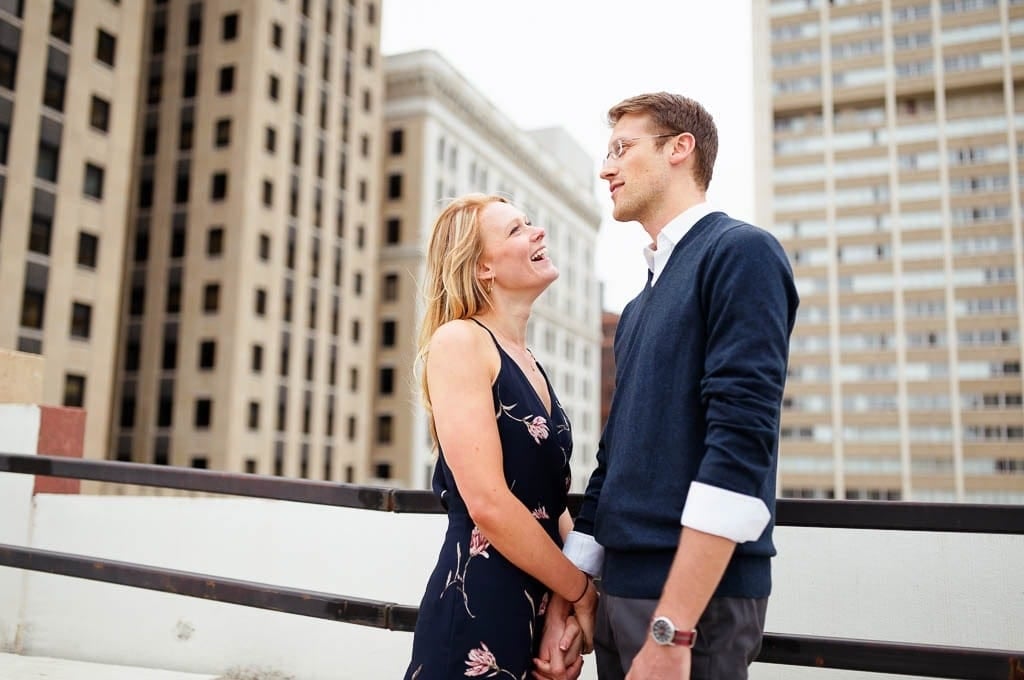 Rooftops
You love the NYC touch produced by St Anthony Theater's bulbs, then try a rooftop photo session with a view on urban Minnesota! That will definitely change from the Minnehaha falls, and other park! Imagine your pictures during the sunrise or the sunset hours! I love 43-Cedar Street Parking (located, as you can guess on Cedar Street, St Paul).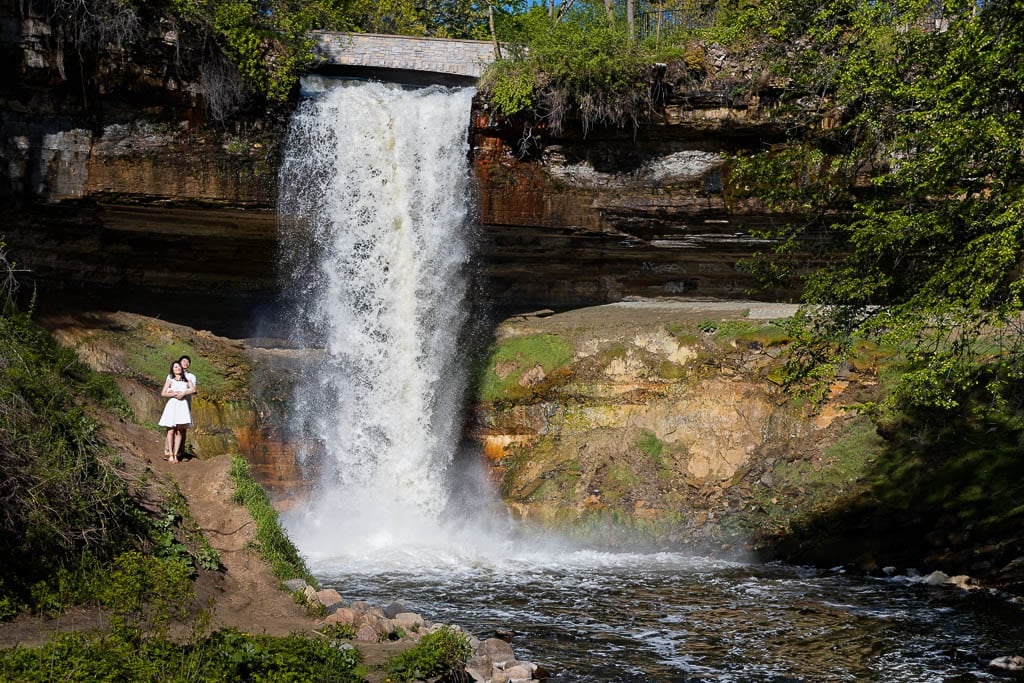 The Falls
The Minnehaha falls are a very popular touristic recreation attraction that draws families and couples! With fifty feet tall, that fall is impressive. The landscape change all year long. It's a classic but it works great.