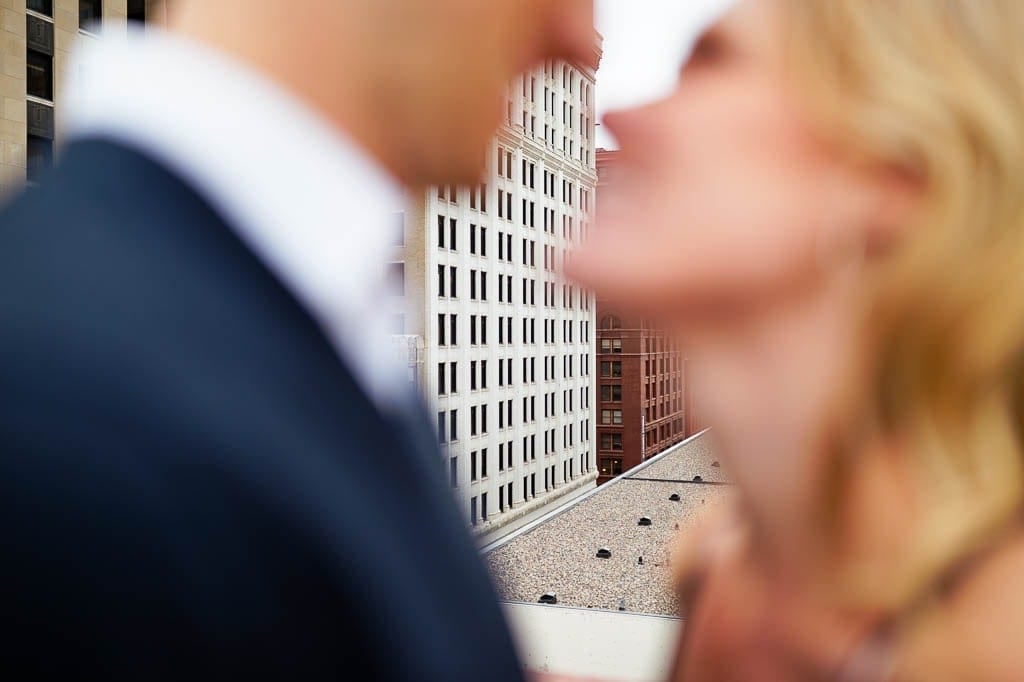 Have you already think of a Photo session on a Rooftop?
Give an Epic style to your Engagement Session with a Rooftop in St Paul Mn
After making his surprise proposal in Minneapolis, Lindsey and Jordan have their engagement photos taken on the Cities.
This is the third and last, but not least part of this photo session.  It took place on a spectacular rooftop in St Paul, MN.
We will see in this article why rooftop is a great location and why photographers love them so much.
First, I invite you to have a look at the previous parts of the photoshoot, on the Raspberry Island, surrounded by the Mississippi river shore, and then at the Kellogg Mall Park. From there, we literally went across the street on the last level of this parking ramp.
This unforgettable session is by far one of my favorite of the year!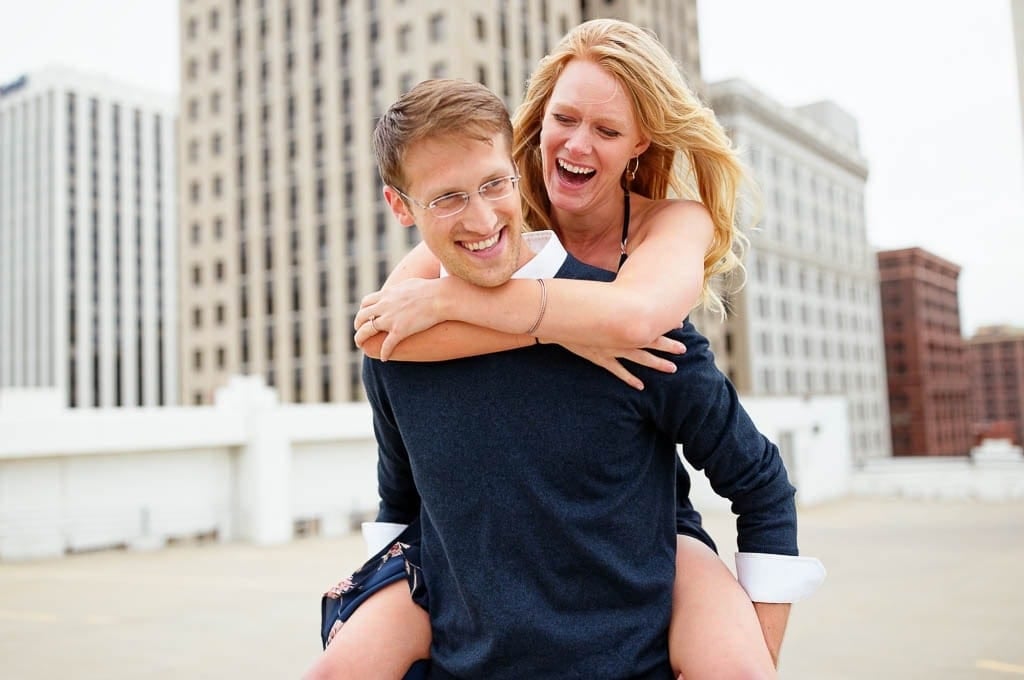 Stunning couple
The bride and the groom-to-be started to feel at ease in front of the camera of their wedding photographer, which felt like some kind of omen for their future ceremony near the cities.
Also, having nobody around in such exceptional location allows them to reveal their true love, genuine relationship and their personalities. The result was some romantic pictures that they used for their save-the-date card.
These best shots show off this exceptional couple's energy. Jordan makes jokes, and they were laughing all the time while the icy wind was still blowing the dress and giving life to their hair!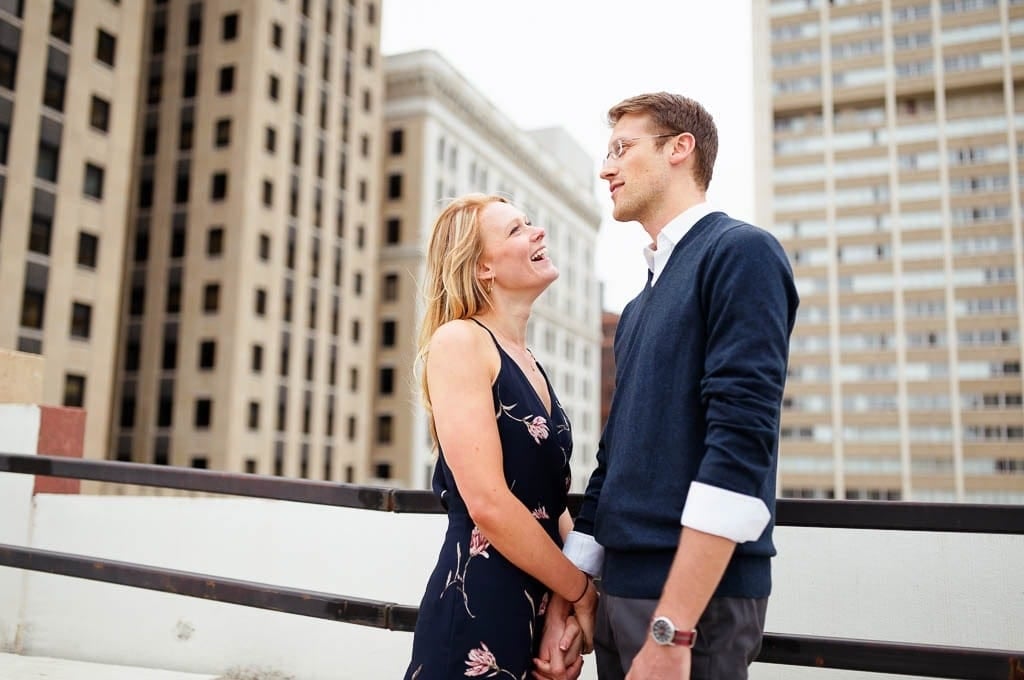 The story behind the ring offering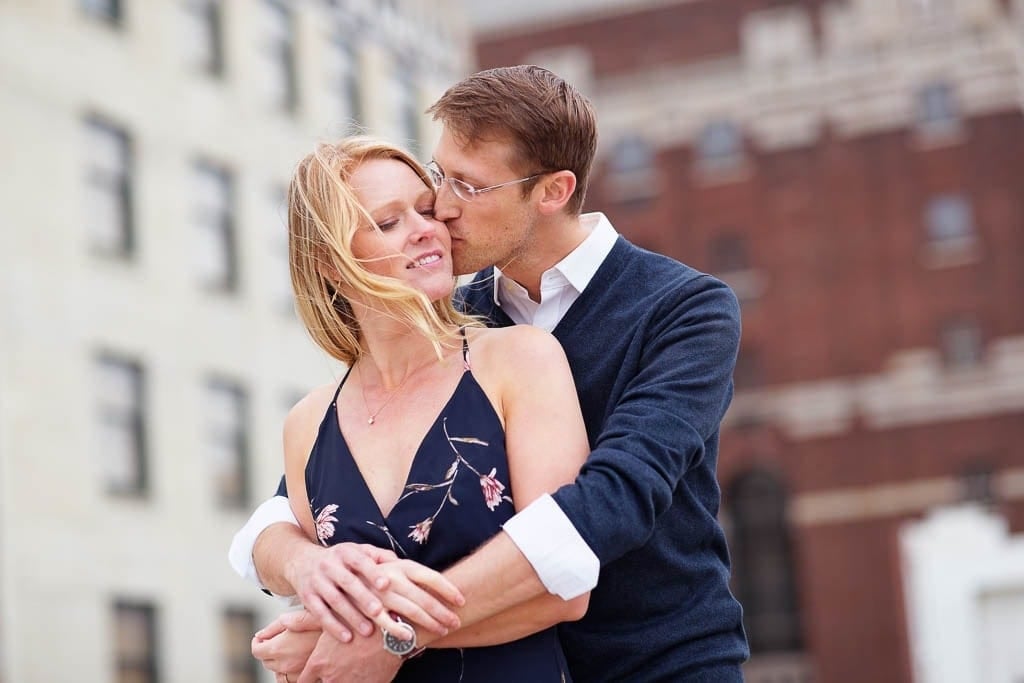 For those who are still wondering how to offer your fiancé her diamond ring, I will share his smart move here.
He invited her to ice skating, where he pretended to fall. Lindsey, one of the most considerate people I have met, went to him. And it is at this moment that he surprised her with a ring. I really like this story because this love is about: helping each other and continuously surprise each other after years. Isn't it an unforgettable surprise proposal?
Turning a simple roof into NYC for your engagement shot?
Let's be honest, as a photographer I love shooting rooftops with a big city as a backdrop. It carries all the NYC ambiance and phantasms with it. It is not just about a scenic overview on the Saint Paul Metro area, not just a skyline of the city, nor just about the architecture of the majestic and historic buildings. It's about liberty, excitation, incongruity and subversion!
It is not surprising that a lot of fashion editorial series are shot on rooftops.
Well, luckily enough, Saint Paul MN, has some great rooftop option. I have even created a list of all of them I suggest to my future brides and grooms-to-be!
Advantage and Limit of This Rooftop for Your Photo Session
This parking ramp, at between Kellogg Boulevard and the 4th Street East, and has access through the Skyway. It means, if you get married at a close wedding venue uptown, you might use this perfect place for some pictures. Check the last pictures of this couple's marriage at the Saint Paul Athletic Club.
The limit of this parking is, like often in St Paul:  the weather. In case of rain or snow, it quickly becomes complicated to take pictures there, even with a waterproof camera.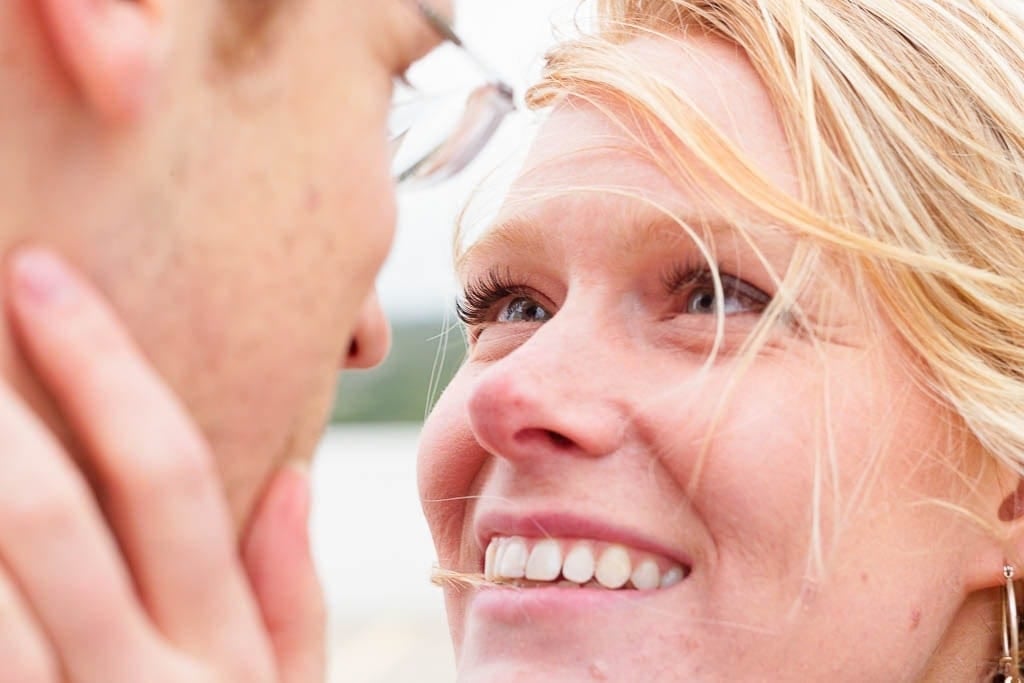 Makeup and Hair Consideration
No surprise if I tell you that there will be a lot of wind. Also discuss with your hair stylist and other vendors your options.
You Need a Second Location
Despite rooftop is amazing, I would suggest that you pick a second place to have your relationship captured in front of my camera. Best photographers recommend having a variety of backgrounds in order to have different styles of images. It can be a park, offering a natural landscape, or a coffee shop, in case of terrible weather.
Parks
just to name few:
Boom Island (on Saint Anthony Main Street), works for summer and winter engagement sessions.
Minnehaha Falls and Minnehaha Park is a classic
Harriet Island with its view on the City Skyline ,
Como Park with its Zoo and Conservatory works finely
Harriet Island with its view on the City Skyline ,
Coffee shop ,
Just to name a few:
Nina's Cafe, in a historic building feature a remarkable hallway loved by photographers and other vendors.
Aster Cafe, on Saint Anthony Main Street, with its wood interior. They also host ceremony in Minnesota. It features a low light bulb and gives a touch o NYC style to image (so if you don't have the view from the top of the building; at least, you can enjoy the historic style).
Great waters brewing company, in front of the Landmark Center, offers a place to warm up between two photos.
Should you plan a rooftop wedding?
Venues, such as A'Bulae offer to host weddings on the top of their building. I honestly would be pretty excited to cover a marriage ritual there!
Of course, again, the downside of venues such as A'Bulae is there exposition to unpredictable weather. It can be cold and rainy, but too hot during summer! Luckily, like A'Bulae they usually have a decent indoor space that guarantees a charming reception.
Last Word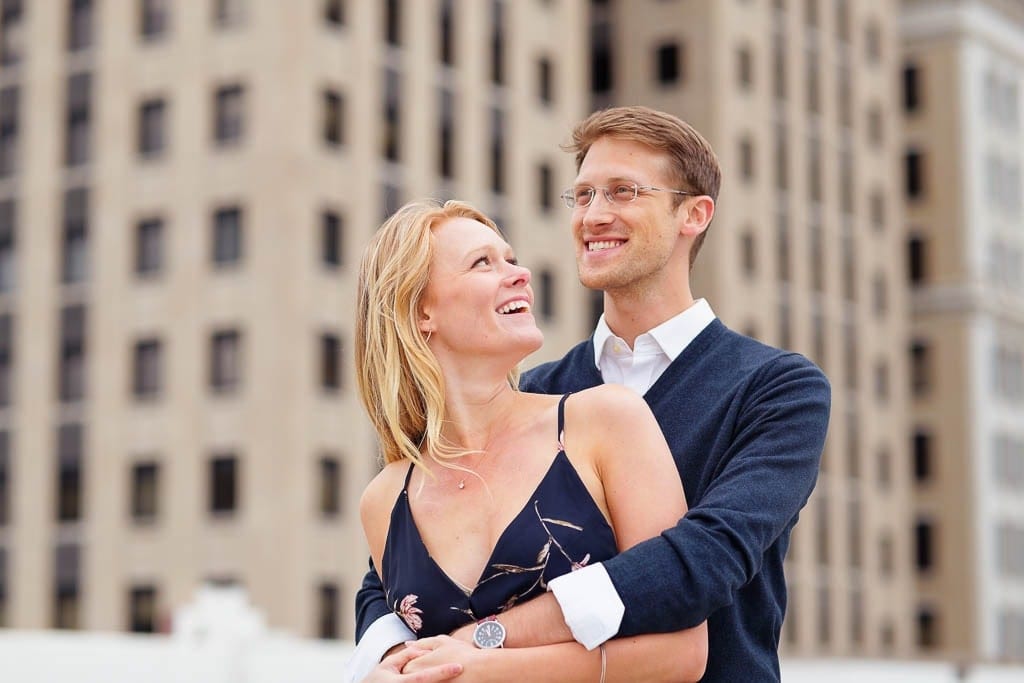 I hope you liked the photos of this photo session on a rooftop and you may do the same. Of course, it won't fit to all personalities.
My only regret is not to have the sunset, but I knew the pictures would definitely turn great. Also, when I left the couple to have their dinner, I was very excited to cover their special day in Stillwater, Minnesota (so 30 min driving from Minneapolis) at the Loft Studio. But this is for another article.