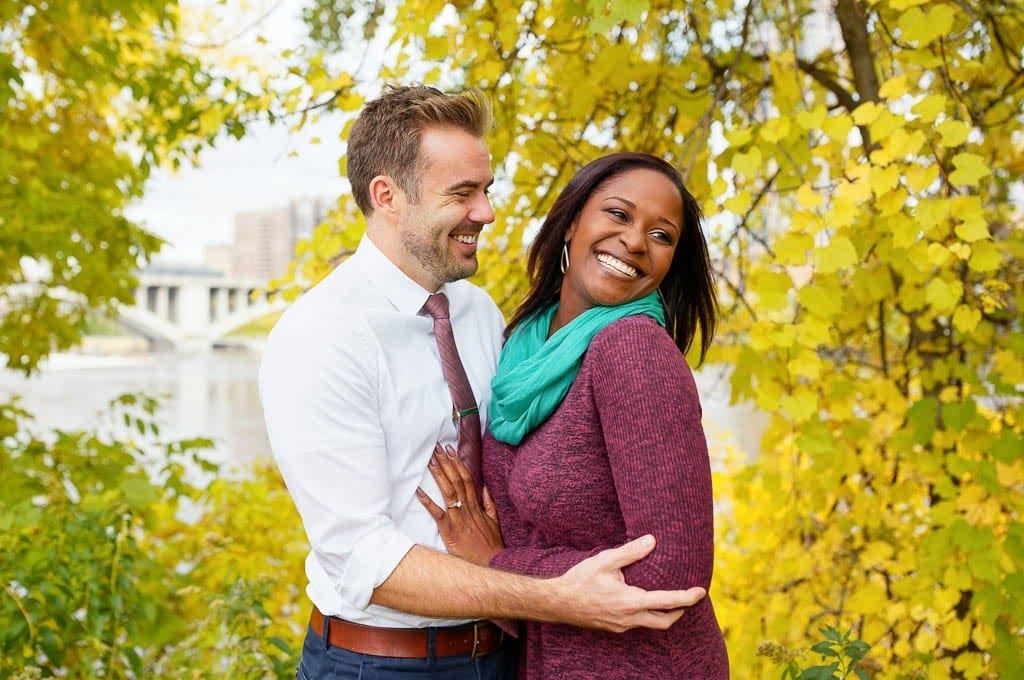 Nadine & Kevin fall session
Nadine & Kevin Engagement Session at Nicollet Island Minneapolis
Today, let's go back to Nadine and Kevin's fall engagement session that I have covered a few months ago in Minneapolis. Indeed, if as a photographer I like working in Duluth, Much of my clients hire me to cover their ceremony in the Twin Cities.
The first part of the session took place at the Nicollet Island, and the second part along the Mississippi River shore.
This in-love couple is planning to get married at the Nicollet Island pavilion, in Minneapolis. They were looking for the best photographer in the Twin Cities to cover their ceremony at the Basilica of St Mary. Yes, you may have understood that they wanted nothing but the best vendors.
In consequence, it's through the internet that we made the first contact. Shortly after, we met in a coffee shop in Saint Paul Downtown and I showed them my photography albums.
Nadine was pretty concerned about her photographer ability to properly capture beautiful images of a "mixed race" couple. Someone in her family told her it's quite difficult and not all photographers could do that. That's a great question, which is never asked in France (the etiquette), so I was quite surprised, but indeed, sometimes, it's difficult.
After I send her a couple of links to "mixed skin tones couples" wedding albums, she was reassured and she decided to hire me to cover her wedding! Hooray!
Fun session near the pavilion with a Deeply in Love Couple
Sometimes it's difficult for a wedding photographer to inspire a couple. And sometimes love just pops up in front of my lenses and all the portraits look great. This day was one of those days when magic occurred.
Nadine was the rigorous one in the team. She was working in HR and she was a decision maker. He was the artist and philosopher, teaching English at high school. They met in real life, in the traditional old fashion way: in a bar. She first engaged the conversation and he probably used his actor's magical smile to seduce her. Several months later he went down on his knee to make his proposal! She obviously took the ring. A few weeks later, their engagement session took place.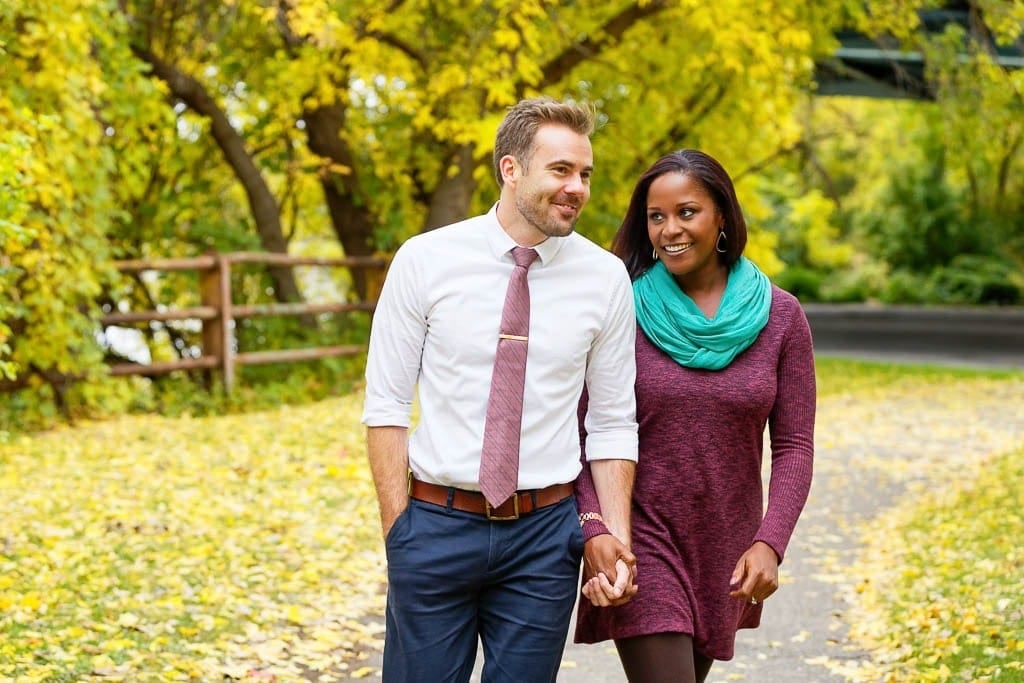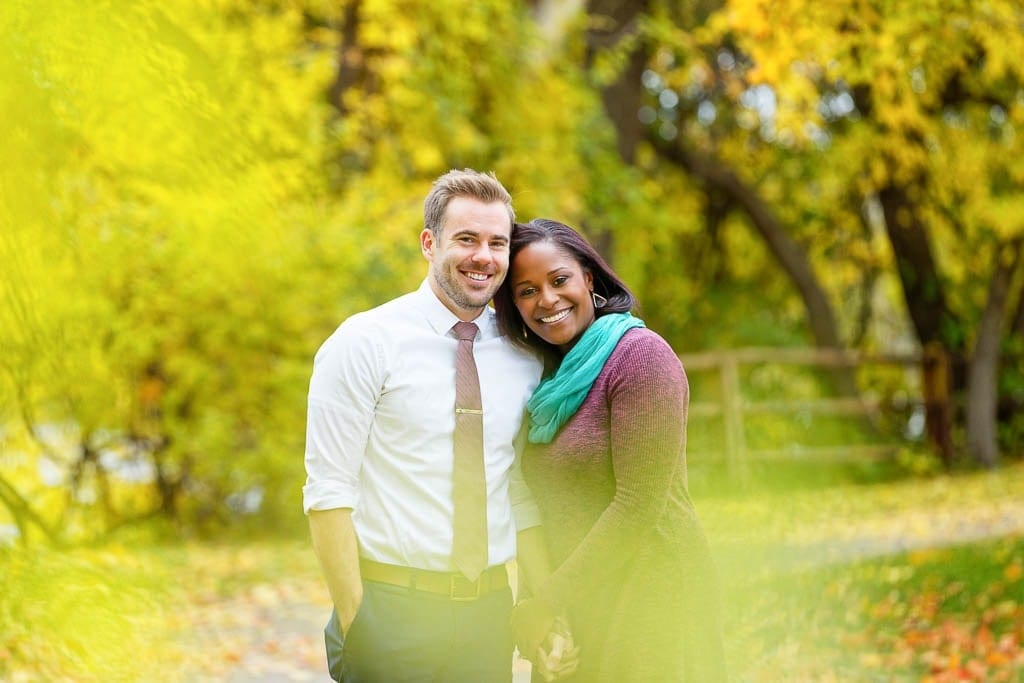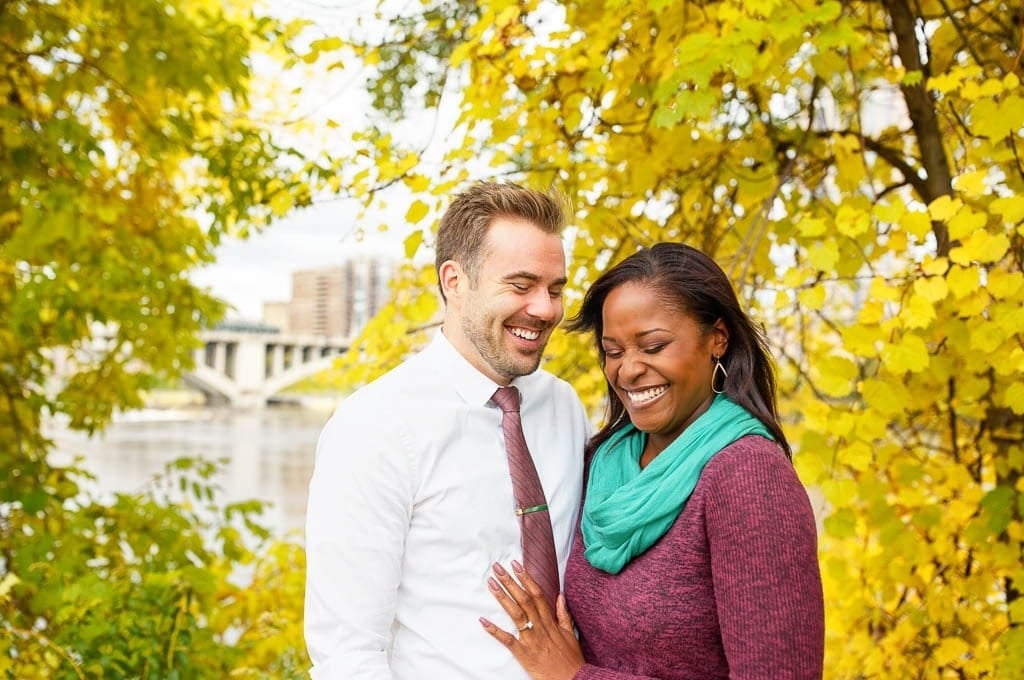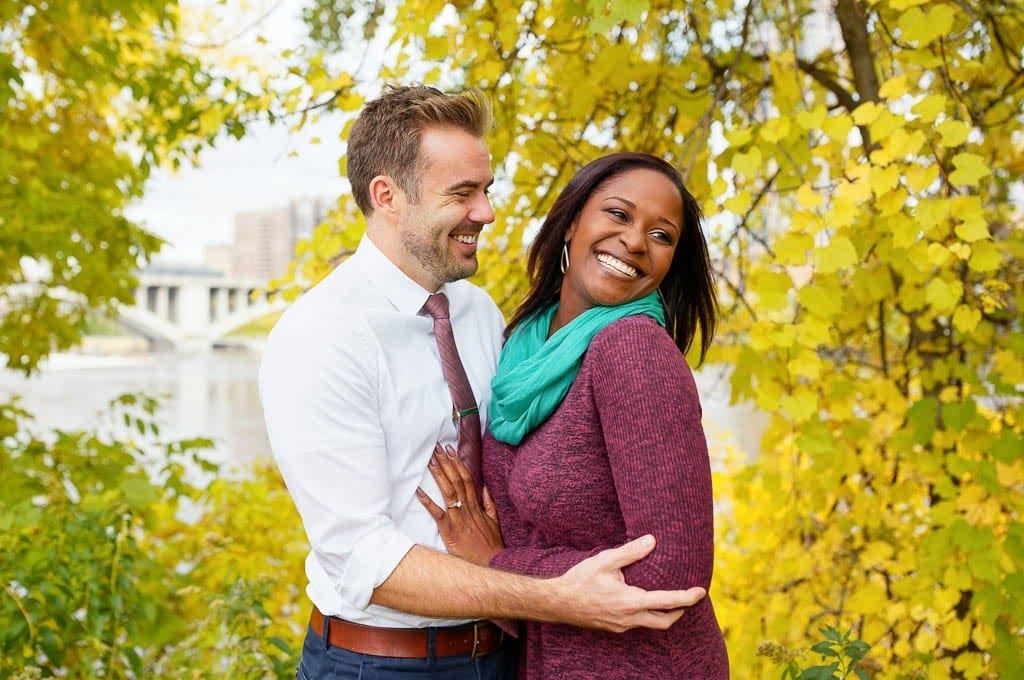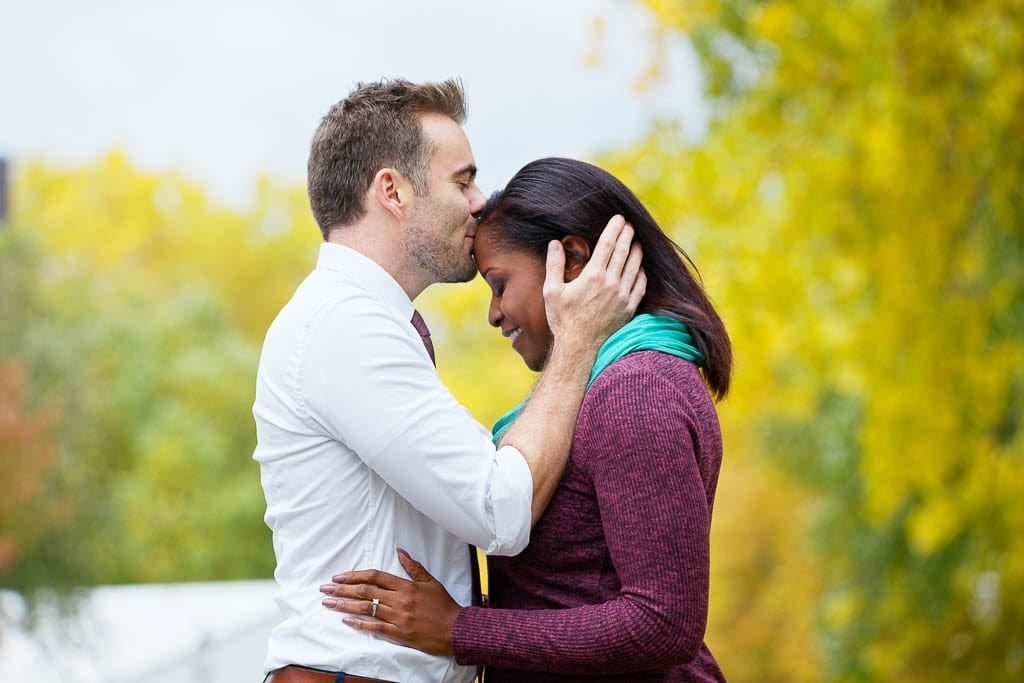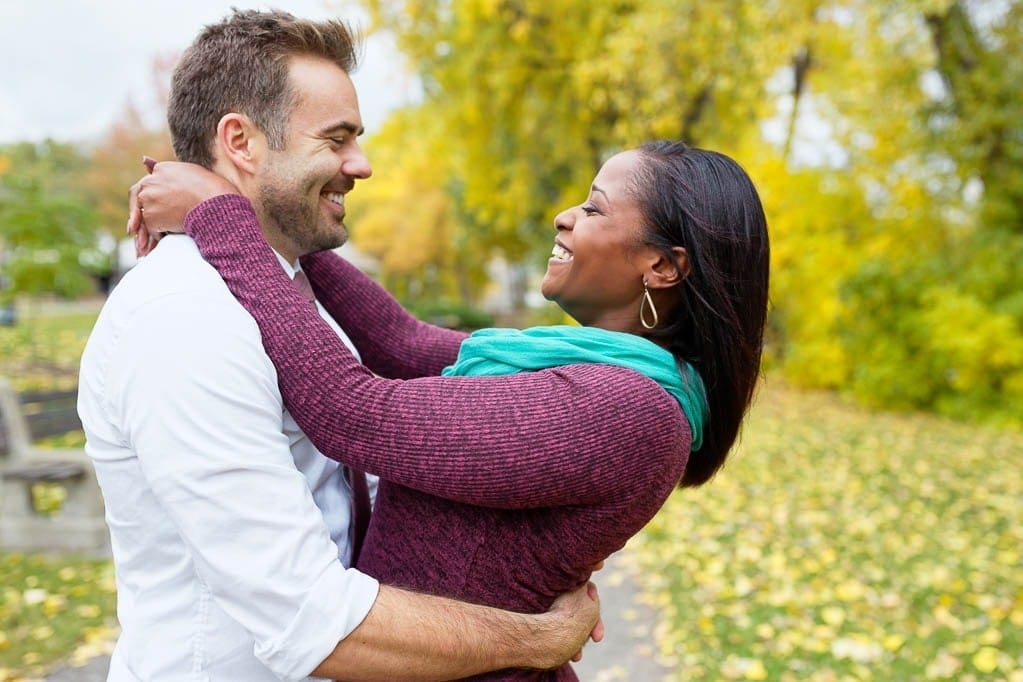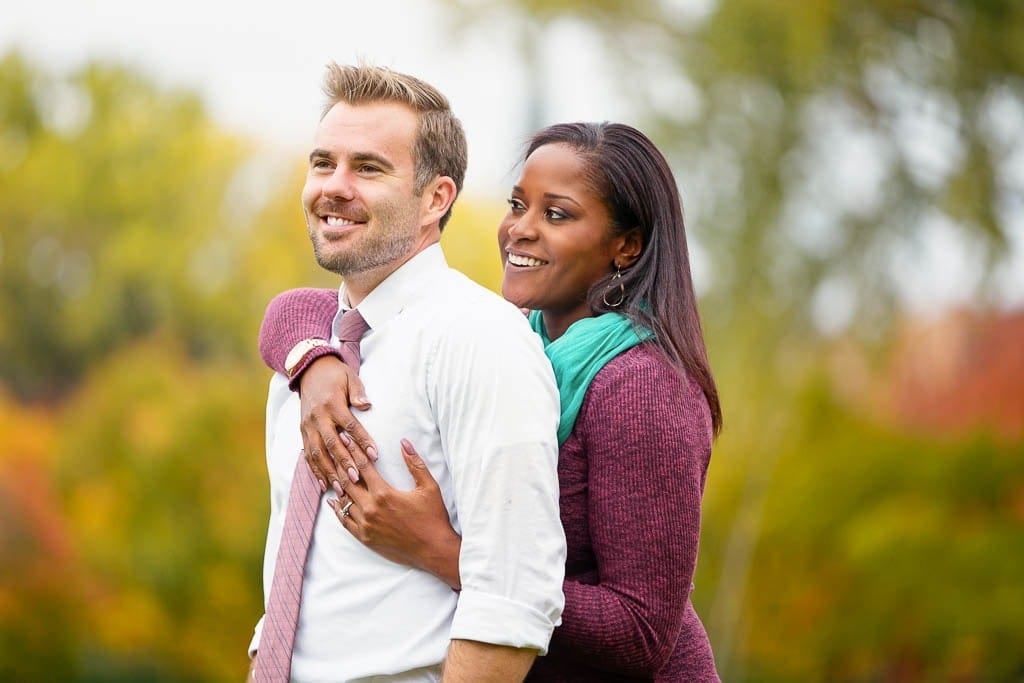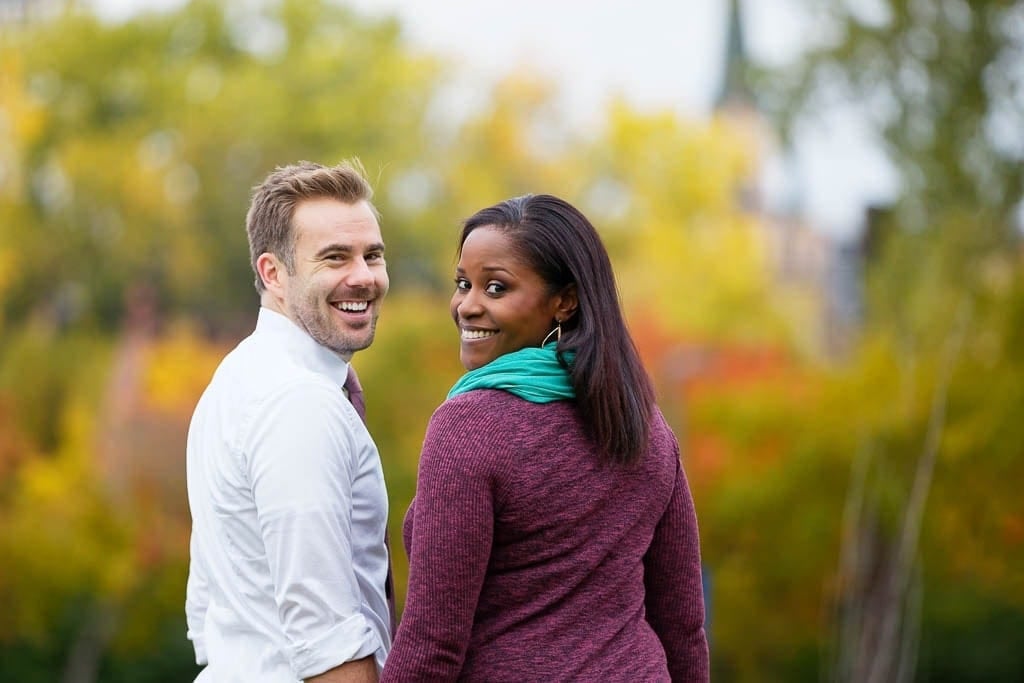 Nicollet Island and Its Pavilion
Located in the middle of the Mississippi River (attached to Boom Island), facing the buildings of the Hennepin Avenue and Saint Anthony Mains St, Nicollet Island is well known in the wedding photographer community. It is part of the best photo spots of the City, surrounded by the boom Island Park and other parks in the south.
On the Island stands the Pavilion, a renovated industrial building with red brick and steel beams. The Nicollet Pavilion made the glory of Minneapolis years ago, and is now turned into a wedding venue.
It has a direct view on the city skyline, a direct access to the Mississippi River and it is surrounded by nature! In other words, it's a perfect location for photographers. But on this day we couldn't get close to the pavilion, it was booked for a wedding or similar type of party and we didn't want to disturb other photographers work.
So we started taking pictures under the Hennepin impressive bridge.
Then, we walked on the Nicollet Island Pavilion, taking advantage of the fall colors. It didn't take long before I knew I had an extraordinary couple! They were laughing all the time. I asked them what would be the most mocking name they could find to name their future half. Kevin, being a teacher and knowing a lot of names, could have taken the advantage. But he demonstrated a professional sense, and didn't.
Actually, I think it's just because they are so in love I could have told them anything and they would have made fun. There was a lot of laughter. I won't complain, that offered great portraits.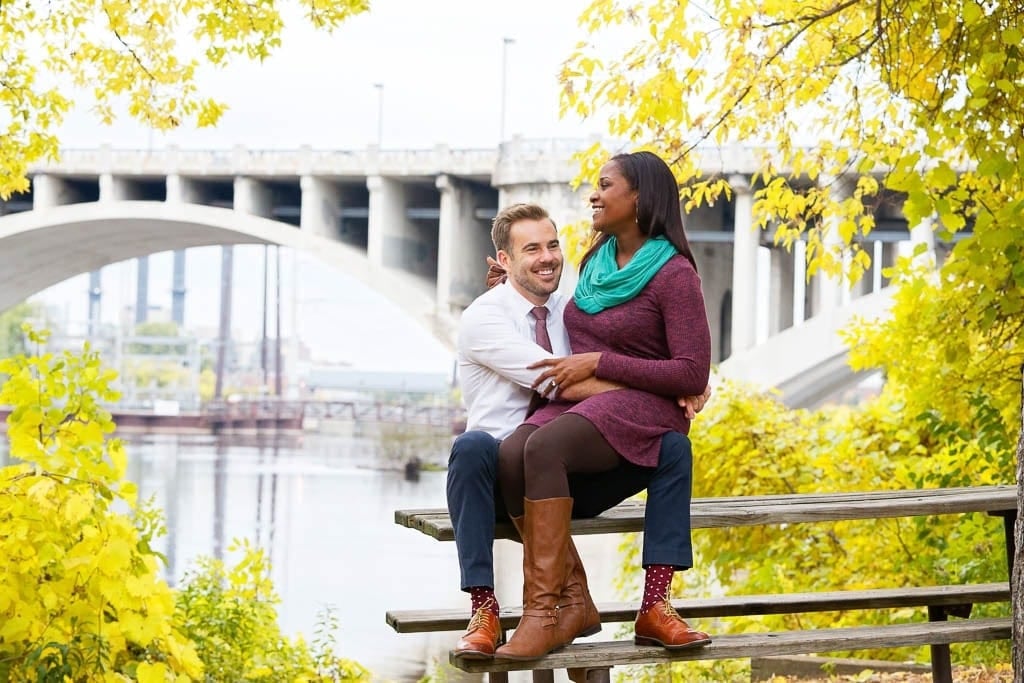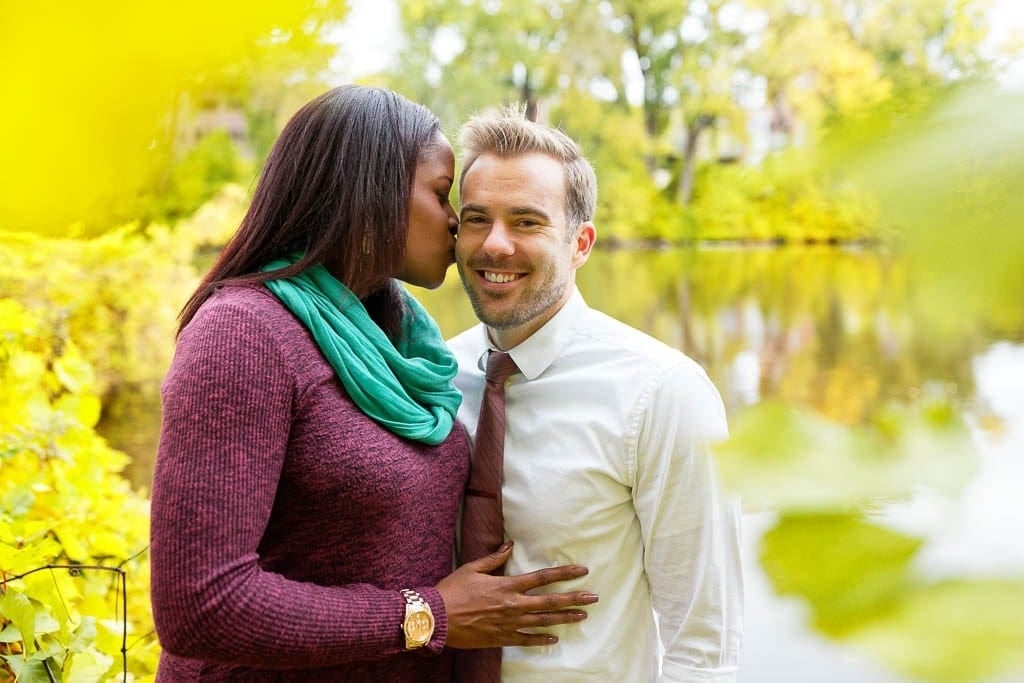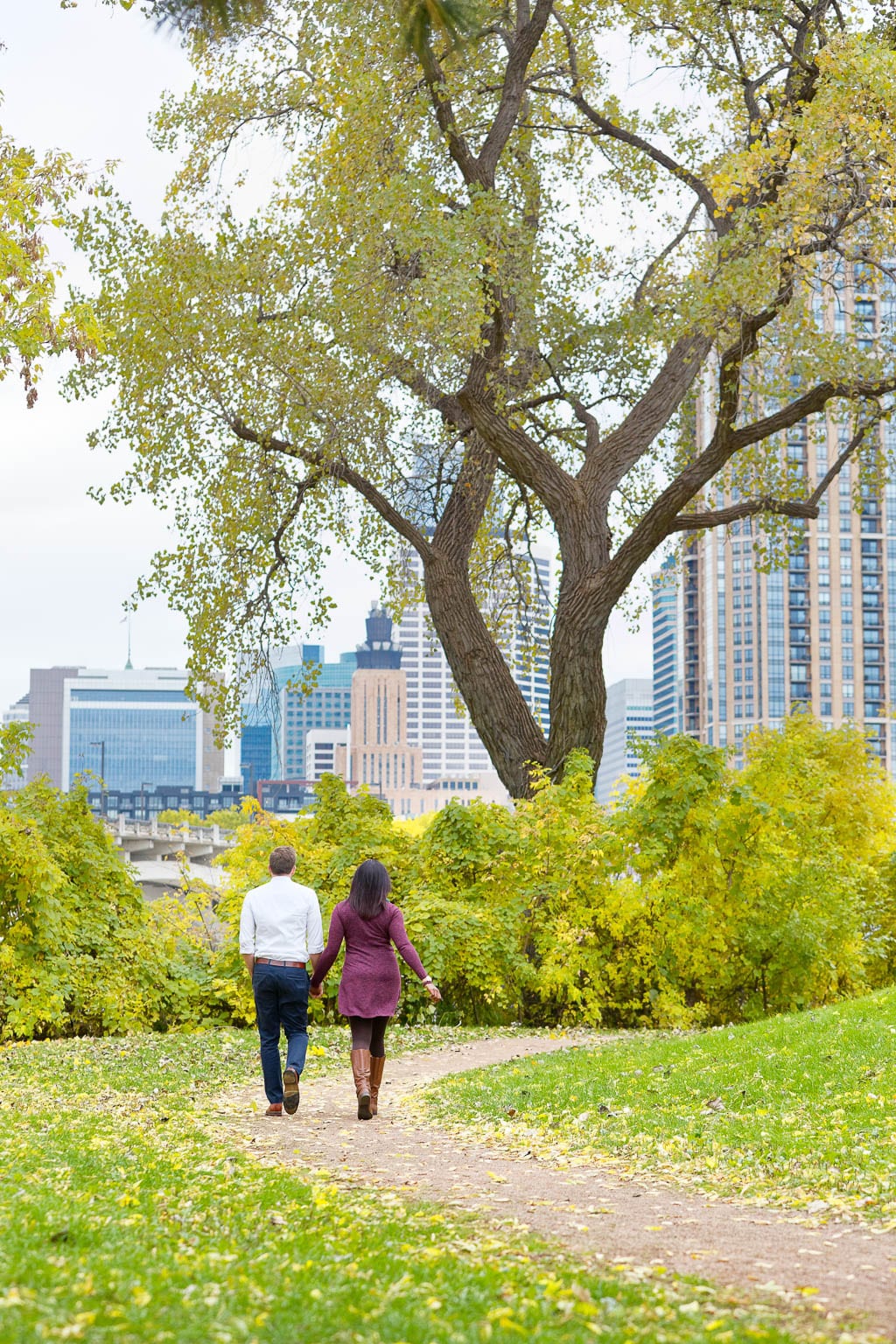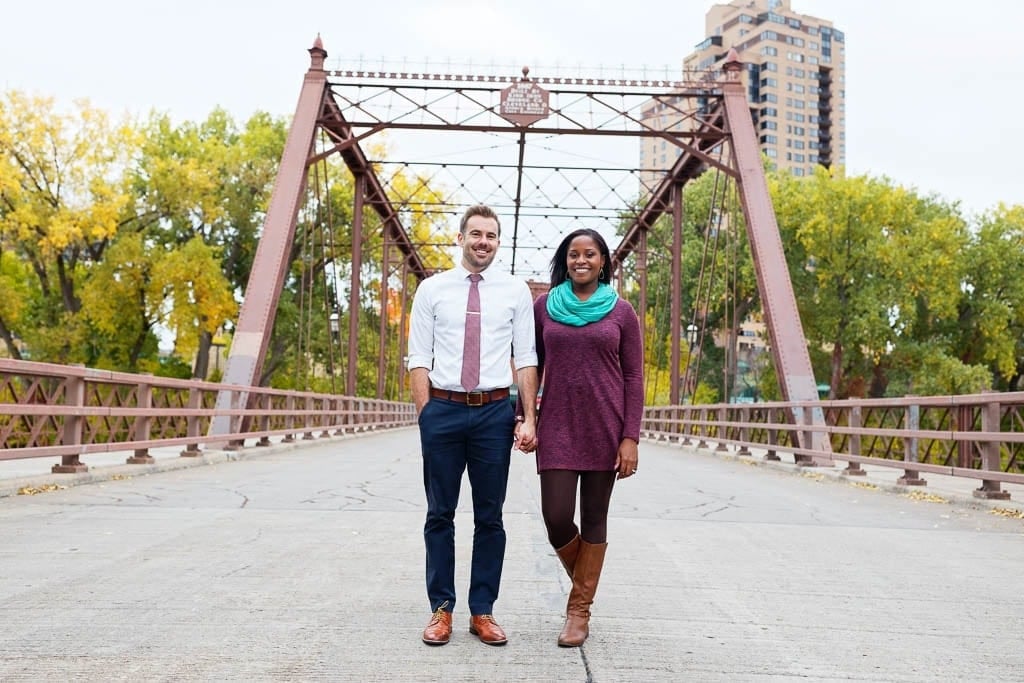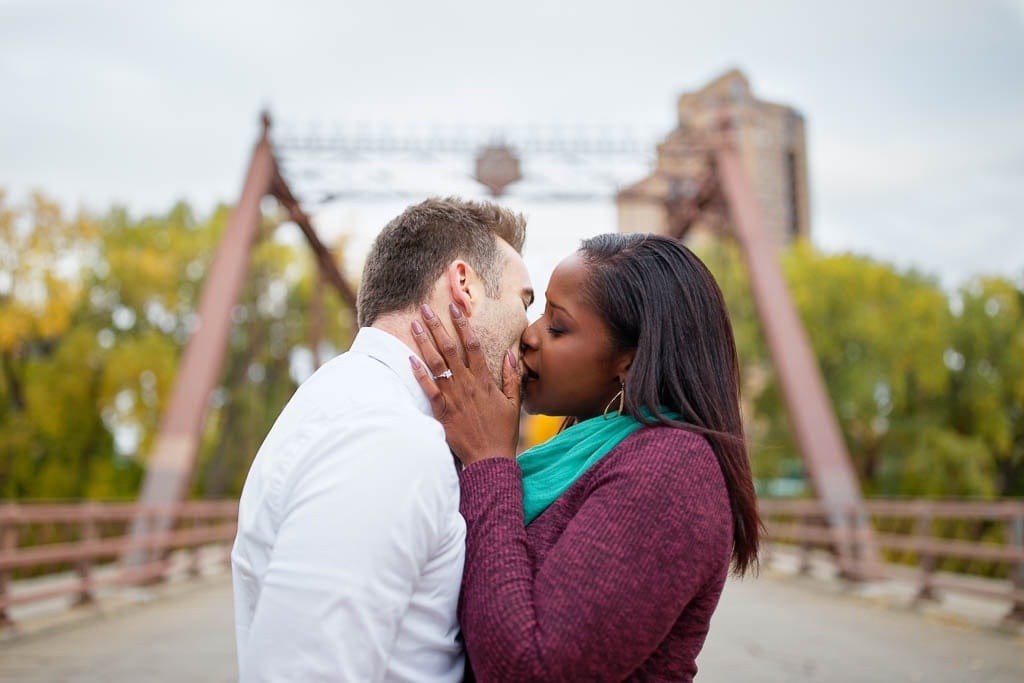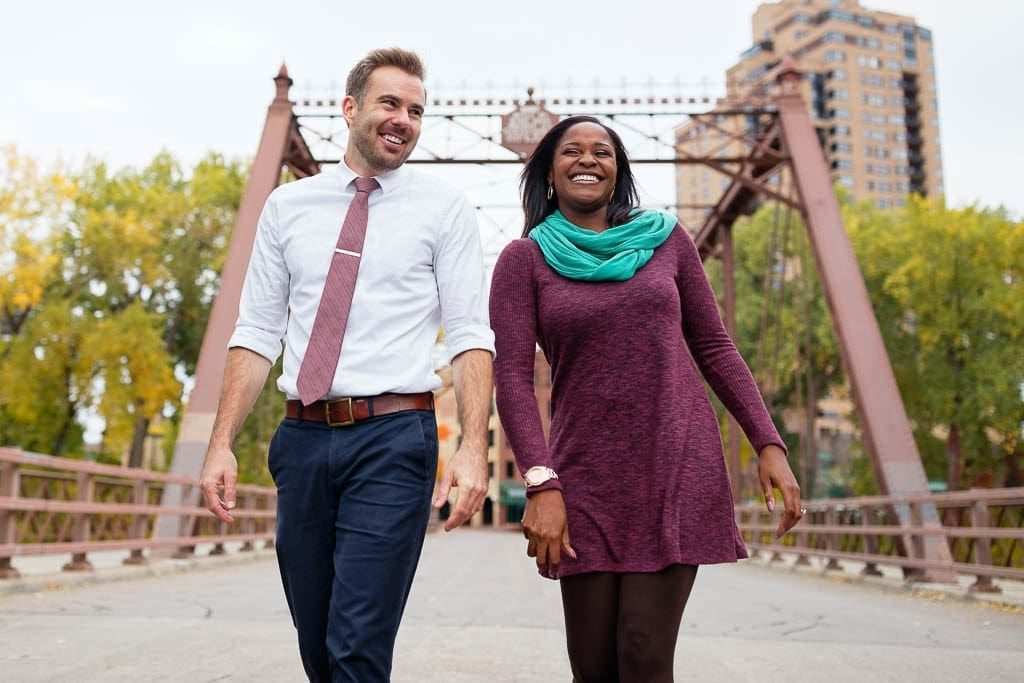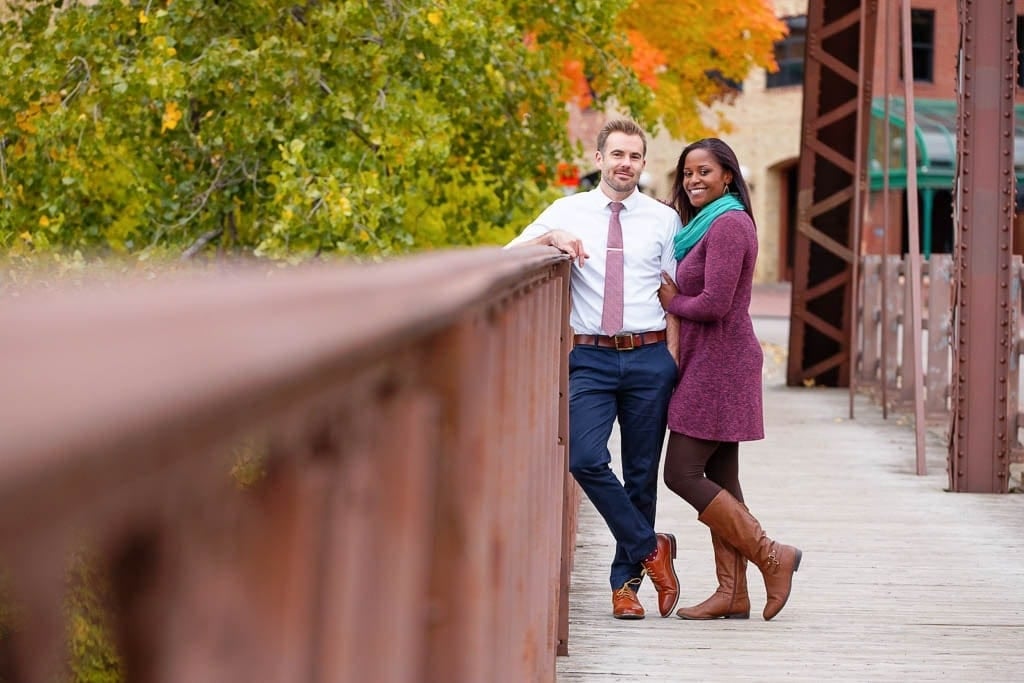 Second Part of the Photo Session
We walked on SE Main St heading to the Stone Arch Bridge area (numerous engagements session takes place there). On our way we took some pics in front of the famous Saint Anthony Main Theater. We enjoyed the historic Aster Cafe (check at Heather and Zach's wedding to learn more). Finally, we arrived at the Pillsbury Park and Father Hennepin Bluff Park (which is one of my favorite in Minneapolis).
We were lucky that the park was almost empty, and we enjoyed taking pictures on the bridge located close to the small falls. With no people around, they had the opportunity to kiss, and to share more than their love. Indeed Nadine also shared her makeup! That's one point I would be very curious to learn more, how to protect men from the bride's makeup when kissing. Let me know if you have any idea!

Sunset Time and Warm Atmosphere
The sun surreptitiously made an appearance. In the background of a portrait, we can distinguish the Stone Arch with warm sunset colors. So we ran to catch at least a shoot with the beautiful light.
On our way back, we stopped in front of the Jefe restaurant, using their red brick wall for some pictures. And we also included the historic water tower and advertisement signs standing on the top of the building.
It was a fun moment and I hope I have the opportunity to do more similar sessions in the future. Nadine and Kevin are family people for whom photography and catching beautiful memories are crucial.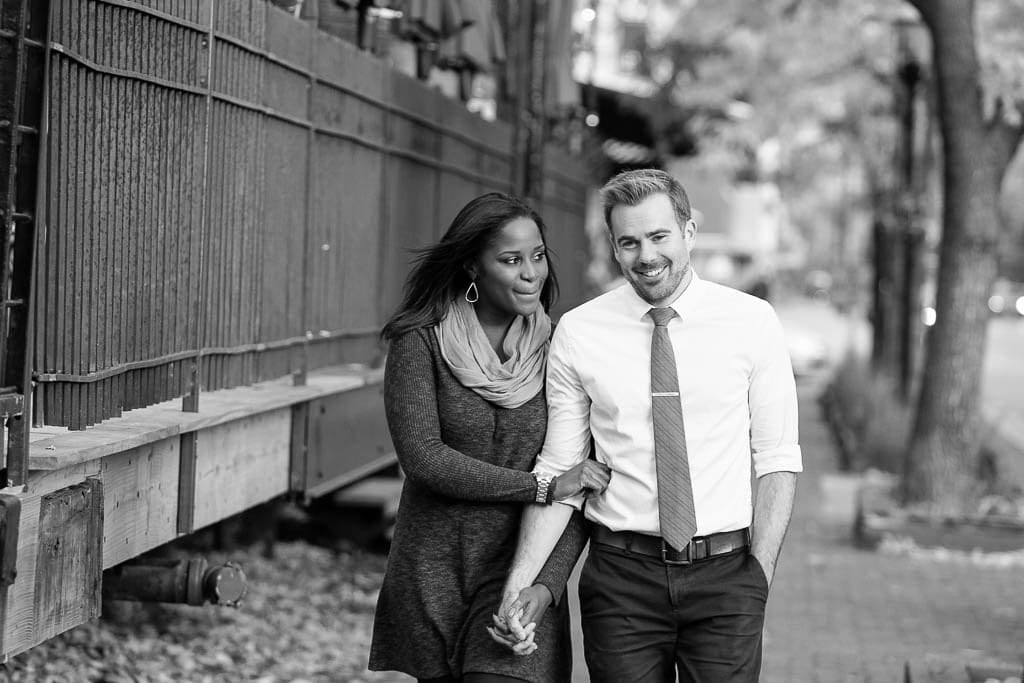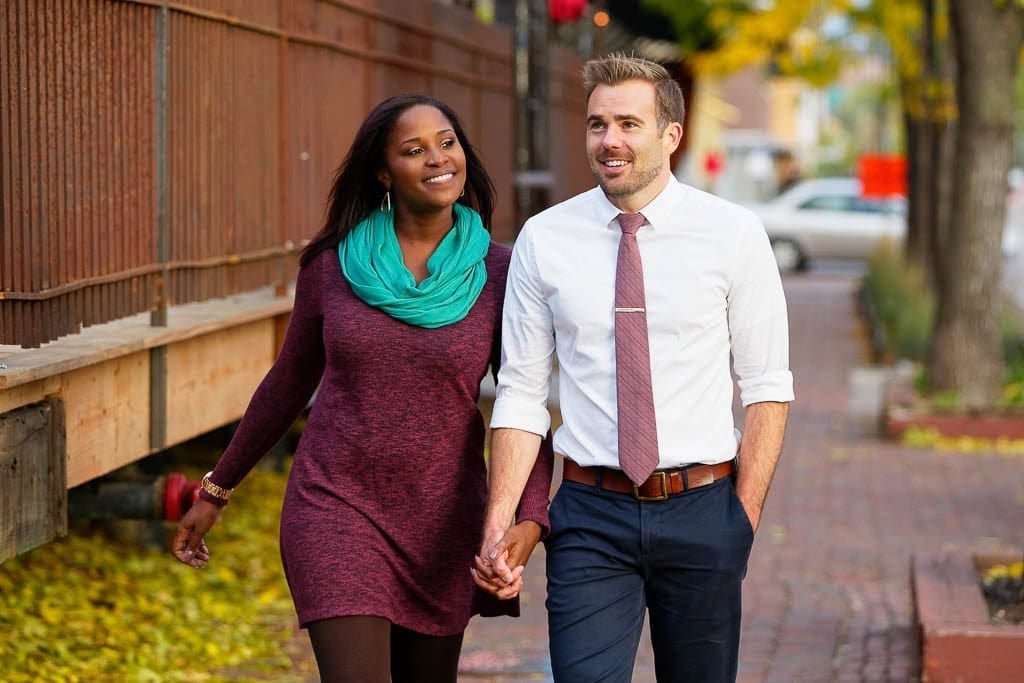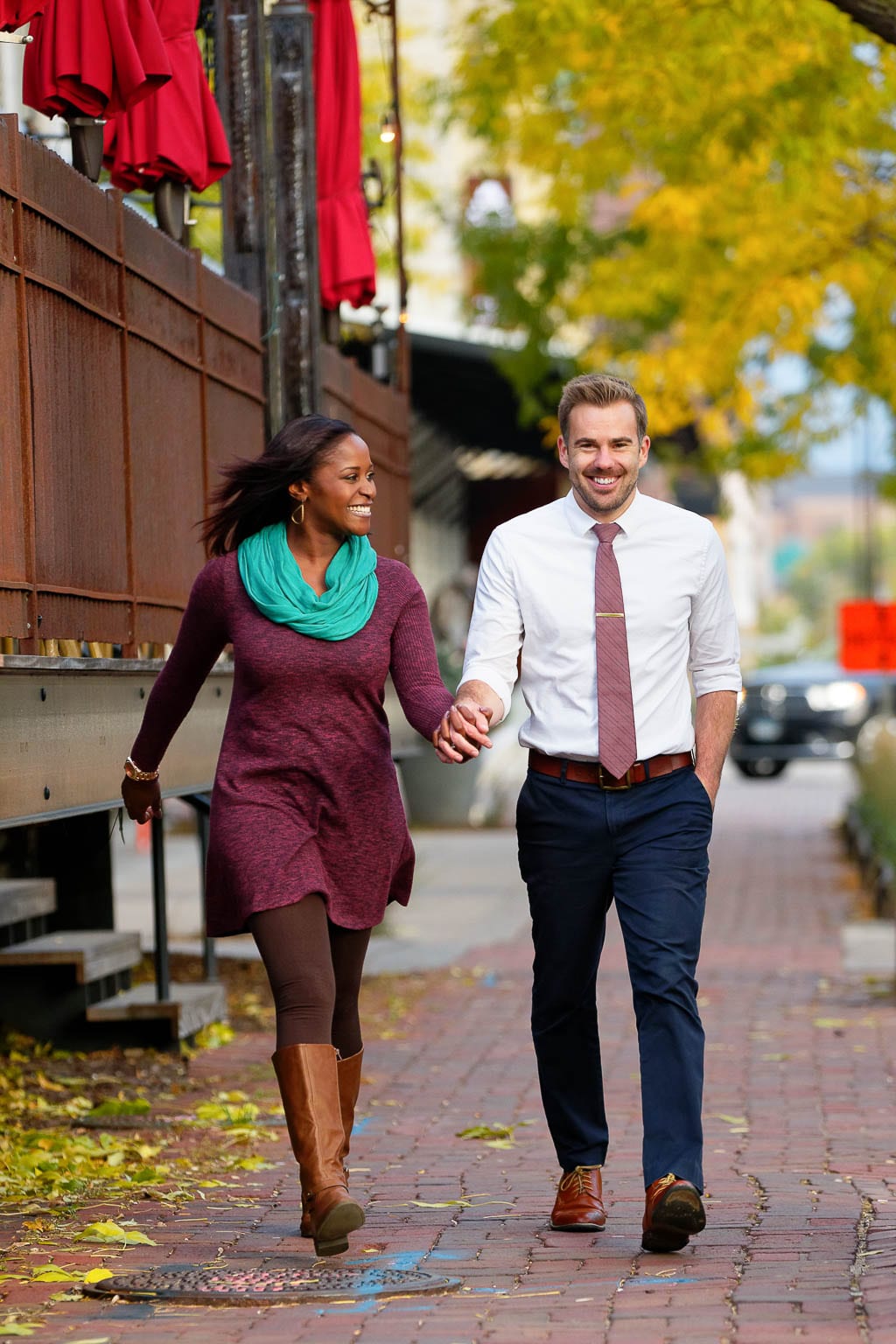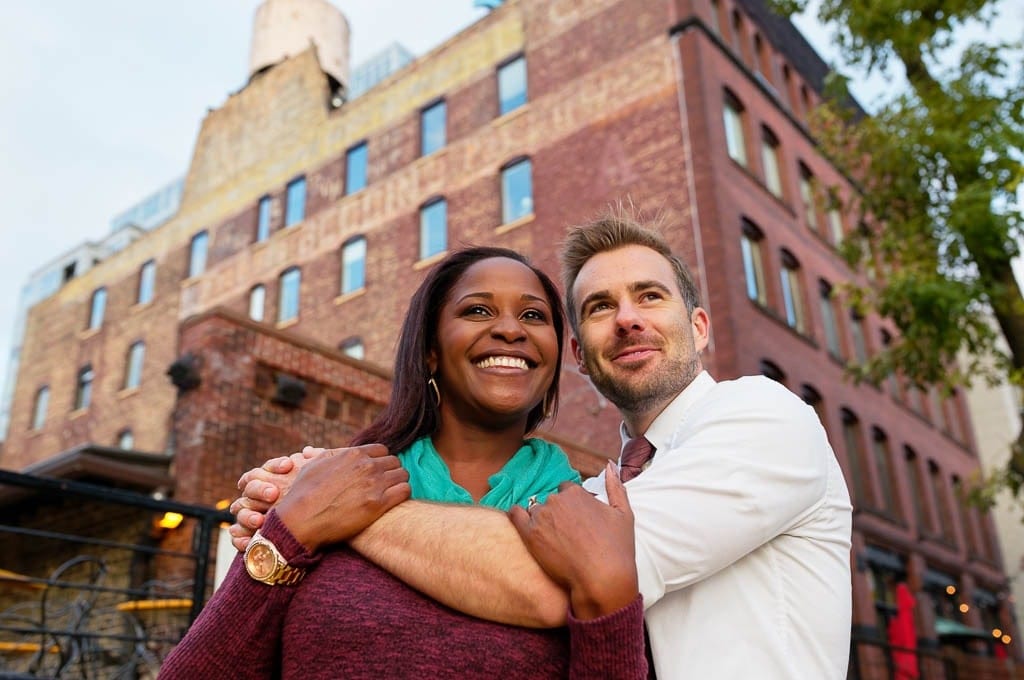 Last word of your photographers
First, I am much honored that Nadine and Kevin trusted me to shoot their family portrait and create memories!
Secondly, I can't wait to have them in front of my camera, covering their union at the famous Minneapolis basilica of Saint Mary and then their wedding reception at the Nicollet Island Pavilion (with Mintahoe Catering). Indeed, I am sure it will be an amazing day!
---
Discover Other Reportages
If you love Kevin and Nadine coverage, you should enjoy the following engagements session featuring authentic constructions. Indeed, historic location is perfect for photographers and also love for much of the videographer (when the light is good). Unfortunately, there is not much of them in Minnesota (compared to other states).
St. James Hotel in Red Wing
At 20 min driving from Minneapolis, stand a real Historic Jewel for weddings, the St. James Hotel. Located in Red Wing, MN the St. James Hotel please all photographers in Minnesota (and clients) with its authentic Italianate architecture from 1875. Located in the old industrial downtown, in front of the Mississippi River, facing the Barn Bluff, this place is perfect for engagement session.
Marjorie McNeely Conservatory
The Marjorie McNelly Conservatory is a location cherished by photographers from Minneapolis, and intensively used for portrait sessions. Indeed, it's the only big green house available in Minnesota (or you would have to drive to Wisconsin). The florist does an amazing job, offering tons of different exotic plants species (so it's also a way to cut on vendors fees, as florists). Moreover, it's a must in case of bad weather.
Located in St Paul, Mn, it's a place of predilection for a videographer, is a reference for all photographers.