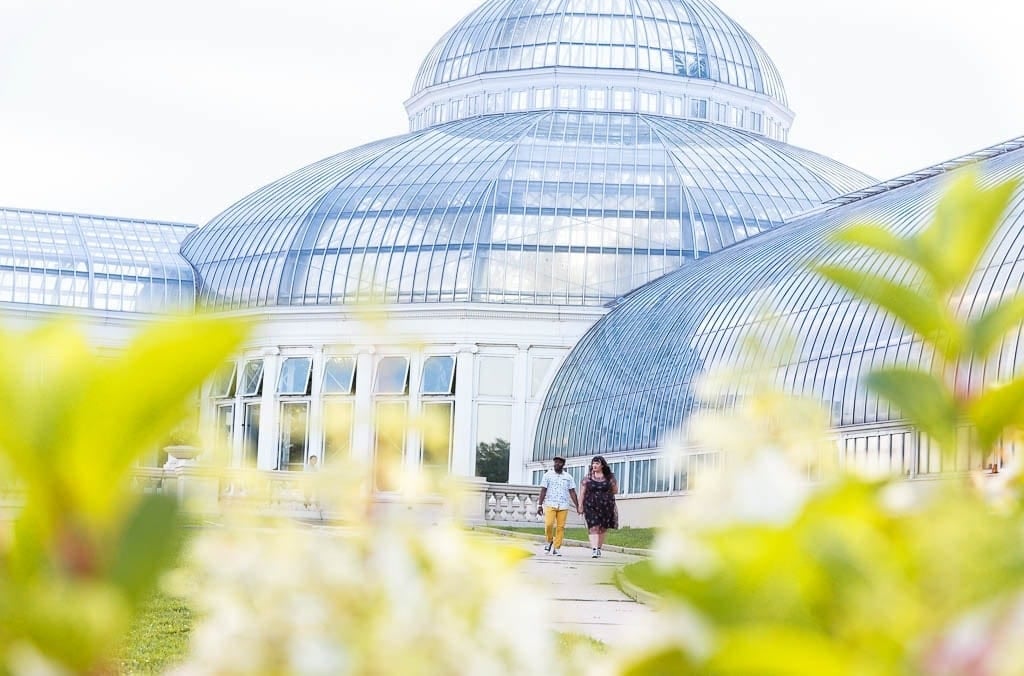 St Paul zoo and conservatory: A Famous but Sublime Location in St Paul
Engagement Session Marjorie McNeely Conservatory Photos
I previously said how much I would love to take my camera to cover the wedding ceremony in a Historic Duluth Mansion. Nevertheless, Twin Cities also have severals gems where I am more than happy to cover events. The Marjorie McNeely conservatory  is one of them.
If you are looking for a great covered location for your photos session and surprise proposal in Saint Paul, you should consider the conservatory (better known as the Como Conservatory) for your portraits.
Let me showcase below the pros and cons.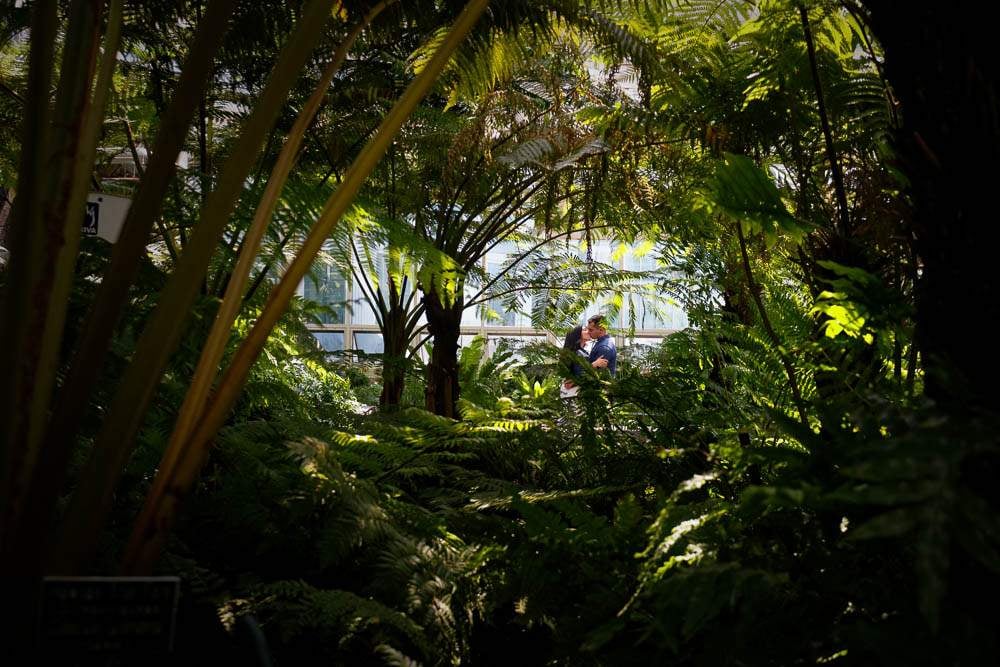 A Stunning GlassHouse
It's simply the most beautiful glasshouse (I have seen) in Minnesota. Built by the architect Frederick Nussbaumer, it's all about windows and natural light. The design of each room is slightly different and they are all hosting different plants. On the center stands the majestic Palm Dom above the tropical botanical garden. The lavish building design reminds us royal oriental palace architecture from Eastern Europe. Finished in 1915, this classy greenhouse is a heritage of Minnesota history and is absolutely beautiful.
Open all year, it will delight all kinds of visitors. What's more, the entrance is accessible to everyone (wheelchair included). Furthermore it's free for visitors (even if the donation is "appreciated"). Nevertheless a photography permit will be required if you want your photographer to take pictures inside.
A variety of Botanical Gardens in the Middle of the Twin Cities
The conservatory is part of the St Paul Como Park. It's located in the west of St Paul, at 15 min driving. In other words, it's one of the famous parks of the area.
The Como Park Conservatory is height major galleries. A map is available at the entrance of the park to guide you, and help you choose the best one for photos sessions.
Palm Dome
You will first enter in the Palm Dome, which is one of the best locations for close portrait photography. It holds tropical plants, such as orchids and bromeliads, and is covered with a path you will enjoy strolling on. You will find a fountain in the middle. All that offers a bunch of photo spots to take great photography. The lush exotic vegetation (lots of palms) isolates you from other visitors, but also prevents any photography taken from far away (if you plan your proposal).
The Sunken Garden
It's such a well-renowned location that every wedding photographer  in the Twin cites had probably covered at least one ceremony with his camera in this place.
The Sunken Garden is designed with apsidal glass walls, in the shape of the arc. It provides stunning natural light, from dawn to dusk! In the center of this gallery stands a long fountain using the rules of perspectives and creating the illusion that the gallery is even longer.
On each side are cultivated flowers like roses, lavenders and many other specimens of plants and ornamental flowers. Beware, the gardener constantly adjusts seasonal plants. Indeed they have many showing up during the year! At the entrance of the Sunken gallery, you will find a terrace facing a hotel on the other side. This other hotel is surrounded by conifers (Italian cypress) and has several glass windows as a background.
The North Garden
The North Garden has also tropicals plants from exotic species. It's very dense, and can even create some shade. It could work greatly depending on the natural light.
The Orchid House hosts plenty of orchids. But even if it has nice collections of floral and ornamental orchids, the room is quite small and not so picturesque for photos.
The Fern Room
This is full of lush ferns with their tropical shape. Those perennial plants (the first in the natural botanical world) always work well for the pictures!
The bonsai exhibit may not work for you except if you are the size of a hummingbird.
There is also a butterfly garden, with grasses and shrubs, but honestly I have no memories there! It's probably too small for good pictures.
Japanese Garden
And finally the Charlotte Partridge Ordway Japanese Garden is located outside and offers a lot of good photo spots.
In summary, you probably understand that the two main advantages of the Como Park conservatory:
A glass structure (offering good natural light in every season)
A large plant diversity offering a magnificent landscape as the backdrop of your pictures in Saint Paul.
Now let's see the cons of this Glasshouse.
The best covered location for photo session (in some condition)
The major criticism we can do against the Conservatory is that it attracts too many visitors! It's a victim of his own success and therefore you may have some tourist groups in your pictures.
To catch candid and stunning portraits during your session, the best wedding photographers want you to feel at ease and relax. It's pretty obvious that you need a minimum of space to move.
Indeed, timeless pictures are captured when you are performing some real actions such as walking or making jokes. Consequently, the risk at the Marjorie Conservatory is to have only posed pictures. So we may have to "fight" (in the Minnesotan way) to keep a good spot for a few minutes.
That's why I strongly recommend you to carefully choose the day and the time for your session or proposal! Try to avoid crowding-Sunday afternoons. Instead, try to come early in the morning during a week day. You may have a chance to be surrounded only by the natural world.
How to prepare your engagement session at the Conservatory
Here are a few tips to prepare well for couples to prepare their photo sessions.
pick a week day
make sure there is no flower festival, lecture or concert
make sure it is not too warm a day (or the temperature inside the Green House may be too warm)
come early (to avoid the tourists)
take a photo permit at the entrance
use the bathroom to change (if needed)
forget pictures with animals. Indeed, animals in zoo are in a cage, and the result would be nothing but a sad feeling.
have fun
Other historical venues
The North Star State is not an old state like the east coast state, but can still be proud to feature hundreds historical venues and mansions. They have the charm that miss to modern wedding venue, and thus can be used as background for successful portraits or for a wedding ceremony.
Post-Industrial heritage
You can find in Minnesota hundreds of red brick buildings such as the Nicollet Island Pavilion vestige of Minneapolis and St.Paul MN industrial period. Red brick wall and steel constructions are simple but first choice option for photo session.
Remnant of a Past Grandeur
Loved by photographers, another real Minnesota gems is the St. James Hotel (in Red Wing, MN). The St. James, located only one hour driving from Minneapolis, on alongside of the St Croix River, is perfect for weddings and pre-wedding session. His historic interior is nothing but a sumptuous!