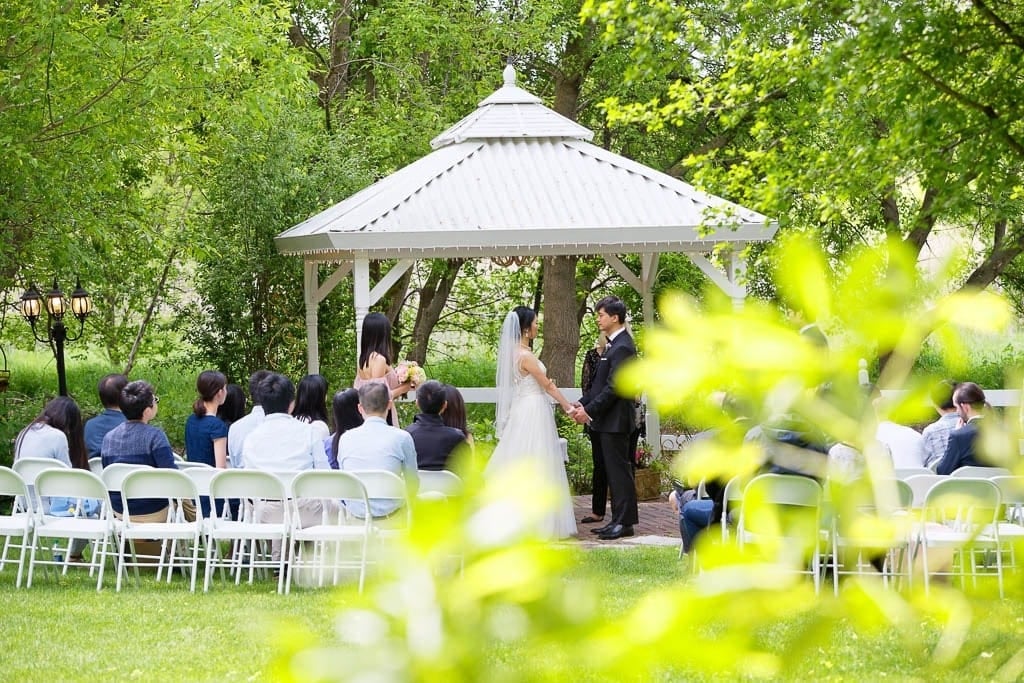 The Trellis Gardens for Outdoor Ceremonies
Isabella & Ywen Wedding at the Trellis Outdoor Gardens Stillwater Mn
Isabella and Ywen's contacted me to cover their intimate celebration after they saw the Indian ceremony I had covered in the Twin Cities. Both of them are scientists, Chinese, and students at the University of Minnesota.
I met them several months prior to their wedding day. We took their pictures at the Minnehaha Falls Park, on a spring week day. Let's dive into the story of their wedding day, at the Trellis Outdoor Gardens.
An Intimate Wedding
Isabella and Ywen both grew up in China, where all their family still lives. For this reason, they are also planning to host a large wedding overseas. If you already had the chance to be invited into a Chinese wedding, then you may have noticed that the traditions differ completely from the traditional western wedding. The clothes, the food, the ceremony and all the activities taking place during weddings are absolutely singular! It's an all-disparate adventure they would face!
For their ceremony in the Twin Cities, they hired a professional wedding photographer in Minneapolis to cover a western traditional wedding, with the white dress and the USA's style. Thus they found the way to enjoy both types of tradition!
Unfortunately, for their special day in the 10 000 Lake State, none of their close family members could fly to the USA and assist their union.
But given they are both talented people, they created new friends in Minnesota and in the USA. Also, most of the guests came from Saint Paul.
As a result, it was a relatively small wedding.
The Trellis outdoor gardens in Stillwater, MN
The Trellis outdoor gardens are kind of new type of wedding venue in Minnesota. Indeed, it's a place to host a wedding ritual but not (really) celebrate (until the end of the night) or having dinner. Actually, it's a place you can get ready and have some great wedding pictures, but not a place to party. In other words, it's a wedding location, but not a real wedding venue.
This location is for people who (obviously) don't want to get married in their church. It would be a good match for people who have found a great wedding reception location (such as a restaurant), but which does not have any nice garden or any nice place to celebrate!
The Trellis outdoor wedding location has a wonderful garden, extremely well decorated and perfect for pleasant pictures. It's located in Washington County, Minnesota, 5 min driving from downtown.
Again, to avoid any confusion, if you want to have dinner and enjoy a party, find another location. Also, there is no place to your catering vendors to work.
But the good news is that there are plenty of similar gardens in the area.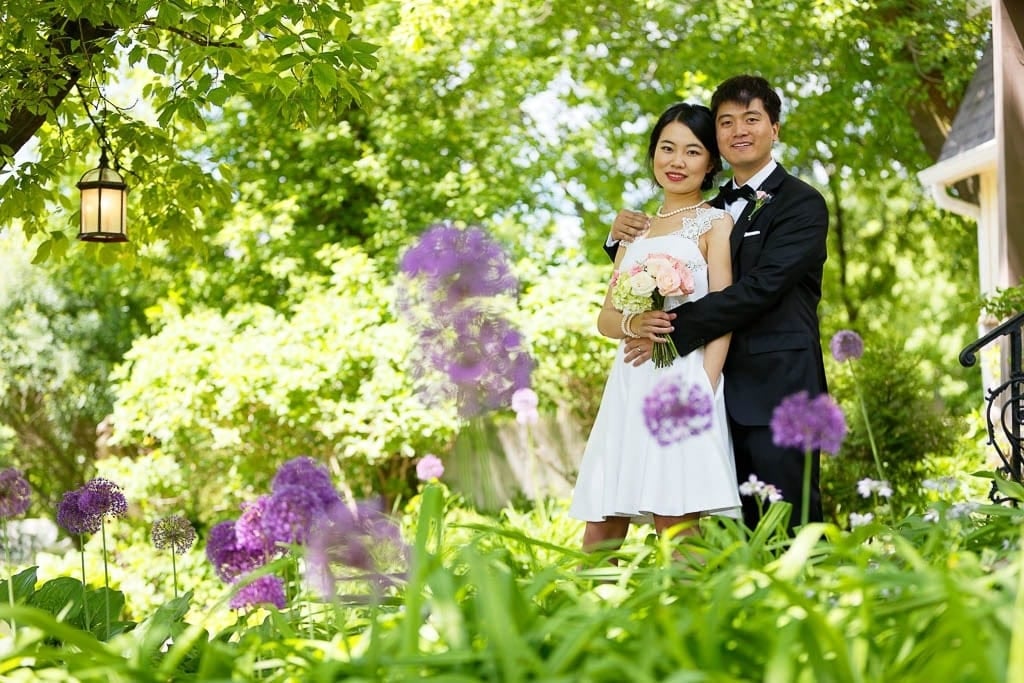 The Garden
The first thing you see which strikes you when you enter the Trellis Outdoor Wedding Ceremonies is all the efforts invested in the decoration and the gardens. Sally & Sherri managed to turn a regular piece of Minnesotan land into a wonderland.
They have added some fairy lightening in the maple trees, hung some lanterns, installed some fountains, they have brought some historic furniture and above all they have planted a large variety of ornamental plants. The place has a lot of style and you won't need to add extra decoration.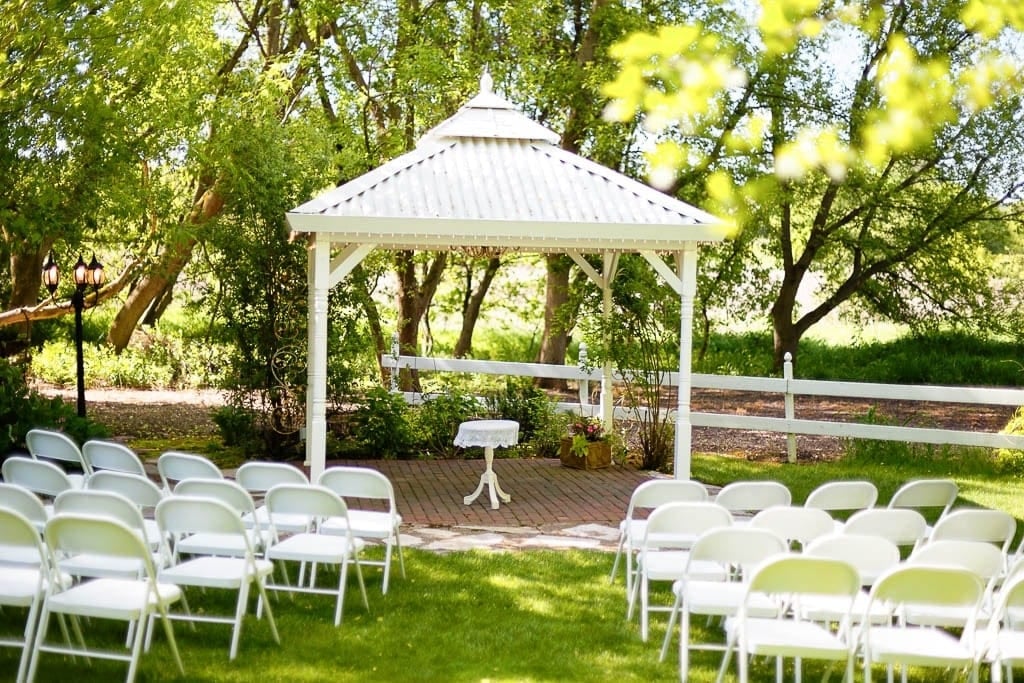 The Gazebo
It's a pretty traditional white wood structure, standing on a solid floor and facing the lawn. Guests are seated on foldable white chairs, turned to the center of the summerhouse where the bride and the groom stand. Behind, there is a photogenic white fence, some maple trees and nice garden lamps. It is perfect for a small event on a nice day.
The garden is oriented south so the trees will create some shade and protect the structure from the sun. That said, on a sunny day, guests will probably be directly exposed to the sunlight.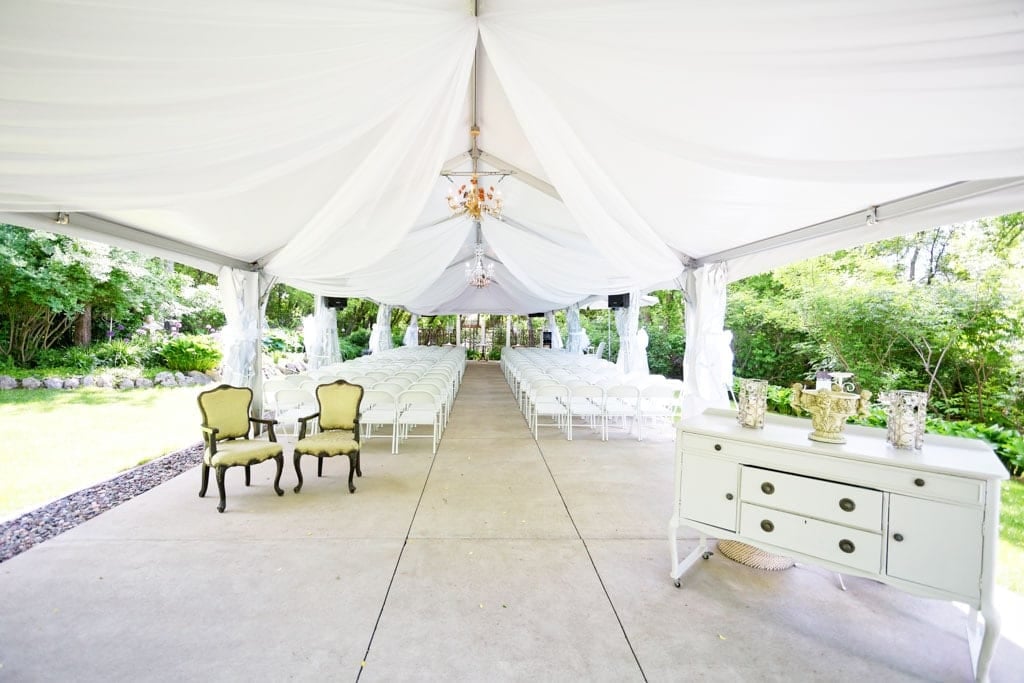 The Canopy
The white scalloped canopy is basically a long and large aluminum tent standing on a solid concrete floor slab. The tent ceiling is decorated with some elegant pieces of fabric, and several chandeliers are hung on the tent's structure. The side of the tent can be fully open or closed in case of a rainy day. The size of the tent gives an impression of grandeur. The canopy is equipped with some speakers' system and extra vintage furniture gives the place a charming touch.
Additional flowers would enhance the event spaces (ask for Camrose Hill Flower Studio). The canopy offers security in case of bad weather, and it would protect guests from direct sun rays. Given the size of the canopy, it can handle large weddings.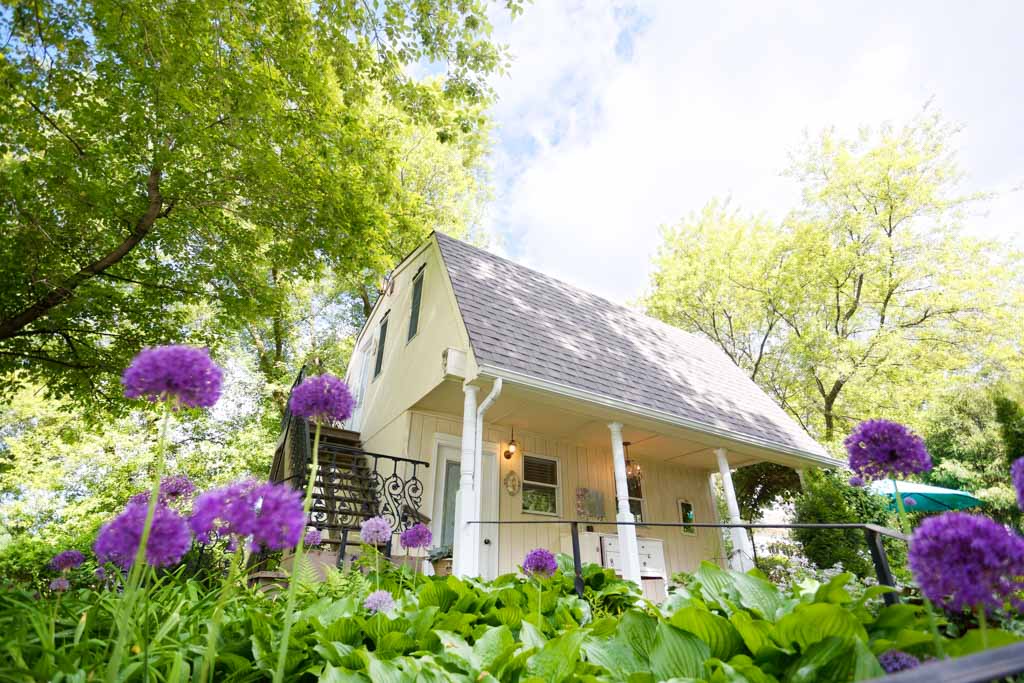 The House
The house is utilized to get ready. It has been completely renovated with all amenities needed for a wedding.
The groom's room has some games to keep the guys busy (tennis table). The bridal suite has many old fashion mirrors for makeup and nice-looking old furniture. Even if there is not much of natural light, it's a good place for a bride to get ready.
Bride and the Groom's Preparation
First of all, the bride was late, due to a late hair stylist. Luckily, we could easily catch up on the delay! Indeed, as I always recommend, you should plan some buffer time in case of such a scenario, and it's what she did.
So, while I was waiting for the bride, I had all the time for scouting the Trellis Outdoor gardens.
When the bride and the groom showed up, they were surrounded by their best friends, bridesmaid and best man. Isabella was stressed, but her bridesmaid and the officiant managed to calm her down. The officiant took the bride and the groom on the side to do a quick rehearsal of the ritual.
I saw a couple of tears when she used Skype with her parents.
The groom and his friends didn't have much to do, but they were stressed too. The owner took care of everyone like a mom would do, and told everyone in detail what they had to do.
Finally, they were ready to tie the knot!
The Ceremony
The ritual was nice. Sherry was the officiant and married them.
They chose the unity candle. The candles were protected from the wind by a transparent plastic glass. That worked great until the moment they wanted to light up the candle by leaning it. Indeed, when you lean a candle while trying to light it up, the flames of the lightener still go up and end by burning plastic glass! So that was a funny moment which made people laugh. During the ritual, you could feel all the love in the air.
It was beautiful.
After, they exchange their rings, kissed and walk out of the aisle.
The Reception in a Cafe-Bistro
After this event, we quickly took some group pictures before the guests started to leave. We also used the space to take a few bride-and-groom images. But the time was running fast, so they had to leave the area and meet their guests at the restaurant located in downtown for their reception and party.
Conclusion
Garden venues are usually very beautiful and enchanting, but come with an obvious limitation. Hosting your outdoor ceremonies is taking a bet with weather (and the bugs). But that a risk to take with outdoor wedding venues.
You could also use it for your ritual and then move to another place for your reception.
If you want an entire wedding garden, you might consider the Como Conservatory Botanical Gardens and its greenhouse.
If you plan for an outdoor event, the Trellis outdoor is definitely one of my favorite garden venues near Saint Paul. It's quite similar to a wedding chapel services, but in a much beautiful environment! Well decorated, it would give you an impression of grandeur. It's perfect for small to medium weddings, and it's surrounded by a lot of restaurants and hotels which offer additional services you could need.
---
3 other options for all kinds of personalities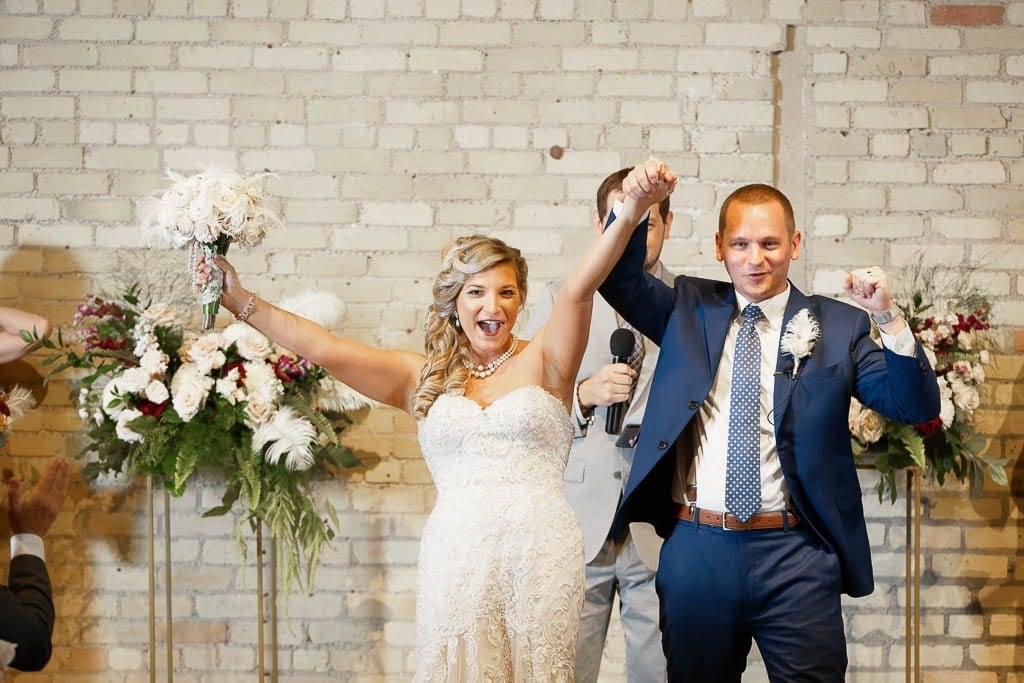 A basement venue for ceremonies
There is in St Paul and Minneapolis some basement venue such as the 413 on Wacouta Event Center or the Lowertown. Having a ceremony in a basement has some obvious advantage (great location, cheap price), and some downside (no natural light, low ceiling). Check our article to learn more.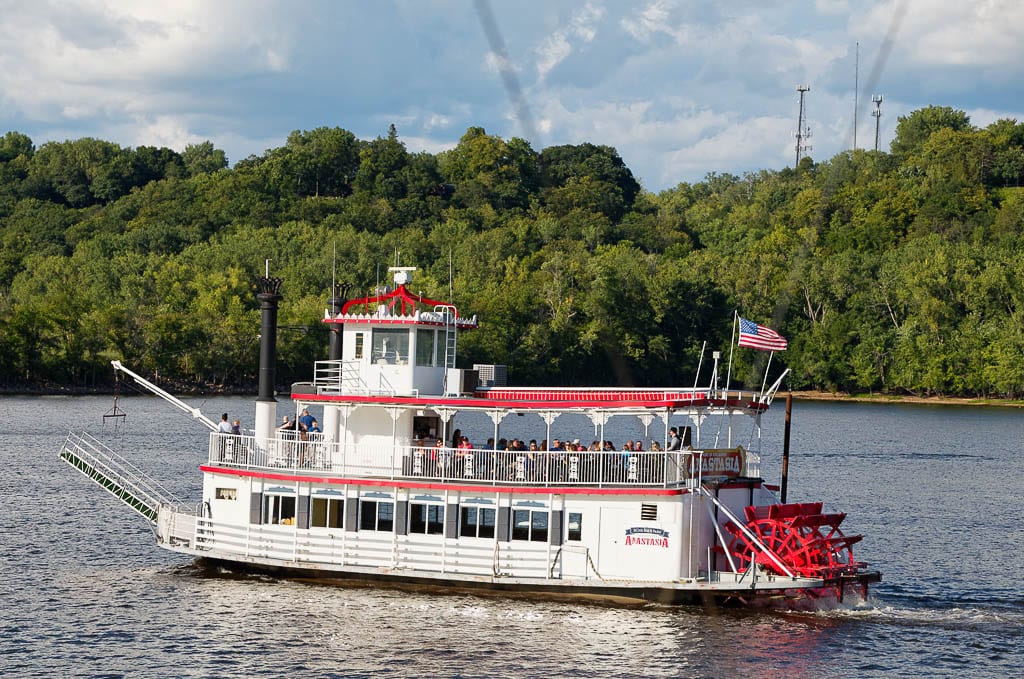 A Boat Wedding on St Croix River or Mississippi
If you don't want a gazebo and agree with a few square feet, then a River Boat wedding celebration can be a good option. It's an enchanting option that guarantee you, at least, an unforgettable cruise on the St Croix or Mississippi river. But of course, it comes with some limitations. Learn more by reading our article on Darcy and Niraj's rehearsal dinner on the St Croix River.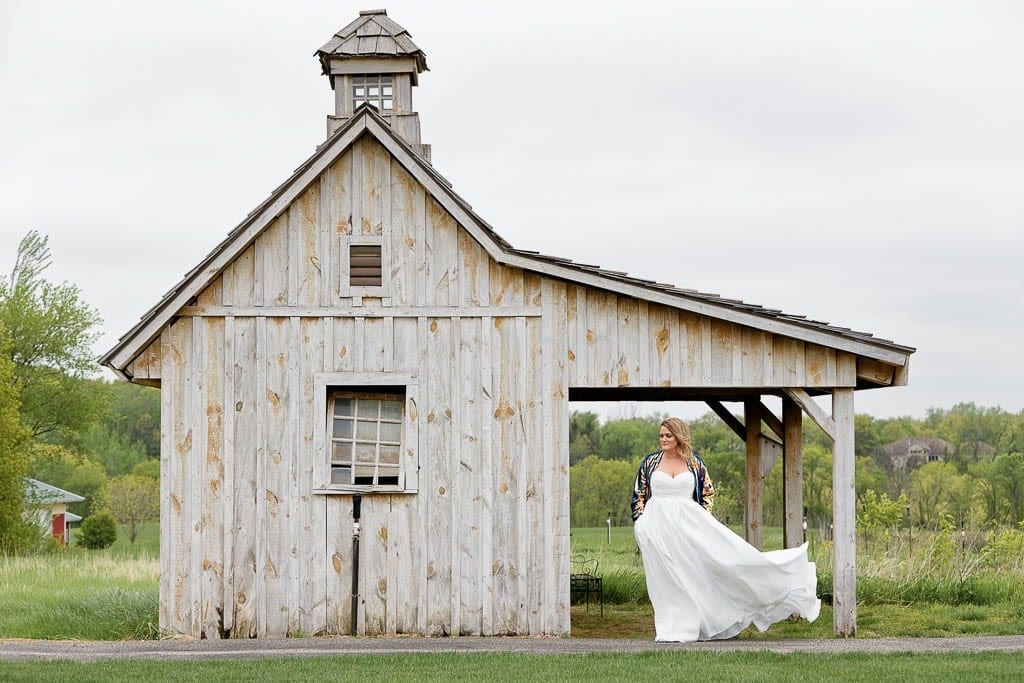 A Basic Venue for Receptions
You can find a lot of simple venue in Minnesota, such as the Outpost Center in Chaska, MN, offering the essential amenities you can hope for one warm and big room that can welcome all the people you love, a decent garden, some clean bathrooms. If you are lucky, the venue might also have a bridal suite and a groom suite (which is the case for the Outpost). But the most important would probably choose a venue surrounded by a beautiful hilly landscape, because, as you know, nature is always lovely.