Why we are different than the main stream Wedding Photography in MN
The French Touch for your Wedding Photography
For new engaged couple who desire more than a random guy with a camera, finding the perfect professional photographer offering long coverage service to cover their entire wedding day on the Twin Cities (or in the country side) can be overwhelming. Indeed, there are so many competitors, so many parameters to consider. That represents a huge number of questions that you don't have an answer!
As a photographer with more than 15 years of experience in the wedding, in Europe and in the USA, I will try to help you answer those questions, see what matter or not.
In this article, we will see what are the specificities of doing wedding photography in Mn compared to other states (if there is any), and most of all, what are the most important questions to ask yourself before hiring a professional?
I will not only discuss some common questions (that you can find inside bride magazine), but I'm about to reveal to you some too often forgotten considerations that matter.
Finally, I will try to clarify typical myths.
1/ How wedding photography in Minnesota is different from other states and EU?
A Saturated market in the Mid West
The first thing to know is that wedding photography is the first reconversion job in the USA. As a result, the North State has the second-highest ration resident/number of photographers. If you put it in other words, lots of people open their photography business overnight, without "strong" photography knowledge.
But, given Americans are the world leader in marketing and selling strategy, most individuals can handle creating a descent website (with 20 photographs featured) and found a way to sell their services to customers who have no experience with weddings and photographers: you, the newly engaged couple!
What's more, thanks to (maybe) the Minnesota nice effect, every photography studio seems to have some good reviews of the bride special day (at least the one featured on their website).
A weather that sculpts the wedding season
Popular months
Thanks to cold temperature, and given most of venue offer outside location most couples decide to get married during a warm month.
That's why 42% of couples choose, June, July, August and September to tie the knot.
Take in consideration that those months are usually pretty humid, which means a higher number of mosquitos, and higher chance of storms.
Summer
Working in summer, running everywhere, and carrying two heavy cameras are pretty exhausting, and required a lot of energy, and so, a good physical condition. You probably ignore it, but best professionals usually go to a workout before the season. I don't want to discriminate any category of people, but avoid hiring someone that would need to make some break all the time because it's too much exercise (except if you are fine with the idea of paying a vendor for resting).
Fall
Thanks to global warming, fall (mostly end of September and October), is now offering pretty good temperature (in addition to the amazing color falls, compared to other states).

In consequence it's becoming one of the most popular months to get married with 38% of the weddings taking place!
(Almost) No spring
Contrary to the west and east coast states, you can notice the absence of real spring. Indeed, the blooming season last two weeks, which ones can't be predicted for sure.
As a result, there are not real spring weddings.
If you want to take advantage of the blooming season for your engagement session, discuss your option with your photography vendor.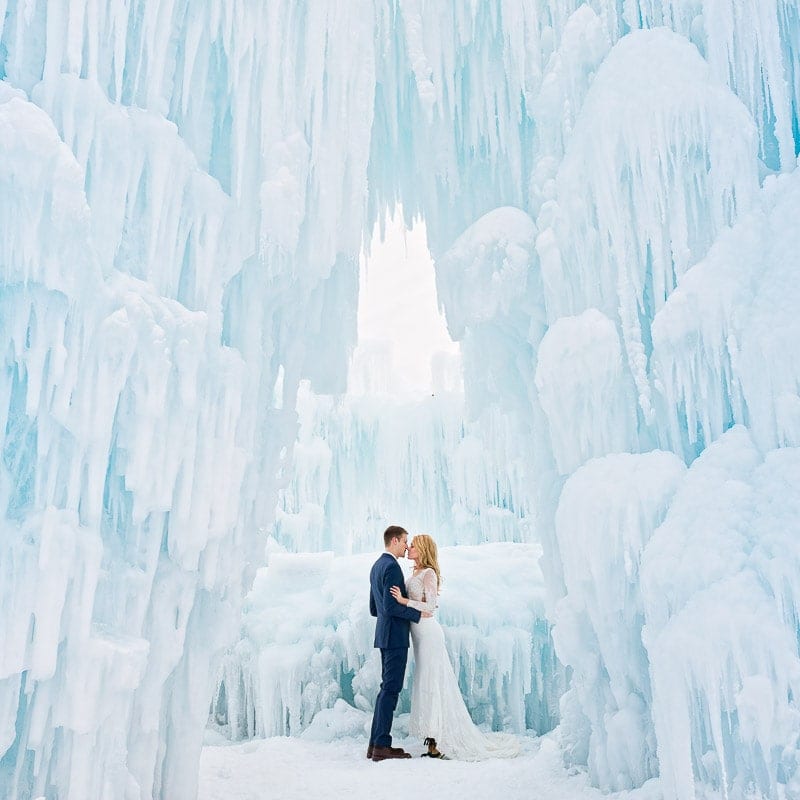 Winter
Finally, weddings during winter are pretty rare (except for thanksgiving , Christmas and New Eve weddings).
In winter most couples decide for a hotel wedding, and manage to have a discount from almost every vendor. What's more, you might not need 10 hours for a winter wedding.
Taking some good photography during winter is more difficult. Make sure to hire a professional that matches the following requirements:
works with batterie that can survive critical temperature (indeed, under 30°F some batteries stop working)
works with waterproof equipment (only the most expensive professional model are waterproof)
help you choose the appropriate clothes that keep you warm, and are photogenic
have good equipment to stay comfortable when facing extreme cold temperature (gloves, boots, etc.)
know how to compose and how to take advantage of the snow
know how to light dark venue (studio skills)
Indoor VS. outdoor Venue
Despite lots of venue (such as barns) take advantage of the outdoor landscape, and often celebrate outdoor unions, almost of the venue offer an indoor option.
Indeed, given the uncertain character of the climate, not having a covered option it pretty critical.
Even backyard wedding usually rent tent service in case of rain.
Landscape
Some states (Colorado, Utah) offer a large variety of breathtaking landscape. Minnesota has nothing similar. Nevertheless the north part of the 10, 000 lakes states, offers some nice forest, and rock formations, that can be a great asset for bride and groom pics.
Some part of the South-East, with hills, can also be considered charming and photogenic.
We should not forget the 10 000 lakes! It's always great to take advantage of a lake in photography.
Finally, despite the cold temperature, the white winter landscape could also be considered as a specificity offered by the North Star State.
As a consequence, it's better to hire a photographer who can recommend to you the locale and secret landscape treasure.
Albums and Photo Lab
Whereas you use your professional service to print an album, or you doing yourself, you must print your wedding album.
I have looked at all the album makers, or photo lab, in Minnesota (because it would be more convenient for me to deal directly with a local company), and curiously, there are not any good one.
They are or overpriced, or the quality if pretty cheap.
As a result, most of the bride and groom who go to their local printer would have an overpriced and poor quality album. What a shame.
As a consequence, it's better to hire a professional who offers good quality album (at a decent price)
EU vs Midwest style
You will notice a clear difference of photography style quality and expectation between a big city and the country side. Of course that's not the major nor only reason. You can, of course, find the classical style of wedding photography offered by big states; timeless, natural, fashion, documentary. But you can also find some other style.
I have made the distinction between 3 styles to avoid.
The traditional posed style (that we avoid)
It's probably the level zero of photography. Indeed, amateur photographer (and I have been one, so I know what it is), don't know how to direct and posed couple. As a result, you are doing some cheesy smile on all the images, looking stupid or worst, awkward.
The Over Photoshopped Style (that we avoid)
If you have a smart phone, you have probably faced the HDR effect. HDR stand for High Dynamic Range. Let say that, like all kinds of retouching, well used, a viewer should not notice anything weird.
You might have already seen some photographs, where the sky features some amazing dark clouds, and everything looks completely plastic, over saturated and completely fake.
This style is quite popular and love in the country side. In photography, "more" is not "better."
Fancy Filter Effect (why we have decided no to use them)
Finally, the less horrible, the one involving (too much) filters. This is the more controversial style. Indeed, let's be honest, used with parsimony, filters can really enhance an image.
Actually, the major advantage of filters, despite saving lots of time retouching image, is that they can turn a mediocre image, into an esthetic image to look at. In other words, the effects are fancy, and can turn any image into something beautiful. That's why there is so much (beginner) image maker that use filters.
The problem is that these fancies tend should not last forever, and in 10 years, your wedding image would be completely outdated.
Conclusion:
There is not a big difference getting to get Married to the North Star State than other Midwest states. You just have to be careful to hire the right artist, and not be fooled by all the other ones. And luckily, we are here to give you tips to help you make the difference. But keep in mind that the best way to judge of the quality of reportage is to have a look at every single image of reportage (not only the featured ones). That should give you a good point of view about the ability to capture moments during such a special event.
2/ Wedding photography considerations:
It's a luxurious service. Do you really need it?
Wedding photography is a luxurious service, which are, like all luxurious services, not a bare necessity. Indeed, today more than ever, you don't need any talent to snap some images. Anymore smart guy with a cell phone can take a picture of your outdoor union or a group picture. So, why paying for a luxurious service?
to have the guarantee to receive professional quality product that amazes you
to enjoy looking at your photographs still in 100 years
to immortalize action taken at the exact perfect instant
to have authentic expressions of your guest at their best
to have unexpected candid photographs (the more difficult and more rewarding to catch)
to have all the little moments captured, allowing you to rediscover all moments you have not been able to enjoy during your D-Day (because you can't be everywhere at the same time),
to have good result under all kinds of non-photography-friendly situation (low light, stress, rain, fast movement)
to have creative and artist image
to have a wedding album lasting a lifetime
to have a well-designed wedding album to be proud of
My advice: if you are planning to become husband and wife and you want stunning photographs, then hire a very good vendor or nothing.
First thing, price only and long coverage doesn't guarantee you a successful photo session. The best photographer can actually be affordable and catch stunning images reflecting your personality.
Now, keep in mind that bad, medium, intermediate quality photographs, are images you might look once, or twice. If a picture is just correct, or dull, it's something that you won't look again in the future.
In other words, they are a waste of money.
A good investment are images that should amaze you that you would be thrilled to look at again and again.
That why recommends couples not to trim on photography. Those are the only thing that will remain after the wedding. There are a lot of things you can save money that won't make a huge difference.
For information, the average Minnesota's wedding cost is around $24000 and $30000 (with an increasing to $44000 the last past years). The average price of a photographer in MN is somewhere between $2400 and $3500.
The finality of the reportage is a wedding album, which is not made (only) for you.
First, having all the digital files in HD on a Hard Drive, make no sense. You might look at the digital file a couple of times during the first years fallowing your wedding, but in 20 years, you won't . Photographs have to be printed, so you wan look at them in the future.
Also the real objective of the wedding photographer is to create a wedding album that tells not only your story, but your family story. In a way, the real objective is to have an album that can be an heirloom to your children and your grandchildren.
The goal of photographer work is that 50 years, you seat on your couch with your grand-grandchildren on your lap, and you tell them the story of your family.
Why Photographers in Minneapolis offer pre-wedding sessions
When you stroll in the Twin Cities, you can witness engagement session taking place everywhere, such as on Raspberry Island (Saint Paul), the Stone Arch Bridge(Minneapolis), the Centennial lakes (Edina,MN), etc.
The reason why such a session are so famous are multiple:
It allows you to validate your choice
If you are unhappy with the result, you still have time to hire another professional. Some company (such as French Touch Photography), offers a free cancellation and complete refund in case of dissatisfaction.
It allows you to know your vendor and trust him.
So, on your big day, you are relaxed and confident in front of your vendor. You would follow his weirdest recommendations without hesitation.
It gives you a first experience as a model.
So, on your D-Day, you already know what to do, and what to avoid. In consequence you need less time to have good images.
it allows your vendor to get to know you
As a result he adapts his photography to your right angle, to what pleases you.
What's more, he would also be more confident with you, what should improve the quality of the image?
Why Should you Meet you photographer before hiring him
If you want good memories, you should meet your professional photographer before hiring him to cover your wedding in St Paul, MN, or further in Minnesota (like St. Cloud) or in other states (like Wisconsin).The reason is pretty obvious.
It allows you to know if it might be a good match for you. Indeed, 80% of information transmitted during a rendezvous are non-verbal information. Meeting someone remains the principal way to see if you temperament match.
You want to make sure your family is at ease with your photographer. Indeed, you don't want a rude, impolite, racist or vulgar person.
it allows you to discover real album, to touch them, to compare the cover, the paper and the quality of the printing
that allow you to define a first draft of your wedding day
Does it worth making your vendor travel to your wedding?
Despite there are photography vendors (almost) everywhere in the North Star State, they might not offer the same kind of style and service.
If you are planning to get married in a lost location for the cheapest price.
So if you are getting married in the middle of nowhere because you have a tiny budget and try to save money, then you should probably go with a local photography vendor (or not hire any at all).
Should you dare getting married in the Middle of Nowhere?
If your goal is an outstanding landscape
Some landscape promised special memories (such as North of Duluth), I would be happy to pack my camera bag and offer the couple a long coverage of their day capturing every single moment.
Indeed, the 10,000 State, offer few, but, some charming landscape. It starts from Duluth and spread to the frontier with Canada, including the shore of the Superior Lake. The South-East , and South-West of the State, also feature some nice landscape, with hills and bluff.
In other words, if you are planning to get married in the middle of nowhere because there is an amazing scenery or outstanding resort, then you might consider doing a destination wedding. In other words, you want nothing but the beautiful quality. And in this scenario, making your vendor travel to your destination is logical and even recommended.
3/ Let's shake Myths about imagery
There is no such thing that talent
If you are looking for a talented professional photographer in doing amazing portraits in MN, be aware that talent is the result of a hardworking personality. It's a constant research of improvement, and paying attention to the details.
The romantic conception of the artist being touched by God's grace is a myth.
I have been teaching photography in a private school. I confessed that among beginners, some students are more skilled than other ones. But the difference becomes less obvious when students are learning.
What's more, in wedding photography, you need to produce more than 10 or 30 outstanding cliché during an entire day event. That's a lot of technique to learn for a lot of different kinds of moments.
Being a wonderful image maker required work.
There is no 100% candid shot of the couple
Most clients I meet in Minneapolis don't want cheese poses, and would love only candid shot.
Photographers have technic to make images look natural, candid. There are multiple trick to generate genuine emotion and catch couples personalities.
But as far as you are aware that a professional is taking photos of you, the result won't be 100% candid.
One person cannot capture photography and videography at the same time
I love videography, that add another dimension that is missing to still image, time and sounds. Film is another way to show emotion and connection between families.
They are also a tremendous source of inspiration.
Bridal party and family pictures are all but boring
Standing guests in line is definitively boring. But taking the time to stage cinematic images that tells a story is actually pretty funny! For families, and friends that not only an opportunity to have fun and to show what defines them.
Since I work in Minneapolis, I have developed the staged group photos a lot. I invite you to look at my portfolio to find inspiration.
Second Shooter Is Not Always Needed
When I first arrived in the North State, I was surprised to view that it's common, for photography studio to offer second shooter. Indeed, in France, only the very expensive photography business hire experimented second shooter to capture expensive event of fortunate clients.
I later understood that, in most weddings a second shooter is more a marketing thing than a real need. Here is the reason:
2nd Shooter Vs Assistant
First, most of the second shooters are not experienced, or accomplished photographers. They are best learning photography, amateur, friends or spouse of the business owner. In other words, they are clearly not established vendors, that would find clients in the Twin Cities by themself. They bearly know how to use their camera.
Naming them second shooter is intentionally avoiding making clear distinction with the lead qualified vendor. They should be calling assistant!
2 for the price of one?
Second, the marketing argument that is commonly express, is that having 2 guys to capture images of an event, should give the client twice more fun, candid and creative pictures.

The reality is not that. Indeed, a good worker moves around capture every angle. As a result, most of the photos of the second shooter are similar photos that end up in the trash during the editing (indeed, clients don't need 12 version of the same pose of the same moment.
When a second shooter is needed
First, it should be an accomplished image maker, (with enough experience and taking creative pictures).
And it could be needed when the bride and the groom want to get ready at the exact same time.
If you are planning for a surprise proposal in Minneapolis and desire some authentic portraits reflecting your personalities and the moment, then you need to hire a good professional.
Indeed, by definition, proposals happens only once, which means you won't be able to redo it. Also you need someone on whom you can rely, and be sure he/she has the required top quality gear (very long lens), and should discuss the best scenario for successful images. That implies, at least:
choosing the perfect location
determine the ideal hour of day, regarding the sun position and the tourist
suggesting you several locations that would stand as nice background
selecting the ideal spot making sure you won't have anyone in front or in the back of your photos
discussing in detail the way you want to make your proposal
discuss your orientation regarding the lightening
suggesting you a couple of outfits that you could wear and that would match your fiance clothes
Check a proposal reportage at the Arboretum
Found here a proposal that took place at the Minnesota Landscape Arboretum (located in Chaska,MN, in the South-West of Minneapolis), fallowed by a short engagement session. Indeed, there is nothing better than looking at the image to make your own judgment.
Jared contacted a few months before he asked Tiffany. We discussed together everything in detail, and the result is nothing but beautiful!