Megan & Cesar: the Centennial Lakes for engagement session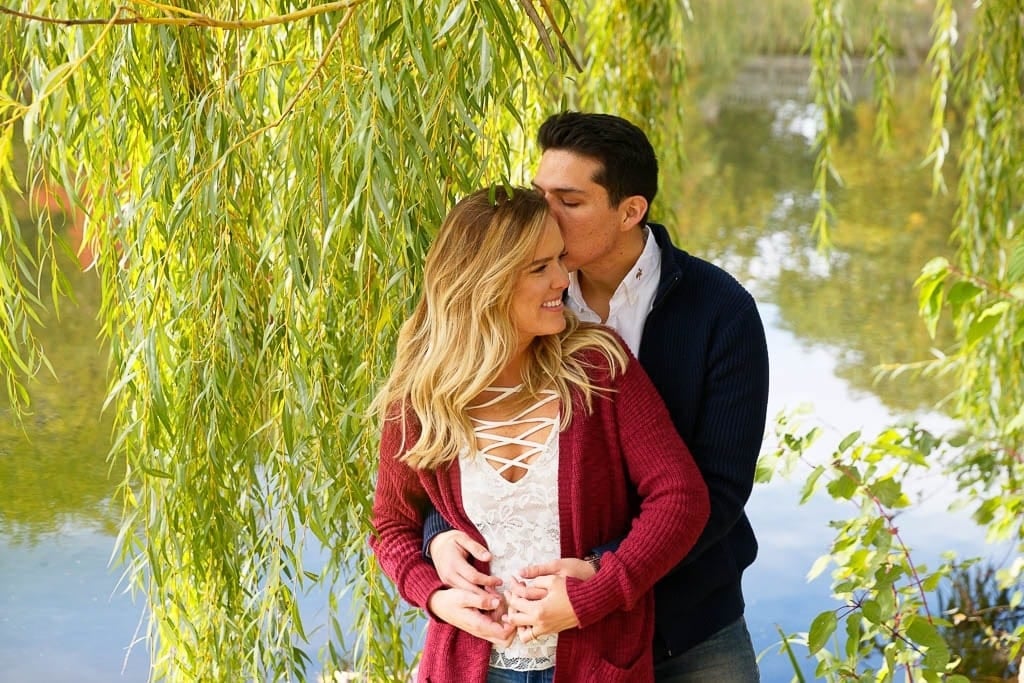 Discover a hidden gem in Edina for your photo session
Having your engagement pictures taken by a friendly photographer in the Twin Cities Before your ceremony is always a good idea.
Thus, Megan and Cesar first contacted me on the internet. My work pleased them and shortly after they told me they wanted to go to the Centennial lakes in Edina, MN.
When I first googled it, I was surprised to discover such a place. Indeed, the lake is surrounded by a commercial center on one side and an apartment complex on the other side. Thus I was quite skeptical of this choice… But they insisted and told me it's a famous place. So I believed them and then I realized they were right! Since I have been to this place several times! It's a classic in Edina.
I will take advantage of this article to explain to you their photo session and to present you to this location.
Before the Photo Session at Centennial lakes Edina
I do much more than just shooting a ceremony. As a professional wedding photographer in Minneapolis and Twin cities, I guarantee your engagement session quality. In order words, I help you to choose the best clothes regarding your location and your silhouette in order that you receive only compliments on your photos.
That's why, several days prior to the shooting, we discussed what to wear or what to avoid for such photographs. Also, I was happy to see the bride-to-be didn't wear any pinstripe pants or pattern dress. They chose a pretty relaxed and casual outfit. Both wore blue jeans, with a white top, covered by open sweaters (blue and red, quite famous colors in the USA).
Centennial Lakes Engagement Session With a Dog
Cesar wanted to include their dog in their portraits. That was another great idea. I am used to dogs and love taking pictures with pets. This brown dog remembers me a lot of my grandmother French water dog. It was so cute and always wanted to play, so I enjoyed it.
As you can easily imagine, a photo session with dogs always take a bit longer than usual. However, it gives the couple a real opportunity to share something together: playing with their dog! It's not always easy, because pets don't always obey. But it is definitely worth it.
Furthermore, I believe dogs could be considered as the first kid of a couple. You have to take care of it and it requires a lot of attention, like babies! So in a symbolic aspect, including your animal in your photos show how strong are your bonds, and how good parents you would be.
The Different Parts of the Centennial Lakes Edina
Centennial Lakes Edina is a pretty interesting place. It's a typical example of the nature being completely domesticated by the human and his constructions. The landscape architect who designed it must have had a lot of fun. Indeed, in a relative small field, he mixed plenty of different landscape styles.
A Unique Scenery With Tons of Options
Centennial Lakes Edina is surrounded by an office building, a commercial center, and resident buildings. You can also find a mini golf field, an auditorium, and a covered white Victorian styled venue (the Hughes Pavilion for indoor ceremonies). In addition to the walkway, you can find some nice old-fashioned iron pedestrian bridges over the water, a pier and a playground. The vegetation is also much diversified with some meadows part, some lawn, some pine trees and some hills. Finally, there are two highway bridge crossings over the park.
And, despite all the accumulation of completely different elements, the park still preserves a cohesive design.
The amphitheater
Facing the lake, with a view on the Hughes Pavilion (that could also be rent), this modern auditorium is perfect for small wedding ceremonies during summer, if you don't mind having visitor staring at you when you become husband and wife.
The Centennial Lakes Engagement session
We started the session by using the mini-golf club's lawn. Given we were a weekday, the Centennials Lake was actually pretty empty, and that was an advantage for us. I asked the two lovers to walk like two teenagers in love, to have complicity and at the same time to hold their dog on a leash. It worked pretty well, at least when the dog was not pulling Cesar in every direction.
Then, we used a small hill covered by lawn. I asked the couple to seat on a blanket, pretending they were picnicking. I tried to take some stage pictures including their pet. Also, given it was the beginning of the fall, I included in the background of their pictures these trees which had turned completely yellow.
After that, we played with the adjacent reeds in the high grass part. I was obviously not the first photographer with this idea since we didn't have to break any plant to make room for the two lovers; there was already a spot made for us, ready to be used! I am quite sure that all the local photographers appreciate that the management plan of the city includes this green space!
After that, we used a giant weeping willow tree. The dog was barking after ducks, trying to catch them, and Cesar's, held it tight, struggling to maintain it out of the water.
That's also one of those authentic and unexpected moments when you have a dog.
Then, the lovers sat on a wooden recreation chair for one picture and we continued our walk around the lake and we caught some pictures using the scenic view on the city's green space.
A second part of the session in a famous photo spot
The fiancés also wanted some photos at the most famous spot of the cities: the Stone Arch Bridge in Minneapolis.
So, given the sun was starting to hide behind the clouds, we didn't stay too long at the Centennial lakes. Indeed, we left Edina, Mn, and headed up to the historic bridge. On their way, they stopped at their home, changed their outfit by wearing business casual clothes and dropped their dog.
Conclusion: Great Training Before Their Wedding
Megan and Cesar are not the kinds of people who are used to cameras. Compliments made her blush and shy.  So before their wedding ceremony, and in order to get used to being photographed for this special day, they needed an engagement session training. I believe they  got much relaxed at the end of their photo session; thus their portraits look more natural.
---
4 other locations in Minnesota to have your pictures taken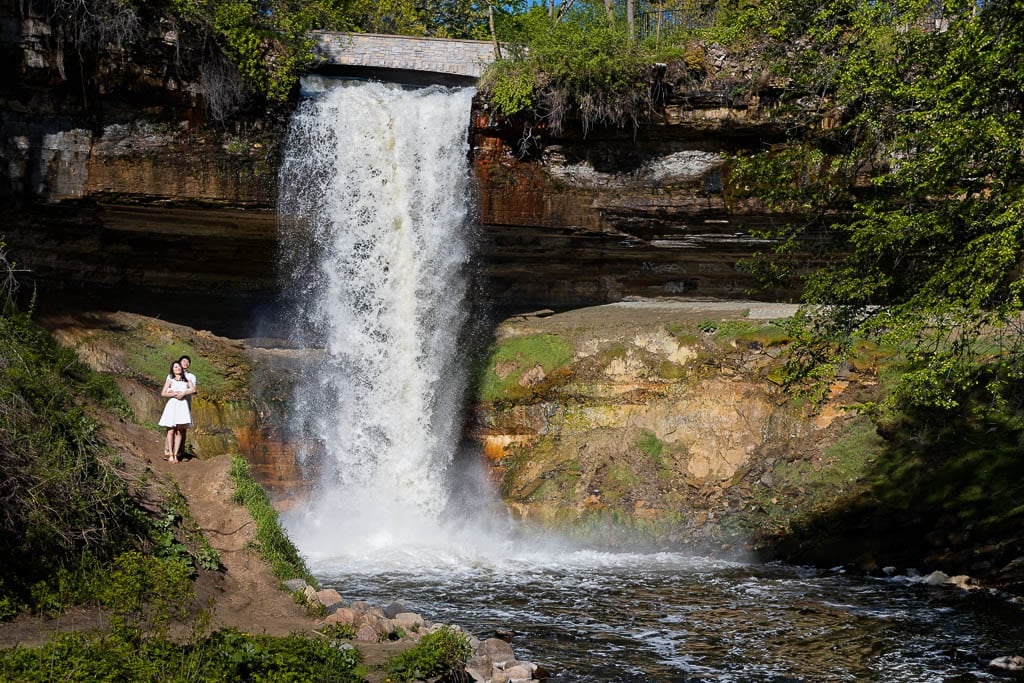 Minnehaha falls
It's a famous touristic area that works perfectly for photo session and having an outdoor ritual under an arch. It's 53-foot falls are spectacular and can be used for couple pictures.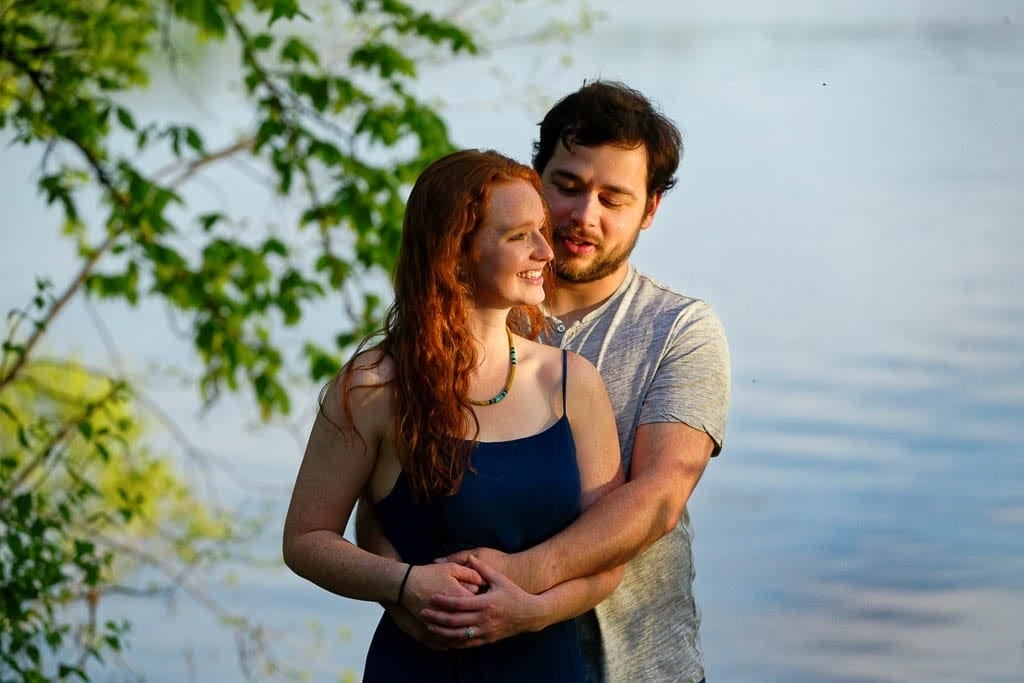 Lake Harriet
Great for engagement sessions and wedding celebration, this Lake is famous in the cities. It's actually located in the south of Minneapolis, near the Lyndale Peace (Rock) Garden, and the Lyndale Rose Garden. Like the Centennial Lakes Edina and, the huge Lake band shell (including a bunch of benches) can be rent for a wedding!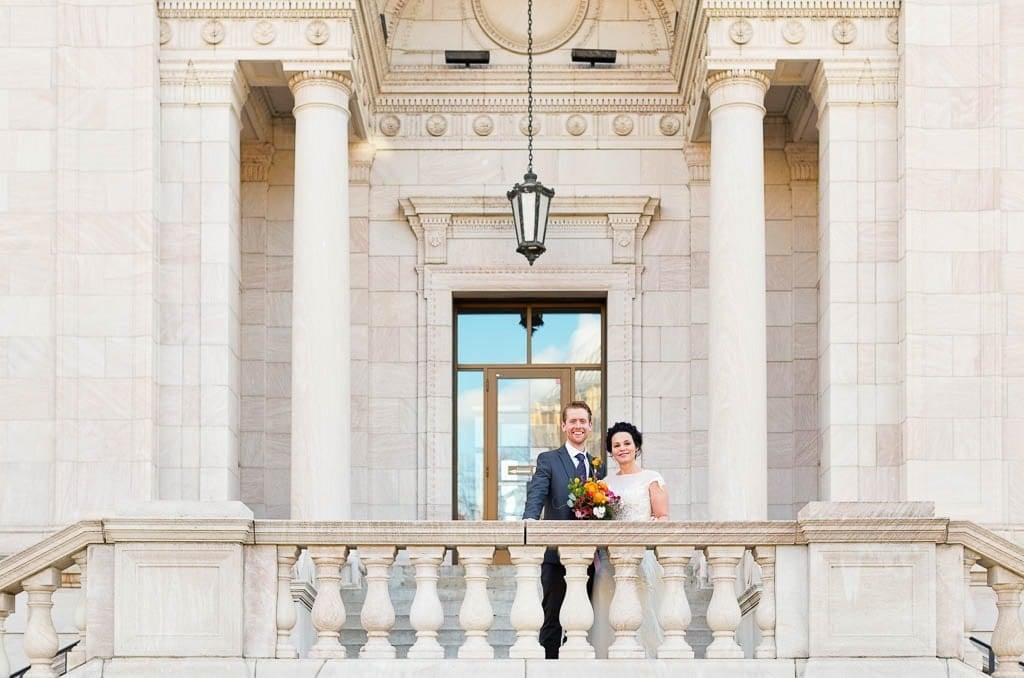 The James J. Hill Center Library
This Saint Paul iconic building was built by the famous Minnesota Train Tycoon James J. Hill for his wife. The library is adjacent to St Paul Library which doesn't offer wedding venue, but allows photo session with a photo permit.
NB: The center being actually sold, no reservation is possible for the moment.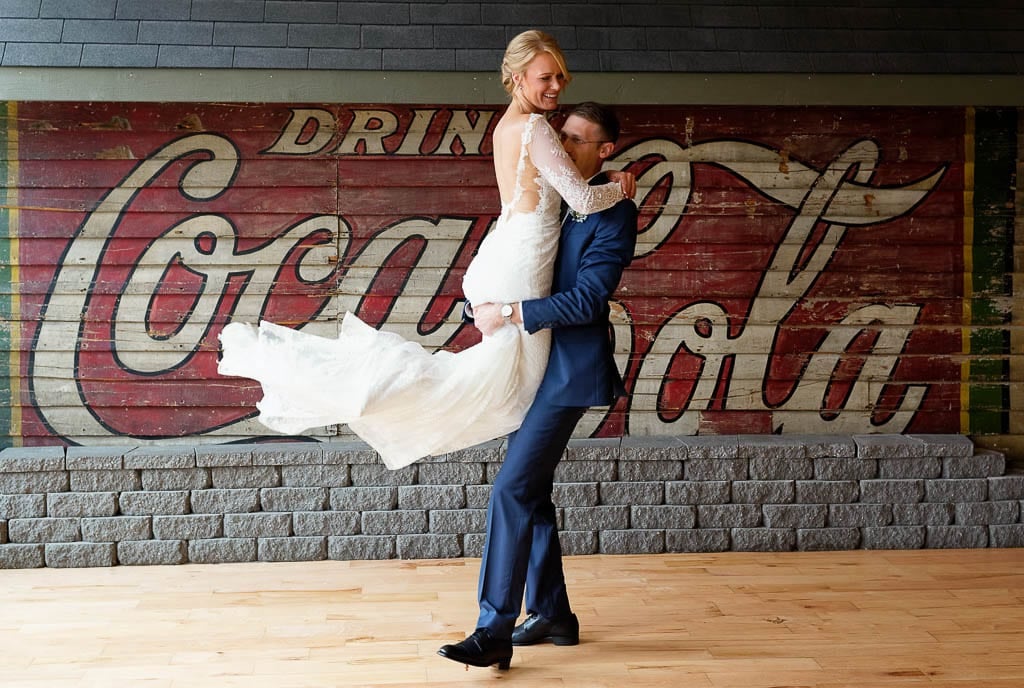 The Post-industrial Loft
Find near Minneapolis the Loft at Studio J, in Stillwater, Minnesota. Loved by photographers those post-industrial buildings with their red brick wall is pretty photogenic. They work great for pictures of the groom and his groomsmen. Their historical aspect reminds us of a glorious time of prosperity.
Contrary to centennial lakes Edina , those kinds of brick buildings would work great all year long, whatever the weather.