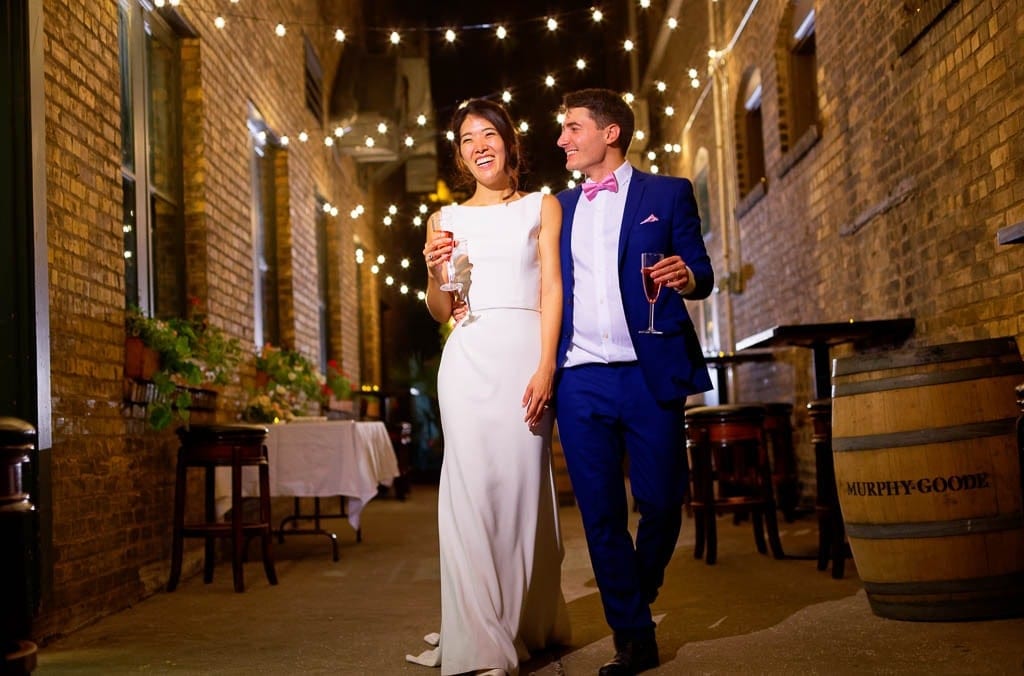 Wedding Reception at the Harriet Brasserie
By Minneapolis Wedding Photographer
Lake Harriet – Minneapolis Wedding Photographers
Yeri and Romain already had their civil ceremony in the Cities, but didn't hire an experienced friendly photographer to capture their best moments on camera. They regret very deeply this mistake and so hired me when they decided to host their party.
She is a scientist, and she is a melting pot of culture. She grew up in Brazil but her parents are from Korea. He grew up in Paris (ten minutes' driving from where I grew up), and he is working for a major infographic start-up. They first got married at the city hall and hired a cheap wedding photographer on thumbtacks but they were extremely disappointed with the result. So for their "real" wedding, they decided to hire a (very) good photographer to make sure they would receive pictures they can cherish in the future!
For our first contact we decided on the Harriet Brasserie, located in the south of Minneapolis, which would actually be their wedding venue. I showed them my albums, photography services. Romain was a geek, so we spoked about how I use the silent mode of my camera during a ceremony. Finally, they decided to hire me as their wedding photographer to cover their event in the Twin Cities.
The meeting went so well that we ended up having dinner together. The food was pretty delicious, full of subtleties, which was a great sign for their wedding day!
The Bride's Getting Ready
The bride was getting ready with her sister and her mom who both traveled for her wedding. She decided to include both sides of her culture into her wedding: the Asiatic side and the western side. Also, for the first part of her special day, the bride dressed up with the traditional Korean wedding outfit. At first look, the dress looked pretty simple but as soon as you have a close look at the fabrics and the details, you immediately understand this is actually a very sophisticated work.
Yeri had her hair and makeup done at Brett Dorian studio in Minneapolis, a great artist. It was a sunny day, full of energy and Yeri was stunning. Her face is very expressive and I love the expressions I managed to catch into candid shots.
The Groom's Preparation and First Look
Romain was getting ready at their apartment. He was surrounded by his parents (who flew across the ocean for his wedding). He also dressed up with the traditional Korean outfit. Despite the fact that he already tried the outfit a couple of days ago, it was a kind of funny moment he adjusted it.
Isn't crazy all the things that we are able to do with love!
Once done, we went down to the adjacent alley for the first look. His father joined us with his tiny camcorder. He was pretty exited too, so he spoke a lot. I remember Romain being embarrassed! Yes, French fathers are usually great speakers and have the secret how to embarrass their children in public. In a way, being silly with his son and gently embarrassing him is clearly a proof of love. I do much appreciate those moments than having the father waiting in front of the TV.
Anyway, the bride arrived and it was difficult for Romain not to turn until the last moment. It was a cute moment. Yeri, with her festive Brazilian nature laughed at him a lot.
The bride and the groom lived in a tower facing the Loring Park. We considered going there for their photos but given the time was flying too fast, we preferred to head directly to the Rock peace garden. On our way to the parking, I took advantage of a large frosted glass by creating this black and white surrealist silhouette photos.
The Lyndale Rock (Peace) Garden
The Lyndale Rock Peace Garden (also simply called Peace Garden) is located on the south side of Lakewood Cemetery, and it's part of the Minneapolis Park. He is adjacent to the Phelps Fountain (that we used for some pictures). It's facing the Heffelfinger fountain and the amazing Lyndale Park Rose Garden.
Let's go straight to the photography part. Despite its remarkable Japanese style (that put the garden apart from other Minnesotan gardens), The Rock Peace Garden doesn't have a lot of high trees. As a consequence, it doesn't offer many parts covered by shade. Therefore, during a summer day, when the sun is high in the sky, it is not the best place for photos. Indeed, when you have a bright sun at its Zenith, it's creating some disgraceful shades on your face that need to be lighted by a huge reflector or at least a flash. So, it's better to scout for a park with 100-year-old trees that will produce shadows.
After their family photos, we did a short couple session in the Peace Garden Park. Yeri and Romain didn't have any engagement session prior to their big day so they warmed up slowly. Furthermore, they were pretty nervous regarding their reception and anxious to be late. Hence, we didn't take too much time before ending the photo session. I tried to make them laugh. I wanted them to have fun and to show their complicity, so I could catch a portrait showcasing their genuine love.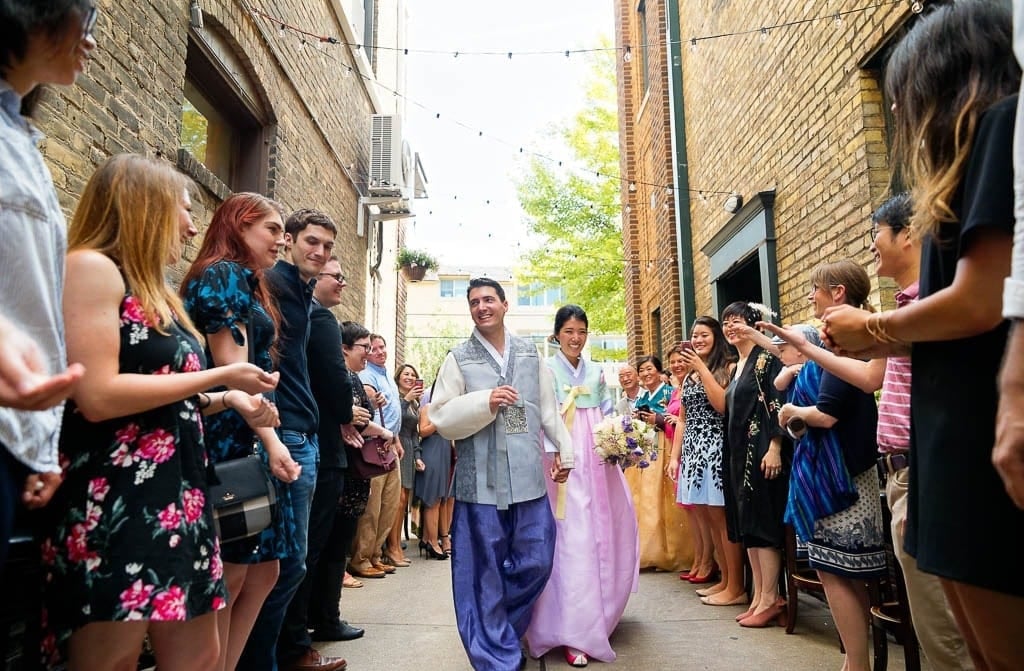 Reception at the Brasserie
For their wedding, Yeri and Romain chose a nice historic restaurant: the Harriet Brasserie. With the help of the restaurant's team turned into a florist, they decorated the adjacent brick alley on the side of the Brasserie. They hang some garland (coffee lights) and some plants. They had set up chairs and tables for a great cocktail. Romain being a creative art director, he skipped hiring a decorator or a florist, and he had taken care of every single detail.
When the bride and the groom arrived, the guests were waiting for them under the shade of the alley and immediately applauded when they showed up.
At the end of the alley, they had set up a backdrop for a photo-booth, with wood boxes, plants, and featured prints from their past travels.
The wedding guests were mostly composed of the bride and groom's immediate family, friends and co-workers from the start-up.
Funny fact, one week earlier I covered another wedding in the southwest area attended by one of their friends! What a small world!
Wedding Dinner
For this special event, they turned the brasserie into a wedding venue. The location featured outstanding door windows, a beautiful wooden counter and an elegant wooden floor. During the renovation, the owner decided to keep the historic building's red brick walls, and to add new white walls. Thus, it creates a mix of traditional, chic and historic style. This post-industrial style is pretty famous nowadays and you can find a lot of similar styles in the area.
---
Need inspiration? Other photos spots for all tastes and personalities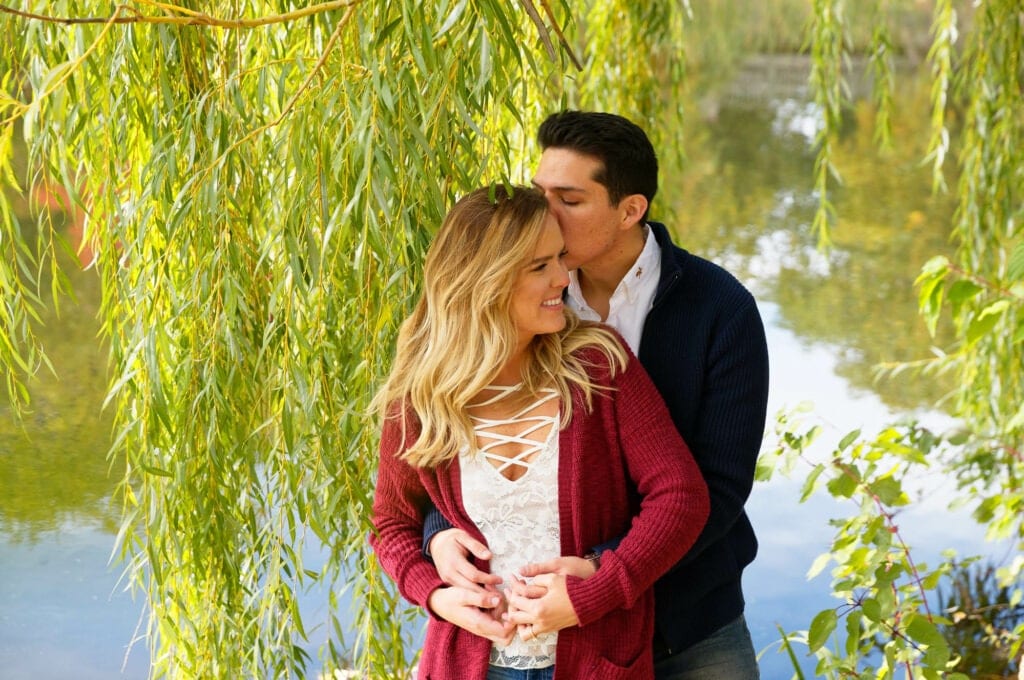 Minneapolis Chain of Lakes
Tired of the Harriet Lake? Your photographers highly recommend Centennial Lake in Edina (great for engagement and couple pictures), or the huge Theodore Wirth and its hilly Park. Actually, all the chain of lakes can work: Bde Maka Ska, Lake of the Isle Park, Nokomis, the famous Minnehaha falls.
All you need for great wedding portraits or engagement pictures is a quiet location, with lush nature and a nice view.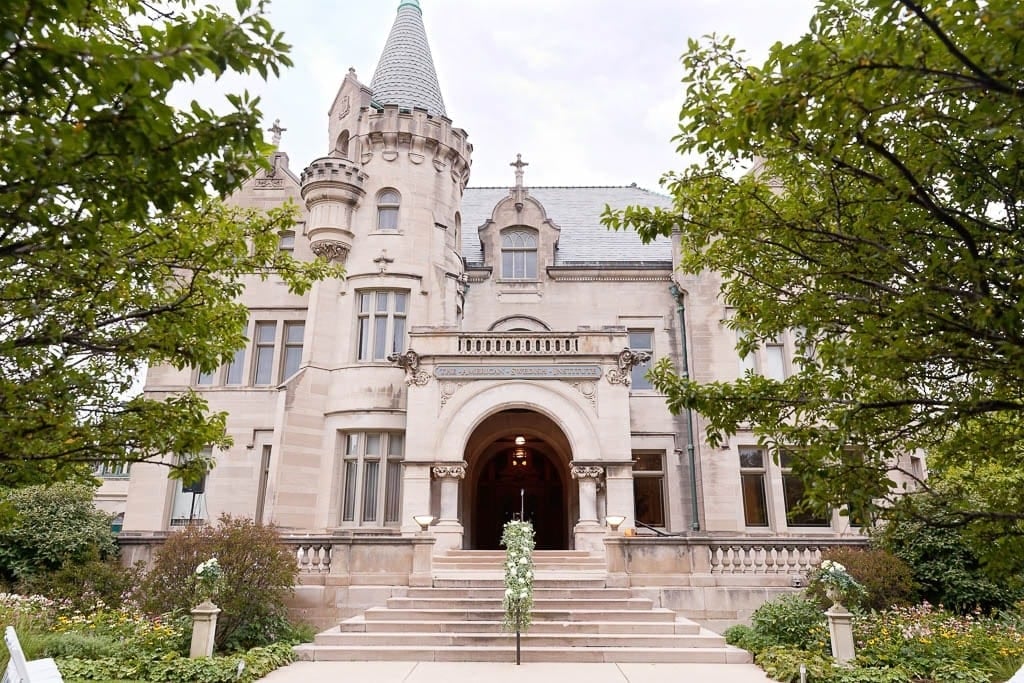 Nearby Mansions
You prefer mansion or little manors, then take in consideration the adjacent American Swedish Institute, the Van Dusen, the Semple Mansion, the Gale Mansion. Nevertheless pay attention, those are also wedding venue, so it might be an event taking place there!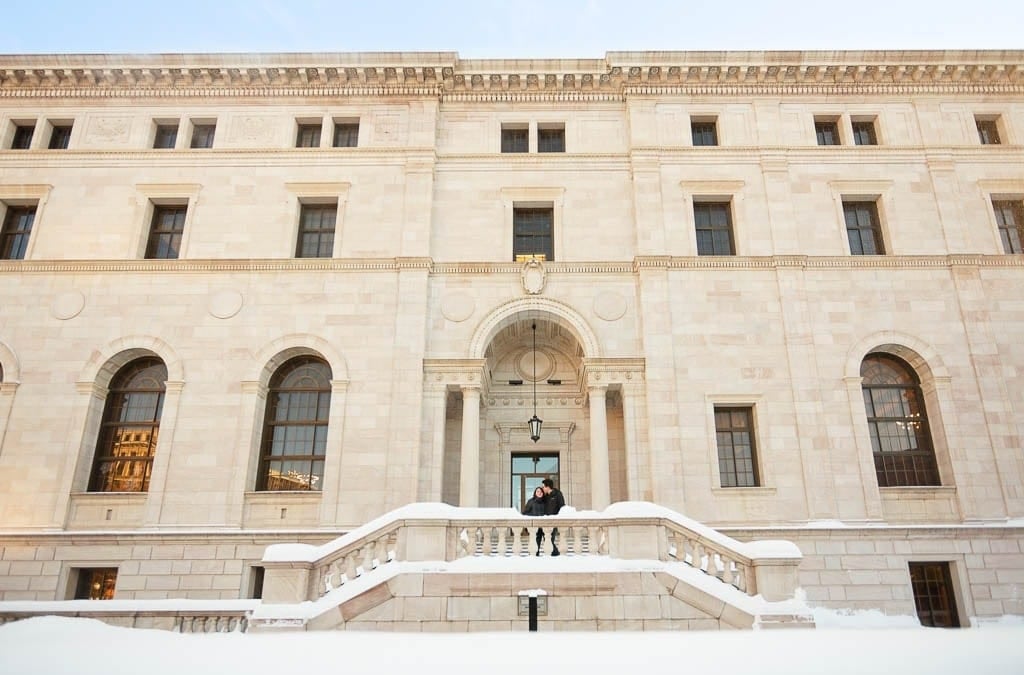 Historic Landmarks in St Paul
Saint Paul, MN is full of tremendous Historic Buildings, such as the James J. Hill Center Librairy and its adjacent St Paul Librairy. Let's also think of the Landmark Center (both inside or outside the building or stunning), The City Hall frontage (inside is gorgeous too but required an authorization), the Historic Hamm Building Administration Office, The St Paul Hotel Lobby or the Union Depot just to name a few.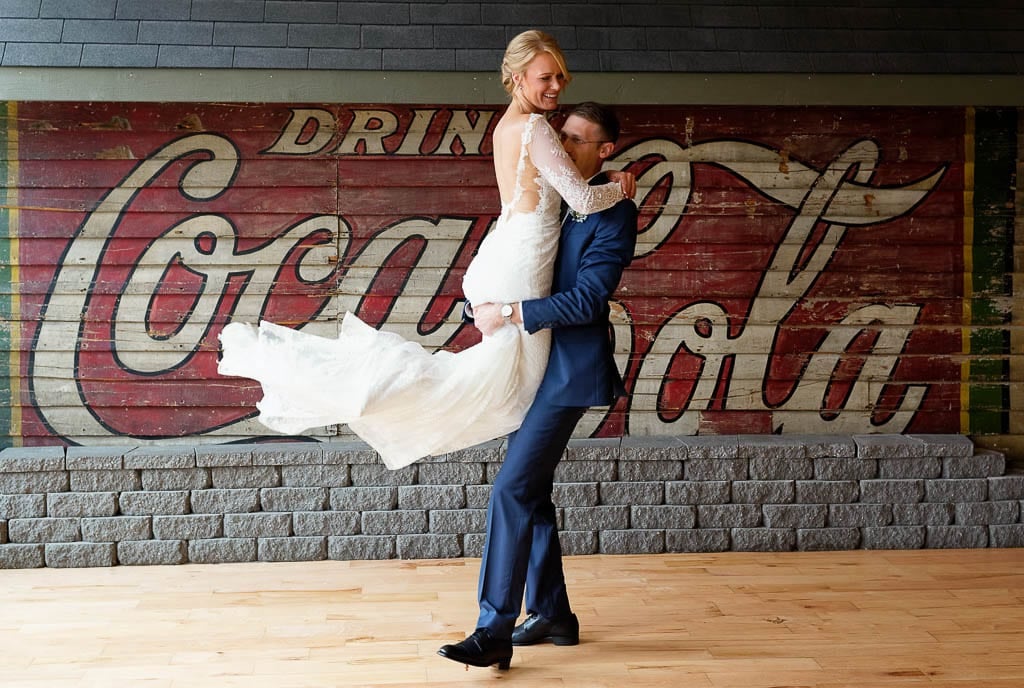 Vintage Post-Industrial Buildings
Photographers love Post-Industrial buildings such as The Loft at Studio J in Stillwater, MN, works perfectly for portraits. Indeed, makeup, hairstyle and fancy outfits are important too, but the background (after the couple itself) is probably the most important element.
If you don't want to drive to the Northeast Stillwater on your special day, be reassured that Saint Paul, MN, and the Mild City feature a lot of brick buildings.
As you can see in Yeri and Romain reportage, the adjacent brick wall alley was just perfect! But you could also think of the Nicollet Pavilion, the St Anthony Main Street.
Conclusion:
I love such small weddings where the bride and the groom have the time to enjoy both guests and family, which is not always possible on a big wedding. You may see in the images all the complicity between the bride and the groom, when they finally relaxed during the party.
Mutual Engagements and Emotion
Actually, small weddings allow the photographer to focus more on the guests and catch all the little moments. Sometimes I wish there were more similar small weddings in Minnesota! I love the, the tears and the smiles in the images I captured.
Before I leave, usually I like to stage a last picture. So, during the dinner we escaped ten minutes for staging a last couple portrait using the brick aisle.
Thank you for trusting me as your Minneapolis Wedding Photographer!
I am glad that Romain and Yeri decided to hire me for their wedding, and I hope we will stay in contact in the future! I hope they will cherish those memories in the future and will enjoy their wedding album again and again.