What are the different kinds of photography prints you can put on a wall?
Now that your wedding photographer provides you with some amazing photos from your engagement session or wedding day, what can you do with them?
You might already have your guest book album, so it's time to properly use your other photos: so how to use your photos to decorate your home.
We will see different ideas decorate your wall. They all have pros and cons. All of those prints would require that you contact your local or on-line photo-lab to print them.
The Canvas
Printing a photo in large format can be pretty expensive. Canvas is probably the most economical solution for large prints. They come in small sizes and large sizes. They are composed of a photo print on some tissues, wrapped around a wood frame.
You can order them on-line and because they are light, you can easily hang them on your wall. And given their design, you don't need to frame them.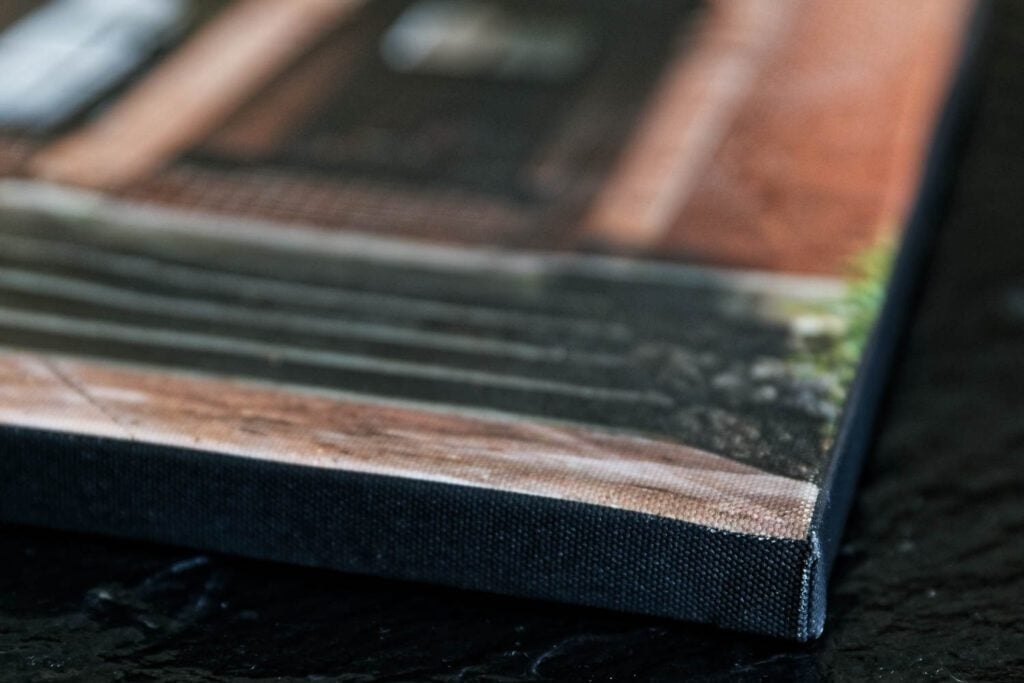 The Downside of Canvas:
The image definition is pretty low. But given they are made to be seen from far away your eye will probably not see any difference.
The dynamic of color is pretty low (compared to prints with vibrant colors). You won't enjoy all the subtitles of the best images. For instance, the black point is pretty gray. So it's clearly not the best quality.
A canvas needs frequent maintenance to get rid of the dust accumulation.
The surface of the printing is exposed (not protected), and thus can easily be damaged by any liquid, or scratch.
The Framed Prints
Those are the classical framed prints, composed of a photograph printed, framed with its glass, and sometimes a mat board (or mounting board). This last one is made of a white cardboard, as a double role. It allows the use of a photo with a different ratio than the frame, and also increases the aesthetic of the presentation. The white space works like the white walls of a museum, so the photo is detaching itself from the background.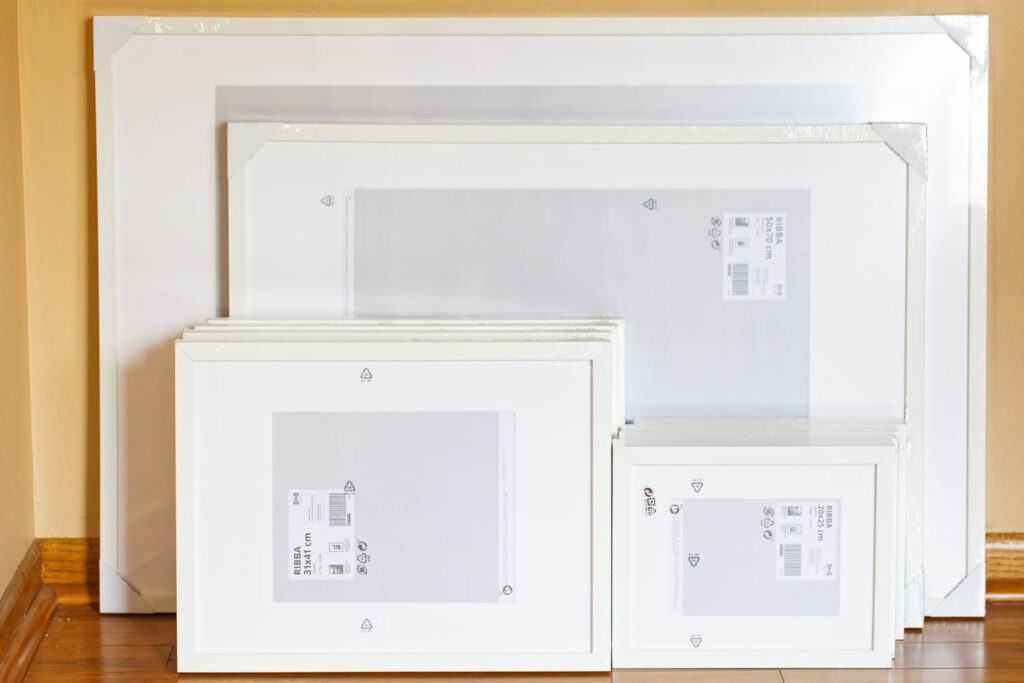 The frame can be modern (black mat, white mat, or natural wood), or it can be more traditional, not to say old looking, with decoration, and golden painting. Be aware that frames (and especially the tailor made one), can be pretty expensive (actually much more expensive than the prints). If you want to keep the price low, take a standard frame, and pick a photo accordingly.
For the prints people usually choose between two options for papers (two kinds of technology): inkjet paper or real photo paper. Exposed to sun and moisture in a regular family living room, none picture will survive for decades. Among each type of paper, there is usually a different variety of surface (glossy or mat), creating different styles of effect. I love mats because it has less reflection.
The glass you will pick will also play a huge role. Depending on its nature, it can be pretty reflective (and you can't see your picture properly), or mat.
The Metal Prints
Metal prints are usually preferred for large images. There are different types of metal prints. We will focus on aluminum and the Dibond. But first, let's start with the frame.
American Box
The big advantage of metal print is that you can hang them directly on your wall. But some clients also like to use an American Box Frame (much more elegant and sophisticated). An American box frame has a recessed space between the frame and the artwork. The shadows created, create a modern presentation for your fine art print.
Most of the time inkjet paper (and especially the fine art ones that have a superior quality) are used, but it's not an obligation.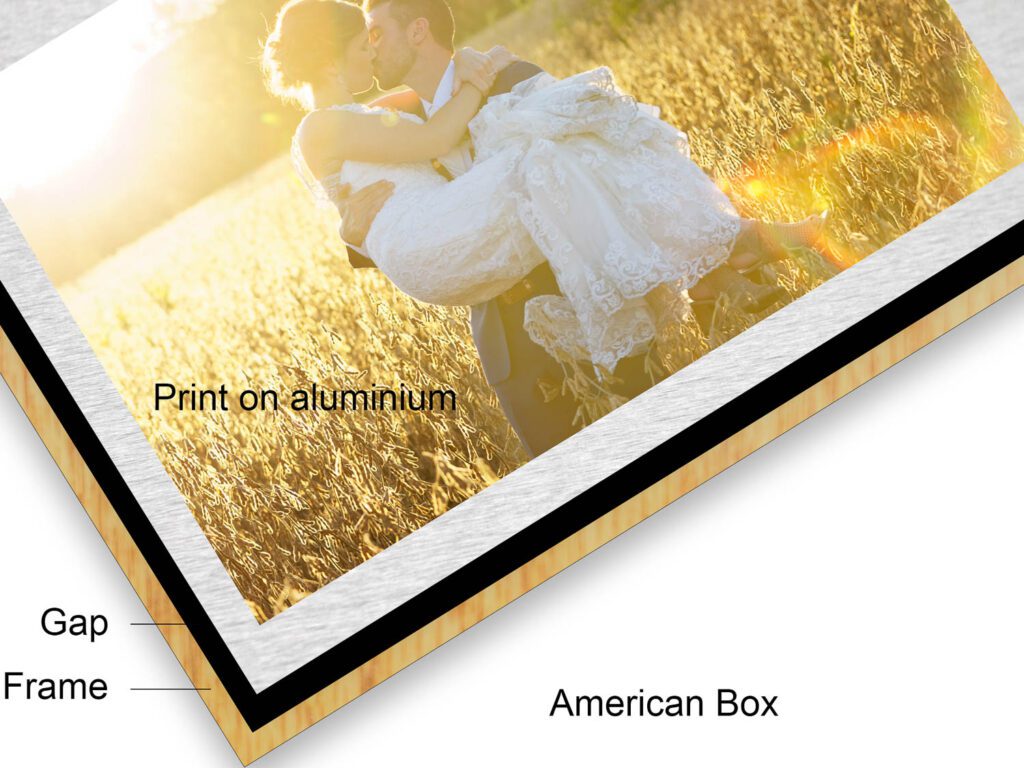 Aluminum
Some people love photos printed directly on the metal (Aluminum). The white of the photo paper is then replaced by the grayish color of the metal. That creates a unique and modern effect. You can love it, or not.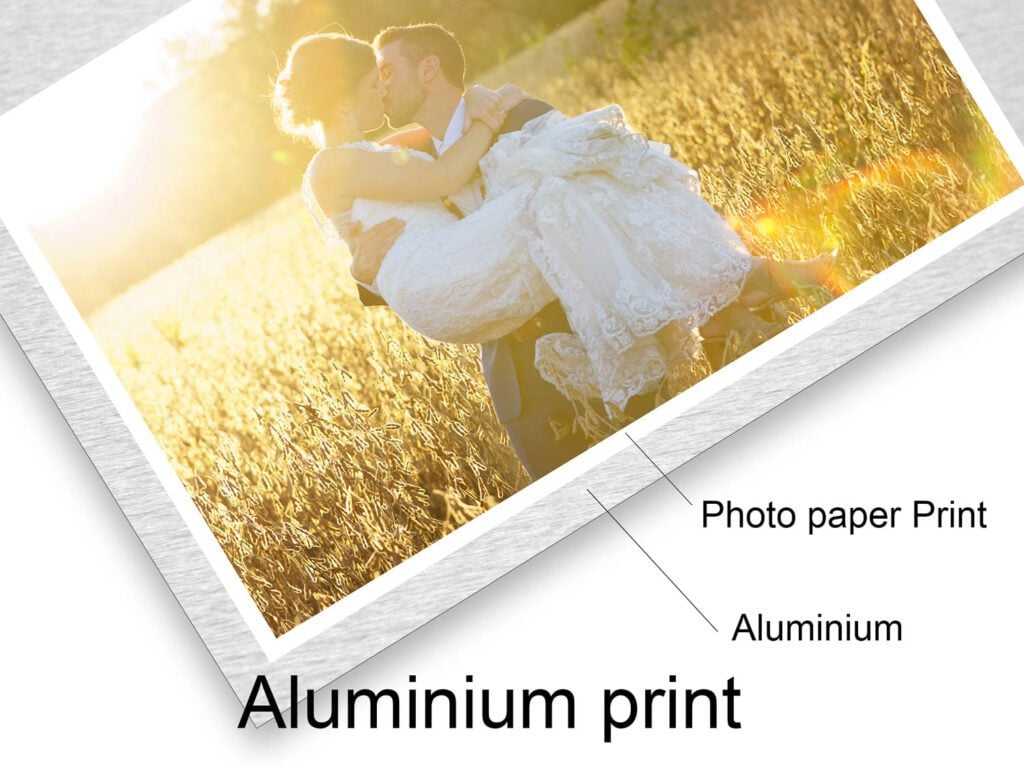 Dibond
Dibond is a support composed of 1 layer of aluminum sheets, one layer of solid foam, and a third layer of aluminum. It creates a pretty strong support for the prints. On the top of the support photos are glued.
It's a great support used by many galleries and museums to display large prints.
As a photographer, that's the option that I choose when I print my own photos for exhibitions.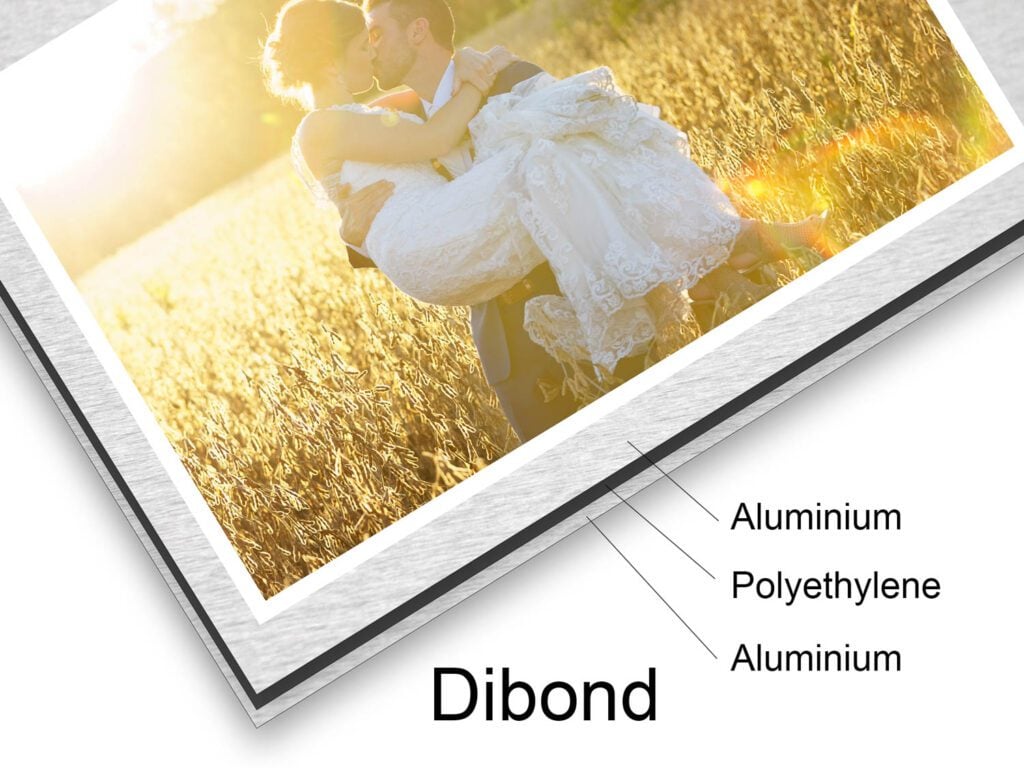 Wood prints
Definitely a rustic option for your photography presentation. People usually shop for a set of several small wood prints and hang them in the hallway or living room. It's perfect for a moody style of photography. Indeed on wood prints, black looks like charcoal and white looks yellow.
Those wood prints don't need to be framed.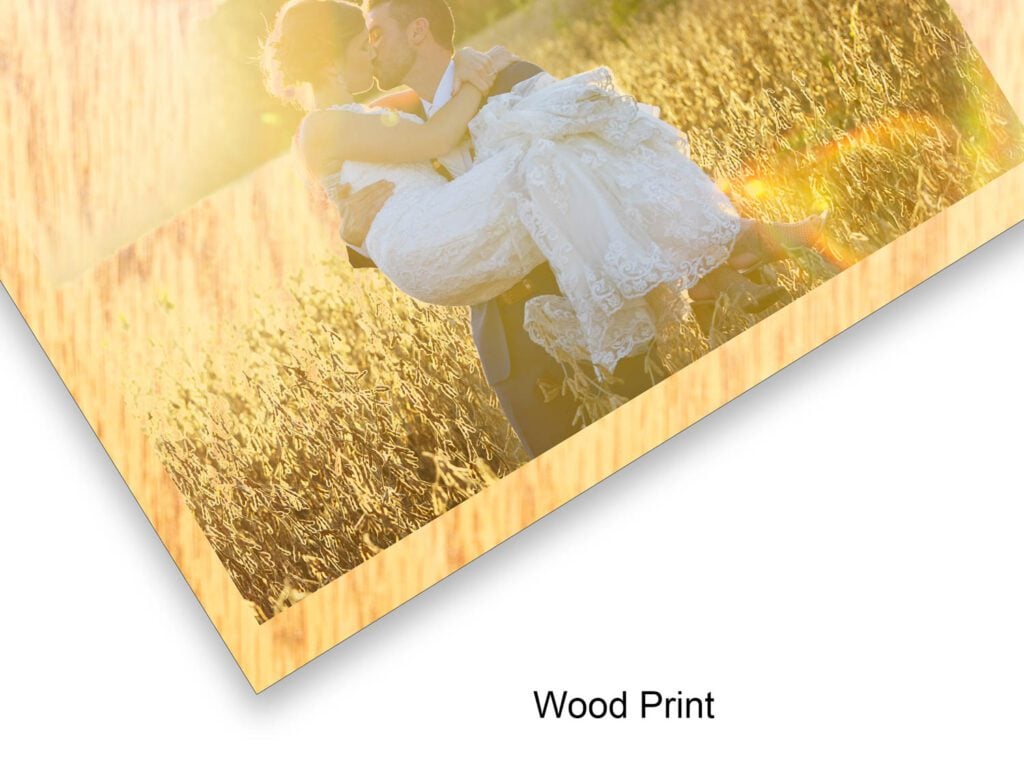 Acrylic Prints
Acrylic is also called Plexiglass (which is the Brand name that designates a specific type of Acrylic). It's a thick (a quarter to half of an inch) layer of polymethyl methacrylate (PMMA), basically a transparent plastic! It's exactly the same material that we use for our acrylic lay flat photo albums.
Photography can be printed directly on the layer of plexiglass, or, can be laid on a metallic sheet, and the plexiglass then protects it.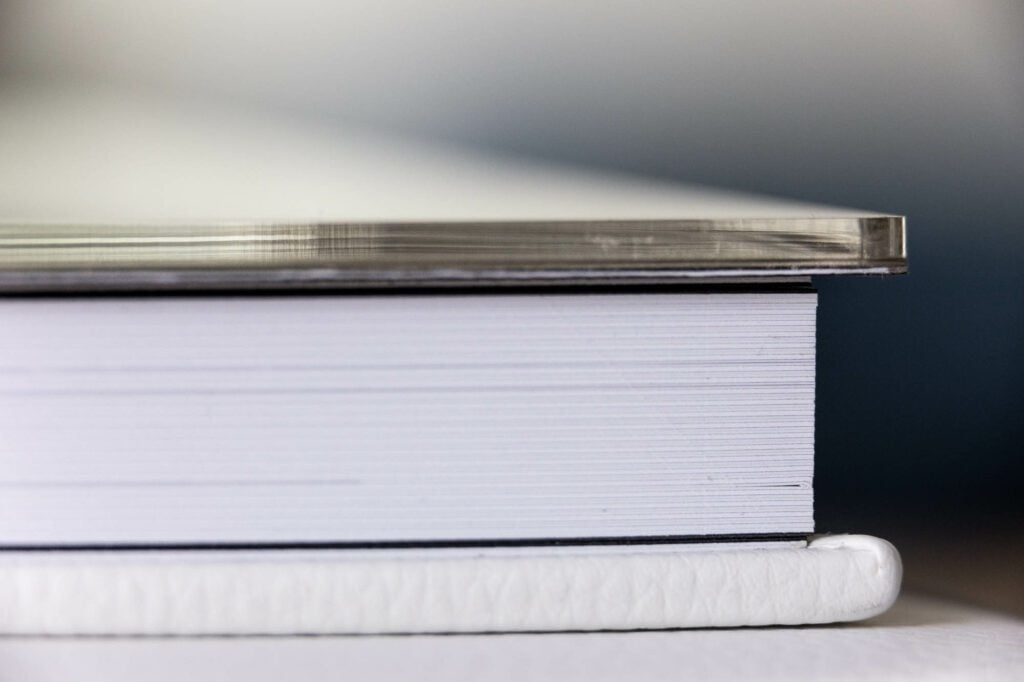 It works really great with photos showcasing a large variety of colors.
The only inconvenience (despite the price), would be the need to clean the surface of the plexiglass.
Acrylic is definitely a great option to display a piece of art in your living room.
People who choose acrylic usually love the modern appearance of the material or don't use frames.
Acrylic comes in many sizes, so you can create the style of presentation you like.
Poster and Thick Card Stock Prints
Poster prints are usually large sizes, and printed on paper using a laser printer (or other kinds of printing technology).
The advantage:
a (relative) low cost.
card Stock can stand by it self.
The cons are the fragility of the material.
This one can be framed, or not.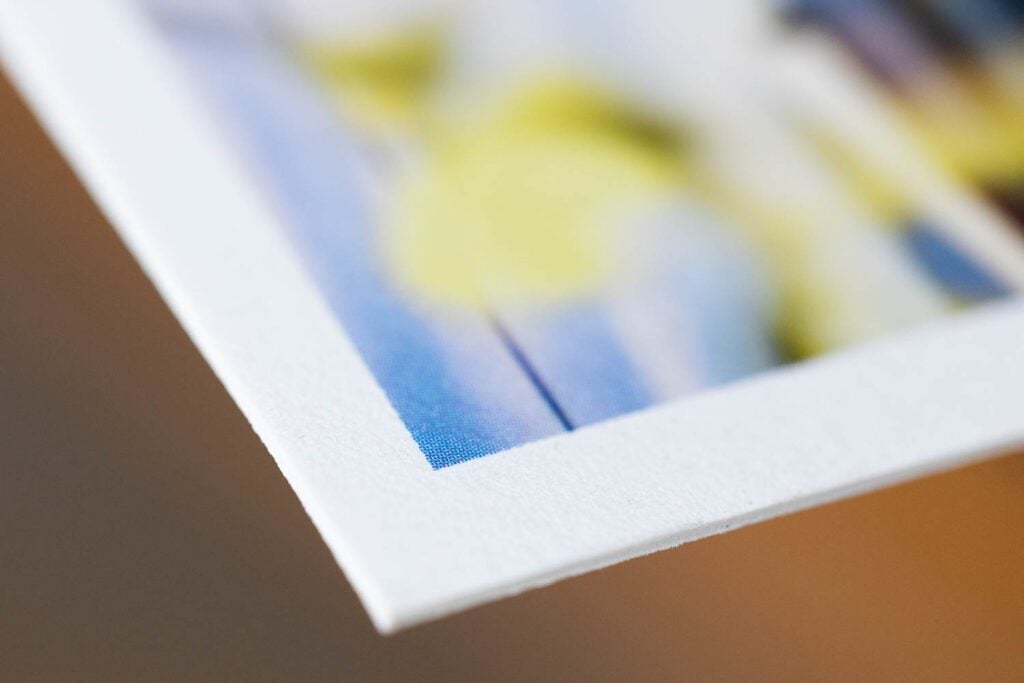 What to consider for your perfect wall of art

The space available to display your images
First, let's speak about your space. You have to adjust your pint sizes regarding the size of your wall. If you don't want a wall to pack with photos, and, on the other hand, you don't want to hang a single tiny photo in the middle of a giant wall. Set your prints accordingly to your space.
If you need advice, contact your wedding photographer!

You dinning room or living room wall color
The color of your wall (and other elements of decor) must be taken into consideration when you choose your photos and frames. Indeed, what you are looking for (ideally), is a harmony in your decor. So, when you shop, before you hang anything consider your interior design!
Different types wall art ideas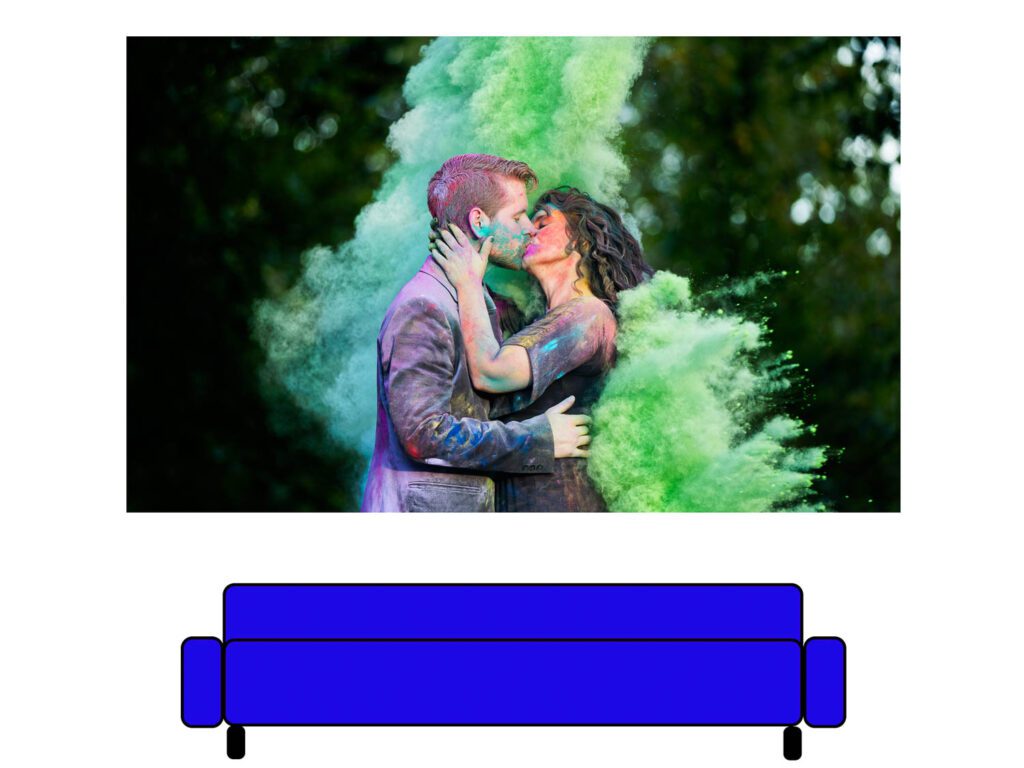 One big photo
If you want to make it simple and want to make a big statement, a few large prints are usually fine.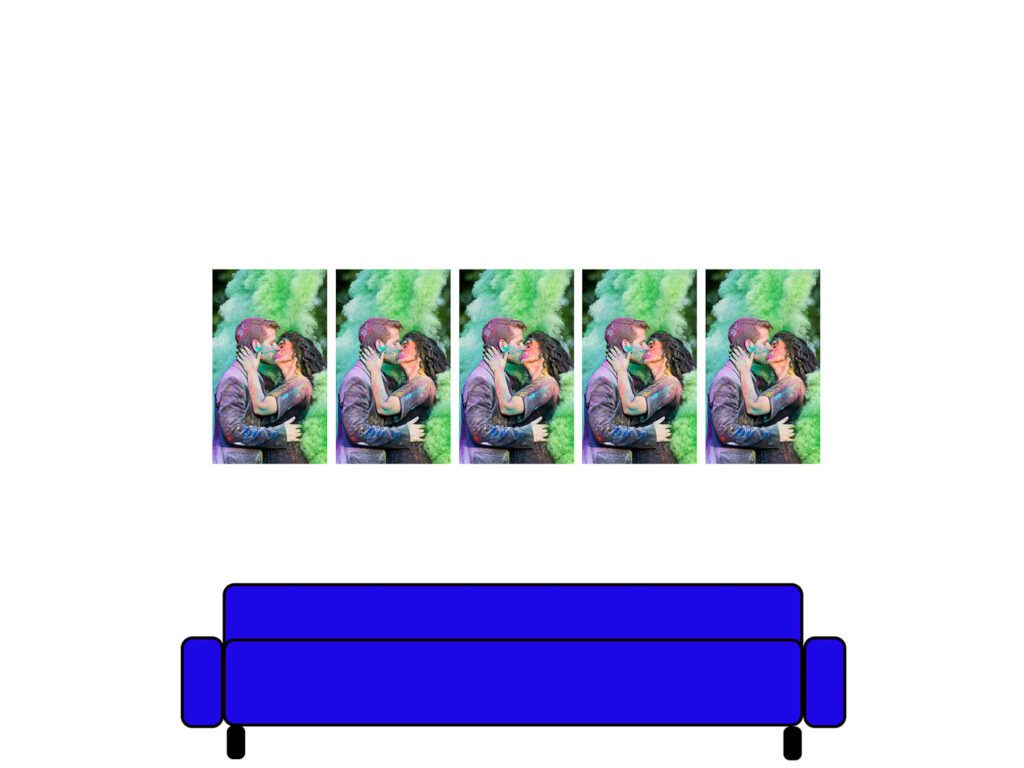 Some gallery collection of smaller photos
Some people (especially if you have a large family), would need more than one piece of photography! Small set of photos works great when they are printed together (same colors, same materials).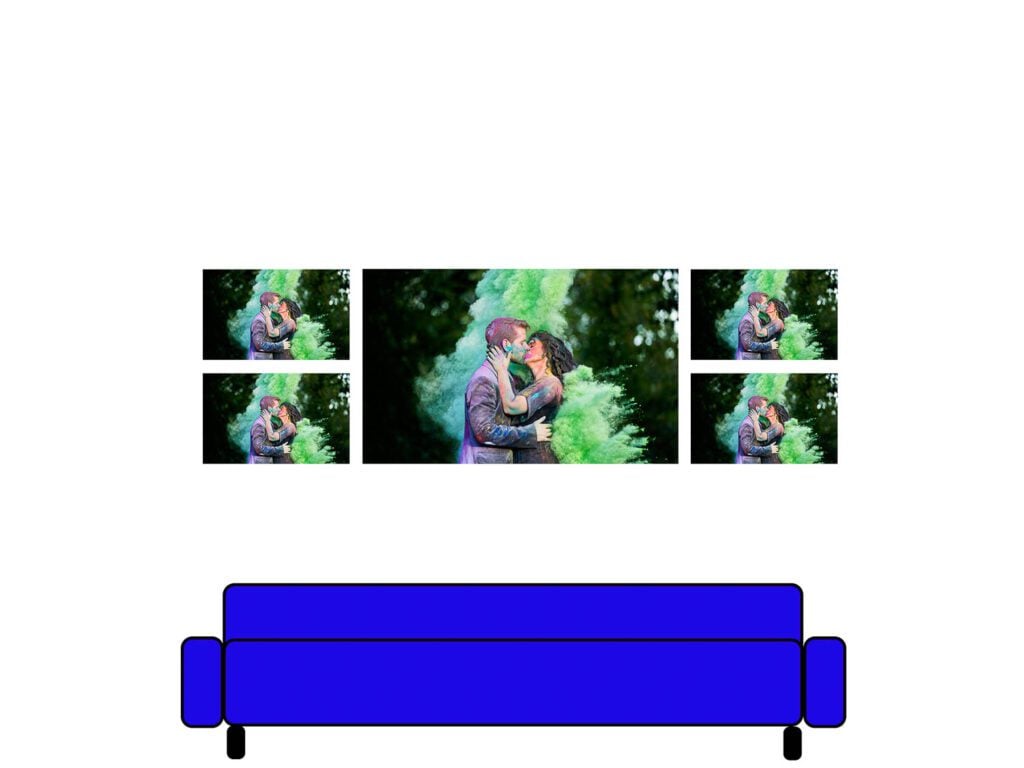 Modern Wall Tile
This is a set of images design to work together. They are from the same session and can be mounted on a wood or metallic support.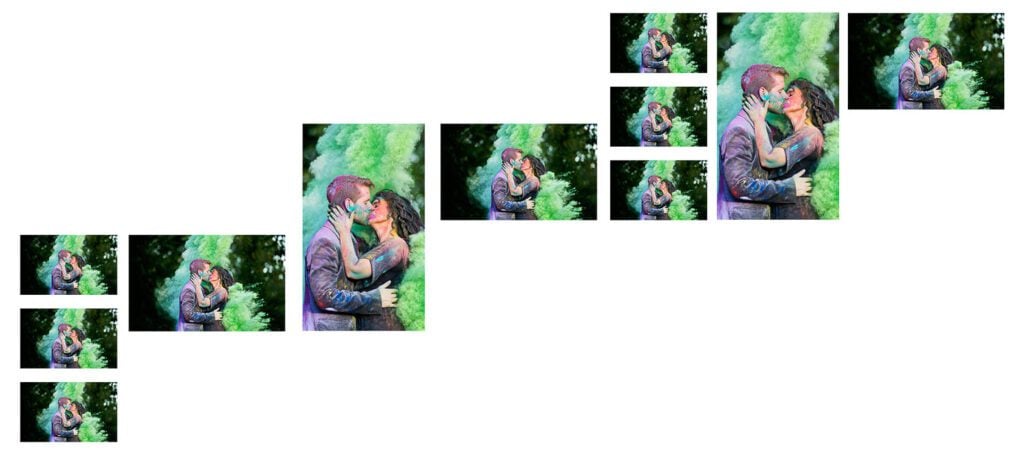 Stairs With All the Family
Let's think of the classical stairs filled with photographs. Some 8×10 frames should be the maximum to consider.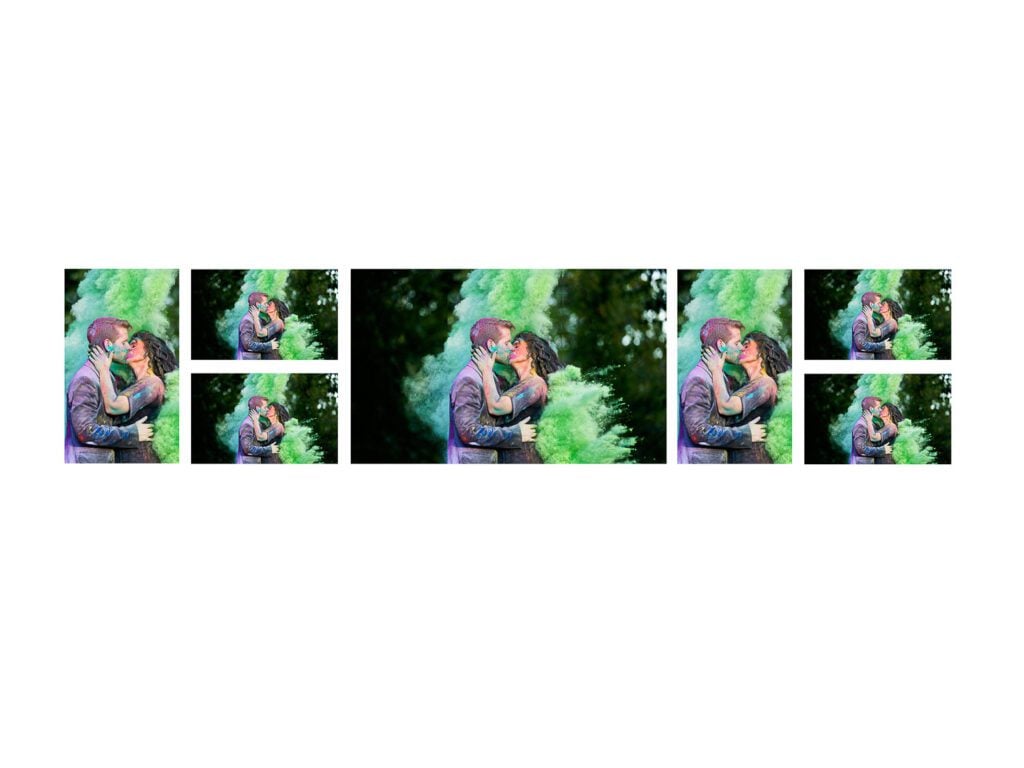 Hallway Wall Art
Depending on the size of your hallway (if you live in a regular home or a castle), you might pick frames on the small side. Indeed, large prints need to take a step back to be enjoyed. So, for the perfect presentation, don't hang your 30×40 poster in your hallway!