THE ACRYLIC (PLEXIGLAS) COVER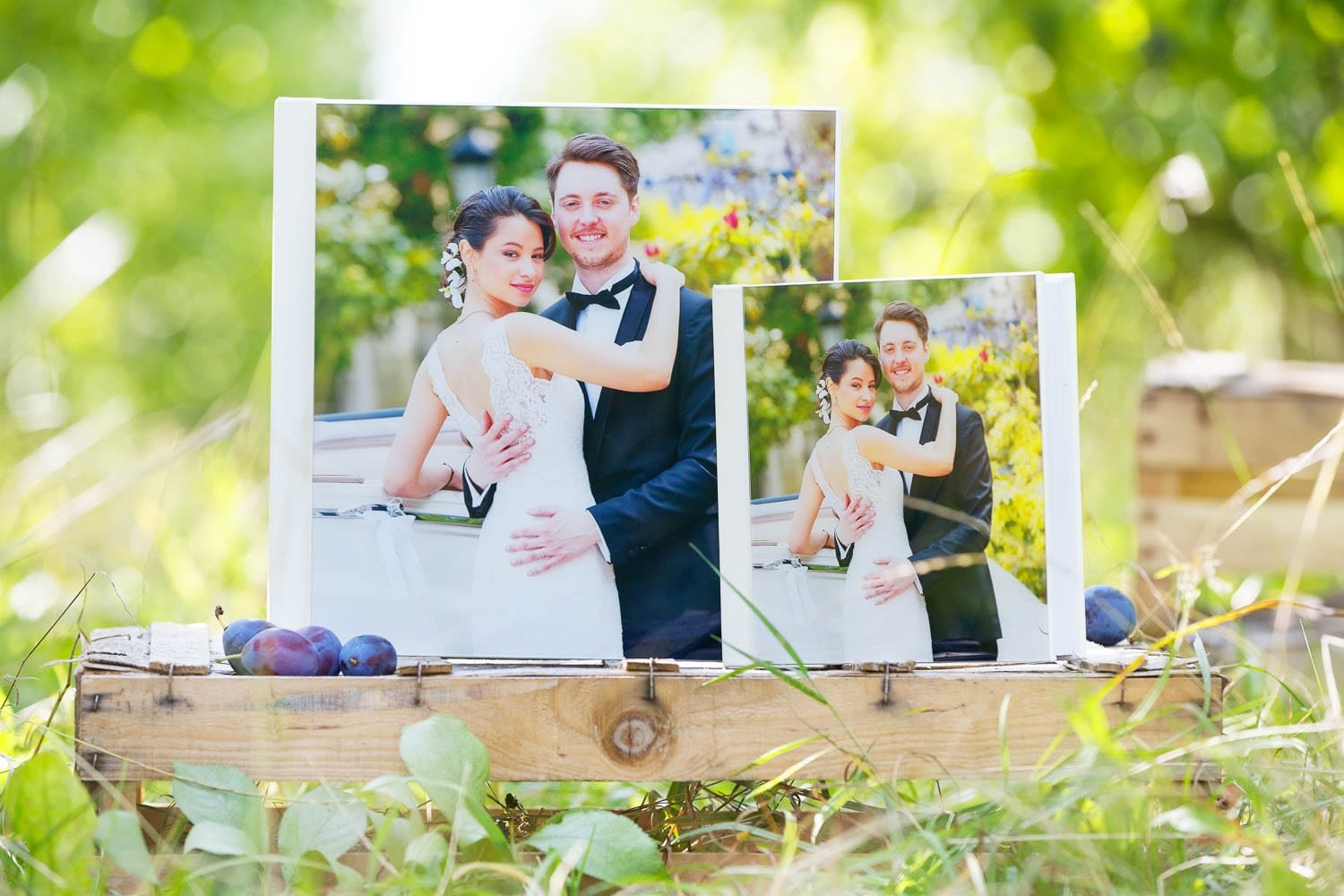 BECAUSE I BELIEVE THAT FAMILY (AND SO PARENTS) MATTERS!
This book is only available in the family package, that includes a 12×12-inch album for bride and groom and two 8×8 inch albums for parents. 
Parents' albums are small size reproductions of the Bride and Groom album, with the same number of pages and the same material for the cover. 
The top cover is « personalized » with one of your pictures, protected with an acrylic glass layer (Plexiglas). The bottom cover is a synthetic material, in white or black. The box is made in the same material (white or black). Nice and sober, it's the most personalized cover.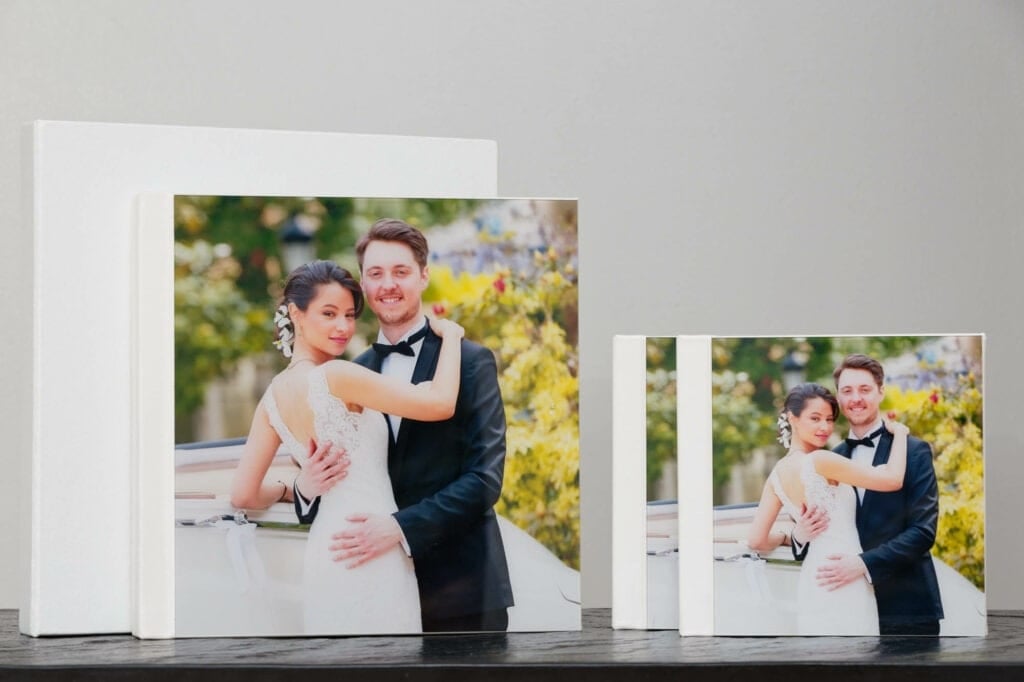 The acrylic cover is part of the luxury collection of high quality albums that we offer to our clients. This flush-mount album is also a lay flat photo-book. The textbook (the block of pages) is composed of only one spread printed on high quality paper for the right and left page. Each spread is attached together to form the textbook.
As a result, the cease is really subtitled, allowing us to showcase images that run on both pages.
Perfect books are made to last
When printing your family history, we want a strong product that will go through the generations. We want to build your heirloom. Our dream is having you, 90s, taking your grand-grand kids on your knees telling them who each guest was on your wedding day. We want them to have stars (or tears) in their eyes. That's why as a professional wedding photographer it is our responsibility to choose the highest quality.
The workmanship on this handmade photo-book is exceptional, with every detail carefully crafted by skilled artisans.
Your story to be read through an outstanding photo album
We are not only professional wedding photographers. We are storytellers. We carefully design each spread so they tell a story.
Each layout presents a different scene: preparations, details, couple photos, bridal party, family, guests, ceremonies, cocktail hour, dinner, dancing.
We believe it's important to remain timeless so we decide on a minimalistic design: only photos arranged on a white page. No frame, no shades, no effects. It's easier to read and the viewer focuses on the images. You can check more examples of layouts.
A Combination of two materials for a Solid cover
1/ A thick layer of Acrylic
The specificity of this album is the thick layer of Acrylic covering the front page of the wedding album. Underneath is a printed image. The acrylic being a clear transparent material, colors of the print remain vivid and vibrant. Black is deep black, and white pure white.
The thickness of the material is about 1/16 inch (2 mm).
The result is a chic, sophisticated and modern cover.
2/ Customize your cover with a second material wrapping the board
If the front page of your album is covered by a thick layer of acrylic, the back cover is wrapped in another material. You can add an extra layer of customization by selecting one of our fancy materials: leather, linen, velvet, animal-friendly leather (leatherette), synthetic material.
Characteristic of This Premium Photo-Book
This flush mount photo-book is square measuring 12×12 inches (30×30 cm). It's printed on an RC photo paper (Fuji crystal archive). It's a photo paper made by Fuji and protected by a layer of plastic. This last provides a higher longevity with resistance against scratch and moisture.
The minimum of pages is 40 pages (which represent 120 photos), and the maximum of 80 pages (240 photos).
Parents' versions of those albums are 8×8 inches, while 10×10 inches can be done on request.
Are Acrylic and Plexiglass the same?
Acrylic is a generic term for a type of plastic made from polymethyl methacrylate (PMMA). Plexiglass is a brand name for a type of acrylic sheet produced by the company Plaskolite.
Is Plexiglass made of glass?
Despite the name, Plexiglass is a kind of plastic. Which means it's an ultra-strong material that doesn't break easily as glass.
Where is the photo-book built?
If you are wondering where to get this album printed, we order this kind of album in a Photographic Laboratory located in Europe. Each product is individually handcrafted by a talented professional printer.
What's the price of such an album?
For such a piece of art, you would need to spend between $600 to $1000 (depending on the number of the page and the material you decide).
How long takes the production and shipping?
We guarantee a maximum turnaround time of 2 months between your order and its delivery.
What's the price for the shipping?
You would be happy to learn that we offer free shipping for any order delivered in the USA.
What are the customization options?
Our studio can offer customizable foil stamped, you will love it!
Another option is to have the edge of the page gilding.
How to take care of your album?
If you gift yourself with such a treasure, it means you love it and will take care of it. If you follow some simple rules, your keepsake will last for decades, if not a lifetime.
Keep your album in its box.
Store it on a flat surface.
Avoid variations of moisture.
Avoid variations of temperature.
Wash your hands before manipulating it.
Don't hold it by only one cover (don't tear it apart).
Clean it immediately if you have any dirt and wait until it's well dried.