Choose a Custom Cover for Your Wedding Photo Album
Don't we say that we judge a book by its cover? It's important to select a texture, color, that you like to protect the memories of your special day.
Each of our albums are handmade, carefully protecting your family memories.
In this presentation you will discover which materials we offer to personalize your wedding photo album. We will offer you recipes to compose the perfect cover.
All those covers are eligible for the mini 8 × 8 parent album.
Leather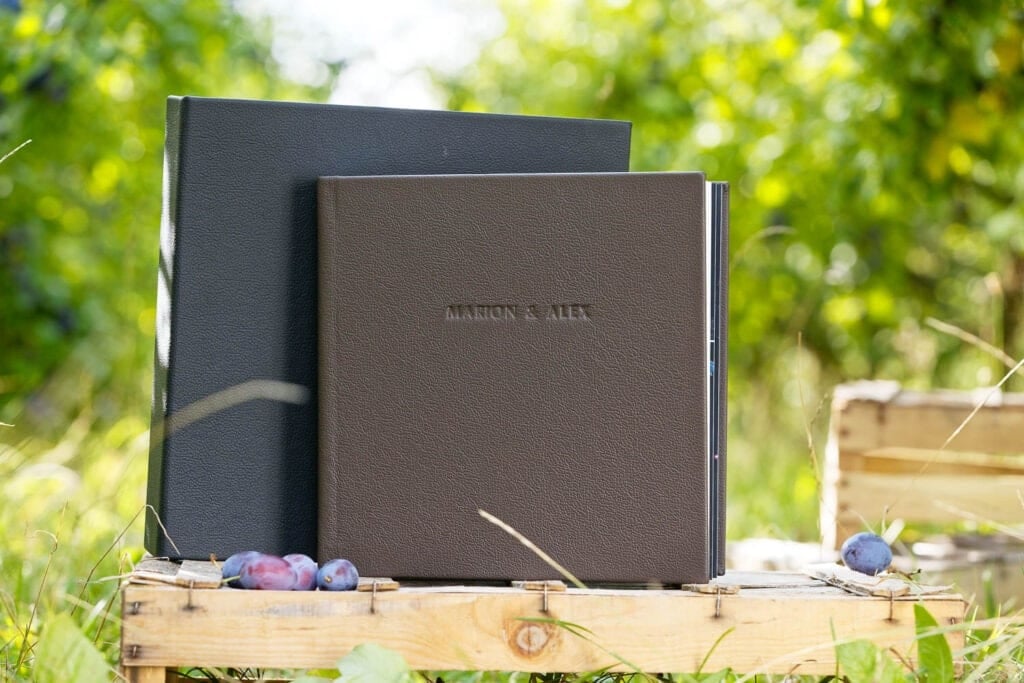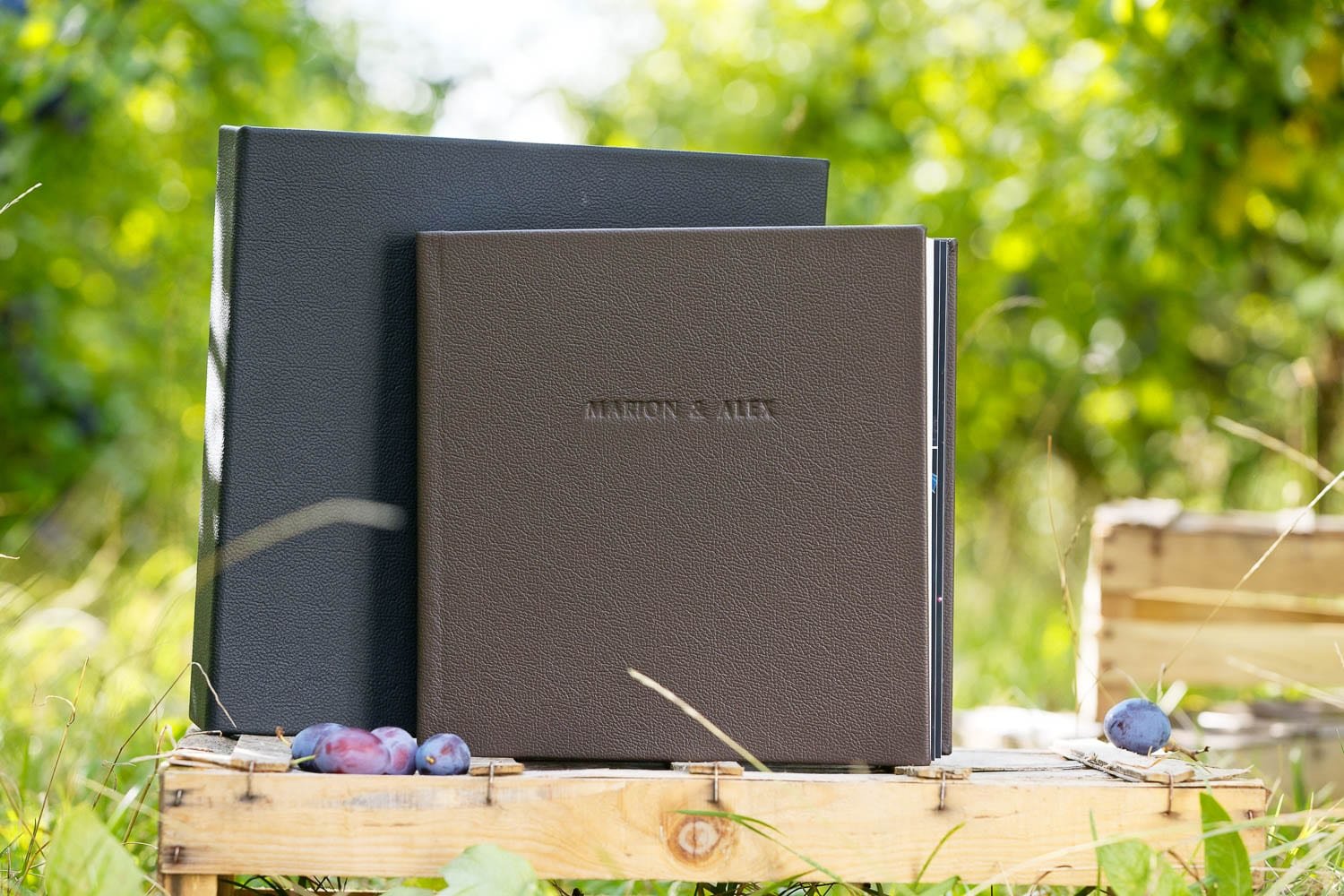 We offer here a choice of genuine leather in different colors (white, black, red, green, dark brown and light brown).
Leather is the most classic choice of material for books. It's been used since the creation of books (300 BC).
It's strong, resistant to aging, stain proof, has a pleasant touch, smells good, and can easily be engraved for personalization.
We find leather in a lot of different furniture, such as coach, ottoman. That means a wedding book with a leather cover will match perfectly with numerous interior designs.
Wood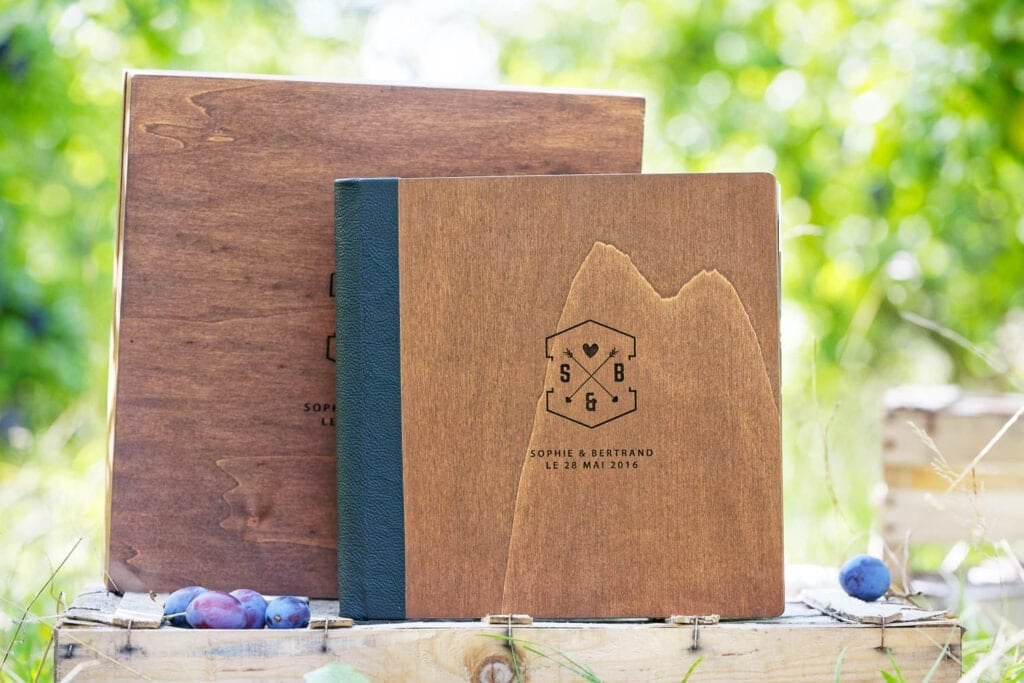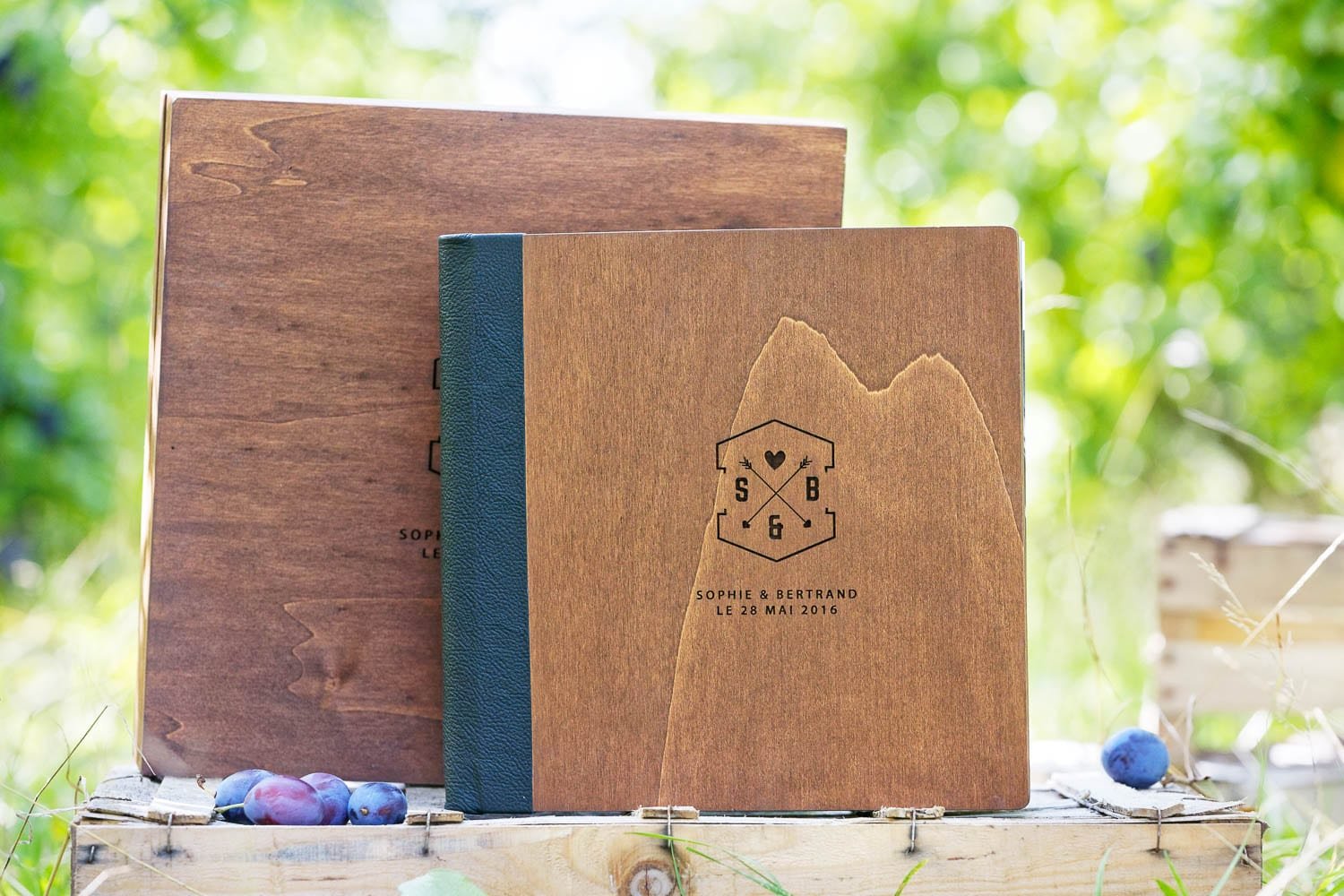 We offer a wooden cover album. Its organic texture provides a pleasant material. Warm and soft. Rustic and elegant. There are 3 options for the wood color (natural white, brown and black). His 1/4 inch thickness makes him the thicker hardcover among our options.
The spin of the book is made of real guanine leather.
The combination of both the materials create a timeless design that will please most couples.
Synthetic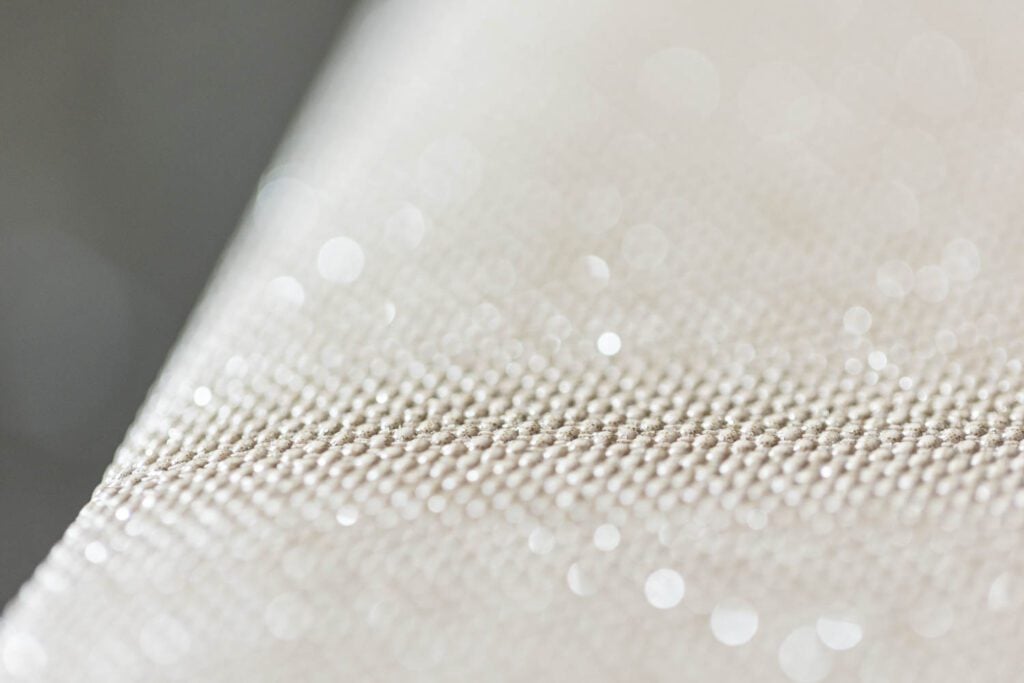 We have a bunch of synthetic materials to choose from offering all kinds of design: from the shining glittering stars, to the semi gloss industrial material, to the fake crocodile skin, to leatherette (fake leather).
Synthetic covers are stain resistant, animal-friendly and allows any customization you can dream of.
The Linen Album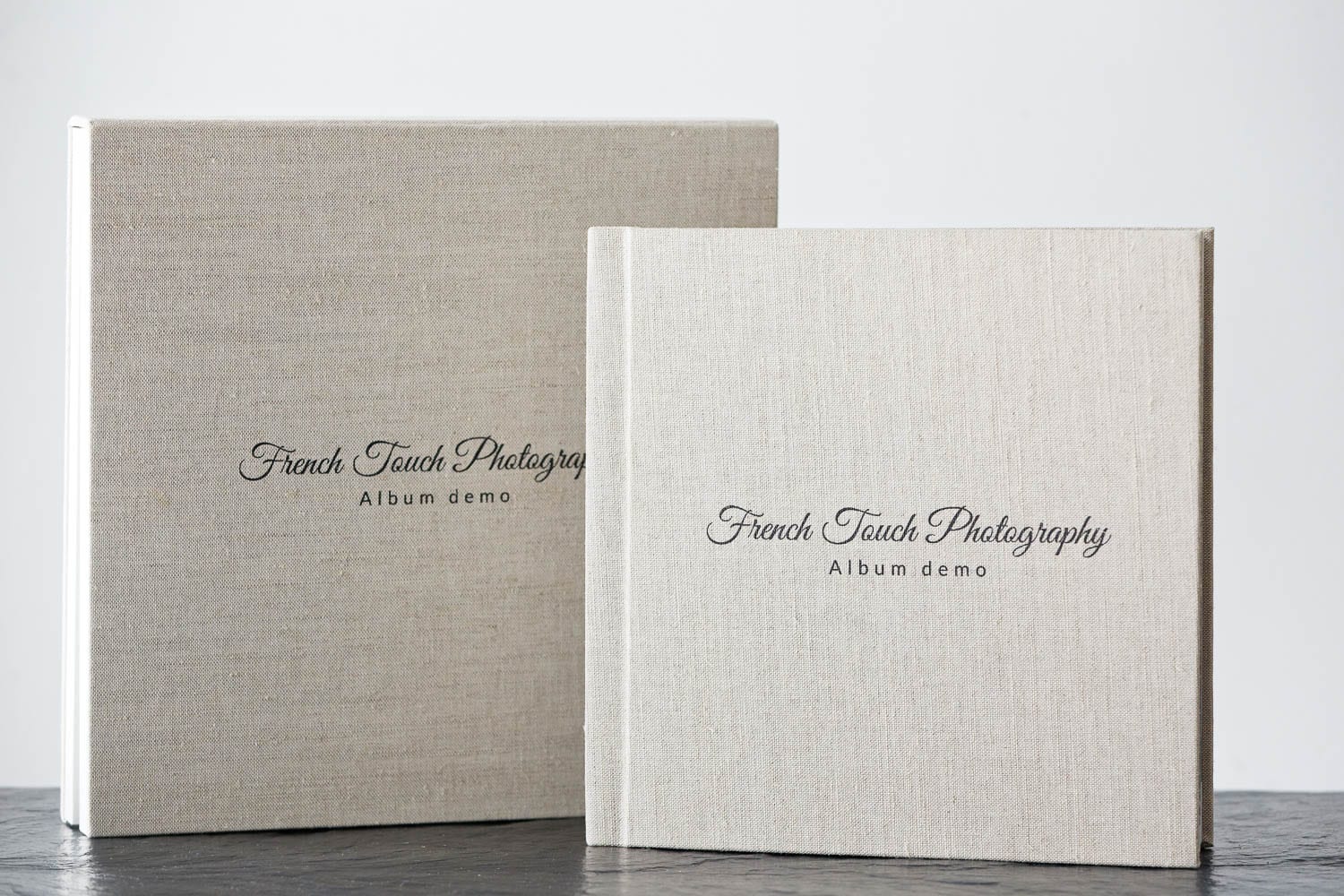 The linen is another classic material that has been used for thousands of years. This organic fabric is simple and elegant and will please anyone in love with cream, bright, gray colors.
Velvet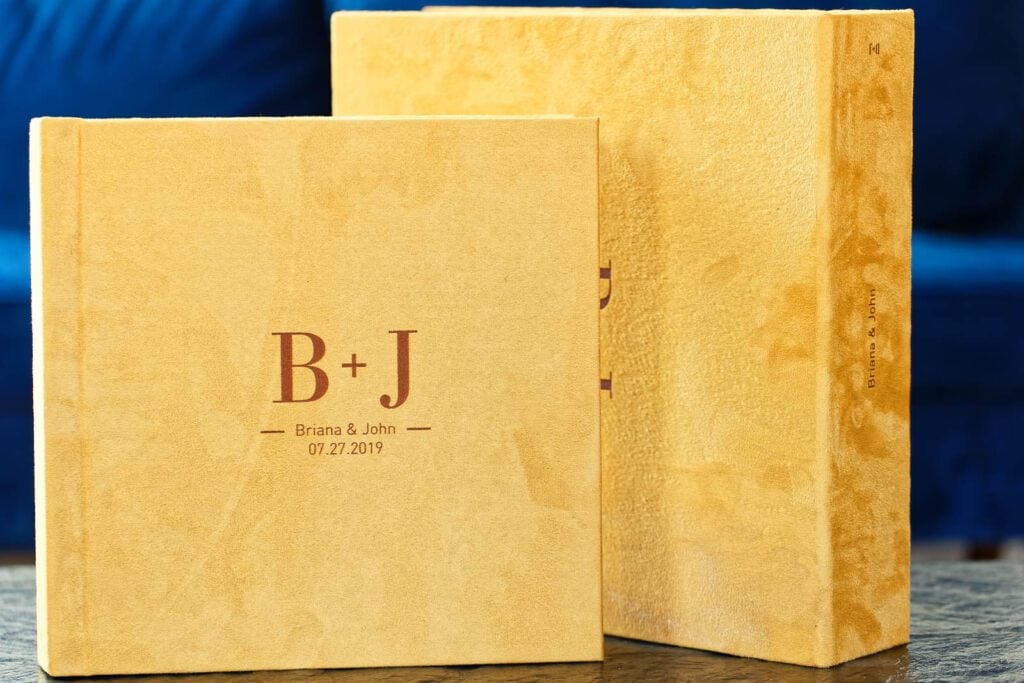 If you are in love with soft touching fabric, then velvet is made for you. It's so pleasant that you could pass your time and cuddle the album before opening it.
It exists in a large variety of colors from pink, to green, orange, etc.
The Plexiglass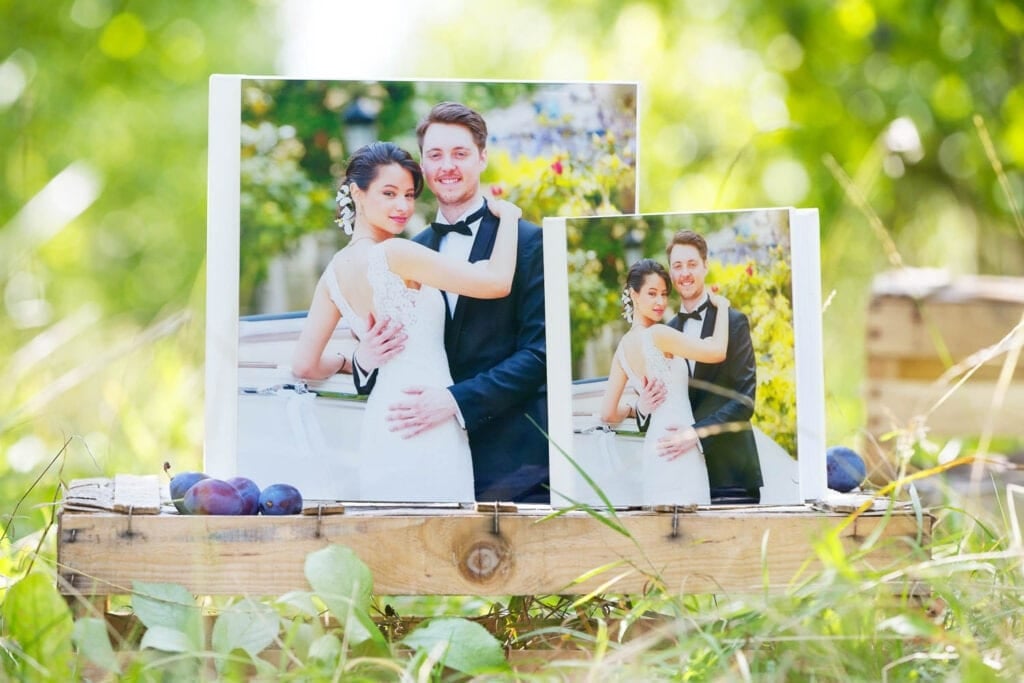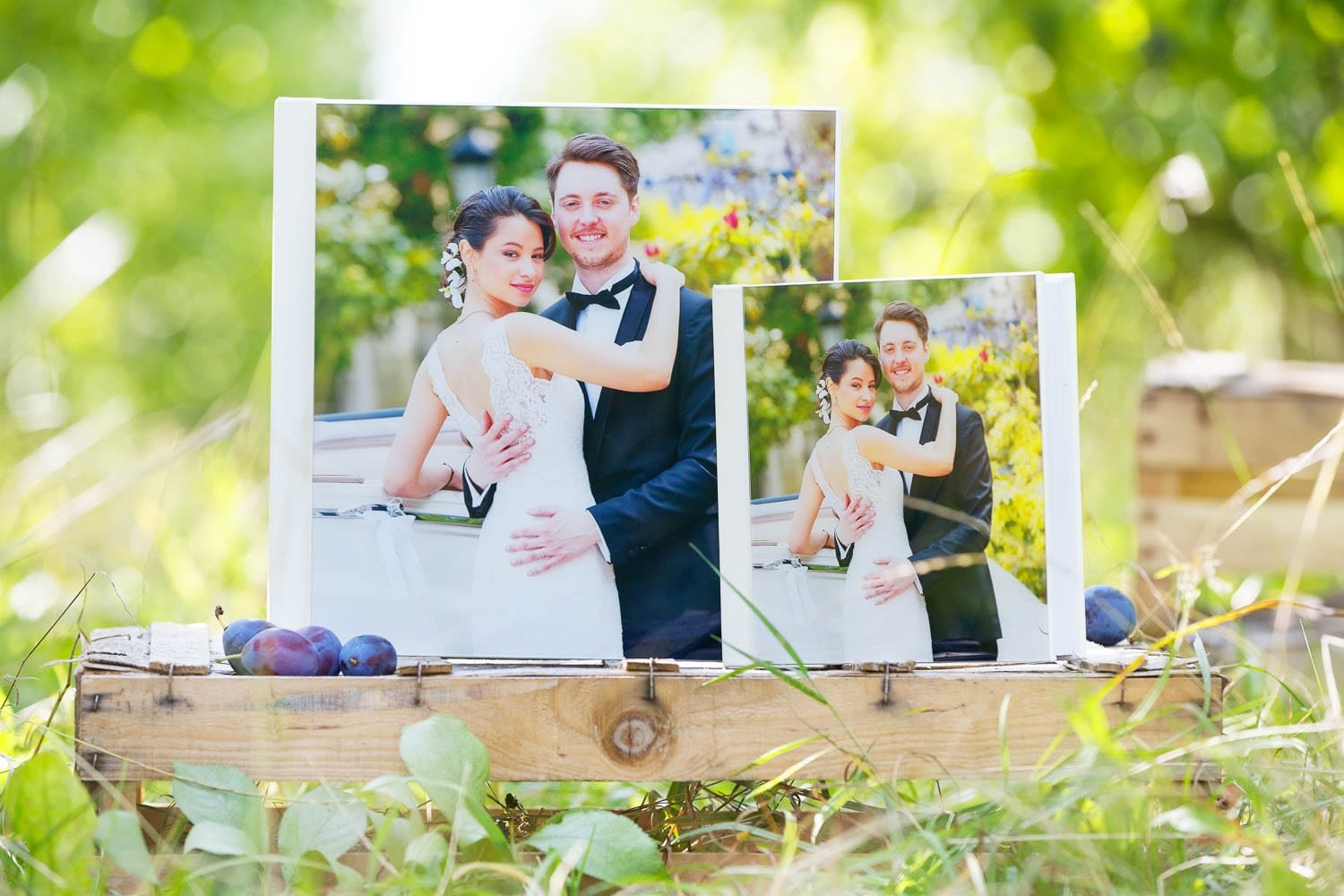 The plexiglass photobook is a combination of two elements: a photo printed underneath an acrylic layer and another fabric wrapping the spin and the back cover of the wedding album.
It's solid and resistant, allowing you to use a square or vertical image to personalize your album.
Other options to get a personalized album
We offer more options to get your wedding book personalized.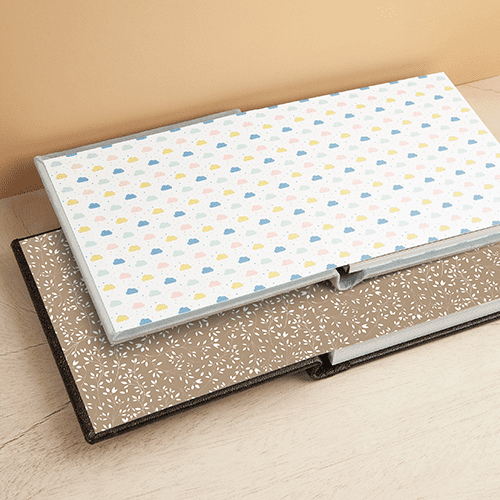 End Pages
Also Called Fly pages, those are the first page and last page of the album, part of the binding, that helps bind the text block and the cover together. There are numerous designs to select from.
Gilding
Each page is composed of 3 layers: 1 layer of photo paper from one spread, a thin layer of strong cardboard in the middle, another layer of photo paper (from the next spread). It creates a page of a thickness of 1/25 of each, which is thin enough to be elegant, and thick enough to be resistant.
We can add paint on the edge of each page. You can select the color of your choice (gold, red, pink, etc.).
Engraving by Laser
You can have a special design engraved on the top of the cover (depending which material), creating a unique handmade cover. We offer a large choice of design ready for your hardcover (and not only the picture of the ring), but you can also use your own custom design.
Embossing with foil
Some material, such as the genuine leather can be embossed with the name of the bride and the groom and the date of their special date.
How to compose your dream album?
So many colors can quickly be overwhelming.
Though it's pretty simple, stay simple, think colors, contrast. If you pick a material, avoid similar colors, and choose colors that complete each other.
6 Good Reasons to customize your album cover with our premium materials
If we feel guilty of customizing the cover of your dream and need an excuse, we would be happy to help you by giving you good reasons.
Personalization: You add a personal touch to your wedding album, making it unique.
Reflect your personality and style: whether you pick a classic cover, a modern one, a timeless one, or girly one (gold glitters with pink gilding), we can help create a product that you will be proud of.
Complete your wedding theme; did you pick a color? Or a special mood? Retro, vintage, classic, modern, glamor? We have a ton of options.
Quality: you can choose material that will last a hundred years instead of a cheap soft cover.
Aesthetic: the more you will like your album, the more you will read it with your family, the more united you will be.
Harmony: you can add one of our premium materials that will match your living room design.
Unique: You might travel a lot and have several books with photos for each of your trips that all look similar? How would you make the difference if they are all the same? You have the opportunity to add an identity to your album.
Price: it won't make a huge difference in price to have a beautiful premium album.
Related Questions
Are all the text blocks made with the same photo paper?
Yes, we consider wedding albums more than a simple keepsake. We envision it like a lifetime book that should last decades and be passed onto future generations. Thus we value quality and durability.
That's why, after doing a lot of research and comparison, we have decided to use premium RC photo paper (Resin Coated) for our Layflat albums. It's scratch and stain-resistant paper, that is low impacted by humidity and temperature variations. It will bring you satisfaction in the future.
Is the Wedding guest book Customizable with those materials?
Unfortunately, the wedding guest book we offer is built in a different lab.
It's a more affordable product that won't offer the same quality as the bride and groom keepsake.
Can you print different kinds of photos?
Of course you can. You have maternity, or baby photos and want to keep a memory of this moment forever? You can order an album different for each session!
What size are the albums
The bride and groom are 12×12 inches. Box sizes vary depending on the nature of cover (14×14).
Parents' keepsakes are 8X8 inches.
How long does it take to produce and deliver?
Production can take one month or so, and delivery (free shipping free, and delivery under a week) takes around a week. If you want to make a gift for your anniversary, or valentines day, make sure to contact us soon enough!