Wedding Guest Book With Photos Inside
Weddings are full of lovely traditions. One that we love and which is easy to set up is the guest book. The classical ones required only two elements: a hardcover bound book with a high quality acid-free paper and a nice pen. A notebook and regular black ballpoint pen would work as well!
What is our wedding guest book
The guestbook we are offering is a hardcover photo-book showcasing the bride and groom engagement session photos, with spaces left white blank, so the guest can sign it and leave a message during the reception.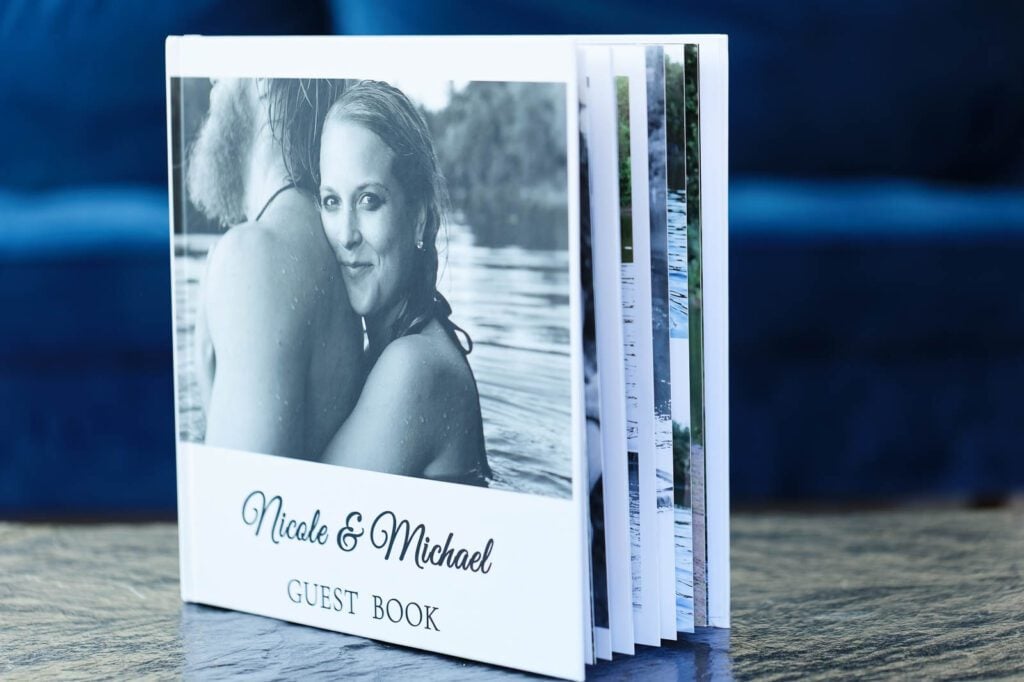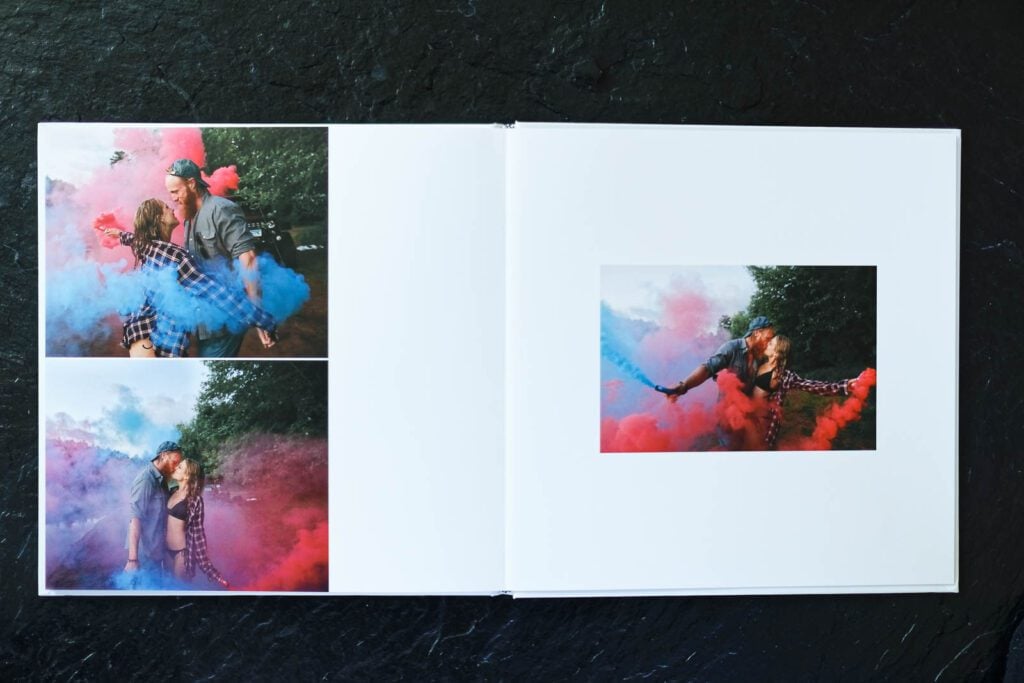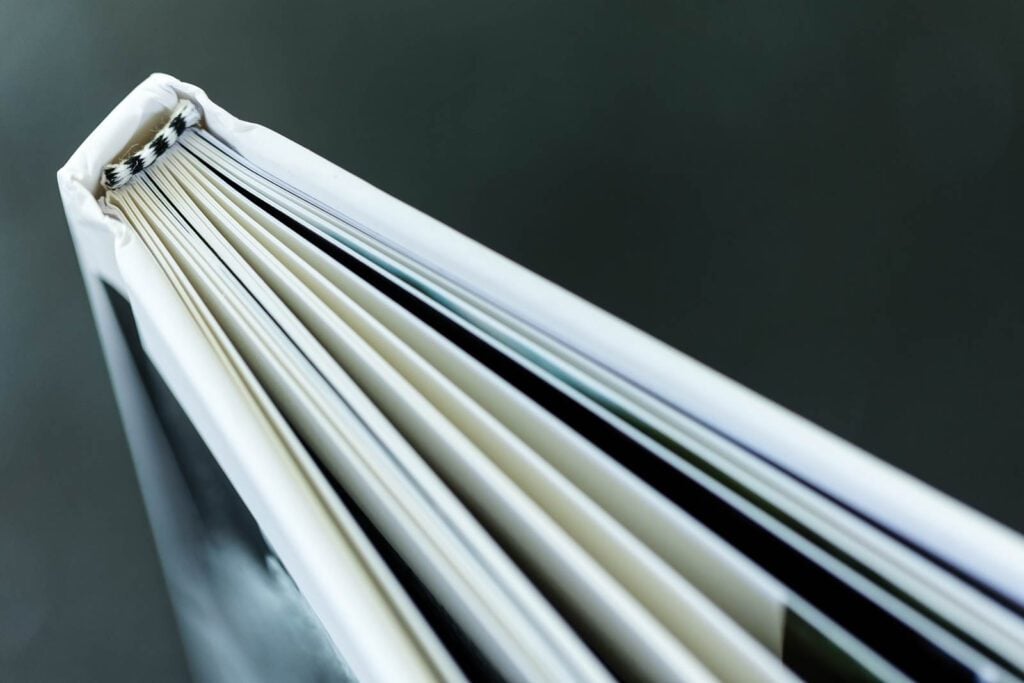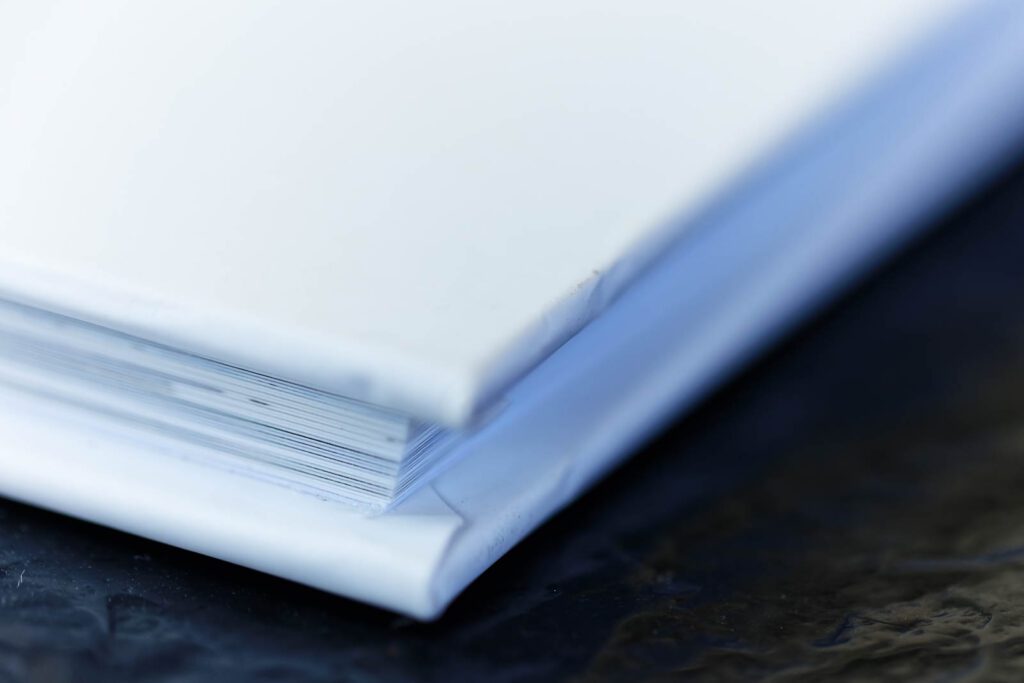 What kind of photo paper is the guest book printed on?
For many years the photo-book was printed only on high quality paper (RC paper), making it a pretty expensive solution for whoever wants to print their albums themselves. Therefore, high-end albums are usually reserved for the bride and groom's wedding day.
But today, printing technologies have greatly evolved. Inkjet, copy or thermal printing has brought the price down, allowing affordable printable albums for everyone. Of course, it comes with a price: the downside is a lower standard reducing the life expectancy of the product.
But most of the newlyweds would probably not keep their guest's book about their life, so it makes sense to choose such albums.
At French-touch-photography, we have chosen the Thermal printing solution which is a decent paper (mostly in plastic material). The ink (Dry Solid pigment ink) is heated, melted and applied to the paper's top layer.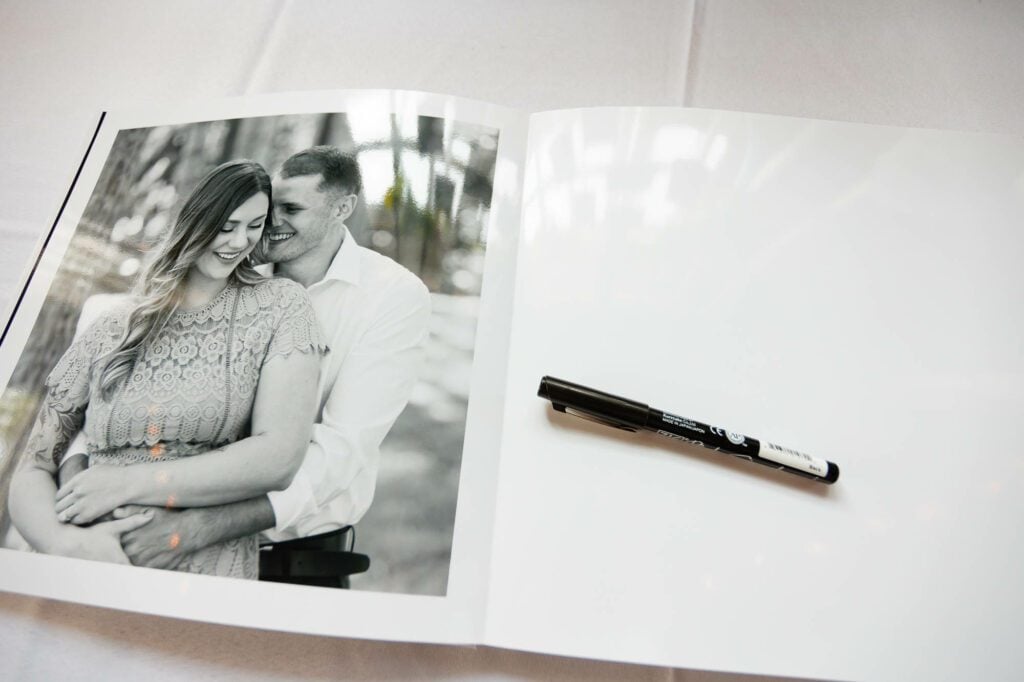 So, is it possible to have guests sign the wedding guest book with photos?
Absolutely! We recommend using a black acid-free marker designed to sign photography. Those are Alcohol-based Dye, which means they dry pretty quick. Check on amazon for dedicated Sharpies.
A good way to use and showcase your engagement photos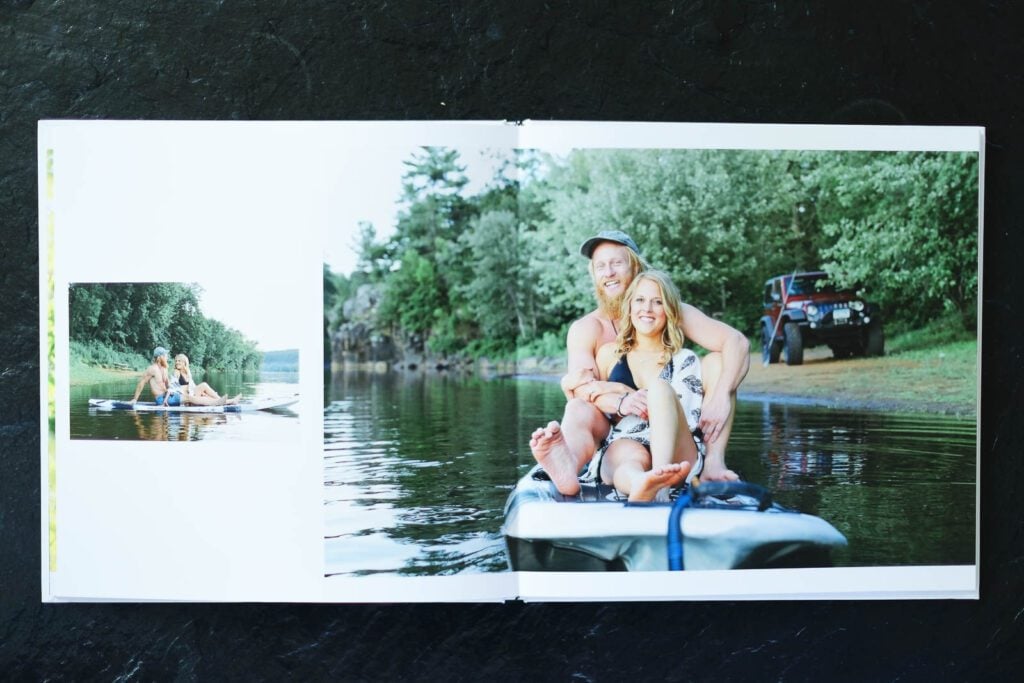 After an engagement session, couples receive around 100 to 200 digital files. They might print a few posters in their home, send some invitation cards, or even some holiday cards. They might create a wedding website with a gallery.
But that's it. Most of the time, all those efforts, all this love won't be used anymore.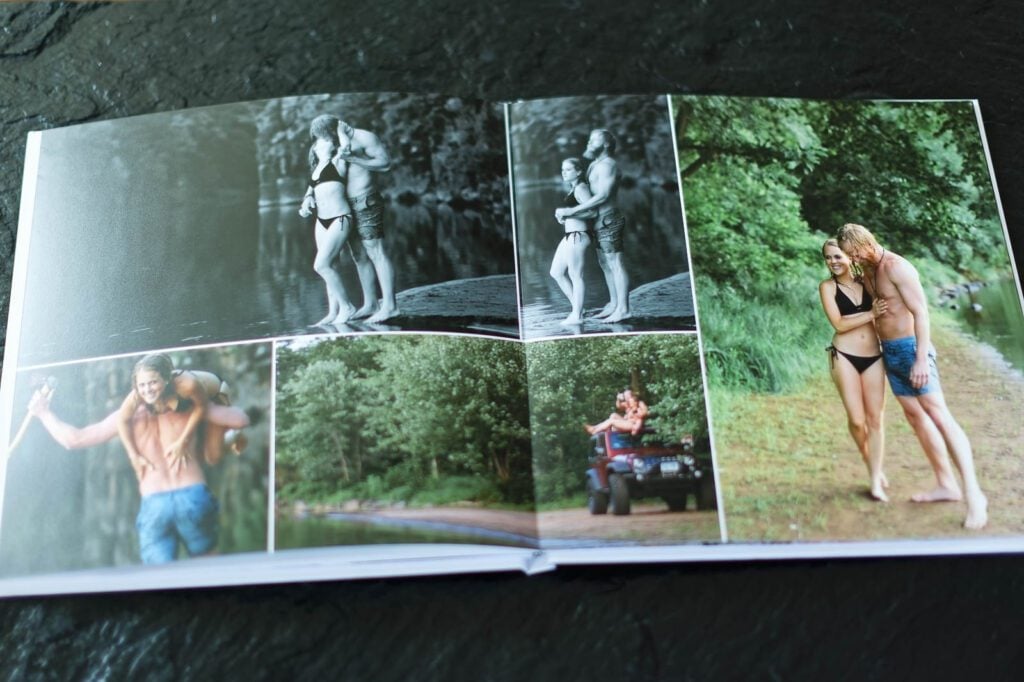 The photo guest book album is a perfect solution to use engagement pictures. Add your guests' signatures on it, it creates an object you can keep for decades. It feature both your love, and your guest's love. It's a little time capsule by its own.
You can consider it like extra gifts.
Not to Be Mistaken With the Polaroid Guest Book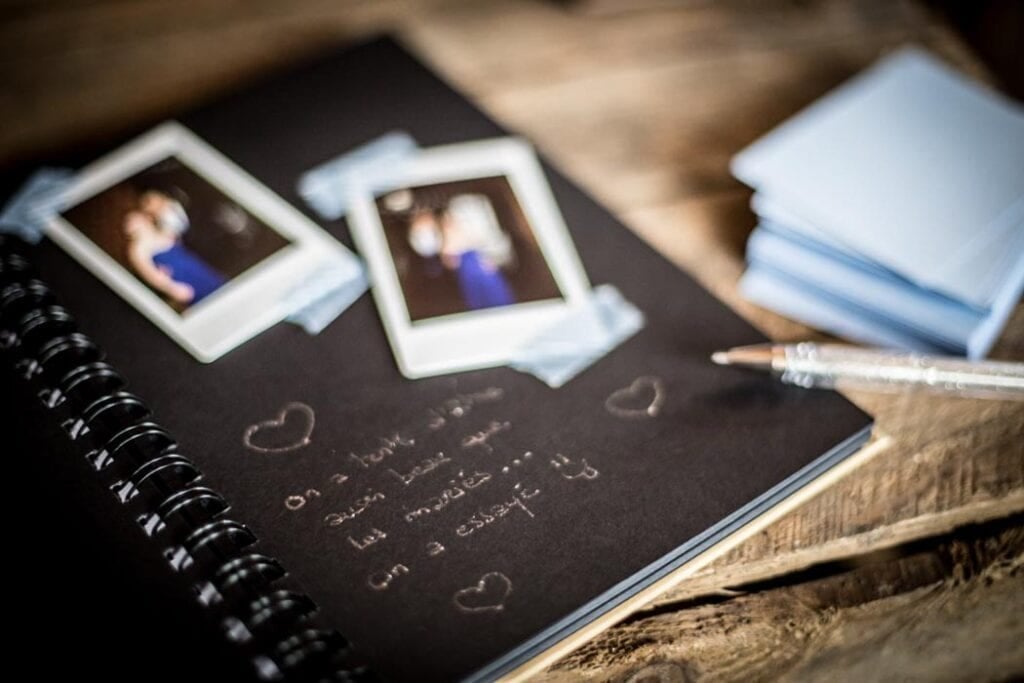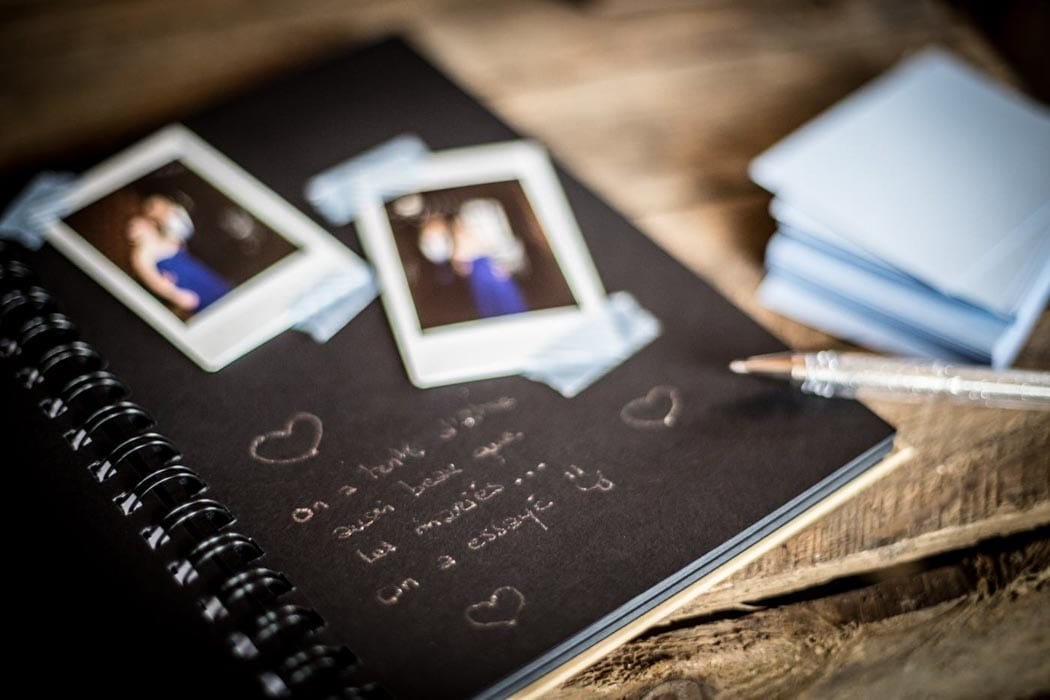 You might have seen it at some receptions, bachelorette party, graduations party. The idea is to use polaroid (or Fuji Instax) and glue them on a regular album. It's a pretty personalized and funny experience for your guests;
If we don't offer polaroids, we might be interested to know that all our package includes quite a similar solution: our photo-booth. This one prints small 4×6 prints that you can use as you want.
The best is that it comes with unlimited prints, so you and your bridal party can have fun during all the reception!
What Kind of Cover is Available?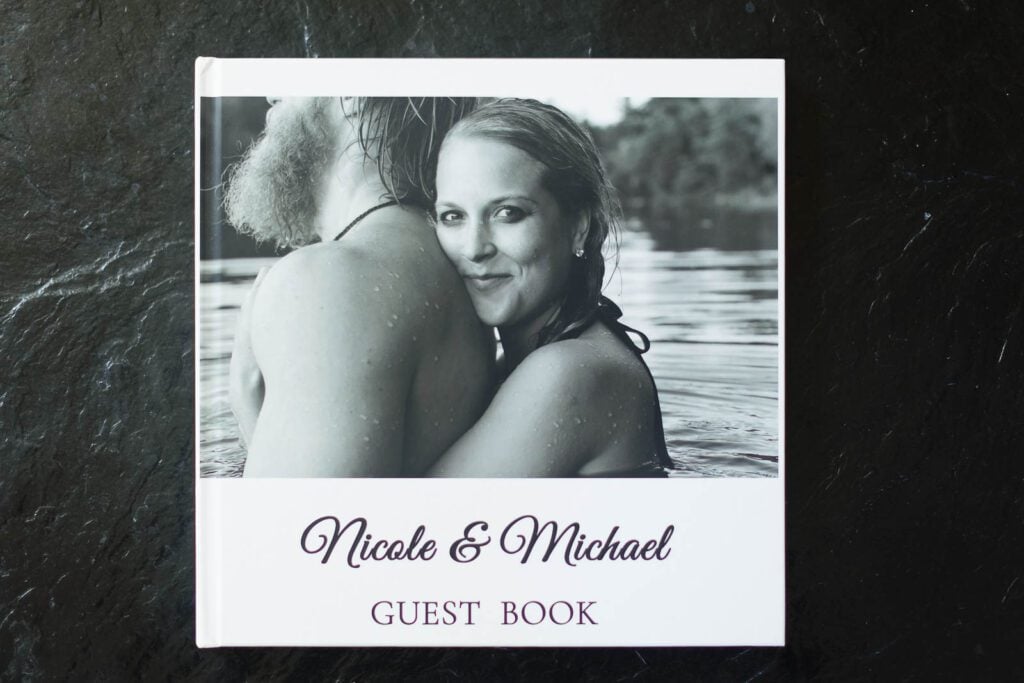 The guest book album comes with a printable cover, including a photo of the bride and groom and their names. We can add a custom design.
If you want a different custom cover  for your guest book album, you would need to upgrade to one of our top wedding albums. Those are real flush mount lay flat albums and can be personalized with acrylic cover, wood, linen, velvet, black leather and other fancy material.
Of course, such an upgrade will come with a significant cost.
Size and Pages available
We make it simple, there is only one size and one number of pages : 12×12 inches and 30 pages.
If you want more personalized options, we can offer different products.
Where to set up your guestbook?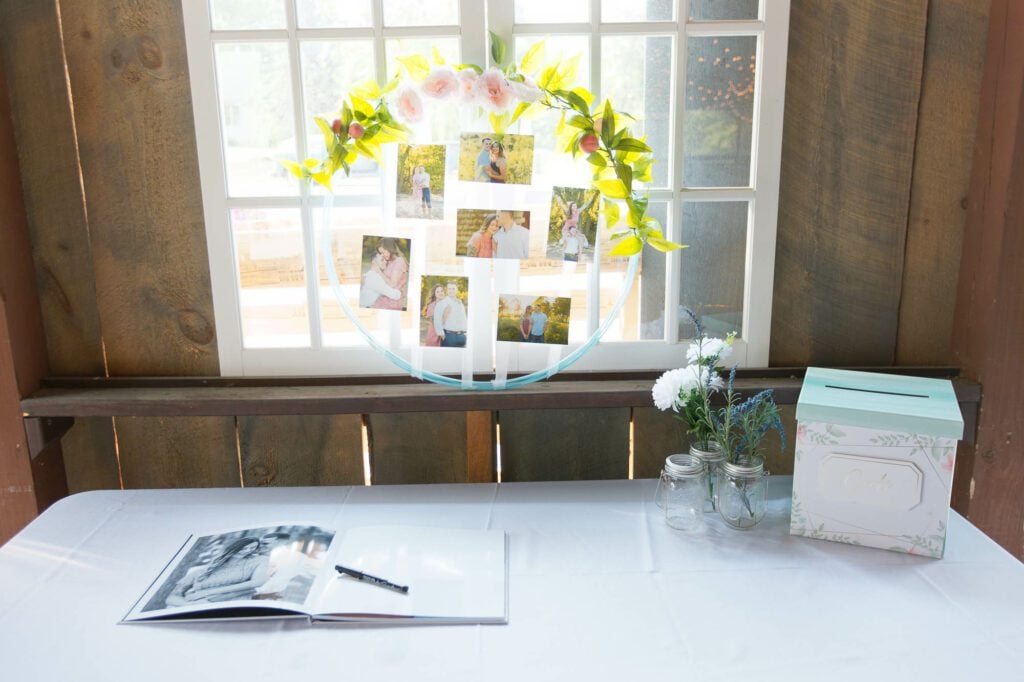 Wedding planners would suggest two locations to stage it at your reception.
At the entrance next to the box where they slip those cards to you.
On the gift table (where you put gifts for your guests, and not where your guests put their gifts for you)
On the photography display table if any
Production Time and Shipping Time
Once sent for printing, it takes 2 to 4 weeks to be delivered, so it's better to have it done as soon as possible.
We make the delivery to our studio so we can check for any imperfection. On your special day, we bring it.
Personalized it further with your own photos
What types of photos should be included in a wedding guest book?
We use your engagement pictures, but you can totally use your own photos.
Vacations
If you travel around the world
Old photographs
Photographs on your baby or with your parents as kids
Past Birthday
kids blowing candles
Graduation party
Each of your proudly graduating
Bridal shower or Bachelor party
You and all your best friends
Valentine's day
You're a couple's life
What other items can be included in a wedding guest book with photos?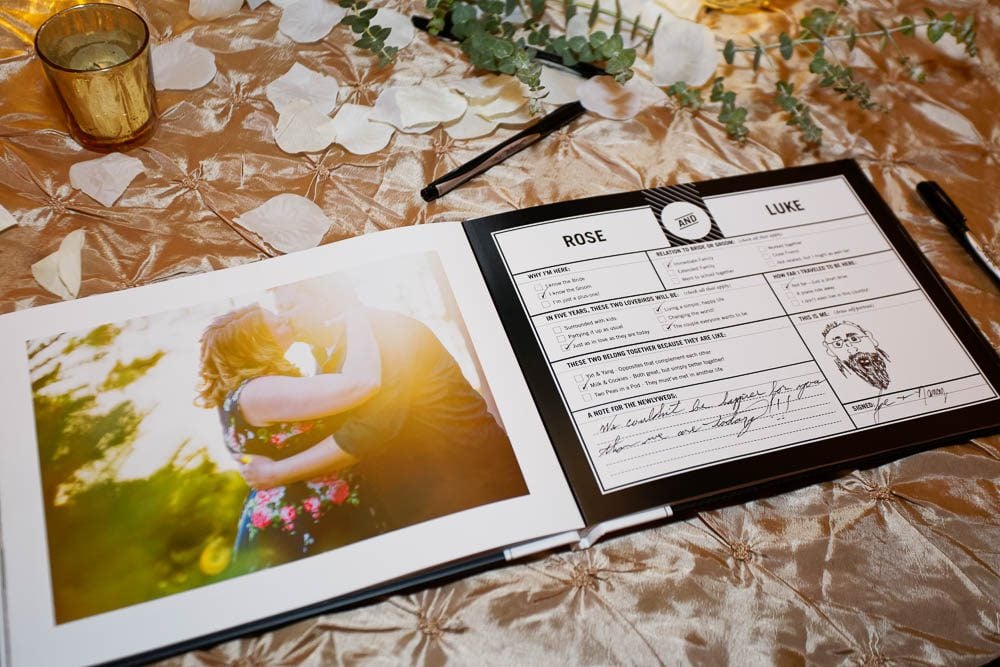 You can use almost anything printable.
A special design (if you had a welcome sign).
A drawing
A list of guests
A special layout
Your vows
Some Quiz
Price: How much does a wedding guest book with photos cost?
If you do it yourself, that would cost around $150 to $200. You can go on-line at Shutterfly, Artifact upRising.
If we do it for you, that would cost about the same price. But you might be interested to learn that we offer it for free with some packages.
Is it worth having a wedding guest book? 7 Good reasons for doing a photo guest book
If you are still undecided if it's a good idea or not for your special day, here is a list of good reasons that might help you.
Memories
It's A wonderful keepsake to keep in the future
Guests Message
It allows guests to leave a special message expressing their sentiments.  They can say what they might not have the chance during the day
Symbolic
The fact of signing makes it almost official. For guests, it's like signing a registry, saying, "We were there."
Opportunity for Kids
It implies the kids who are happy to write or draw something.
Social interaction
It makes a funny occupation for your guests and a discussion starter.
Brag
it allows you to showcase your engagement photos (or others).
Decoration
It can be customized to your wedding theme, expanding your decoration. Wedding planners love it!
Anniversary
Another perfect gift to look at each anniversary and remember who was present at your ceremony.
Conclusion
Photo guestbooks are the perfect solution allowing you guests to sign a message. For a small price its value (memories), is gold!
A Marriage Celebration is one lifetime event, and it would be a shame not to take traces of who was present.
Do people still use guest books at weddings?
Some traditions are hard to resist. This one is one of them. Many couples are still using one.
Today some new trends offer a variety of variations:
the printed photo guest book
some on-line app to sign
interactive device such as photo-booth
interviews from the videographer
polaroid books
Other time that people use a guestbook
Since the beginning of time humans have liked to sign things. First in the caves, after in arts, books, contact.
As a result, there are many other event where such a product can be used:
Funeral
In another register, people love writing long messages for people they care about.
Business event
Business companies are always looking for fun and creative activities to entertain people.
All kind of Parties
Birthday party, baby shower, etc