Where can I print wedding albums?
Whereas you are a newly married couple wanting to create an affordable lay flat album, or professional photographers wedding photographers looking for high quality albums for your clients, we will give you some address and recommendations here.
First, we will assume that you have all the photos in High Definition with the personal right released.
Second we will assume you are looking for a lay-flat album.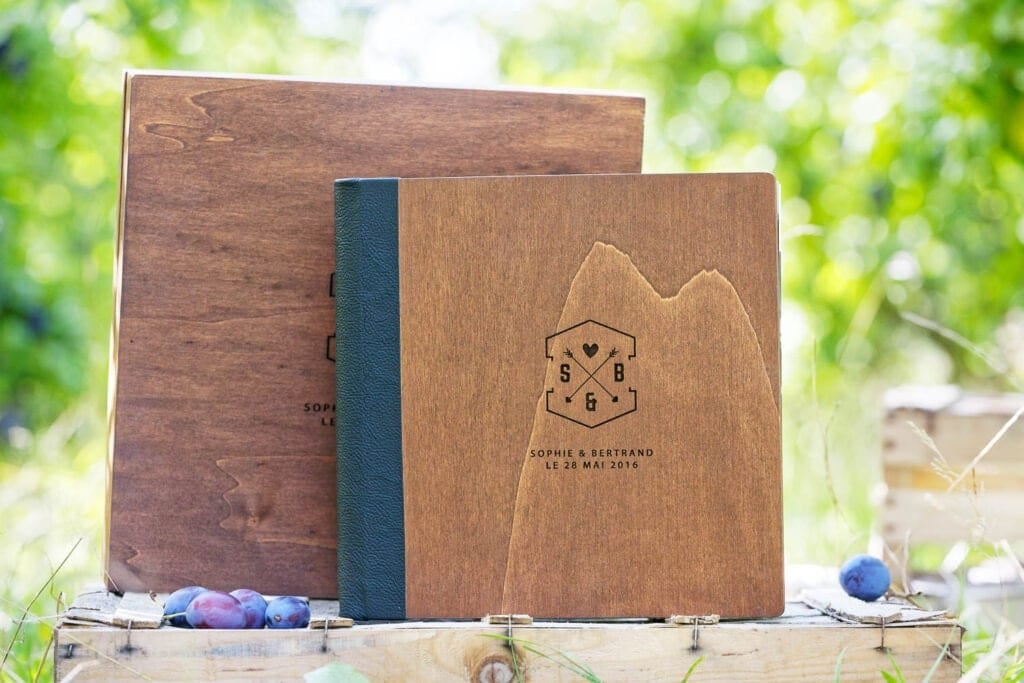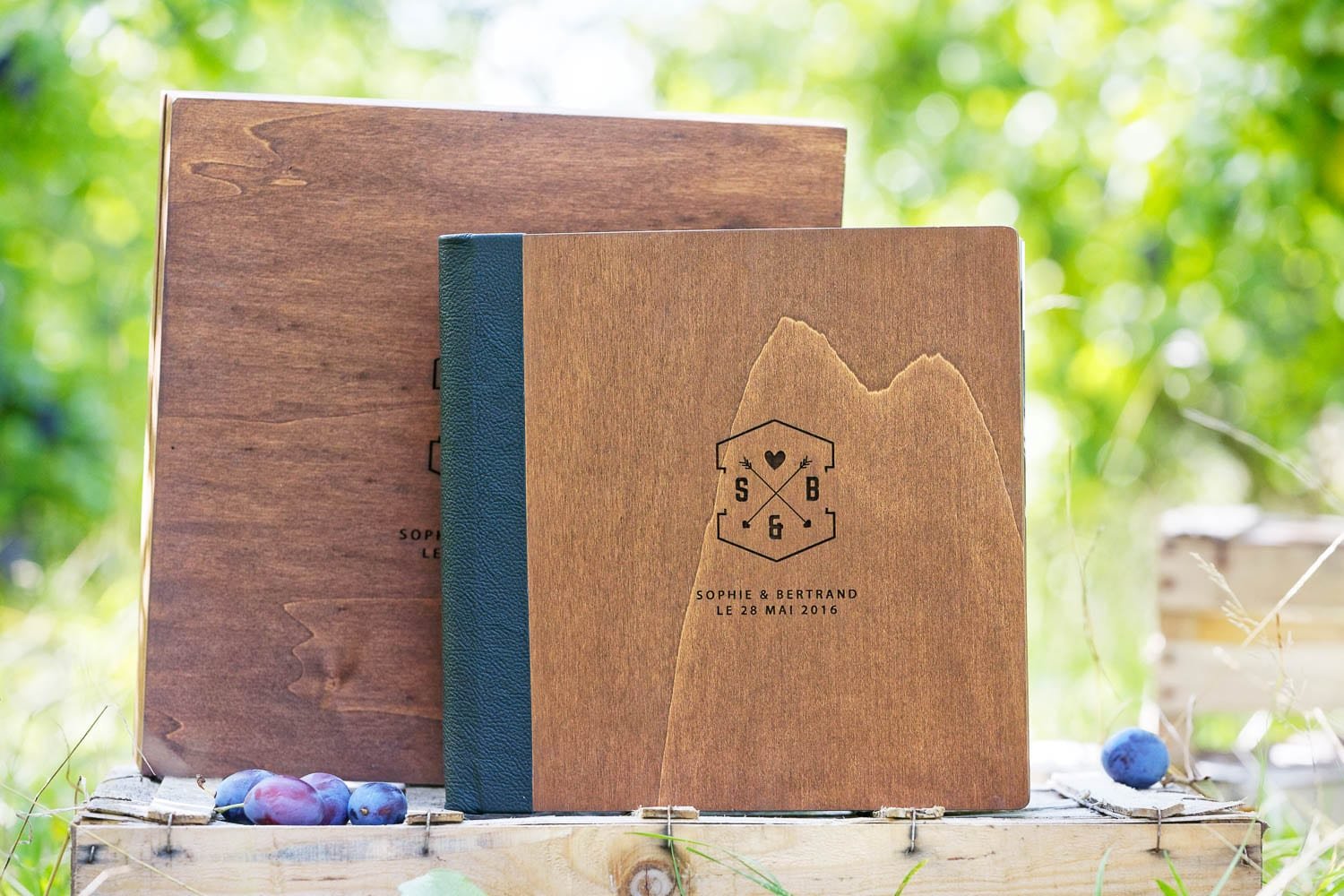 Case 1/You are bride and groom and have all the pictures from your photographer.
Creating a lay flat album with your images is a real pleasure when all the technical considerations are handled properly. Arranging the pictures is the moment of wedding photography when you start being a storyteller that creates stories. Keep in mind that there are several steps to properly design and order a lay flat album:
Adjusting all the color
For a harmony between all the images
Create beautiful Layout
That's the easy part, even if it's time consuming
Exporting the files in the right format with all the correct settings to keep the right colors
Labs can be pretty strict on formats.
Simply order the right album
It's easy to choose between the beautiful black leather cover or the ugly green cover. It's more subtle to select the right binding, and the right paper without being lost among all the options.
Easy Solution: Hire Your Professional Photographer for That
Images are precious, they are your family heirloom. It's not something you want to screw up with.
If you don't have time and what your album printed today, asking your vendor to do it would be wiser.
DIY Solution: it can be more expensive!
Creating your beautiful lay flat photo book will take time, but it's doable. That said, if you need to buy extra software, it would probably be more expensive.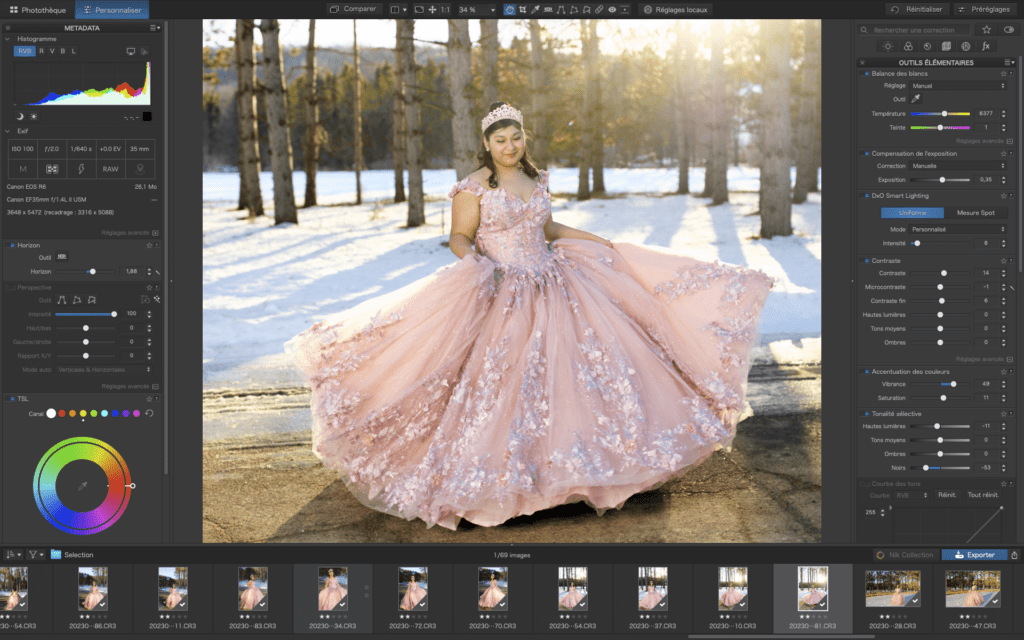 Step 1: Pick of Software to Adjust your pictures' colors
Great pictures means great color. You want harmony between each image.
The good news is that some software is free in the list:
Gimp
Photoshop
Affinity photo
Krita
Pixlr
Adobe Lightroom
Dxo Photolab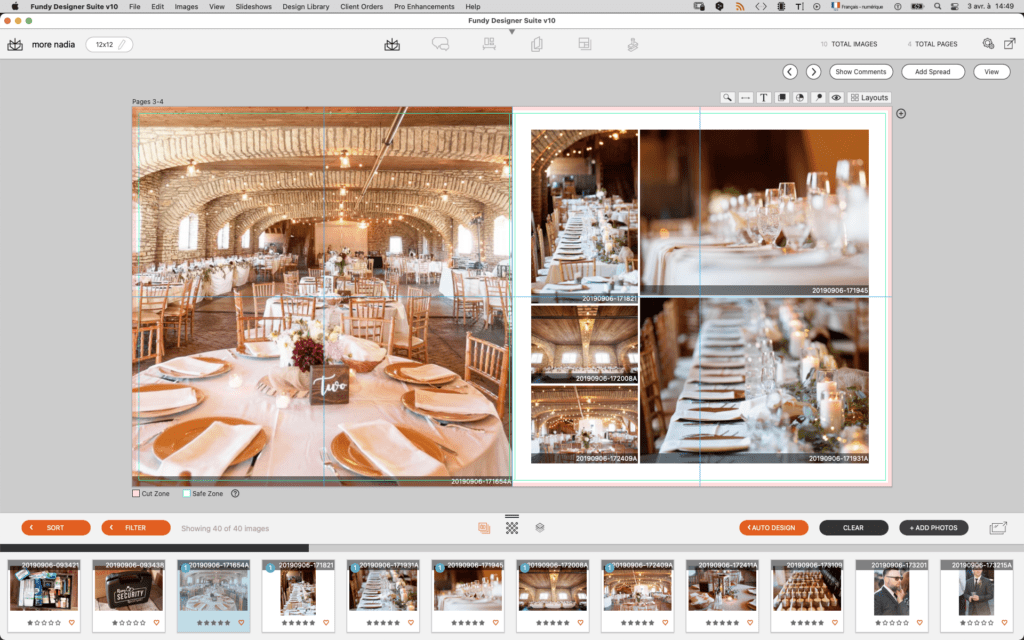 Step 2: Design your photo book with a software
Before printing your perfect photo-book online, you need to design beautiful layouts.
Indeed, you want the photos to tell the unique story of the bride and groom's special day in a timeless manner. Some software offers modern templates, while other more classic ones.
So here is a list of software to choose from:
SmartAlbums
AlbumStomp
Pixellu SmartSlides
MyAlbum
LumaPix FotoFusion (with a lot of ugly vintage effect that will please scrapbook fans)
DgFlick Album Xpress
Zno Album Designer
Fundy
Album Express
Magix Photostory Deluxe
Fundy
When you choose your perfect software to create layout consider two options: some adjustable layout and the capacity to export in your lab format.
If you see that that software is complicated and you are looking for any services that offer album design assistance for weddings, then go back to the easy option: ask your wedding photographer.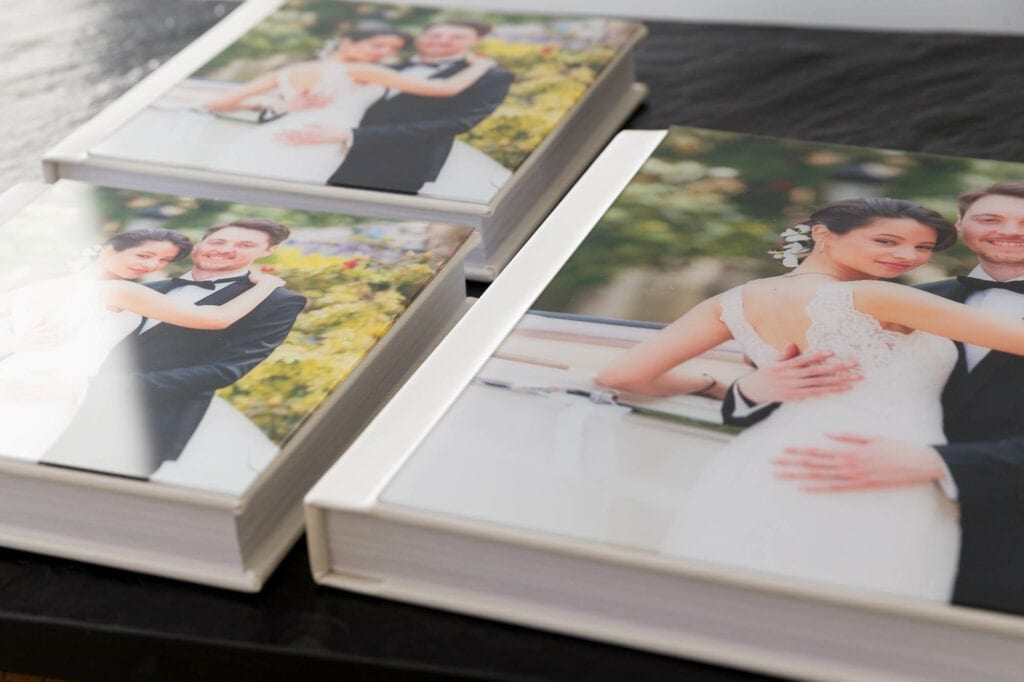 Step 3: Pick a lab that works with regular customers
If you are a bride and groom looking to print your own wedding album, some of those laboratories might help you.
Artifact Uprising (USA)
Black River Imaging (USA)
Bob Books (UK)
FlipChap (USA)
Fotofabriek (Netherlands)
Momento (Australia)
Pikto (Canada)
Presto Photo (USA)
Queensberry (New Zealand)
Saal Digital (Germany)
Shutterfly (USA)
Mixbook (USA)
WhiteWall (Germany)
Picaboo (USA)
If some lab offers free software to design your own album, those are usually tricky. You can easily lose hours, if not days of work, and end up with a design issue that you would notice only when the photo-book is delivered.
So you might want to look on the side of dedicated software offering such services, easy to use.
Case 2/You are a wedding photographer, and you want the best Quality Wedding Album: go with a professional photo lab!
What is quality regarding wedding albums
A top of the top photo book should answer a few conditions:
Printed on a solid photo paper: RC paper or, at least, Thermal Paper.
have the choice between fancy cover (acrylic, wood, genuine leather, linen, velvet, metallic)
feature a real lay-flat binding using extra thin cardstock paper between each page
coming with a protective box to take care of your album
have the choice among nice endpapers
offering customizable option such as gilding, embossing with foil, engraving with laser
Keep in mind that, despite a higher price, you will enjoy the durability of such an album in the future decades:
Pages won't turn yellow in 10 years
colors won't fade
you can clean page from any dirt
paper is scratching and tear resistant
pages won't fall apart with the binding
All these things would allow you to cherish your album, pass it to the next generations that would continue to share the love and the memory among your family. Such a photo-book is a family heirloom.
How you pick the right lab for you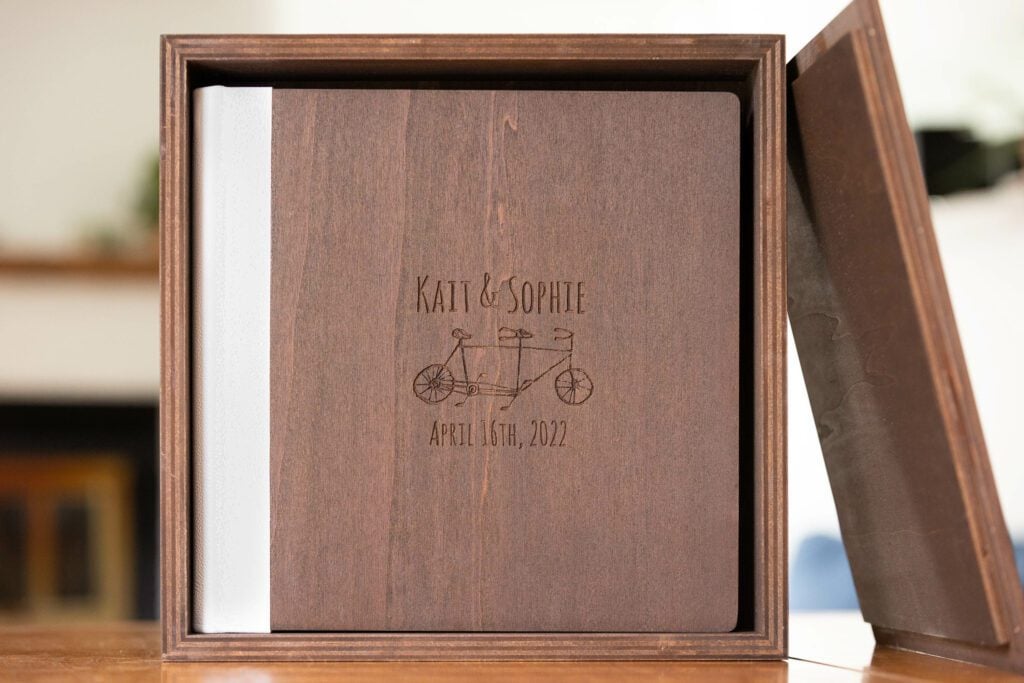 If you are also selling small album as gifts for parents, you might consider a laboratory that offers such duplicate albums at a good price.
You might as well consider little gift books for any member of the bridal party or a guest.
To pick the right lab:
Check for a cover
Best, look for several covers you love
Check for regular prints and fine art prints
It's easier to work with only one lab. Make sure they handle the fine art prints you love.
Ensure of the quality of service
Make sure they have great reviews online (you are looking for 5 stars on 5).
Ask for Samples
Samples are necessary to judge of quality of the prints
Check how long they have been in business
You don't have to invest all your eggs in a basket in a company that will close tomorrow.
Free shipping?
Finally, keep in mind that it is just a marketing thing (even on amazon). So pay attention to the total price including shipping and taxes.
List of professional lab to buy high-quality photo-book
Here is an exhaustive list of professional labs serving professional photographers.
If you have the time and the energy, you can create an account with each of them and see which one offers the best product to the best price for your clients.
Finao
Lush Albums
Miller's
Renaissance Albums
GraphiStudio
ACI Lab
ProDPI
RedTree Albums
Album Crafters
Album Epoca
Amber Concept
Antal Photo Book
Aperture Books
Arcoalbum
Artisan Craftsman
Artpoint
Artsy Couture
AsukaBook
Aurora Book
Azura Albums
Blacksmith Albums (leather cover)
Cahoots
Celebra (Italy: uniques italian style)
Colorworld Imaging
Couture Book
Dekora Album
Diamant Wedding Albums
Dreambookspro
Enso Albums
Excel Image Group
Extrema Album
Folio Albums
FotoFan
Fravero Prophoto
FSweddings
GTA Imaging
H&H Color Lab
Henley Albums
Hi-Tech Albums
ilFotoalbum
ImageCapsule
Italian Creative Book
Jingoo
JorgensenAlbums
Kiss Books
Kleber Azevado Binding
Konpoli
Koy Lab
Labo network
Laser Link
LeuXo Company
Lifethreads Albums
LOKTAH
Lundeby Foto
Madera Books
Matisseo
McKenna Pro
Momento Pro
Musea Lab
Nations Photo Lab
Natural Color Lab
nPhoto
One Vision Imaging
Pafe-Alben Albums
PASCHE
PCL West Imaging
Phaloo
Photo Albums Direct
Pic Pro Lab
PictoBooks
Pikto
Pixmig
Printmakers
Priscilla Foster
Profotonet
PROFOXLAB
QT Albums
Queensberry
Recordia
Again, pay attention to where the lab is located. Shipping price won't be the same in the USA, then Europe, etc.
Conclusion:
We hope you have found here the best options for designing a wedding photo book and the best lab to print the best quality wedding album online.