THE WOOD ALBUM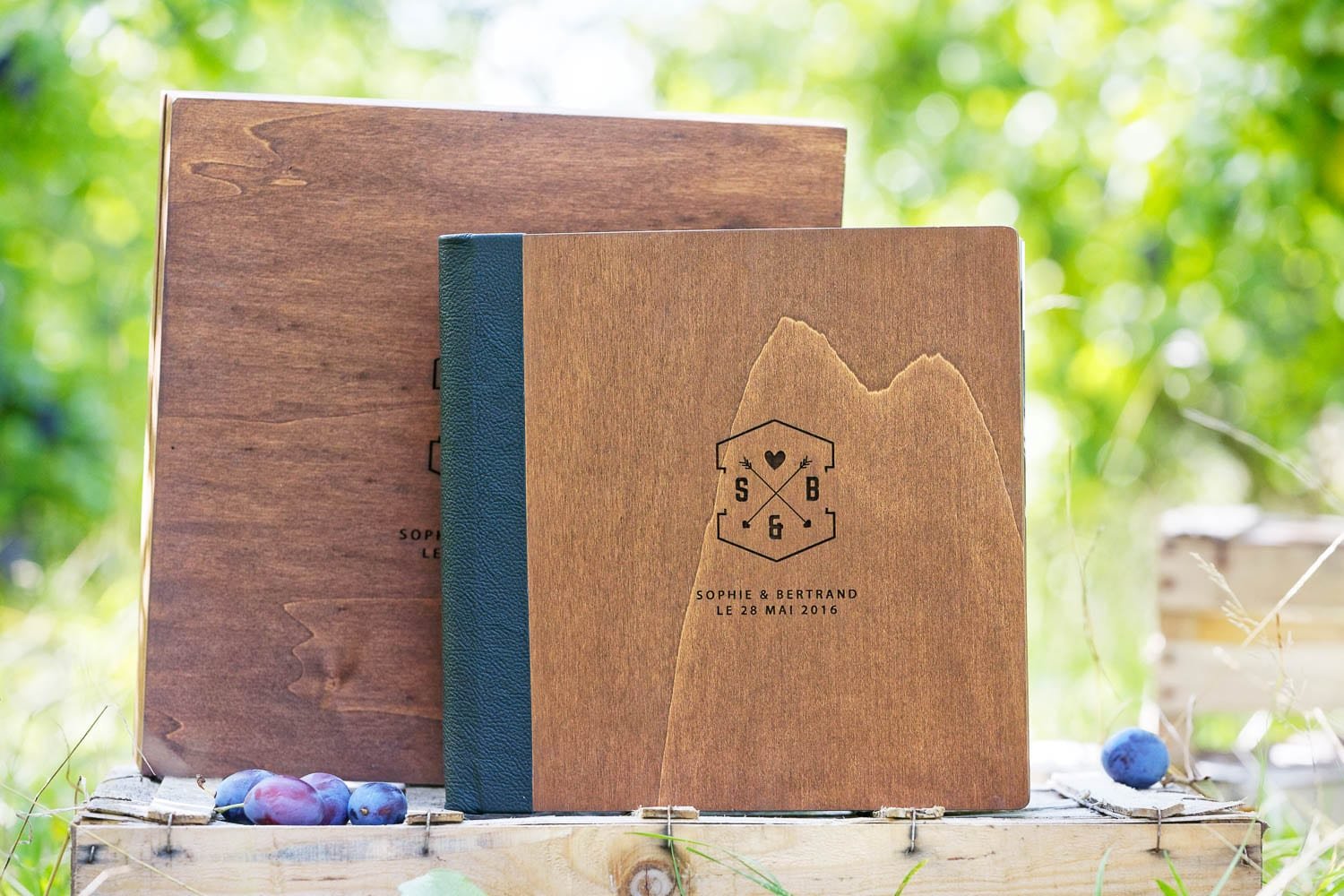 Natural wood, available in brown or black tint. On the top of the cover, a designed logo and/or we can emboss a text with your name (16 characters maximum). They make the spine of the book with genuine leather.
The Wood album includes a wood box with the same logo/text on the top. Size is 12×12 inch (the box is 14,5×14,5″). The wood is a simple but noble material that will last in time.
Available for Bride and Groom and 8×8 inch for Parents.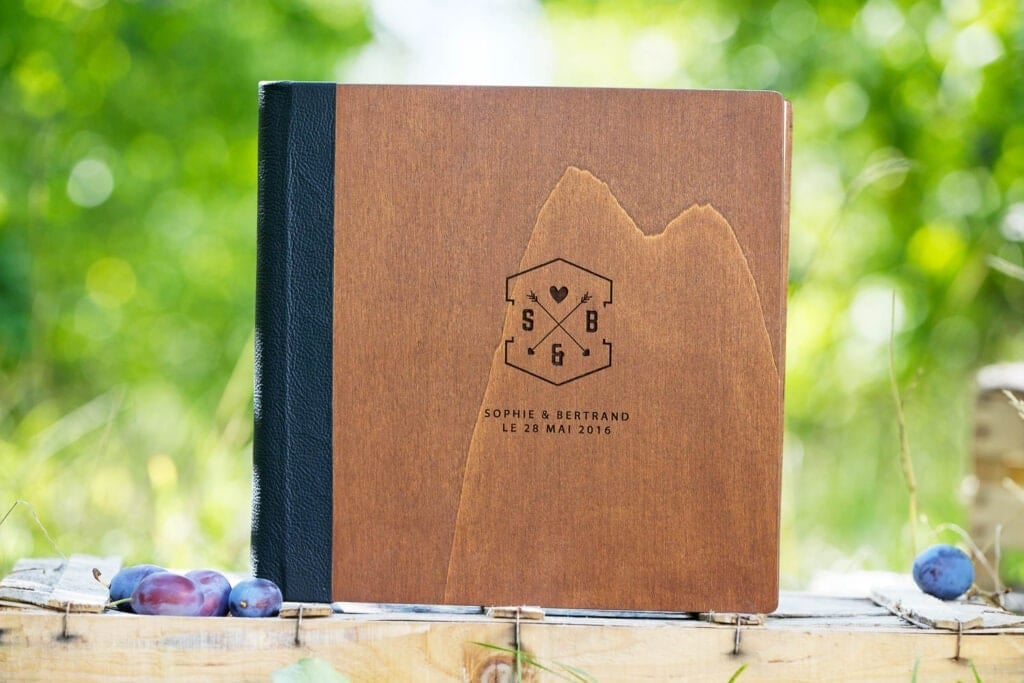 If wooden covers have existed for wedding books since the '80s, it's only recently that wedding photo-books with wood covers became pretty famous.
As a result, today, photographers who work with the best laboratories offer newlyweds amazing custom covers for their album, and the wood cover is one of our best-sellers.
We will present to you here what its characteristics are, and give you some good reason to choose this material for your own family heirloom.
All the Options for the wooden cover wedding Album
Our wood album cover can be personalized in a variety of manners: the color of the wood, the color of the spin, and the logo engraved.
Select the type of wood
If you scroll the internet, you can find different types of wood used for wood cover (maple, cherry, walnuts, oak). The lab we are working with decided to use plywood made from pine trees.
The reason is because plywood is sturdiest that just a regular wood board. It won't soak up moisture and crack, it won't break over time as would tend to do a regular wood board.
What's more the top layer of each part presents the texture of wood that can be carved and tint as needed.
The Rustic Black tint
The black tint gives the album a rustic look, as the album was smoked.
Black tones combine especially great with vivid colors, such as red.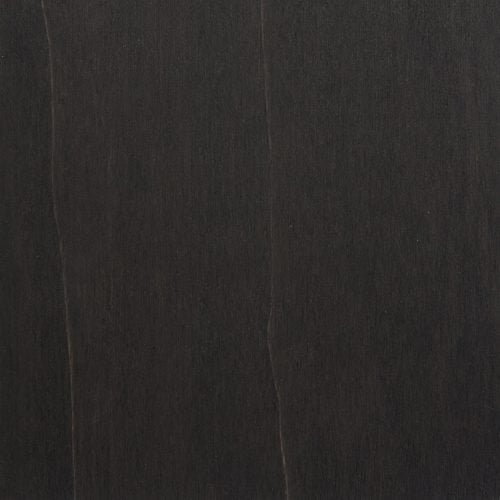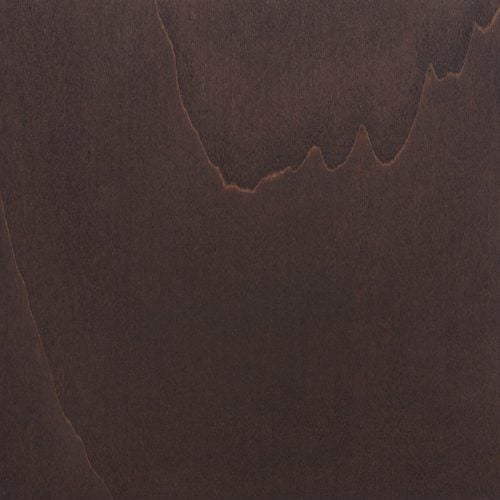 The Classic Oak tint
The Oak tint is the natural color of the wood. It's a classical choice that reminds us of the strength of oak wood beams holding old houses.
The Natural White Tint
The natural white give a fresh and clean color to your album. It reminds us of the style of Nordic countries of Europe, such as Sweden.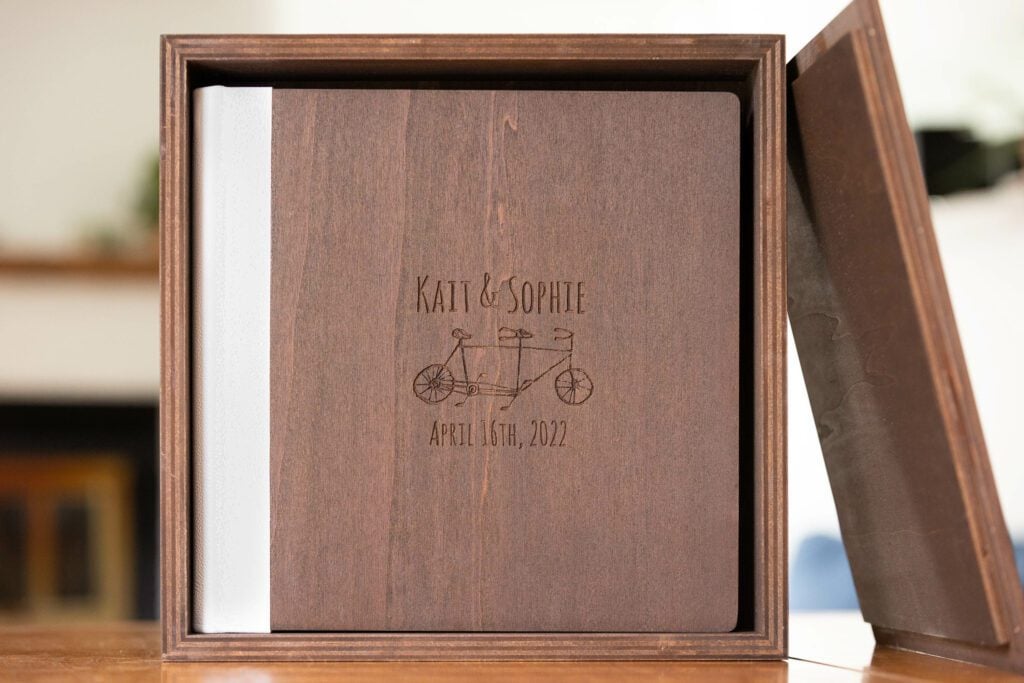 Personalized Cover with custom logo
Each cover can be personalized with a custom logo that includes the name of the bride and groom and their wedding date.
You can, with choice, pick one design among our templates (77 options), or, you had a homemade or a professional designer made for your wedding day, use this last.
The Leather Spin
The spin of the album is made in genuine leather. Indeed, you might have noticed that wood is not extremely flexible, so that's an elegant solution to hide the spin part.
You can choose among 20 different colors of leather to compose your album.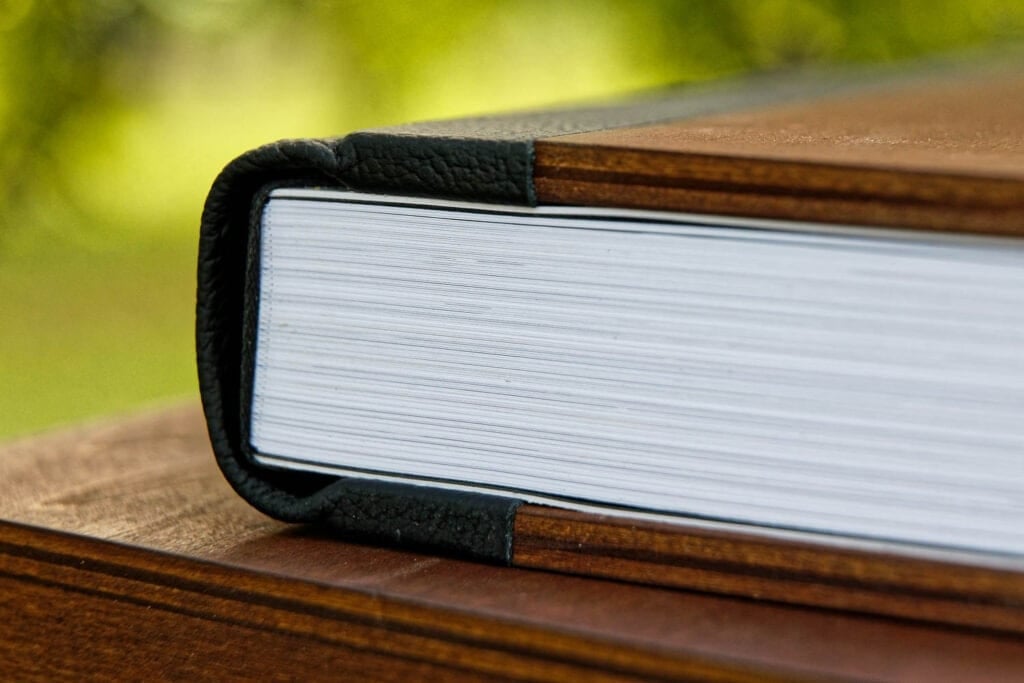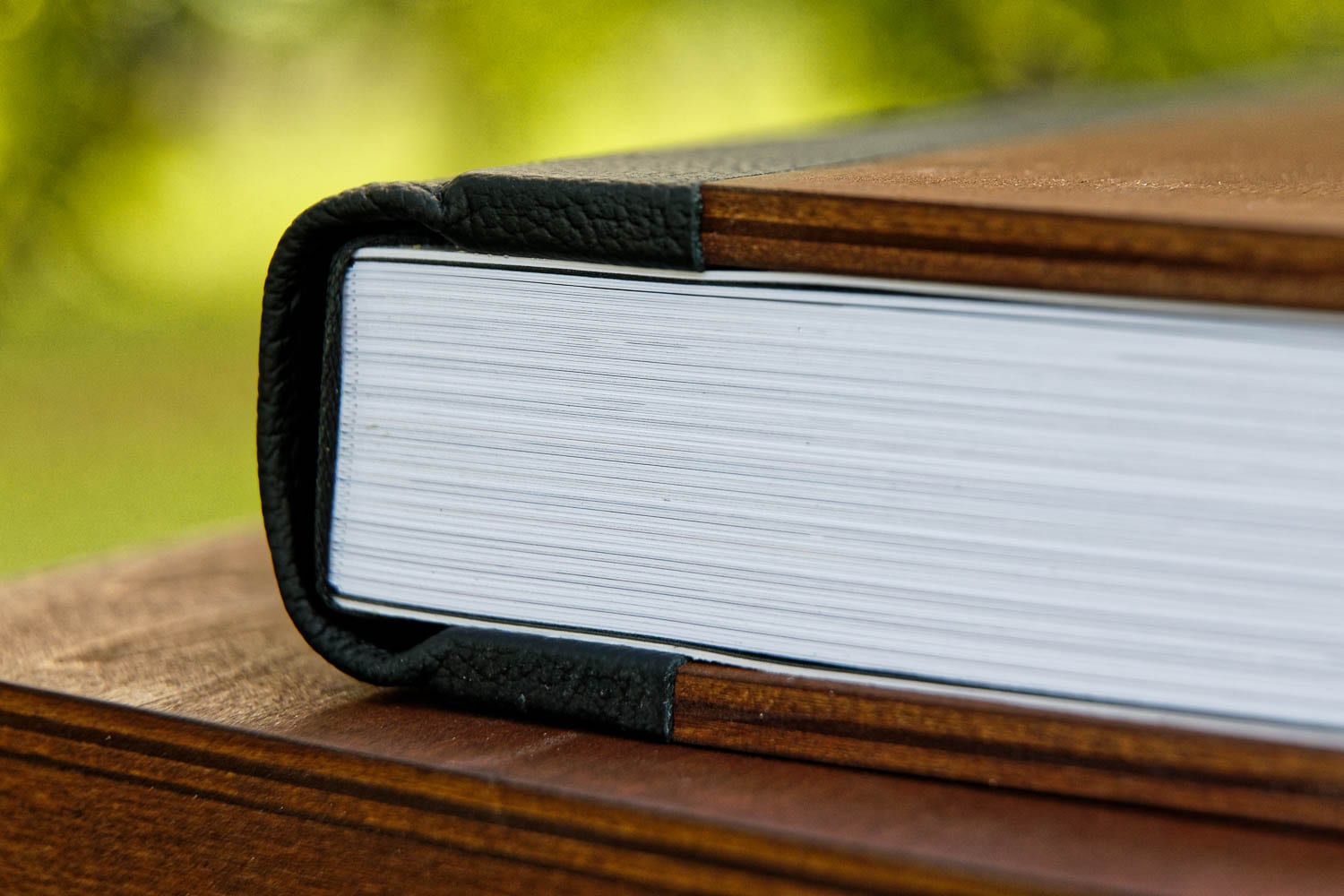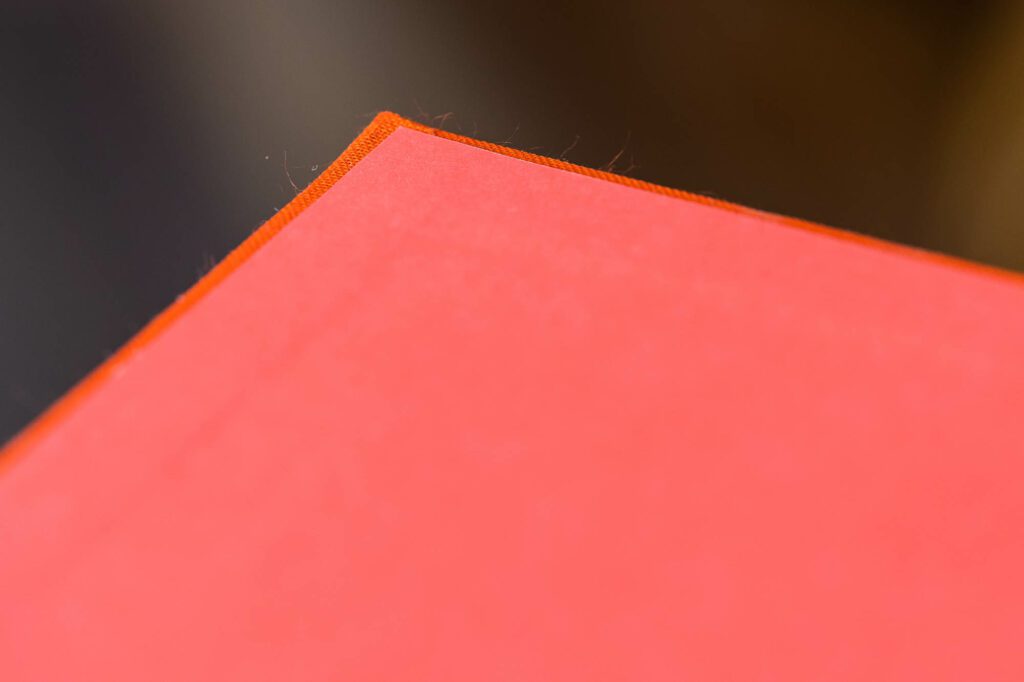 EndPages
Endpages are the pages that bound the cover and the photo-block together. They can be plain black, or with patterns and colors. You can choose among 186 different options (geometric patterns, stars, rings, cross, flowers, leaves).
Gilding
You can add colors to the edge of each spread (extra cost).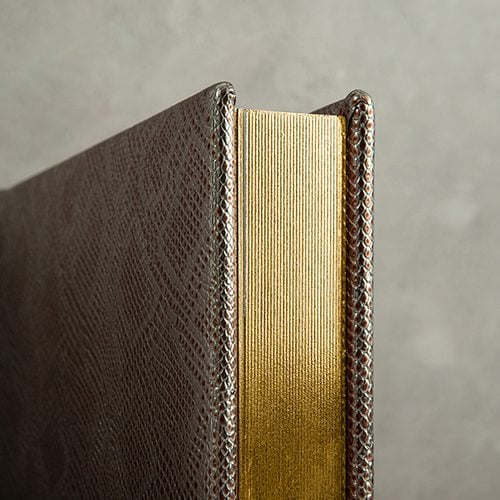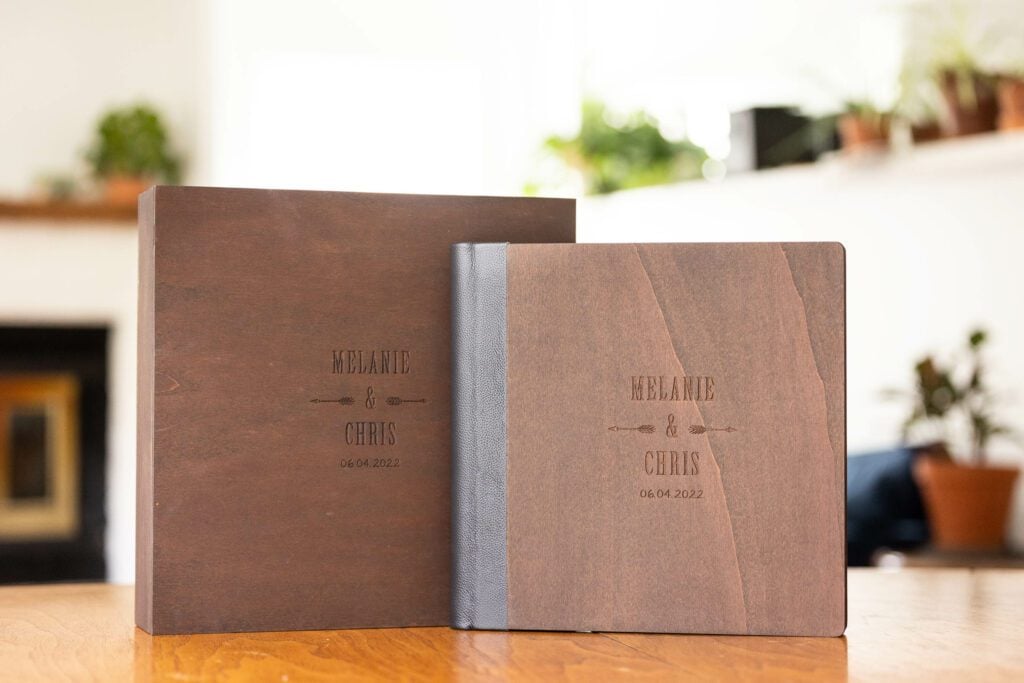 One Size
We keep it simple offering one size 12×12 inches.
The Box
Each Album Comes with a protective box, made in the same material with the same color.
On the top of the box is engraved the same design as on the top of the wedding book.
The size the box is 14,5×14,5 inches.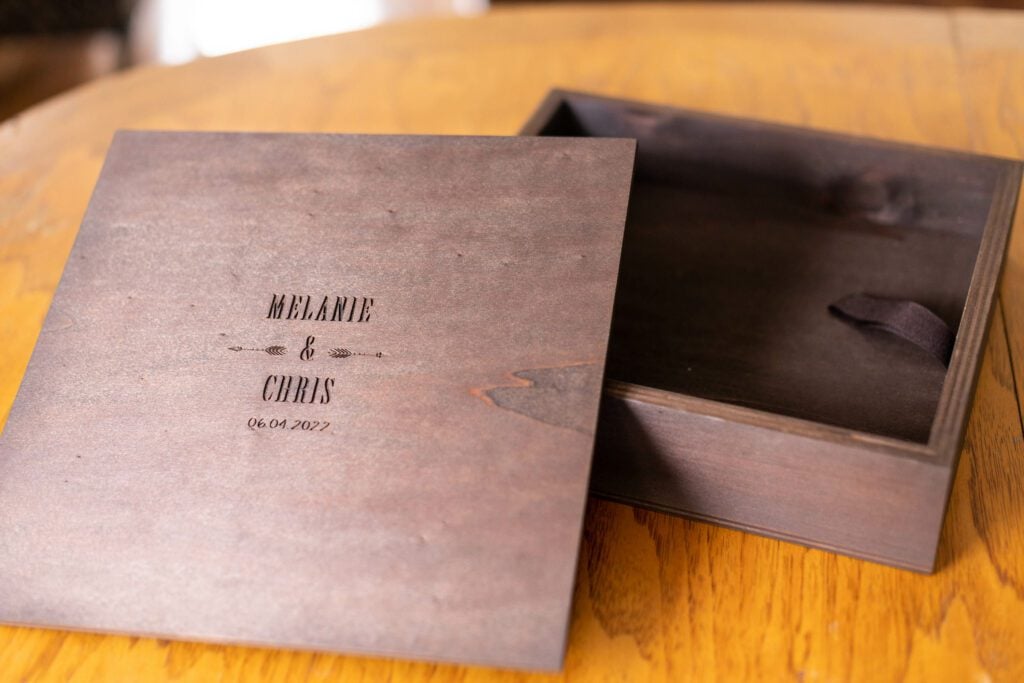 Parents gift
Many couples want to please their parents as a sign of love and gratitude. Thus brides and grooms offer their family members a little keepsake from their special day: a smaller reproduction of their own albums. We order this gift at the same time as the bride and groom items.
A Sturdy Album that will last forever
This photo book is part of our large game of high quality wedding photo albums that are designed with the best material to last decades, if not centuries.
Best paper
All the inner parts of the photo-books feature the same type of paper block (or photo-block).
We have chosen to use a photo-paper that we believe offers the higher longevity.
It's an RC photo paper (for Resin Coated), used in Silver Halide printing. It's a media composed of 5 layers: 2 layers of plastique at the exterior, protecting the 3 layers or colors.
This photo-paper offers many advantages:
Moisture resistant
There is no fiber that would soak moisture and crack
Dirt resistant
If you spill any dirt on a page, you can easily clean it.
Temperature resistant
The colors don't fear heat variation much (as opposite to Dye-Sublimation prints).
Colors don't fade
The chemical products that compose the colors are already stabilized. They don't react with exterior elements and thus color don't fade
Scratch resistant.
The top layer of plastic protects again scratch
It Doesn't turn yellow
The paper is synthetic (fiber free), and won't react to the environment and turn yellow
Tear resistant
The strong layers of plastique give strength needed for manipulation
Lay-flat binding
All our albums are Lay-flat. Lay flat is a binding technology allowing a photo-book to open flat on a table.
Layouts are printed and flush mounted on a thin layer of cardboard.
As a result there is no gap at the crease. This allows you to fully enjoy the large sheet of photos spreading over the left and right page (i.e., in opposition to a scrapbook).
To allow such an opening, each page is glued to each other, and bound only by the crease. The crease is the weak point of such binding. That's why it required a strong material to withstand the wear and tear of handling.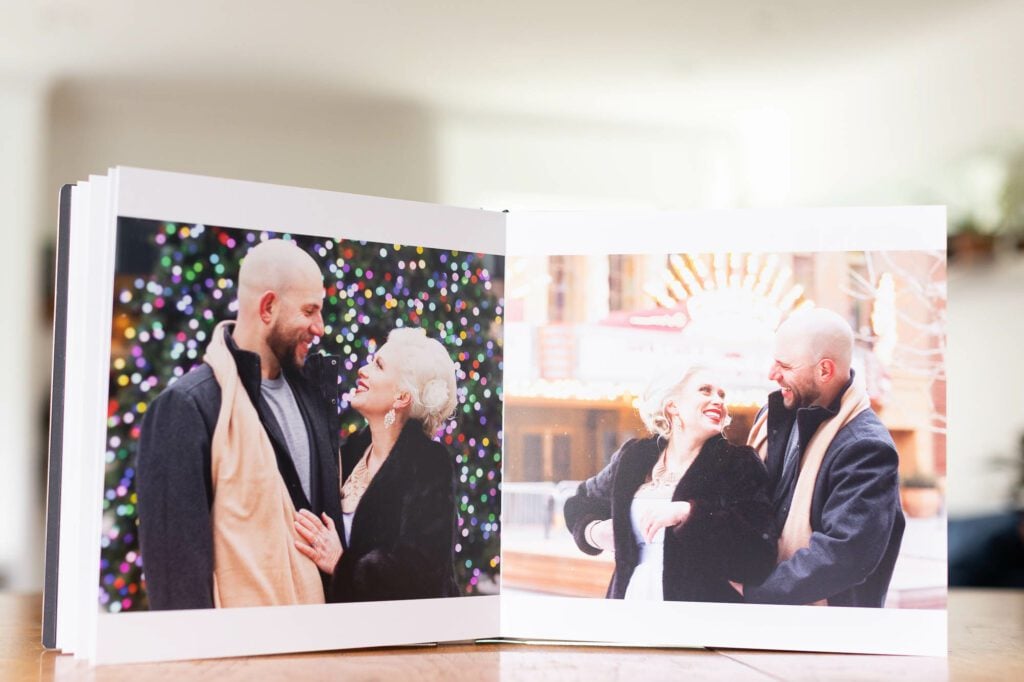 Stain resistant Material
This material would resist stains better than other kinds of material such as Velvet or Linen that would absorb any liquid.
As a result you don't need to give that much care to it.
The protective Box
More than a decorative element, the box plays an important role in the conservation process. It protects your precious keepsake from exterior aggression (moisture, head, molecule in the air, sun).
The size of the box is always slightly bigger: 14 inch x14 inch.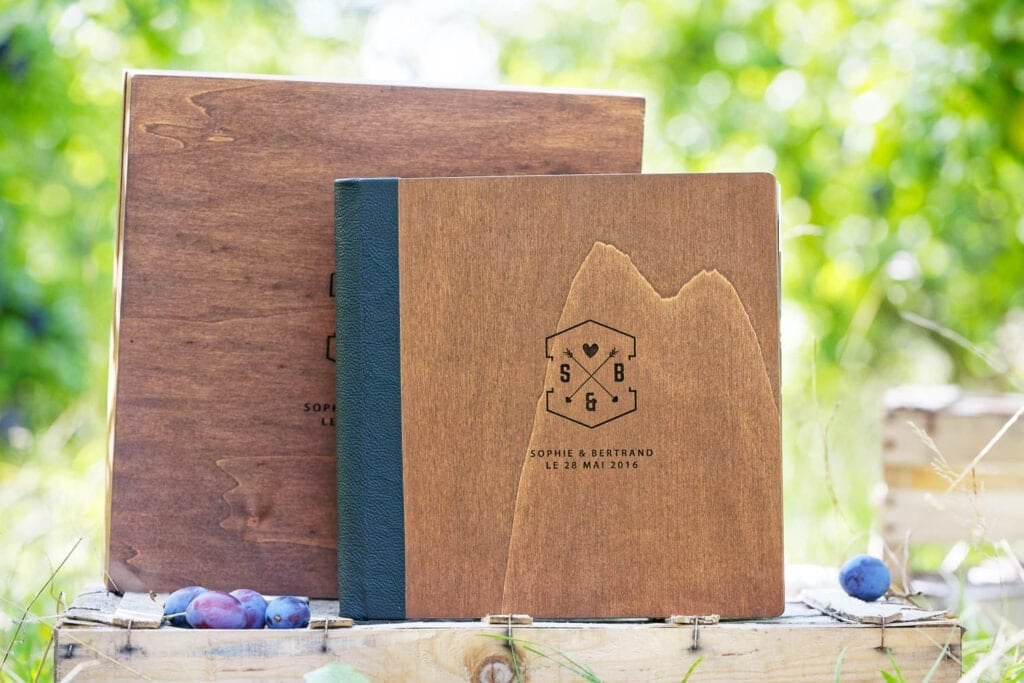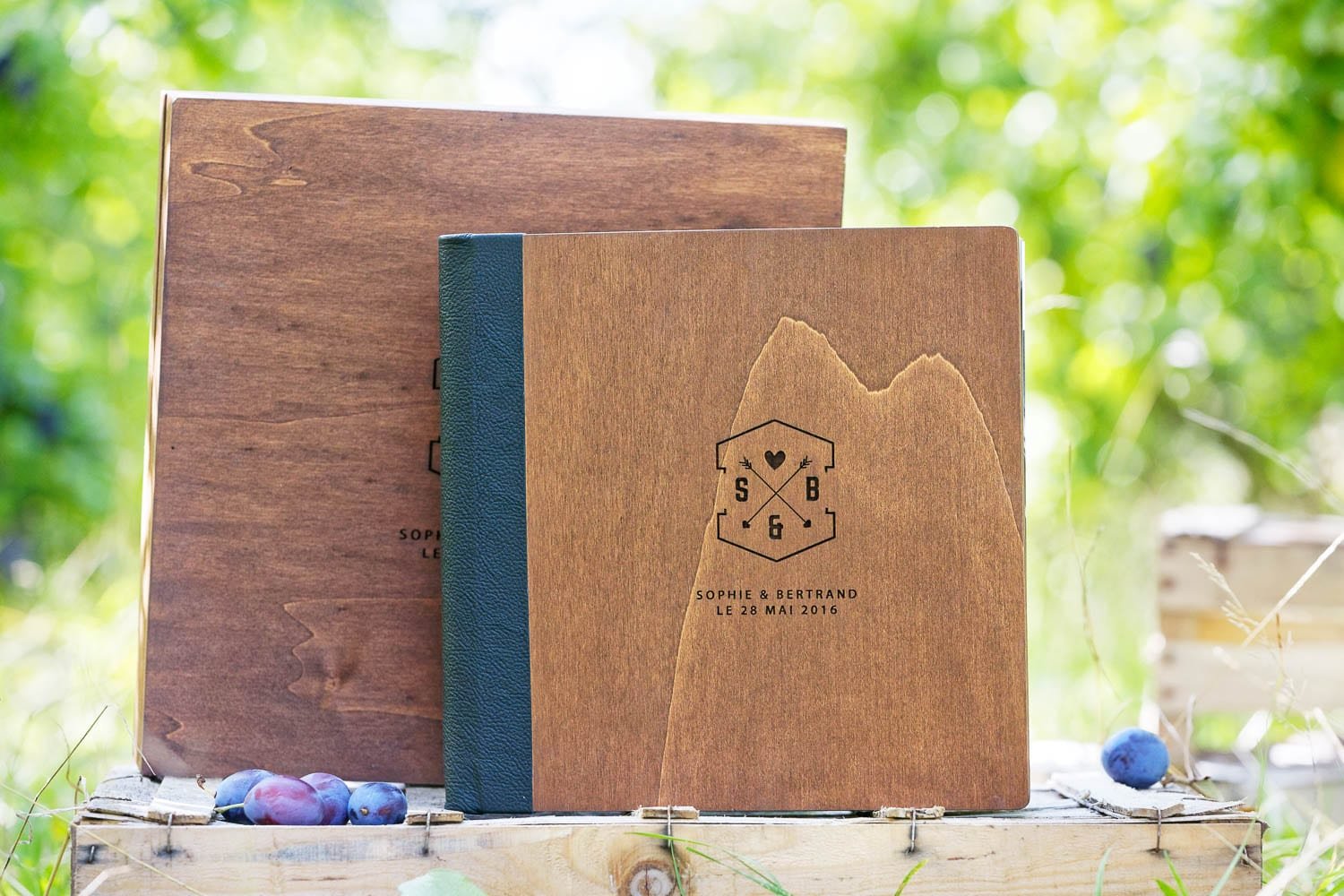 Good reason to choose this material
Good price
Surprisingly, this album has a cheaper price.
Price should not be the main motor of your decision, but it is always nice to know where to save money when we shop.
Sturdy
Wooden board is pretty sturdy and provides a sense of quality similar to an acrylic cover (a much modern version).
Once produced, it's shipped over the sea. Shipping process can be pretty violent. Thus it's more susceptible to resist the delivery.
Natural Aspect
Wooden products have a unique aesthetic that is popular today. We have already seen a wedding ring!
This is due to the beautiful aspect of the material that connects us with nature.
A Sensorial Experience
When touching your photo-album with the palm, you will enjoy a great relaxing experience. It's a warm material with a feeling of comfort.
It's also an earring material. We like to knot on it to feel its strength.
Match Rustic Homes
Finally, this is a material heavily used in the family house. Many couples have floors, tables, shelves made of wood.
Thus this material will match with the rest of your decoration, whereas it's rustic or modern.
Unique Layout
We carefully design each of the layouts with the best moment of love, trying to include each guest.
Before printing albums, the couple can review each layout once to add potential modification.
Handmade
This album is handmade by a talented craftsman in Europe. That's a key element to build something that beautiful and that strong.
5 Options to be personalized
It's one of the most customizable albums
3 tints of wood
20 colors of leather
77 design to engrave
10 colors of gliding
186 endpages
That represents (just for the fun) a total of 8 593 200 unique albums.
Conclusion
This wedding photo album is loved by many couples and is one of our best-sellers. With the wedding ring (and maybe the future expansion of your family), it's the only vestige of your special day.
Every couple would love reading it at each of their anniversaries.
Now that you have decided on your cover, you can start selecting your images.
And don't forget to print images in big and frame them in your home!