Some of our photo albums such as the (leather cover, the wood cover , the plexi cover, the linen cover, the velvet) can be personalized with Gliding to give them a unique look.
Let's see what is Gliding, how it's apply, and which photo book deserved it or not.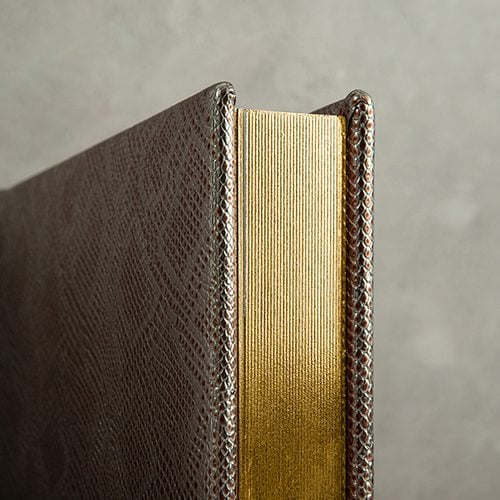 What is Gilding for a book?
Gilding for books, also known as book gilding or edge gilding, is a decorative technique used to embellish the edges of book pages with a thin layer of gold or other metallic material. It is a traditional method that adds beauty and elegance to the appearance of a book making it more precious.
How is the gilding applied?
The process of gilding involves applying a layer of gold leaf or metallic foil onto the exposed edges of the book's pages. The pages are typically fanned out, and the gold is carefully applied to the edges using a gilding brush or a specialized tool. The gold leaf or foil adheres to the edges due to the use of an adhesive, such as gilder's paste or a thin layer of glue.
This also means that the colors might slightly face with the time and used.
Once the gilding material is applied, the excess gold is gently brushed away, leaving behind a smooth and shiny gold surface on the book's edges. The process can be repeated multiple times to achieve a more pronounced gilded effect or to add additional colors or designs.
An extra layer or personalization for your luxury photo book
Your photo book is a luxury product that will last many decades, if not centuries.
Gilding for books serves both aesthetic and practical purposes. It enhances the visual appeal of a book, making it more visually striking and luxurious. Additionally, gilding helps protect the edges of the pages from wear and tear, as the gold or metallic layer provides a protective barrier.
Other personalization options is to engrave a logo on the cover of the album, or to pick some special end pages.
5 Exemples of historic book with gliding :
"The Kelmscott Chaucer": Created by renowned British designer and writer William Morris in the late 19th century, this book is considered a masterpiece of book design. It features elaborate gilding on the edges of the pages, with intricate floral and foliate designs in gold leaf.
"The St. John's Bible": A modern-day illuminated manuscript created by a team of artists and calligraphers, this handcrafted Bible incorporates various luxurious elements, including gilding. The edges of the pages are beautifully gilded, adding a touch of splendor to the overall presentation.
"The King James Bible (Gutenberg Bible)": While the original Gutenberg Bible was not specifically gilded, there have been luxurious editions of the King James Bible produced over the years that feature gilding. These editions often include ornate cover designs and gilded edges, making them highly sought-after collector's items.
"Les Très Riches Heures du Duc de Berry": This medieval illuminated manuscript, created in the early 15th century, is renowned for its intricate illustrations and richly decorated pages. While not entirely gilded, it does feature elements of gilding on certain pages, such as initial letters and decorative borders.
"The Book of Kells": A famous medieval manuscript created by Irish monks around the 9th century, it is celebrated for its stunning illustrations and intricate ornamentation. While not strictly gilded, it incorporates lavish use of gold and other metallic pigments to create a shimmering effect throughout the pages.
5 exemples of luxury photo album with gliding
"Masterpieces of Nature": A collection of breathtaking landscape photographs capturing the world's most stunning natural wonders. This luxury photo book could have gilded edges to evoke a sense of grandeur, emphasizing the awe-inspiring beauty of the featured locations.
"Celebrity Portraits: Iconic Moments": A compilation of exclusive and intimate portraits of famous personalities taken by a renowned photographer. This high-end photo book might incorporate gilding on the edges to elevate the glamour and prestige associated with the subjects.
"The Royal Family: A Photographic Journey": A comprehensive chronicle of the lives and events of a royal family, featuring rare and intimate photographs. A luxury edition of this photo book could potentially include gilded accents to evoke a sense of regality and emphasize the historical significance of the subjects.
"Fashion Through the Lens: A Century of Style": A visually stunning photo book showcasing the evolution of fashion over the past century. A limited edition of this book could employ gilding to highlight the sophistication and elegance associated with the fashion industry.
"Architectural Marvels: Timeless Design": A compilation of architectural photography capturing iconic buildings and structures from around the world. A deluxe version of this photo book might incorporate gilding on the edges to enhance the sense of grand craftsmanship and elevate the perception of architectural excellence.
Does it make sense to add gilding to your photo book?
Short answer: it's up to you. That won't change the content of the album, nor the life expectancy of this one.
It's an additional ornament option for a luxury product adding a touch of opulence and enhancing the overall artistic impact of your photo album.
If you are planning to showcase your photo book in your room full of gliding things (frames, lamps, furnitures), then your book can be considered as a piece of art and yes it would make sense to spend a bit more money.
If you are planning to keep your book in a safe dark place to make it last longer, then, you might not need it.