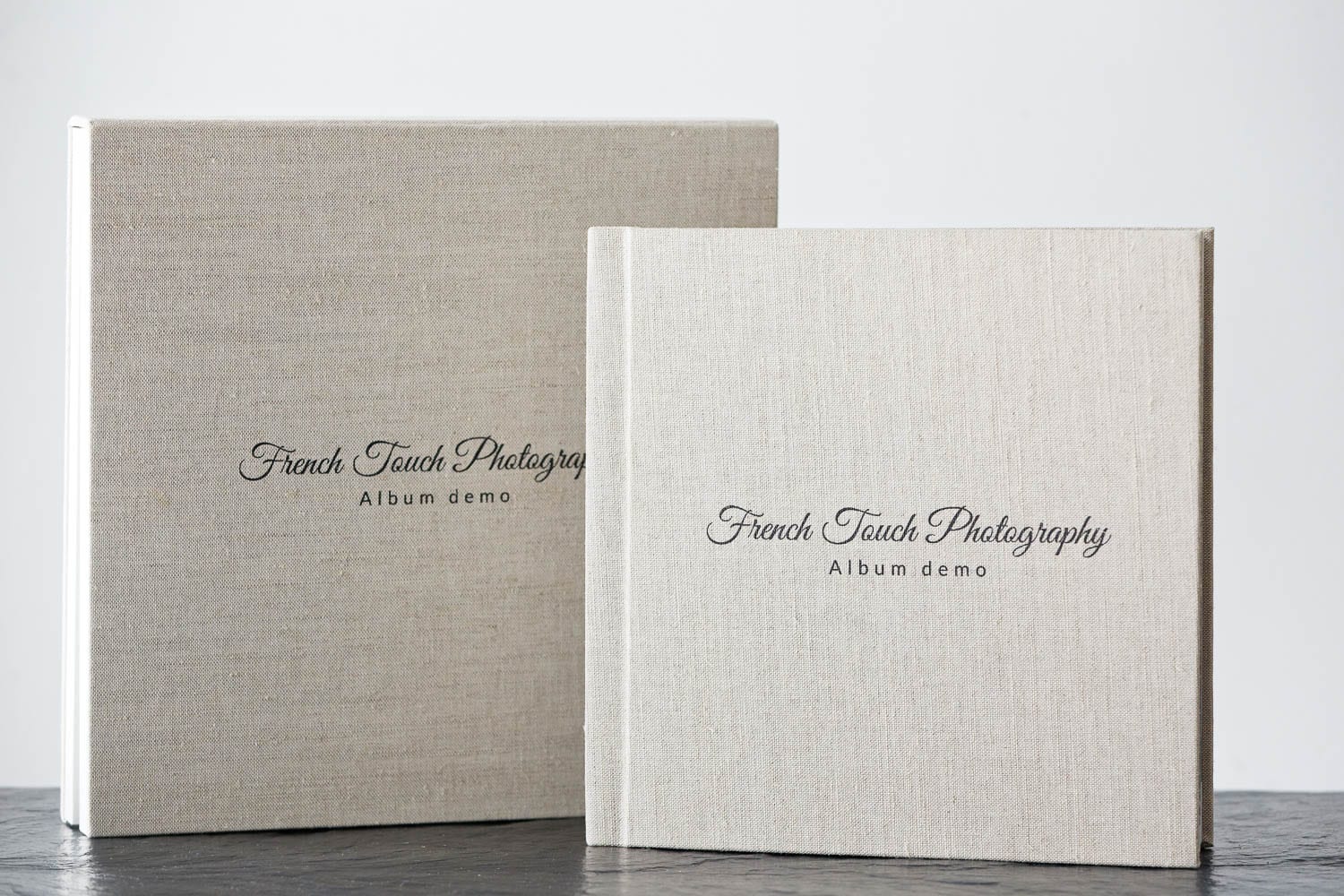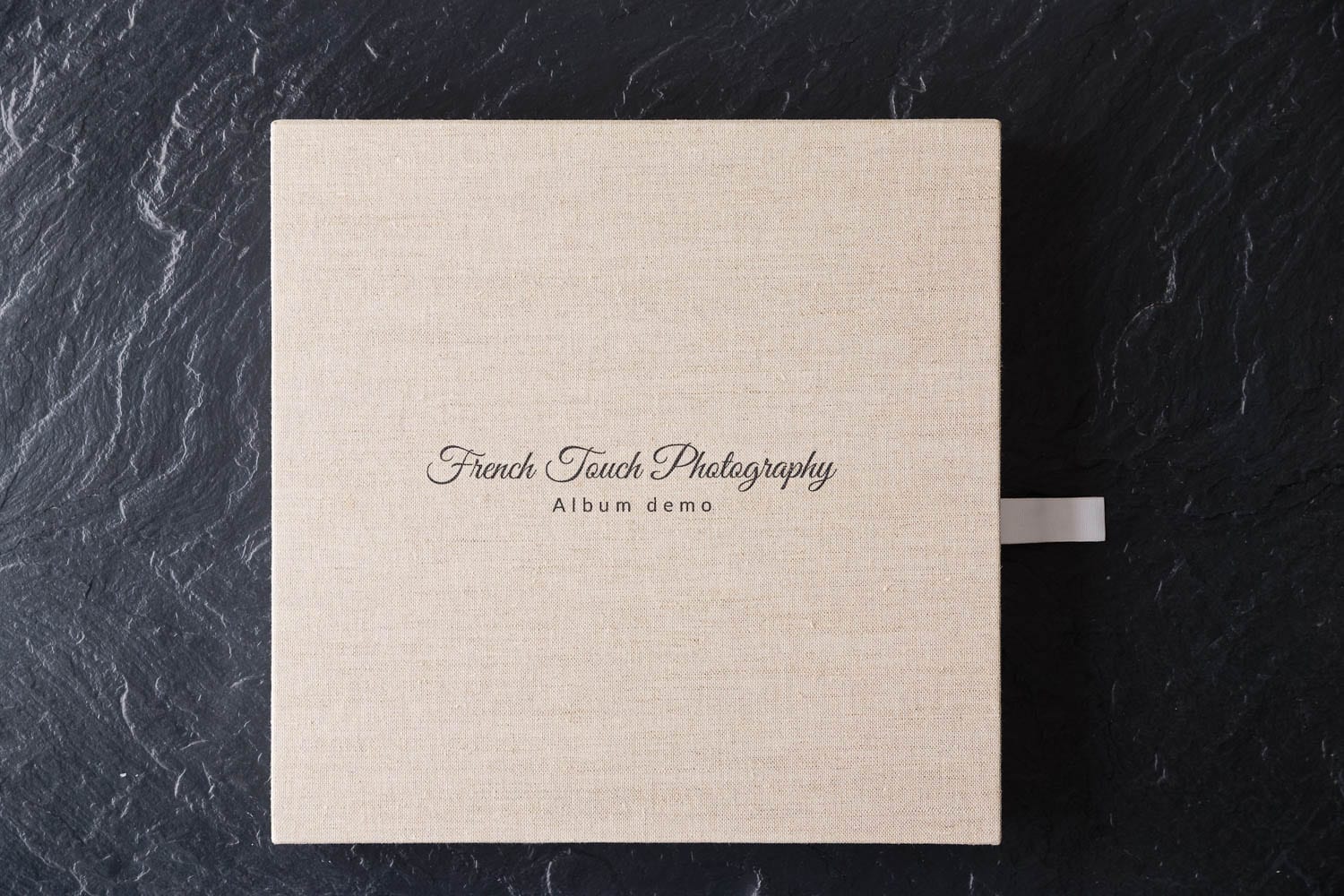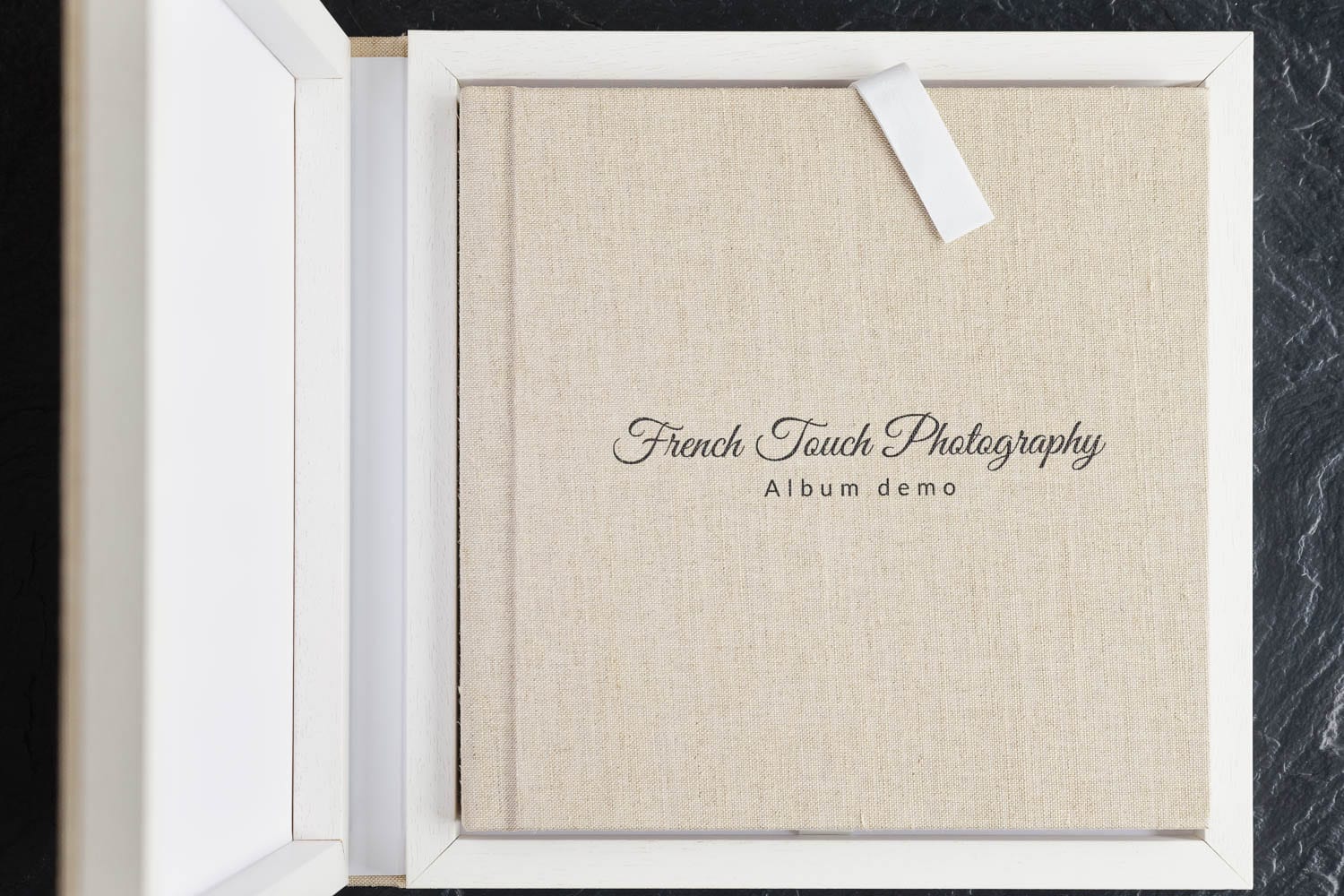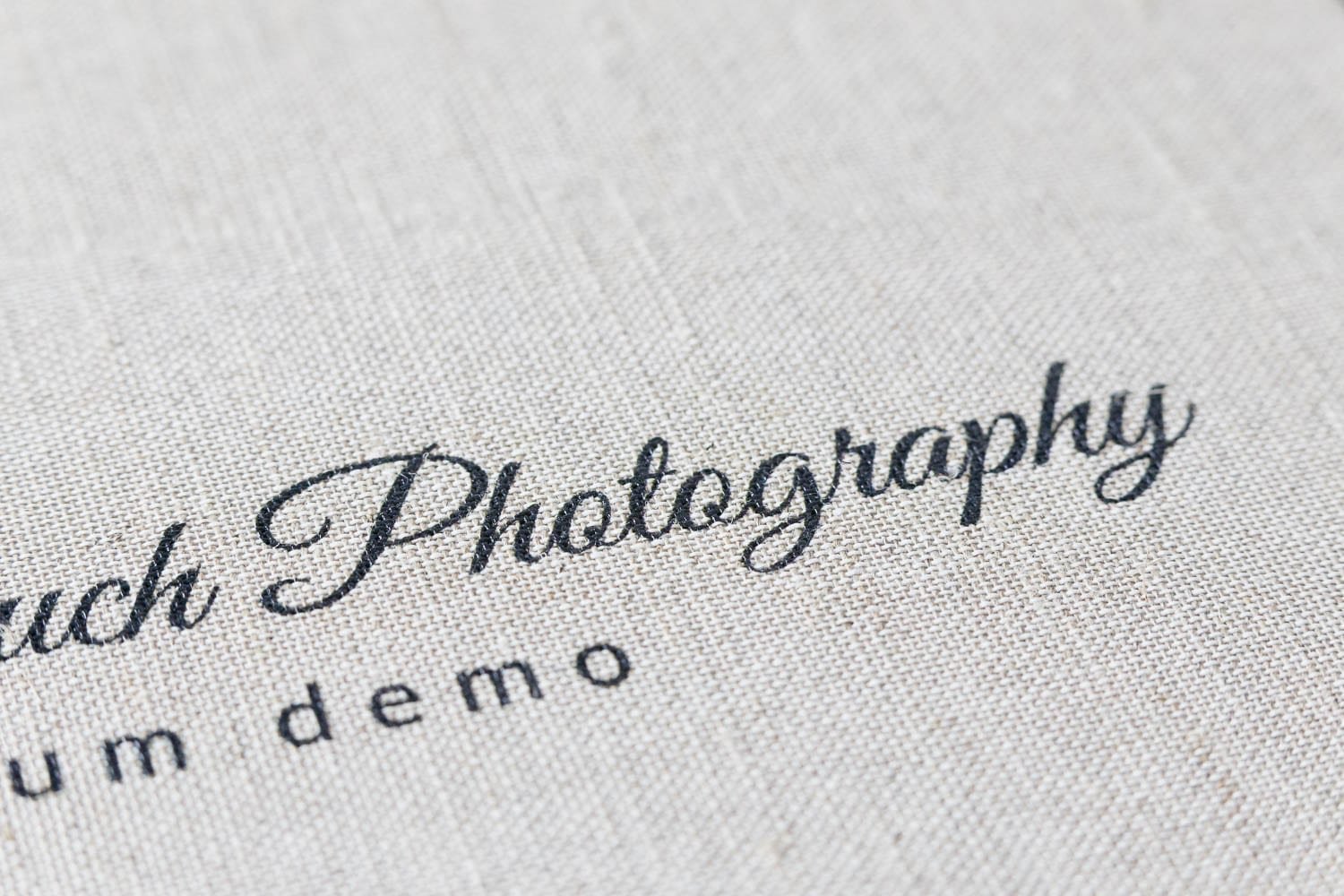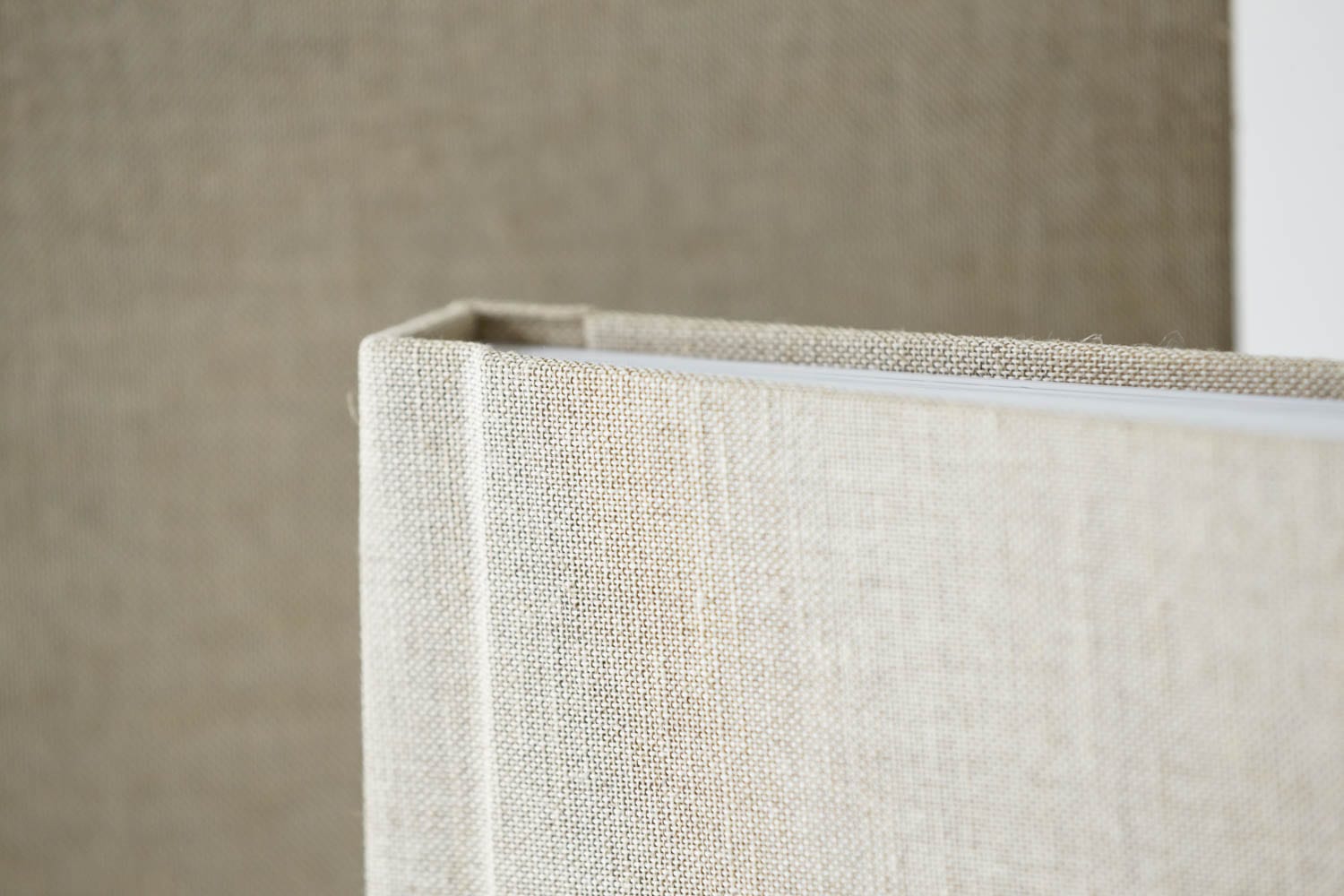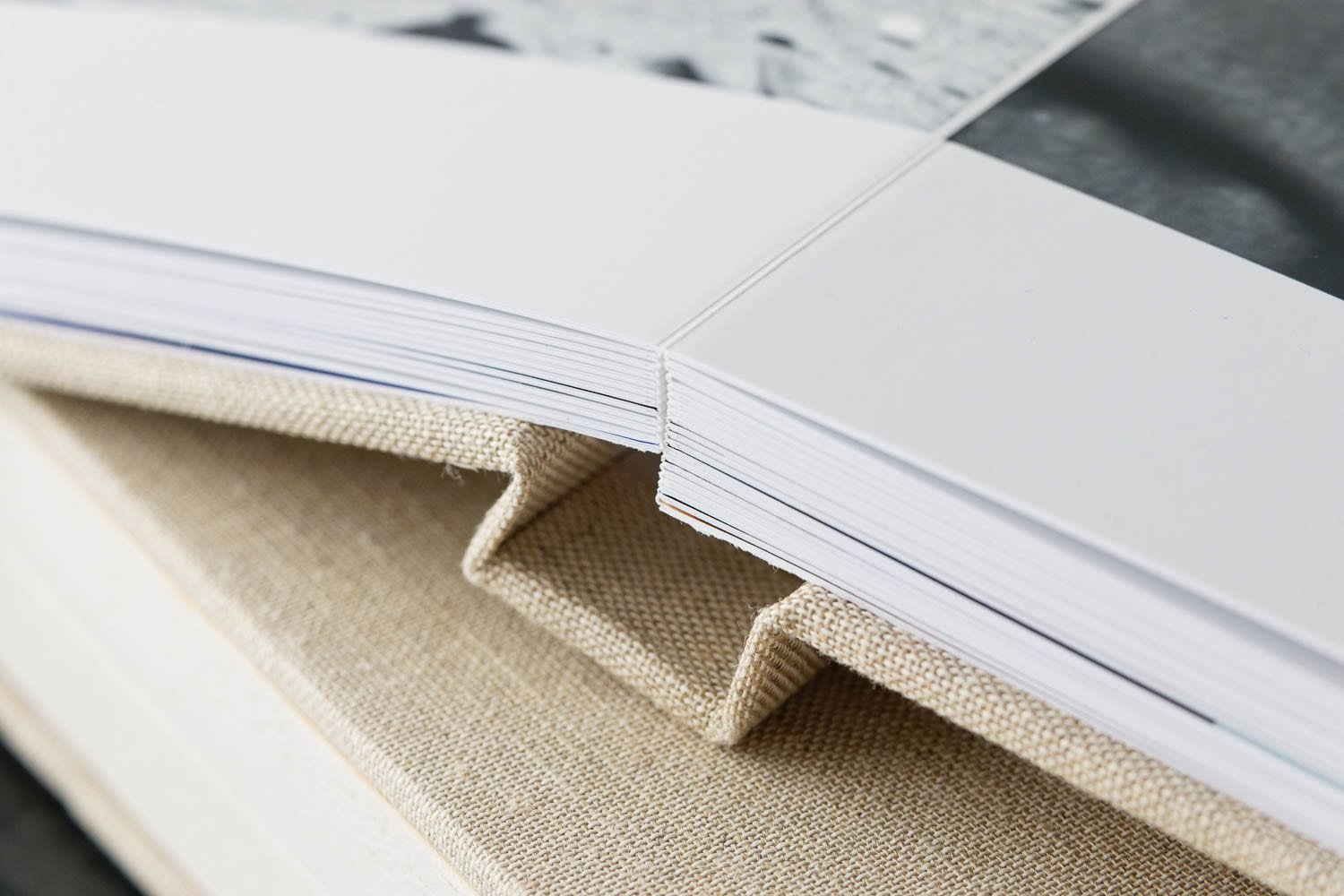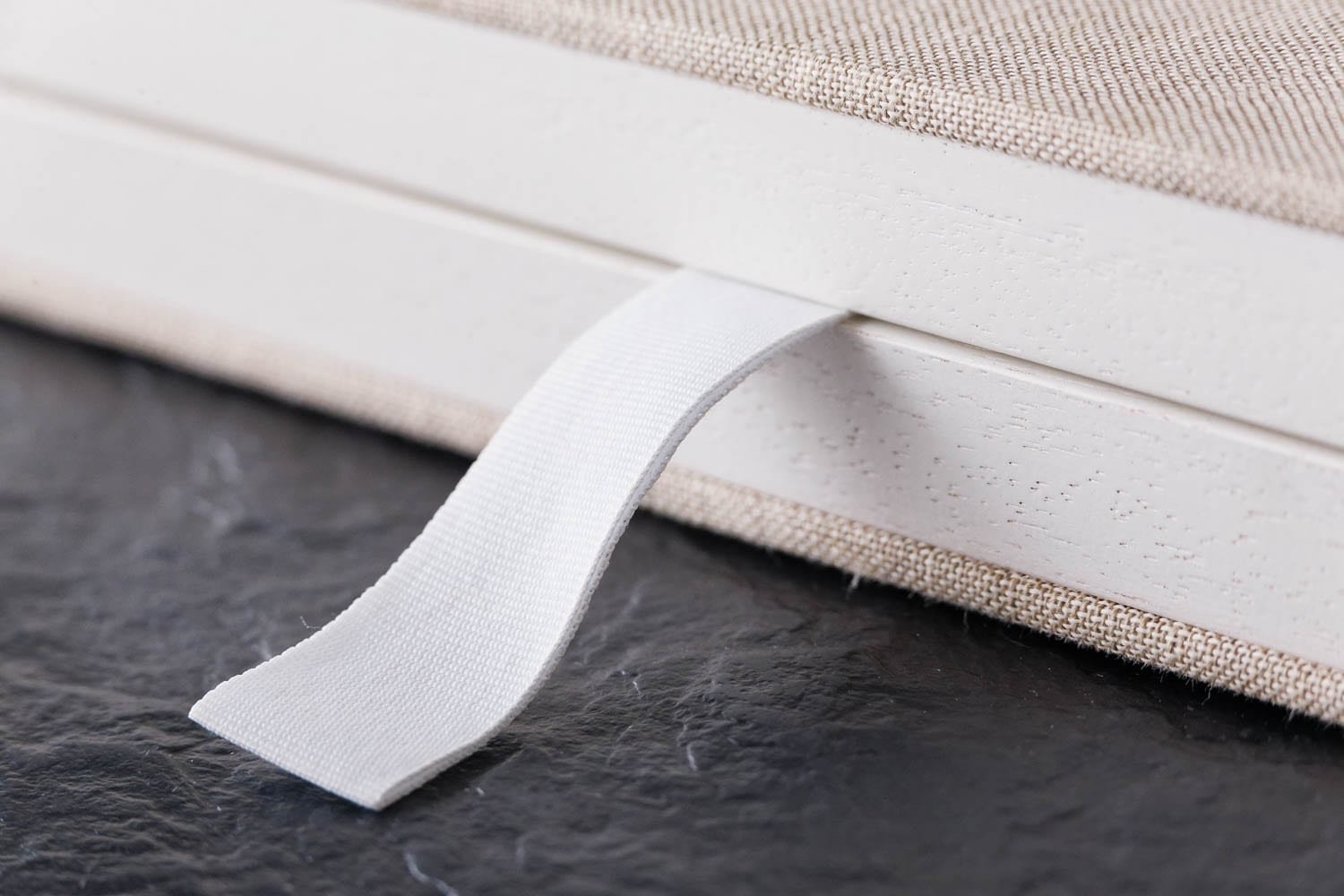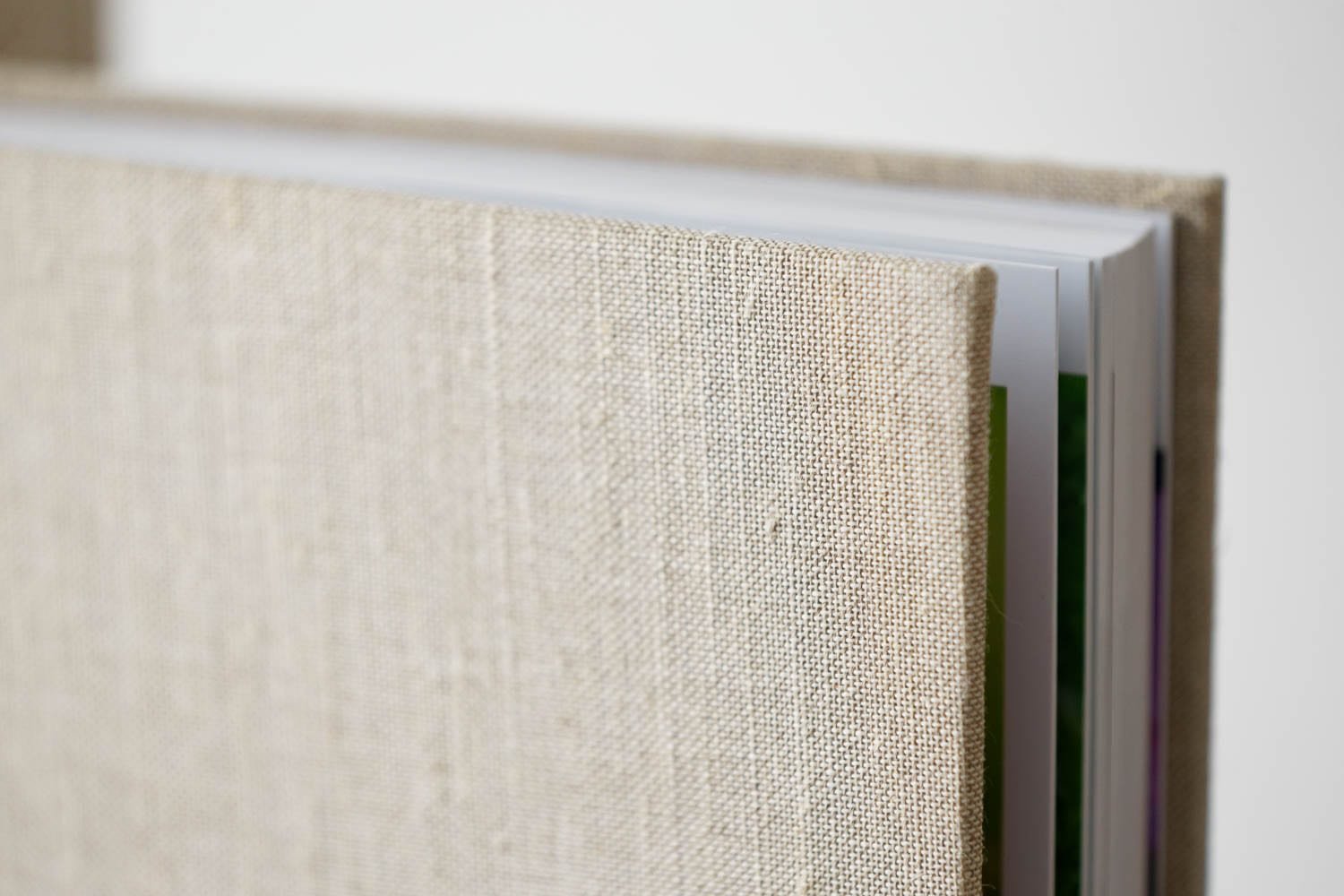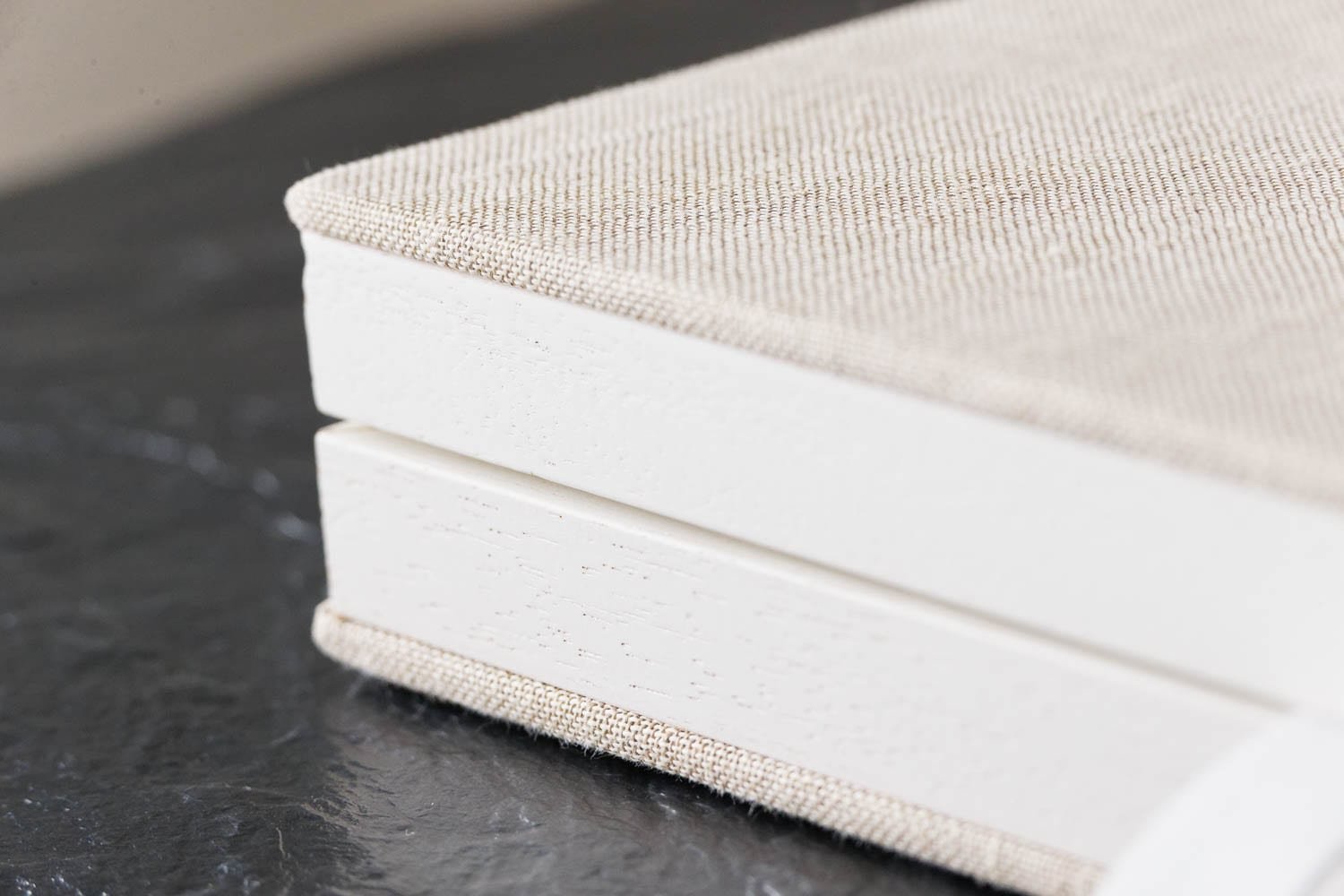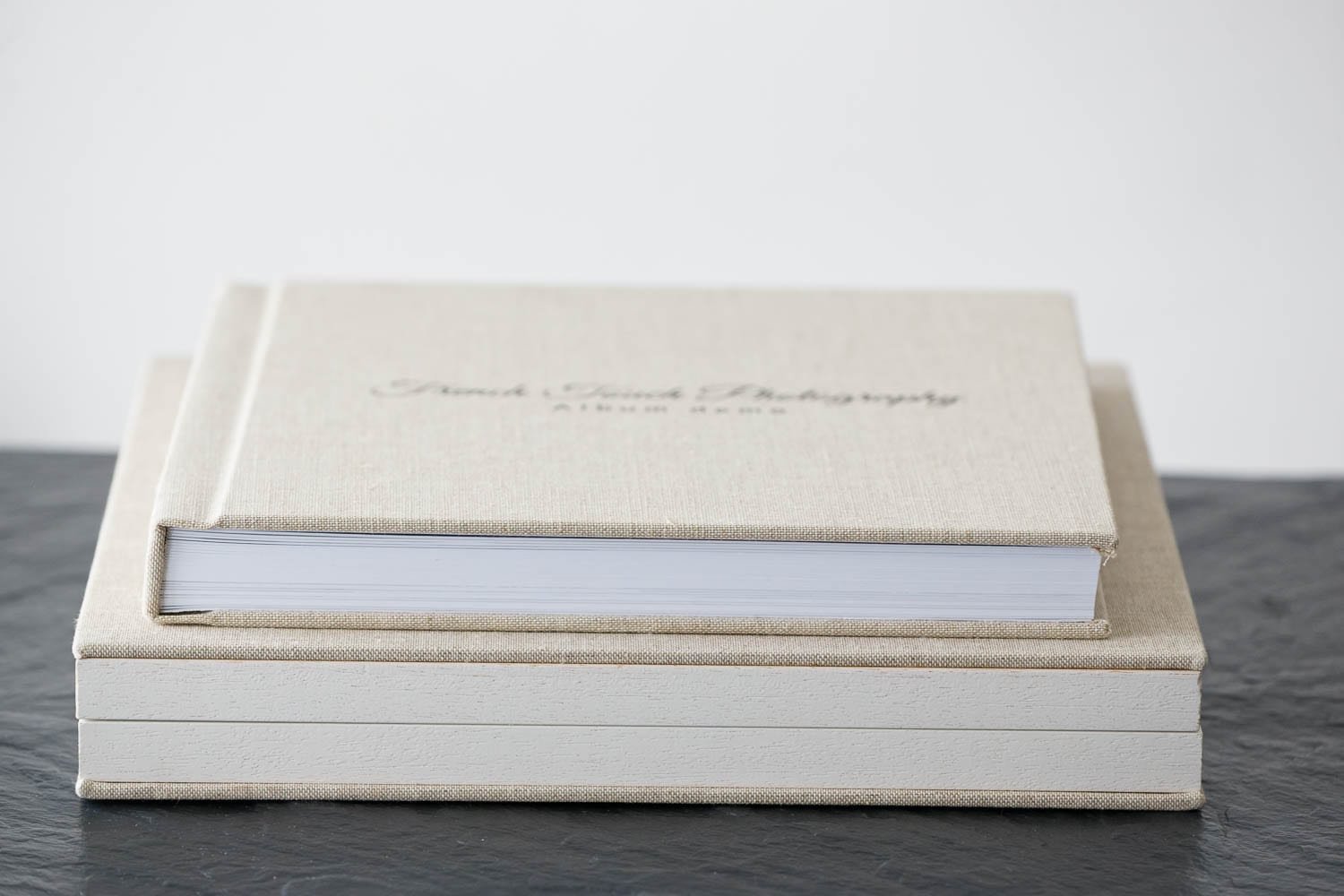 Cherish Your Wedding Memories within an Album Featuring a Beautiful Linen Cover
The Linen photo book is part of our high quality wedding photo albums that are handcrafted using the best materials (for hardcovers and pages) and solid bookbinding technology. It also comes with its wood box, to protect it and make it last decades.
Discover whether the linen fabric is the best choice for you or not.
Is a linen cover a good idea for a wedding photo book?
What is linen
Linen is a textile material made from the fibers of the flax plant (in Latin: Linum Usitatissimum). It's been used for thousands of years by ancient civilizations such as Egypt, Greece, Rome. The older piece of linen found dates from 4500 BCE! Today linen is still popular and produced all over the world. What's more the flax plant is quite an easy plant to grow and doesn't require much water.
How linen is used
In your home, you will find linen in a large variety of products: clothing, bedding, table linens, towels, furniture, curtains.
Depending on its texture, it can be rough, abrasive or refined.
How is linen produced
After harvest, the plant goes to different processes. It's dried, soak into water (retting), dried again and crushed, hackled (separate into line), spun into yarn, and finally woven on a loom to create a texture and pattern. Its natural color is light beige, ecru, and cream, depending on the variety of plants and soil conditions.
Pro and cons of having a Linen Material for your album cover
The nature and the manufacturing process of the linen give it an advantage but also inconvenient regarding its use for a photo album.
Pros of Linen for your photo-book cover
It's a strong material that can last thousands of years (contrary to plastic material that dry and crack)
it's a sustainable material that doesn't require chemical products to be a product, so great for the environment
its textures and patterns are naturally elegant making a classic material
it will match the other tissue material used in your home and harmonized with your interior design, especially if you have natural tones such as gray or cream.
It can be engraved with laser allowing unique design
It comes in a variety of colors
Cons of a Linen for your photo-book cover
It's an absorbent material that would soak liquid. That means it gets stained easily.
As we see, linen has much more advantages than inconvenience. That said, its main downside is a big deal if you are planning to manipulate your album every day with toddlers (that often have dirty hands).
It's a nice material that will suit the bride and groom who would be very careful to wash their hands before manipulating the cover.
Customization of your cover
In addition to the tailor-made layouts that personalize the inner part, there are several ways to customize a photo album cover.
Laser
You can take advantage of Linen properties to draw designs and text on it using lasers.
We offer a large gallery of design to choose from. It's a combination of the bride and groom name and the wedding date on the top.
If you have a special design from wedding, it can be used. That's the assurance of the best personalization!
Embossing & Foil
Instead of engraving a design with a laser, you can decide on a simpler, but elegant solution: embossing. You can have 3 lines of text embossed with or without foil (extra upgrade option).
Gilding
Another extra upgrade is to have the edge of your page coated with a golden color.
Plexiglass
You can choose linen to wrap your album and add a plexiglass cover with an image print underneath. The plexiglass and the print and the top cover are bound together with a strong adhesive.
The text block
It's your album that tells your story, so we believe it's better if you choose your photos, and your favorite moments that will be printed on your spreads.
Once done, we design the perfect layout. We opt for a minimalistic design to stay elegant and timeless.
Characteristic
The Linen Album is a premium photo book. It is composed of two parts, the cover and the text block.
The photos are printed on a large spread of photo paper coverage on both pages: left and right. Thus, contrary to a scrapbook photo album where people glue Polaroid or prints, here, prints won't fall in the future.
Size
It's a large photo album measuring 12X12 inch.  Stored in its box it will be 14×14 inches.
Photo Paper
At French Touch Photography, we believe paper is the most important part of your album. That's why we have chosen an RC (Resin Coated) photo paper to print your wedding photos. To make it short, it's basically a layer of pigments taken in a sandwich by two layers of plastic. That produces scratch and stain-free paper, that you can manipulate fearlessly. We believe that's way better than any inkjet archival paper.
Number of Pages and Pictures
Our albums start with 40 pages, and can be upgraded up to 80 pages. To create a modern and timeline design, each page holds a maximum of 3 pictures. Each spread (left and right page) is printed on one sheet of photo-paper.  You can use one picture on each spread (perfect for panorama) with a maximum of six.
You can check our portfolio for example of layouts.
Bookbinding
That's another part of this art piece. Each page is attached together creating a strong binding that will last forever.
Available for Parents
Want to offer a personalized gift to your parents? Like most of our albums, this product is also available for Parents Album.
To keep the price of this gift affordable, parents' wedding albums are small sized 8×8.
Mini albums 6×6 with hardcover are not available with this cover.
How to order your wedding album
If you had your wedding day captured by French Touch Photography, you can go on your web gallery and select your photos.
If you are short on a budget, you can shop for it for your next anniversary, or valentine day.
If you have your wedding covered by another professional and you have a print release, we can help you (under condition that your digitals files meet our quality requirements).
Quick delivery
Our layflat Albums are Printed in Europe. We guarantee a 2 month delivery. The Turnaround time for photo books is around 1 to 2 months, so you might receive them sooner.
Shipping is free in the USA.
Discover our Entire Collection of luxury albums
The linen is one member of the Photo-book Family which includes numerous other kinds of covers, such as the velvet, the Wooden cover lay-flat wedding album, and the plexiglass.
Conclusion
Linen fabric is a strong material great to cover your books. Its weakness is its proportion to be stained. Thus, It will fit couples that will carefully take care of it.
I can also be used for other kinds of books: maternity, baby, etc.