What is a lay flat photo book?
The world and especially the photo-book world can be pretty complex and overwhelming for ordinary people. The goal of this article is to flatten what's a lay flat photo-book (sorry for the bad word game).
We will discover what the different photo albums on the market are, and what precisely a lay flat photobook stands for. Then we will learn the different versions of it, how it's made and what the customizable options are.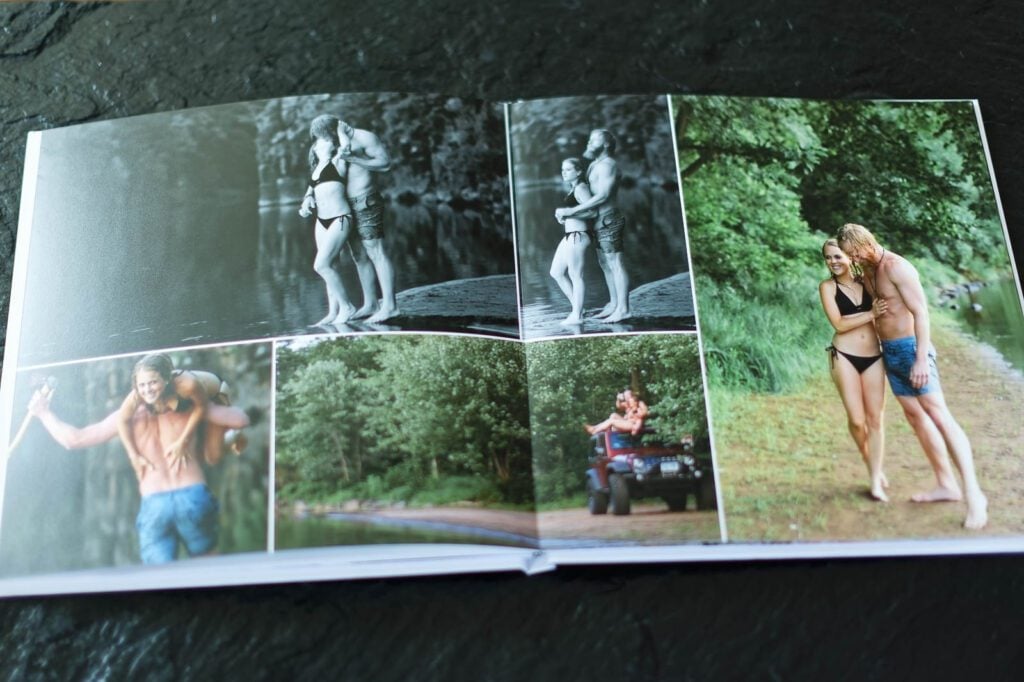 It's part of Flush Mount family
Let's start with a quick reminder of all the different kinds of photo album: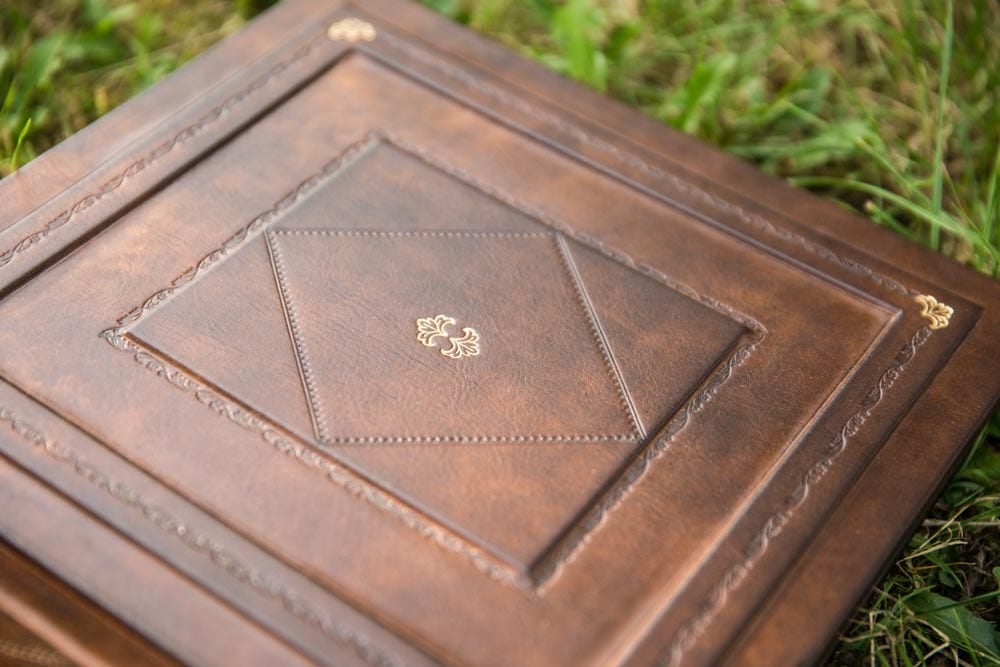 The traditional photo albums
Those are the ones your grandparents have. They have pages with clear plastic pockets or adhesive. You can slide or stick your photos. The pages are bound together like in a book.
They are pretty simple and efficient.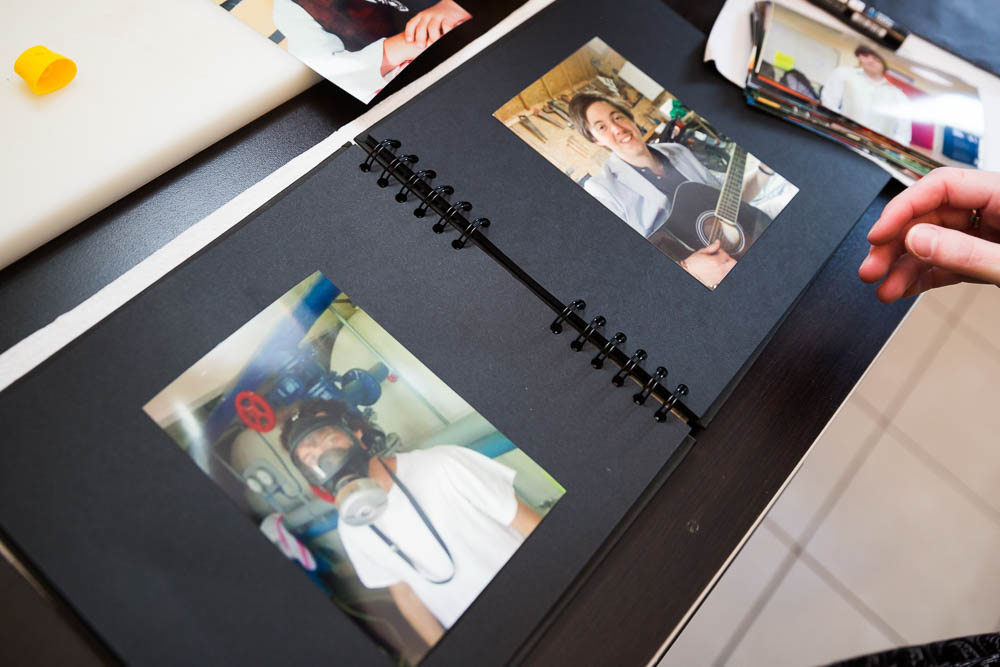 Self-Mount Albums
Those are albums with white pages. You use photo corners or adhesive tabs to attach your photo in the album. In a way it's a bit more flexible.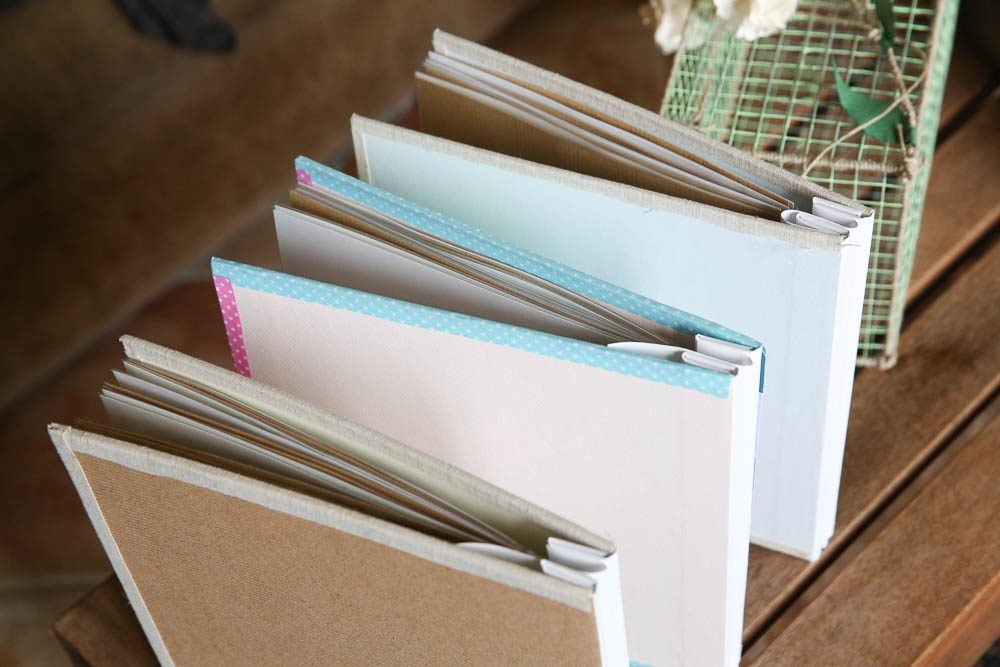 Scrapbook Albums
Those are quite similar to a self- mounted album, except that you can add more elements than just photographs. For instance, you can add postcards, tickets, notes and hand-written legend.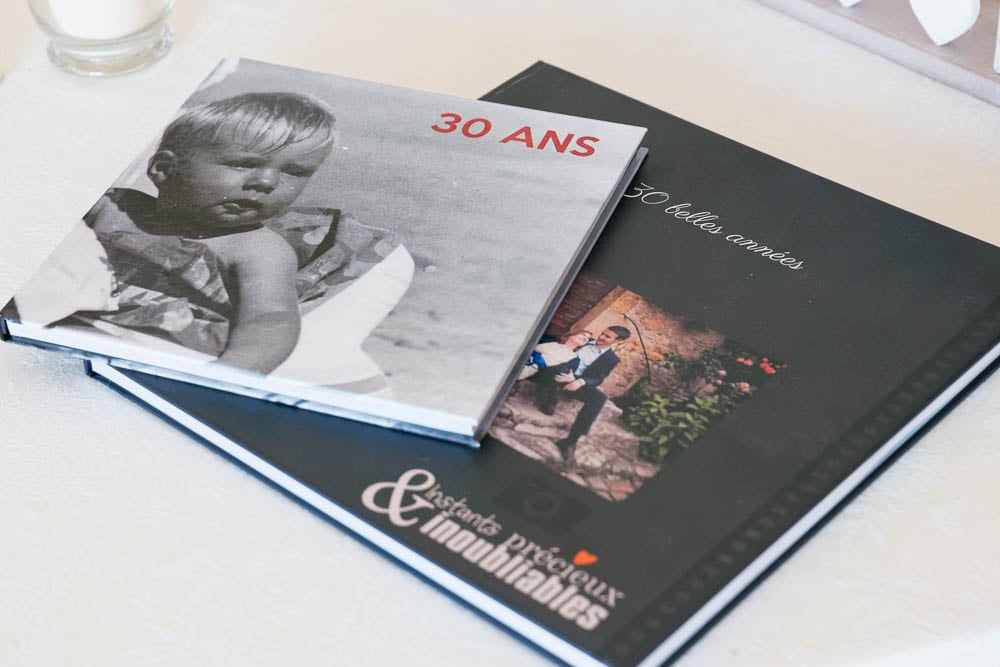 Coffee Table Photo Books
Those are photo books that used to be showcased on coffee tables to entertain guests. Today, they often designate photo book prints on a simple (cheap) photo-paper. The binding does not allow the book to open fully, and the cover is usually a print cover.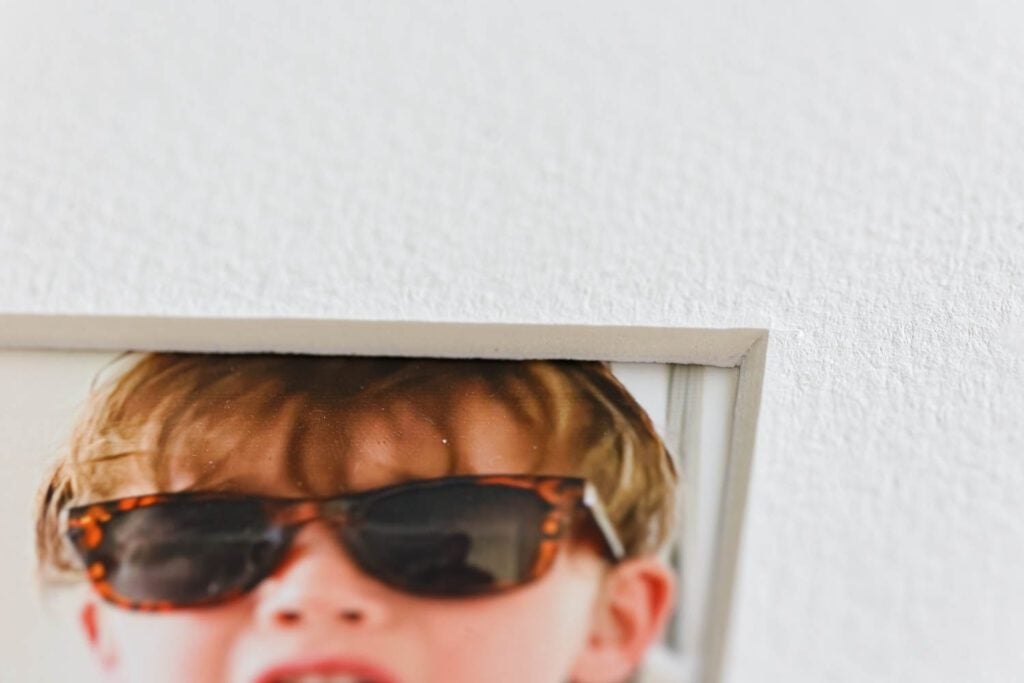 Matted Albums
Those ruled the wedding industries from the 90s to the 2000s. Those are albums with recessed frames. Each photograph is mounted individually under a mat board. That creates a border around the image. The color of the board can be adjusted to match the images.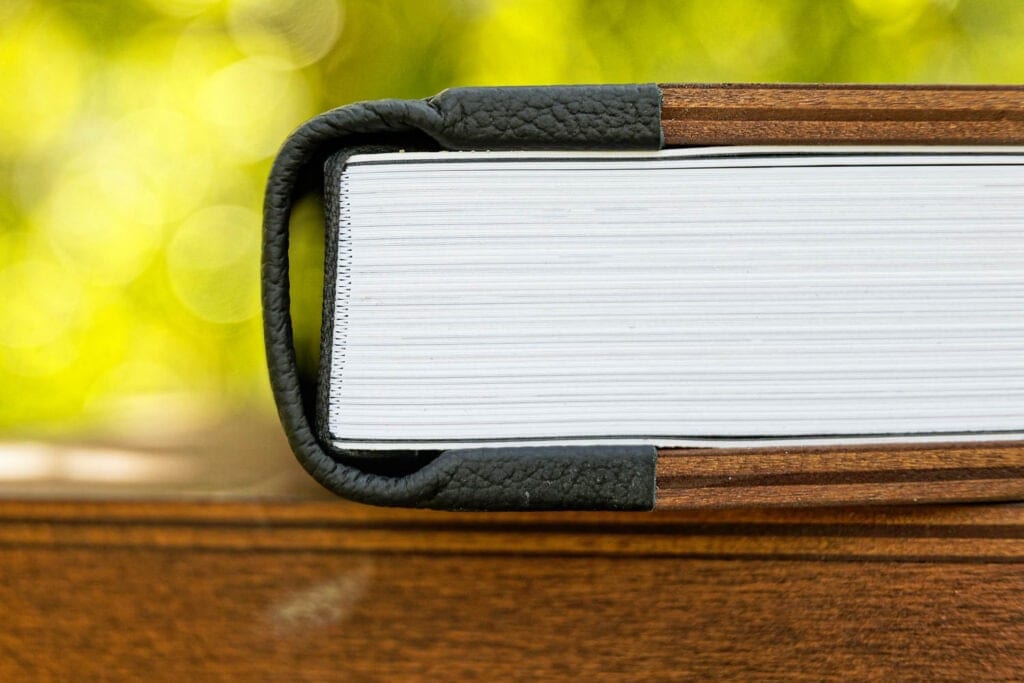 Flush-Mount Albums
Those are commonly called lay-flat photo-books and reserved for weddings and family albums. The left and right pages are printed on one and unique sheet of photo-paper call spread. The spread is folded and creates a very discreet crease, which allows the viewer to enjoy a large panoramic print.
Each spread is usually glued on a cardstock paper (thick or thin) and a special kind of binding (lay flats), allowing opening the book 180° without any relief.
What does "Lay-flat" mean for a photo-book?
In conclusion of this first part let's keep in mind that "lay flat" refers to a kind of special binding allowing the phonebook to open totally flat on a table, each page flush with another.
Quick Anatomy of a Lay-flat album
Let's see wha are the different part fo such an album.
A Cover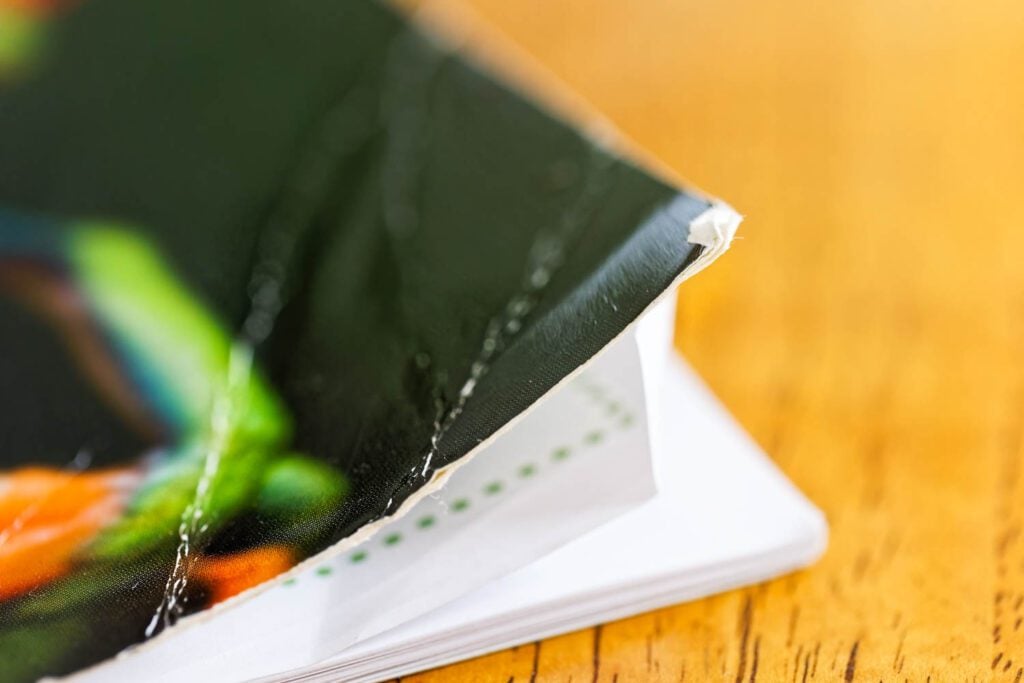 Soft Cover
A soft cover is a simple thick paper printed and glued to the spine of the text block. It might involve endpages or not, depending on which company you used to print it.
Soft cover is reserved for cheap albums (internet quality), so we won't go into details here.
HardCover
Hard Covers are reserved for high quality standard lay-flat photobooks. They protect the albums and allow its exterior customization to make it more appealing.
A hard cover of a book (front cover, back cover and spine) is made of different parts. The inner part is a thick cardboard called greyboard. This one is usually wrapped by covering material. This one can be a nice and elegant material such:
Linen
Cotton
Leather
Velvet
A print cover
For premium quality, beautiful decorative boards can be applied directly on the top cover and back cover.
For instance, the wood album uses 2 boards of wood, while the modern acrylic cover uses one layer of plexiglass with a photo printed and applied directly to the top cover.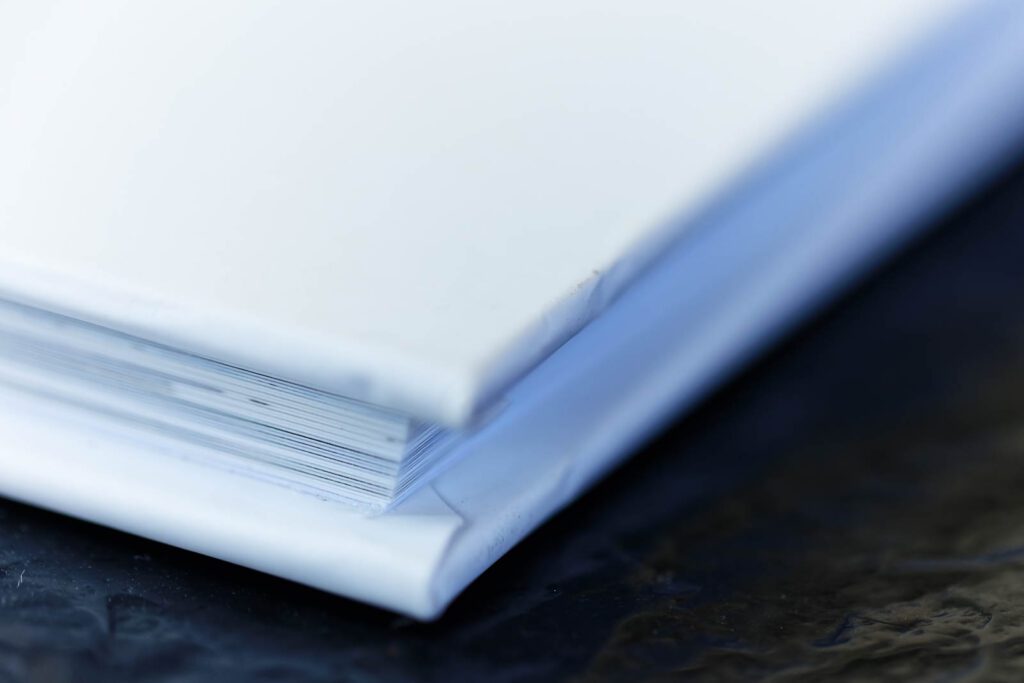 End pages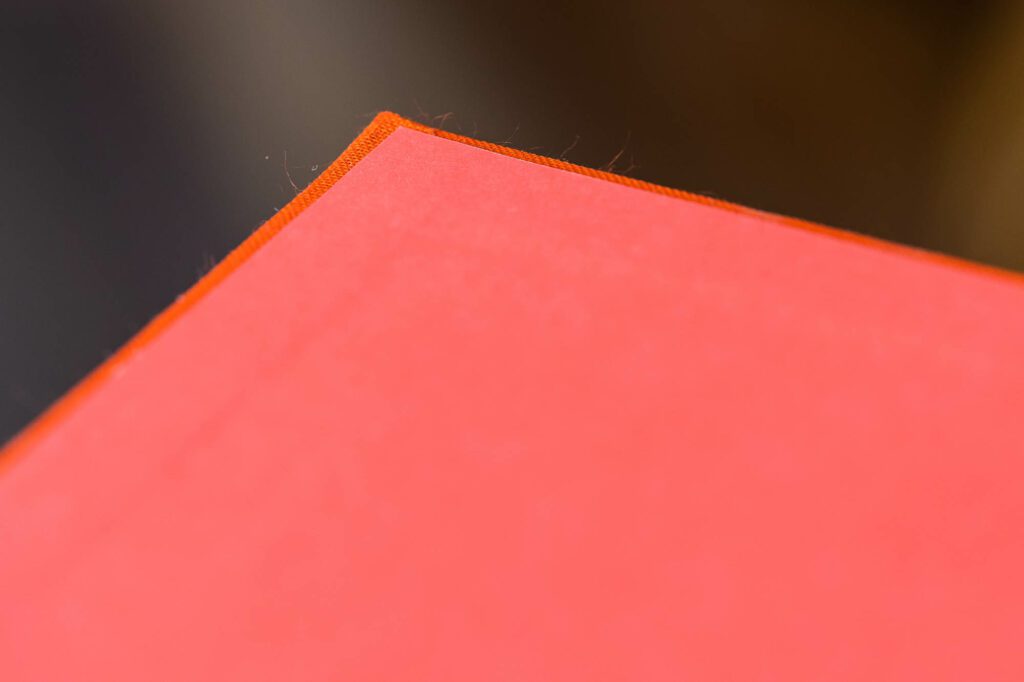 Endpages (or fly pages) have more than a decorative function. They bound the cover and the text block (the pages). Thus Endpages need to be made in solid material.
For some basic lay-flat albums, the end pages are skipped, and the photo-paper is glued directly on the cover.
Text-Block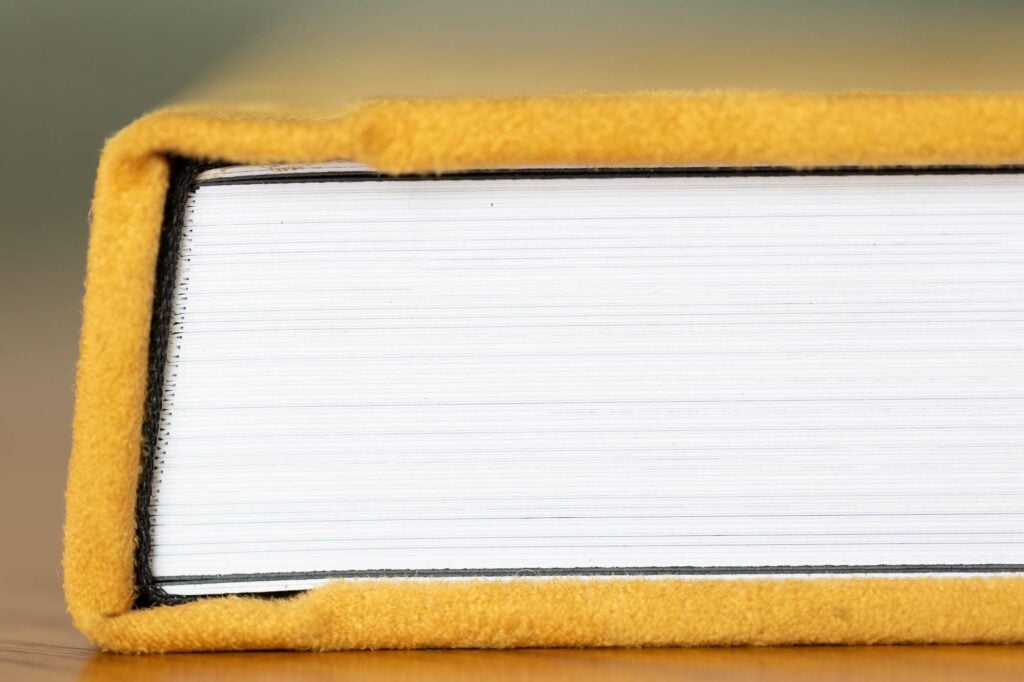 That represents the content of the book, the pages.
In the case of a lay-flat album, each page is glued to each other with a thin cardboard between each.
The lay flat binding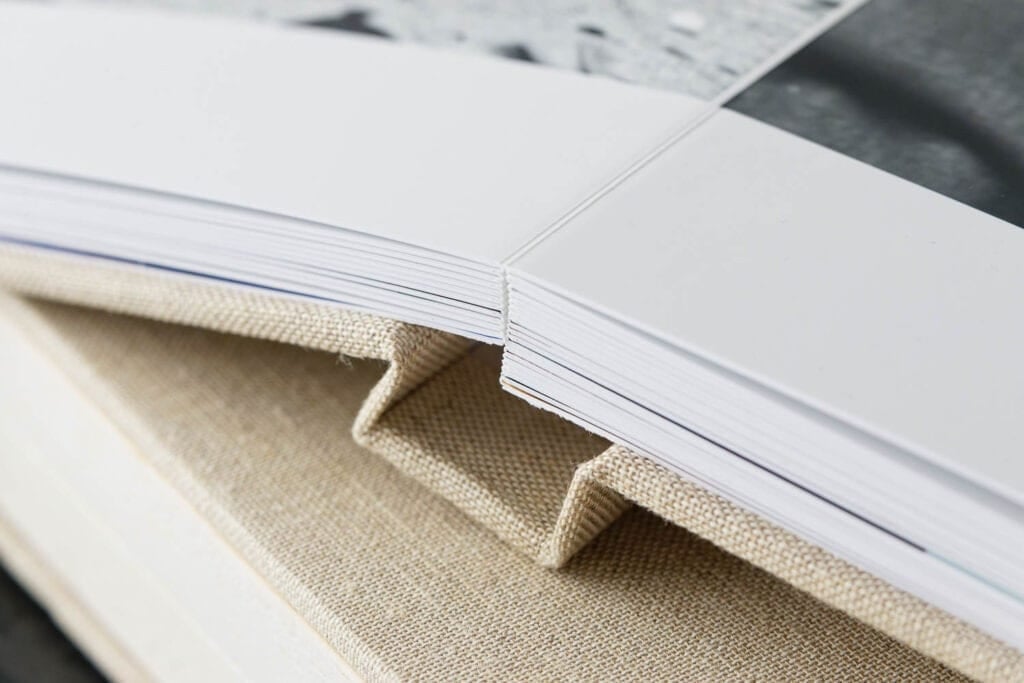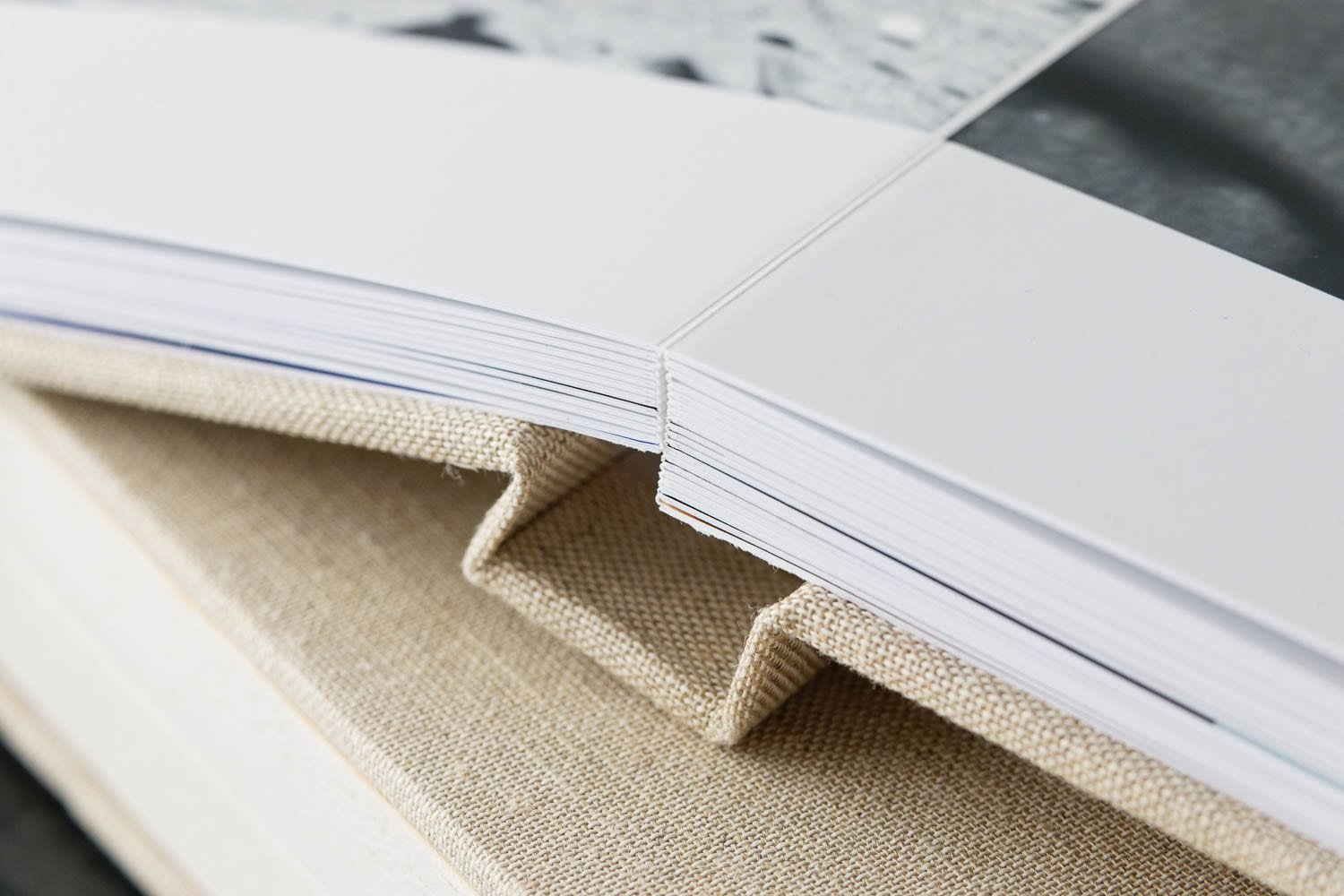 Because most of the books can totally open flat with a continuous image spreading on both pages, Photolabs have developed an amazing new binding called lay-flat binding.
This technique reminds us of the concept of end pages that attach the book's cover and the text block.
First, let's remember that the best lay-flat photo book will have the back of each photo sheet mounted on a thin cardboard. But this card board is not attached to anything else and moves independently, in opposition to a book where it would be bound into a signature or other binding method.
Cheap lay flat photobook would use any cardboard, and will have each page attached to each other.
So, the main idea of a lay-flat binding, is that, instead of having all the pages sewn, or staples, or glue all together to the spin, they are individually attached to each other by the crease. Each spread's crease is the physical part that bound the two pages (respectively left and right). In other words, each photo-sheet is part of the binding.
Or put it in another way, the sturdiest of the photobook will depend on the quality of the photo paper used.
What are the different kinds of photo paper used for lay flat photo-books, and how is that important?
A lay-flat photo-book can be printed in a lot of different papers, using a lot of different printing technology, with each different quality. And that's where things become complicated.
First, let's remain the purpose of a wedding album (given we are photographers and that is the type of album that matters the most to us).
In the best scenario of a happy family, the photo-book would be open and read quite often. At least once a year for the wedding anniversary! And much or often, in 40 years, when the grandkids will want to know more about their family history.
So, a wedding photo-book is something that is made to be manipulated: touched by "dirty" fingers (acidity), and receives tension on the pages. It must be something strong to resist all those aggression.
So, let's see here which are the different type of printing technology used, and how that would impact the durability of the album.
Inkjet
Today Inkjet paper is heavily used to print photo books. Papers are made of fibers that would absorb tiny drops of inks. If the Inkjet printers you have at home use 4 colors (CMYK: Cyan, Magenta, Yellow, Black), professional ones can use up to 12 different cartridges. As a result they give extremely vibrant colors to the pages.
Ink pigments are often marketed to last forever (which is probably true). Inkjet Photo paper is often marketed to be archival quality, which means they will last 100 years in a museum environment. But most of the homes don't have a museum environment. As a result the pages, made of fiber, will tend to absorb the moisture in the air and the molecules in it, and it might turn yellow in a few decades.
Pro:
Vibrant color
large choice of papers for different aspects (mat, glossy, etc.) and texture.
Cons:
paper made in fiber so it can be damaged by continuous movements
paper tend to absorb liquid (would turn yellow in a few years)
paper is not protected from dirt on finger prints, so colors might react
dirt cannot be cleaned on paper
ink at the surface of the paper makes it sensitive to scratching
Regular Paper used for Offset & Indigo & Laser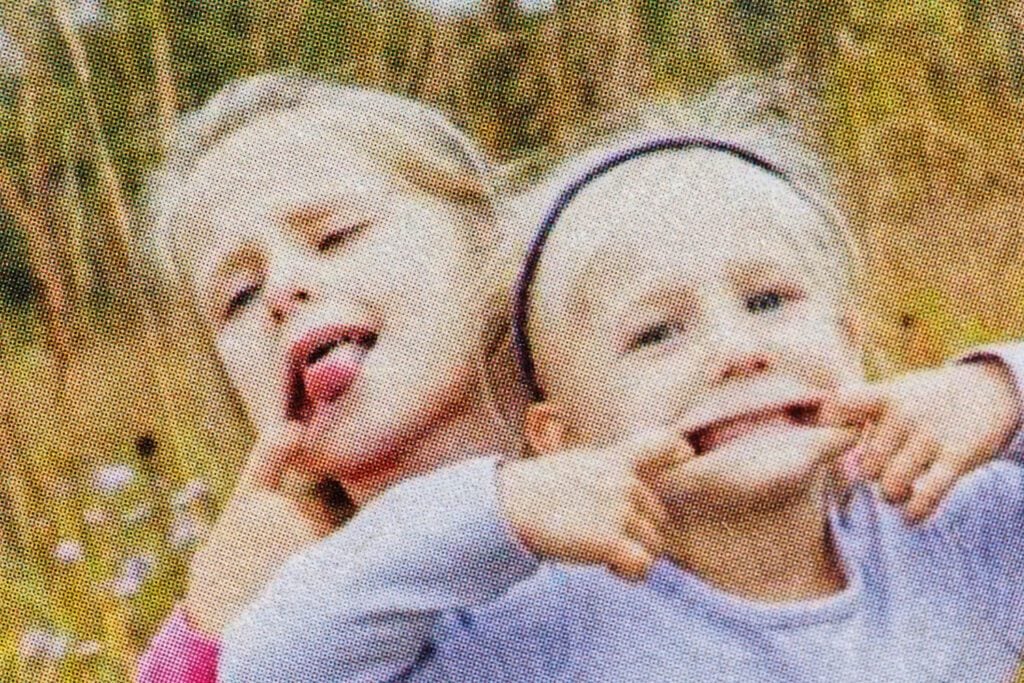 Both of those printing techniques use regular (cheap) papers.
Offset printing and Indigo printing are quite similar to the way that several liquid ink is applied several times.
Offset
Offset uses plates (that need to be created for each image), which passes to a bath of liquid ink, and then transferred the ink on a rubber blanket (the ink if offset), and then the rubber applies the ink on the surface. This process makes it pretty expensive, so it's reserved for mass production.
Indigo
Indigo also uses liquid ink, but instead of plates, a toner is used to attract the ink on the printing surface.
Heat or UV are then used to dry or cured ink.
Laser
Laser uses a dry powder for ink. Then a laser beam electrostatically charges and melts this ink to transfer it on the surface.
Those 3 techniques produce very sharp results, but nuances in tones are poor. That makes them great for photos that need a lot of detail (such as architecture), but not for skin.
What's more, the ink being at the surface of a media which is made to absorb liquid, make this technique not suitable for wedding photo-books.
Pro:
Sharpe images
Cheap cost of production
Cons:
Poor nuance in the tones (not suitable for skin tones)
paper made in fiber so it can be damaged by continuous movements
paper tend to absorb liquid (would turn yellow in a few years)
paper is not protected from dirt on finger prints, so colors might react
dirt cannot be cleaned on paper
ink at the surface of the paper is sensitive to scratch.
Dye-Sublimation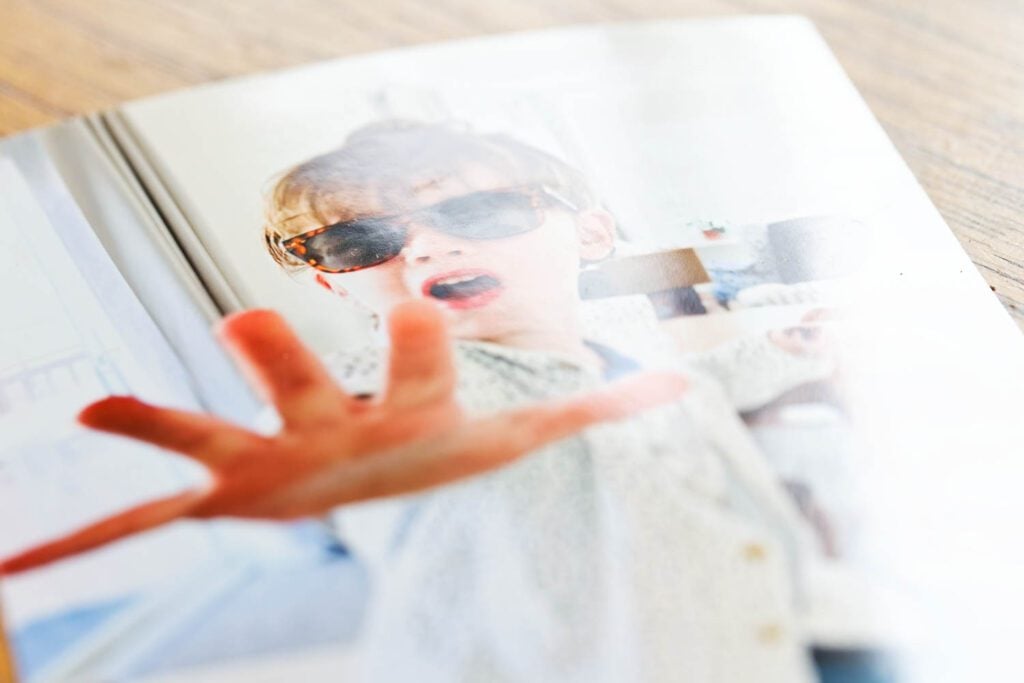 Dye-Sublimation is slightly different from the 3 previous techniques, but has some advantages due to the kind of paper and ink used.
An electromagnetic system will melt the ink on the surface of the paper. When melting the ink goes from solid to gas to transfer into the surface of the meida. The surface then becomes mostly permeable.
The media is composed of plastic elements.
Pro:
Sharpe images
Mostly permeable
Mostly moisture resistant
Cons:
papers tend to absorb
ink is heat-sensitive
paper is not protected from dirt on finger prints, so colors might react
ink at the surface of the paper is sensitive to scratch
ink at the surface might result of fading color in the future
Silver Halide (RC paper)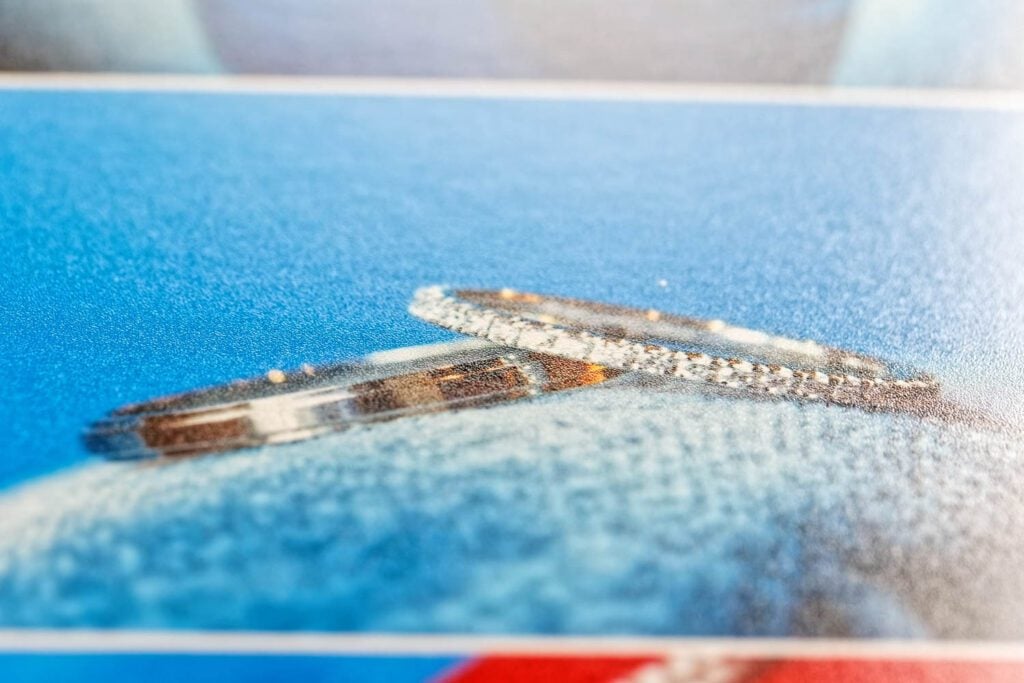 Finally, we kept the best for the end, the RC paper used by the traditional Silver Halide printing.
RC paper is composed of 5 layers. A first layer of plastic, then 3 layers of chemical products (silver halide crystals) that are photosensitive and who would each one react to colors, and then a 5th layer of plastic.
The photo paper is exposed to the image (traditionally a negative film), and is then developed into several baths where each color is revealed. The last bath washes away all the emulsion that has not reacted, resulting in a stabilized product.
Pro:
Perfect in the tones nuances
Sharp images at an atomic level
Moisture resistant
Dirt can be cleaned
Scratch resistant
Stabilized images that would not turn yellow in the future
Resistant to manipulation (thanks to the 2 layers of plastic).
Cons:
Despite a high definition, it exists higher definition printers
Saturated tones are not as saturated as pigments from inkjet printing
Conclusion: which is the better photo-paper for a wedding lay-flat photo album?
In conclusion of this part, we believe that the best photo paper is the one offering great colors, sharp images, and durability when the album is manipulated. Thus we decided to choose the RC photo-paper as the best media to use for a lay-flat album.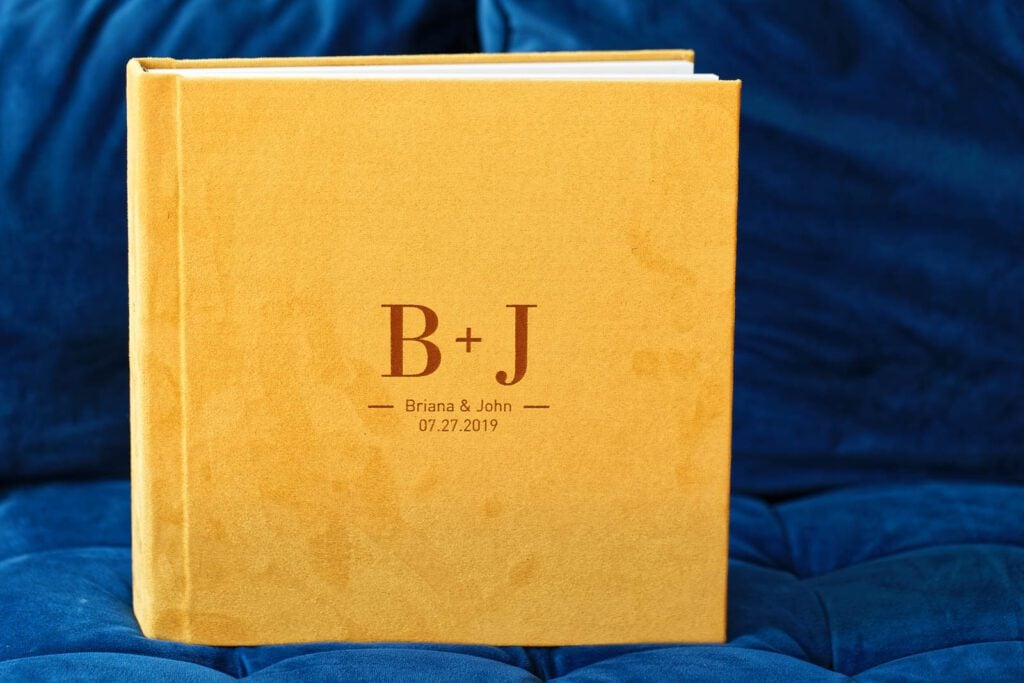 Other questions and Consideration around the lay-flat photo-book
What is the difference between a lay flat photo book and a standard photo-book?
A standard photo book uses a different binding technology than a lay-flat album, as a result it cannot lie flat. That creates a pretty deep crease that does not allow images to spread on both pages. The layout of those albums would be different with often a white space left at the crease.
How does the lay flat design of a photo book improve the viewing experience?
Being able to print one unique big image on both the pages creates an improvement on the appreciation of the images.
If multiple images are printed into a layout that allows printing those images bigger. Thus it creates one unity across both the pages. The final result is modern.
Are all lay flat photo-books custom-made, and what design options are available?
Yes and No.
Top lay flat photo books with custom covers are handcrafted by craftsmen. They require a long and precise process to be built, which explains their price. There are multiple design options, such as the cover and the gilding.
Cheat internet-quality lay-flat albums are not always handcrafted and offer fewer options for personalization.
Can I add additional pages to my lay flat photo book, and at what cost?
Yes, it's totally doable. Most of our albums can be upgraded up to 80 pages. The cast would vary depending on the album size, but estimate something like $10-$15 per spread.
Does a lay flat photo book come with a dust jacket cover or with a box?
All our wedding lay flat albums come with a box to protect them from the moisture, and chemical components in the air. A dust jacket is usually reserved for cheap albums.
What is the optimal number of photos to include in a lay flat photo book?
For a 40-page photo book, we recommend 120 images (3 images per page).
That being said, some people would prefer an art book layout and print only one big image per page.
Can I include foil details on my lay flat photo book, and what colors are available?
Yes, some covers such as leather can be upgraded with embossing with foil. Gold, silver are available.
What is the average shipping time for a lay flat photo book?
Your beautiful album is delivered at maximum 2 month after the order.
What is the most popular wedding album size?
We love and recommend the 12×12 inches wedding album, that is large without being too big, and can still be easily manipulated.