How do professional photographers print their pictures
We will see in this article how professional photographers print their pictures depending on what kind of print they need. Do all photographers print their pictures themselves, if so, how do they achieve that? Or do they use a photographic laboratory, or even do they print on-line?
At the end of this article you will understand how do professional photographers make their photos look so good.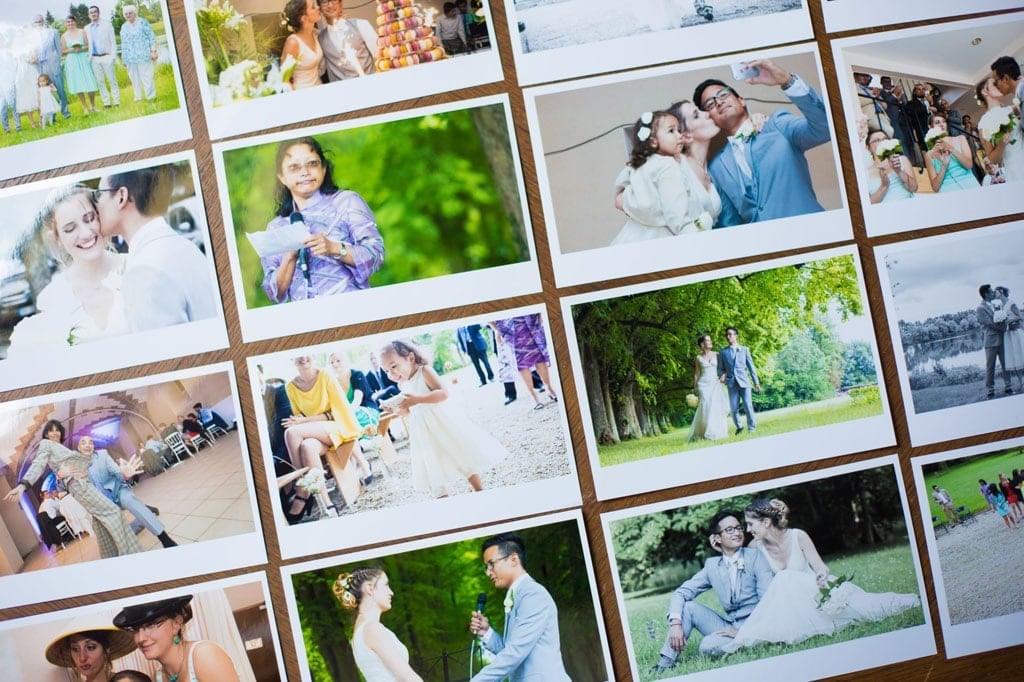 How Professional Photographers Print Their Pictures
Each printing technology has its specificities. Therefore photographers use different kinds of printers and paper depending on their needs. So let's start with a small list of what we are commonly printing:
Wedding Album for clients
Small Prints for clients and personal use
Fine art Prints for client
Booklet and flyers to promote our work
Wedding Album for clients
For our client's albums, we use a professional printing service: photographic laboratory.
Indeed, we need a strong solid paper that will resist the time (scratch, tears, dirt and acidity on the fingers). The longevity of our albums is very important for us. Therefore we need them to be printed on real photo paper (the RC color photographic paper, for Resin Coated). This kind of technology requires huge photographic printers that only a photographic lab can handle.
Small Prints for clients and personal use
When clients (or even us) need some small prints (4×6 inch, 5×7 inch), there are two solutions.
We sometimes order on-line photo printing in some photographic labs that use high-quality photo paper.
When we are in a hurry (for instance when clients need ID prints) we use our Dye Sublimation printer. This printer is the same technology we use for our photo-booth. It prints on glossy photo paper and mat photo paper.
That said, we give an image in High Definition, so we don't sell photography prints often.
Fine art Prints for Client or Exhibition
Photographers do large prints for their show, or when they sell framed photo prints for couples to hang in their home.
Here, several scenarios. Some time, inkjet technology is used, with archival paper, and printed on fire art photography paper: Hahnemühle, Epson, Canson, Ilford or Moab. Those have nice surface texture, reproduce a wide color gamut with color accuracy.
Usually when we print fine art pictures (such as Landscape photography or Artistic photography), we produce limited edition prints that are signed and numbered.
Metal Prints, Dibond, American Box, Canvas and Acrylic
If professional photographers could handle fine art print themselves with large format tracer photo printers, it's impossible when these prints are mounted on support.
For instance, metal prints, such as prints mounted on aluminum, Dibond, canvas, acrylic, or showcase in a beautiful American Box, require not only a machine, but expertise from a photographic lab.
Framed photo prints
For standard size framed photos, I guess there is not one right answer. Some makers would buy frames in a shop, print their image. Other photographers would use the lab.
That said, as soon as the client wants a specific color, or material, or design for their frame, it would be easier to shop on-line.
Booklet and flyers to promote our work
As professional photographers, we also need to print flyers and booklets.
For those products we need something decent, but not amazing, and fast printing. For that reason, we usually go to our local copy shop who can handle that with matting or glossy paper.
Which Photography Labs Are Chosen by Photographers
If you are wondering where you should print your images, most professional photographers would avoid printing companies servicing for the general public (such Shutterfly, Artifact Uprising, etc.). Instead they will use labs dedicated to professionals which offer better quality.
Printique
Graphistudio
WHCC (White House Custom Color)
Miller's Professional Imaging
ProDPI
Nations Photo Lab
Bay Photo Lab
Mpix
Simply Color Lab
Vision Art Book
Black River Imaging
Finao
RedTree Albums
Renaissance Albums
Zookbinders
Plywerk
Queensberry
Album Epoca
Loxley Colour
QT Albums
Floricolor
If you hesitate to buy your album from your photographer and want to print your own wedding album and you have a professional website, you can contact those photo lab and they would give you their pricing. Be ready to be astonished! Now you understand why wedding albums are so expensive (everything else in between).
How professional photographer prepare their digital images
Because a digital image is nothing more than a table of the number on your hard drive you really need to print your photos.
And from the raw file to the final image, there are many steps to properly process a digital image.
Color management
If you have ordered some prints on-line (or simply watch the same image on different screens), you probably have noticed a difference in the colors. Black points are not the same. A bright image might look dark when printed. An image with vivid color may appear dull and fade once printed.
Keeping the right color from the raw file to the print is called color management. So let's see how photographers handle color management?
Professional Photographic Screen That Has Been Equilibrated
First they buy an expensive screen (first price $1600) providing a large spectrum of colors. Indeed, the cheap screen doesn't show all the colors, which means it's like retouching an image and being blind! You don't see what you do. You can't see the high or dark tones, nor subtle color changes.
The TOP 3 brands for photo monitor to ensure you can see all the colors are:
Not only those screens have a larger gamut of color (high range of color), but they have high resolution to appreciate how Sharp the images are.
Professional Monitor and Calibration
The second thing they do is to calibrate their monitors.
Indeed, all monitors need to be calibrated.  It's like tuning an instrument. But you can't do it yourself adjusting the brightness of your screen. It needs to be done accurately and regularly.
A screen calibration can be done using special sensor such as
X-rite (and their i1Display Pro)
Datacolor with SypderX Pro
Those sensors create an ICC profile (International Color Consortium profile).
This profile contains information about the device's color gamut, white point, color temperature, and other color-related properties. This information allows color management software to accurately translate color values. Therefore devices can ensure consistent color reproduction across different devices and media.
A low light room with constant lightning
If you look at a screen outside of the sun, or in a dark room, you won't experience the same image.
That's why it's better to work in a room that has constant lightning.
If the Sun comes in the morning in the room, then the morning picture might be brighter than the afternoon.
The right Colorimetric Space
The next step of Color management takes place on software!
The colorimetric space (color space) defines the range of color use. It's usually expressed in 3D with three axes RGB (red, green, blue), or CMYK (Cyan, Magenta, Yellow, Black). It's important to choose a color space that will be supported by the printing device!
That's why, when working on software (lightroom, Photoshop, etc.), photographers need to make sure they work the right colorimetric space, and choose the right color mode!
Color Correction and other Retouch in Lightroom, Photoshop, DXO Lab, etc.
Now that the photographer has all the equipment finely set-up, it's time to "really" get your hands dirty and color correct images.
Indeed, raw files coming out of the camera are a bit "soft" and need some fine-tuning. To do that, there are a lot of options on the software market such as Adobe lightroom, Adobe Photoshop, DXO Photo Lab, Affinity Photo or Gimp (open source), just to name a few.
So, photographers adjust with white balance, the exposure, the black and white points, high tones, saturation, etc.
It's also the time for artists to increase the quality of the image with retouching.
Soft proofing Regarding which option of paper you choose
Now that digital image looks great, it's time to have it printed.
Unfortunately, there are a few other steps to ensure we will keep the same colors! Indeed, what a shame is you retouch an amazing landscape photograph with a perfect blue sky, and it's printed completely cyan.
That can happen depending on the paper you choose. Indeed, some papers would absorb more or less ink, or reflect lighter, etc. Each photo paper is different. It's not just about mat paper, glossy paper or luster paper. It's about the brand, type of ink, etc.
Luckily, software engineers have developed solutions called softly proofing. The idea is that you tell the software which kinds of printing devices and paper you are using, and the software would adjust the color accordingly.
The right printing equipment
Before you buy the most expensive machine for your studio, here is a consideration.
There are a large variety of options on the marker for print devices. Most of them would now print in high resolution (dpi), which is important, because the higher dpi you have it increases the sharpness of the image.
Where they are different is they don't support the same size of paper, nor the same number of color cartridges. And that last, dear, can be pretty expensive!
A Studio Inkjet Printer Calibrated
Now, the last step is to prepare your printer so it can create the best prints (called Giclée, from Gicleur in French, which means inkjet print). Of course, professional photographers would use the authentic ink cartridge, and not some cheap second market one.
The last step is to use a spectrophotometer to analyze a standard inkjet printing (a printed color chart). The tool will create a color profile for your printer! It will adjust how much ink of cyan, Magenta, Yellow the printer will deliver to have the best result.
And voilà! The process is over, you know what do photographers use to print their photos. You can now handle the entire color management chain like pro.
With this proper workflow, anyone should be able to print an image in the best way possible. It's now up to you to decide if you want to do it yourself, and want to use lab services.