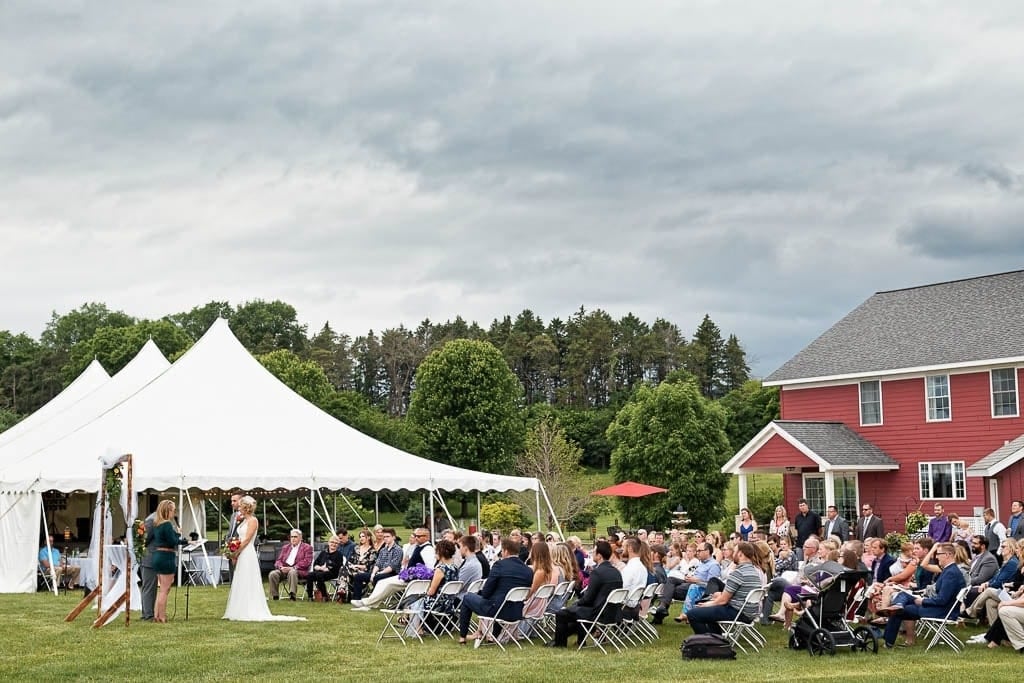 Megan and Chris's Rainy Outdoor wedding in Minnesota
Megan and Chris meet a few years ago, fall in love. Short after they lived together, adopted a dog, and he finally made his proposal. Several months after their engagement session, they had their outdoor wedding taking place in Rushford.
Despite a storm invited itself to the party, you will see in the photos it was not dramatic.
Megan and Chris wanted to take advantage of beautiful views offered by the Magelssen Bluff Park, and to use their parents' home as a substantial home base.
For this purpose, they decided to "statically" not taken risks, and hosting their ceremony and celebration on a date which is supposed to be one of the best months to get married near Minneapolis: the month of June.
Unfortunately, the weather was not really the one expected! Nevertheless, that didn't impact the party's spirit, and it actually turned out to be a great wedding! So let's dive into this special day first. And let's take advantage of this wedding to discover how not to have your dreamed day ruined by a few drops.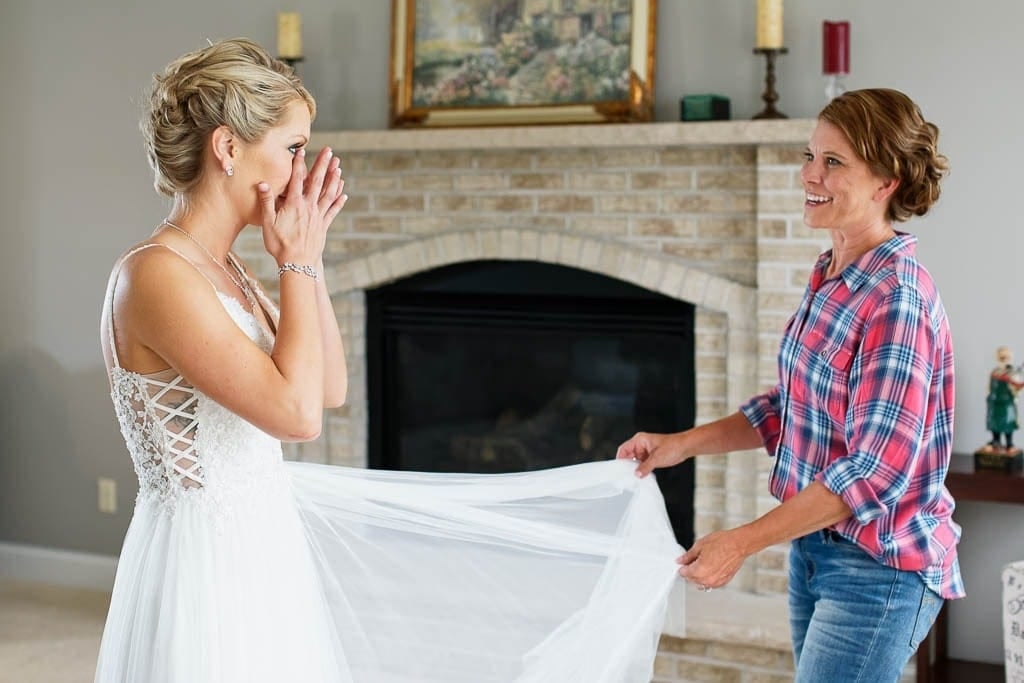 A wedding is more than just a ceremony, its collection of small events that linger in our memories.
Like 99% of couples who are looking for a talented photographer in the Twin Cities area, Megan and Chris cherish real moments, a real connection between people they love.
As a result, they wanted more than stereotyped wedding pictures! They envisioned this event as a family gathering and wished their story capture into photos that would create a book.
Their day was rich in unexpected events!
Actually, you can see all the anecdotic moments that made this big day so singular. You can feel the stress, the doubt, and sometime the anxiety on their face regarding the weather and how to deal with it. But, all in all, and despite the bad weather, you can mostly fell joy, happiness, and witness cheerful moments with their friends and family members.
That's the magic of love. If you have the good persons, anything could happen, it will remain a success.

A Romantic Couple
Megan is mysterious and Chris, like most of the guys in the Twin Cities,  doesn't speak much with the photographer, because he was obviously pretty excited to celebrate with his friends.
Nevertheless, I could see they are a romantic couple, taking care of each other. Chris made the effort to have a French photographer around him all the time. During the preparations, they both worried about each other.
And that's pretty sweet to photography. I like the way he takes care of her, the way she has a smile in his eyes when she's with him.
There is a large variety of picture I asked him in subtile variation to be the gentleman and to protect her. The result is those stunning images.
Check at the excitement when they have just been introduced as a husband and wife!
The Magelssen Bluff Park, a Source of Inspiration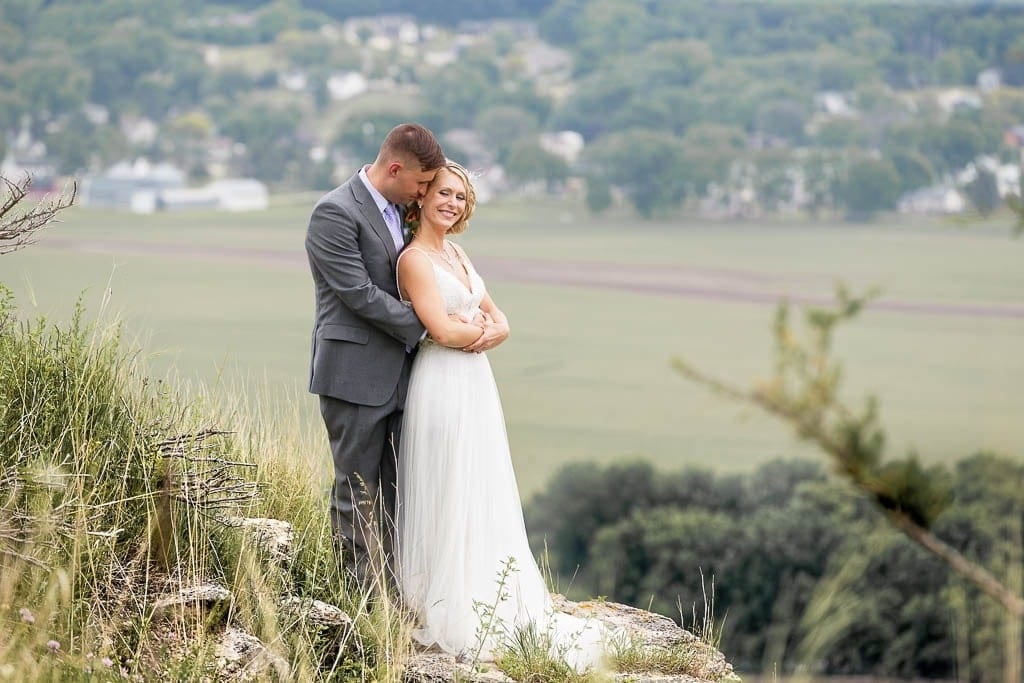 Nestled on the top of a hill, the Magelssen Bluff offer a breathtaking panoramic view on Rushford, MN. We could even see Megan's parents and grandparents' house area, where took place their private reception. It was at a couple of hundred feet away (5 minutes driving).
Megan used to come here to play when they were a kid, and having her outdoor wedding on the Bluff was a dream. This bluff was special for her.
They had even designed an arch decorated with flowers.
Unfortunately, the forecast was pretty bad predicting a storm in the area from the morning to the afternoon. As a result, the bride and the groom decided not to take any risk, and used their Plan B: their parent's garden.
The rainfalls were late. Therefore, we take this opportunity to climb on the bluff and do some family and some amazing couple session pictures.
A special Backyard and some rentals were the perfect Plan B for family gatherings
Whereas they prayed for a blue sky, the forecast didn't go into this direction. Megan and Chris had thought to this option, and decided to rent a huge tent in their garden. I don't know exactly how many square feet, but the tent was large enough to handle all the entire event, the caterer, and even a music band!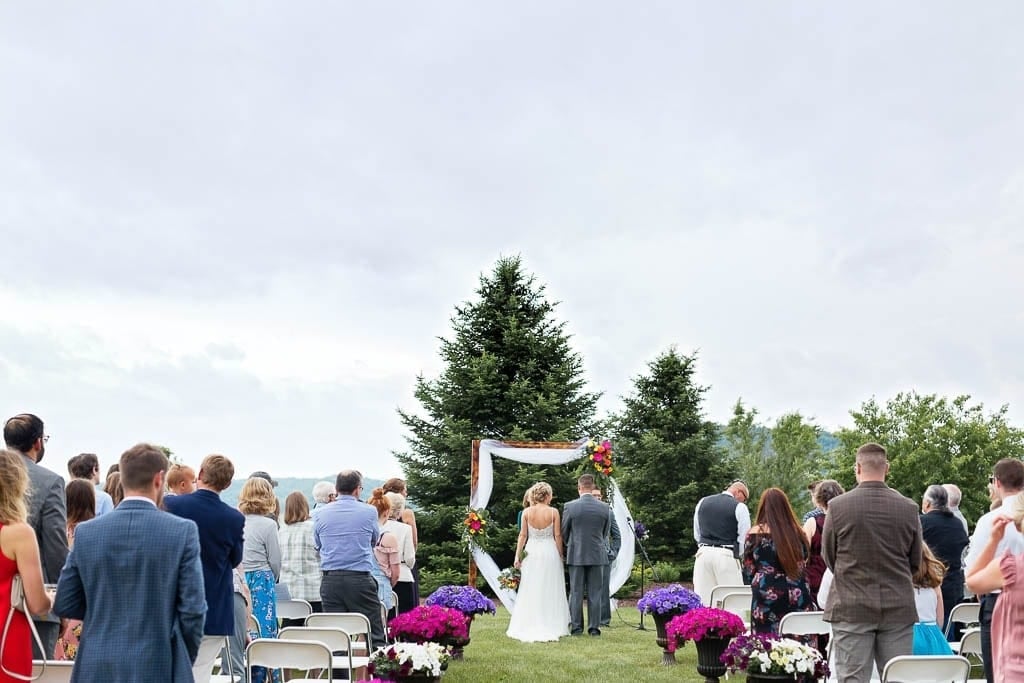 A Bet With Mother Nature
Planning an outdoor wedding is taking the risk of bad weather. Megan and Chris knew that. They took a (controlled) risk and lost. As Chris told me, "We take a chance, we lost, it's life."
If you are lucky you will, of course, be able to enjoy the landscape and you will probably save some money (indeed, tent cost a lot).
The problem with the state of the "Étoile du nord" is that forecast is pretty bad, and you can't be 100% sure of the weather before the D-Day.
What's more, thanks to global warming, static less and less accurate. Indeed, the safer months of the year were June July and August. Today September and October could be good months too! it depends on the year!
Trust or not trust forecast?
Actually, the forecasts acted like a roller coaster. It's constantly changing your expectation. For instance, the night before the wedding forecast predicts a 90% chance of rain. But during the morning, the chance dropped to 40%. In doubt, they decided not to use the bluff: it was too risky to evacuate 150 persons in an emergency!
It Could Have Been Worst
Finally, we didn't have any drop of water until they exchanged their rings! They faced massive gray clouds and strong winds. Luckily, the tent they rented was strong enough!
Actually, they can consider being pretty lucky, because there was some storm, with thunder and flooding couple of miles away!
So, in a way, it could be considered as a blessing!
What to consider when planning an outdoor wedding ?
If you have already organized some event, you know that you need more than a land and a roof in case of bad weather.
This a short list of what you will need to think about:
At least two chemical toilets (it's usually recommended one for 20 people)
a lighting system so you can see during the evening and the night. Candles could be a romantic option.
An audio system for the ritual and for the dance
a perfectly flat space for the dance floor, in order that nobody wrest his ankle (a wood floor is recommended)
a powerful and reliable electric generator: make sure you won't get in the dark when all the equipment needs power during the reception
a heating system in case of cold temperature
several blankets, plaids, umbrellas, shawls and towels
fans, water bottles, sun cream, hats, for your guest if it's a hot day (it could sometimes be hot and stormy consecutively!)
Some room for the caterer (A buffet is probably the easiest option but also requires space to be set up)
windproof everything: decoration, hairstyle, flowers, dresses ,
some mosquitos spray (especially if you are near a private lake)
Some parking solutions were cars won't get stuck in the mud.
Having Megan's parents' house was also a great advantage. Indeed, it gives access to a warm bathroom for the one in need, and also provides all kinds of things for kids and babies.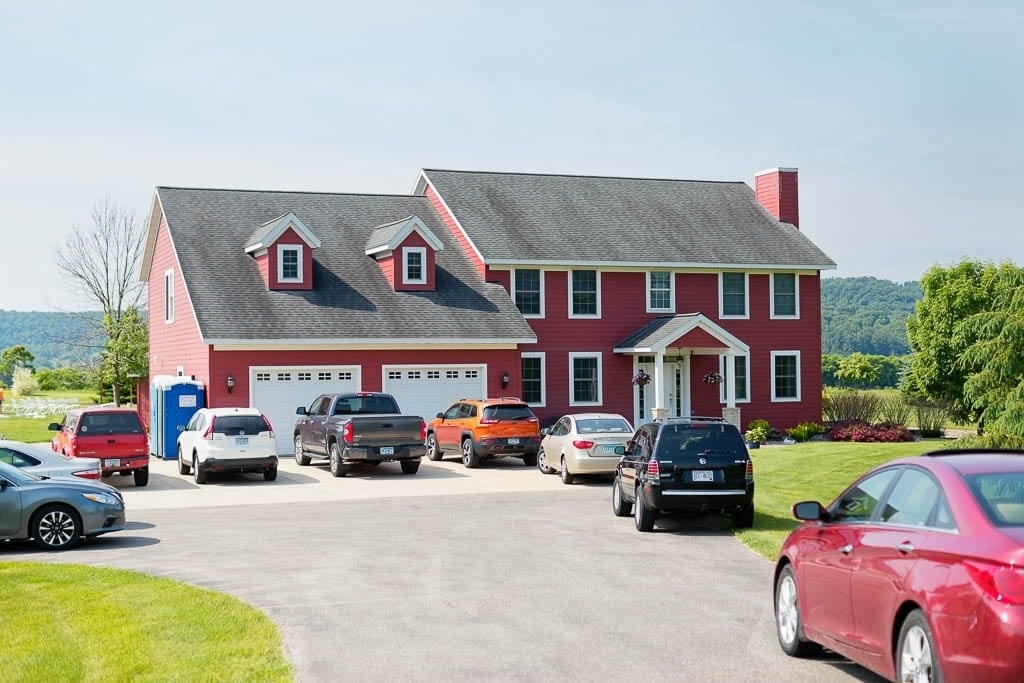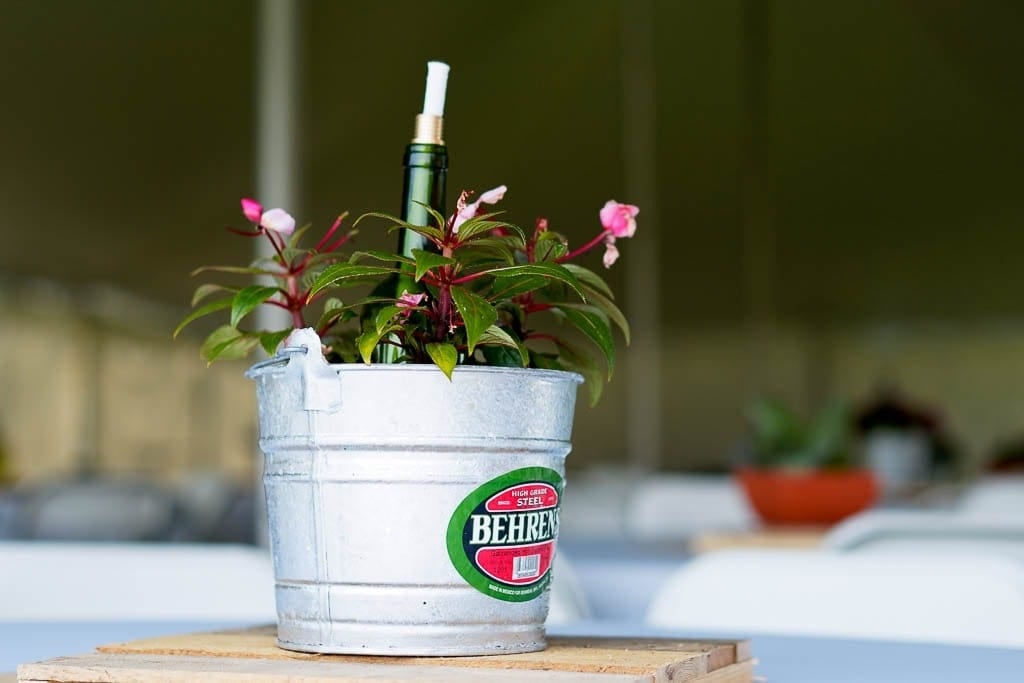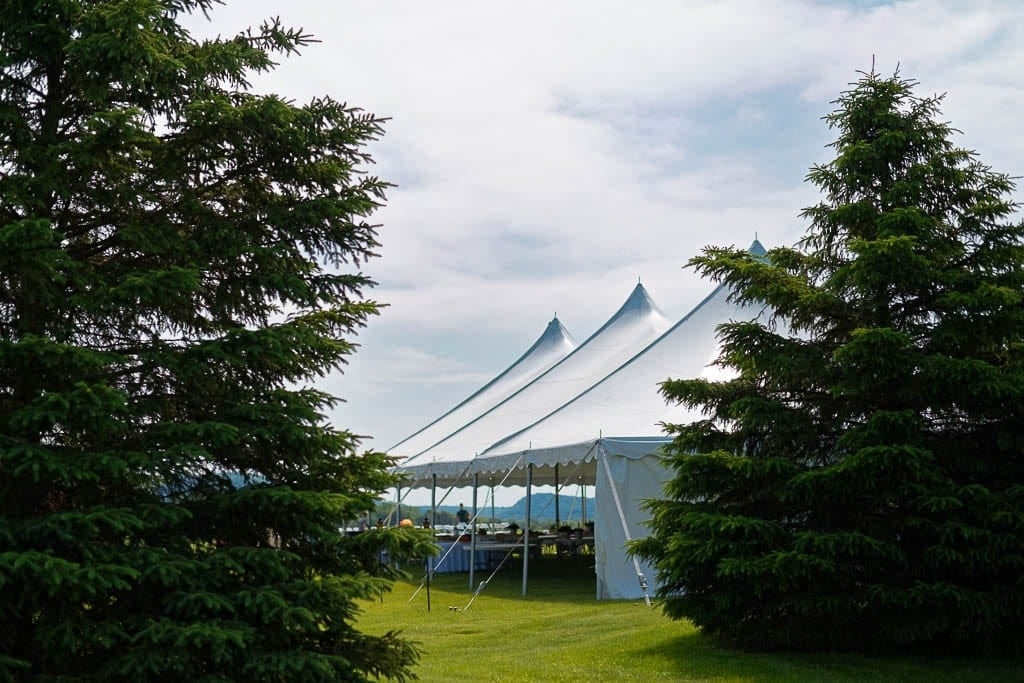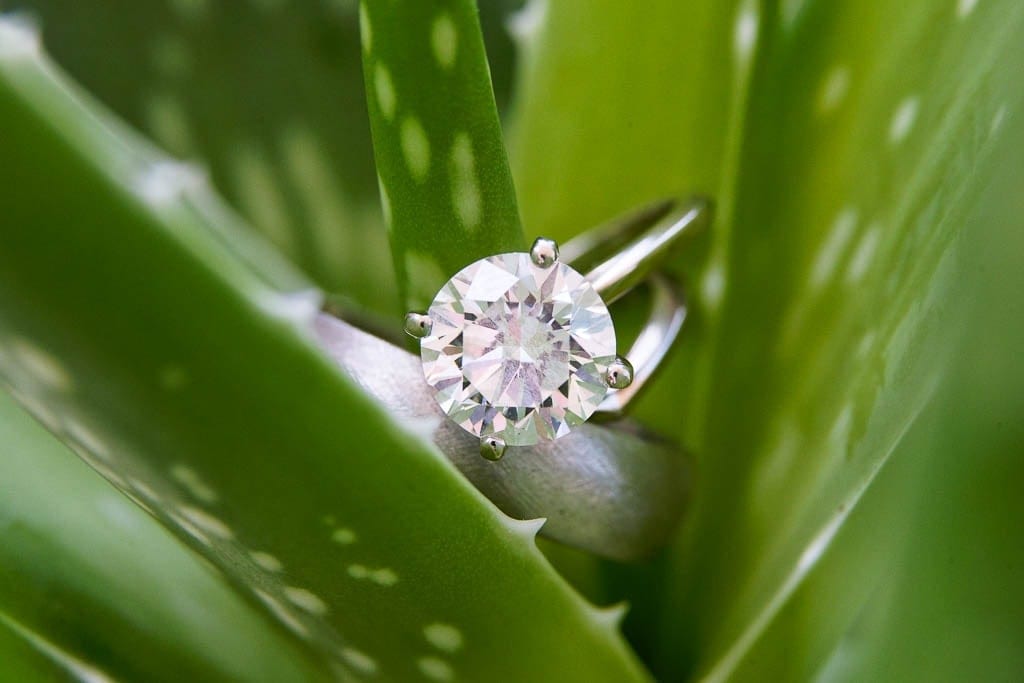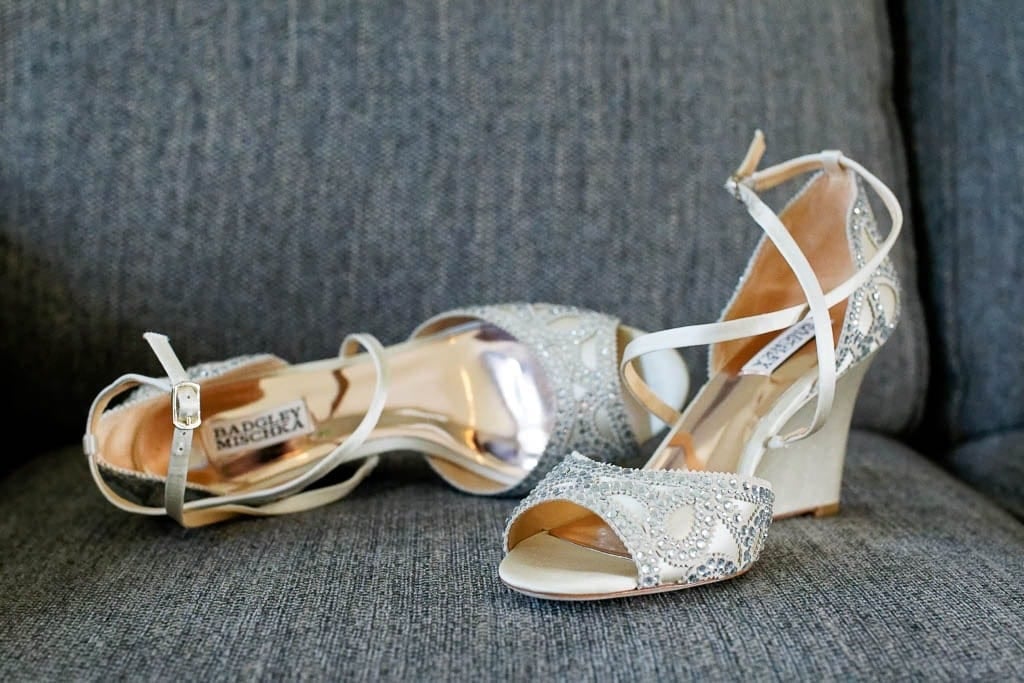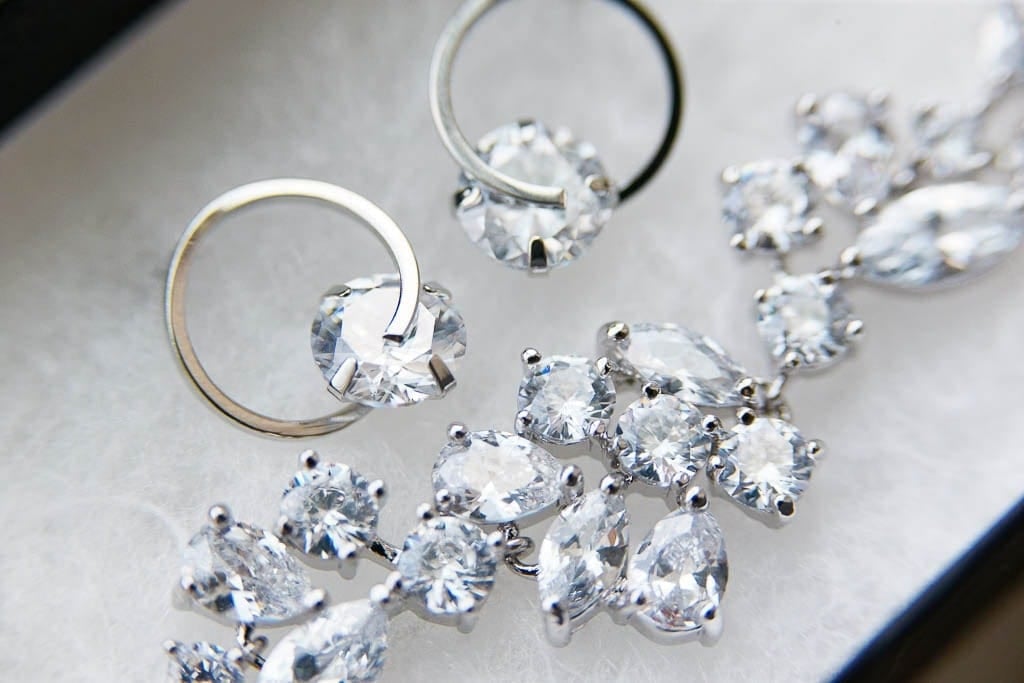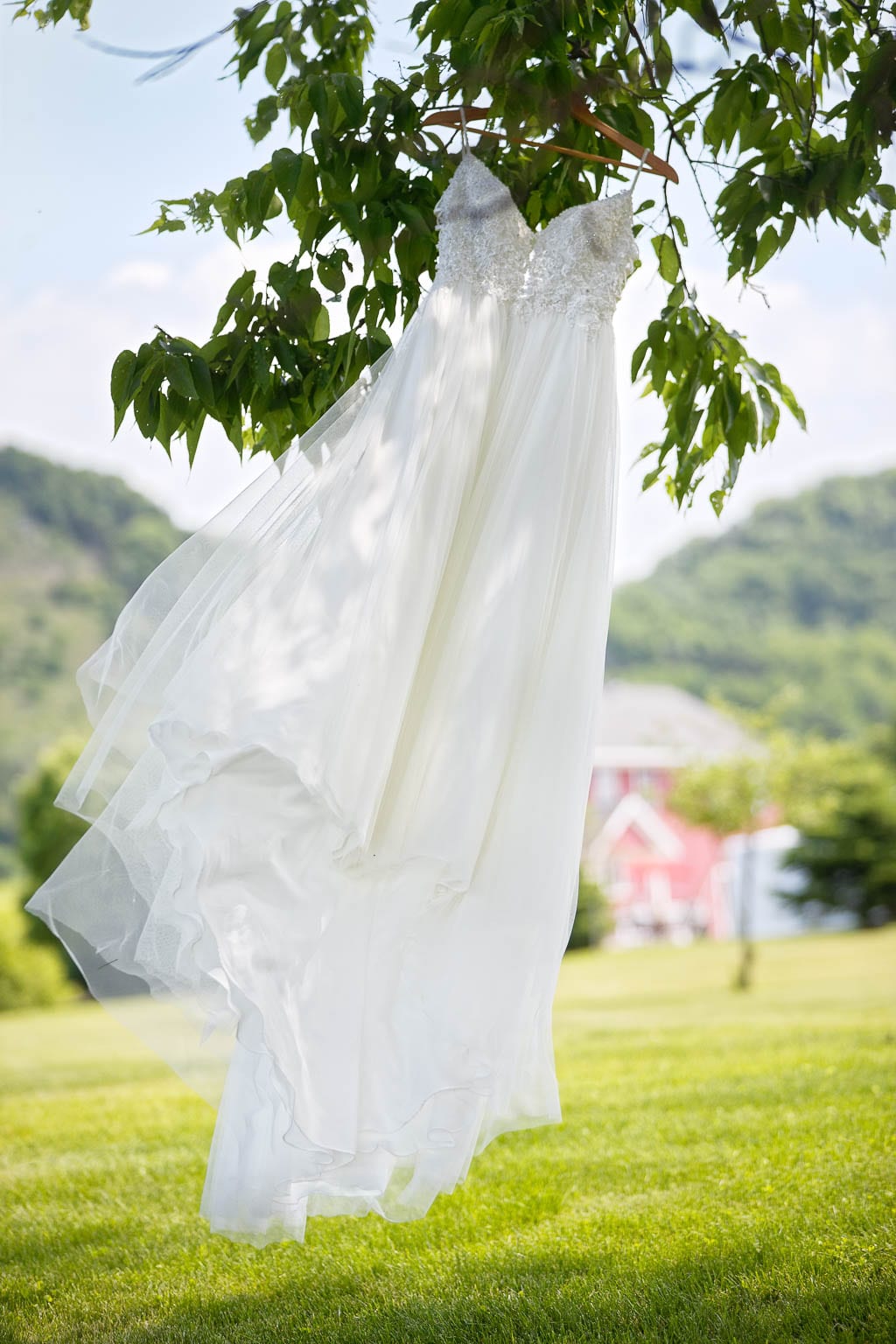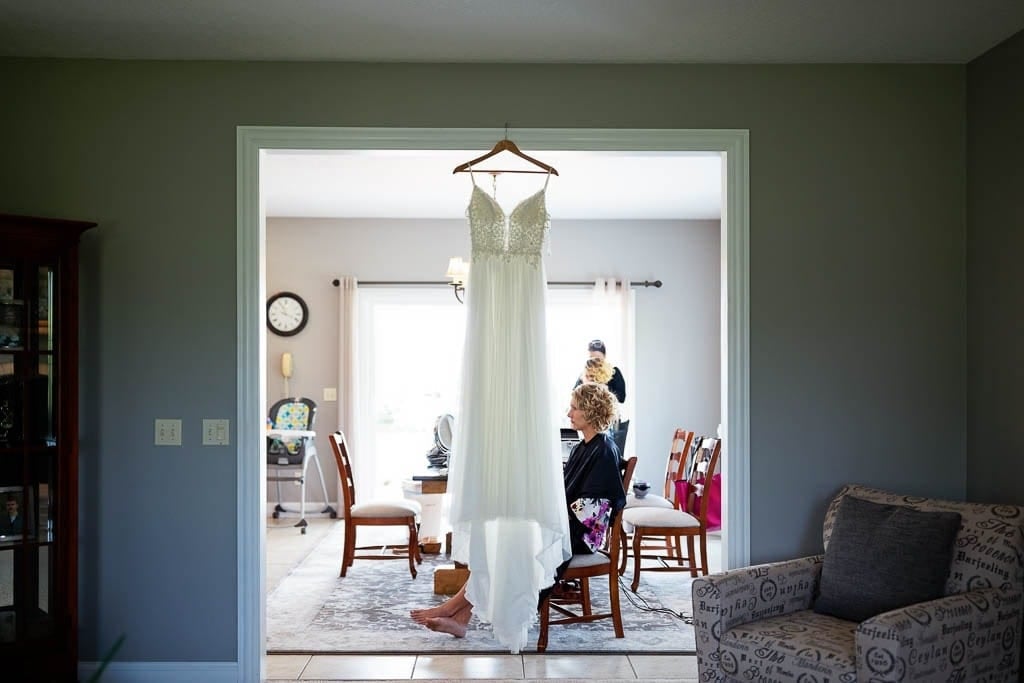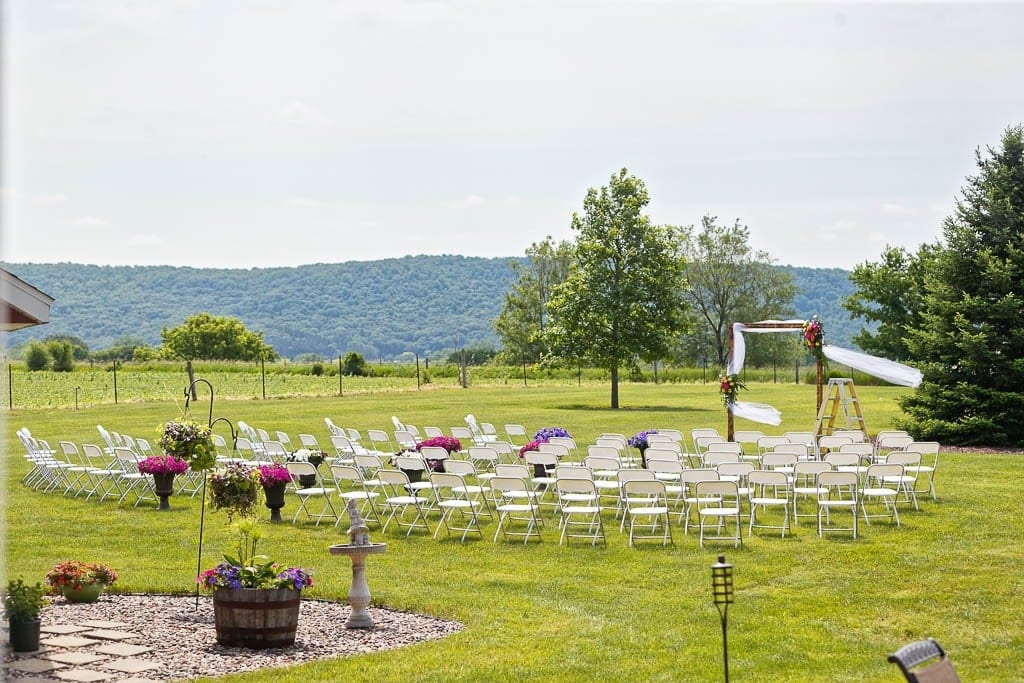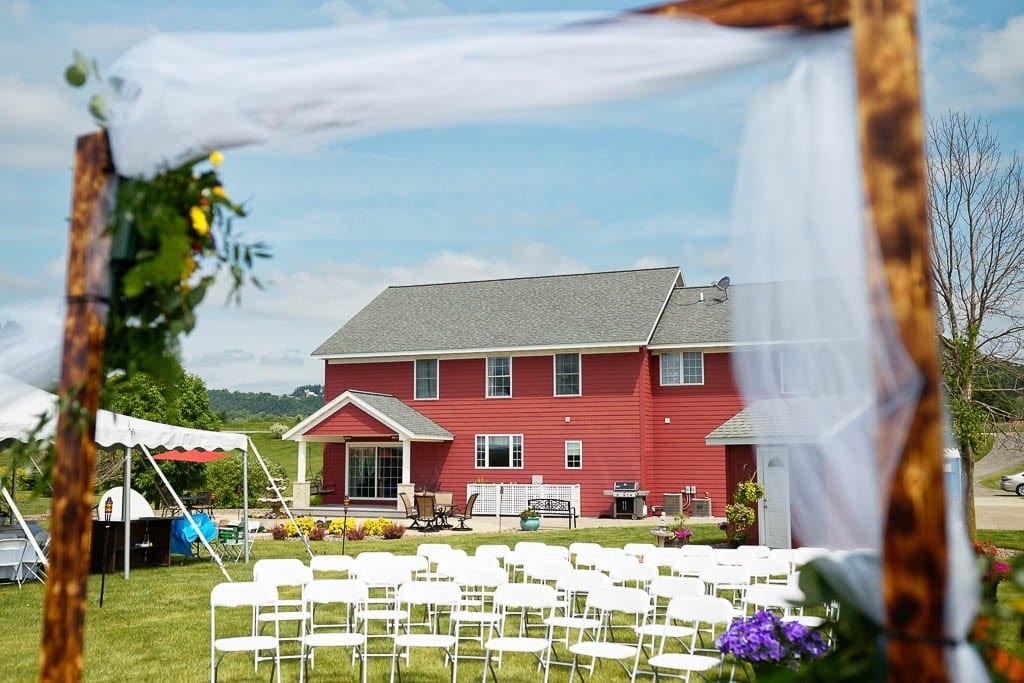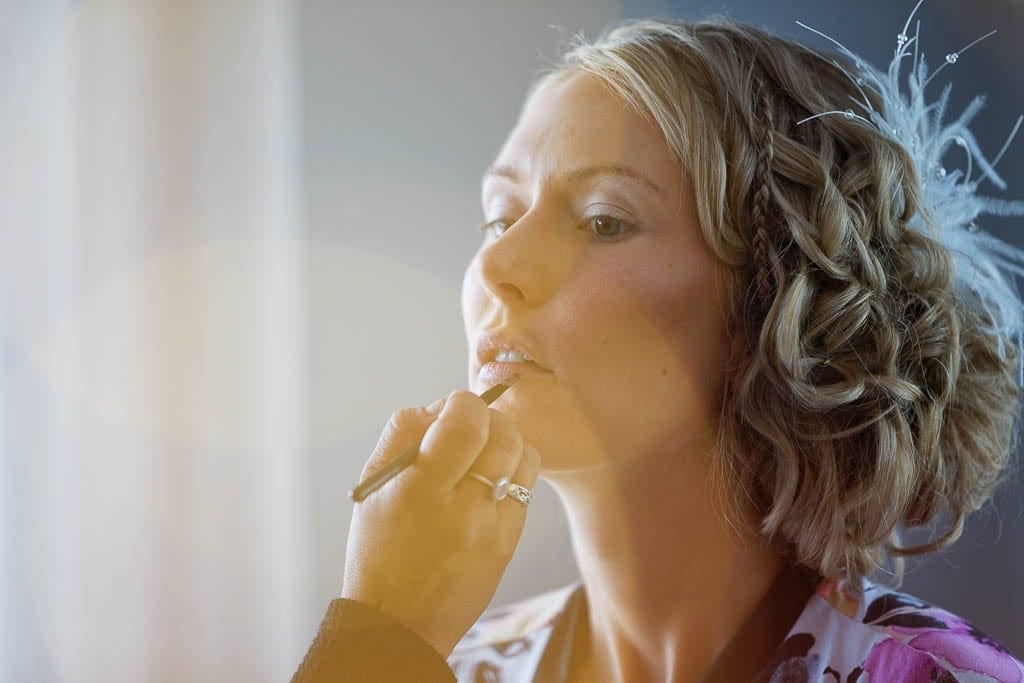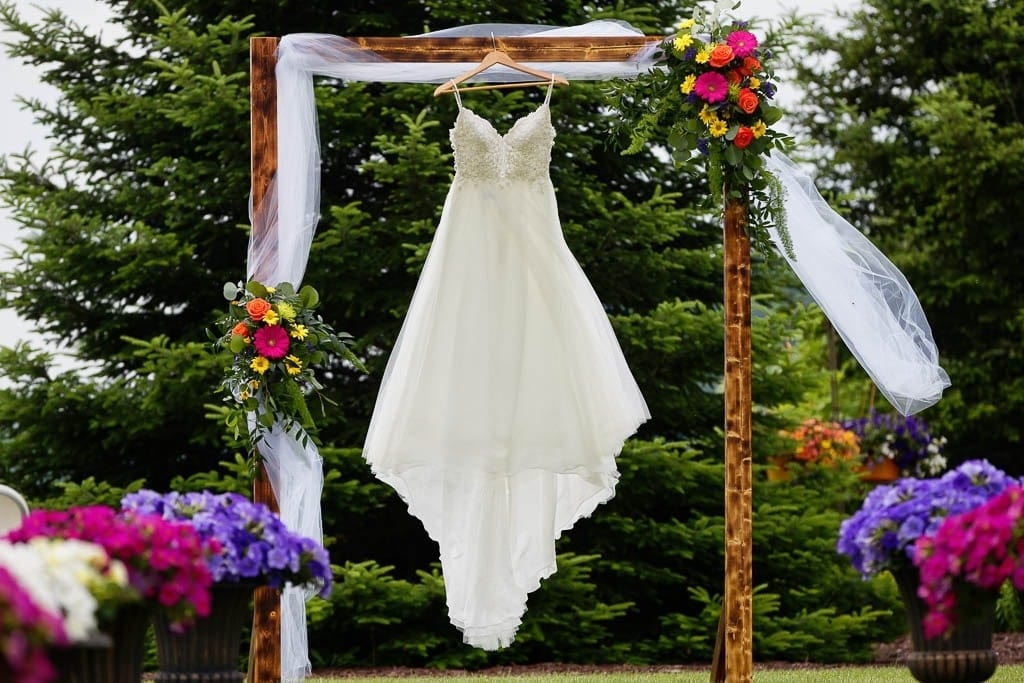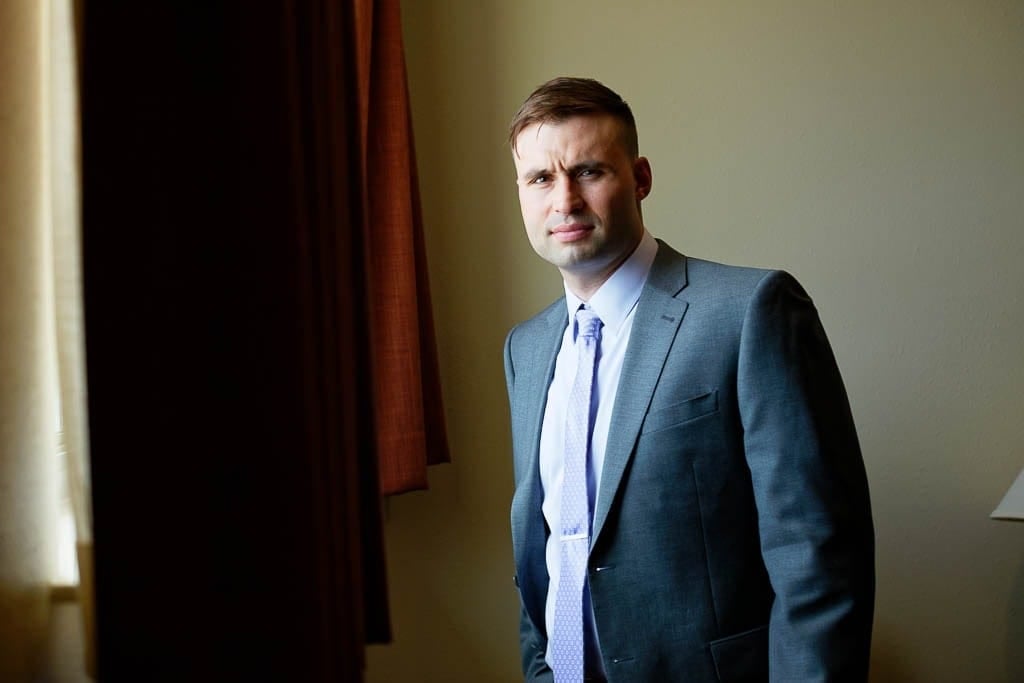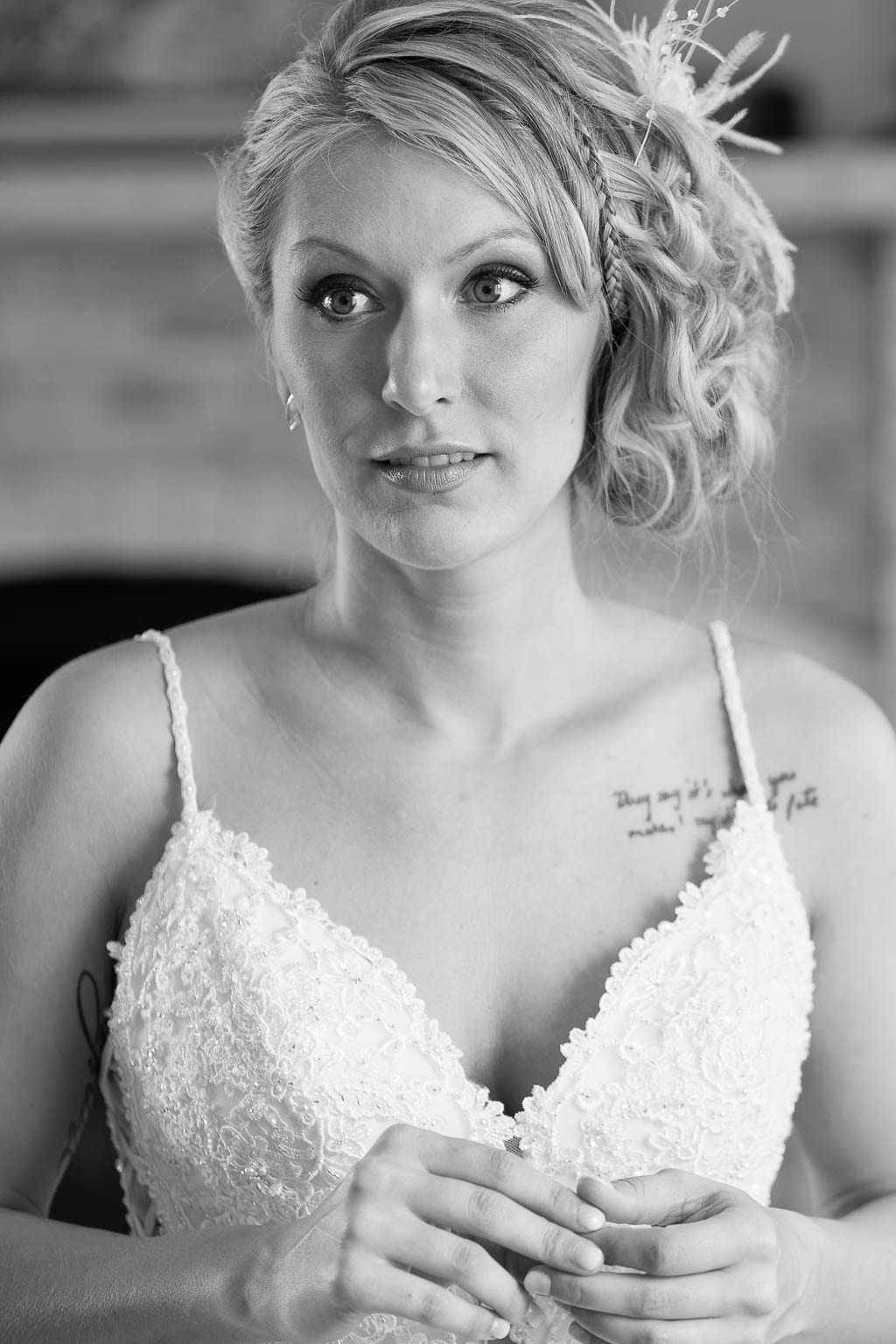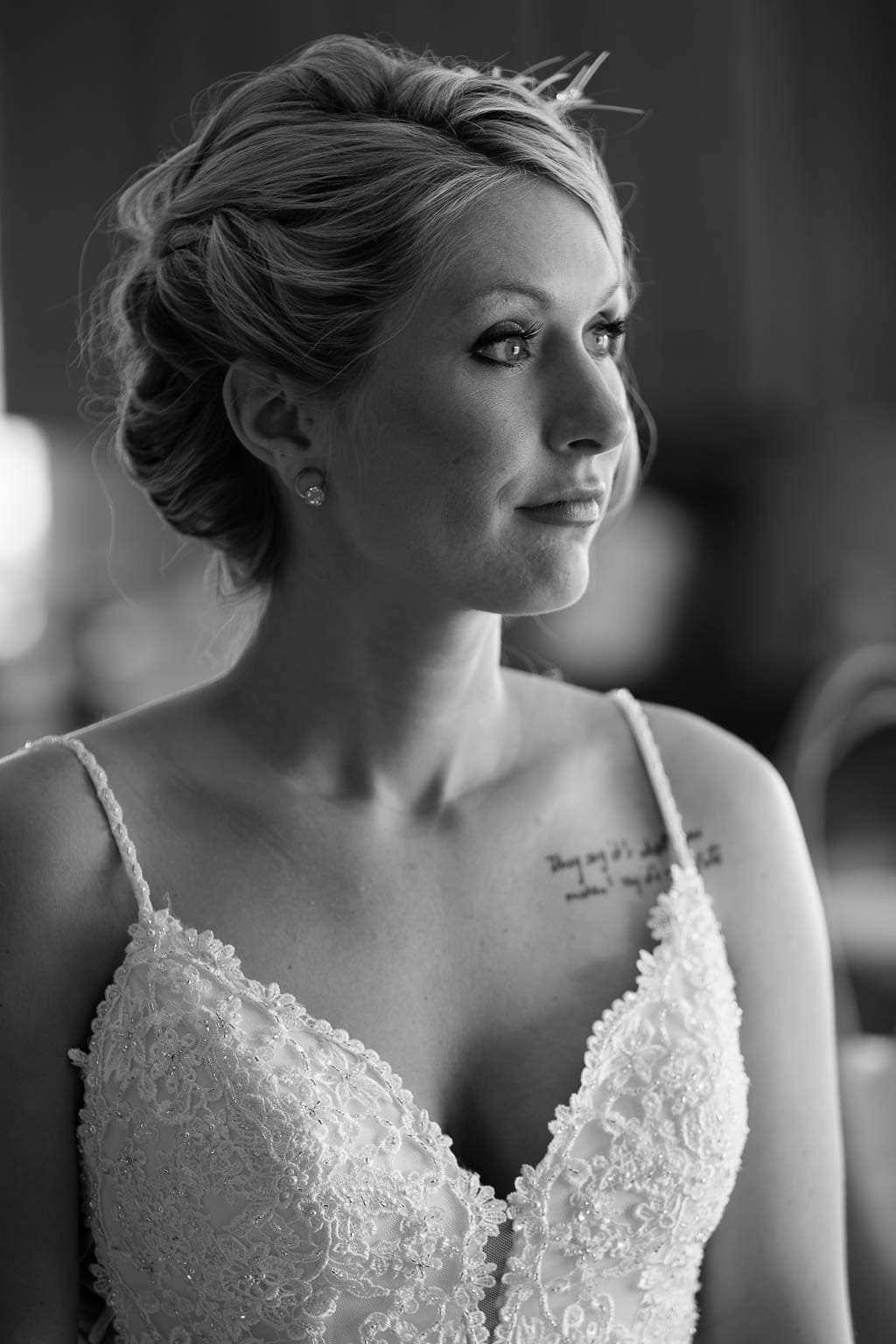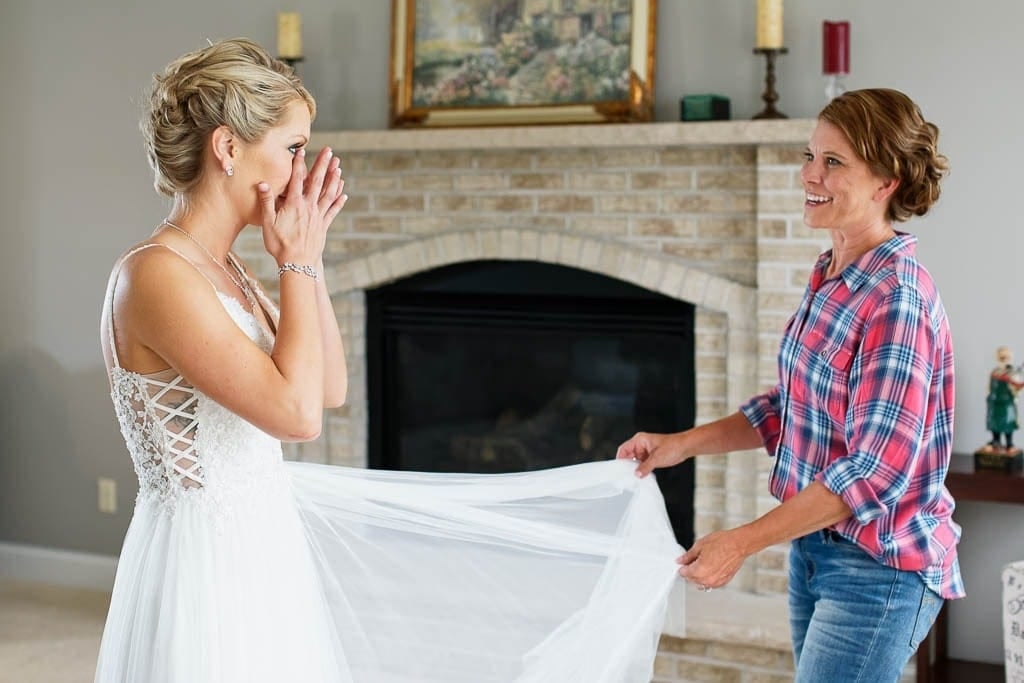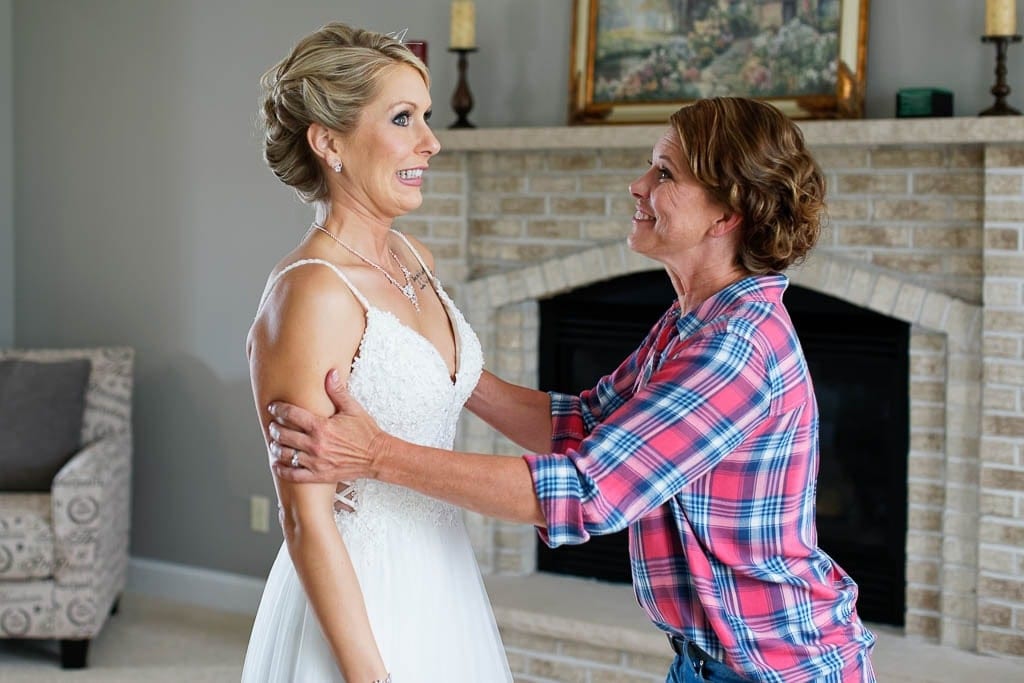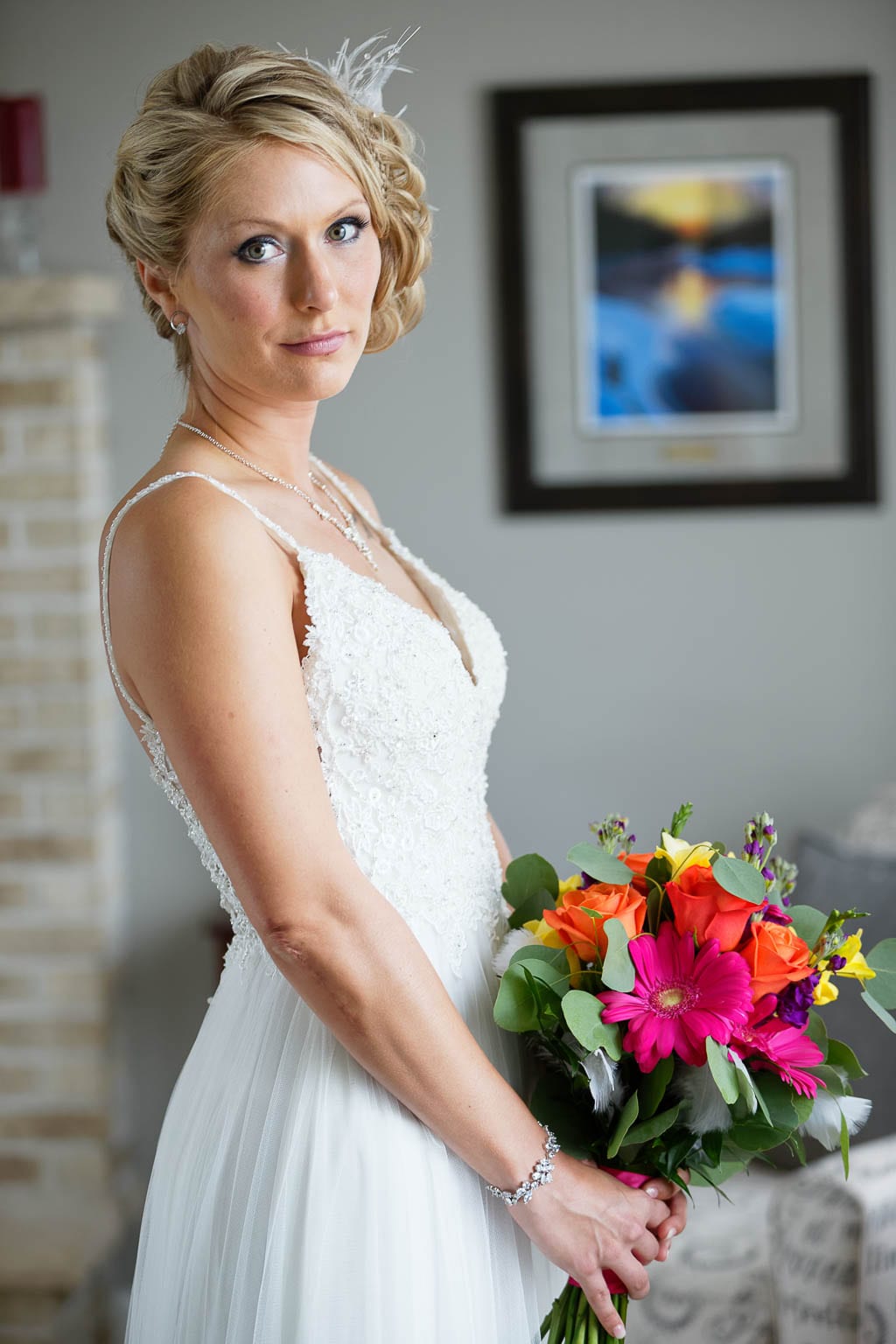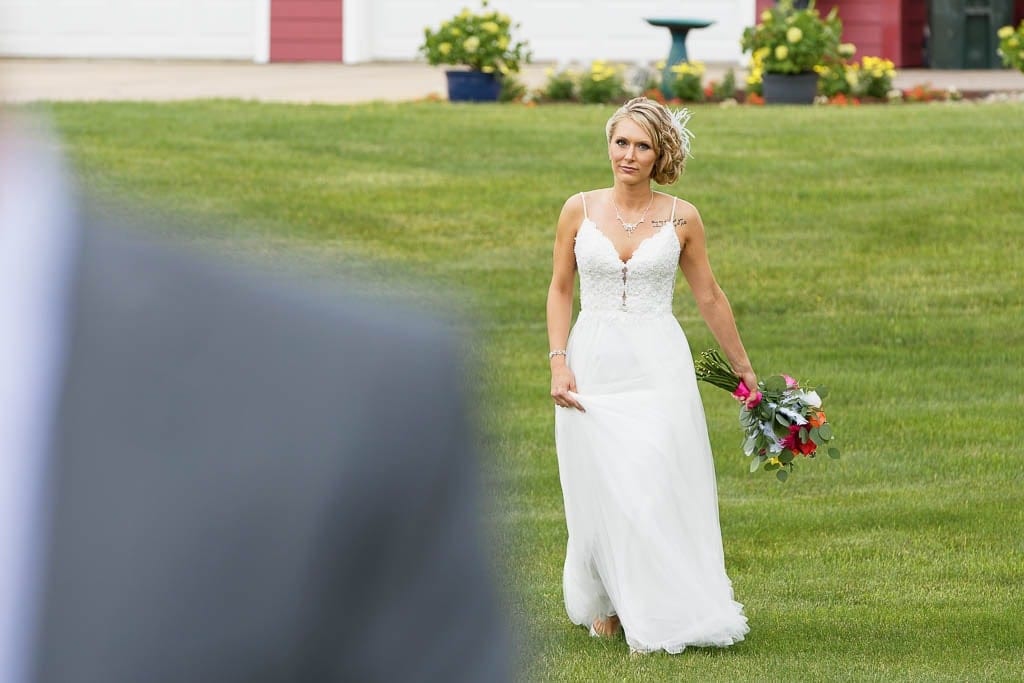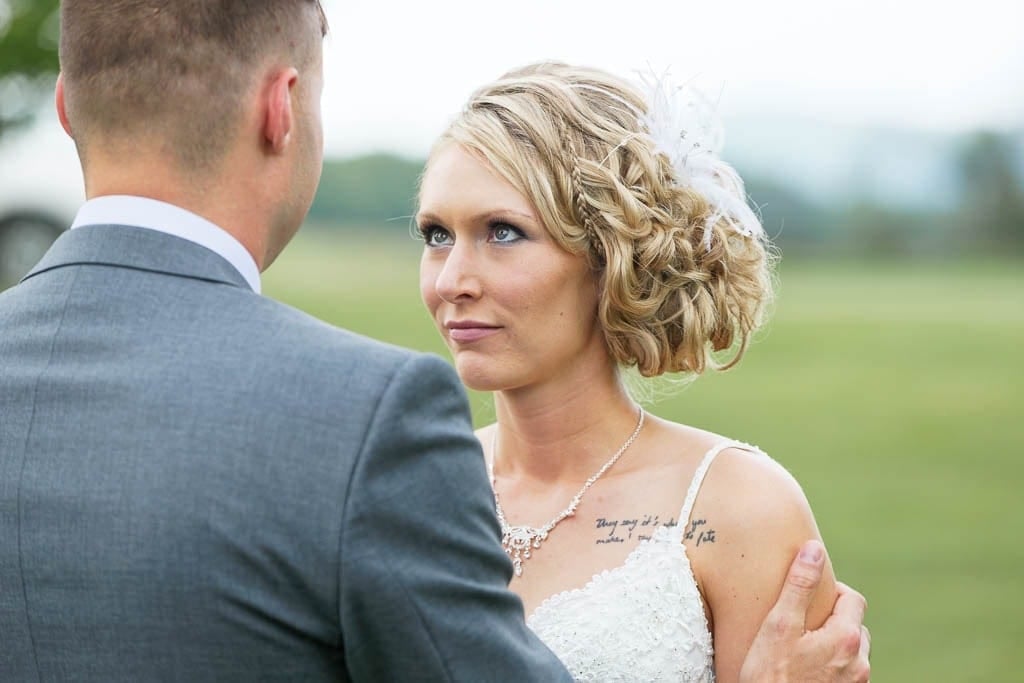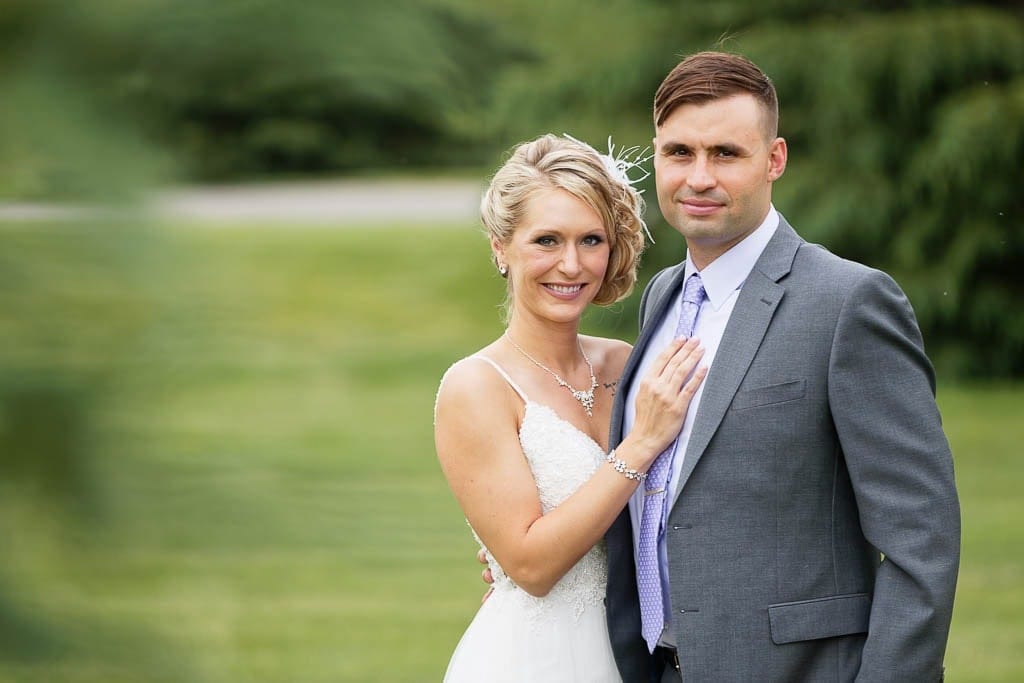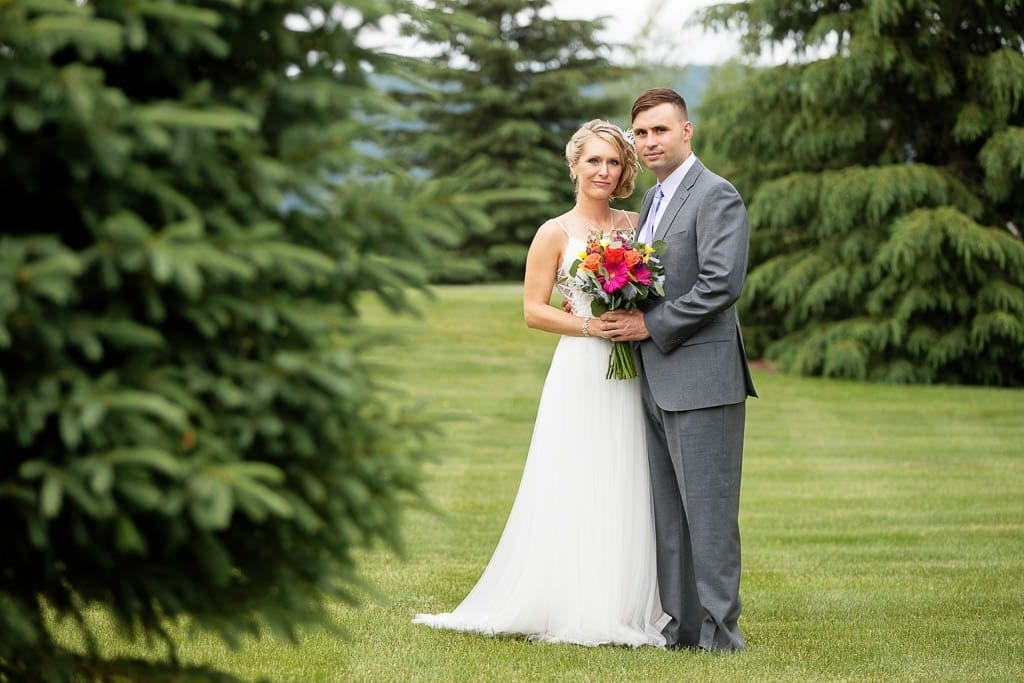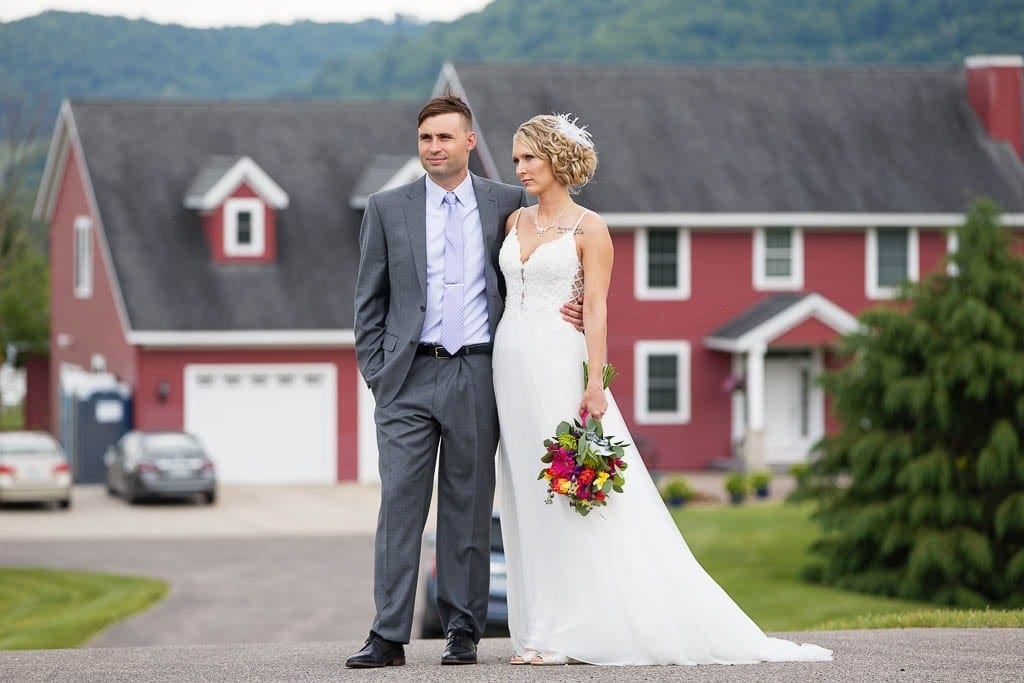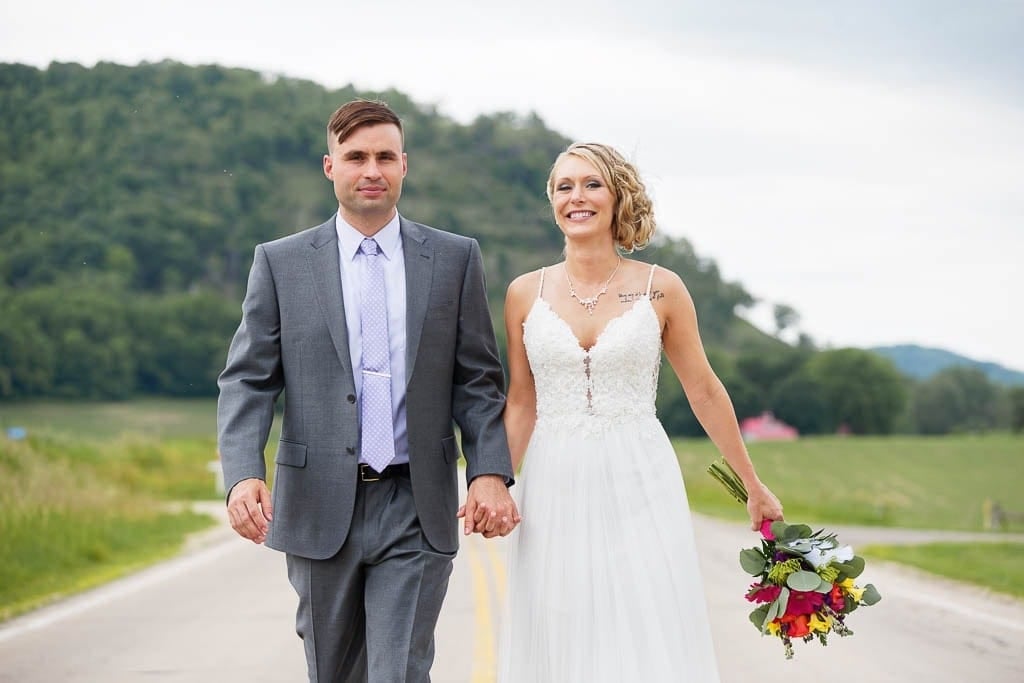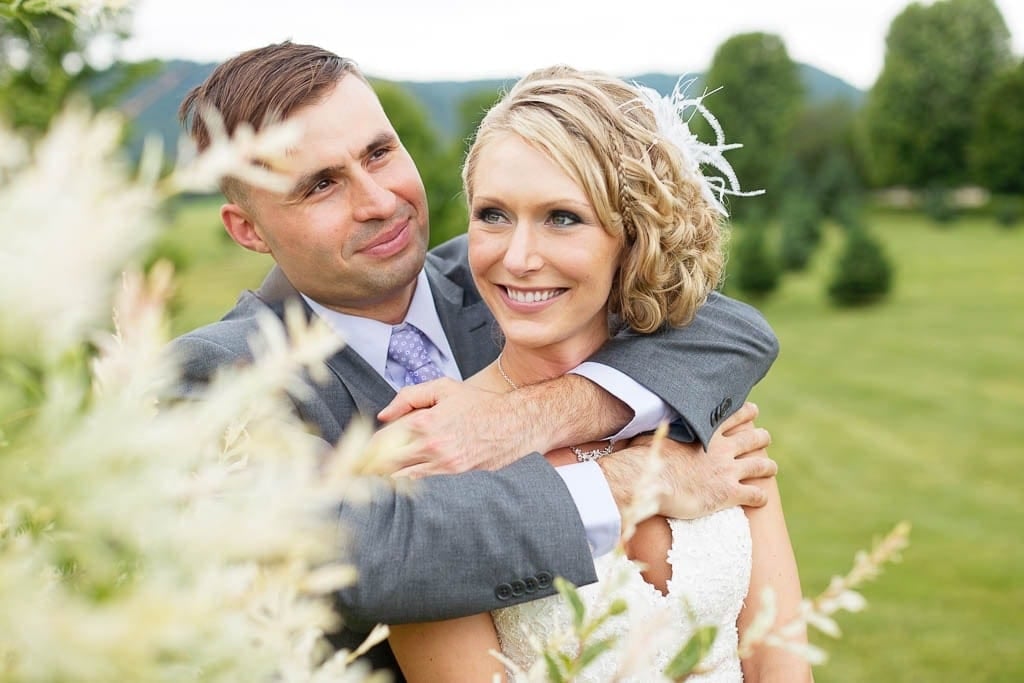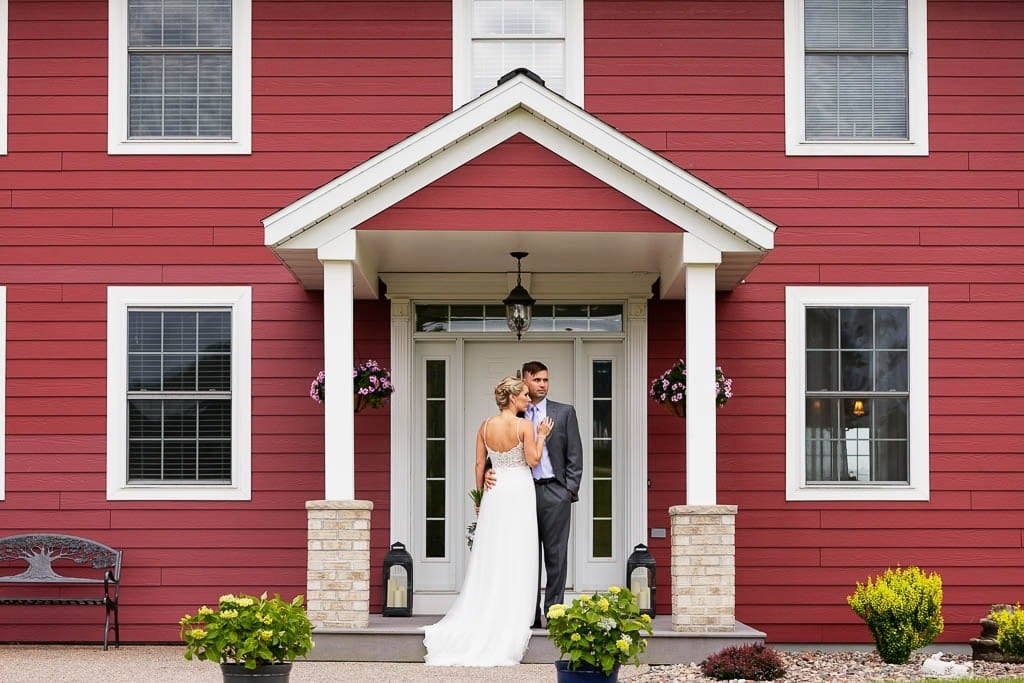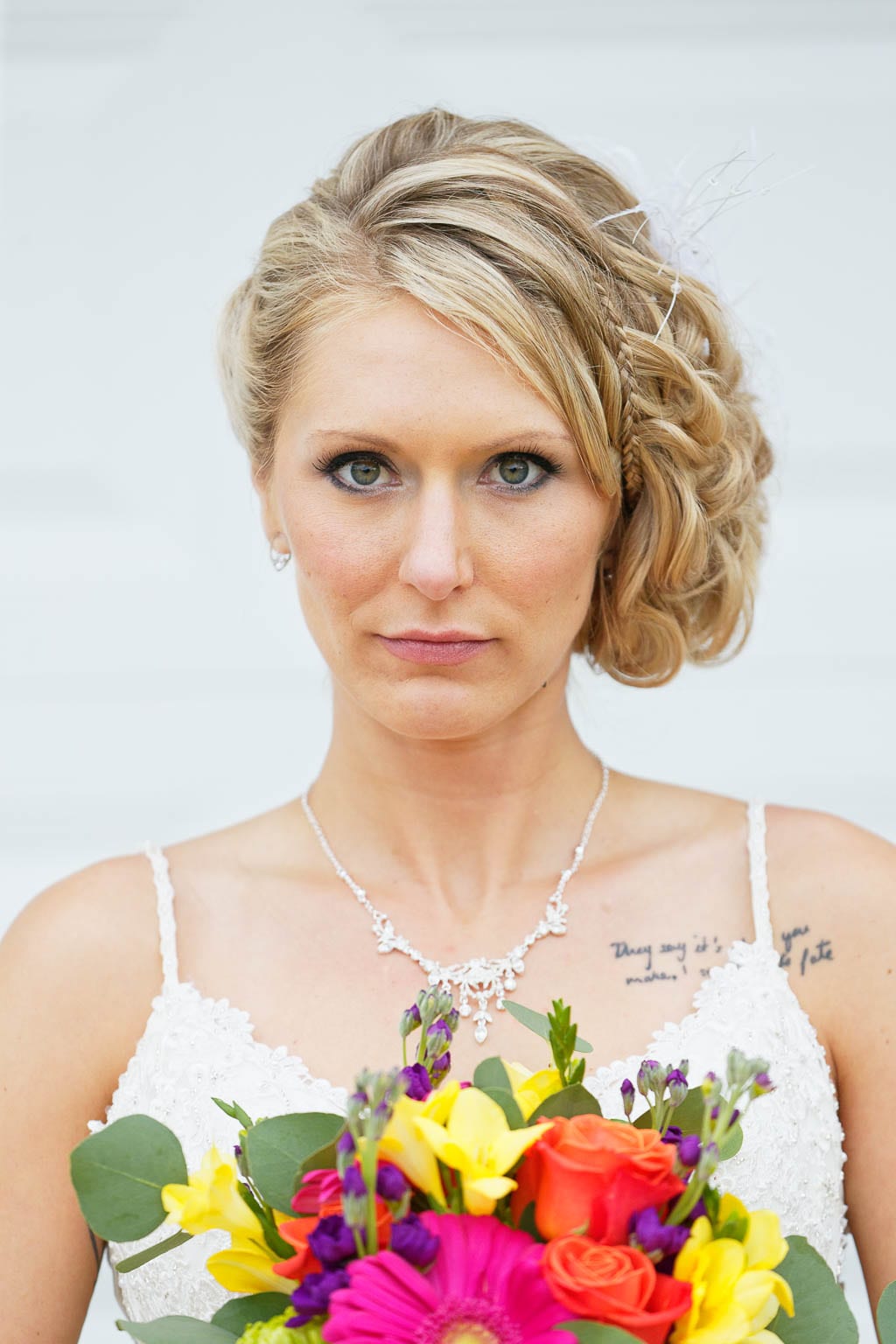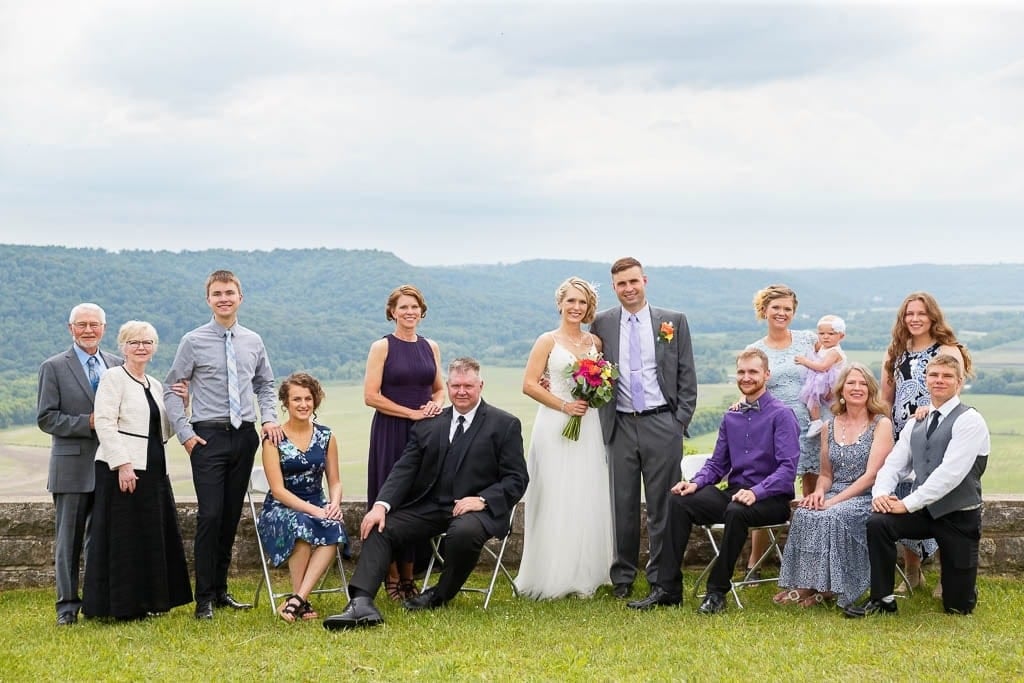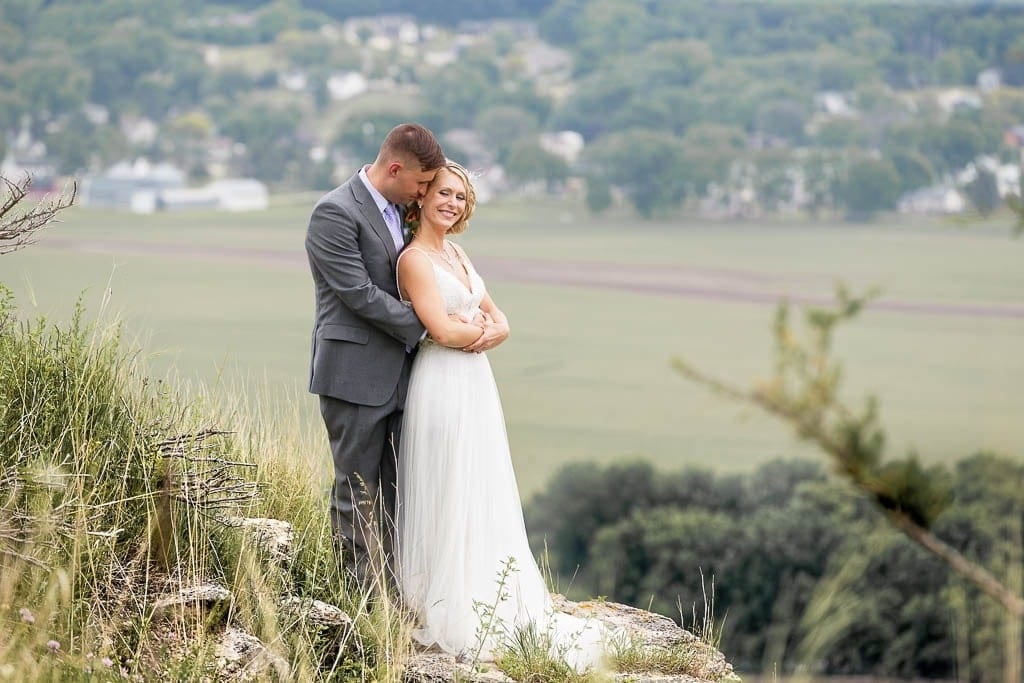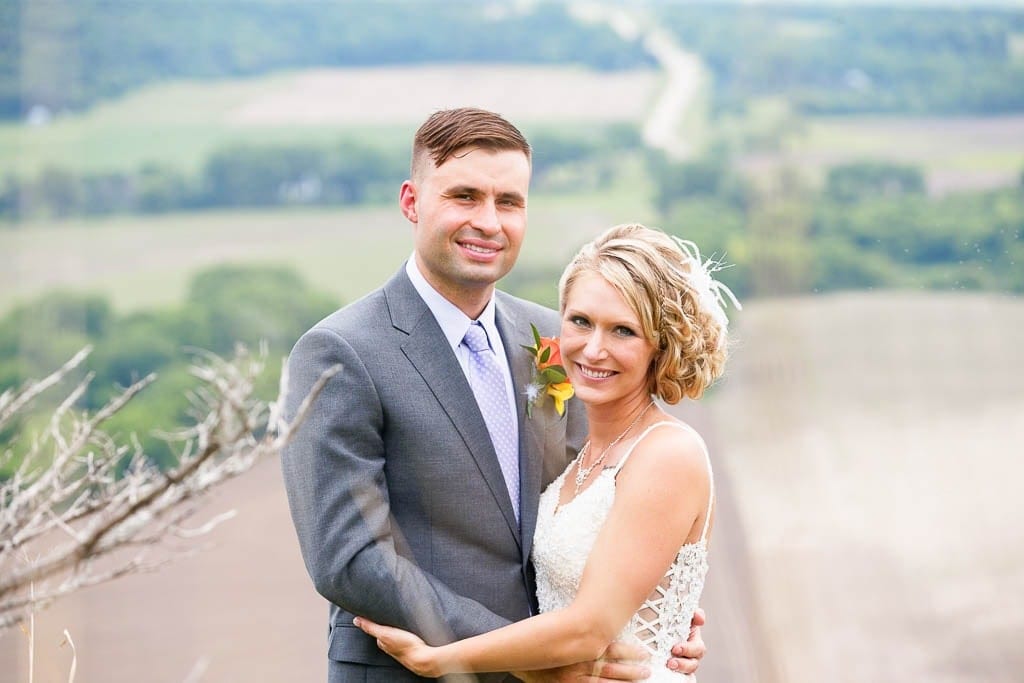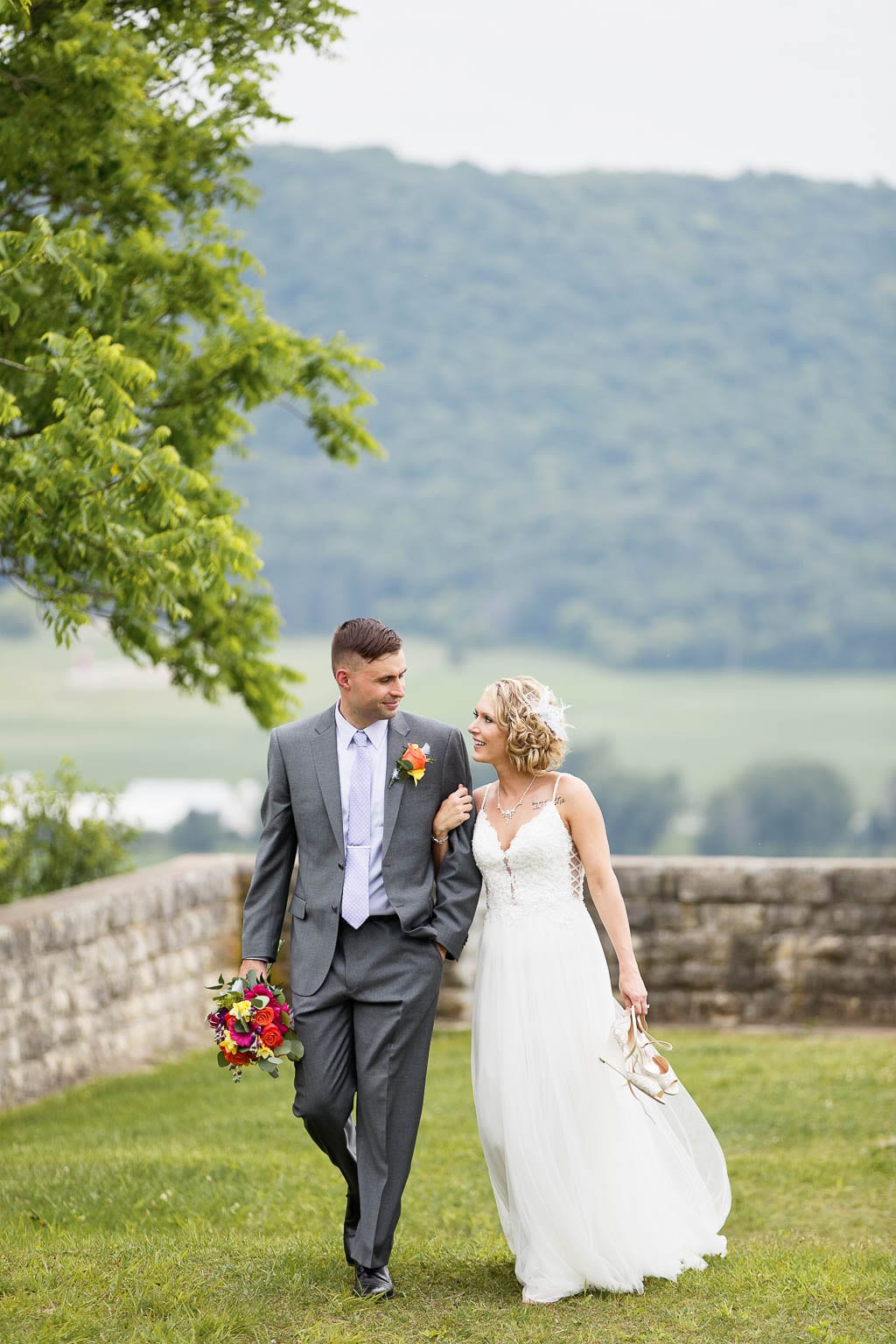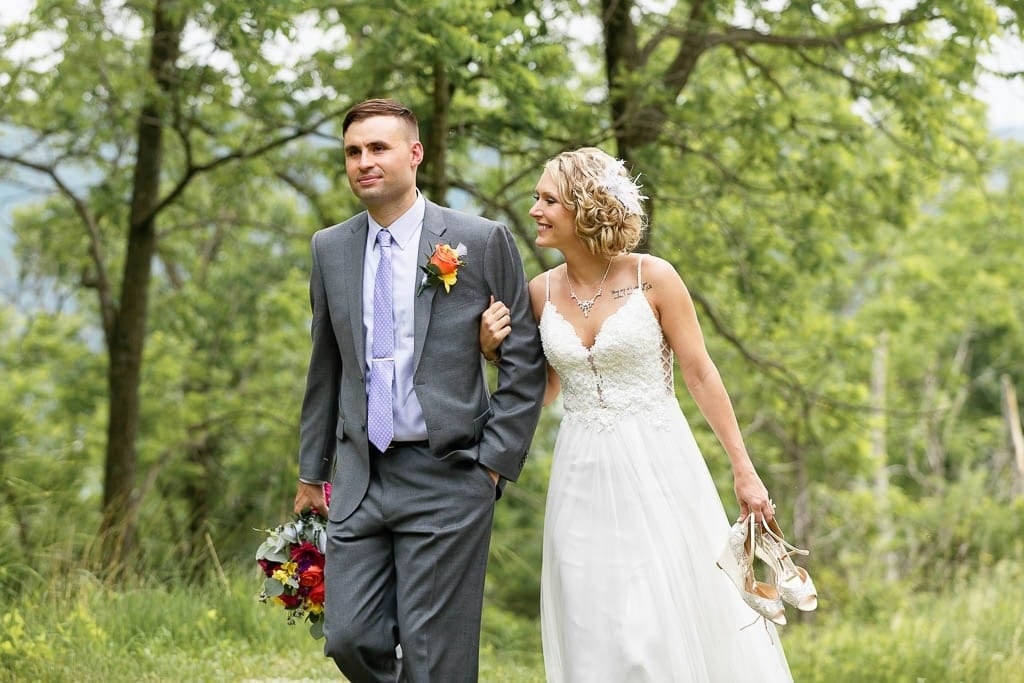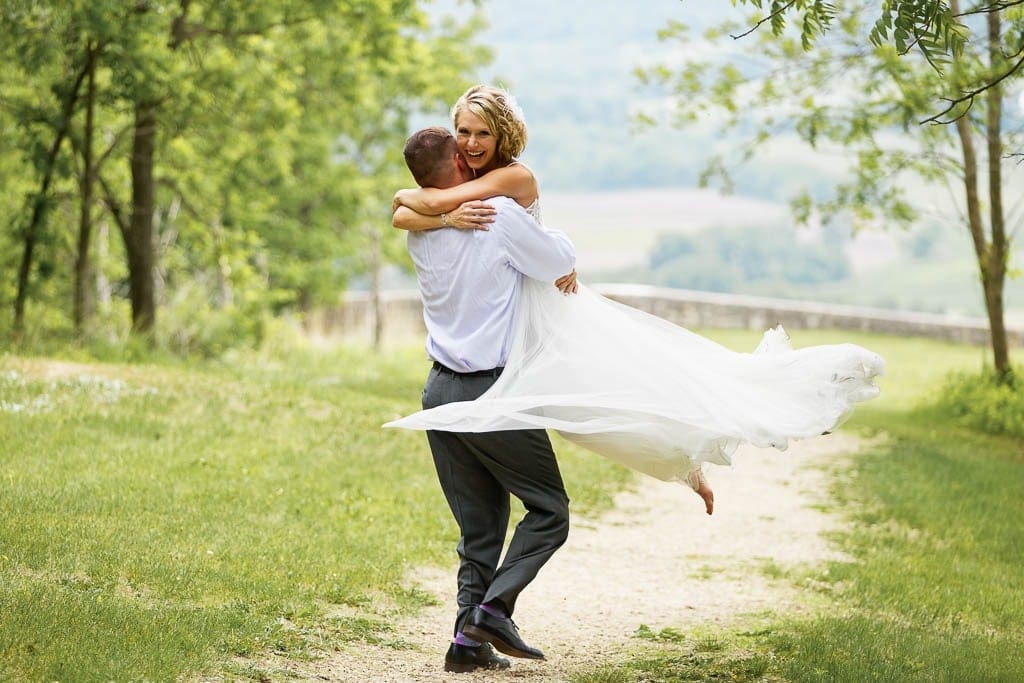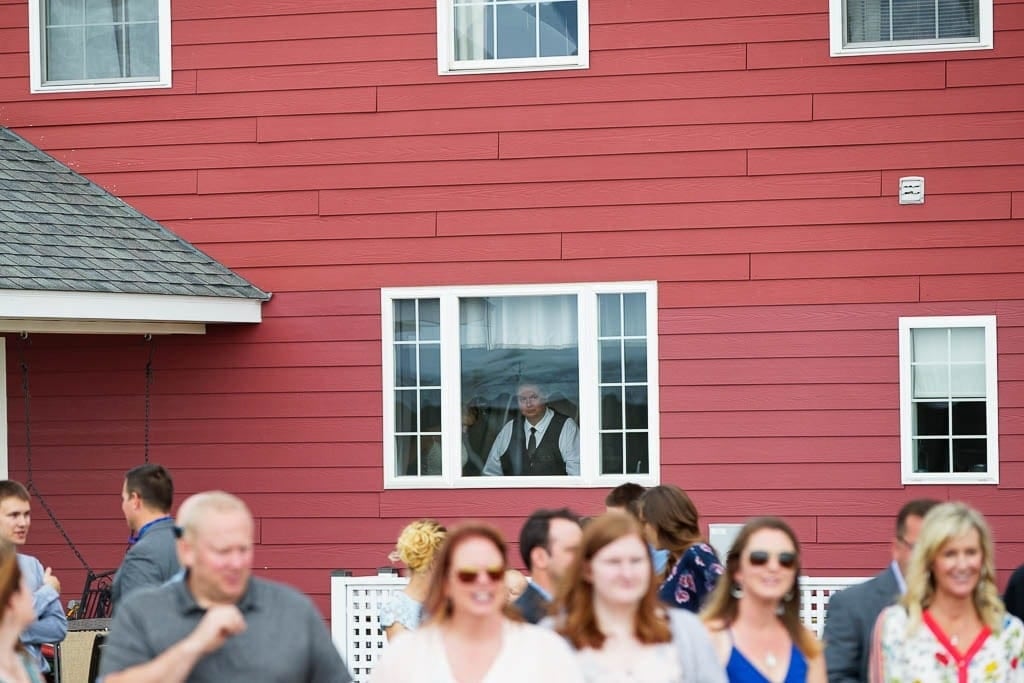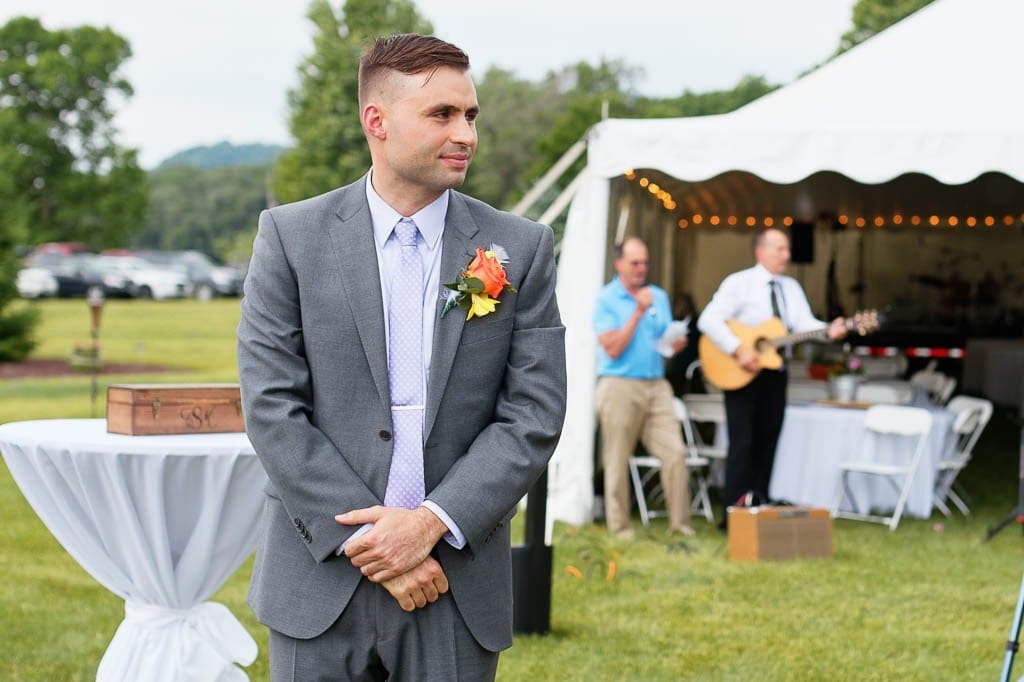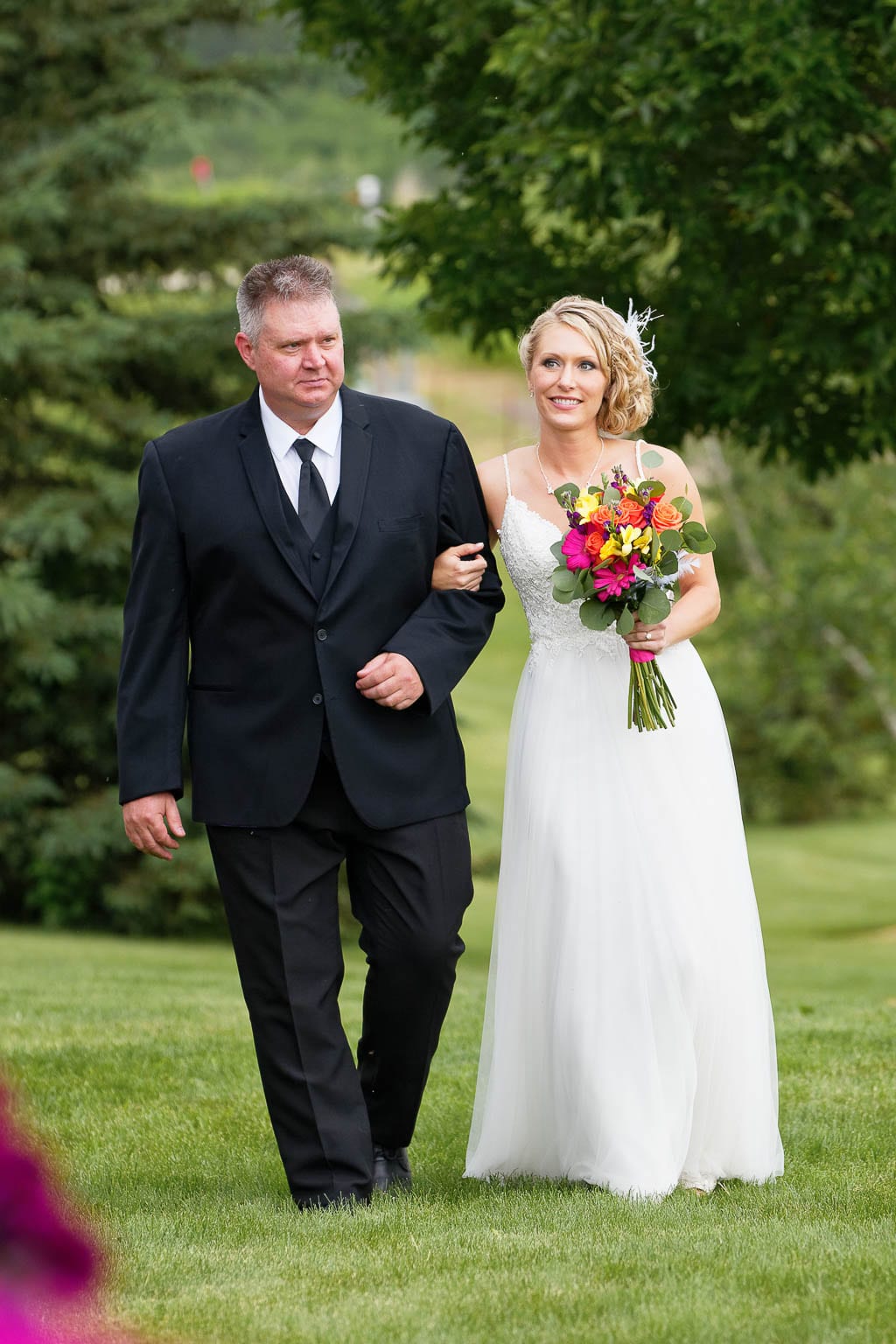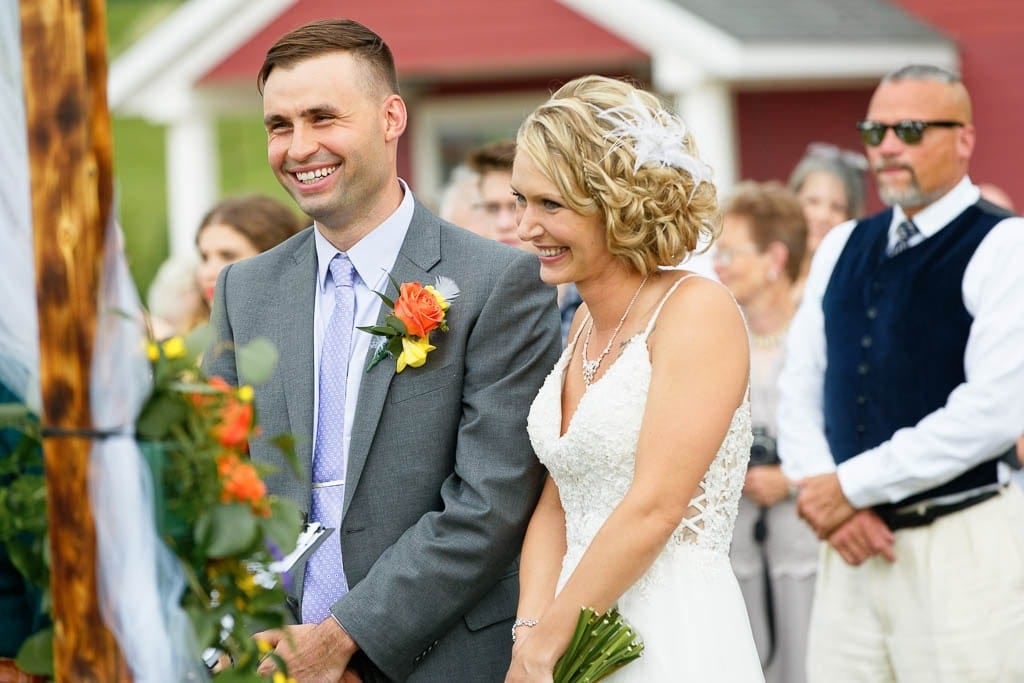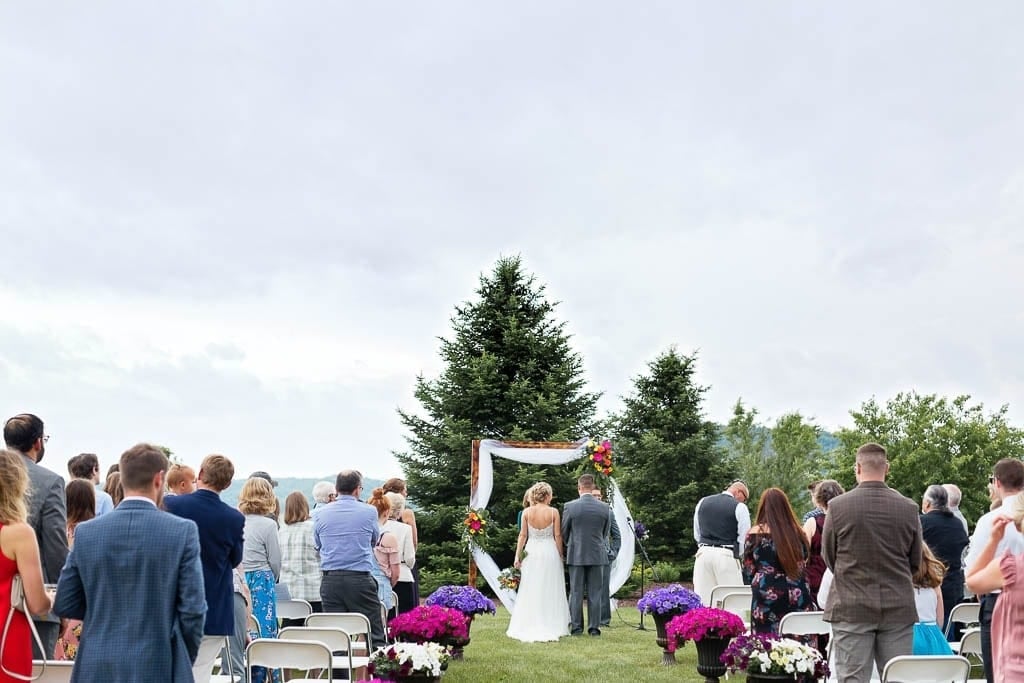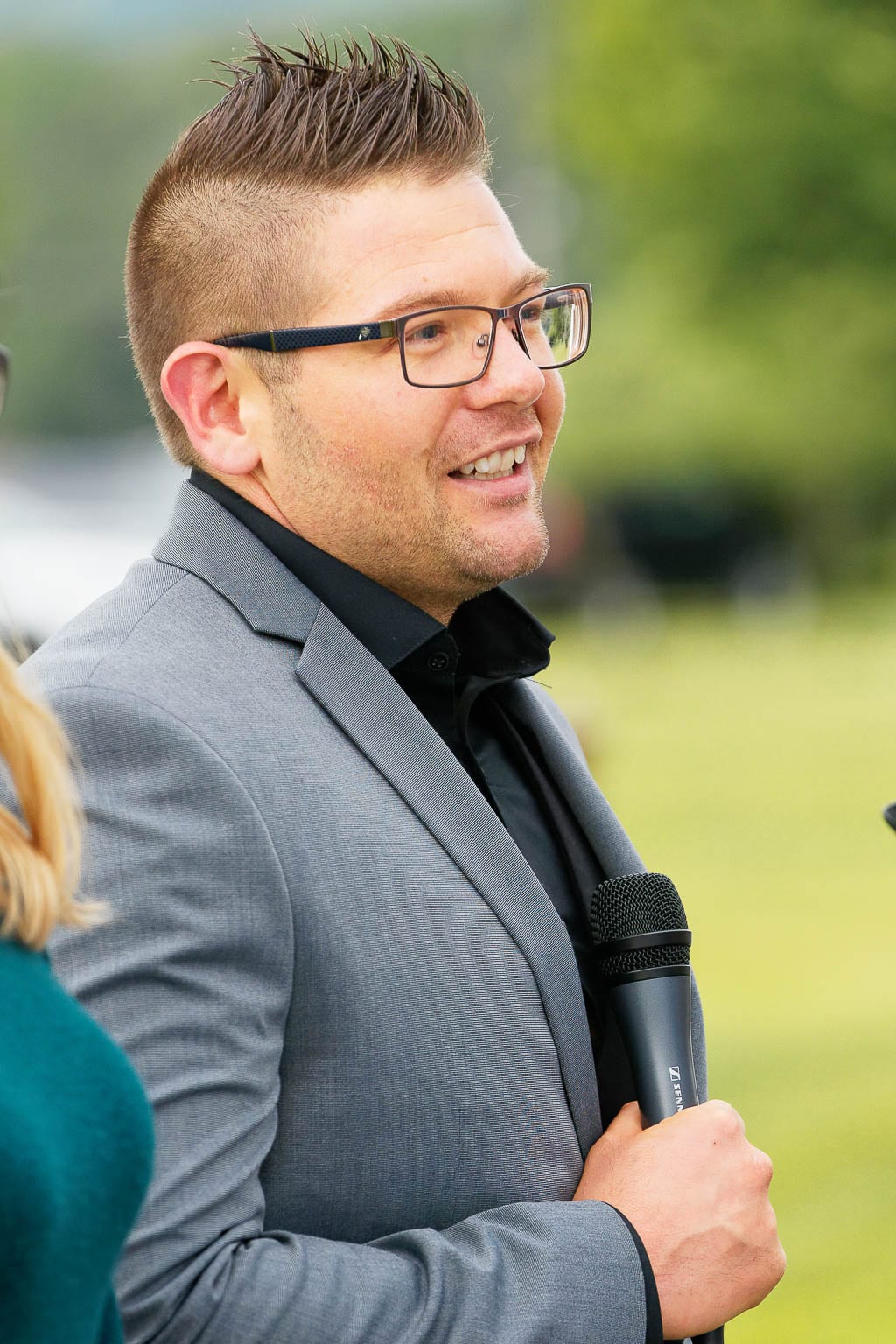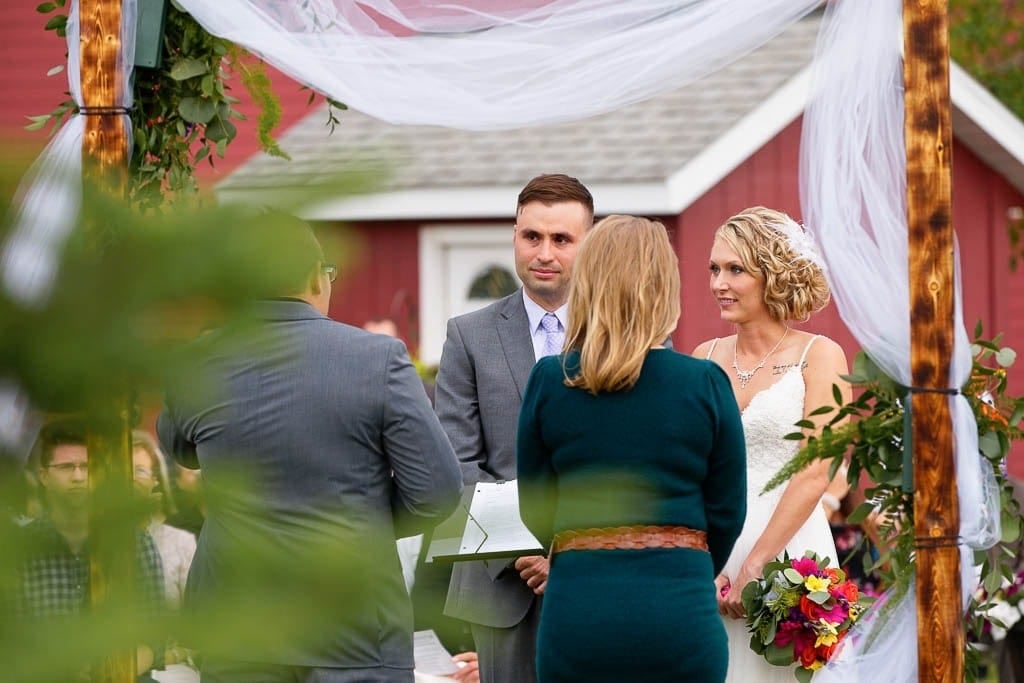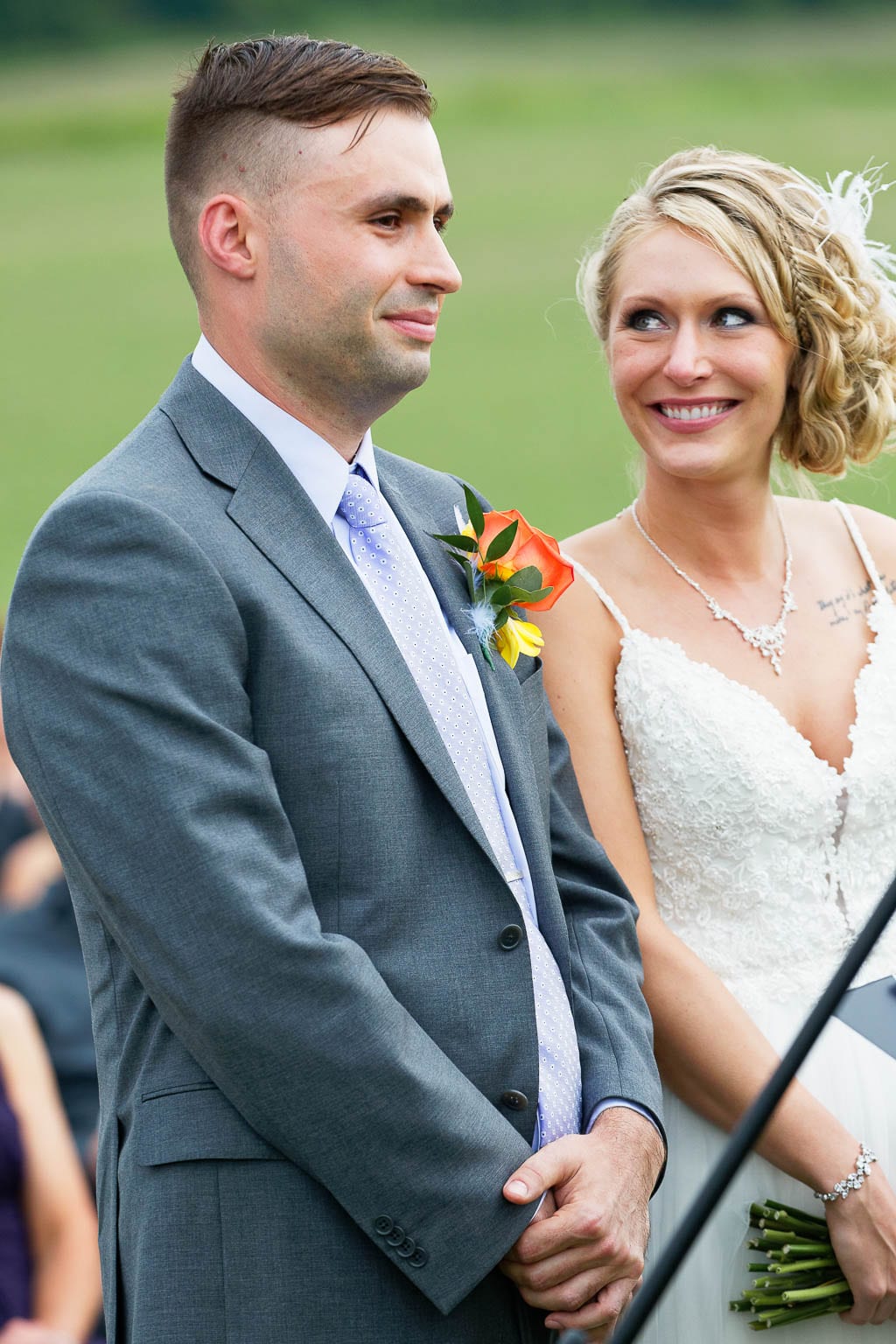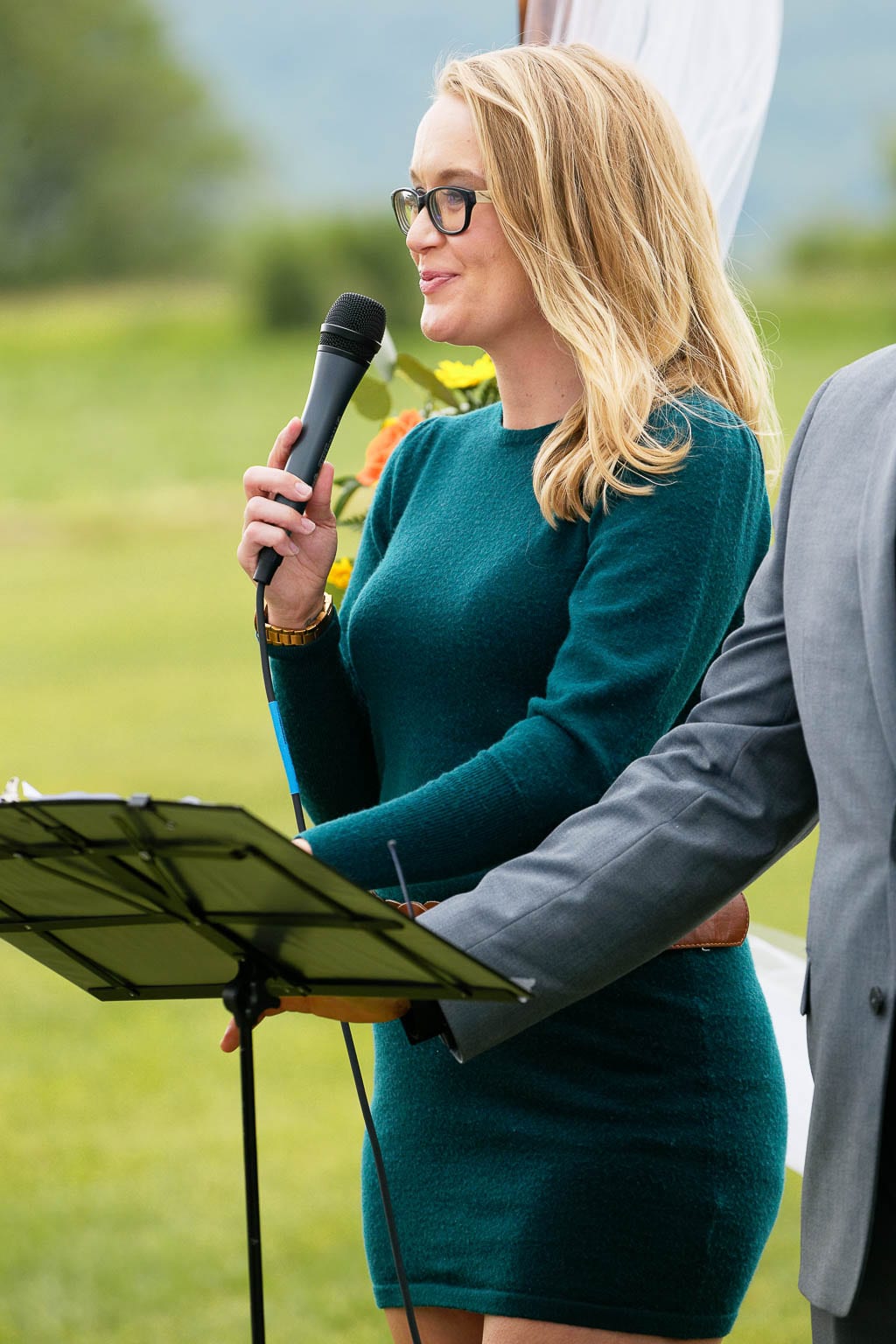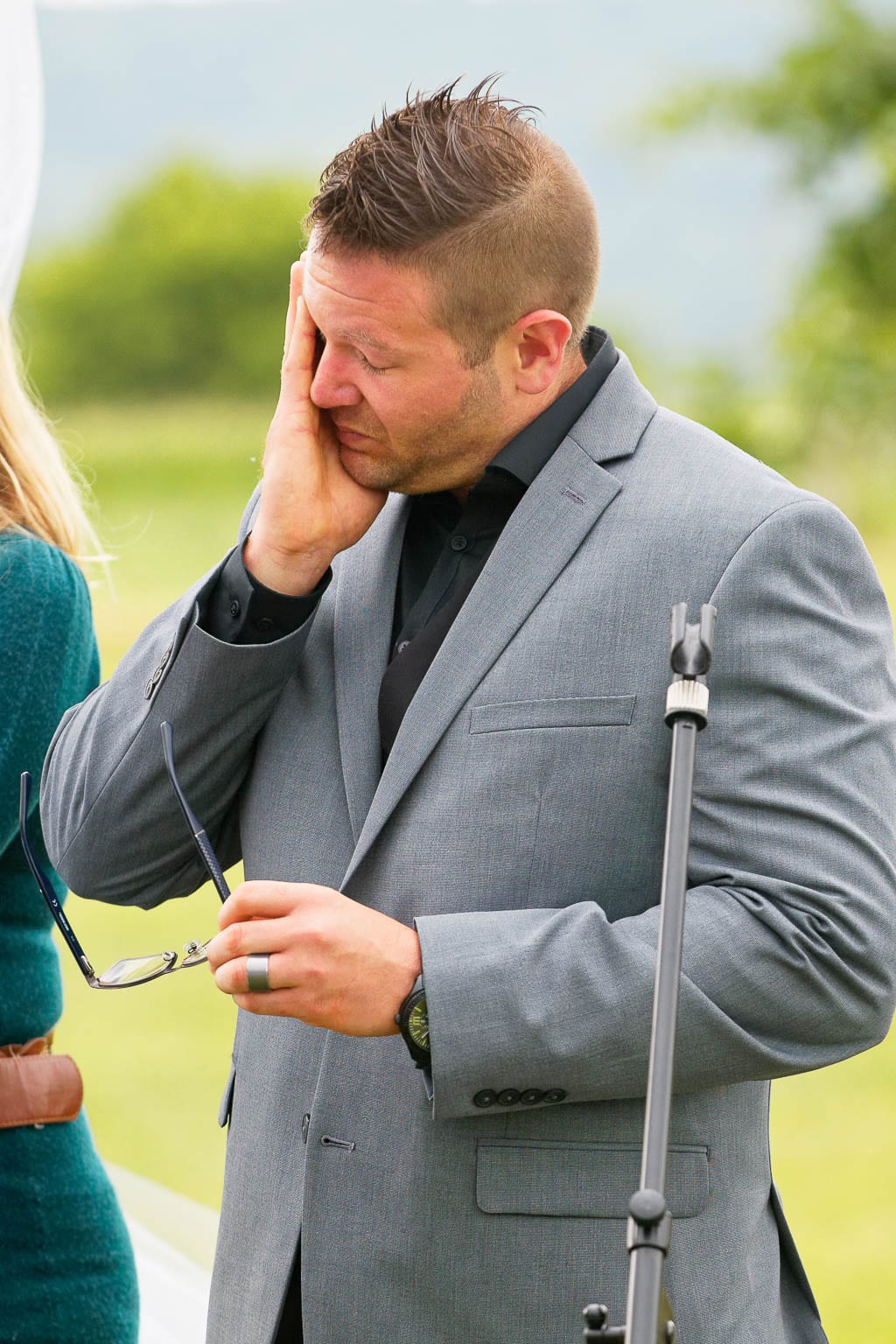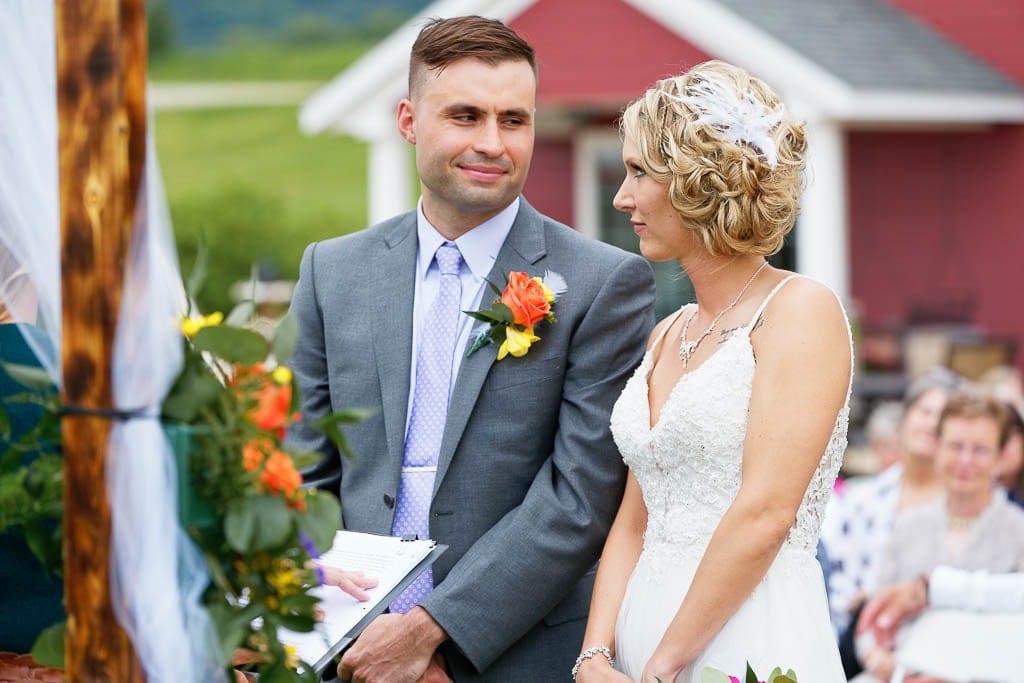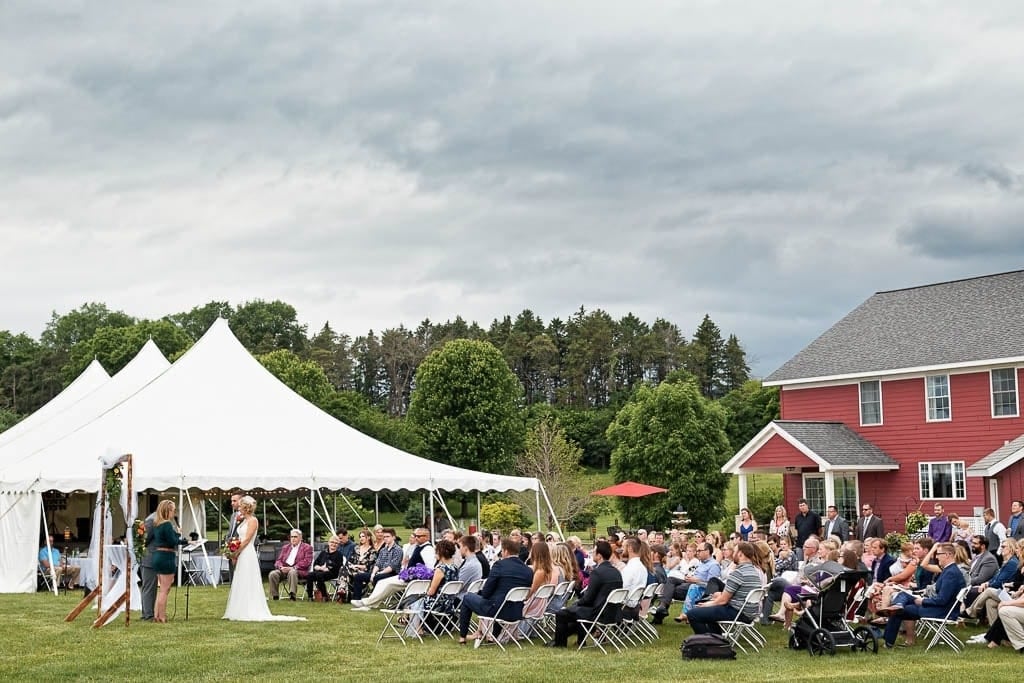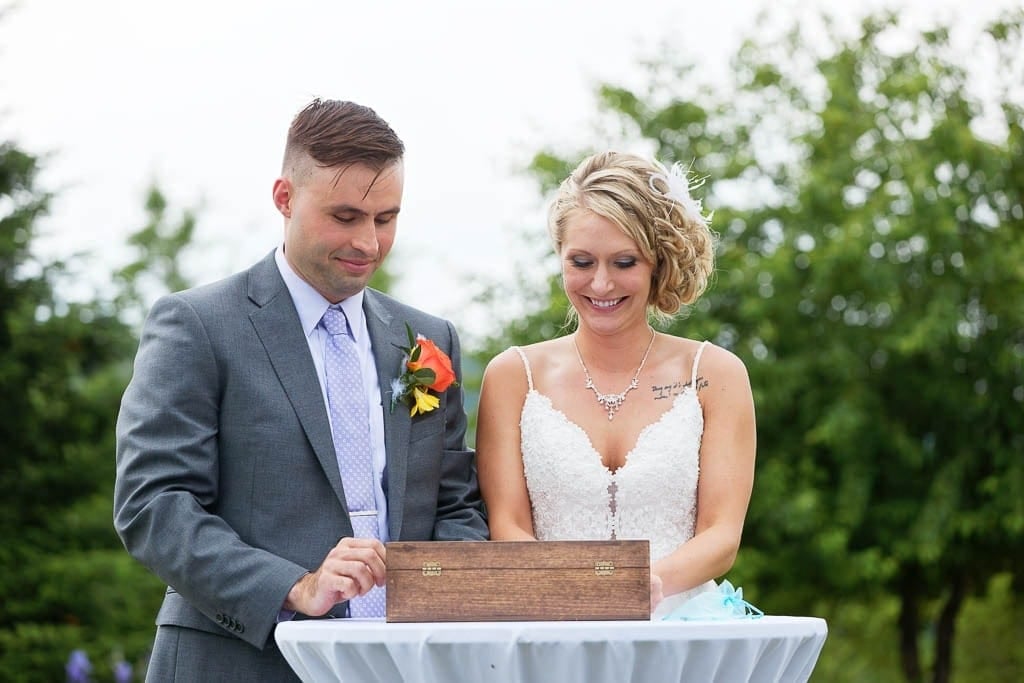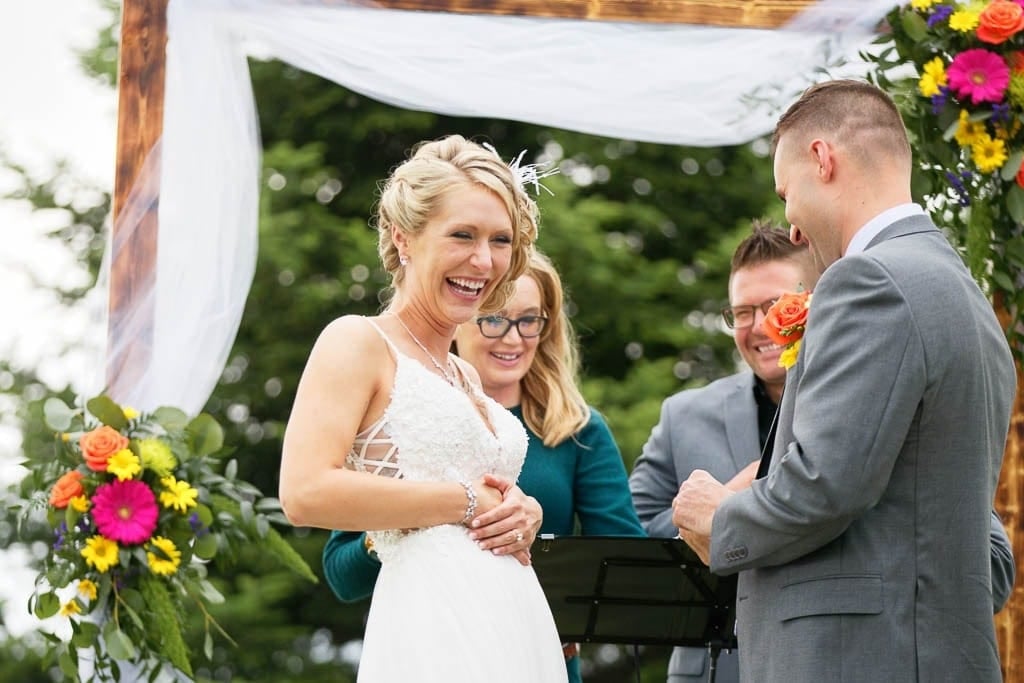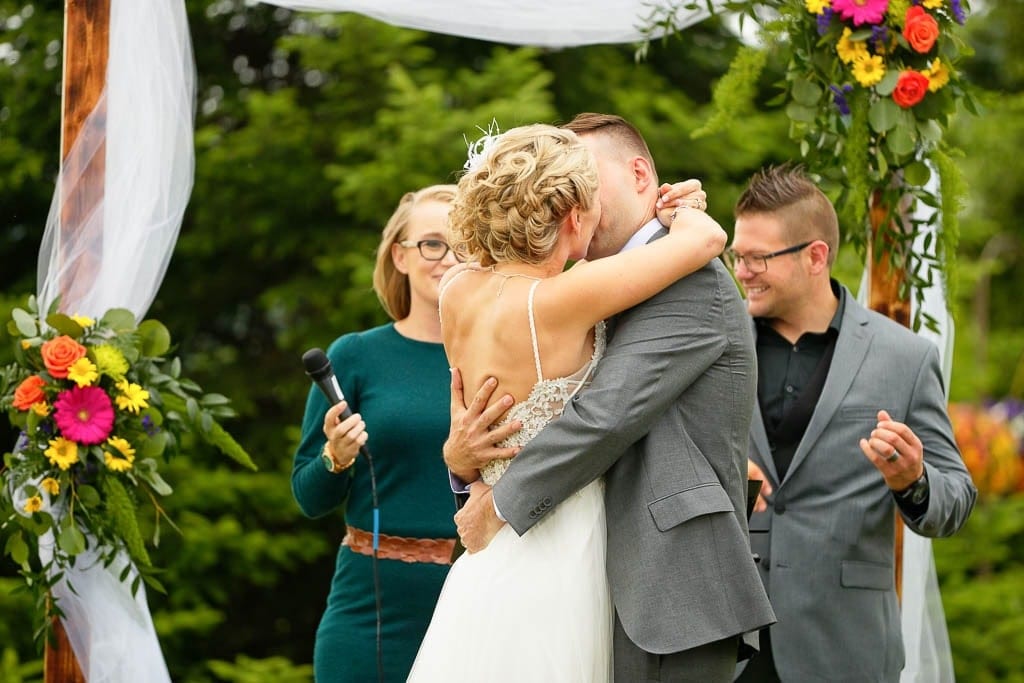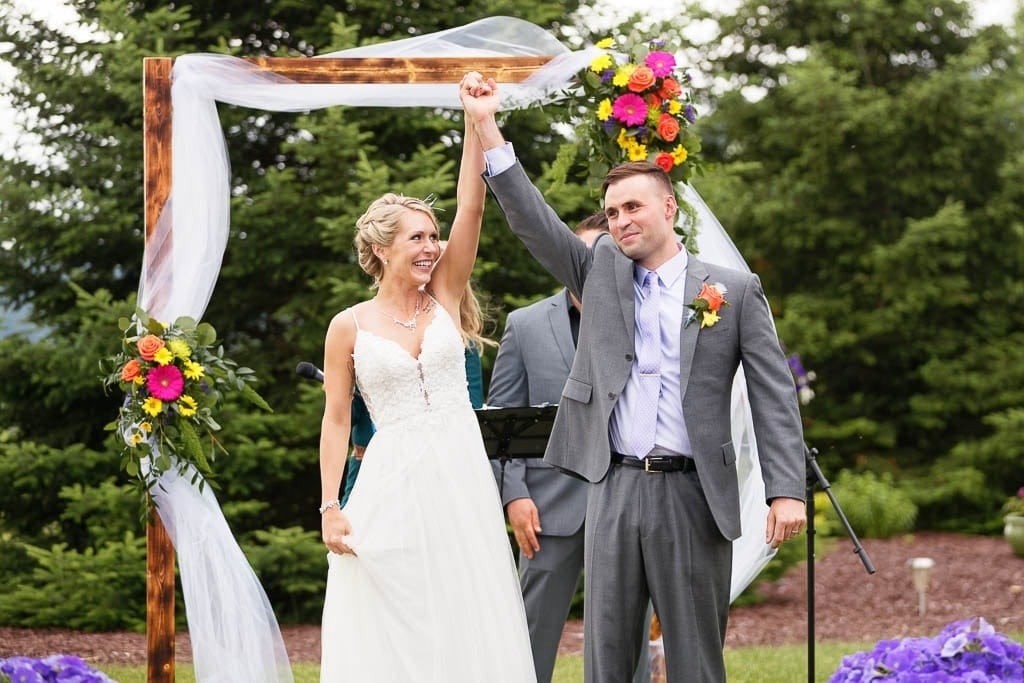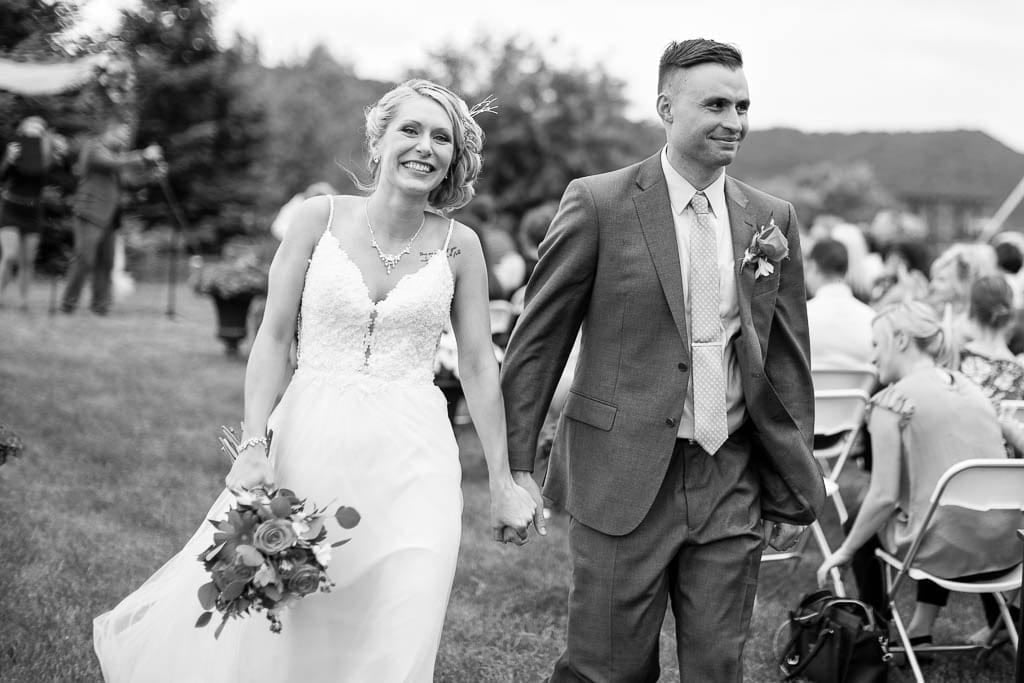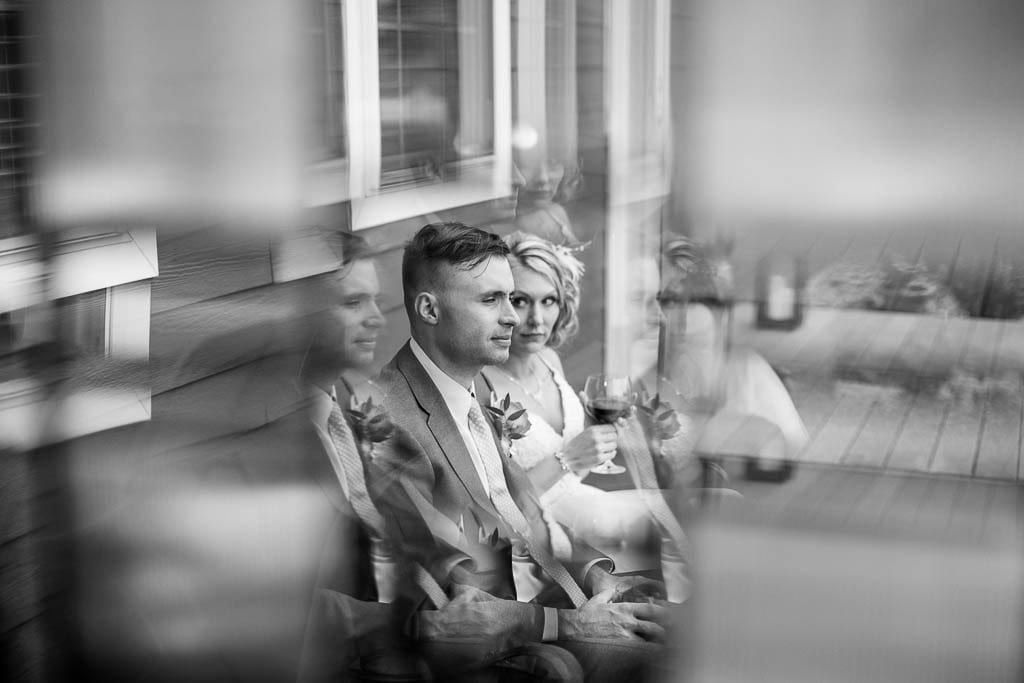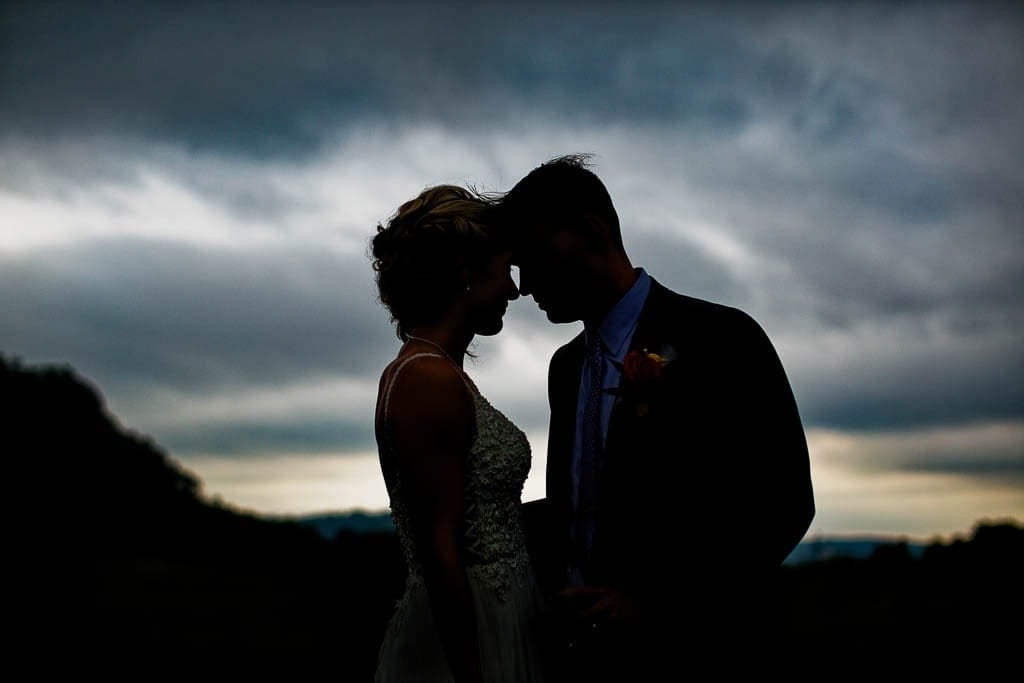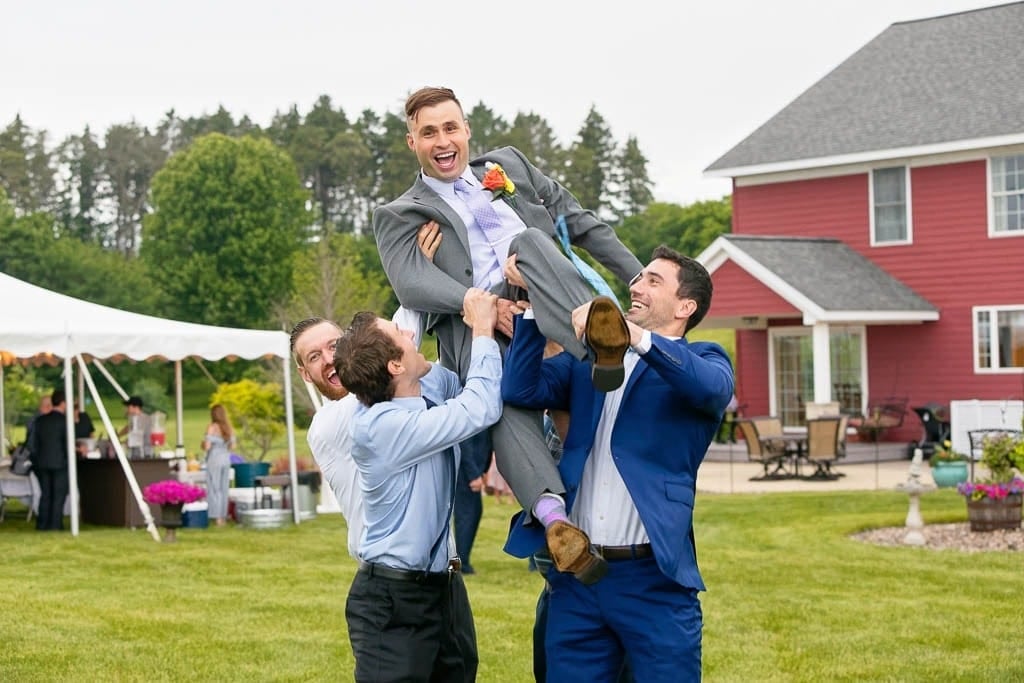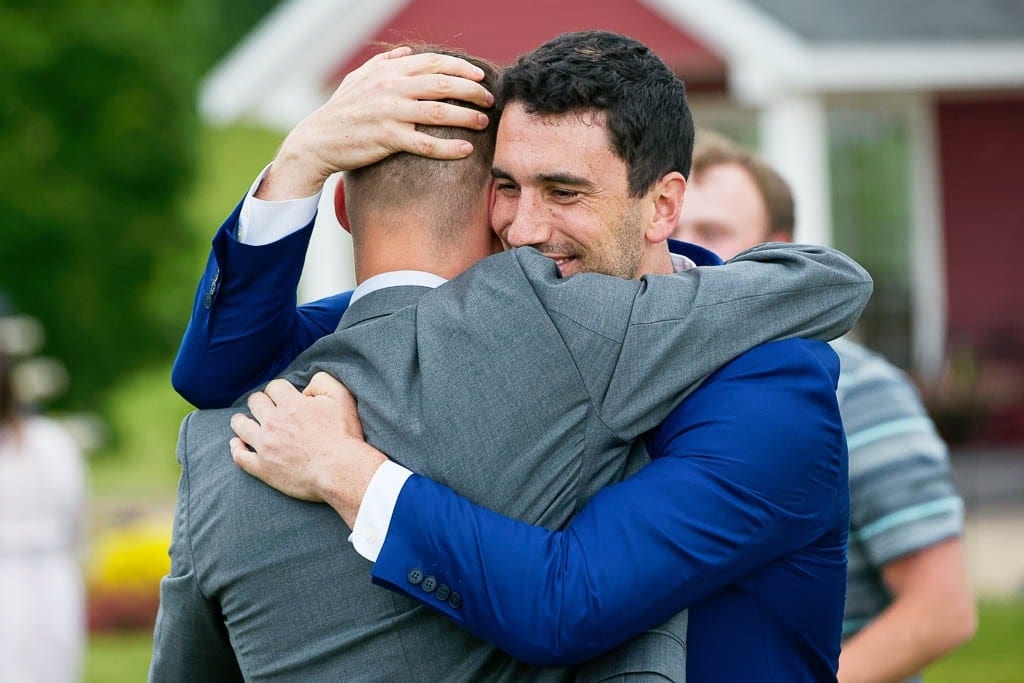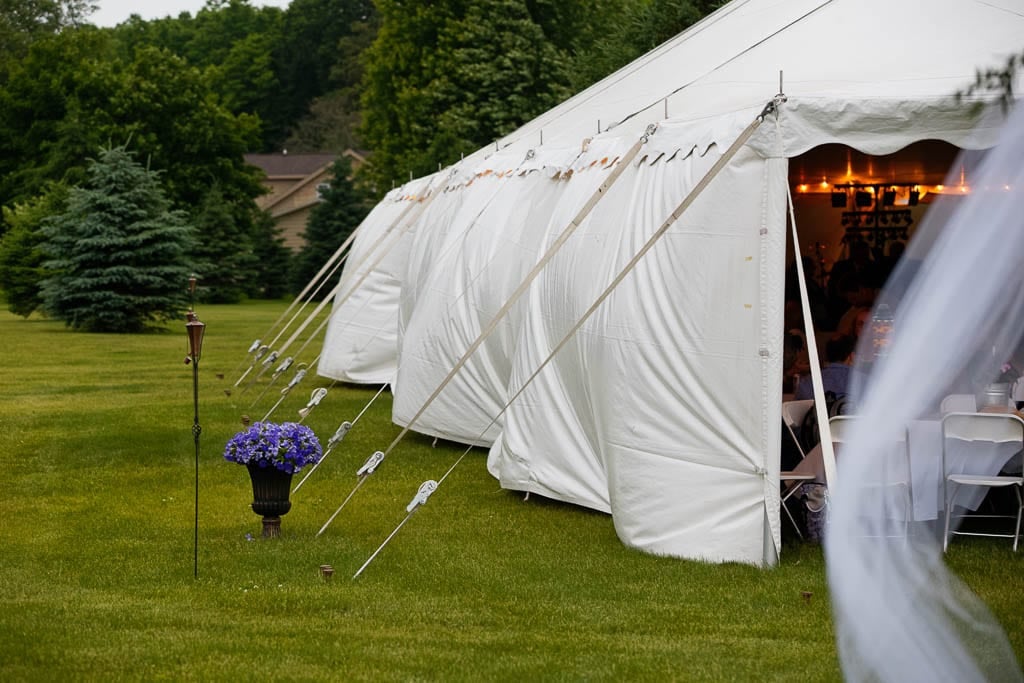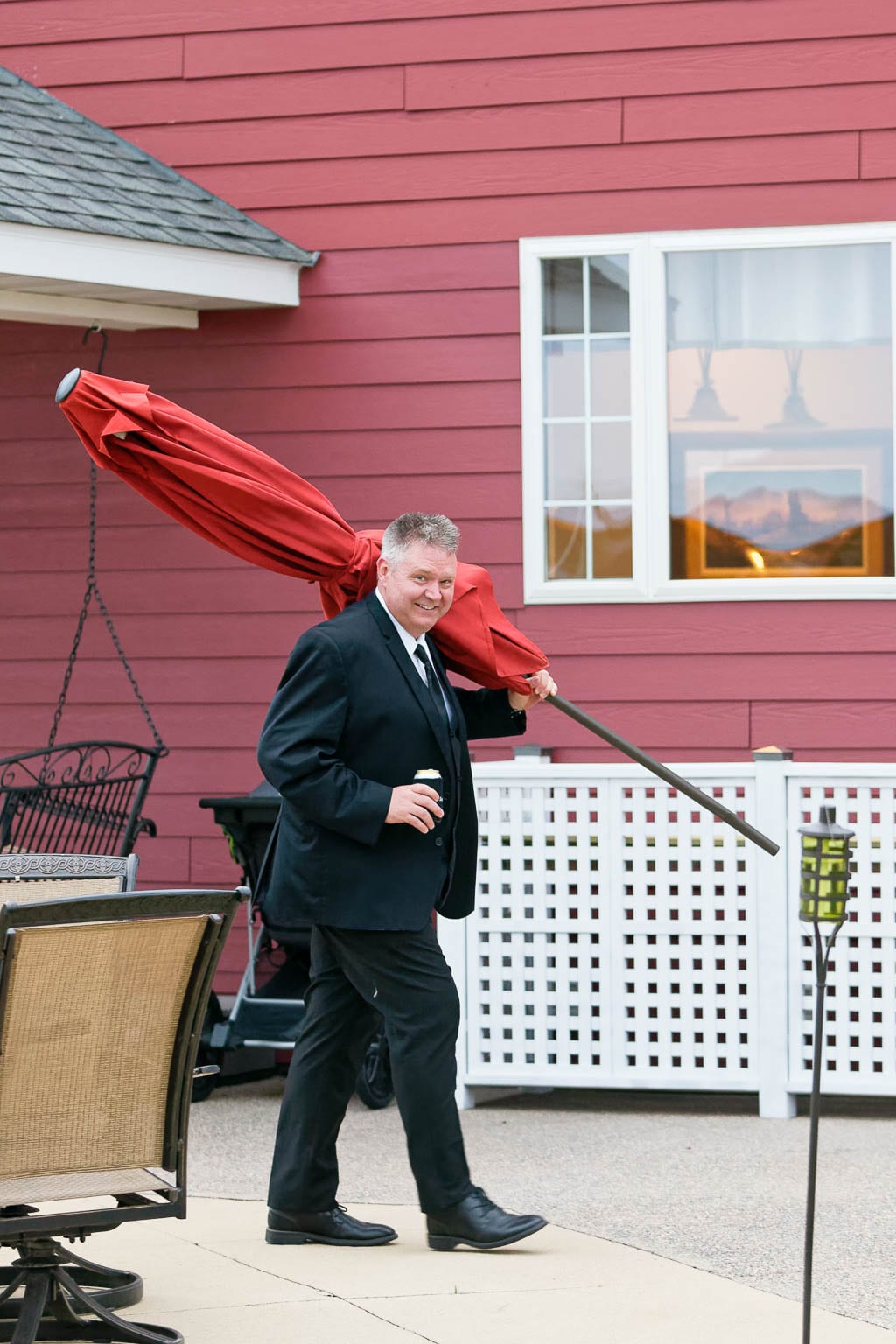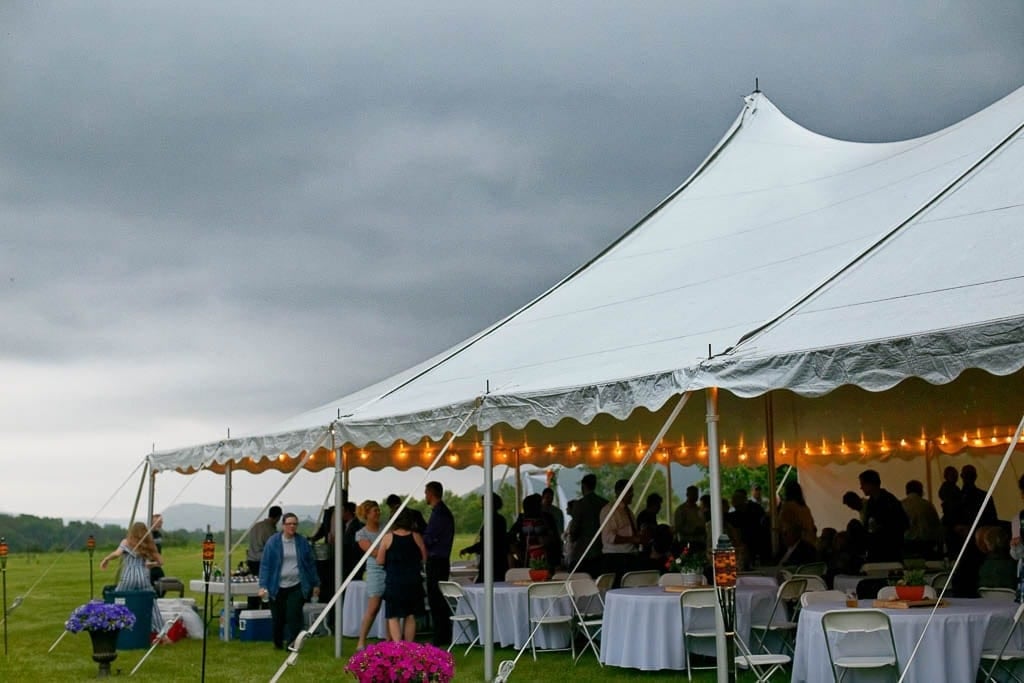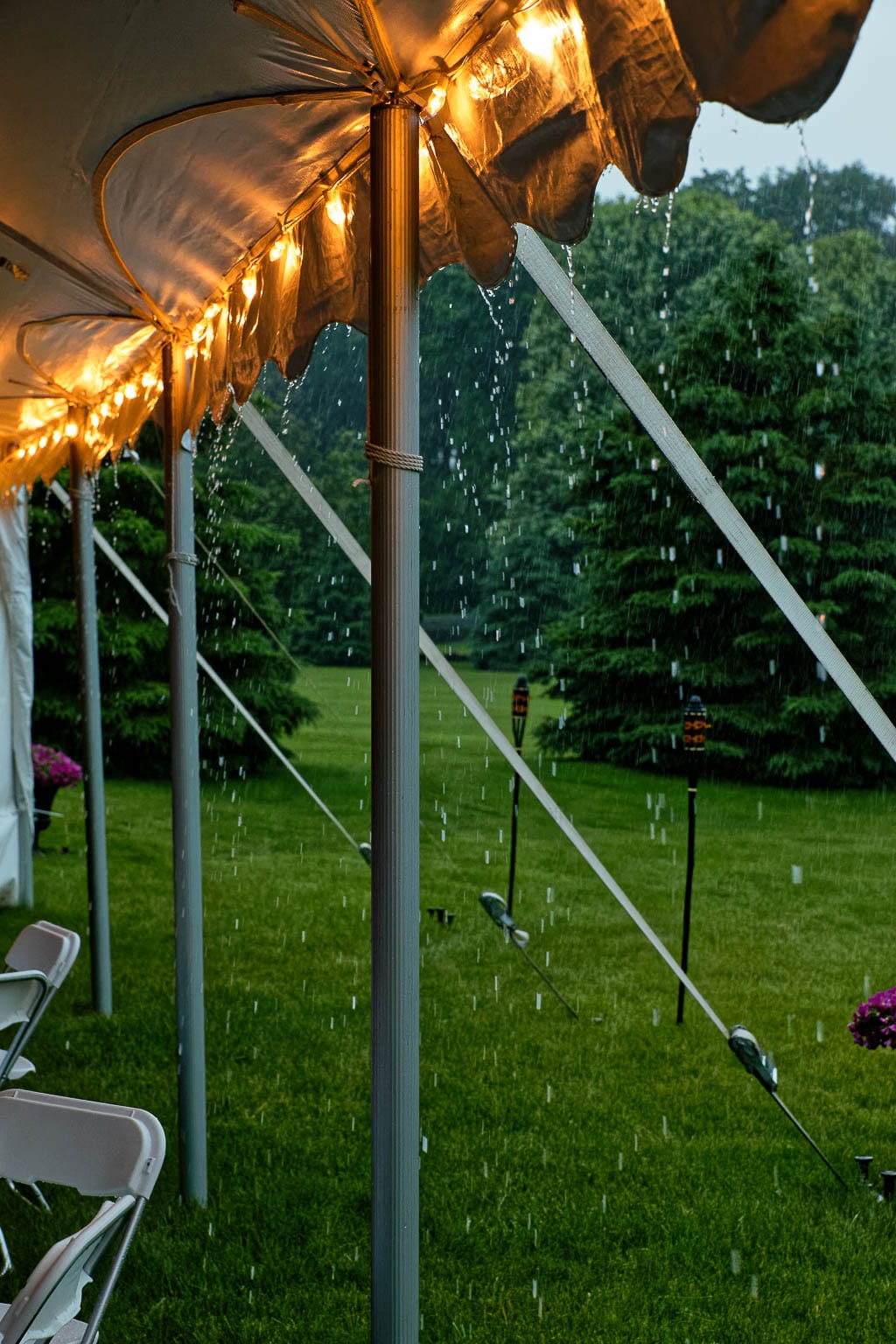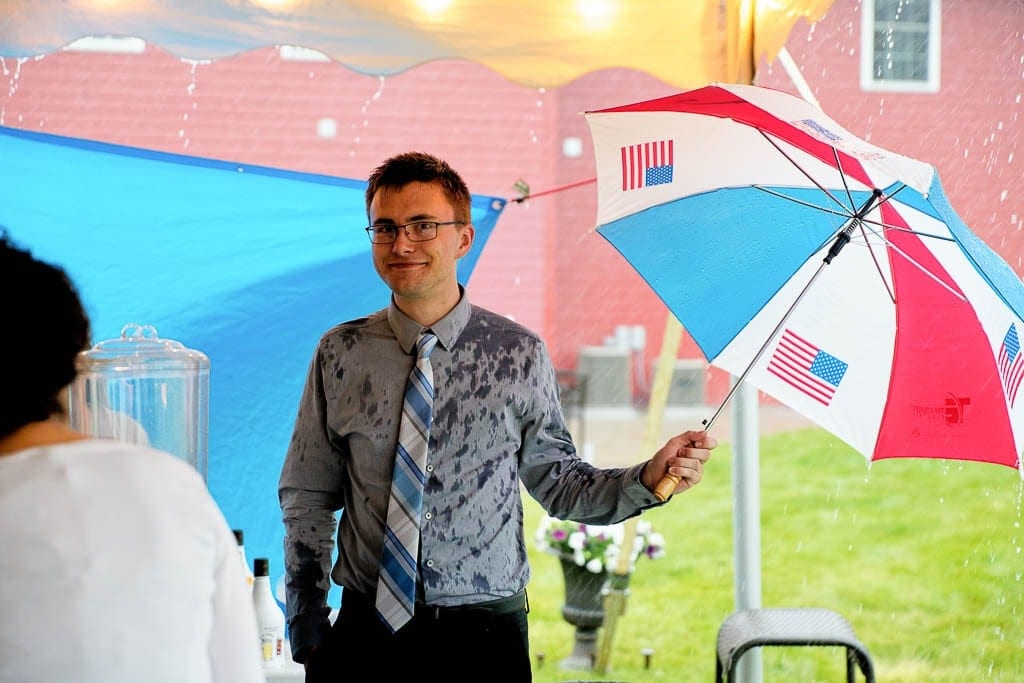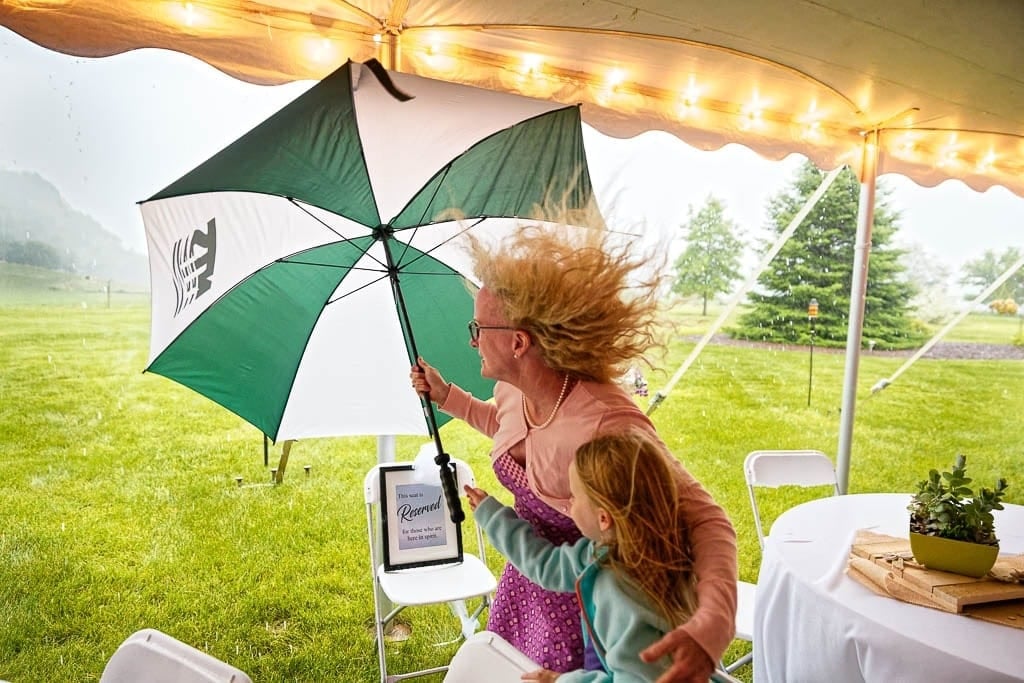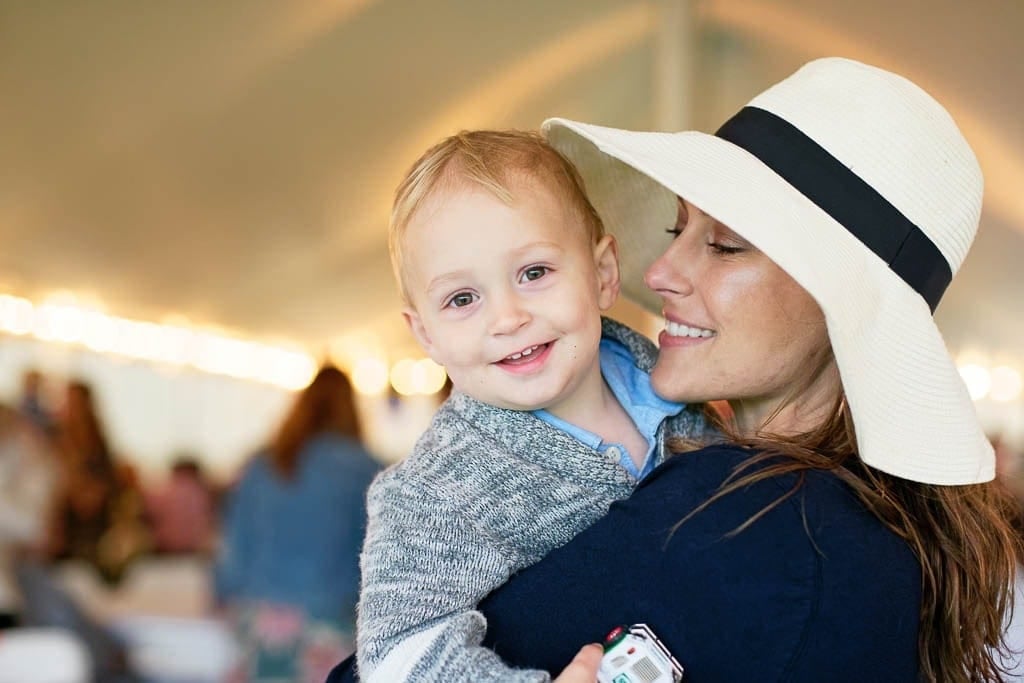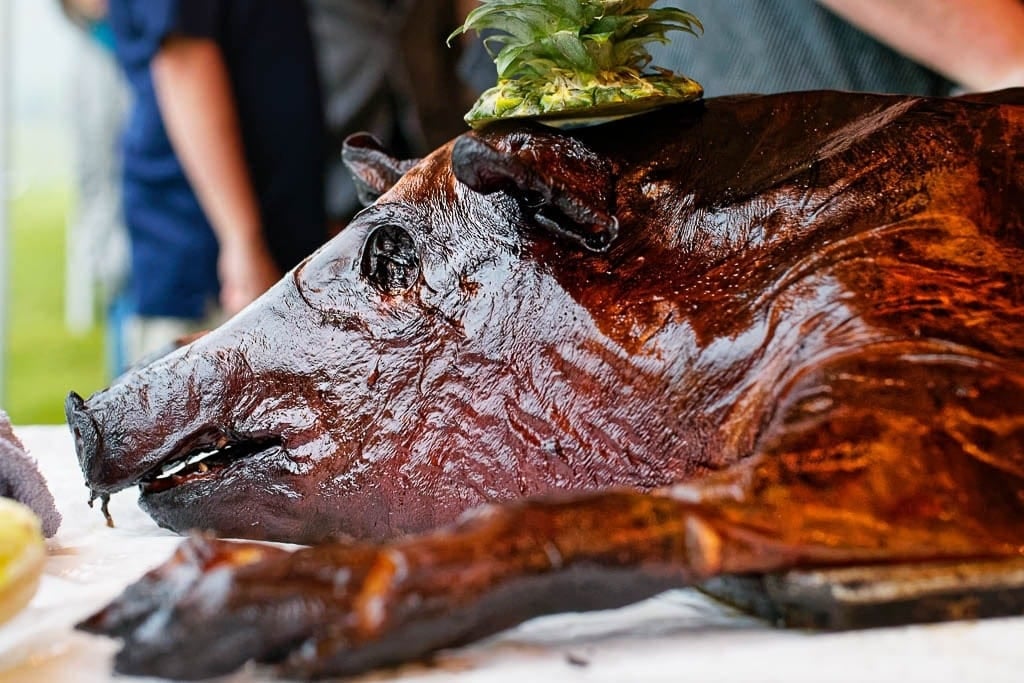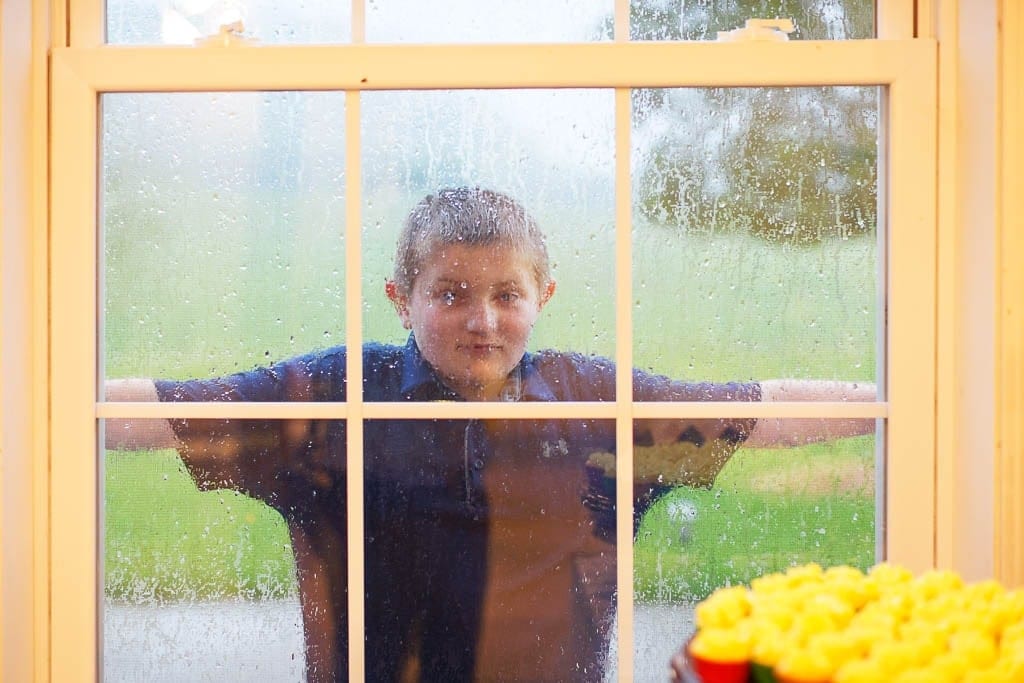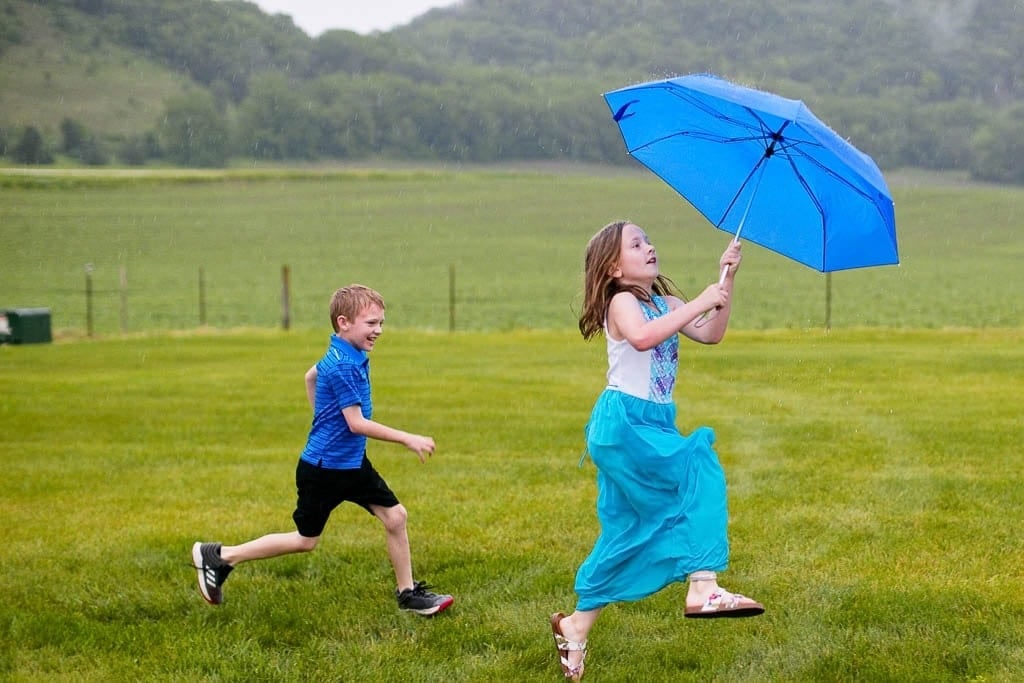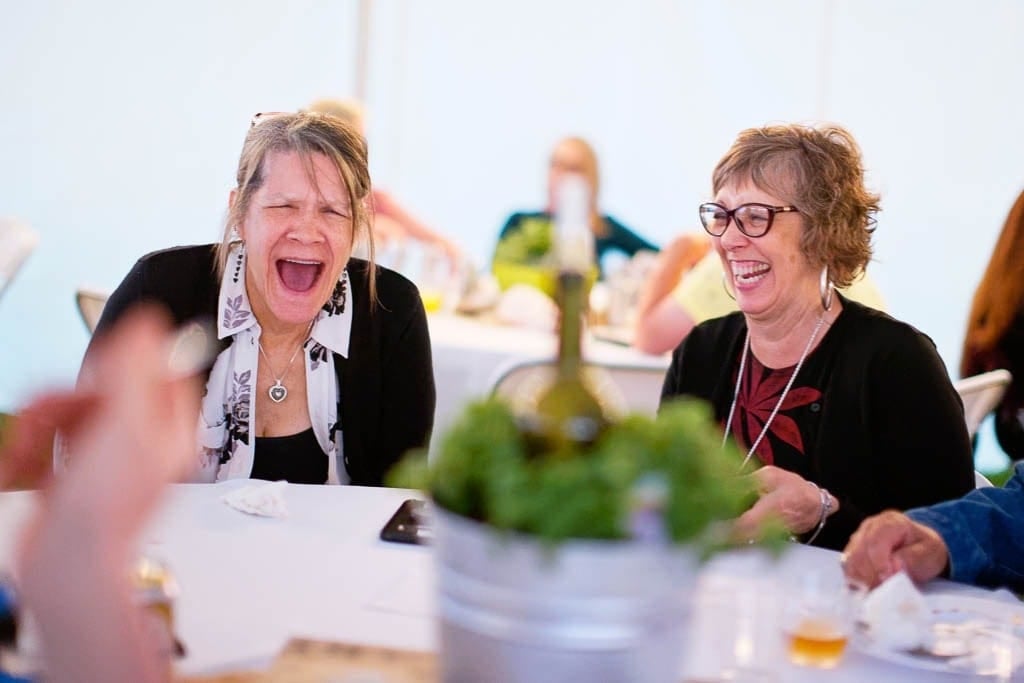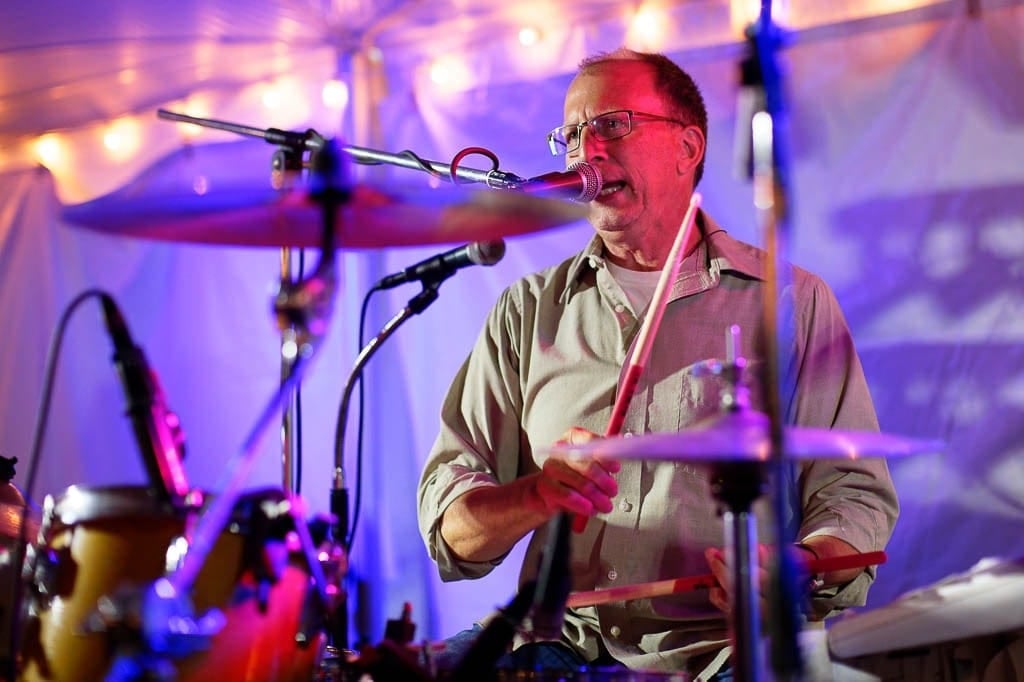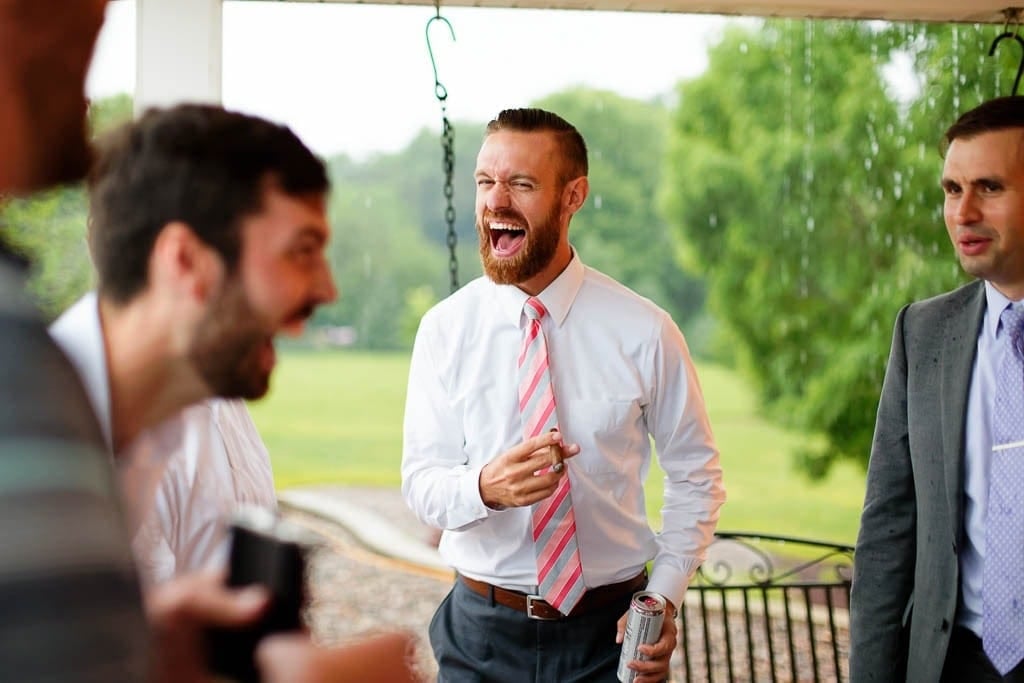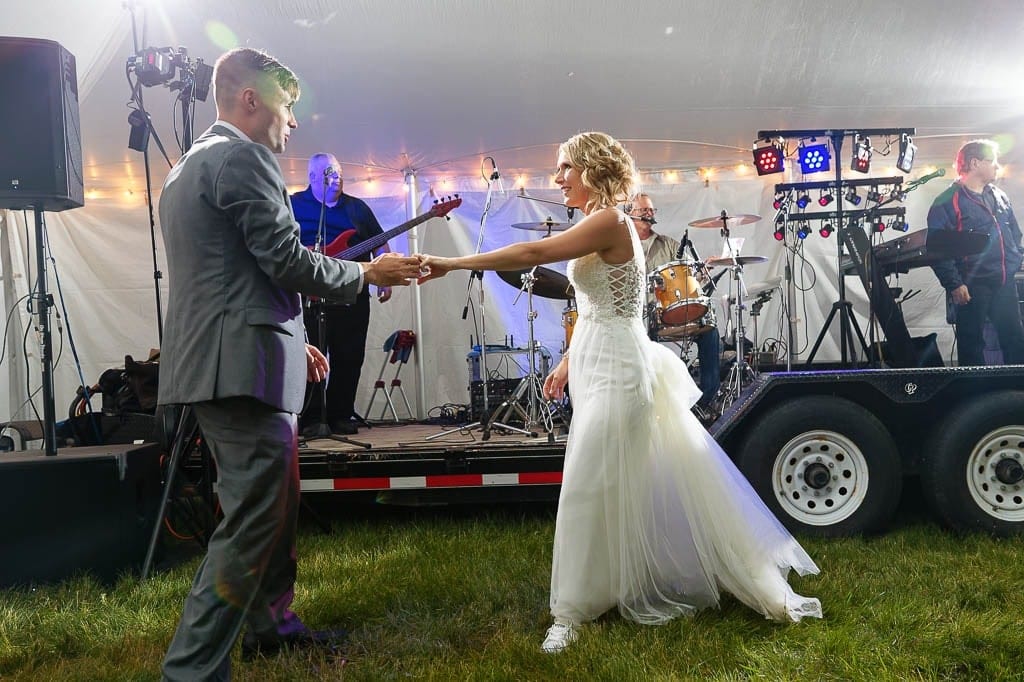 Rain is not an affair, don't let it affect your mood.
When you plan an outdoor wedding, rainy day wedding is a risk. Being aware of it, you should not let it affect your feelings if that option occurs.
I know it's easy to say, and it's another thing when you planned this event during months and years.
But if it prepared it correctly, you must have a solid Plan B.
Therefore, keep in mind that a wedding is at the same time filled with little details that don't go exactly as you would expect, but also with a lot of surprise that you will cherish. You should focus on the good sides, enjoy what works and not paying attention to the imperfection!
Even if it's a one lifetime event, you don't need a pure blue sky for an emotional wedding you will remember forever.
A variety of tips successfully host your outdoor celebration in Minnesota. 
Outdoor wedding could be the best, or the worst.
Those are keys to host your outdoor events successfully, even in case of rain.
Keep guests entertained
That should be the mantra for all kinds of event entertainment. Who has never went to an event, get bored after one hour and just waiting for the first opportunity to leave?
Drink
They had a mini bar hosted by some friends from the neighborhood
Food
From the appetizer to the spectacular roast pork, guests had good food to eat.
Candy
Kids and also adults are sugar addicts!
Cigare
Men enjoy having their cigar moment during the reception
Music
A music band is always a must. You don't need to hire the famous Blue Water Kings (from Chicago). For instance, Megan and Chris asked for their parents' friends to play.
Wedding Coordinator
When hosting a big event in your home (or your parents' home), you become your own wedding coordinator. That could be pretty stressful.
In consequence, I strongly recommend that you are not the one in charge of taking any important decision on your wedding day, except saying, "Yes, I do".
Having a professional dealing with all the problems you can face helps to avoid any problem.
A wood floor
A wood floor is a "luxurious" option you can consider in three situations:
If the lawn you are on is not perfectly flat and some of your guest could hurt themselves (especially when dancing)
If you know, you will have a chilly temperature. Indeed, wood floors would isolate the tent better. So it's recommended during spring and fall).
If your location can quickly turn muddied with water.
Have a booth or chairs for your guests
A new popular (and safe) trend is to avoid any chairs, in order to encourage families to interact. It's a trend inspired by business convention where the goal is to develop your network. It also brings rental price down. But keep in mind that a wedding is not a business gathering. Folks (especially old ones) prefer the seat and be able to rest.
Rainy day and photography
One common misunderstanding is to believe you can't get a good photo under bad weather.
While it's true for an incredible downpour of water, photography is possible under a drizzle
Drops, Snow and clouds are photo compatible
Of course your photographer would prefer a warm atmosphere and would like to take pictures during the golden hours. That said, it's totally possible to take pictures under the drizzle and the snow. Indeed, equipment is waterproof, and we have some lightening technic that could actually give nice result.
Regarding the clouds, they should be considered as an asset. Indeed, that allows shooting pictures in almost every direction.
Be prepared
Have a large, transparent or white umbrella, and adequate shoes.
Be aware you can end with dirt on your clothes.
Ask your personal intended to help you.
Patience is your best friend
On a rainy day, it's rare to face showers and deluge non stop. Even if you don't have a nice venue to wait, be patient, a seize the first opportunity when rainfall turns to sprinkle. It is considered as an extra opportunity to take pictures.
Sure, having a photo taken before the ritual means you won't discover each other on the aisle. Nevertheless, it also means you will do a first look fallowed by your couple session and your bridal party photos. I like first look at weddings, that gave the husband and wife to be a private moment before the rush.
Stone and Brick Walls
When there is no sun, photographers look for stone walls and exposed brick walls. Of course it is you are planning an outdoor wedding, you probably don't have a venue with those last. For this reason you might need to drive to a historic area (usually downtown) to find another location.
---
Check other examples of indoor/outdoor spaces for wedding in Minnesota
Irving Park (Saint Paul), is public and allows rehearsal
The Loring Social and it's cozy booth, located in front of the Loring Park, Minneapolis (where you can have an outdoor wedding)
Like most of the golf club, the Town and Country Club (Saint Paul) offers both inside/outside the site, with the option to do rehearsal (it's a real venue).
Finally, if you are not convinced, a classical venue such as the Historic Concord, would provide you with the guarantee of good memories, a smooth celebration in any circumstance.