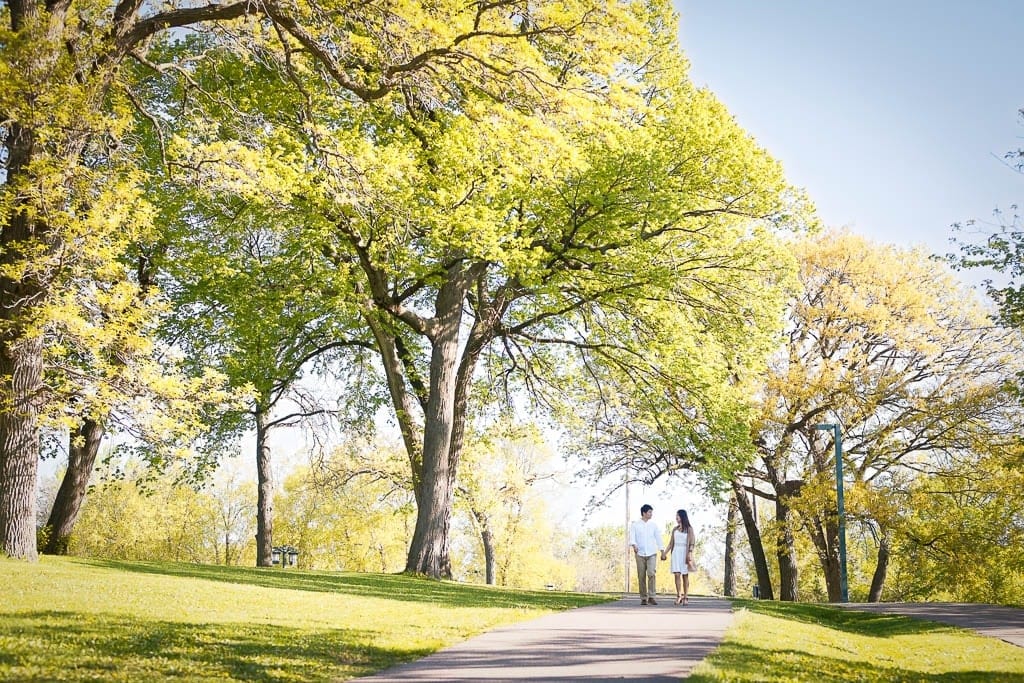 The most famous falls in Minneapolis MN
Discover this great engagement session at the Minnehaha Falls Park Mn South Minneapolis
After a sunset engagement session at Harriet Island in the Twin Cities, today, I will share this waterfall session in the south of Minneapolis. So, in this article, I will not only introduce to you this attaching couple but also present one of the most renowned parks.
I first met Isabella and Ywen in a small coffee shop near the Frederick R. Weisman Art Museum, on the University of Minnesota campus. They were both students in some obscure mathematics-informatics fields (that I don't understand), and both having a PhD. They were in love for a couple of years and wanted to get married. Given they are Chinese they were planning to have a big wedding in China and a small one in Stillwater (with only the best friends living in the USA). As a consequence, they needed a wedding photographer.
A Photographer to Capture Candid Shoots Reflecting Their Personalities
This Minneapolis couple needed to find a talented professional wedding photographer in the Twin Cities that you put them at their ease in front of the camera. Indeed, they passed more time facing their computer than having their portrait taken, and they were anxious to do awkward poses.
During our first meeting, I share my experience with them, explained to them how I managed to get natural images, show them several wedding album.
I hope it was my pictures and my albums that seduced them, and not only because I could speak a few words in Chinese during our first rendezvous. Yes, that one thing I am proud of, having learned the very basics of this language when I was a student during one academic year at the Beijing Fine Art Academy.
But let's focus on their engagement session!
A large variety of Waterfalls options for your photos sessions
Contrary to most of the session in the city that takes place around a lake (or other water points), Isabella and Ywen wanted to include a waterfall in their pictures.Indeed, they came from a mountain area! Given the Niagara falls being too far away, I had to find something in the 10, 000 lakes state.
Saint Anthony Falls (surrounded by buildings)
I first thought to those Falls, located close to the Hennepin Bridge, the Nicollet Island (and the Nicollet Island Pavilion), facing the Stone Arch Bridge and the Mill city museum. But access to those falls is really not easy, and actually you cannot walk close to the fall. What's more, they are specular by their larger, but not much by their environment.
Taylor Falls
I first discovered them when shooting Derek and Harriet photos in Lindstrom, MN. Loved by photographers, the falls state park located at only 1 hours driving north to the city. It offers some rocks, pines tress, and a wild mountain environment with an Alpine style. Despite the fact that we don't really have a view on the falls themselves, the river eroded the rocks, and carved out a gorge to create a tremendous landscape. This is for sure one of my favorite locations, but, you need to drive one hour.
Shadow Falls
It's a small waterfall. It's located in St Paul, near the Monument, which is a great place to shoot a few pics with a panoramic view on the cityscape.
Hidden Falls
Another famous waterfall in Minnesota is the hidden falls (in Saint Paul, MN). But it's not very impressive!
Gooseberry Falls
Then I thought about the Gooseberry falls. But even if it is a famous tourist destination in Minnesota, driving up north to the Gooseberry in Two Harbors, MN, was a lot of work for some engagement pictures. Indeed, if you choose such a destination, or a preserve National Park (such as the the boundary waters) , the best would be to arrive on location the day before.
You would rent some bedrooms for the night, and to wake up for the sunrise for the photos. That's what I did with another couple getting married at Duluth; we got some amazing images.
Anyway, Gooseberry falls were too far for us.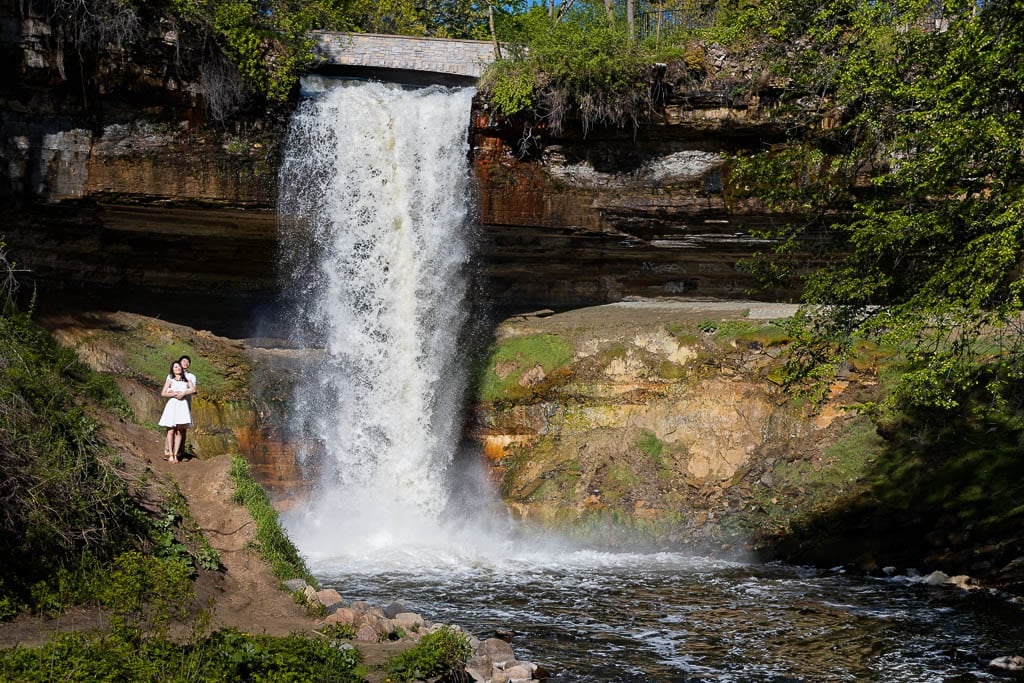 Minnehaha Falls Engagement
Also we decided on a much easier and closer destination in Minnesota, the Minneahaha falls, located a few miles driving from downtown which was so much more convenient. Surrounded by fort snelling state parks, bordered by the Mississippi River and the MPLS airport, the access is pretty easy by the highway, and the parking lot is huge.
The park offers a spectacular 50 foot falls, but also an entire park, with trails, hills, tulips, lilacs fountain and creek.
A Calm Week-Day Morning
If you have read my advice page regarding the photo session, you would know that I love to shoot photographs very early in the morning on a week day, because there is usually nobody. For instance, before arriving, I drove in front of the Nokomis Lake's recreation area, it was almost empty (while it is usually full of people during the weekend).
So, I negotiated with Isabella and Ywen to start the shooting as soon as possible. For them that means 9 a.m. Of course I understand that most people are not ready at 5 a.m. and need a cup of coffee before being able to do anything.
Also I arrived sooner in order to scout Minnehaha Park. Indeed, at this period (my first year in Minnesota), I visited the park only once during the winter. I was the French tourist taking photos of the frozen Minnehaha falls.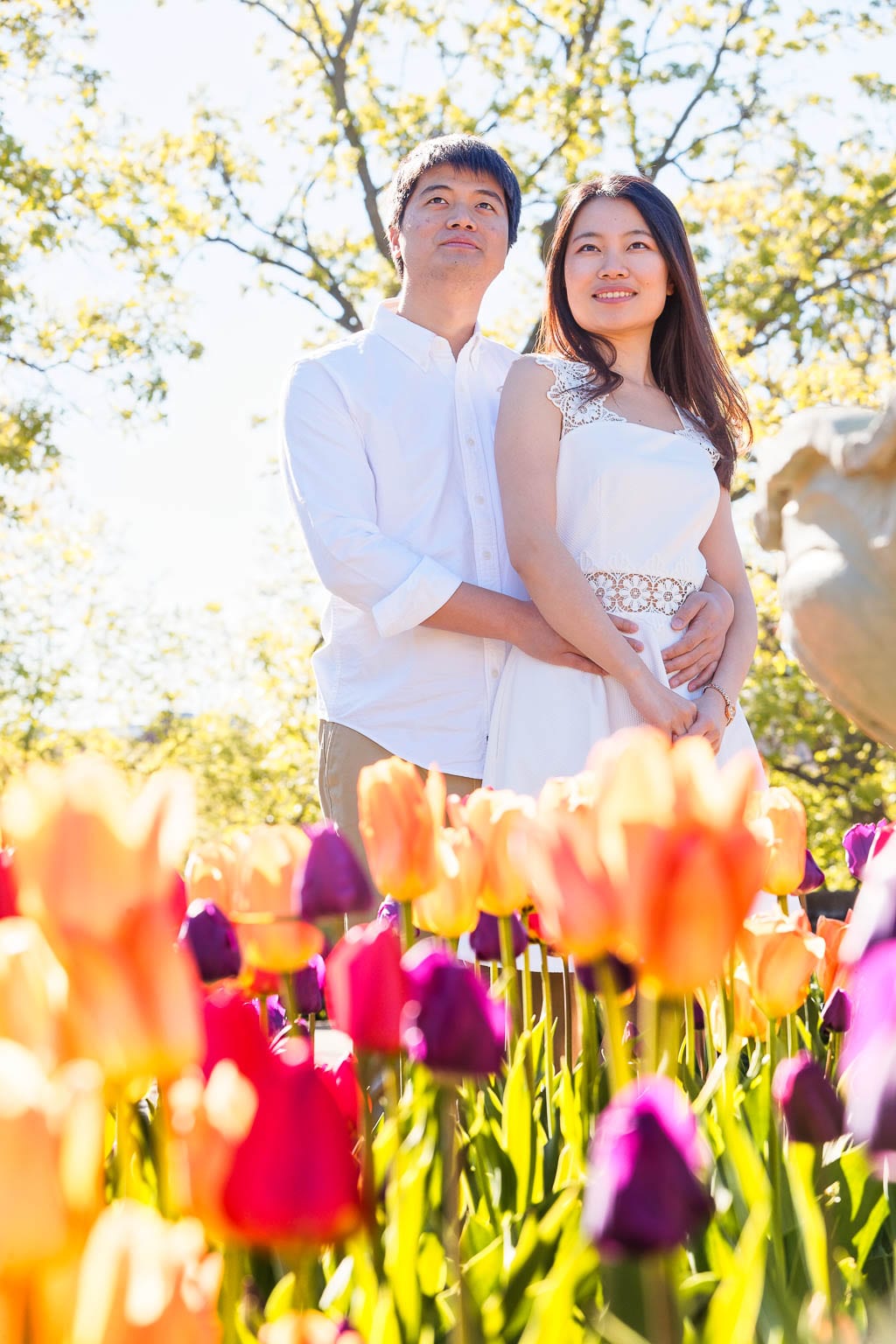 Early May and Blooming Season
We were now in spring (May), and obviously the blooming landscape was not exactly the same! That's why I wanted to check the location before the session, in order to find the best spot regarding the lightening. Luckily for us it was a sunny day, with no clouds, so we had a lot of natural light.
When I parked, I saw the John H. Stevens House. It's a nice white house that could work great as a background for a nice portrait. Just in front stood the Minnehaha Falls Pergola Garden. Despite the fact that I usually like pergola, the design looked a bit "messy" for me, and the sun was not at a good position to take pictures there. Also I decided to scout in detail the park, and walk alongside the Minnehaha Creek, which is a long path.
I stopped when I realized it would be the same trail through the wood that will end at the Mississippi River.
Another good option would have been to use the Longfellow House, but at this period I didn't know this place. Anyways, it's more about charming venue than the falls or the nature.
When the engaged couple arrived, we started by using the pedestrian path.
The large pedestrian walking path
I ask them to walk, holding hands, like two teenagers in love, on the large walking path. It goes through the huge oaks and is bordered by beautiful 100-year-old trees. The park was almost empty, except the maintenance team and a couple of local people jogging, and biking. Also we had all the liberty to appreciate the beauty of the natural and historic landscape.
We were in spring and it was a great pleasure to include the green blooming trees in my pictures' background.
The Picnic area banks
After that, I used the Picnic area banks to seat the couple and to capture close-up portraits. My goal was to have them interacting and using their body, in order that they really relaxed. Indeed, even if the first images show some complicity, I had the feeling that these two partners were not very much at ease in front of my camera. And one of the best ways for photographers to help a couple to feel confident is to put them in a situation they are able to play with their bodies (so they forget me, and they feel relaxed for being glued together).
Finally, I convinced Isabella to take off her open brown sweater, to stop hiding, and to reveal herself in her nice white dress.
Lila and Tulips
After that, we went closer to the bluff, and played with lilies and with the sun, creating silhouette image.
Just in front of us stood the Song of Hiawatha Garden which was covered by hundreds of tulips. In the middle of the garden stood an antic Fontaine surrounded by red, yellow and purple tulips. I had fun playing with my wild-angle lens composing images including flowers on the first stage.
At that point, I had the sensation that the couple was finally warmed up and ready for our main spot, the Minnehaha Falls.
The falls gorges
From the top of the falls, you have a nice overview on the lime gorge. But it's quite complicated to obtain a great image by taking at the same time a portrait and including the waterfalls in the background (even if most of the family tourists do that, they have in consequence a mediocre result).
So we walked down the stairs and went closer to the 53 feet falls. At the bottom of the Minnehaha falls, a lot of tinny water drops were expelled into the air. That created a kind of natural fog with microscopic drops everywhere. With the direct sun rays, we discovered a rainbow! That was an amazing opportunity for photography. Of course, I couldn't resist including it in their engagement pictures.
Another unexpected event was that, quickly my lens was all covered by the fog. That gave me the idea of taking advantage of it. So I applied a few drops of water directly on the top of my lens, and took pictures of the in-love couple with the sun behind them. Indeed, when the sun rays were passing through the drop, they created an esthetic effect.
What about winter?
Would you be happy to learn that those falls can completely freeze during winter? I have seen amazing engagement shoot of happy couples having their picture taken with the frozen falls.
Nevertheless, the ice can be dangerous, and the access is usually forbidden. Another alternative could be an ice castle.
Revealing their relationship on the Sand Path
Whereas your engagement photo takes place in a park in St. Paul, MN, or in a natural park, you need to be comfortable with your photographer to reveal your true personality.
After the falls gorges, we walked alongside the Minnehaha Creek. The light had already changed since the morning! Thus I realized that it was at that point a perfect place to take pictures. Indeed, the clear color of the path floor (a kind of bright lime stone) reflected the sunlight, and was creating a nice soft light.
Using my telephoto lens, I took some pictures of the engaged lovers from far away. At this moment they really had fun together, and you can see their complicity in the photographs.
Ready for their reception!
They were ready for their outdoor ceremony in Stillwater, MN, and their celebration in a restaurant similar to the Happy Gnome in St. Paul. What's more, this training helps them to save time on their wedding day.
Indeed, on their big day, thanks to a late hair stylist they didn't have much time left for the bride and groom photos. But thanks to this rehearsal, they managed to quickly get confident so we got good portraits in a few minutes!