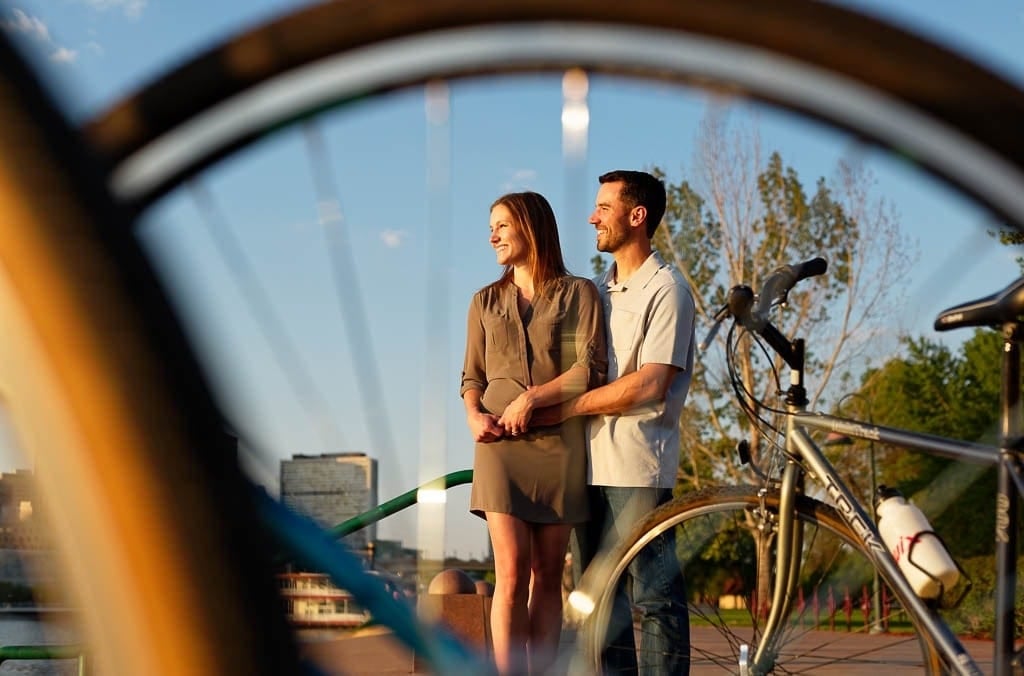 Engagement session at Harriet Island, St Paul, Minnesota
Harriet Island Saint Paul Engagement Photos
After a first session in Minneapolis, Steph and Nath fallowed their professional photographer, into a popular place in the cities, where families and lovers love to mingle: the Harriet Island in Saint Paul.
If you want to have a look, check my portfolio where I previously published an article on the first part of this pre-wedding engagement photo. The shoot took place at the Minnehaha Dog Park  in Minneapolis with the couple's pet (not to be confused with the Minnehaha Falls).
Now, I present you the second part of the engagement photo, and the park itself.
Sunset Time With Their  Engagement Photographer
This was the last part of their engagement session. We were lucky to arrive just in time to capture candid shots with the sunset behind St Paul skyline as a backdrop. We also did a portrait series alongside of the Mississippi River. I asked the couple to seat on the rocks and the groom to whisper some silly things to his fiancee in order to make her smile and laugh.
Using the on-Location Elements of the park
I also used all the riverfront elements like the historic riverboats and the Pavilion. While I was capturing some pictures, I noticed in the background someone left his bike. Instead of upsetting me, that gave me the idea to use it for a creative and artistic shot.
Running Out of Natural Light
The sun was going down and I was afraid of not having enough variety of photos shoot for their engagement pictures! Luckily, further on the shoreline was the boat access and usually they don't require permits to take photos on the deck. It was my last chance to take more portrait pictures lovely couple while the sun was going down behind the iconic Saint Paul, MN.
The bride-to-be was stunning with her modern dress! She played the game all the time and wasn't posing. The groom was relaxed since the beginning. At this point I know their wedding pictures should be tremendous! Indeed, no posing is the perfect option for a wedding photographer to capture memorable pics.
During the photo session, I asked the groom-to-be an intimate question, to tell me more about his proposal in order to learn more about his mysterious personality. It was, of course, a romantic proposal. While he was sharing his memories I tried to catch the last engagement photos, I could photograph.
Know your Saint Paul Wedding Photographer before your big day
Whereas you host your wedding in St. Paul, Minneapolis, the twin Cities area or further in Minnesota, the best wedding photographers would recommend that you have a photo session prior to your big day.
So on your big day you will feel at ease and won't pose. That allows me to create natural and timeless pictures even during your session and during all your wedding day.
Summarize of the park assets
Let's summarize the advantage of this park for a photo session.
Mississippi shore
Which is always great to have access to the water.
View on the city skyline
That offers a dynamic background.
Steam Boats
A nostalgic touch of history. Ask the boat organization if you want to have a ride.
Hills
Great for compositions
Vegetation
Nice trees that make a depth of field
Parking and Bathroom 
Easy to park and public bathrooms allowing you to change your outfit.
Clarence W. Wigington Pavilion a ceremony location
Located in the center of the park, this venue looks pretty decent. It is built with stone walls in a Spanish revival style. If it's not rented, it can then be used for pictures.
What you should consider before having your portraits taken at this park.
Wind
It's a windy area, so dress accordingly. Take advantage of the breeze by choosing clothes that take the wind.
Events
Make sure there is not a festival scheduled, and no wedding ceremony nor other kind of celebration at the Clarence W. Wigington Pavilion. Ask the Park Board organization for information to make sure there are not arts festival taking place.
Outdoor
Like every outdoor location in Minnesota, you are dependent on the weather. So keep an eye on the forecast.
Complementary Location
You might want to add an extra location for more ambiance variety. Luckily, there are plenty around.
Complementary locations
In photography, the more different backdrop you have during your sessions, the more different portraits and memories you will keep.
Touristic Parks
Alternative to the Harriet Park in St. Paul, MN, could be found in touristic locations such as the Minnehaha Park. With its 50 foot falls, the iconic Stone arch bridge with its renewed sunset on the city skyline, or the Arboretum with its gorgeous flowers and plants.
Of course the risk and the limit of such touristic place are to have some uninvited guests on your photographs, such as big families doing selfies or having a picnic.
Simple Urban Park by the hand of man
St. Paul, offer a variety of quieter and smaller park, such as the Kellogg Mall Park, loved by students from the university. They are usually not crowded, and the mix of domesticated landscapes and buildings generate a great harmony. That's the concept that exploits outdoor locations, which are basically beautiful gardens with extra decorations (such as the Trellis Outdoor in Stillwater). We could also consider the Mears Park, the Rice Park, the Irvin Park, just to name a few.
Nevertheless before heading there, make sure there is not an event planned, such as music festivals!
Wild Mountains and Falls
If Harriet Park is too domesticated and quiescent for you, drive to the Taylors Falls, MN, to enjoy its State Park. Further north in Minnesota, beyond Duluth is even more delightful.
Indeed, wild nature, mountains, pine forest and falls it's the place to go.
Located at only 1 hours from the City, Taylor's Falls are a great compromise.
Natural Regional Park
Loved by photographers seeking great portraits regional parks such as Lebanon Hills works perfectly well for engagement sessions. They are broad open on the lake and original nature, and usually not very crowded. However, some park might ask for a permit to enter, which can be a deal break for a couple wanting to save money.
Historical Masterpiece of Architecture
Any sublime and old architecture such as the Marjorie McNeely Conservatory in Como Park is a potential amazing background for your portraits. Indeed, they are charged with the aura and the aesthetic of a glorious past which impacts your images. What's more, glass and stone buildings can be used in any kind of weather conditions, contrary to nature.
Modern Architecture That Is a Piece of Arts
Some modern architecture presenting a strong aesthetic character could also be used for your seance. Let's think of the Guthrie Theater (by the French Jean Nouvel), the McNamara Alumni Center (by the American Antoine Predock), or the curious Weisman Art Museum (by the Canadian Frank Gehry).
Rustic and Post-Industrial Construction
In photography, anything old and authentic, that have conserved a real, strong and positive identity from the past can also be used. That implies red brick post-industrial buildings (such as the Pavilion on Nicollet Island), warehouse area (like the Loft at Studio J or the JX Event Center in Stillwater, MN).
In the rural, or country side area that applies to rustic barns and farms, such as the Hope glen farm.
Ideally located near dozens of venues
If you are planning to host your wedding celebration in restaurants downtown such as the Happy Gnome, then this recreation area should fulfill your common needs. That also applies to or a venue deprived of gardens, such as the St. Paul Athletic Club,  for couples who want to save time and not cross the entire country for a few pics. Indeed, it's located at less than 5 min from the center of St. Paul, on the other side of the Mississippi River (crossing through the Wabash Bridge).
With its renowned sunset on the city skyline, it can be used for bridal party pictures or for couples.
Find here is a  short list of nearby venue that could take advantage of this location: the Lowertown event center, Union Depot, 413 on Wacouta Event Center, St. Paul Athletic Club, Landmark Center, Science Museum, the Como Zoo, the Boat Club, the James J. Hill Center, the Summit Mansion, the St Paul University Club, The Historic Concord Exchange, just to name a few.