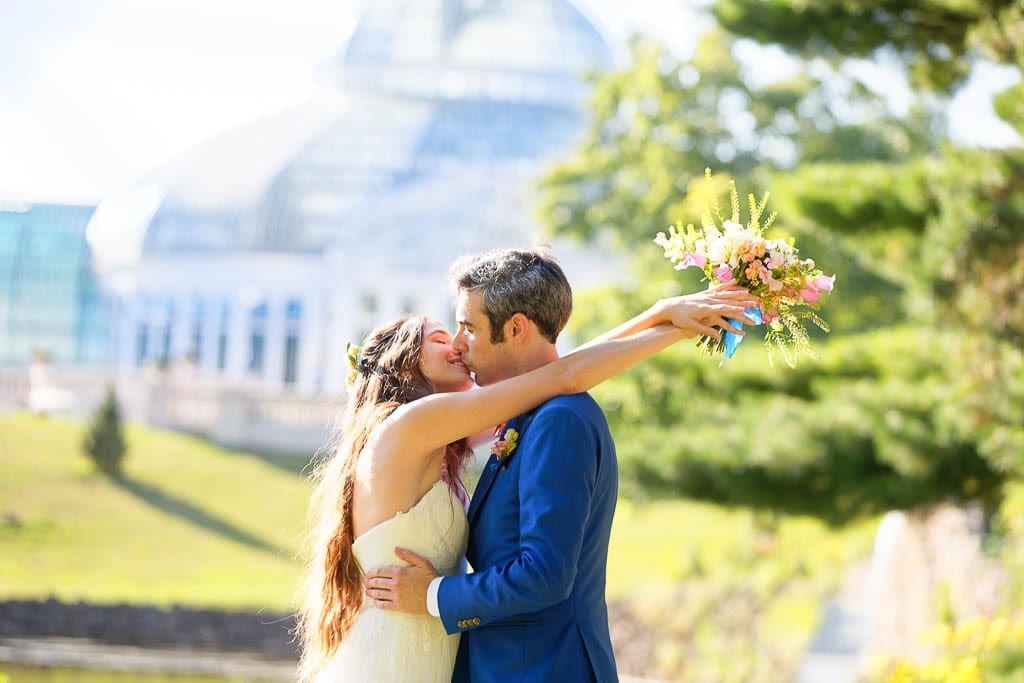 Wedding at the Sunken Garden Saint Paul Minnesota
 Salina and Justin at the Saint Paul Conservatory
When Salina and Justin were planning their destination wedding in the Twin Cities, they were looking to hire one of the top wedding photographers to capture their mutual engagement on camera. They wanted more than traditional pictures; they wanted a mix of authentic stolen moments and artistic images.
Talented, Justin, has an artistic eye and thus he's working in animation for a company named Disney. He noticed my work among many vendors and liked my candid shots and the unobtrusive way I capture moments. He contacted me, and we discussed the pre-wedding production during a video call session. Then a couple of months later, I was about to immortalize their big day at the Sunken Garden in the Marjorie McNeely Conservatory, Saint Paul, MN.
Getting Ready Near Como Park
They arrived in the city two days prior to their dig day. It was a great opportunity to gather all their family and friends at the Best Western near Como Park. Also, it was pretty convenient given that their wedding venue and event space were 5 min driving.
We enjoyed the natural light to capture pictures of the bride and her bridesmaids getting ready. The groom's room was just across the corridor. So, their friends who were pretty exited were constantly moving from one room to the other. When I look back, it was a happy and chaotic getting ready, packed with emotions and joy! And so was the rest of the day. I was capturing unforgettable and journalistic shots.
The bride was elegant in her dress from "Tebbles Bridal". There were a lot of tears!
I especially liked the glitter of her dancing shoes! (I have the feeling it becomes a wedding trend.)
The groom put his suit on in a rush (Indochino Beverly Hills), which made me capture a bunch of spontaneous and timeless scenes.
Photo Session at Como Park
When we arrived, the botanical gardens were still open to visitors. That's why we chose a secluded place among the Como Park lawns to realize their photo session. The bride and the groom had their revealing moment. She was stunning in her attire and ready to say I do! He was literally wordless! That created some beautiful wedding portrait and unforgettable memories. As usual, we tried to avoid cheesy posed portraits and focus more on capturing candid shots.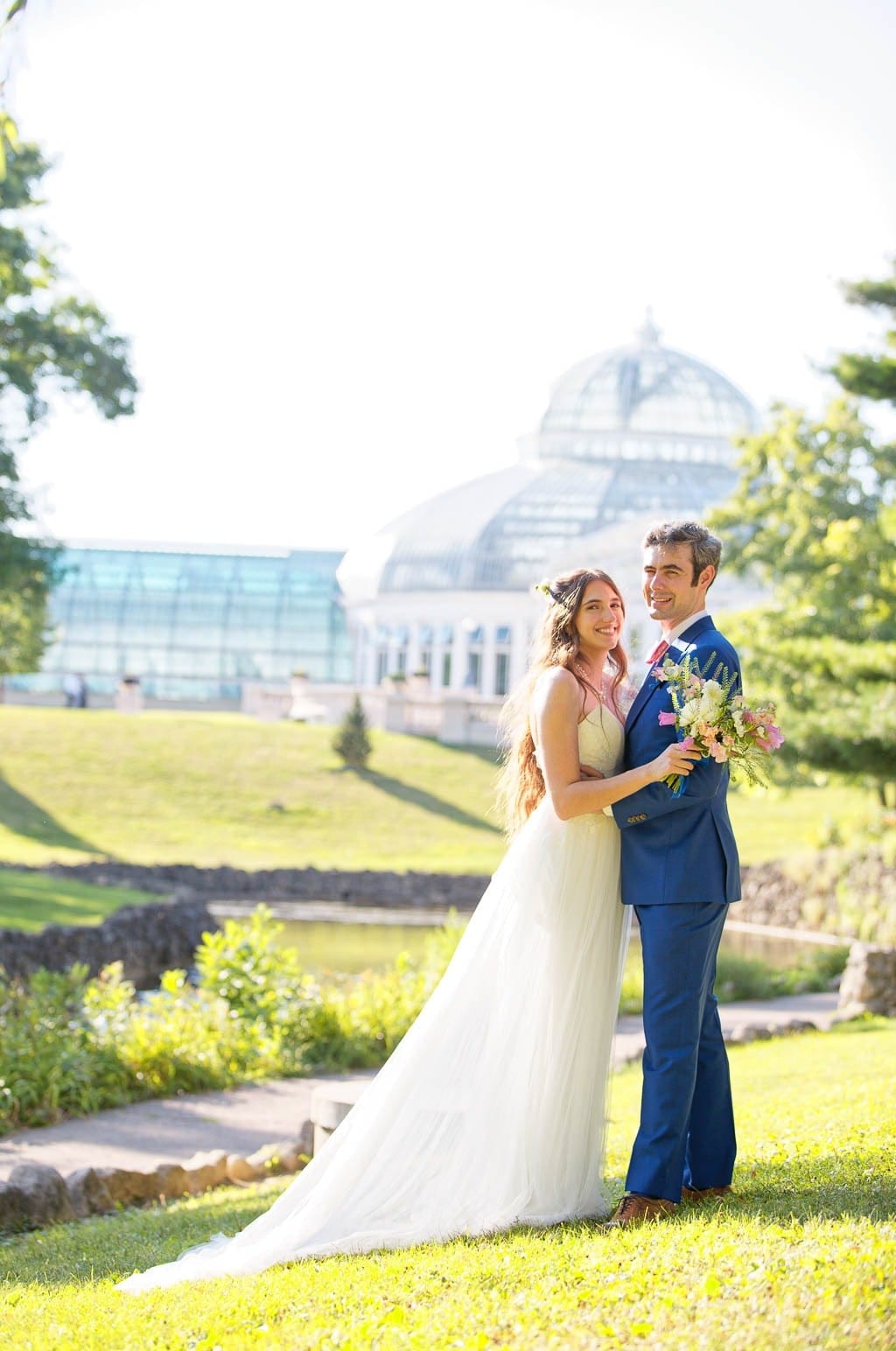 Salinas and Justin got married at the sunken garden in the Marjorie McNeely Conservatory
The conservatory is a Landmark building in Como Park and a source of national pride in Minnesota. It's easy to recognize it with its elegant glass architecture designed in 1915.
They Chose a Heritage of Minneapolis and Saint Paul History to Get Married.
You may be familiar with the Zoo and its Botanical Garden. It is a place where you can cherish the horticulture offered by tropical plants such as orchids, cactuses, and other noteworthy flowers.
What may surprise you is that you can rent The Sunken Garden Gallery of the Marjorie McNeely Conservatory as an event space. For planning a wedding, that place is a blast! It offers a breathtaking backdrop, romantic, magnificent, with lush pants that will please your guests and any professional wedding photographer!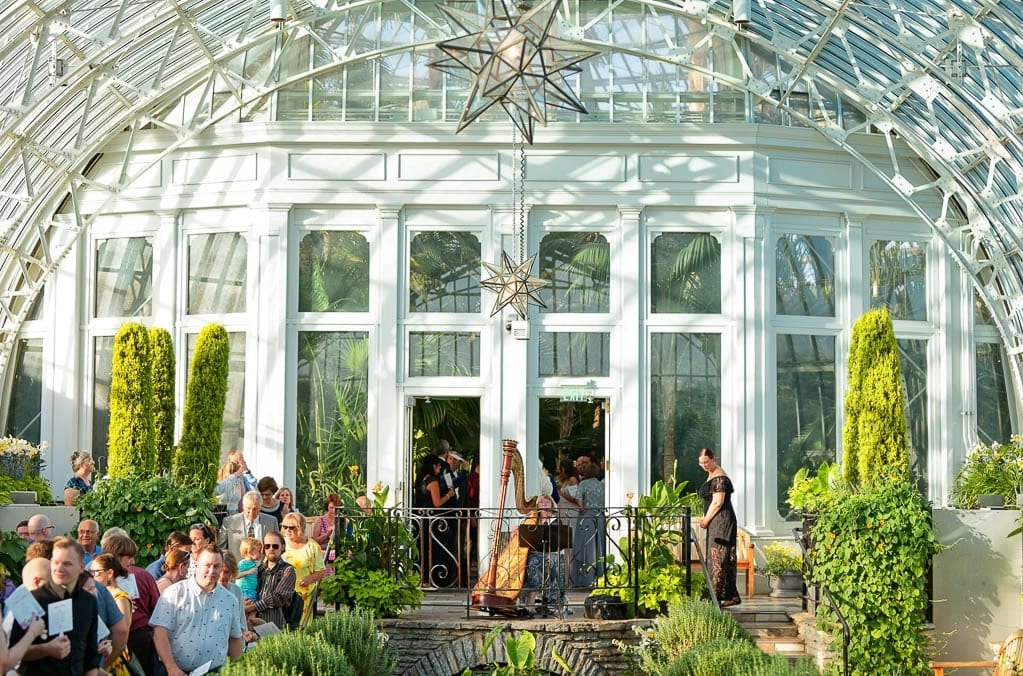 A photographer's dream!
As a wedding photographer in Minneapolis and The Twin Cities, I have captured all kinds of ceremony with my camera. Some locations are highly superior to other ones. I am always delighted to create a documentary for couples tying the knot at the Conservatory! I am like a child in a playground taking amazing portraits. Not only the venue inspires a lot of photo ideas (it's like shooting a fairytale editorial story), but also this glass house offers a lot of natural light, whatever the weather is!
That said, two points need to be mentioned: first, the temperature and the moisture degree are pretty high (as you can expect); second, this event center will fit only intimate to small weddings.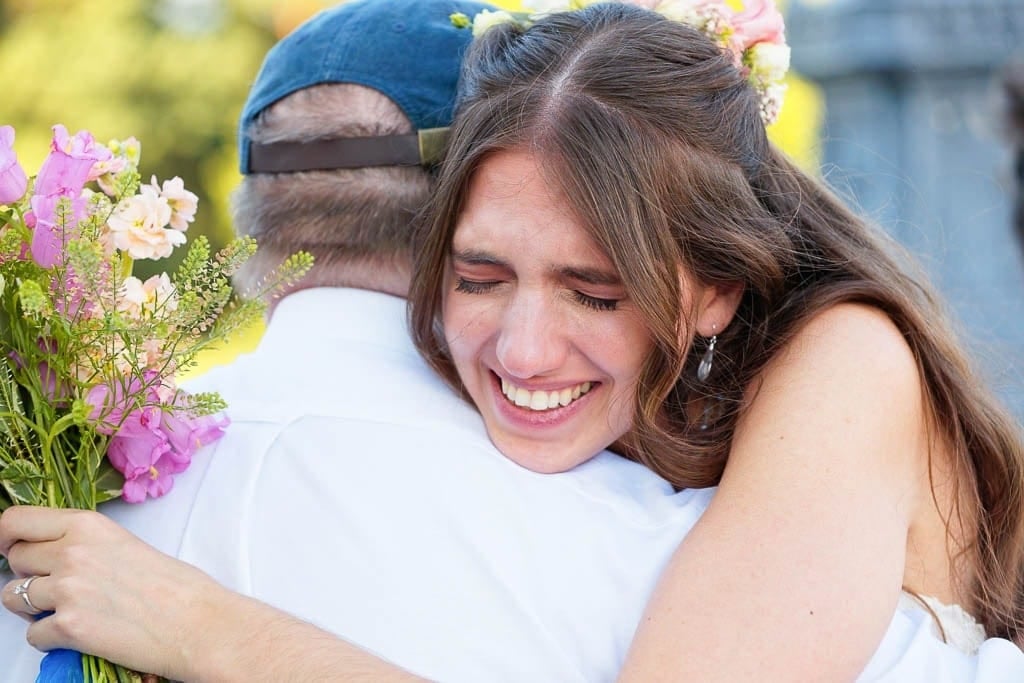 The ceremony at the Como Conservatory
We took pictures of the wedding party and then started for the ritual.
It was on live music (from the Harpist Serena O'Meara) that they walked down the aisle toward the altar. Justin's aunt was the officiant (I always recommend choosing family members when they can be officiant). And even if the speeches were formal, they created a lot of emotional moments that I gladly captured. After the wedding ri, the guests lined up outside of the Entrance of Marjorie McNeely Conservatory, on the stair case, and blew bubbles on the happy newly married husband and wife.
Wedding at Como Park Golf Saint Paul
The bride and the groom turned a pub (the Cozy's Pub) into a venue with the support of the manager.
The evening was traditional, with a banquet, some emotional toasts, and a cake cutting. The cake itself was special with its surprising manga figurines! Once done, they took off some tables for their first dance. Before the bride and the groom dance together, the first start with a dance with their mothers. Then the party really started and the dancefloor was full of guests.
All in all, even if it was a "simple destination wedding," they managed to create a romantic wedding. For that, they decided on personalized wedding attire and invited all the best friends and close family in a fairytale place. The rest was just tears and genuine emotions.
In other words, this was one of the typical weddings that I like to photograph!
I hope they will cherish all these photographs, with their children and grandchildren!
---
Como conservatory wedding ceremony vs…
Choosing the perfect venue to host your event is the guarantee of having great portraits of you becoming husband and wife.
I would say that the only downside of the Como conservatory is the limited capacity of the Sunken Garden. Indeed,  this last could not handle a lot of people. Nevertheless there are options, and they have some flexibility with the other places dedicated to events.
Let's compare the Como Conservatory with two other historical venues in town.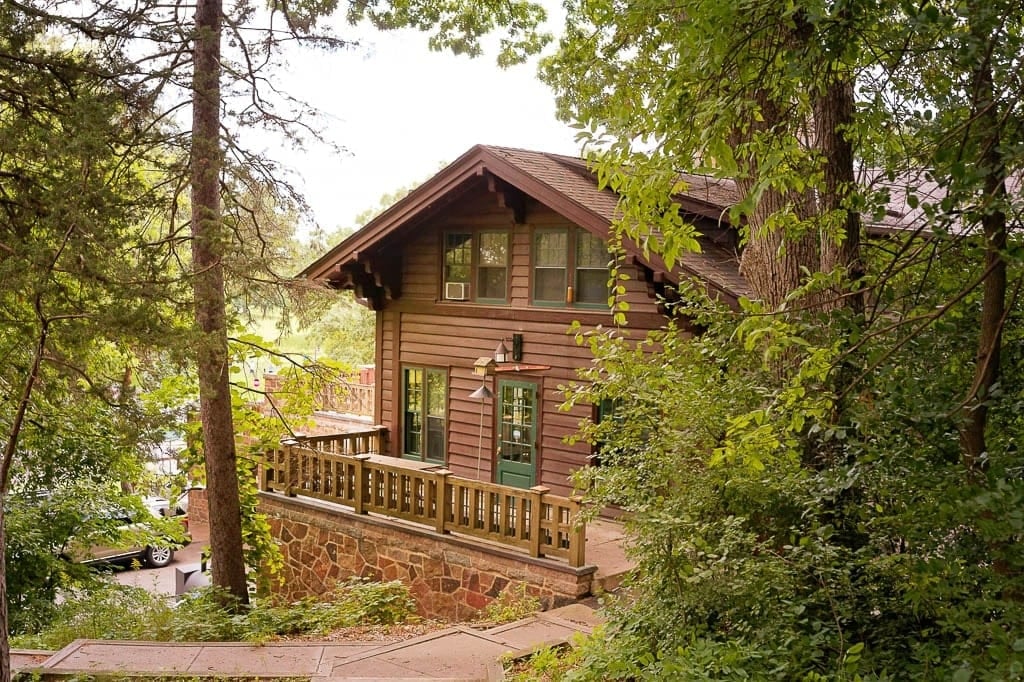 A Historical Switzerland Chalet
Minnesota is full of historical venues, such as the Theodore Wirth Chalet located in Minneapolis, MN. But all historical venues are not equal! For instance, this last one, is very dark. Indeed, due to its architecture and its orientation, this chalet does not offer natural light at all (compared to the conservatory). This is a bummer when you want stunning images of your union! Indeed, even with artificial light, the luminosity remains pretty dark and your photographer would need to add flashes.
That said the hilly area is pretty amazing, and remind me Wisconsin rolling country.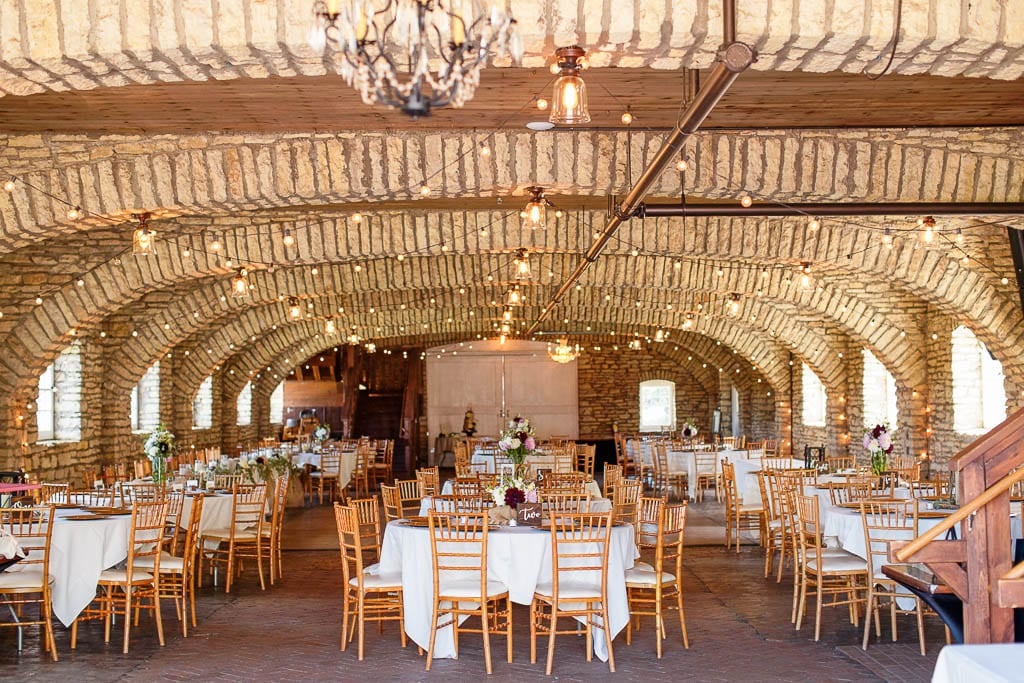 An Historical Barn
If you are looking for an authentic venue for your ceremony, check the Mayowood Stone Barn in Rochester, MN. It's is located only one hour a half drive from Minneapolis. Despite there is not a greenhouse, the arched limestone walls, and the century-old barn would give a rustic touch to your event. The imaginary is no more about the upper aristocratic class from the big city, but from the rich businessmen who were the Mayo Brothers.
Witch Adjacent Location for a Photo Session
Despite the Como Zoo is probably the most famous park in town for pre-wedding photos, you might prefer to select a different location to have your pre-wedding photos taken. Otherwise you risk to sensibly have the same images.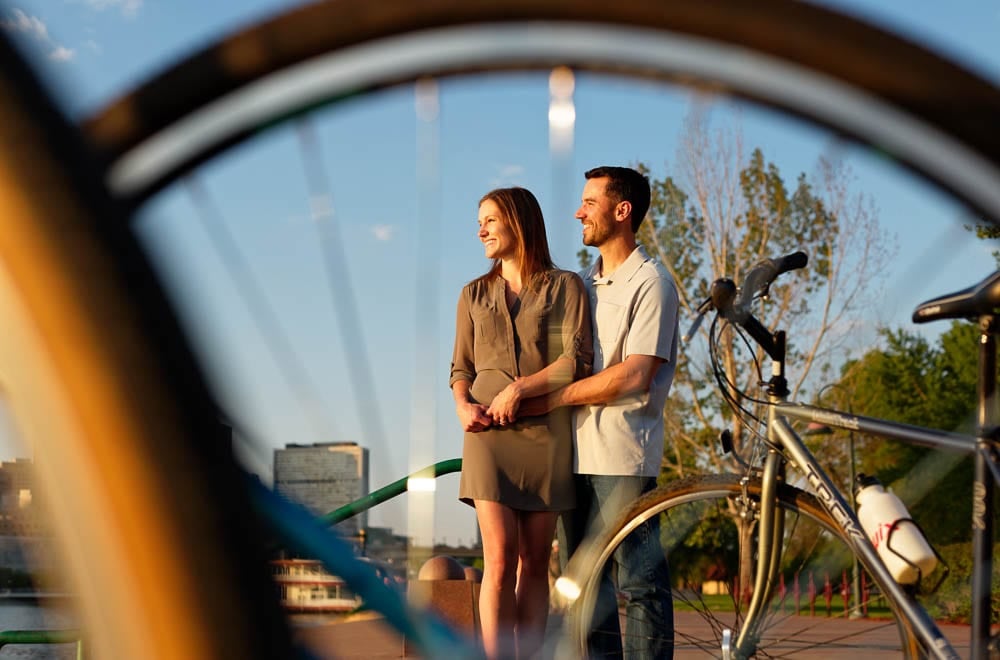 Another City Park in St. Paul
Photographers could recommend you a bunch of parks in Minnesota (such as the Harriett Island) that welcome celebration and photo sessions. Some are located alongside of the Mississippi river, or on the top of a bluff, or are bordered by buildings. Other parks would be privileged if you want to take advantage of the sunset or sunrise. Finally, other parks could have remarkable attraction, such as falls, or stone arch bridge, pounds, lakes, rose gardens.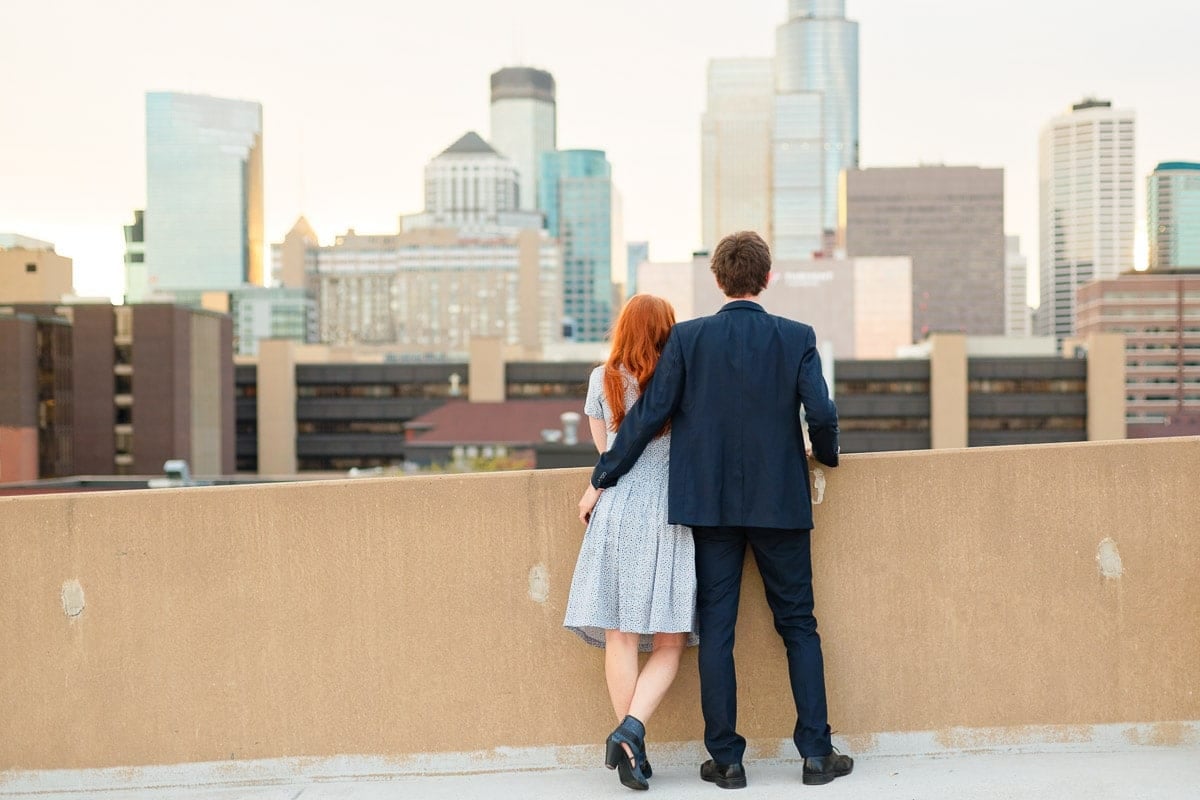 An Unexpected Rooftop
It might not be the safer choice for a wedding ceremony and celebration, but rooftop is for sure, amazing for engagement pictures. It's not only the view on the city you can have on the top of the building. It's more the sensation to be immersed in the city and its energy. Facing an adjacent building frontage would provide to your picture a touch of liberty and subversion.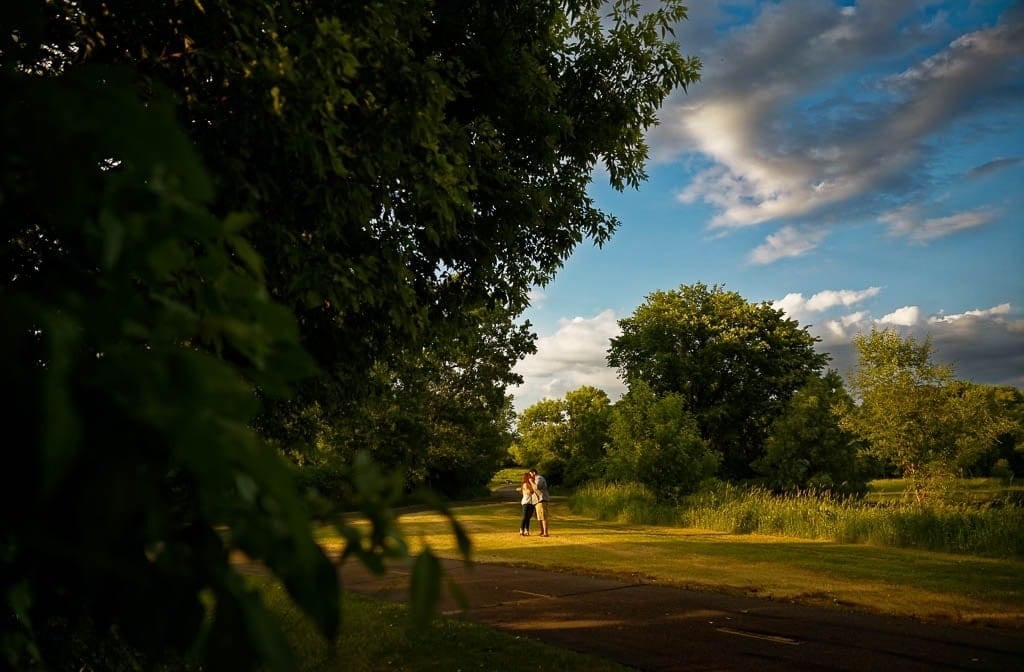 Wild Area
If photographers in Minnesota recommend wild environment (such as Lebanon Hills Park) to catch good memories, it's because they are usually beautiful and quiet. Indeed, modern park, might lose the authenticity provide by mother nature. And, in photography, quietness is a condition required so the couple can relax and feel at its ease in front of the photographer.
Conclusion
The Como conservatory is one of the most beautiful historical venues that Minnesota offers. It's a real gift for your vendors and a guarantee of having stunning portraits.
If you are planning to get married at the Como conservatory or want some pictures of your reception please call me!