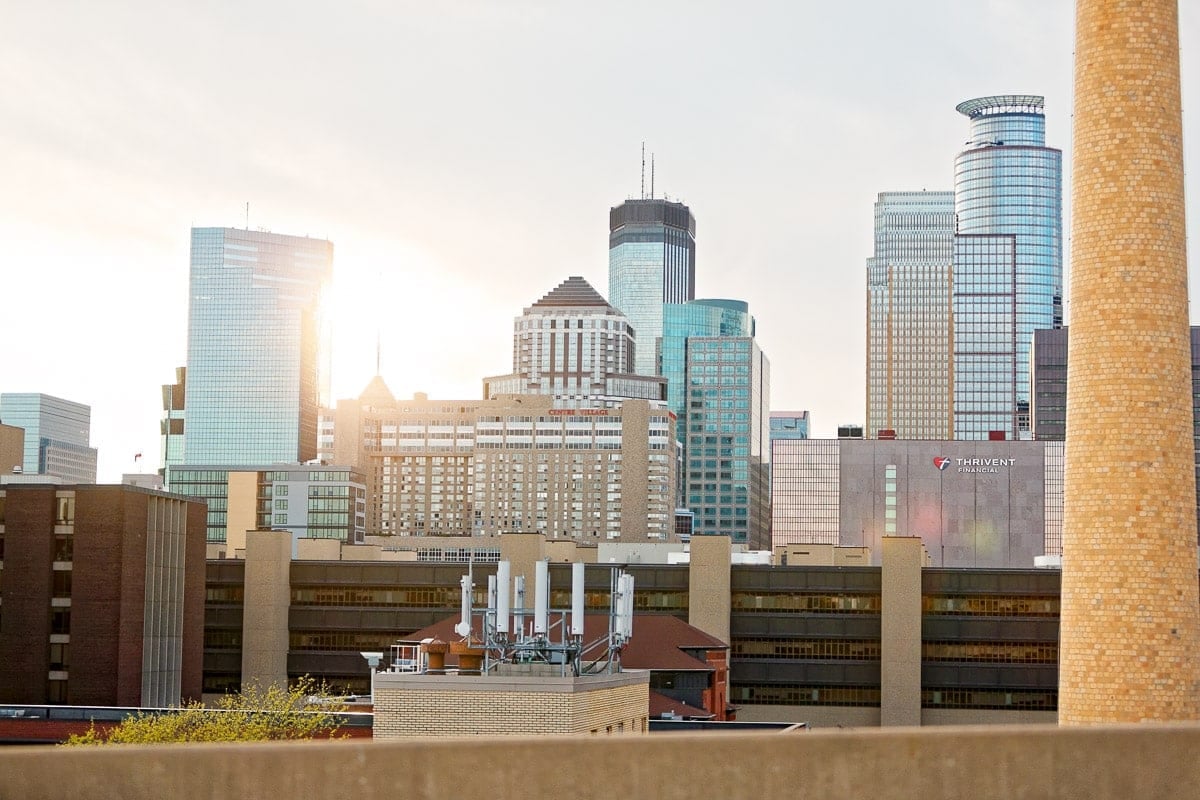 Should you have your Engagement Photos taken on Rooftop in Minneapolis?
I like historical cities such as Stillwater to use my camera, but what I like the most is shooting engagement session on parking Rooftop! It's an option I recommend to all my clients and that guarantee not only pictures different from your friends ones, but also a great result.
Rooftop is a priori not destined to be used as background for your image.
Let's try to analyze what their roots in our cultural heritage, and why they generate so many phantasms.
In a second party, we will discuss which conditions should meet a rooftop to work perfectly.
Then we will discuss what the benefits and disadvantages of hosting your big day on the top of the building.
And finally, what to consider if you decide to choose this option or not?
A cultural heritage
Open fashion magazine, and you will see many pictures shot at the top of buildings.
Standing on the top of the world is probably one of the oldest dreams, quite similar to the ability to fly.
In Greek Mythology, Icarus embodies this forbidden dream, and as a result was punished and lost his wings.
In the Bible, men build the Babel Tower reaching for the sky. Still in the Bible but also in other religious texts, God(s), appears to mere mortals on the top of mountains, etc.
Therefore, in our culture, standing on the top of the world, is traditionally a privilege reserved for God and kings.
More recently (one century ago) when skyscrapers start to emerge, the poor people, used to live on the top of the buildings, before it became forbidden (probably for security reason).
If nowadays, architect starts to valorize tops of buildings, creating patio terrasse for bars and restaurants, it remained a transgressive attitude during many centuries.
Another example of this fascination is the enthusiasm raised by drone photography.
The top of a parking
If you can have access to a real building rooftop, that would be amazing. If not, parking rooftops are usually public and would allow us to take some pictures.
To conclude, if parking rooftops are so fancy, it's because they are charged with the human dream to dominate the world, with a notion of transgression, and with a notion of liberty (associated the symbol of the car).
All you need to know if you want your picture taken at the top of a building.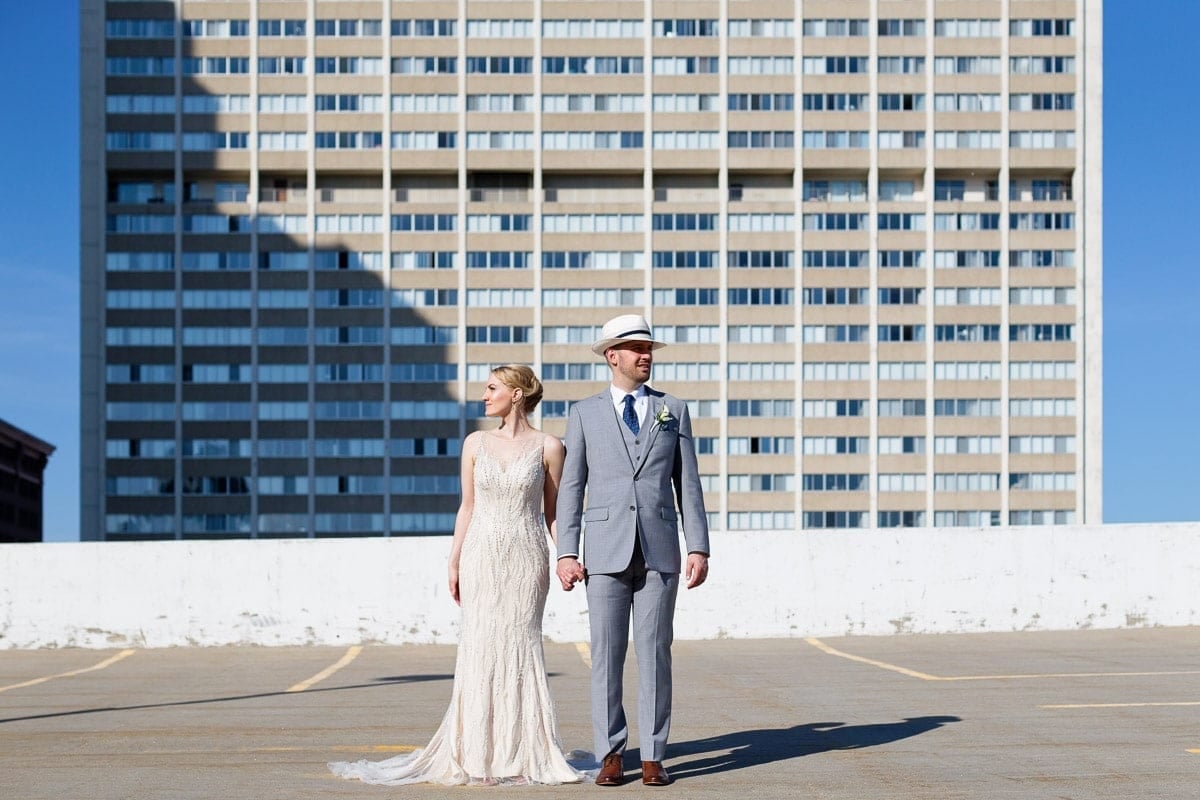 A good location does 50% of the job
All locations are not equal, and a good location will be a huge part of the couple's portraits. Nevertheless, it won't do all the jobs. The photographer will try his best to create laughter to catch. Couple's ability to relax, for laughing and having fun will also impact the result.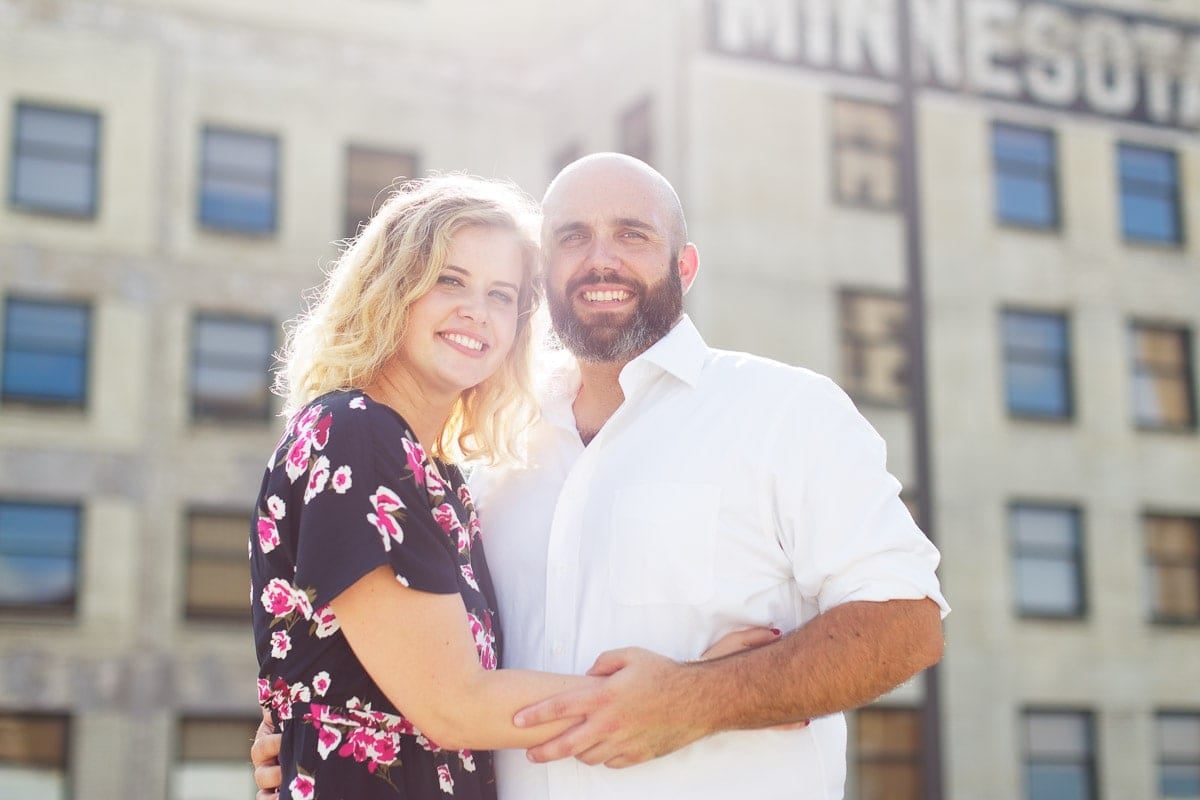 Panorama and Adjacent Buildings
In my opinion, good (parking) rooftop is the one surrounded by good-looking buildings that create a sensation of depth of field. They should not be more than 3 streets away.
Indeed, having an open view on a far distance landscape dive a flat result. It's basically what you could experience when you are on the top of a hill or a mountain.
What is attractive is contemplating the immediate other buildings nearby, not the one far away. That's why, contrary to generally accepted ideas, the tallest location is not always the most interesting for pictures.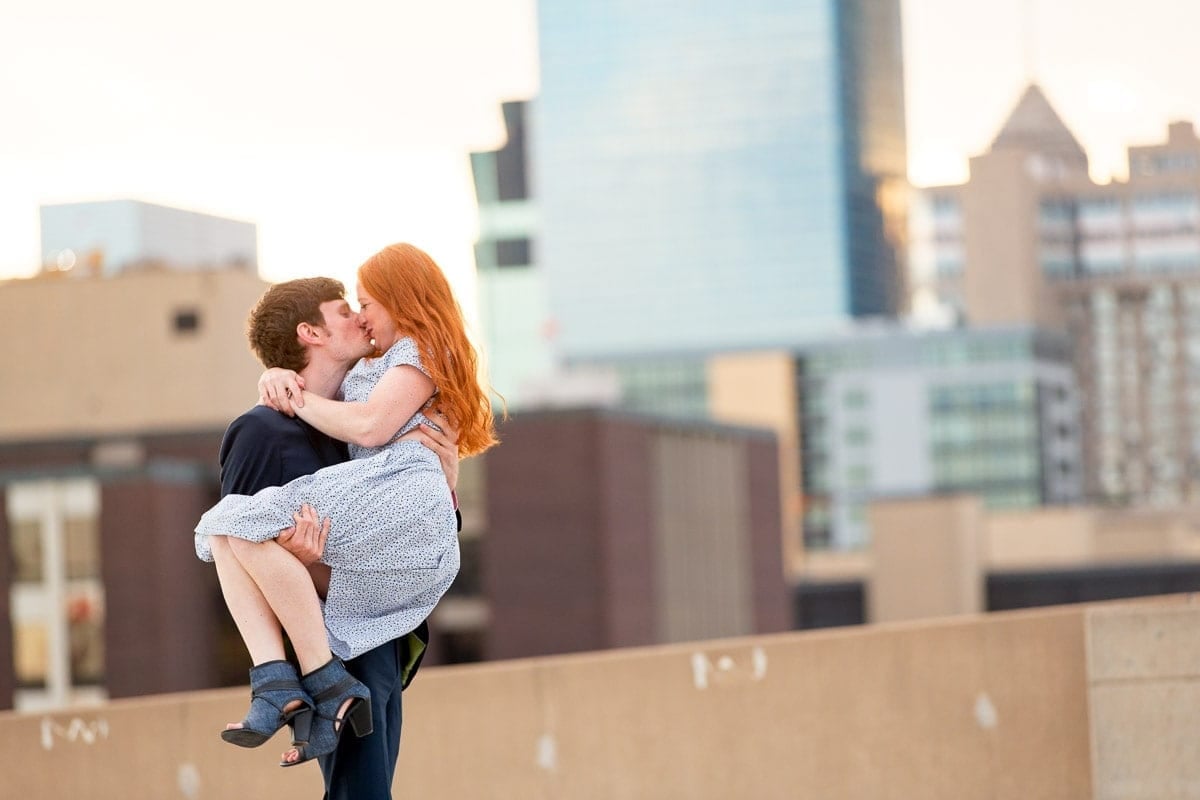 Clean Aesthetic Aspect
We want a simple and minimalist architecture, and would avoid anything that would attract attention: signs, text, tags or other strong visual identity. We would also avoid dirty places.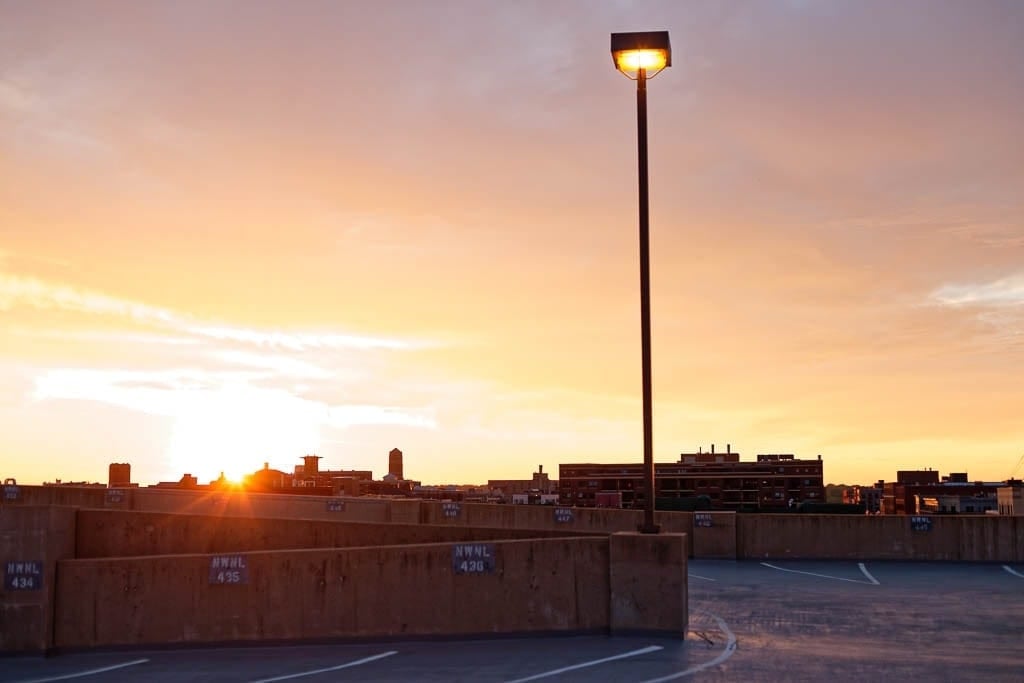 Sun
Sun position would, of course, impact your result. Some location might enjoy the sunrise and sunset light. Some locations would be in the shade of other buildings during one part of the day. Carefully choosing the right time of the day is a secret for perfect portraits.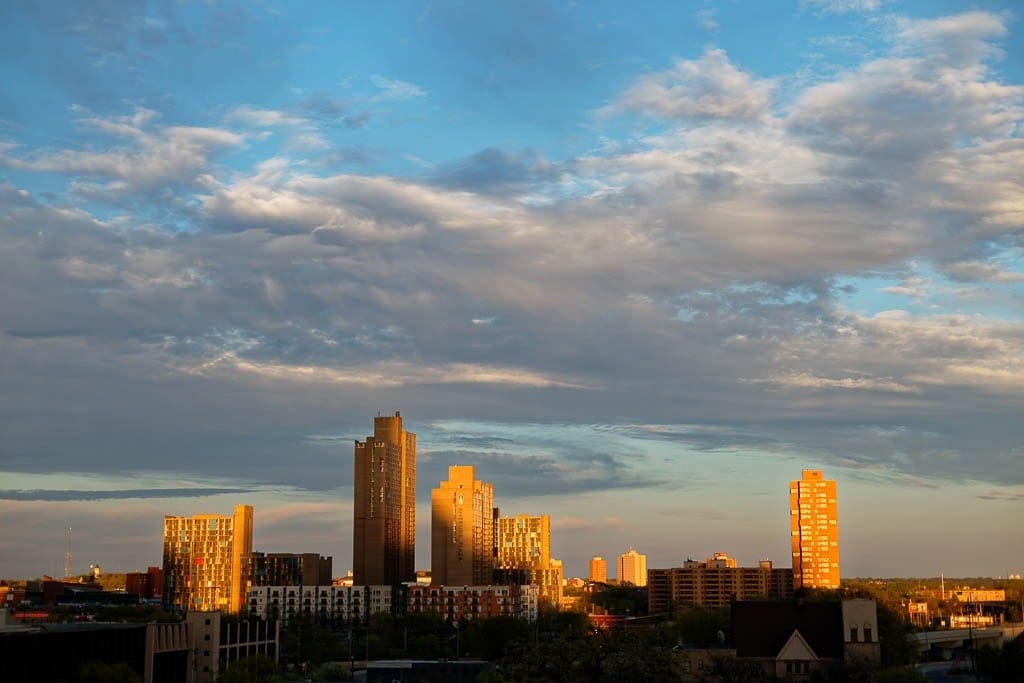 Weather
Of course, you are not protected and directly subject to the rain. Nevertheless, as you can see, clouds and rain are not a deal breaker. Of course, you might avoid winter images.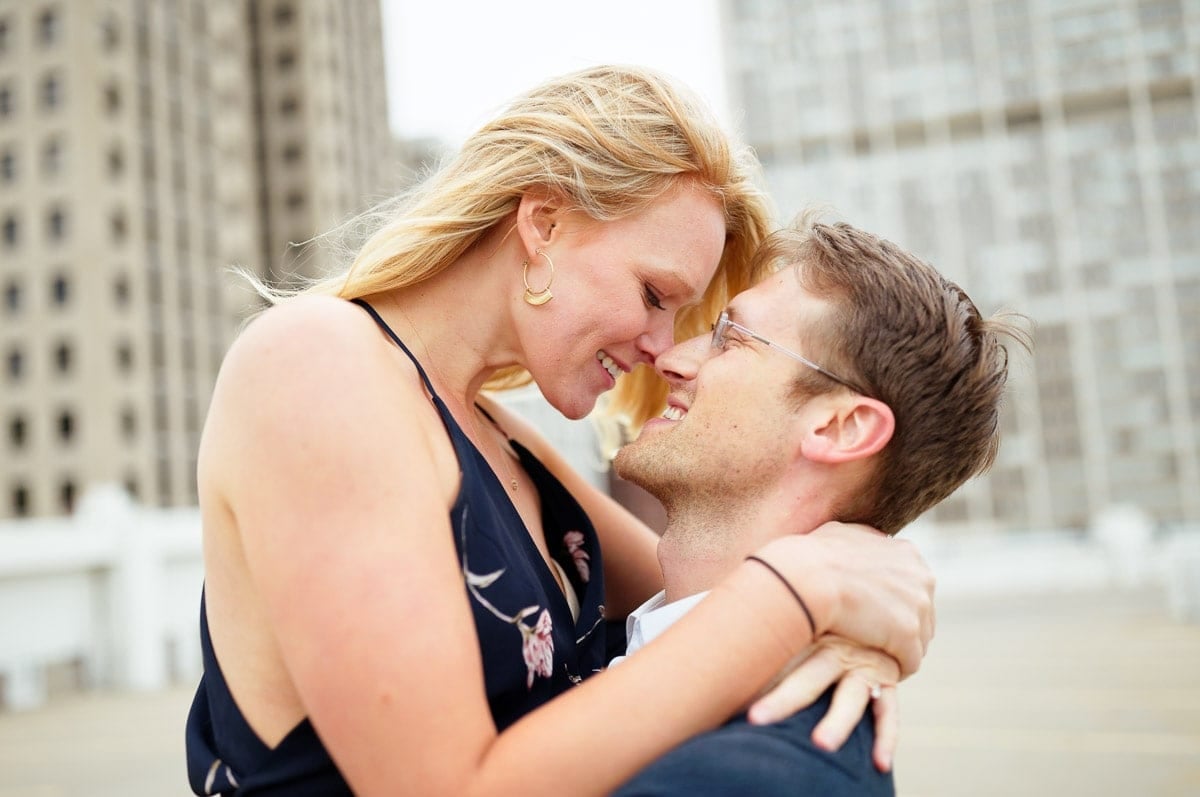 Clothes and Hair
Something that works very well in photography is the contrast between a static architecture, and a dynamic body in movement. That implies a dress that can take the wind and loose hair. Indeed, such place is subject to wind, so let's take advantage of that for your photo session.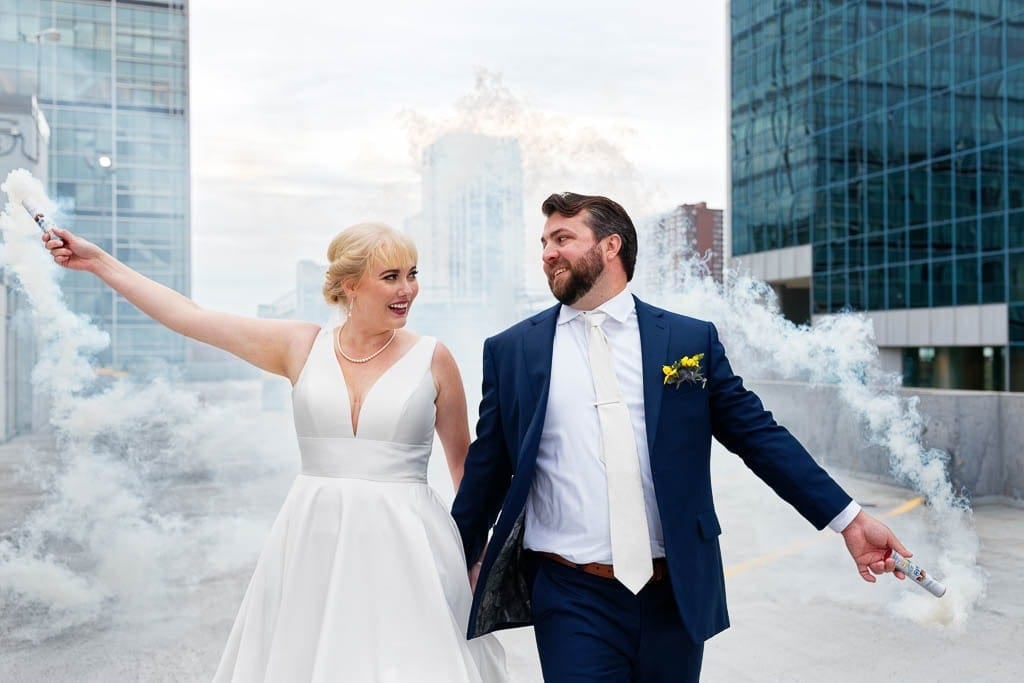 Weekend for the Parking
If you choose the easiest option (the last floor of a public parking), then you don't want to see cars parked on your pictures. Avoid weekdays, and prefer the weekend where they are empty.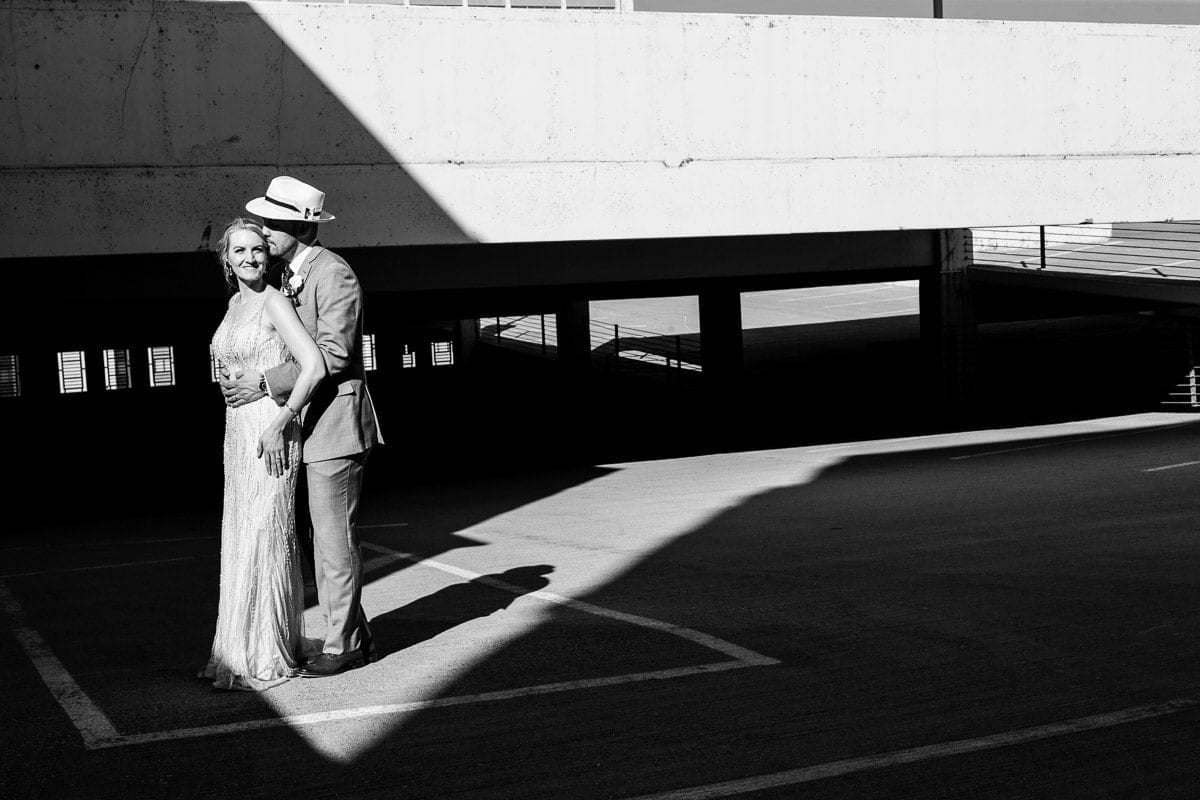 Tips for a better session
you can bring several outfits
let me know if you have some music you love, we can play it during the photo session
you can bring props: sunglass, helium inflated ballon, champagne, blanched, etc.
you can bring your special car or motorcycle if you have any
Should you gather your families on a rooftop venue for your Big Day?
Nowadays, we see several venues offering a patio to celebrate unions with an amazing view on the city. Should you consider this option for your wedding day?
I believe there is no clear answer to this question because each venue is different, with different services.
An option, like any outdoor event
I think the two major concerns to pay attention is the weather and the alternative indoor location.
Indeed, the patio rooftop could be a great option (in case of good weather), but keep in mind that the dinner will be held in the indoor part of the venue. That's why you should make sure you love the indoor location, and not just the patio and the view.
Now, let's imagine that the weather allows you to host your ritual and cocktail hour outdoor.
In case of the sun: have sun cream ready for guests (maybe sun glasses), fans, water bottles. Some venue might offer some spaces in the shade.
In case of cold or windy day: have some blankets ready for your family and friends.
Which rooftop venue picking to become husband and wife?
Let's be honest, they are not a lot in the North Star State! As a consequence, if you want a rooftop for your one life event, you might need to book it for one year, or even years in advance.
If you find a venue that I missed, please let me know! I will not mention here, venue located at the top of building and offering a stunning indoor view (such as Windows in Minnesota or The Millennium Hotel), neither of the venues that offer a terrace, balcony with a view (such as the Science Museum).
A'bulae
Located in St Paul Downtown, it's probably the best one to gather your family and get married. I have no idea if it's affordable or not.
Stillwater Public Library
Located half an hour from St Paul, this venue features a pleasant view on the Saint Croix River. What's more the main aisle is bored with very beautiful Victorian columns and arch, creating shadows to protect your guest.
Brick x Mortar
It's a new venue in town. The outdoor area is really small. So consider for small groups.
The 413 on Wacouta Event Center (and its rooftop)
All the venue is on the Street floor or underground (which is pretty much the opposite of what we are looking for). Nevertheless, the bride and groom can have access to their pictures.
Complementary Locations
You are looking to hire a wedding photographer in Minneapolis to capture with his camera your ceremony in the Twin Cities. Given you already have an amazing venue booked, you are thinking that it should be enough for your bride and groom pictures. It might, but you might also consider adding a complementary location.
Indeed, in photography background play a huge role. The more variety you have, the more diverse images you can expect. That's why it's great to have more than one photography spot!
Here is a list of spots that you could easily reach on your wedding day.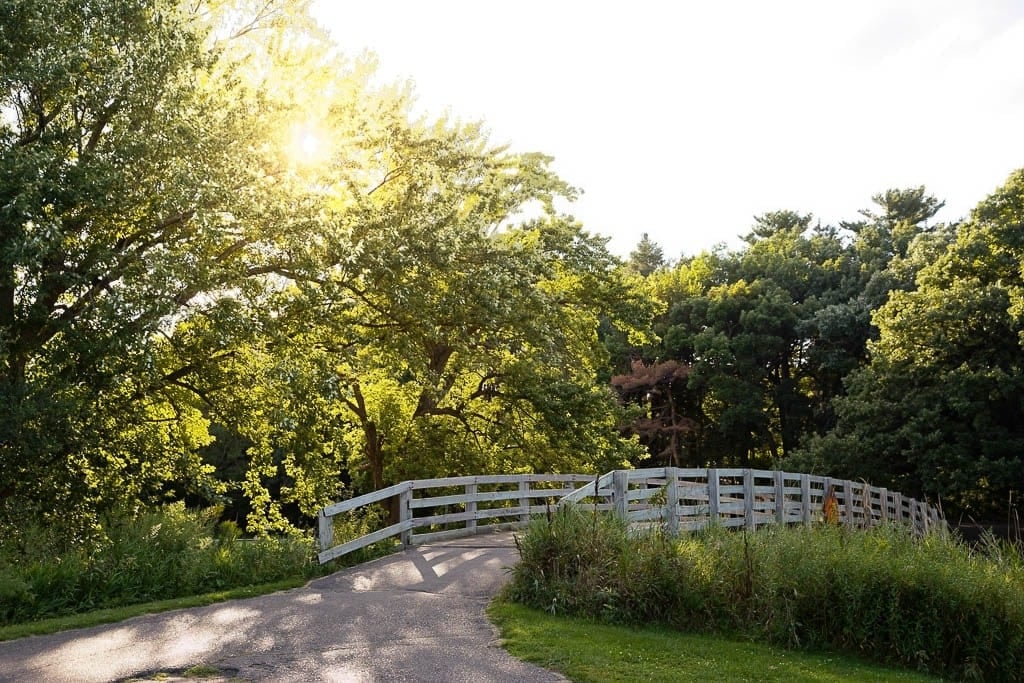 Regional Parks
A wide Regional Park such as Theodore Wirth Park in Minneapolis, offers not only location for a ceremony, but space for laughter and emotion. Some offer spectacular falls, golf and even wedding venue. The advantage of a regional park is their size. They spread on hundreds of acres, with offering a variety of landscapes.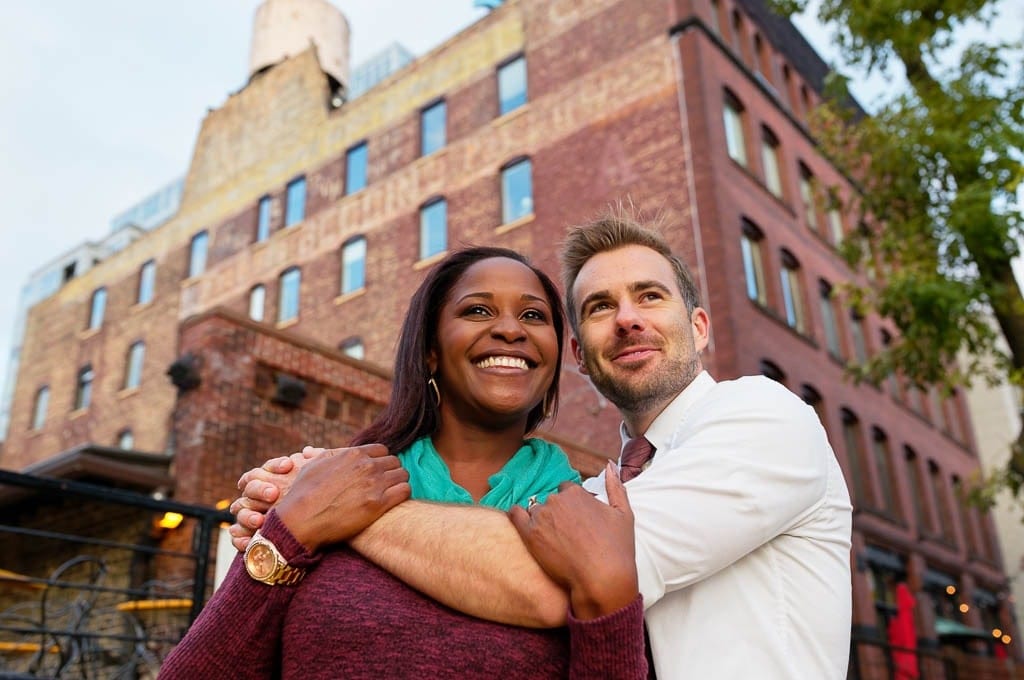 St Anthony Main
Despite this area is pretty touristic (thank to the touristic Stone Arch Bridge), it also offers a lot of spots located back to back. You can start and the Nicollet Island (and the Nicollet Pavilion), use the Hennepin Bridge, take some picture with a view on the falls, take advantage of the theater bulbs, the adjacent Aster Cafe frontage, the Jefe cafe, plays with the industrial design of the Pillsbury Mill, and then relax in the Hennepin Father Bluff Park.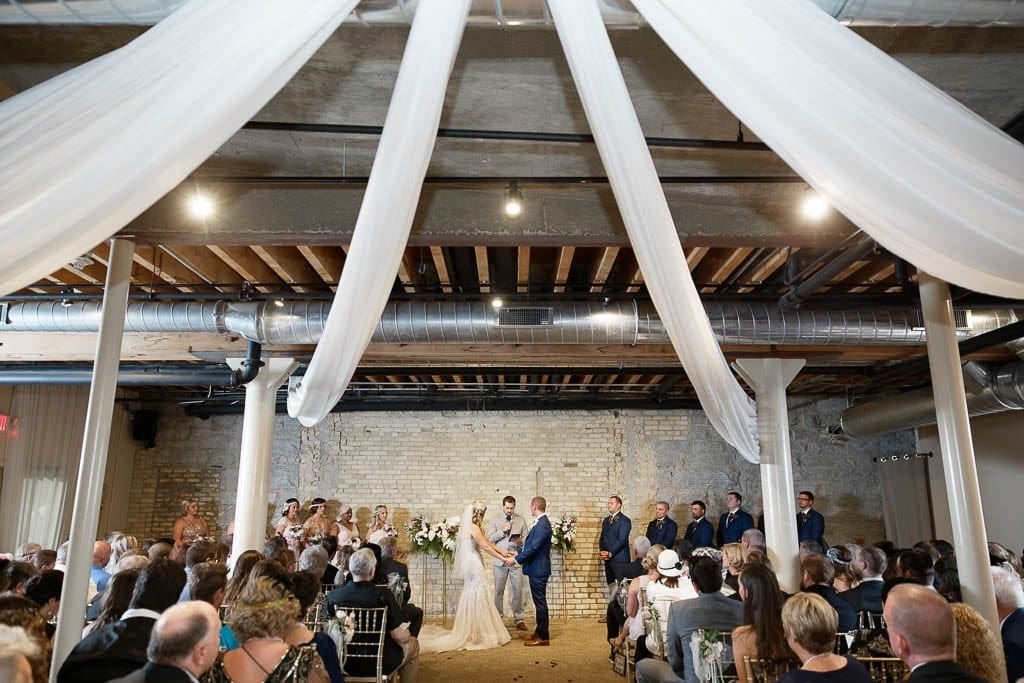 Speakeasy Bars From the Prohibition
Imagine Minneapolis and St.Paul, MN, bar such as the historic Lowertown event center. Packed of women, with a lot of makeup wearing fantasy dresses and jewelry, secretly dancing on music, and of course, drinking alcohol. The men were smoking cigars.
Through the years, those bar have kept a transgressive connotation. They are still associated to figure such as Gatsby the Great.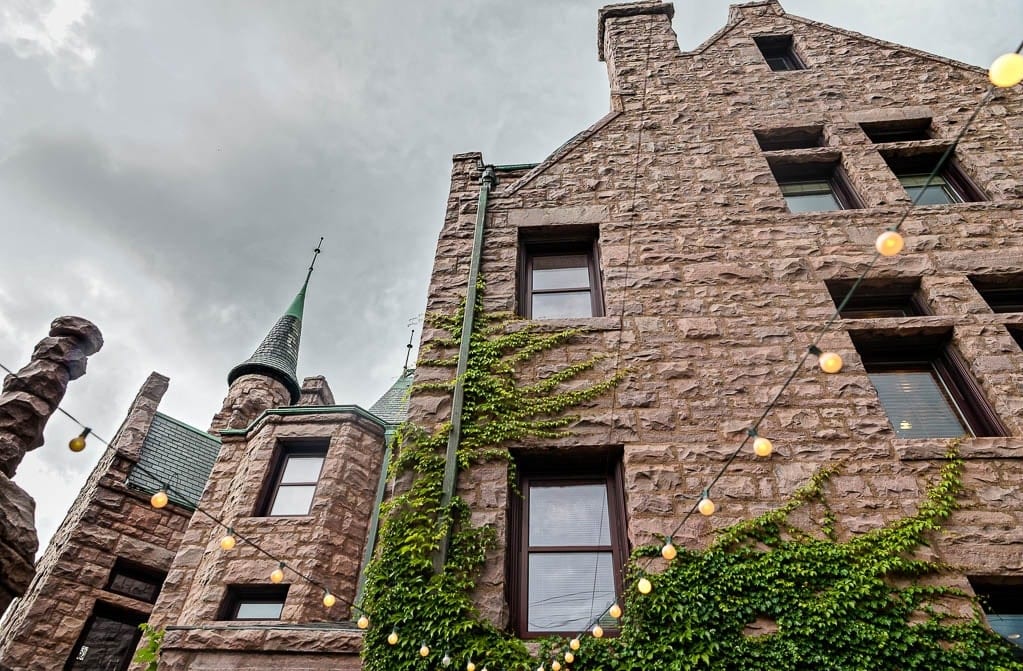 Mansions in the South of the City
Historical Mansions are great for celebration and photos. For instance, the Van Dusen Mansion, MN features a gorgeous bridal suite to be makeup and dress. The south Stevens Square neighborhood actually features several Richardsonian Romanesque and French Renaissance Mansion, made with the pink Sioux Falls Rock. It's not surprising that the area regroups several wedding venues, such as the Sample Mension, The Gale Mension, the Blaisdell Mension, just to name a few.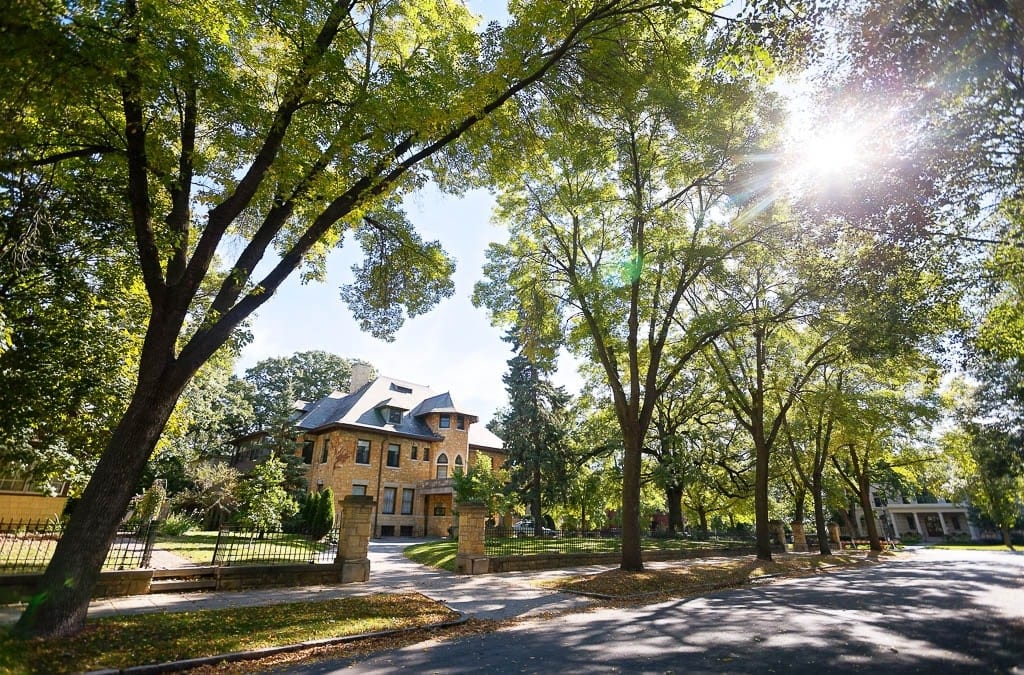 Rich Manors on Summit Avenue
The Summit Avenue, loved by wedding vendors, is well known for its Sumptuous Manors. The historical Summit area is also appreciated for engagement sessions. You could, for instance, take advantage of the University Club of St.Paul, the St Paul College Club, Germanic-American Institute, the Burbank Livingston Griggs Mansion, the F. Scott Fitzgerald House, just to name a few.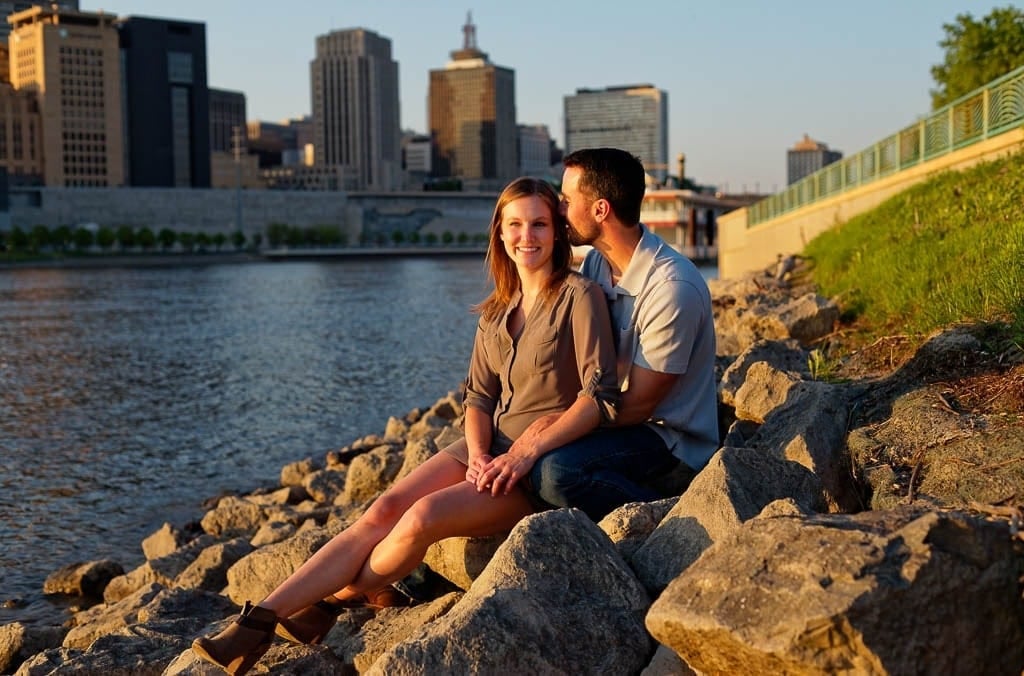 Romantic Park With Water Front
Traditional choice for families hosting an outdoor celebration, the waterfront parks (such as Harriet Island) are also well known by photographers for the pre-wedding pictures. Indeed, park alongside the river carries an entire romantic imaginary.
Historic Park, with century-old trees, a stone bridge works usually better than a modern one. But there is no strict rule.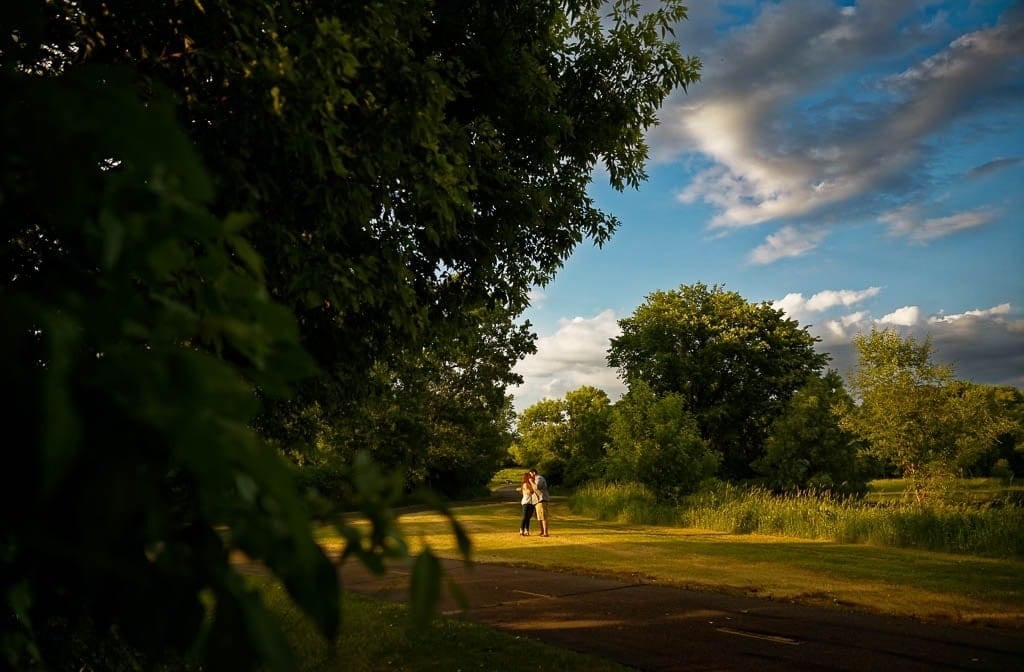 The Natural Reserves
I keep only good memories of preserved nature park (such as the Lebanon Hills). They are loved by residents and photographers looking for a quiet place, that would allow the couple to reveal their emotions. Indeed, it's much easier to feel at ease protected in the middle of woodland, in front of a lake, then in the middle of a large crowd.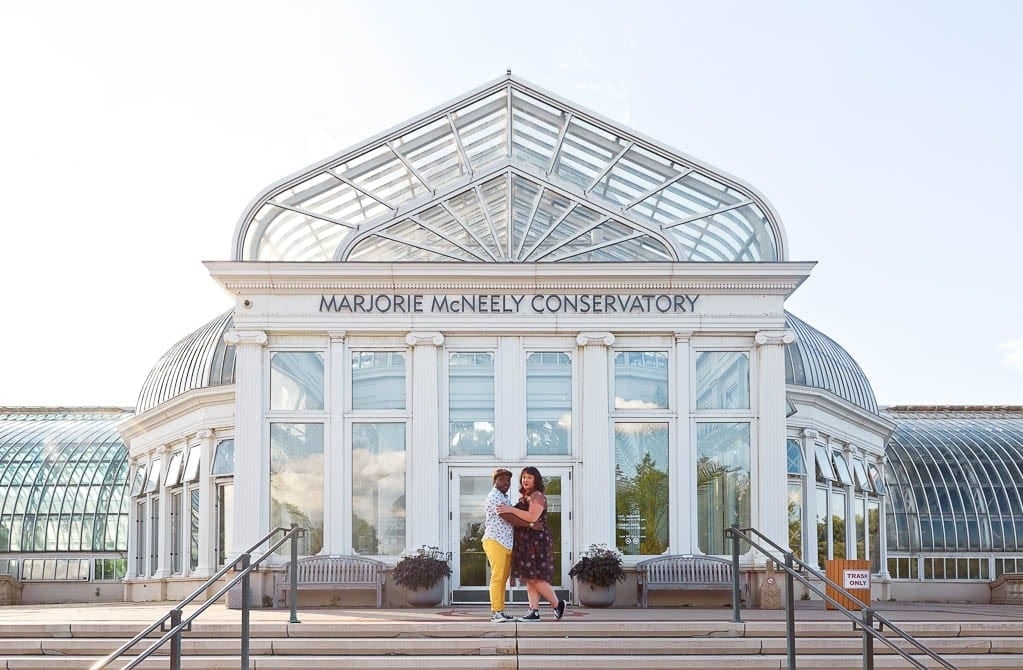 The Magical Greenhouses
Wedding vendors are usually fans of greenhouses such as the St.Paul Conservatory. The Victorian style building guarantee your unique memories. Who would not love being surrounded by special plants and flowers, carefully selected and disposed in a glasshouse? They are the oasis of the cold lands. What's more, having a lot of natural light allows catching pictures in every direction, and then multiply to the number of points of view for images.
Conclusion
Rooftops are an easy and alternative location to showcase your love surrounded by historic or modern buildings. Couples can also decide on such a place to host their weddings. That's been said, there are not a lot of offers, and it also comes with restriction. If that's really your favorite option, you might consider going to a bigger city, such as Chicago or NYC.
I hope that would help you with your next photo session, and to choose your perfect location.
Of course, if you are planning to use a rooftop, just call me and send me a message!