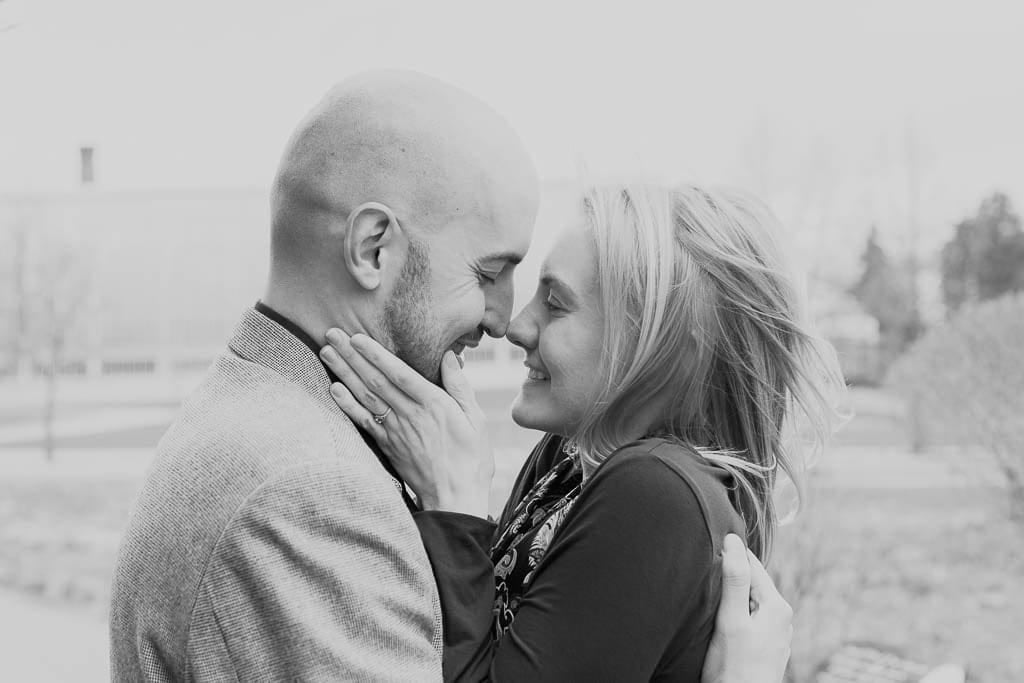 Should you choose Como Lake for your photo session in Minneapolis?
Lake Como Minneapolis for Engagement Photography close to the Cities
The next step for Sam, after he made Ben a surprise proposal, was their engagement session in the twin cities. Getting trained to face a camera before the ceremony day is always important, not to say a necessity. Indeed, even trained professional models need time to warm up, and to adjust to each personality they work with. So are a bride and groom.
In this article, I will not only introduce to you Sam and Ben session, but also present to you this well-known recreation area, and what you should consider if you plan to have pictures taken there.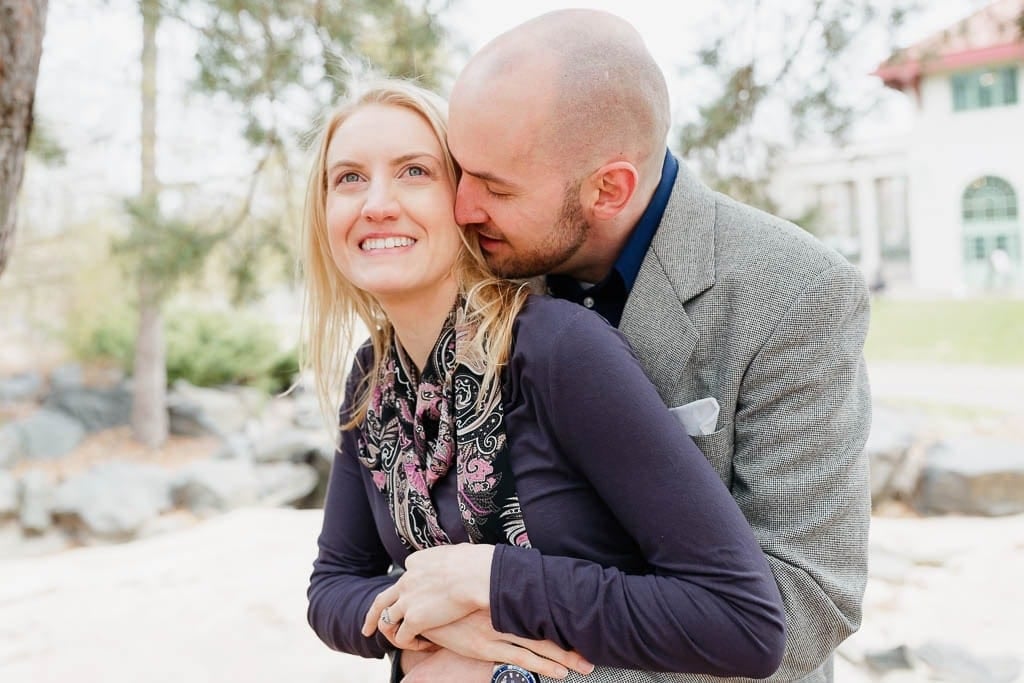 A symbolic backdrop for Sam and Ben
Sam is the artist, she studied art at university and in France (of course), while. Ben is the ingenious engineer, who works in technology and communication systems. It's pretty improbable that they meet thanks to their professional career.
While I was trying to take some pictures with my camera, hiding across some pine trees, they were laughing remembering that it was the place they first meet, collecting trash. Yes, you read it well. It's with glove and plastic bags, collecting litter and garbage for a voluntary association (which take care of the parkland), that they meet.
What an unusual way of meeting people! But it's the truth and romantic story behind this lovely couple!
The lesson of this story: If you manage to seduce someone into dirty clothes, with your hands covered by rubbish, then you might consider that the other one appreciate you for who you really are.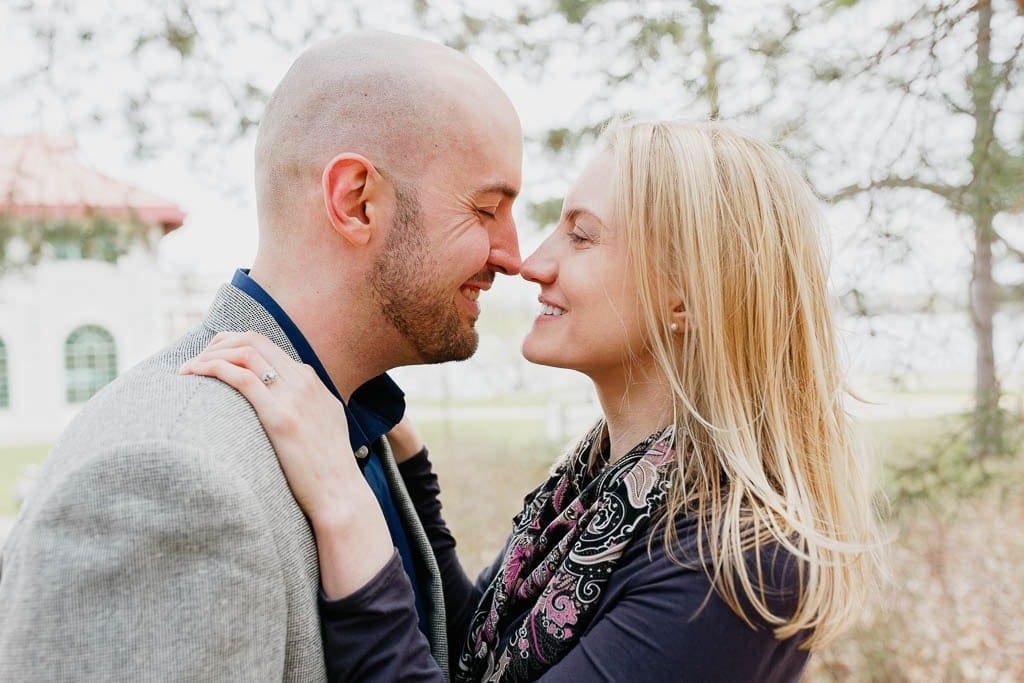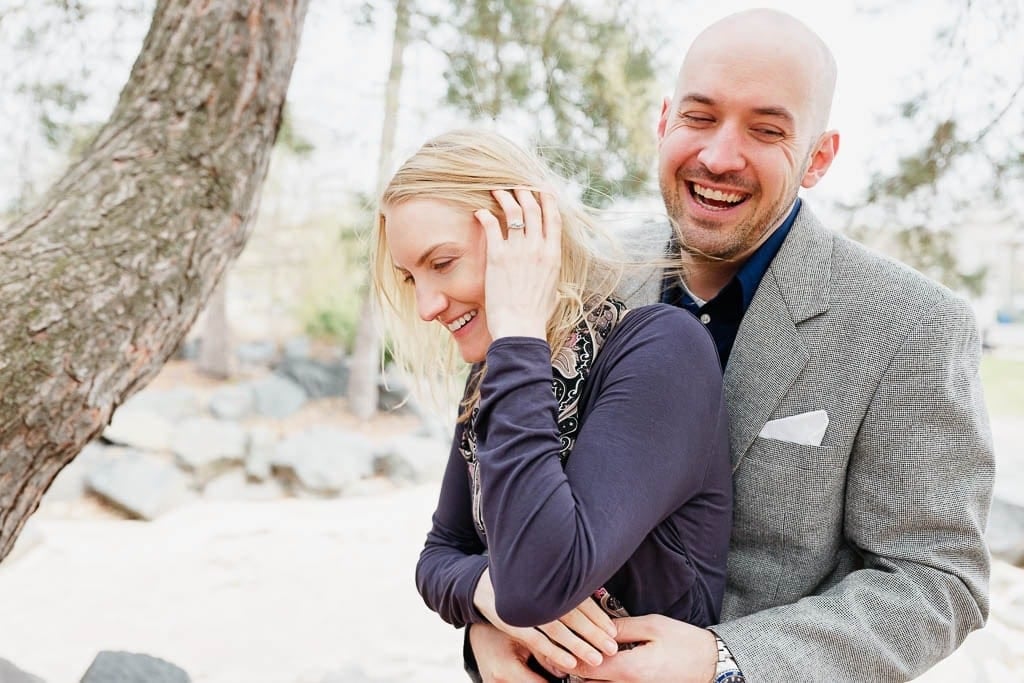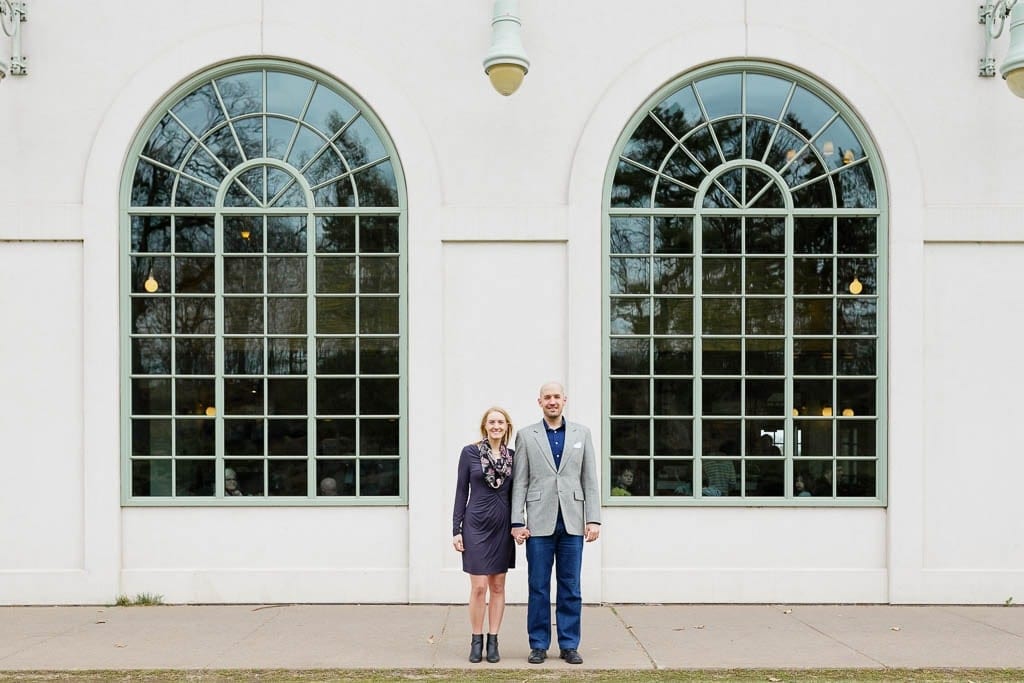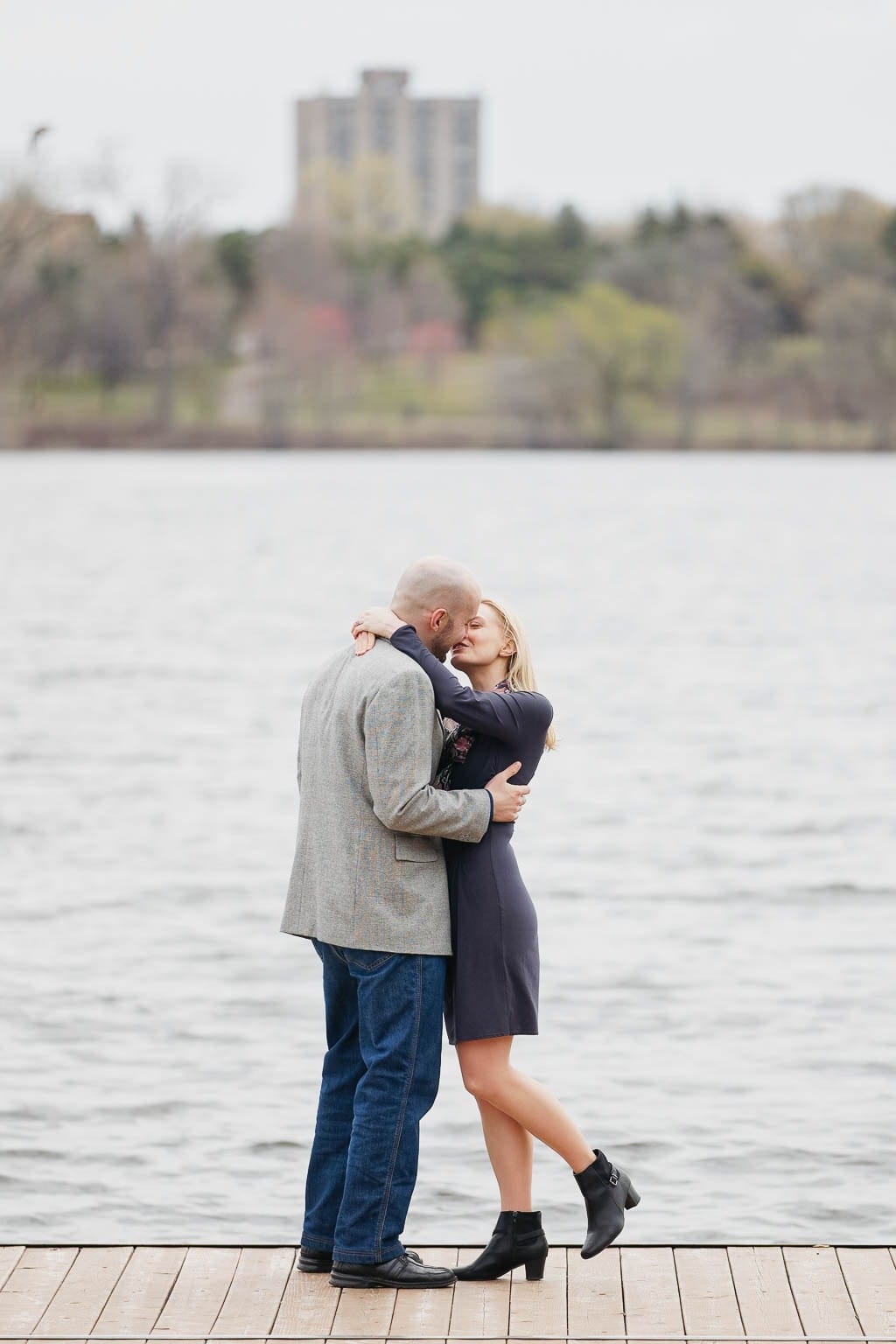 The perfect scenery for couples' engagements sessions
Despite his title this location, it has nothing do with the authentic Lake with the same name located in Northern Italy's Lombardy which is a mountainous region.
Its creation is linked to Saint Paul and Minneapolis history and the industrial development of the twenty centuries. Some rich owner decided to transform a simple body of water into a fancy recreational area. They made a deal with the St.Paul train company to connect the recreation area to the city railway system. In exchange for having the railway crossing the land, the company built a bridge (Lexington
Parkway Bridge) and the Lakeside Pavilion. The city also built a streetcar
station. The construction of the McNeely Conservatory finished in 1925 attracted a lot of rich people who build mansions and other prestigious houses in the neighborhood.
The past century economy has since changed some part of the neighborhood. But, during the last thirty years investments have been made, to develop and promote the area. As a result it attracts again the wealthy people, and the less wealthy who are looking for a quiet place to buy a home.
Activities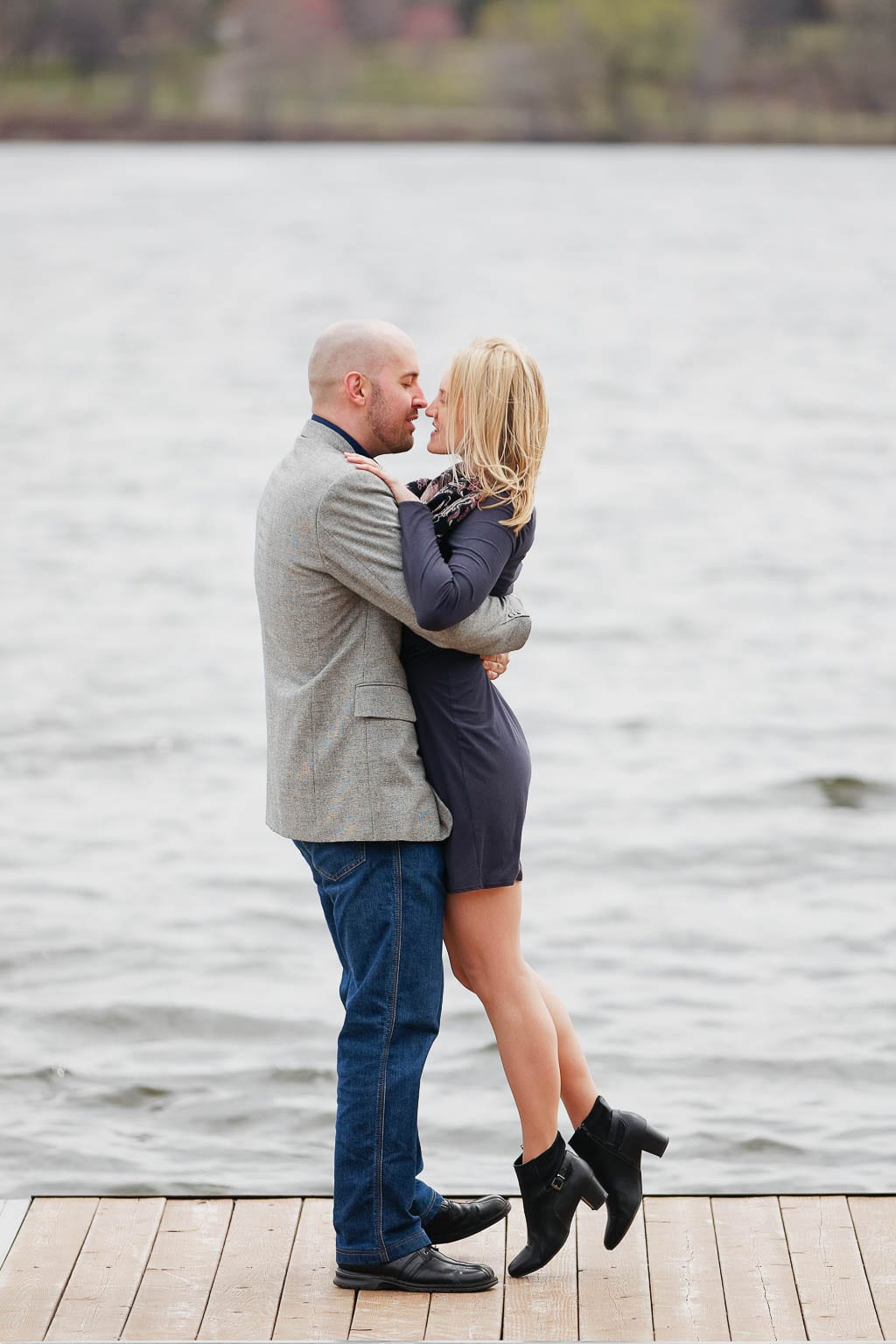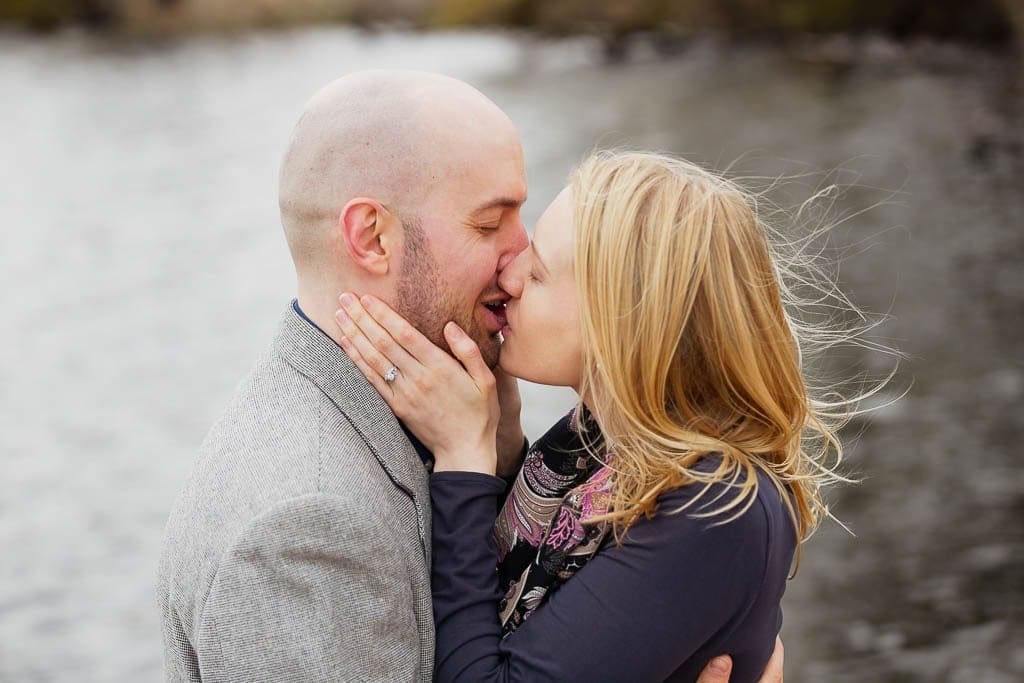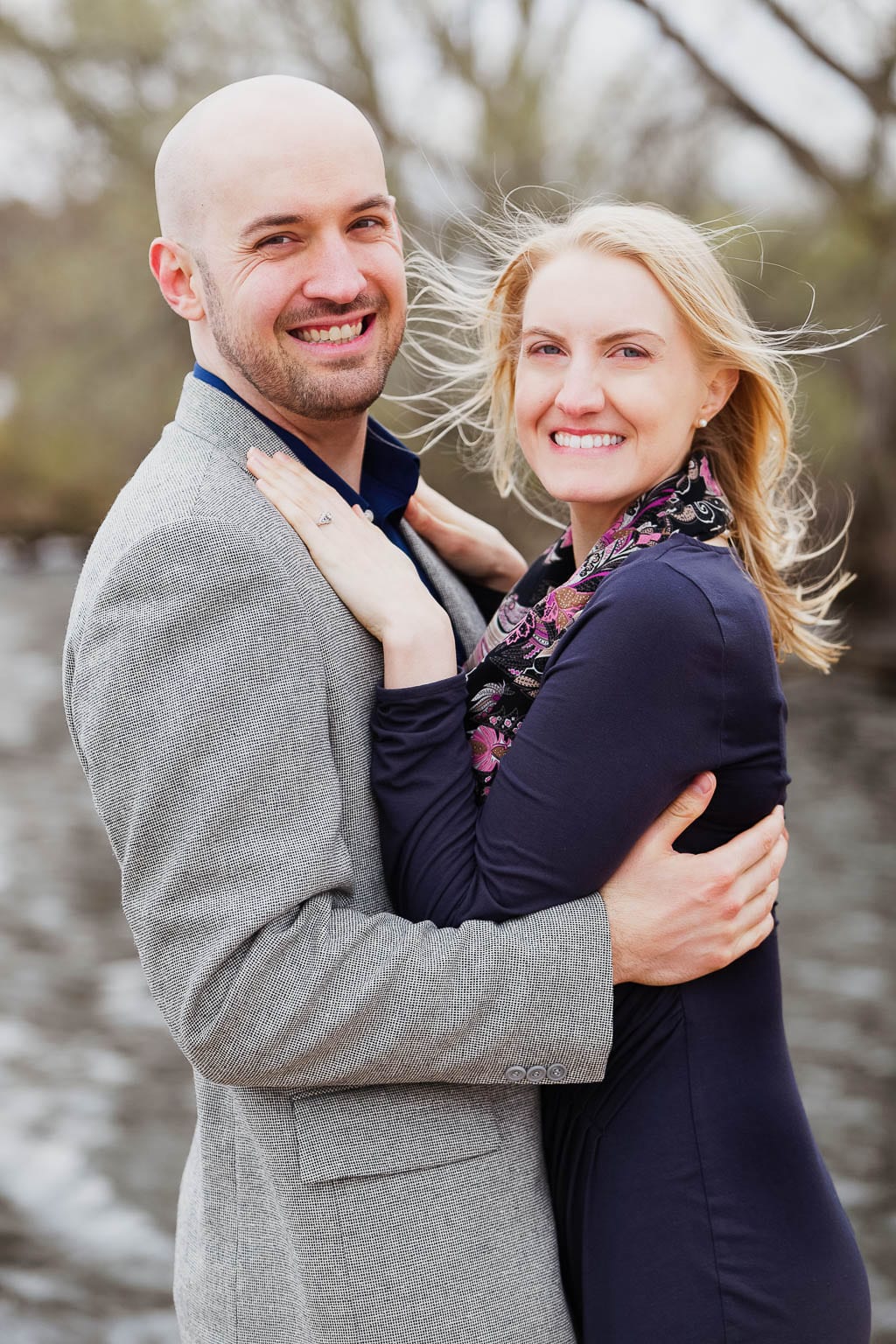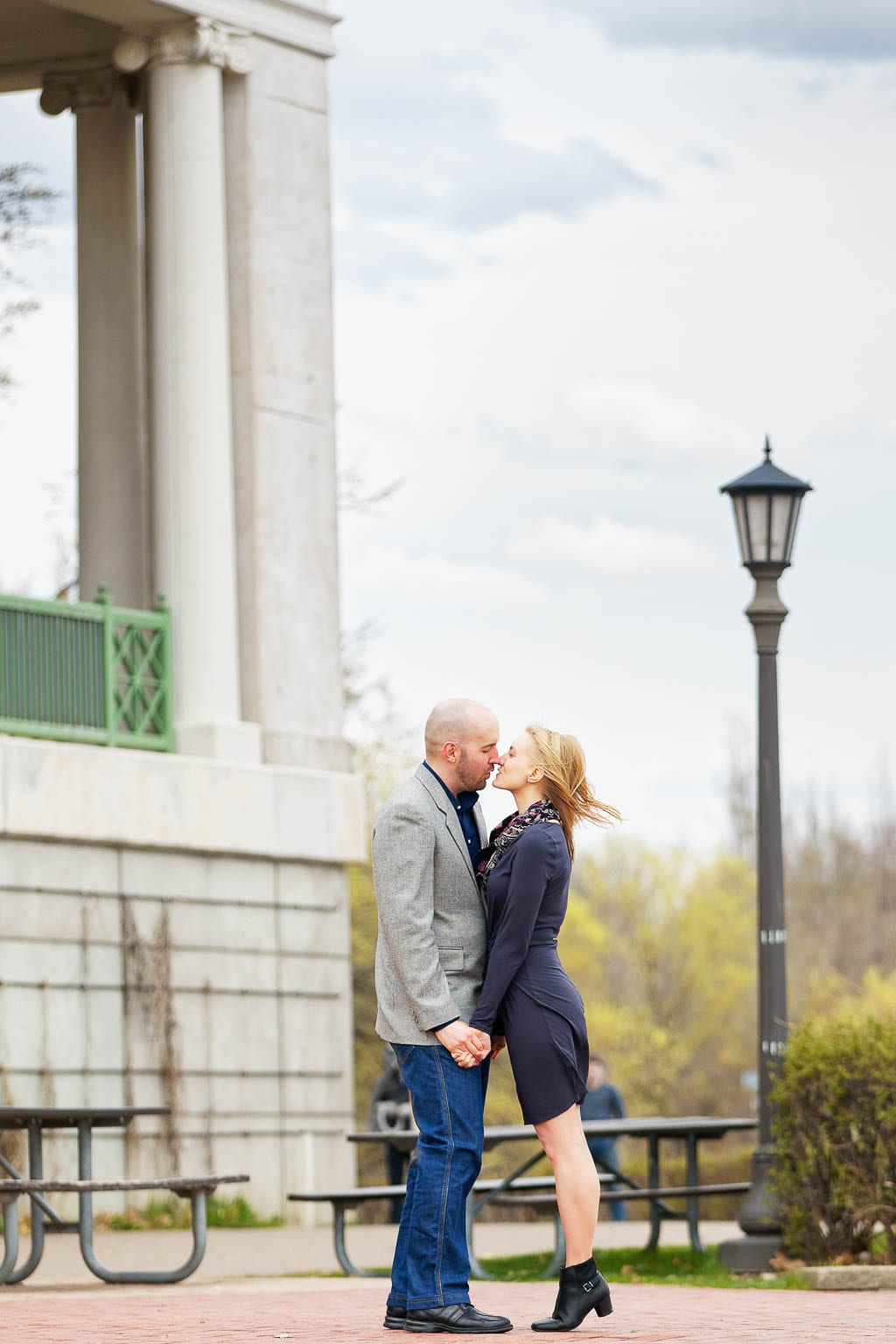 The Lakeside Pavilion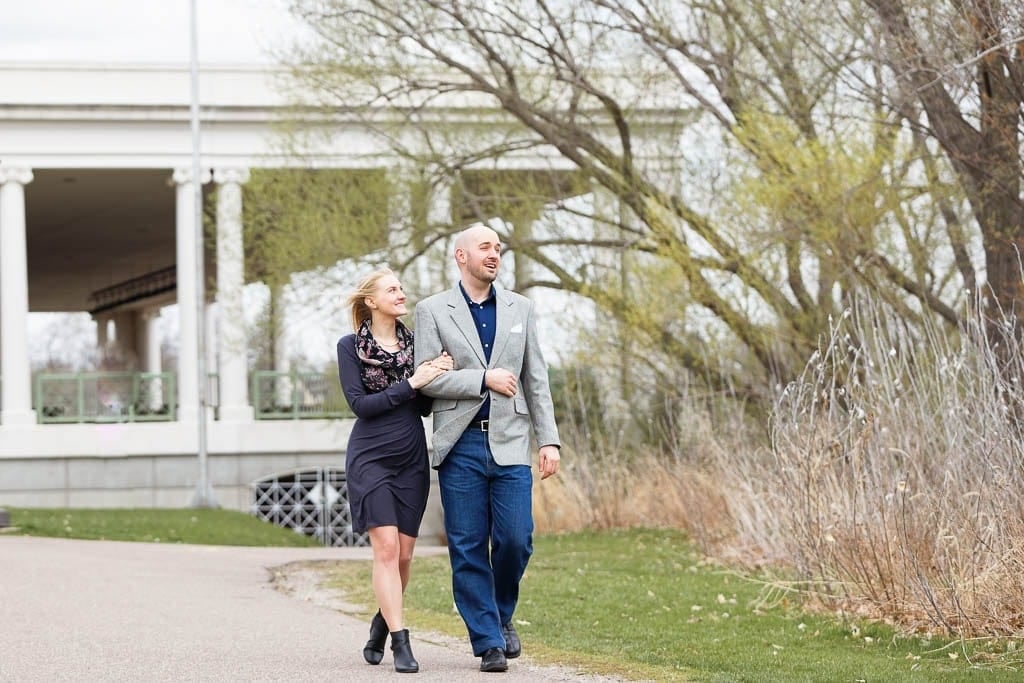 The Lakeside Pavilion is an authentic century neoclassical building (a mix between a Greek temple and a modern building). It features a large arch porch, with high antique-style columns, that welcome numerous musicians and festivals. Inside the building, you can today be found in the Spring café (which can turn into a wedding venue).
Sports
In photography, I always encourage couples to share an activity in order to produce candid and natural images. Of course, some sport would produce more photogenic photos than others! But here is the list of all the sport you can do on or near the water.
Fishing dock
Could be fun if you like to fish
Trails
We will use them a lot
Pedal boats
Can be pretty funny for 5 min
kayaks, canoes
It's great for 10 min of photos
Stand-up paddleboards
I have personally never tried this, and I don't really understand this sport. But I have to admit it looks and the same time weird (in a good way) and fun.
Surrey bikes
Those can be used during 5 min for pictures
Athletics events held on McMurray Field
Clearly, except if you are a true accomplished athlete, we won't use this field.
18 holes Golf
Can be a great background for pictures, and you may be happy to hear that the Cozy's Pub welcome wedding celebration.
Mini Golf
It can be the opportunity for a pretty fun moment if you have a playful sense of derision.
The Lake vicinity
As you will see, there are a lot of options that can be used in photography.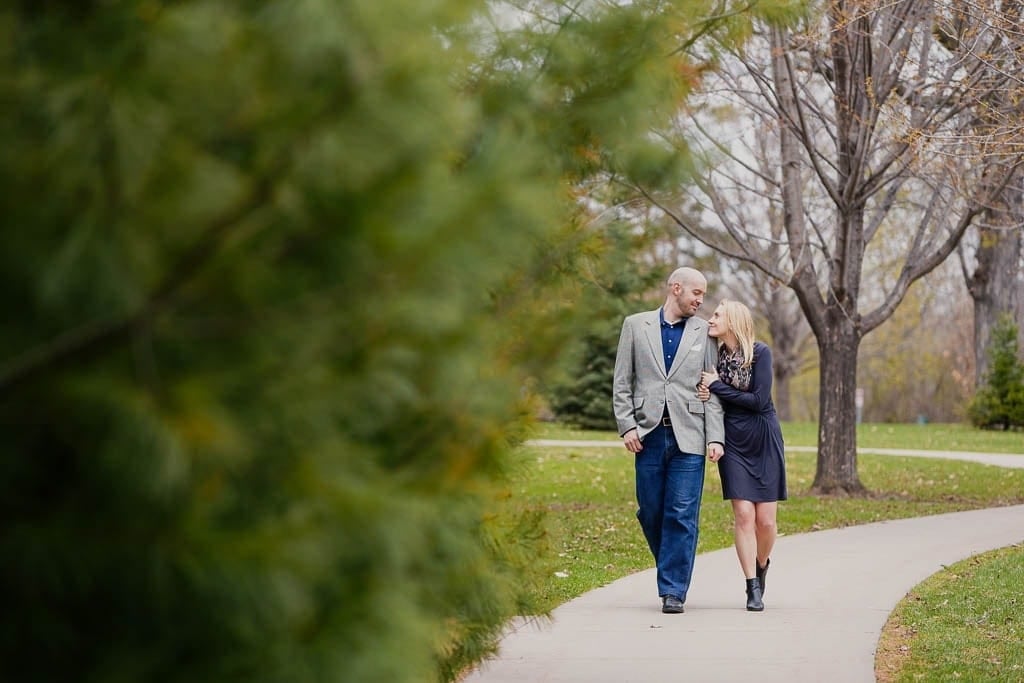 Greenery
The park features a lot of different species of plants, trees, and flowers. I'm especially a big fan of pine trees because they can be used all year. The landscape looks completely artificial and sculpted by a human mind in comparison with other regional parks.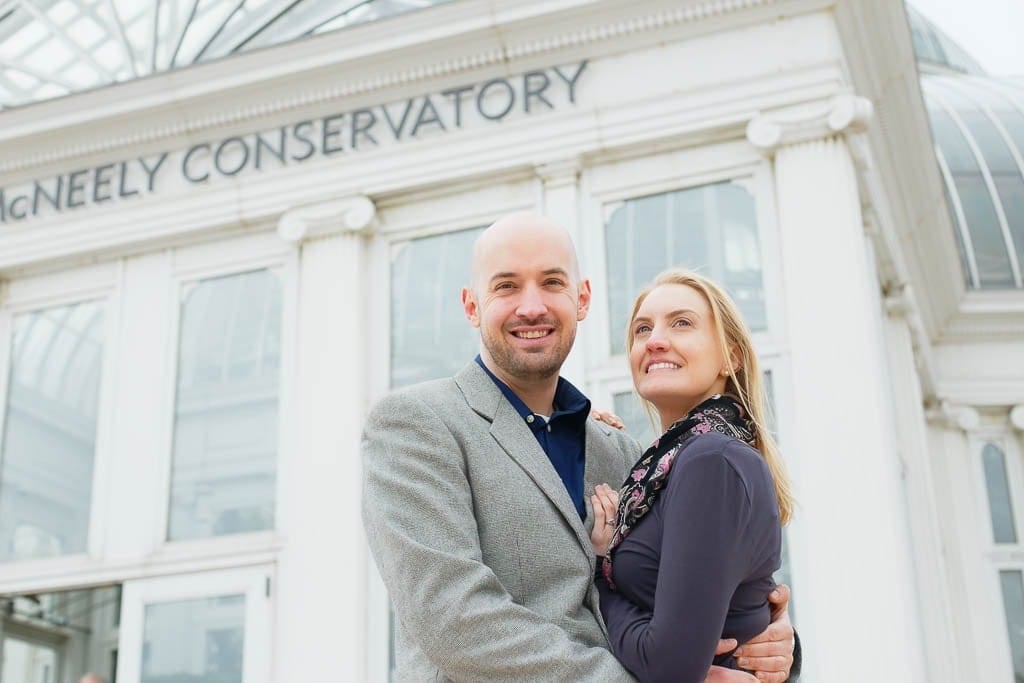 Greenhouses and Zoo, Famous and Romantic for Weddings
As a professional wedding photographer working in Minneapolis and capturing ceremony in the adjacent cities, I used my camera a lot in this recreational area and its zoo. The conservatory feature five large green house and one (the Sunken) can be rent for wedding rituals. The zoo can also turn some part of the zoo into a wedding venue. Of course, don't expect to have gorilla jumping in the middle of the room. They are separated for the animals. Nevertheless, some room is connected with the McNelly Conservatory and the Japanese Garden.
Hamm Memorial Waterfalls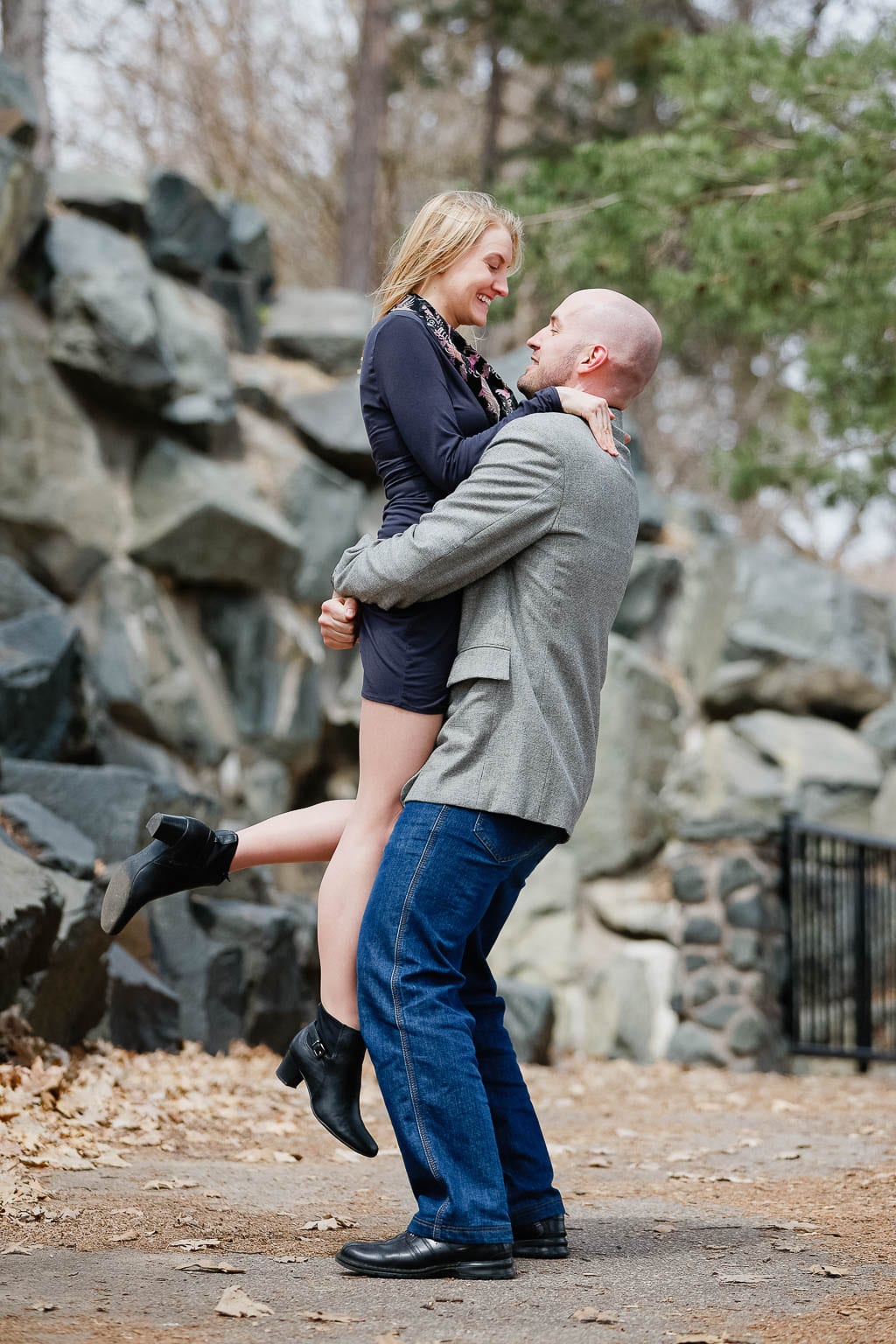 With approximately 30 feet high, the Hamm Memorial Waterfall, can't be compared to the Minnehaha falls. It's an artificial waterfall, build on the side of the hill, and they are shut down during the winter (so they don't freeze, in opposition to the Minnehaha falls that can be completely frozen some years).
The Historic Street Car Station
Build by the city more than a century ago, it was a necessity for the wealthy resident of the city to drive there. Today it's used as the parkland's office, and its stone made walls are ideal for the background of pictures.
The Pond and it's Frog Statue
Located just in front of the McNeely entrance, the pond feature the statue a little frog. This pond is pretty photogenic. One side of the pond is overhung by a circular antique-style gazebo (with no roof) that is used by families and couple who do selfies.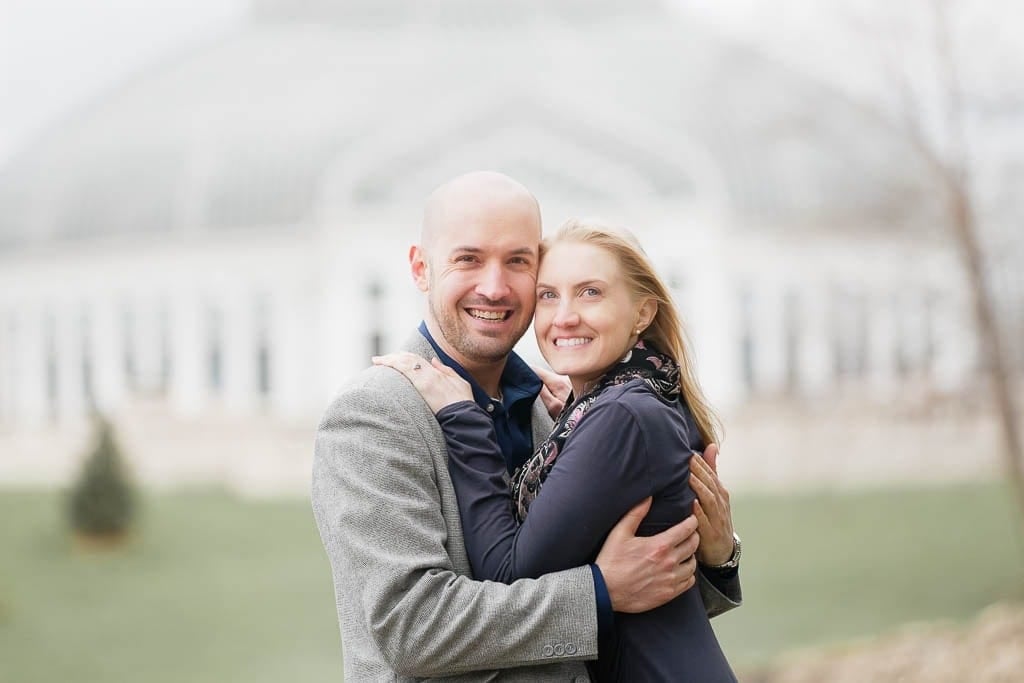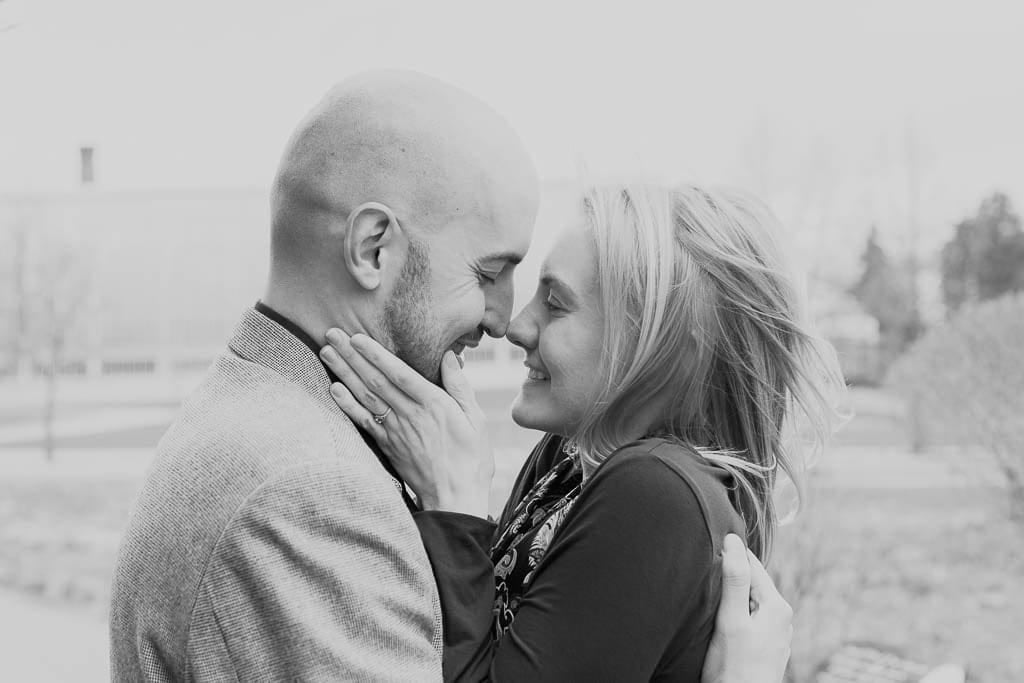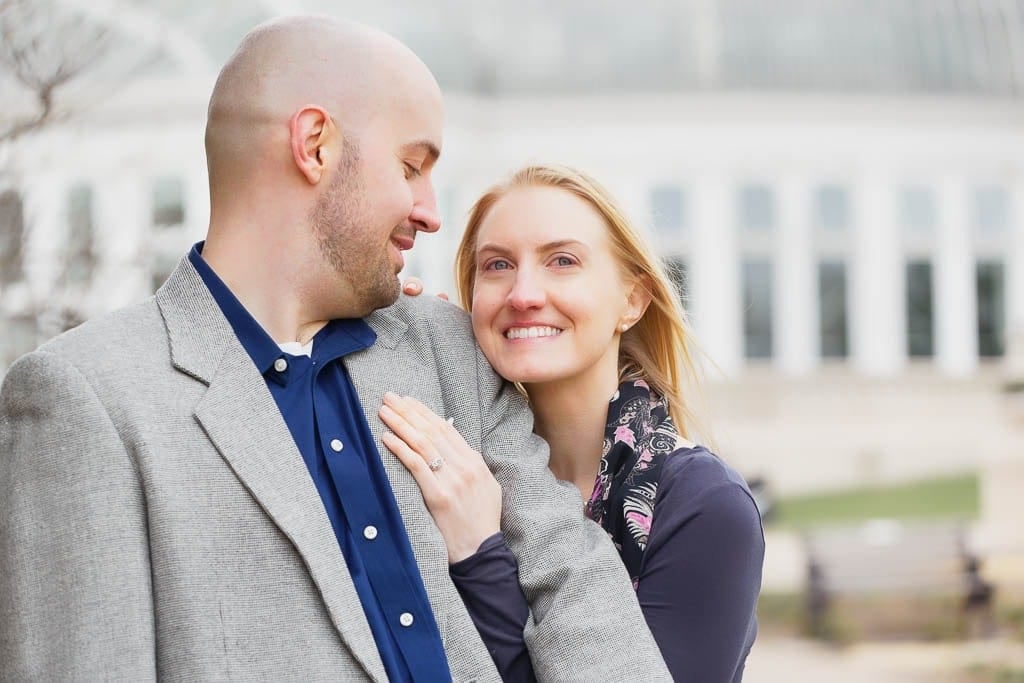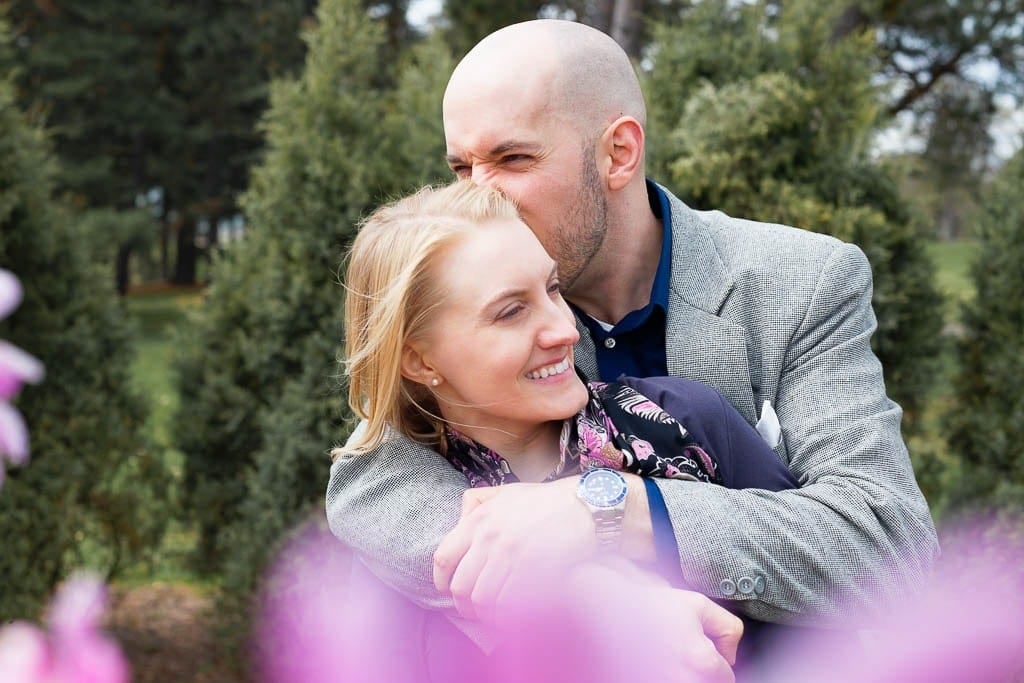 What you should consider having your portraits taken there
759 Acres and miles of hiking trail
We will probably walk a lot, make sure to have comfortable shoes.
Zoo and animal
Lots of people imagine that having pictures taken with animals is amazing. That's true when animals are free, not in a cage. With the cage, or the glass windows, the result can actually be the opposite. So unless you personally know a board administrator and can give us access to the inside of the enclosure. So forget pictures with the animals, and instead, focus on the fair part full of colors.
Crowded in Summer and During Weekends
You don't want tourists in the background of your images. Be aware that this place can be full of visitors during summer and weekends. Focus on early hours and prefer week days if you can.
Parking Can Be Difficult
A direct consequence of the previous point mentioned is the difficulty to find a parking place during weekends. So if you plan to stop with your bridal party for a quick 15 min group picture, that's maybe not the best idea. Indeed, you might lose your time to park.
Not as much as Elm Creek Park Reserve or the Clifton E.french regional park
Contrary to much of the natural center in Mn, this place looks complete made by landscapers.
 
---
5 alternatives in Minnesota  for great portraits
The park and the Zoo are a legendary, not to say the most established park of the city. Nevertheless, it's not the only one. They are many other popular alternatives for engagement photo in the North Star State.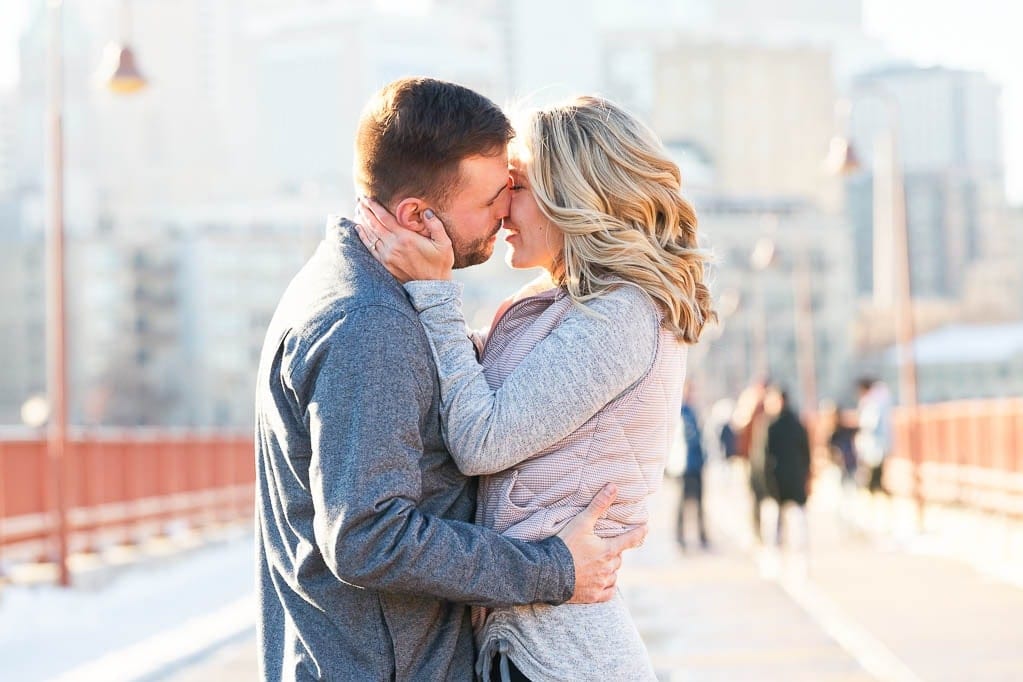 Stone Arch Bridge
It's the most iconic construction of the city. You can even find it on the MSP airport walls! At the time of its construction, it was a prodigious piece of engineering to cross the Mississippi River. Build, by the megalomania of a railroad magnate James J. Hill, who wanted to create a bigger rail station on the left side of the city to transport passengers. Unfortunately for him, the Depot in Saint Paul, was actually more used, and the arched bridge ending is disaffected. Today it's a tourist attraction loved for surprise proposal, and Minneapolis engagement sessions.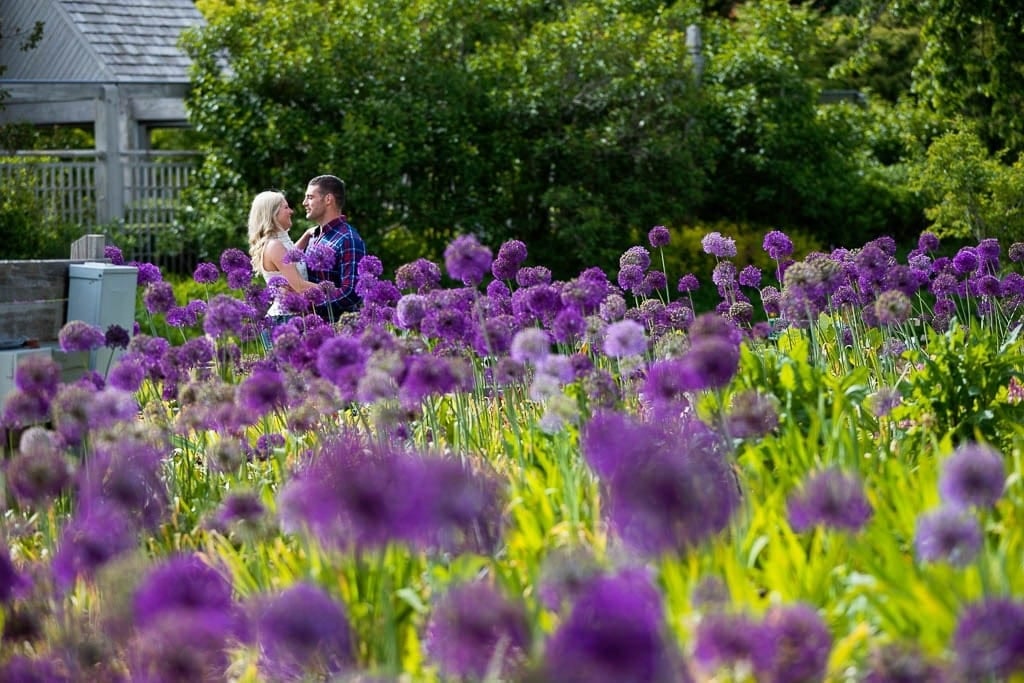 The Arboretum
Fan of the Como Botanical Garden? Another spot where photographers love to take lovers portraits is the landscape arboretum, in Chaska, MN. Whereas you can find lots of Nature Center in the 10,000 lakes states (such as Springbrook nature center), which don't offer anything special, the Arboretum is a land that has been completely transformed by gardeners and the university.
Such large botanical area is pretty rare in the United States! In other words, that's a place for people who love flowers and all kinds of plants: from the simple meadow, to the exotic ones. So, if you like the Botanical Garden, you would love having your Minneapolis engagement session taken at the Arboretum. What's more, it also welcomes wedding celebration.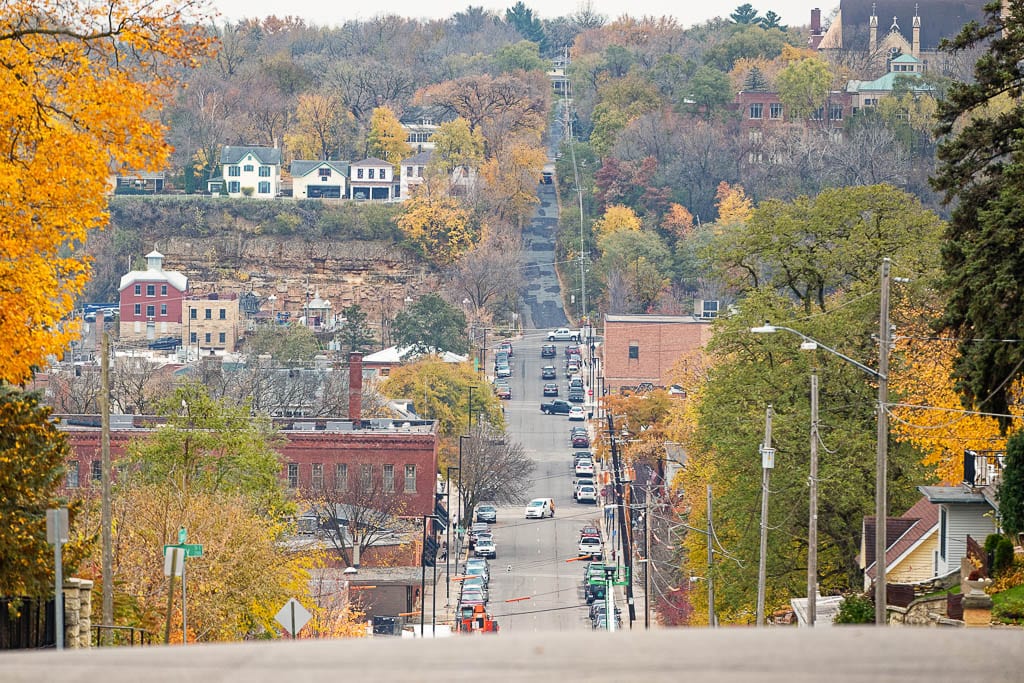 Stillwater
If today it's a charming little city located alongside the St Croix River, and facing the Wisconsin, the town used to be the first city of the State (the Birth Place of the North Star State). As the heritage of the industrial time and the lumbering industry, the town is covered by lovely brick buildings (like the Courthouse) and enchanting old constructions loved by photographers, not to mention its famous bridge.
In other words, that city concentrate a huge potential for photography in a small area, which guarantees you a different experience than a Minneapolis engagement session.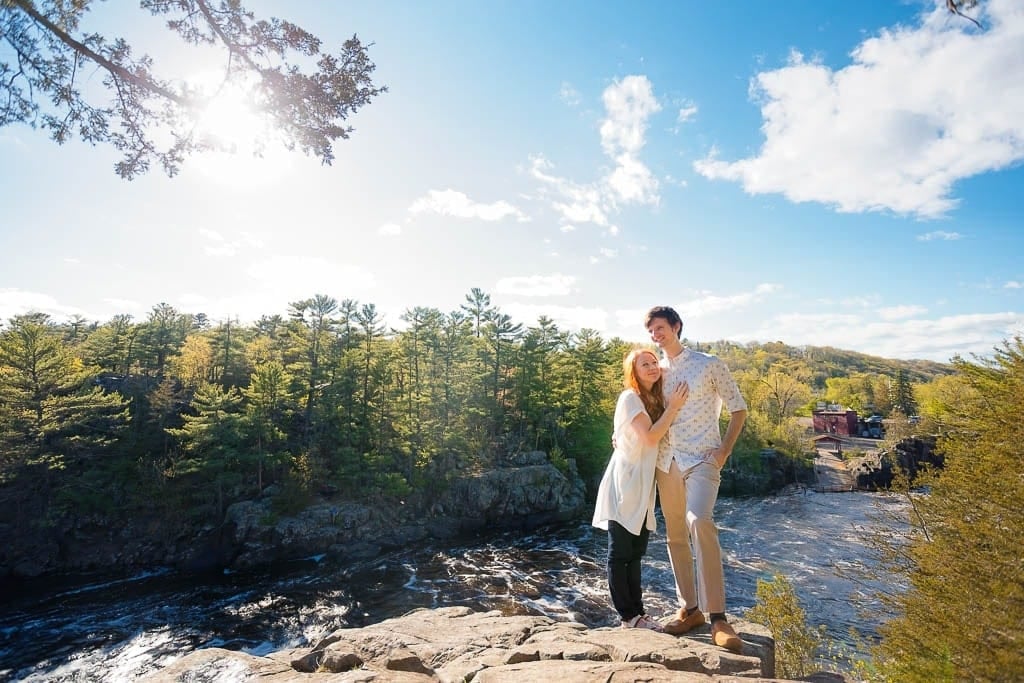 Taylor falls
Located 30 min north of the city, this scenery offers an amazing landscape to take pictures: rocky mountains, pines and other evergreen trees that guarantee you good pictures all year long.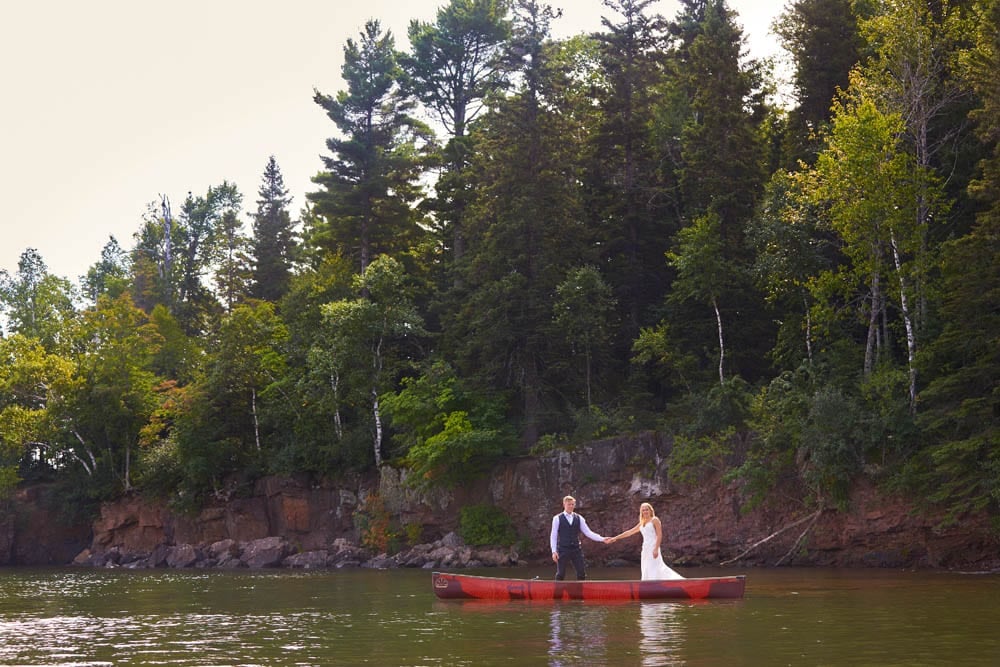 Northern Duluth
If you are ready to take your car for a ride, the northern part of the state is actually pretty gorgeous and offer numerous options for good photos!
Two complementary options for more memories
The longer last your session, the more at ease you might fill in front of the camera. What's more, having different backgrounds offer you a larger variety of images.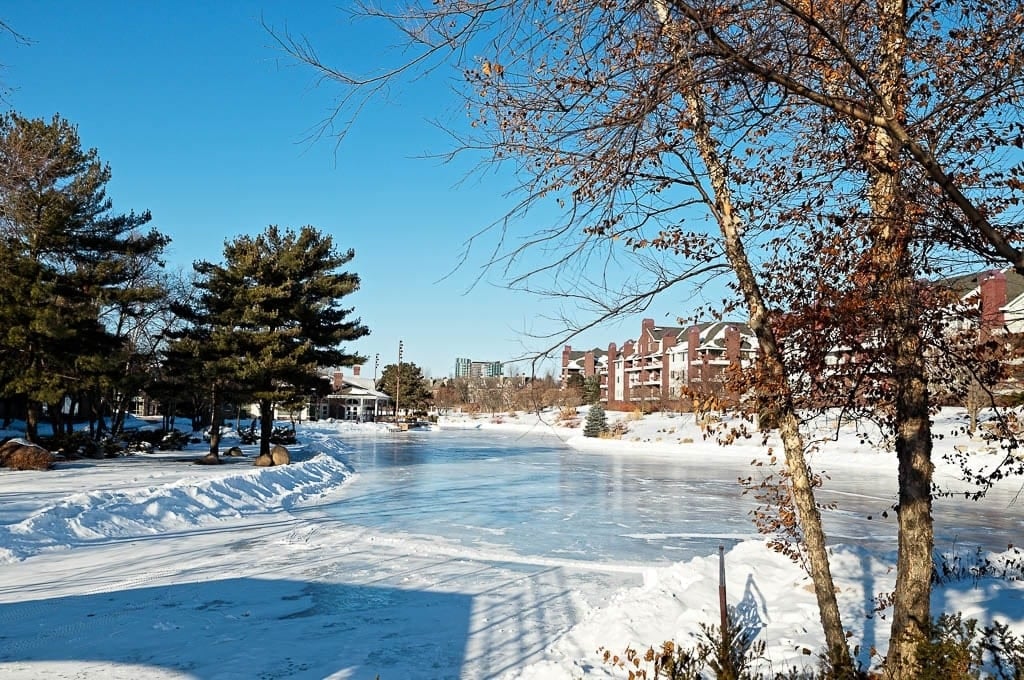 Frozen Lake in Edina
If you like a picture on a frozen lake for winter pictures, the Centennial lakes (Edina, MN), offer a larger variety of options. Indeed, the Centennial concentrate a lot of tiny, but cute and efficient photo spots.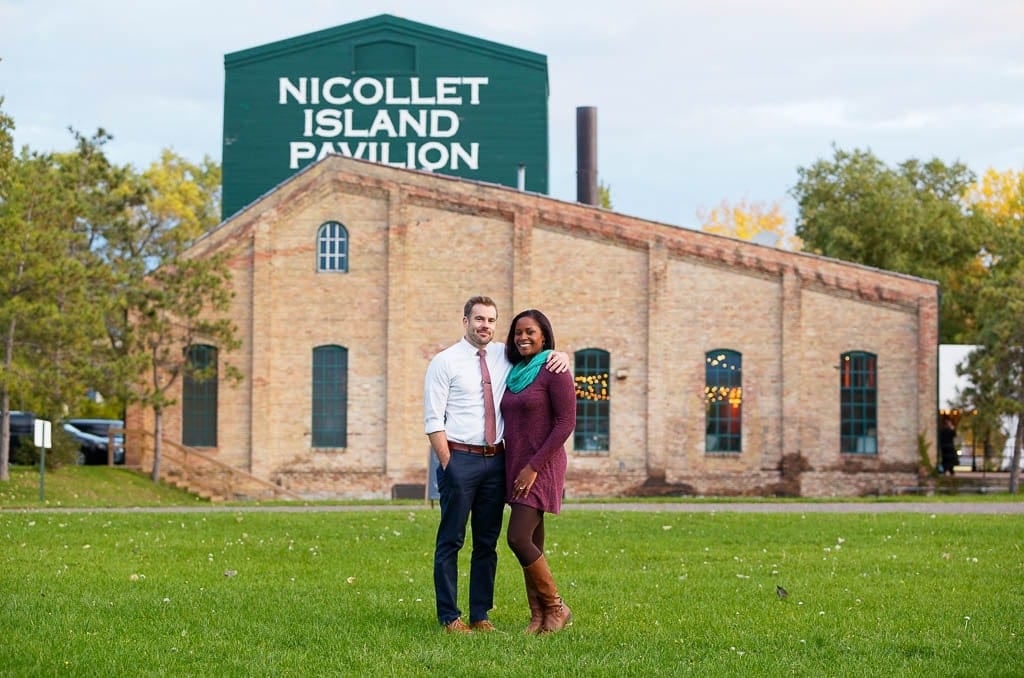 Post-Industrial Style
Photographers love post-industrial buildings, such as the Nicollet Island Pavilion, which is also a wedding venue (but not only). It's located on the west part of Minneapolis, right on the Mississippi. The Pavilion, surrounded by greenery, is made with red brick, and so are the buildings of the Saint Anthony Theater on Main Street.
Harriet Island (located in St. Paul, MN, is also ideal to have a portrait take. It offers a stunning view of the skyscrapers, and usually a perfect light.