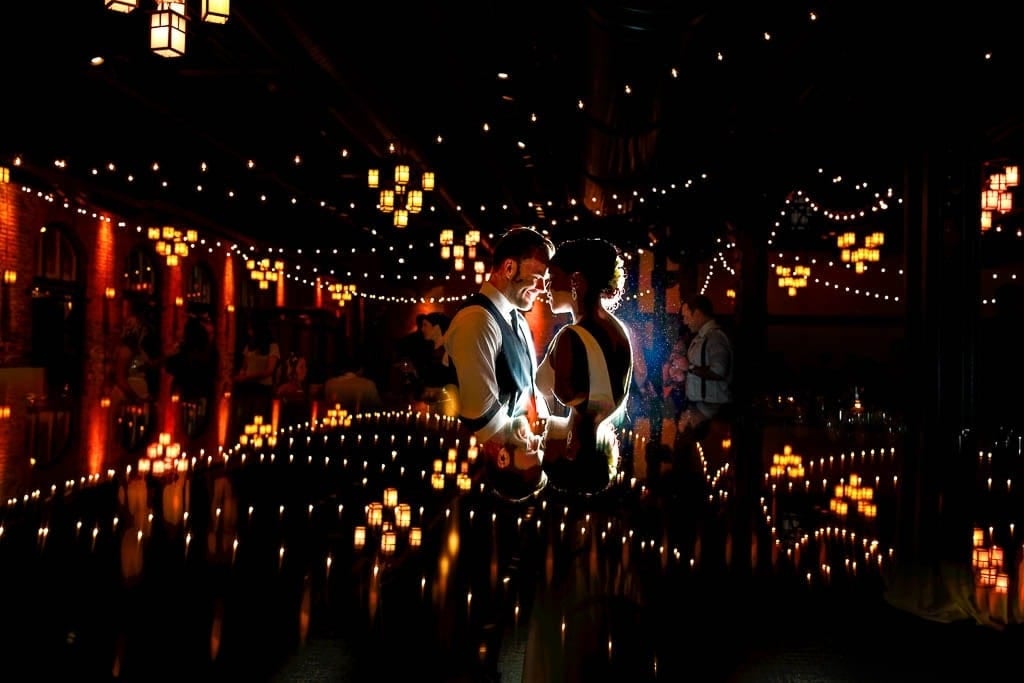 Exceptional wedding full of Emotion at the Nicollet Pavilion
Nicollet Island Pavilion Wedding
After Kevin made his surprise proposal, and after their engagement session in the Twin Cities, it was now their ceremony day. In the morning they got ready and had their first look, at the Renaissance Hotel. We took advantage of the hotel decoration for staged Vanity Fair style bridal pictures.
After this moment of fun, they headed to the Basilica of St Mary for their Catholic Religious Union, which was everything but funny.
Indeed, despite a rigorous (not to say conservative) ambience given by the priest, it was a beautiful moment, full of emotion and tears.
Finally, it's at the Nicollet Island Pavilion that they decided to celebrate their wedding and party.
So let's dive into Nadine and Kevin special evening, and let me take advantage of this article to present you this high-level venue.
Wedding Reception at the Nicollet Island Pavilion
A rainy cocktail hour under the covered patio
After the church, the newly married couple was supposed to jump into their bus (they look for car rentals and picked a huge bus). This one dropped the entire bridal party at the Nicollet Island Pavilion where we were supposed to shoot their bride and groom photo session. Unfortunately and despite the fact that we were in the middle of August, it was raining and we were obliged to postpone the session.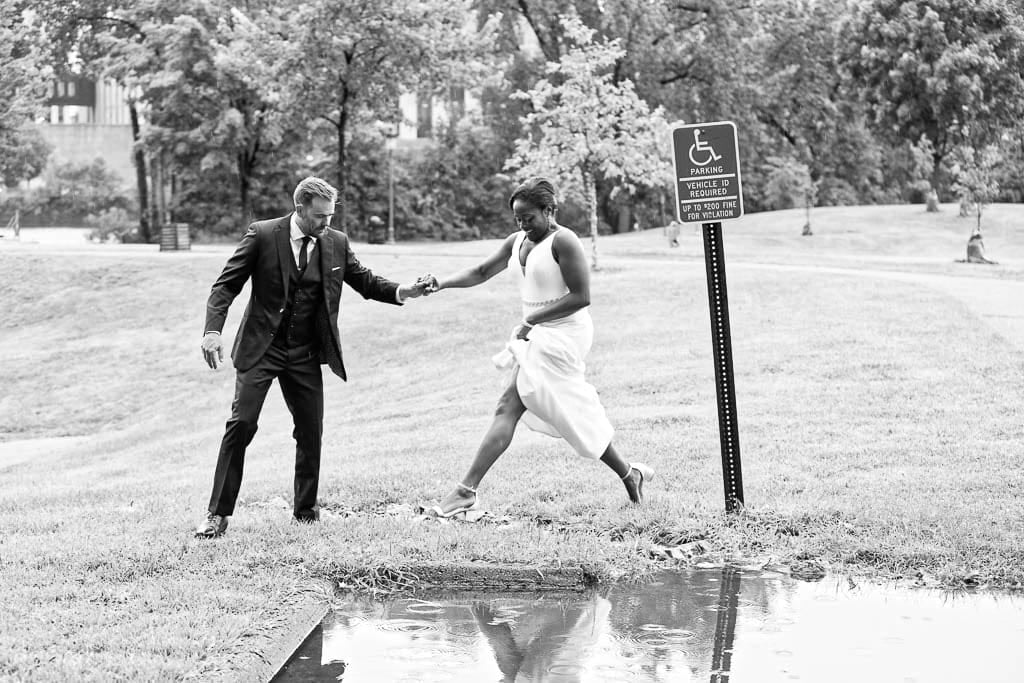 During this time, the cocktail hour took place under the tent. It was a bit chilly at the beginning, but it started to warm up when people arrived.
Under the thick gray clouds, the natural light was missing inside the tent. Nevertheless I was lucky that the ceiling was white, which allowed me to use my flashes.
A fast (and furious) couple session between two rain showers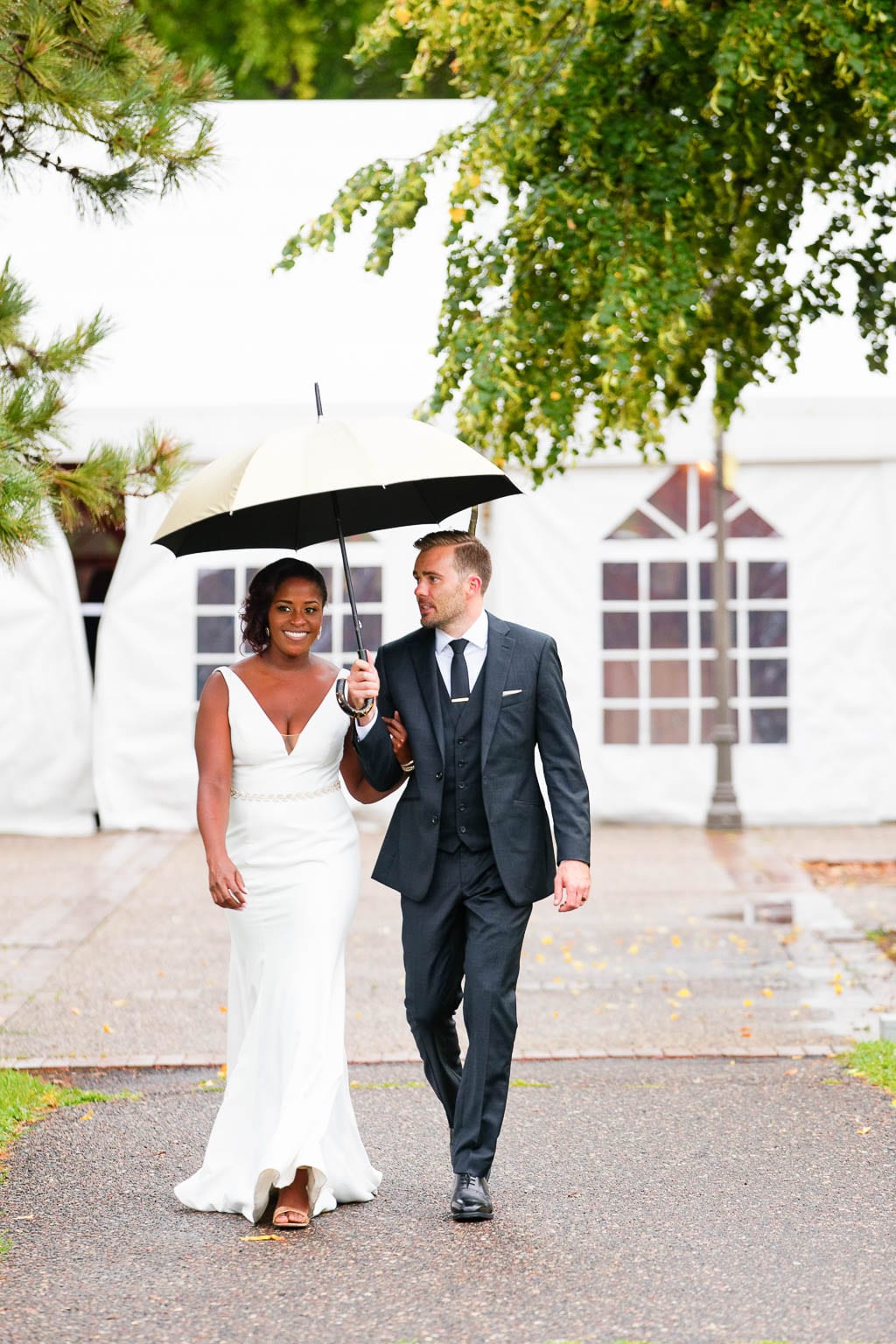 When Nadine and Kevin were looking to find a professional wedding photographer to cover their ceremony and engagement session in the Twin Cities, we talked about all the unexpected events that can occur on a wedding day. Rain was one of them and it was not a surprise. Indeed, given we work together to plan their best timeline, they had some buffer time that allowed them to have their own couple pictures taken later during the evening.
That's why, as soon as the rain stopped, we jumped outside and take advantage of the wedding venue and its neighborhood. Given that the wet lawn was not an option (and that we already took pictures during their pre-wedding session), we focused more on the post-industrial bridge on Merriam St.
It quickly starts to rain again, so we headed back to the venue, shoot 3 pictures on the terrace and run back inside.
A family atmosphere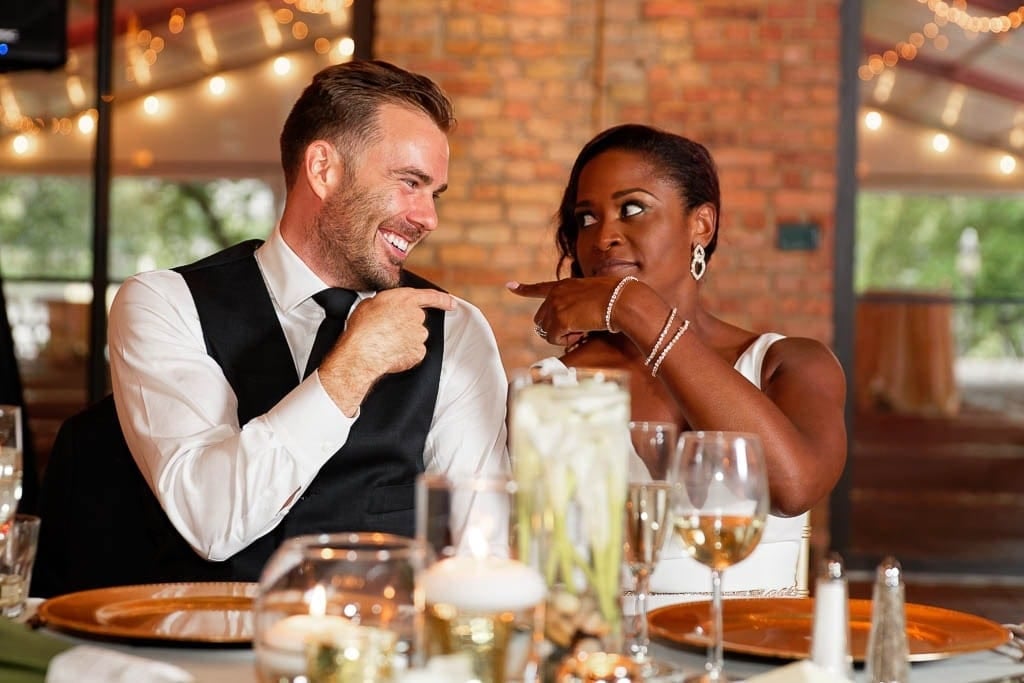 The indoor diner started and ended with speeches. Fathers, mothers, sisters and brothers came to share their love with the bride and the groom. It was sometimes difficult not to cry. It was simple and beautiful.
In my opinion, good speeches can be the greatest and the more emotional parts of a wedding. They can also be great reason to hire a professional videographer. Indeed, while a photographer capture instant, videographer car record the entire speech.
Tons of Fun on the Dance Floor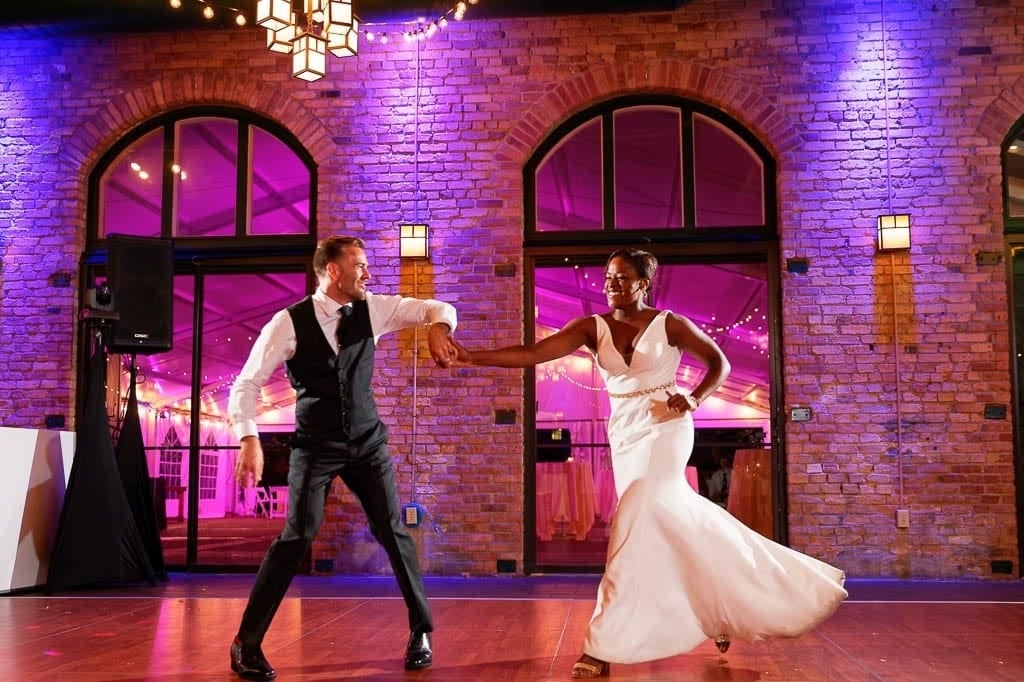 After all this emotion, the newly married lovers opened the ball with a special dance, and had obviously at a lot of fun. After that, their friends quickly deserted the bar where they took courage, to join them on the dance floor. I left them at this point and I believe that they danced late during the night.
8 reasons why you should get married at the Pavilion Island
If you are planning your wedding and are wondering if the Nicollet Island Pavillion could be the gorgeous and amazing venue of your dreams, find here some reasons to book it.
—Before starting, I just want to say that I have no link to the Nicollet Pavilion—
Post-industrial building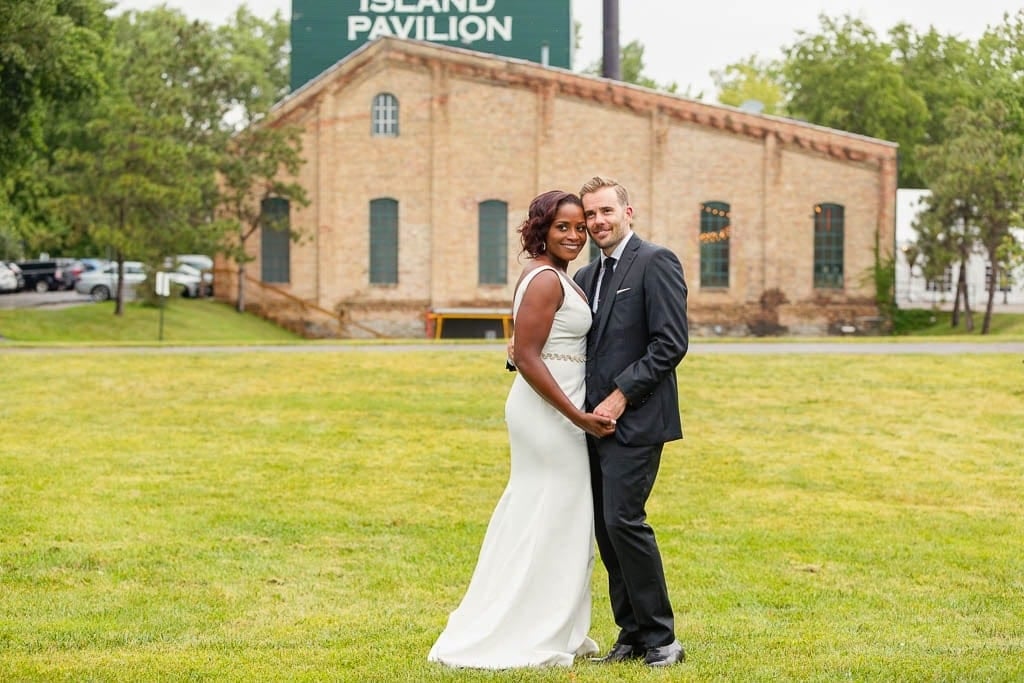 One hundred and fifty years ago, one of the more dynamic enterprises in Minneapolis, was the lumbering industry, taking advantage of the Mississippi River. Built by the William brothers boiler works, this building burnt, and was purchased (and rebuilt) by Durkee-Atwood. In other words, more than its rich charm history, this is an authentic industrial construction, featuring beautiful exposed brick walls and tall industrial ceilings.
Today there is no more lumber, and the Island is mostly covered by lawn and trees. This decor from another period is lighted by tons of low-energy bulbs, which great nothing but a cozy and warmth ambience that make you feel nice during cold days.
A stunning view on the Mississippi River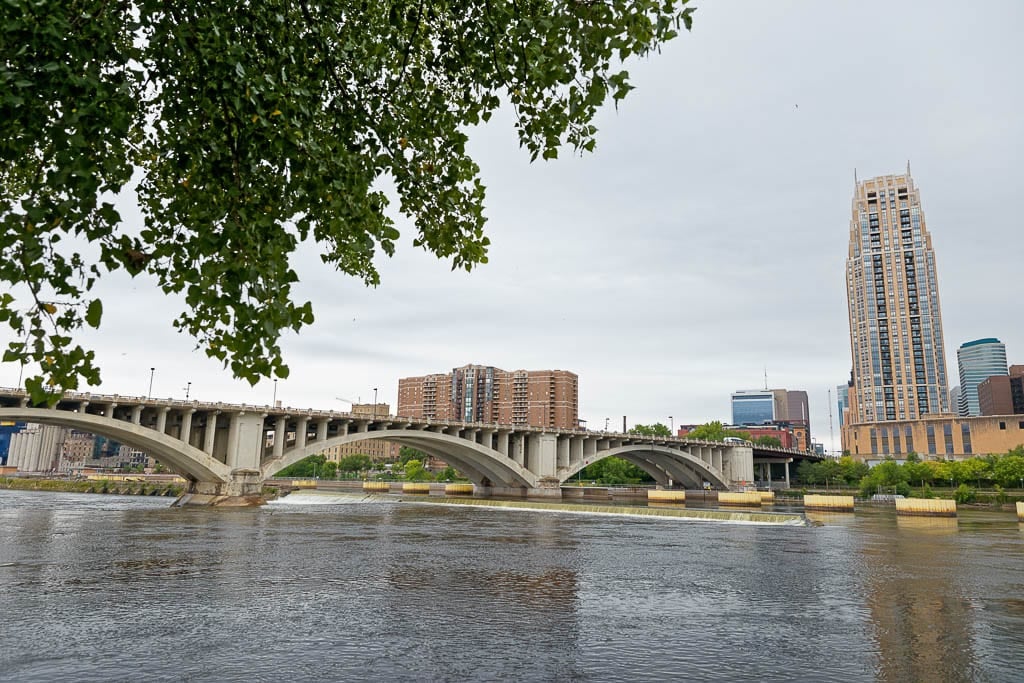 Located on the shore of the Mississippi River, the terrace offers some amazing views on the city skyline and the bridges.
By the way, the underside of the Hennepin Bridge can be a good location for a few pictures.
A small auditorium for outdoor celebration
You will be pleased to find an outdoor auditorium that welcomes outdoor marriage rituals.
Backup options in case of rain, and ideal decor for your florist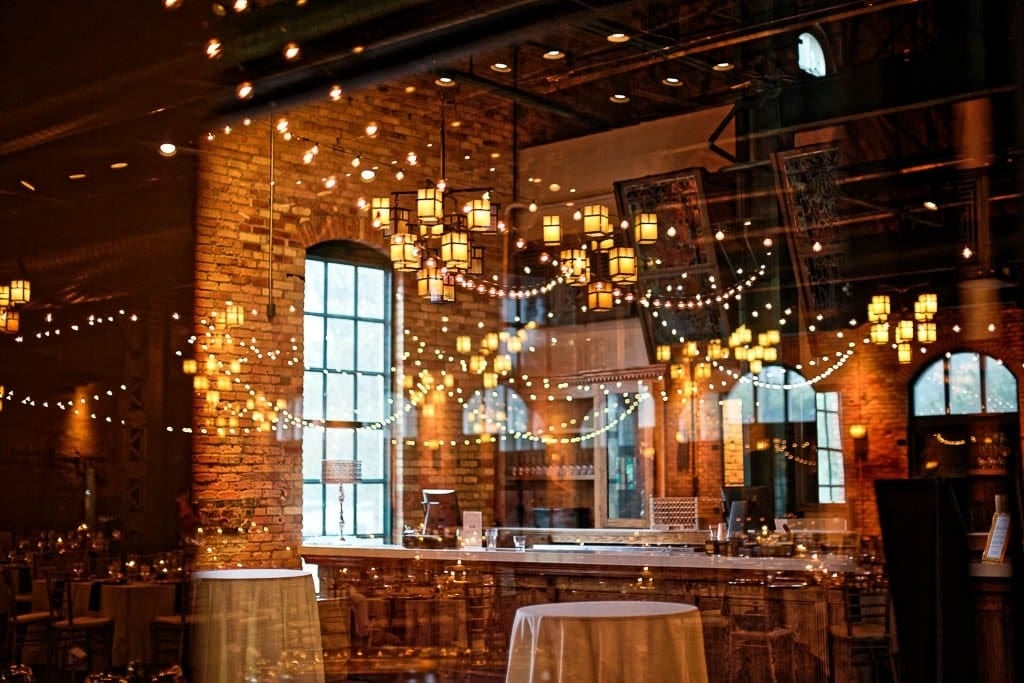 If your big day turns to a rainy day, the large space offer can easily be used to host your ceremony.
The warm, red, brown color of the wall, and the raw and rough construction are the perfect contrast of green and delicate flowers. Most florists are delighted to have such background.
Ideally located on the Mississippi Riverbank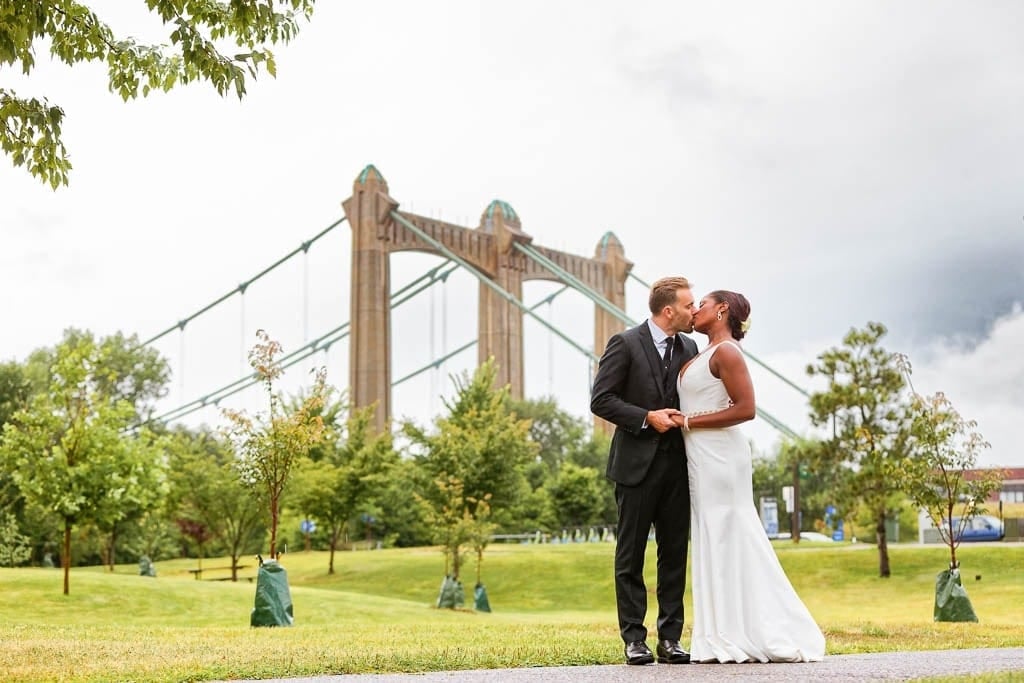 The Adjacent Nicollet Island Inn for rehearsal dinner and to get ready
The only complaint I could formulate against the Nicollet Island Pavilion is the absence of a great bridal suite. Luckily, you just need to cross the street to find the perfect hotel that will suit all your needs.
The rooms are great, they offer a bridal suite. And on the top of that, you can also host your rehearsal dinner in this romantic location.
As a consequence, that's the perfect complementary to the venue.
Easy to park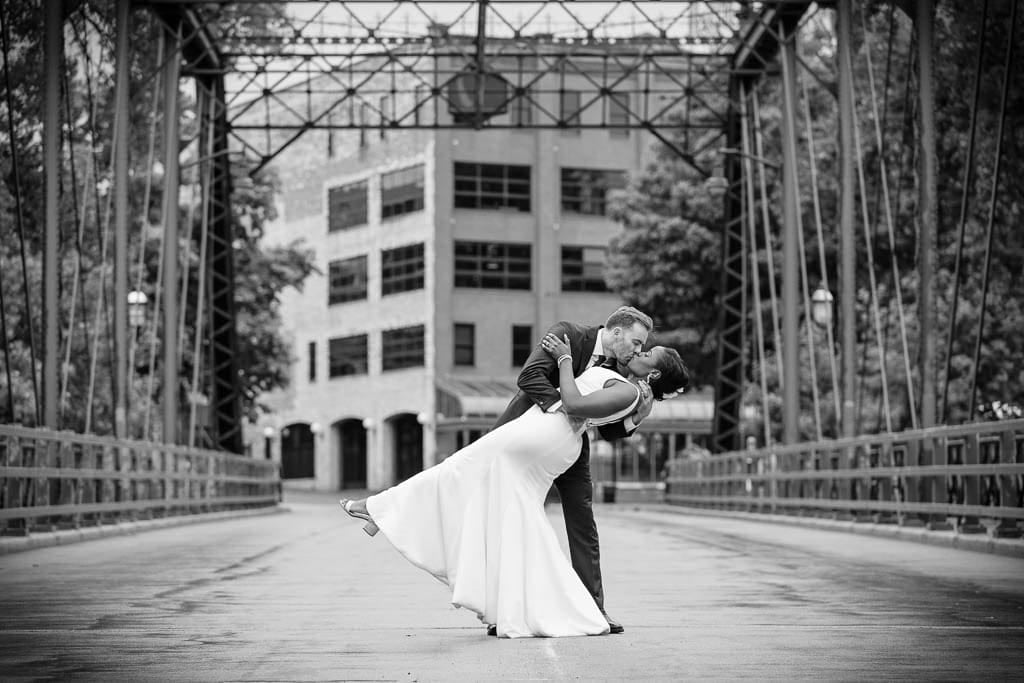 The bride and the groom didn't want to bother parking, so they look for a car rental service and selected a new long bus that transported them all across Minneapolis, MN. But their guests still have a park.
Well, you might be happy to know that the Nicollet Island Pavilion has its own parking by the bride and groom to the car rental services. And if you have too many guests, then there is a public parking located on the other side of the street.
Transportation on Hennepin Avenue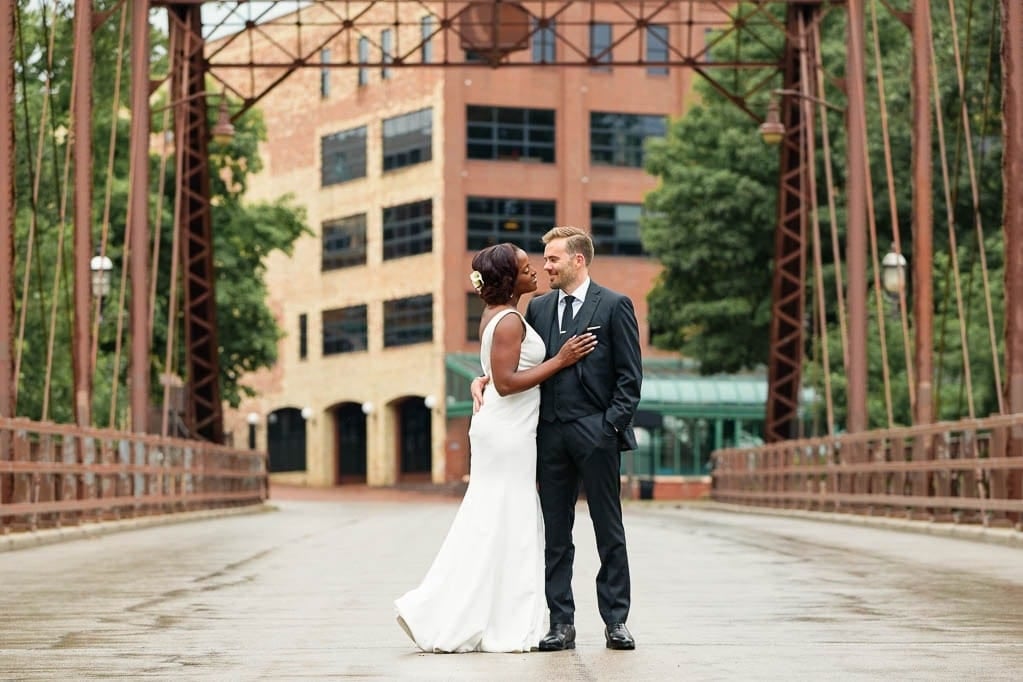 There is two city bus stations located on the bridge, so your friends who lived in Minneapolis or St.Paul can party and don't need to drive home. Of course, there are also taxis and Uber at proximity.
A Charming Neighborhood of Great Photos
You don't need to go far away to find perfect location for couple pictures. Actually, you could even stay on the Island! But here is a short list of the different options located nearby.
St Anthony Main Theater and SE Main Street
The Underside St Anthony Bridge
Father Hennepin Park bluff (and its unique views of the Stone Arch Bridge)
The iconic Minneapolis Stone arch bridge
The Guthrie Theater
Mill City Museum
Several Rooftops (on the south side)
Boom Island (east of Nicollet Island)
Betty Danger's Country Club (5 min driving)
A renowned catering services Mintahoe
Mintahoe Catering & Events is a renowned caterer in Minneapolis. Hiring a recognized caterer such as Mintahoe is (in theory) the guarantee that your coordinator will be able to do her/his work properly, with a trained and competent staff—which is unfortunately not always the case—. You can appreciate the catering service especially on large space and large group events. And given the Pavilion capacity, you need not only some good food, but a staff that is able to serve hundreds of peoples.
What's more, they offer rentals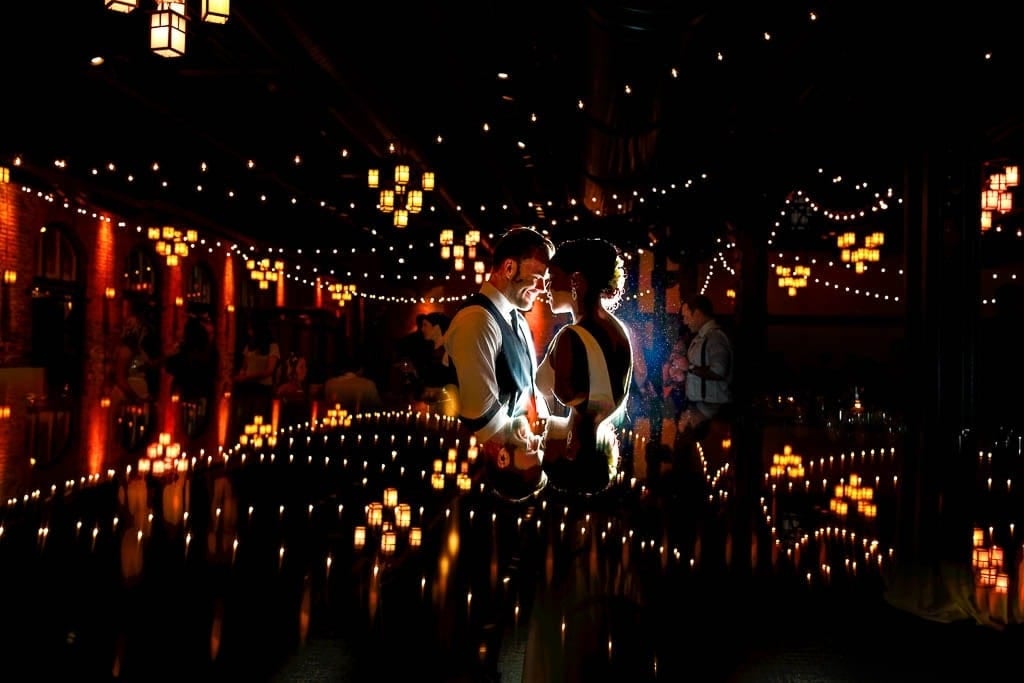 Not satisfied with the Nicollet Island Pavilion's vicinity?
Other locations in Minneapolis for great couple session.
If you like the Nicollet Island, then you might enjoy those famous (but efficient) places. They all offer wedding venues and vendors services. But, to my own opinion, the Nicollet Island Pavilion remains a five star choice.
Como Lake and its Park
Loved by photographers, the Como Lake and the Como Park (and its zoo), is located between Minneapolis and St.Paul. You should be seduced by the beauty of the McNeely conservatory. Nevertheless, pay attention to the event dates, it can be crowded during summer and weekends.
For information, the Pavilion Lake restaurant and the Como Zoo offer wedding venue services.
The Centennial Lakes
Located in Edina, MN (south of Minneapolis), the Centennial Lakes is loved by photography vendors for portraits and pre-wedding photos, because it offers a high concentration of different backgrounds on a small surface. Surrounded by buildings, it's a mix of the modern city and the nature. The landscape have been tampered by a man who has transformed and redesigned its present form.
It's a perfect location for pictures in summer and also in winter.
The Minnesota Landscape Arboretum
I have discovered it thanks to a wedding coordinator. The Arboretum (located in Chaska, MN) is appreciated by photographers because it offers a large variety of outdoor landscape. You can find all kinds of flowers, plants, waterfall, pines, evergreen, etc. Despite its 30 min driving for the center of the city, it might be worth the drive. That's especially true if you have enough time during your special day. Of that implies that you really like nature and that the weather is good.
For information they also offer a wedding venue service.