What Is the Average Price of a Wedding Album
You will get married soon, or might have already tied the knot and you are now wondering how much you should invest in a wedding album. Congratulations, having a wedding budget is something essential to achieve all your priorities (professional photographer, album, print, etc.).
First thing first, let's avoid confusion, when speaking of wedding albums in this article we will focus on a lay-flat photo album. We will voluntarily ignore all the other types of albums such as
The classical ones (with prints past on a page or slide in a pocket)
Flush matted ones
Scrapbook ones
With this precision, you will now discover in this article that the price of a wedding album can greatly fluctuate regarding several points:
Quality
Characteristic and Customization
The way your photographer sell his albums
3 different types of quality for wedding albums and their average prices
It exists in many types of photo-books and neither the marketing, nor the laboratories help to see clearly.
So, let's simplify and divide all the albums into 3 different groups.
Handcraft top quality wedding album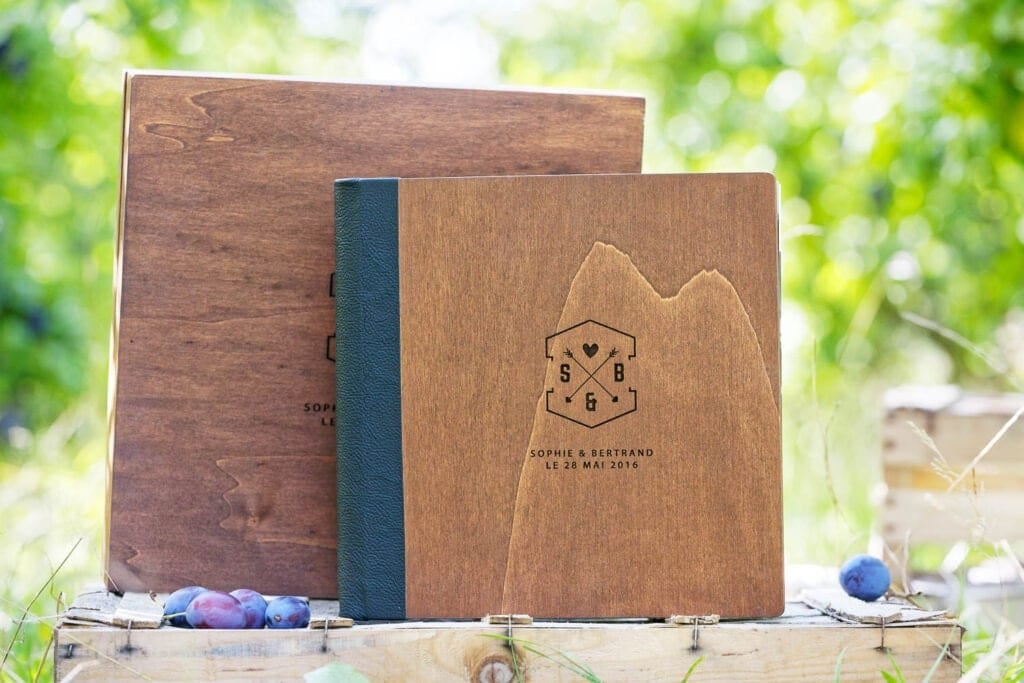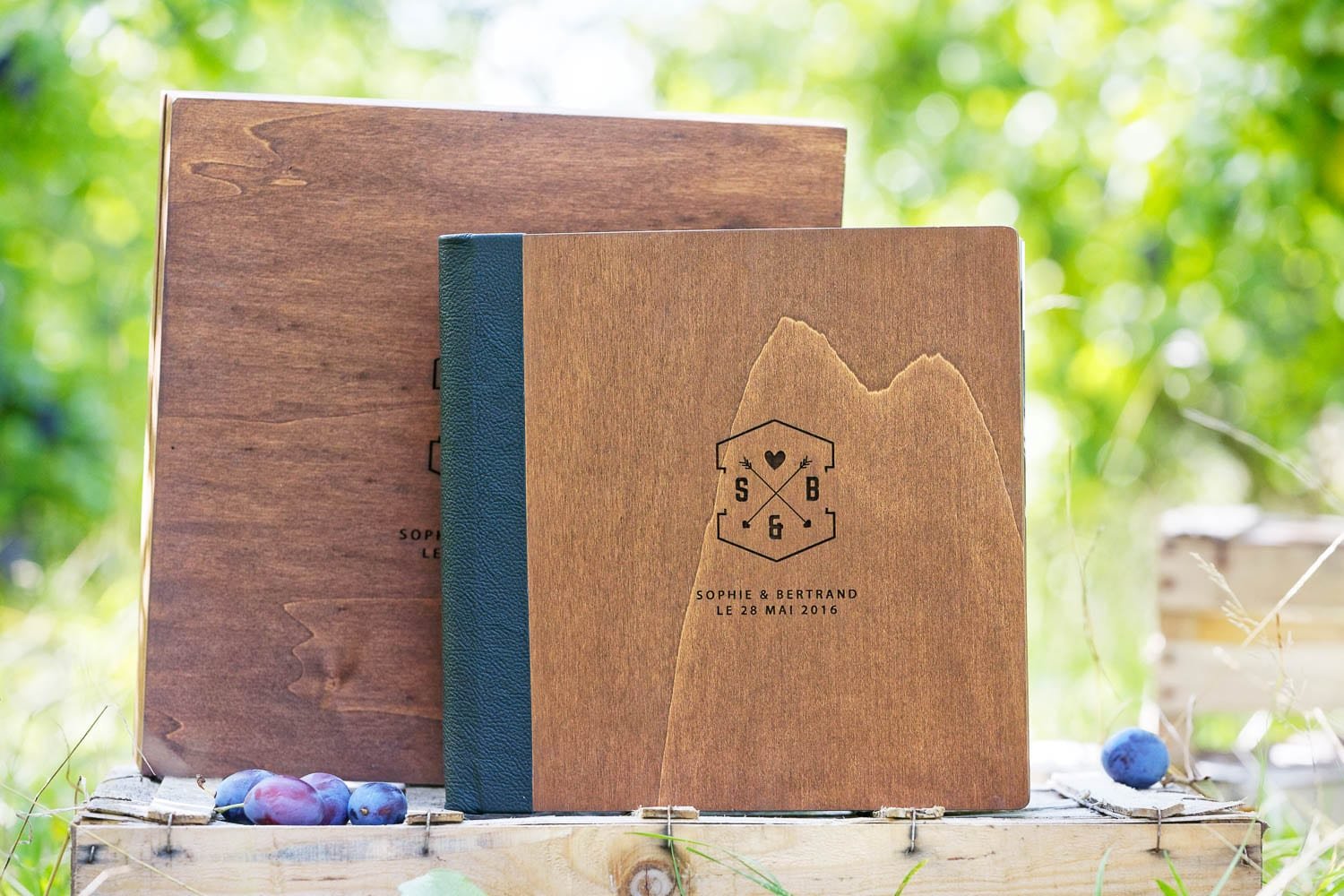 Let's start with the premium photo book sold by professional photographers.
Those have in commons:
Print on real photo-paper using RC paper (the best professional paper for weddings)
Use a lay-flat technology with cardboard paper insert between each page
Amazing cover options (leather, wood, plexiglass, etc.).
Personalization options (embossing with foil, engraving with lasers, gliding, etc.)
A tailor-made layout that tells your family memories
A box to protect and take care of the albums
Possibilities to order book for parents
A guarantee in case of imperfection
A guarantee on the delivery in case of damage during transportation
Those are the best quality albums we have chosen to offer our brides and grooms.
Those albums present a huge dynamic of colors, a high definition to enjoy all the details, but most of all, they are built to last for decades and decades! Their paper is resistant to moisture, tear, dirt, temperature variation, dirty fingers and scratches.
The average price of those best albums is somewhere between $500 to $2000.
Standard photo-book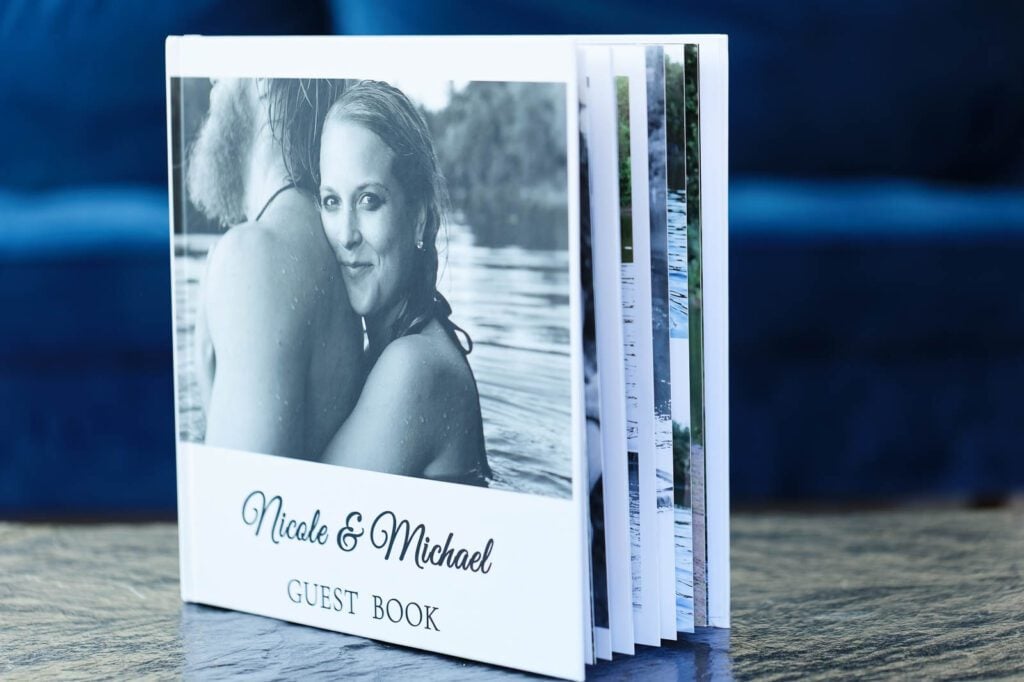 Standard photo book is albums that everyone can order online (Shutterfly, Artifact upRising, etc.), as long as they have the digital images, and that their package includes a personal right release.
They are falsely marketed as a lay-flat album (when using a poor version of the lay-flat binding), and printed on photo-paper (understand here, any support that will have a photo printed on it can be considered as photo-paper).
Those albums have in common
Print on thermal or inkjet photo-paper
Use fake lay-flat binding technology
The customer design the layout through a specific software (takes time)
They might have a dust jacket
They might have a few cover personalization options
Thanks to recent evolution in printing technology, the albums have now become standard products with a price extremely affordable.
They present a low range of dynamics of color and a mid level of printing resolution that most people won't notice.
That's why they are well suitable for vacation books, engagement photos, but not for the wedding album!
Indeed, the affordability comes with a downside: a decrease in the quality. Those books are not made to last decades. They will probably turn yellow, have color fading, and pages following apart in a few decades.
The average price of a basic lay flat album is somewhere between $120 and $300.
Cheap coffee table book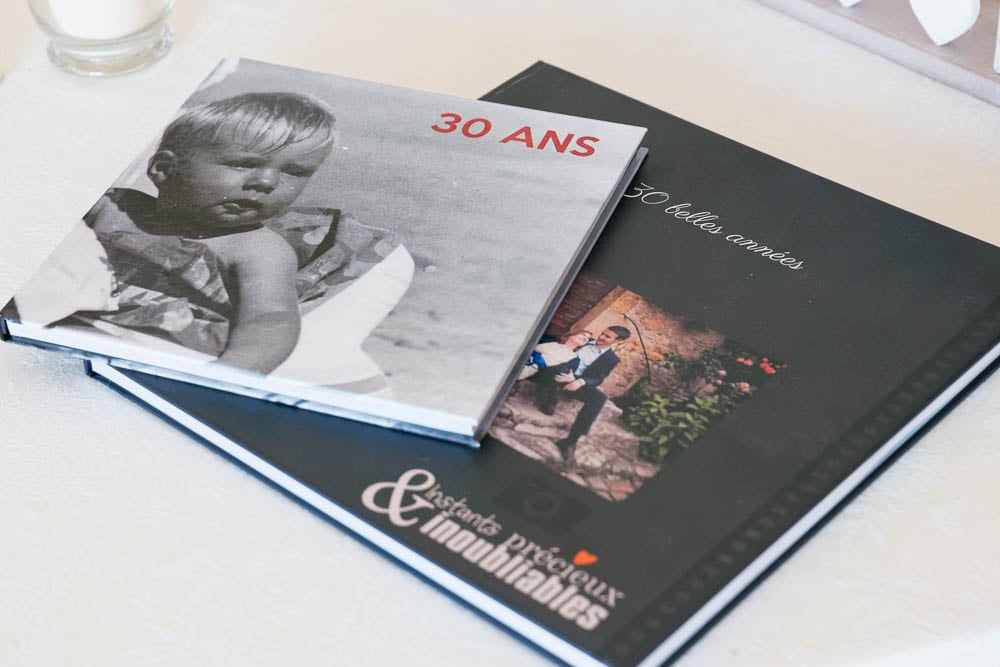 Those are the cheapest option available on the market and any person in love with photography would avoid such garbage books.
They all have in common:
Print on a cheap paper with laser printing
A printed softcover
A standard size format
A standard number of pages and sometime number of photos
A layout made by the customer (choice among templates)
The prices of the cheapest coffee-book start around $30-$40 (before tax and delivery). That cost reflects the content of the product. Photographers would always recommend clients who love photography to choose a high standard album.
Conclusion: Simple Album Is Cheaper Than Big Fancy Ones, but won't last forever
Based on all the elements mentioned above, you should now understand the cost of a wedding album reflects the inner attribute of its content. It's a pretty obvious conclusion!
The more options you choose, the more pages you take, the more expensive the albums become (even if there is more reason why albums are expensive). Indeed, designing the layout takes time, and photographers need to get compensation for their work.
If you have a lot of hours available during the day and are not expecting a great product to last forever, then designing an album yourself might bring the costs down. If you find that it's not a good idea, neither!
At French-Touch-Photography, we provide our customer with all the Digital images in High Definition with a personal model release. It's part of our pricing philosophy.
We strongly encourage ordering our albums given their features and durability, but it's not an obligation. If you are interested, check out our packages.
If you were not planning to spend that much money and don't have the budget yet, our recommendation would be to wait instead of going cheaper. But whatever you decide to do keep in mind that the final product of a wedding photography is an album! So, make sure to buy print your photos because time flies, and you might find yourself with no memories if you don't do it today!