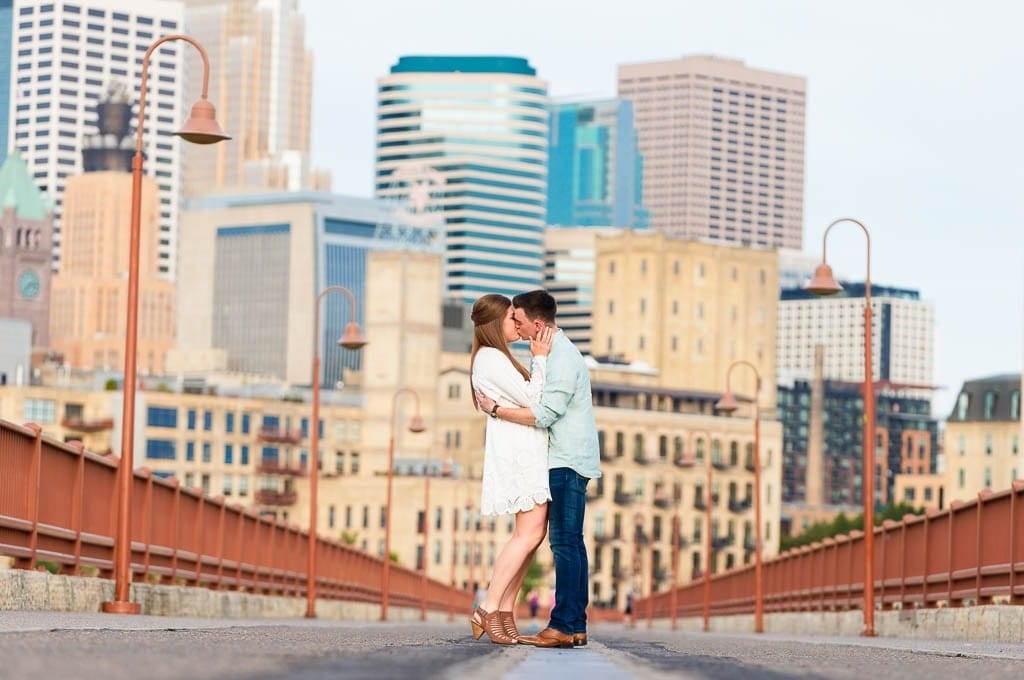 How to properly coordinate your clothes
How to Coordinate Outfits for your Summer Engagement Pictures in Minnesota
Before having your twin cities ceremony captured by your talented photographer , you want to feel at ease in front of his camera. Good news, all our packages include a photo session before your wedding! So now, the only concern you should have, is where to go, and which outfit to choose.
For the locations, I have already written several articles that you can easily find on the FAQ with plenty of recommendations. That's why, the subject of this article will mostly focus on the second question. What ensemble should you and your fiancé wear to have great pictures?
Indeed, clothes are highly important. You could be the most beautiful couple in the world, with a sublime location and a great natural light. But if you are dressing like clowns, then your pictures will probably be a disaster. You don't want that, me neither, here is a bunch of tips to use!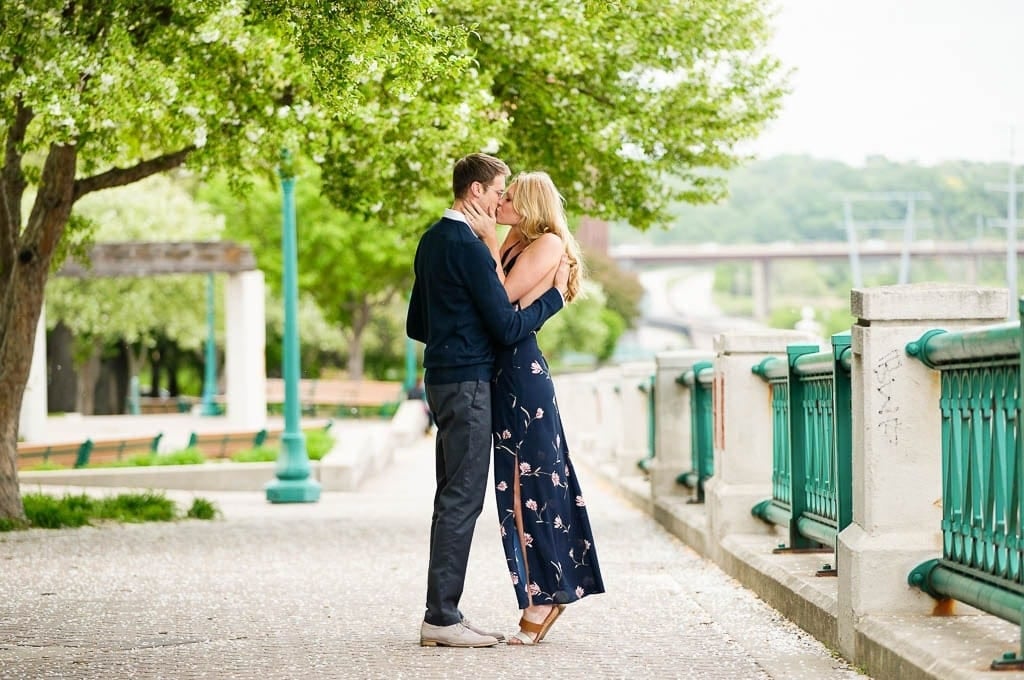 Style
Most of the sessions allow you to wear two outfits, which is an opportunity for two different styles. Most people choose a casual and a formal.
The casual style (which should not be too relaxed) will help you to feel at ease, comfortable in your clothes; thus it would be easier to express your emotions. The formal clothes take part in our every day theatrical social play. It's an opportunity to proudly dress, to show your respective personalities, and a great pretext to go shopping!
Your choice is only limited by your inspiration! The idea is clearly not to make a fashion show, but to put your best face forward.
For instance, this is a list of common style and trend:
chic
elegant
bohemian
vintage (50s, 60s, 70s) or futuristic
all kinds of fashion
hippie cool
rock&roll
sexy
ethnic or from a foreign country (for instance, the Parisienne)
The styles you want to avoid;
Sportswear, baggy
Tee-shirt
Military-hunting
Bad boys, punk
Neglected
Bigotry
Vulgar
Too much glitter (you are not a Christmas tree)
It's important to keep in mind that every single element is composing your style. Also, don't neglect anything, from your shoes, to the top of your hat.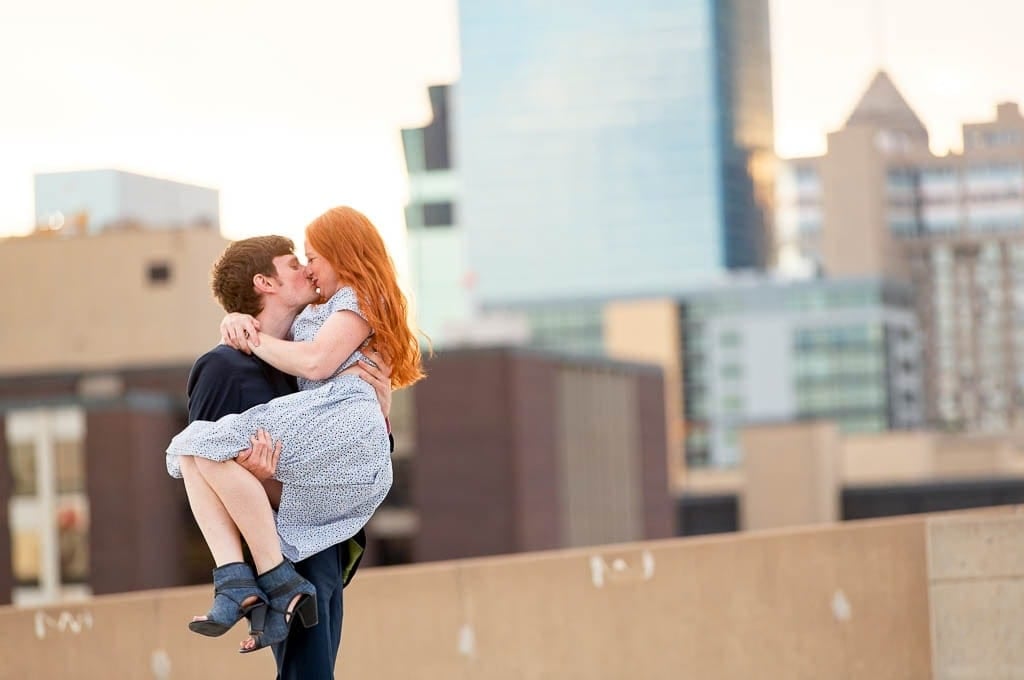 Material Maters
In Minnesota, when you hire a talented professional photographer to capture your ceremony memories, you expect him to do magic with his camera. And he will! But you can help him choose clothes with noble materials instead of cheap synthetic imitation which won't reflect the light in the same way, and thus, will look cheap.
That also applies for wedding dresses! Indeed, cheap $500 wedding dress is made of poor white materials that you can notice on the pictures.
Not only it doesn't look good, but also it carries a negative message.
So whether it is for your big day or for your photo session, choose a good material!
This includes paying attention to the weave and the knitting of your tissue.
wool (Kashmir)
wool pullover with large knit
denim
cotton
Leather
silk
linen
velvet
fur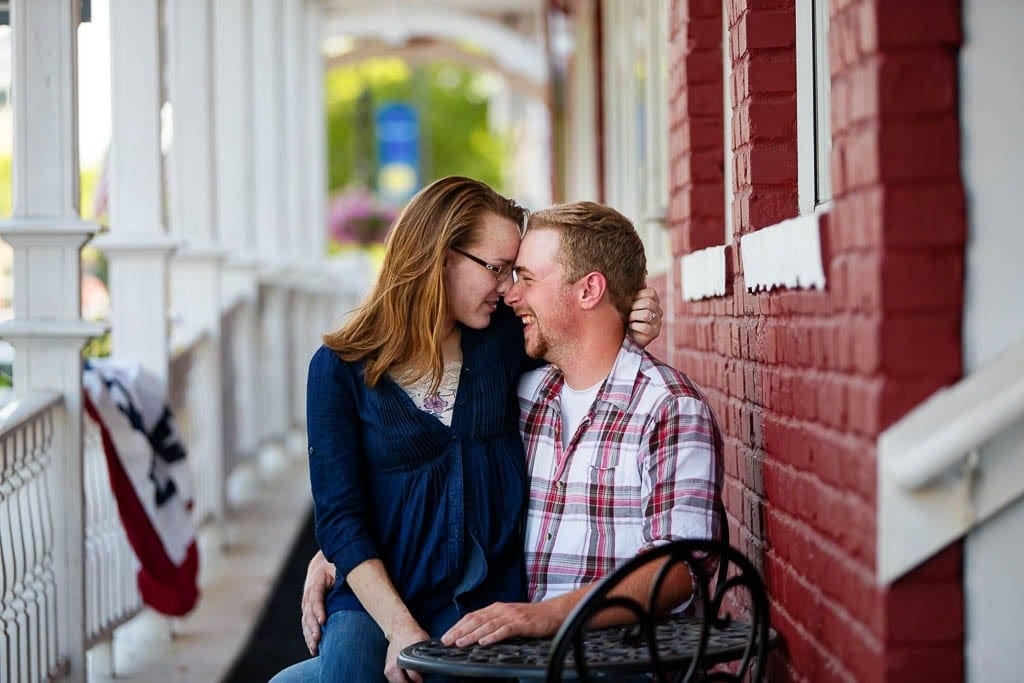 Patterns
Photographers are not big fans of patterns. Check at the engagement session of those two guys at the Conservatory in St Paul Minnesota.
They had chosen shirts with patterns, but small ones.
You can find inspiration among hundreds of patterns available, from the simple ones, to the more sophisticated ones. They are a good way to show your personalities, as long as they don't attract attention.
In other words, you should avoid
symbols, letters or text
faces (human or animal)
pictures, drawings, logos
high contrast patterns
patterns with too many colors
animals patterns (zebra, leopard, etc.)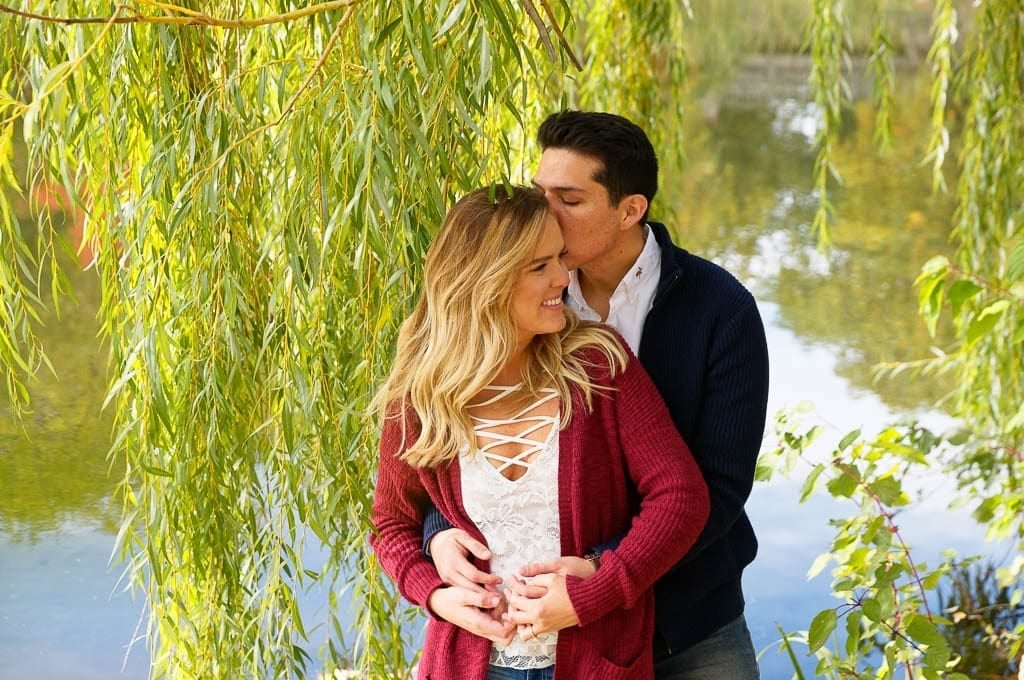 A variety of clothes for different Body shape
Photographers would tell you, a great photo-shoot with great portraits is the result of a good team, including vendors and the couple. For instance, this bride in her stretchy dress for her wedding at the courthouse, was well advised. The dress fits her perfectly and highlights her silhouette.
You must pay attention that the clothes fit you well. Indeed, some clothes would fit some bodies better than others. You must try your clothes before your session, to make sure they are made for you, that they are not too long, too short, too stretchy or too baggy.
Colors
There are three parameters on which you can play to select your clothes' colors:
hue: it is the degree of color selected on a chromatic wheel
saturation: from dull to plain color
tone: from bright to dark
The choice of the color is actually determined by your skin tone, your location, the weather, your home and, of course, of your tastes. Let me explain how.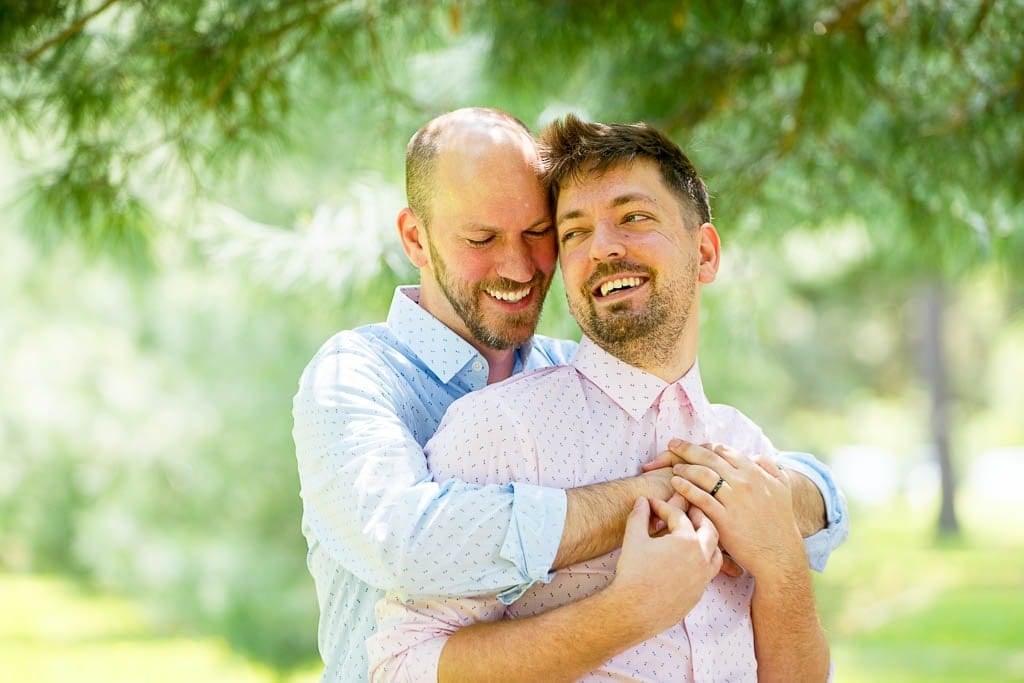 Background: Location and weather
Vendors such as your wedding coordinator would tell you, an outdoor location can look completely different depending on the weather!
For instance, in summer, the forest would look vivid green on a sunny day, with a blue sky. But on the opposite, it would look dull, a dark kaki on a rainy day. The first option would let you wear some saturated colors, while the second options would require muted tones.
That is to say, in photography, we want the subject to contrast with the background, so the viewer attention is directed to you. Nevertheless, a soft color contrast is enough.
In this consideration, avoid wearing the same color as your background (to avoid monochromatic pictures), and dress accordingly to your background.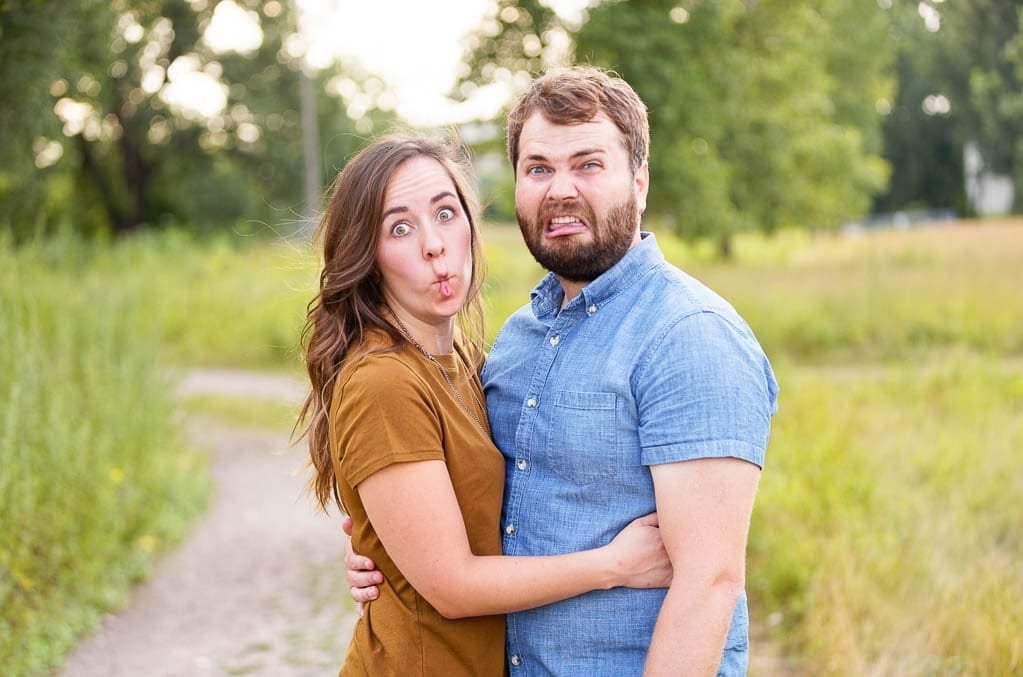 Skin
That's probably the most subtile part of this article, and it would require a full article. Though, I will try to summarize the major principles.
Your skin tone, and your hair color, are the two elements, you can't change.
Skin Tone
When creating your style, you have to take in consideration the tone contrast. If your skin naturally presents a low contrast, then avoid high contrast clothes, and vice versa.
For instance, if you have pale white skin and blond hair, or a very dark brown skin and dark hair, then you present a low contrast. In consequence you should avoid dressing in plan black for the first case (and prefer pastel tones), and in white in the second case (and prefer darker tones). You might also prefer a low tone contrast in your clothes.
If you are Caucasian with dark hair, or black with blond hair (pretty rare), then you present a high contrast. You can easily play with contrasted tone clothes.
Skin Color
Human skin tones go from very dark brown, to almost plain white color, including an infinite variation of the beiges. To schematize, I will reduce it to 5 skin colors.
You must choose the colors of your clothes accordingly to your skin tone.
Very pale skin
Prefer pastel colors. Avoid green, blue, white and black.
Caucasian Skin
Prefer red and blue colors. You can wear bright and dark tones.
Tan and Asiatic Skin Tones
Prefer orange, dark green, and purple. Avoid red, bright blue and pure white.
Brown Skin
Prefer red, blue, green, purple. Avoid pastel and pure white.
Dark Brown Skin
Prefer purple, dark green, blue, red, orange, and saturated colors. Avoid pure white and pure black.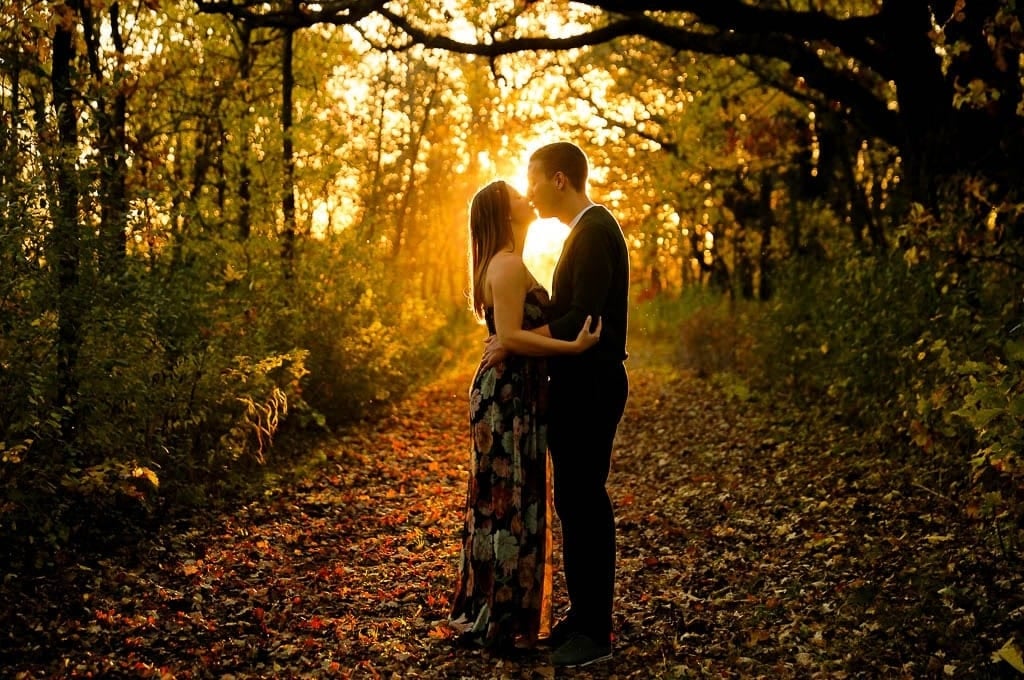 Colors Coordination
Now that you know what color fits you, try to coordinate your colors with your fiancé instead of matching.
Keep in mind that a simple add-on (shoes, belt, jewels, etc.), or a pattern, can add just the right amount of color needed.
Neutral tones is the secret!
All the variation between white and black, and between dark brown to bright beige are considered as neutral tones. Some include muted dark blue (marine), and muted dark green (kaki).
These colors considered as neutral, complement your favorite color.
how many colors
Make it simple, one or two colors combined with neutral colors are usually enough. You can go up to three, but no further.
Families
The same rule applies for the family photos. Do not match each other (you are not a football team, nor a company), but coordinate. Simple props can give you the touch that reminds the main color.
Which magic combination works all the time?
The following combination works great together. I suggest using only one plain color, and the other ones muted.
Red, Blue and Yellow
Those are the most popular. They are called the primary colors.
Green, orange and purple
Those are also popular, a bit less flashy and are called the secondary colors.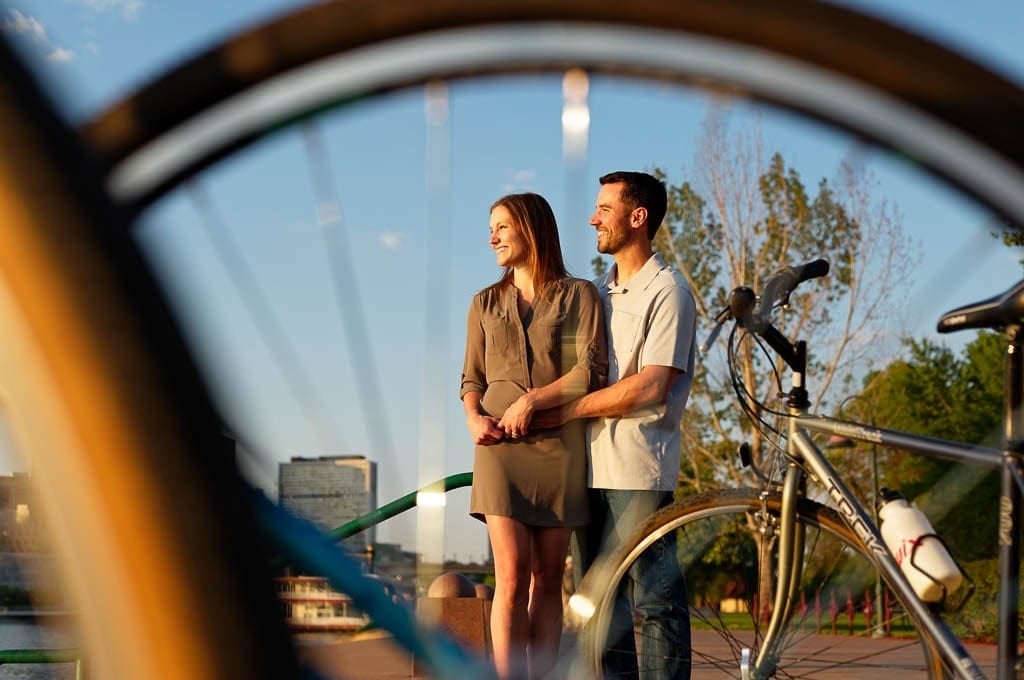 Hair and makeup to produce excitement
Whether it is for an engagement session in St Paul Minnesota, or a wedding out of the cities, the details make the difference when it comes to portraits, and should not be neglected. I can do a lot of magic, but first of all, I need you to be good-looking!
When you look at the mirror, you must feel confident and proud of your look.
Appointment at your hair stylist
I would recommend having your hair cut one week before the photo session, so your cut would still be fresh, and your hair would have time to recover their natural orientation.
Use accessories that reflect your personality
When you invest in a professional photographer service for high-end photography, you should provide yourself with the props to achieve your goal. Props are the extra things that can enhance your look, by offering to your hands something to handle during the photo session.
Indeed, most couples don't know what to do and must be directed. Having a hat, a scarf could help you in posing.
So, here is a list of what you can put on and bring to play with:
hat
scarf
belt
bag (purse works)
straps
shoelaces
tights
gloves
socks
Jewelry
They are part of your look. Gold and cooper would be used as warm colors, while silver and platinum would be used as cold colors.
Pay attention that all your jewels (neckless, hear rings, rings, watch) are well coordinated.
Comfortable shoes for your feet
Shoes are also important and can completely change a look. Women know that well, and that's why they have so many pairs!
That being said, keep in mind that we will walk a lot. I need you to be comfortable when walking.
Last Tips for Better Portraits in Minnesota
Most of the engagement sessions take place in summer (the best month). On the opposite to a surprise proposal, which you can't really select the best clothes, schedule photo session allows you to carefully take care of each detail. Thus, I highly invite you to follow these common recommendations to increase the quality of your photos!
Avoid old clothes
Avoid new clothes that haven't been washed (it creates wrinkles)
Avoid fluorescent colors
Avoid too much spray in your hair, we want them natural (schedule an appointment to your hair stylist if it's needed)
Favorite long dress, in light material that catch the wind. A leg opening is a must.
Pay attention to your shoes!
Pay attention to your tan (no mark, no sunburn)
Pay attention to your nails
Put some bug repellent (the North State is famous for its warm summers with muskets).
Examples:
Better than a long text, here is some typical examples of coordination that any coordinator would recommend for couples and families.
Conclusion on your one lifetime photo session
It's probably the only time in your life that you will have to spend several hours with a top photographer. It's an opportunity to have great memories before you become husband and wife. So you must do your homework and give you all the chances. In photography, a small detail can ruin a picture!
For instance, a nice suit with sports shoes won't look good. A wife with a nice dress but messy hair would be a disaster. You don't want that!
So, I will do my best, and now it's your turn to prepare our session!