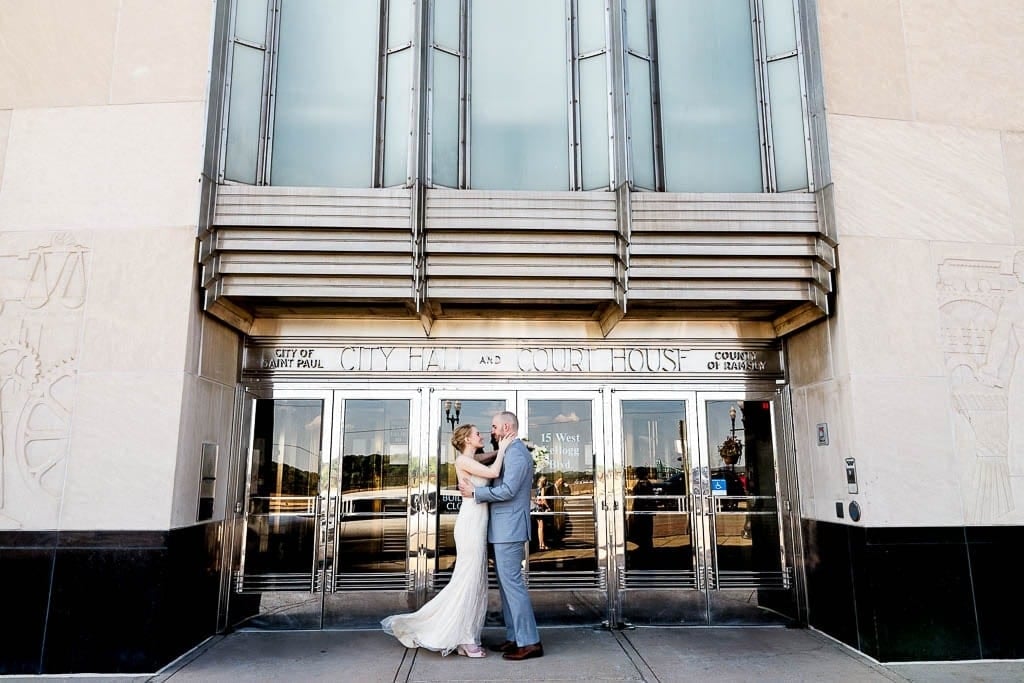 You will change your mind on civil marriage
Sam & Ben Wedding Ceremony at the Saint Paul City Hall Courthouse
For their engagement session in the twin cities, Ben and Samantha had coordinated their outfits greatly, and picked pleasant locations. For their ceremony, they went further. If you add to their good taste and education, a meticulous preparation, and the chance of a sunny day, then you get one of the best weddings I have ever shot!
So, if you are wondering if you should hire a photographer for a courthouse wedding and what could be the result, let me show you this wedding!
I will introduce to you this lovely couple and their special day and their appointment with the judge! At the end of this article, you should have a lot of ideas if you are planning an intimate wedding and you want it elegant and chic.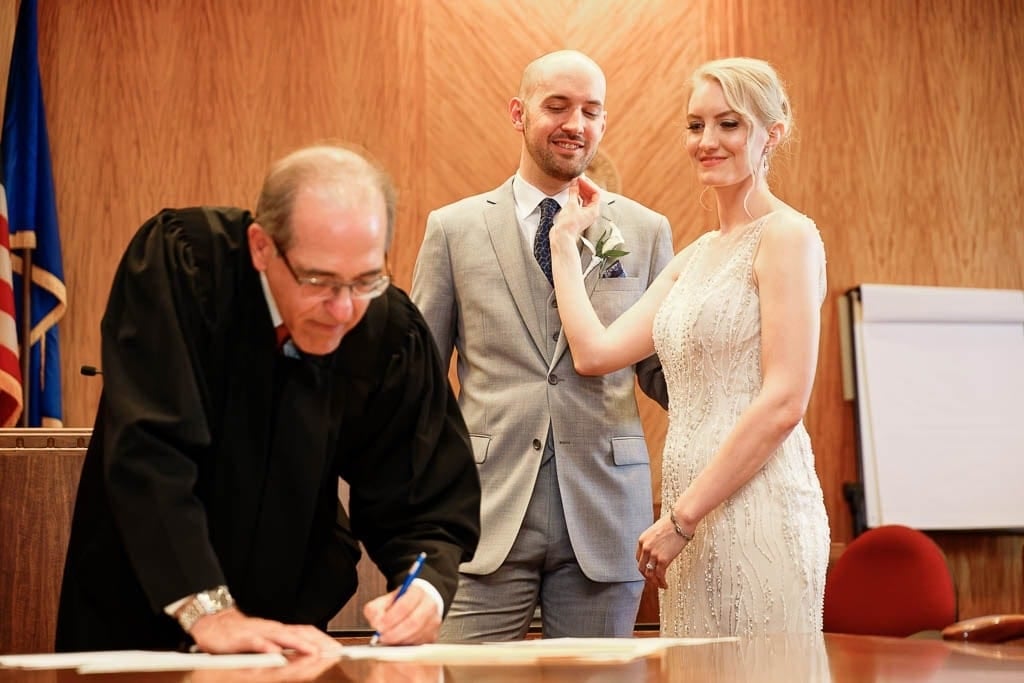 All started with a drink
Like 99% of my clients, Sam and Ben found me on the internet. They both love literature, and both have an eye. Sam studied art and travel in Europe. Now she is working for museums, rising money. She is artistically skilled. For instance, she is the one who draws the picture on their save-the-date cards! Ben, despite being an informatics guy, has also a distinguish a sense of beauty and elegance.
They both love the prohibition period, and architecture such as Art Deco, that reminds this time.
After a first rendezvous in coffee. They explained to me they wanted a small and intimate wedding, given they didn't feel super comfortable being the center of attention. Thus, they invite only the close family for this special day.
After their pre-wedding session, we were now in June, and I meet them again at the Saint Paul hotel, where they were getting ready.
6 Locations and a perfect Timeline
If you have high expectations for your ceremony's photography in Minnesota, hire a professional photographer. He will help you create the perfect timeline, allowing you up to 6 locations in the Twin Cities! Indeed, Sam really loves photography and wanted to make sure they would have a great result. She had a lot of ideas and a lot of propositions.
It was not possible to do all of them, but wet tried to include most of them. As a result, we took pictures:
At the Saint Paul Hotel
Which has a luxurious hobby, with a chandelier, a nice chandelier and all amenities needed
At the Rice Park
For the first look
At the Irving Park
With gorgeous oaks tree covering an aisle and it's a beautiful fountain in the middle of clean lawn
At the Saint Paul City Hall
With its vintage art deco decoration
On a rooftop
with a view on the city skyline
On Summit Avenue
With its luxurious venues
At the University Club of Saint Paul
With its club Atmosphere
Getting ready for the L'étoile Room in Saint Paul Hotel
The bride and the groom decided on the Saint Paul hotel to get ready, and to host their family. The almost-married couple had picked a suite, which is always photogenic at the St Paul Hotel. Nevertheless, the bride got ready in another special room "L'étoile" (kind of bridal suite).
Despite the French name, the room has probably nothing specifically French. By contrast, I would say that the decoration is closer to an art nouveau style that you find in Chicago. Indeed, in the middle of the small room hangs a massive chandelier from the ceiling. It's under this beautiful chandelier that the bride put on her wedding dress.
This bridal suite works great for a very small group of women. If you have a group larger than 5 people, I would suggest reserving a Royale suite, and enjoy a much bigger room.
Meanwhile, the groom got ready in his room with his relatives.
First look at the Rice Park
For the first look, I wanted a natural light for accurate portraits. Given this couple trusted their vendors, I picked Rice Park, facing the Landmark Center, Saint Paul, Minnesota (great place for engagement and for weddings).
Ben was so happy to see her finally, and completely amazed when he discovers her in her sublime dress. Like in cartoons, his jaw was on the ground!
That said, given this park is pretty popular in summer, we decided to go to another park, more quiet, than the Irving Park.
Family and couple photos at Irving Park
This park is a great location for an intimate outdoor wedding and celebration in Minnesota. Photographers' vendors and couples love it!
Actually, it's Sam who first offered to go there. For the record, they were planning to host their wedding in an old luxurious restaurant, located in front of the park. Unfortunately, this one closed two months prior to the event, and so the couple had to find a new venue.
Nevertheless, we kept the park in our to-shoot list!
As a result, we can see on the photos, those great family pictures and this incredible couple session.
Saint Paul Hotel for Artistic photos
If the Saint Paul Hotel is a wedding venue loved by photographers, it's because it work great for large Jewish marriage, offering a stunning lobby and some remarkable stairs for artistic portraits. It's where we stopped before recharging the batteries in order to walk down the courtroom aisle.
Getting married at the Saint Paul City Hall
A celebration by a special officiant: a Judge
As an LGBT friendly photographer, taking photos of the marriage engagement signed in front of the Judge I am used to the courthouse.
For Samantha and Ben, the reason behind this choice is not only a trust in our political establishment but also, because they personally knew the Judge. Indeed, he is a friend of the bride! And who else than a friend could you wish to celebrate your weddings?
Another reason they apply for a marriage license at the city hall, is directly linked to the building itself. It's a pretty nice art deco-style building, with a sublime hall, made with black and beige marble. Therefore, have more than simply your legal papers done by the county clerk's office, you have a stunning photography spot.
A Short but Emotional Union
The civil ceremony was pretty short. It was quite similar to French civil ceremonies. Indeed, in France going in front of a law official is not an option, but an obligation, and where you have to follow a premarital education program at the city hall. o
I continue to believe that when it's done with a heart, those kinds of legal procedure have nothing to envy to religious ceremonies.
During the civil office, the couple was allowed to say a few words. They decided to read to poetry.
At the end of the civil ceremony, they signed their marriage certificate, with the judge and the witnesses. Then all the family went outside to welcome the newlyweds.
More Pictures for Their Albums
Having a small wedding present a number of advantages. One of them having more time for the pictures!
View on St Paul Buildings
After the Saint Paul City hall, I took the newlyweds on the top of an adjacent parking rooftop I love the Captial City Plaza. Ben and Sam, who were quite nervous during the first part of the day (which is quite normal when you get married in front of the law) were suddenly free of pressure and really started to enjoy the moment.
I really love to play with the sunlight on the rooftop, and it was also a real pleasure for me! After years going there, I always find some new angles to shoot photos!
A Happy Husband and Wife in Front of My Camera
When you have few guests, you can't let them wait too long. Also, we quickly drove to their venue, the University Club of Saint Paul as the cocktail was taking place.
We did some group picture, and, given it was sunset time, I convinced the newly married lovers to escape for more pictures at the Summit Avenue. At this point, Sam and Ben were 100% relax. Also, when we walked alongside the Mansion's lawn, under the 100-year-old trees, I just capture smiles and happiness.
Wedding at University Club of Saint Paul
The University Club of Saint Paul, Minnesota, can host small to medium weddings. It has all the amenities that you can expect from a chic venue. But most of all, it has a classic vintage club style from the '30s.
The bride and the groom decided to use the Terrace and its view on Saint Paul. It was an intimate but very emotional marriage dinner. I loved the speeches.
Before leaving, I took a last artistic picture in front of the club.
Thanks to the bride and groom for trusting me all day, and give me access to their private wedding. Thanks to always approved, each time I required their time for a picture. We actually took lots of images, but I think it is worth it! Great memories are priceless!