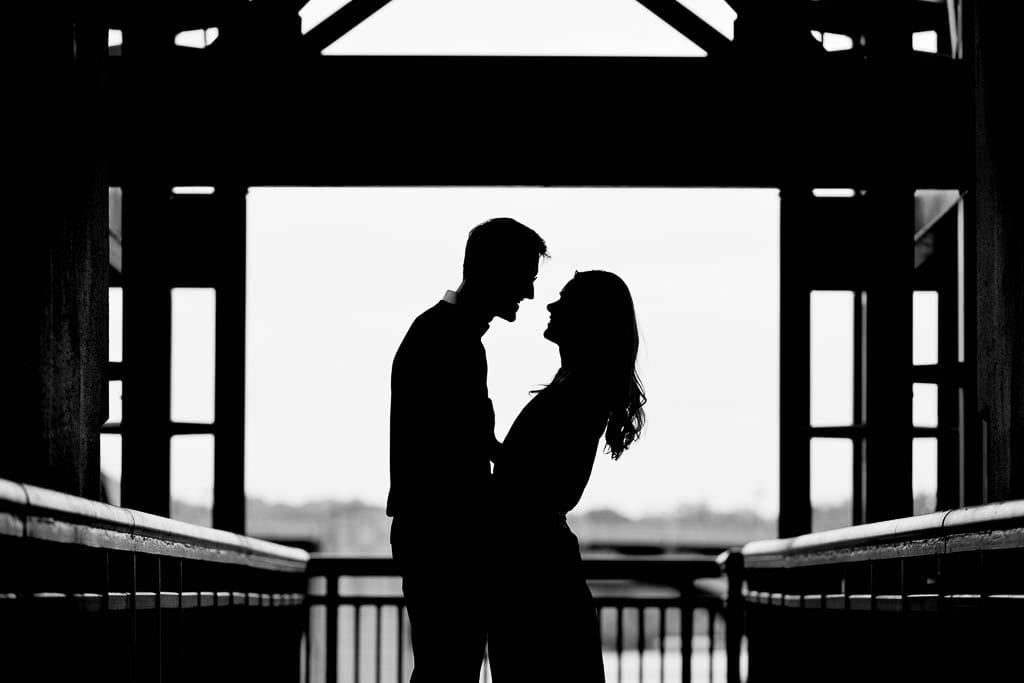 Photo Session at Rapsberry Island
Lyndsey & Jordan's Engagement photos at the Raspberry Island in Saint Paul, Minnesota
Welcome to Lindsey and Jordan's couple session at the Raspberry Island on a cold and windy day of spring. This session is special for me, not only because it's a couple with whom I have a really good connection, but it's also the first of a long list of photo session with Lindsey and Jordan (including their wedding). Now they have a baby I was very proud they called me for their maternity and new born session.
We will see the result you can expect if, like Lindsey, you are motivated and follow all my recommendations.
Our First contact in St. Paul
Lindsey was looking for a Minneapolis wedding photographer to cover her engagement session and wedding in the Twin Cities area.
As often, she found me on the internet. She was pretty excited. After exchanging a couple of emails, I first met them prior to, in a coffee shop in St. Paul, near the capitol (Nina's Coffee shop). We intensively exchanged on my way of working, and she told me about her wedding. She wanted someone able to capture all the insignificant moments of her day. She values stolen pictures that confer to image a dimension of veracity.
A few weeks after that first meeting, I was delighted to cover their photo session.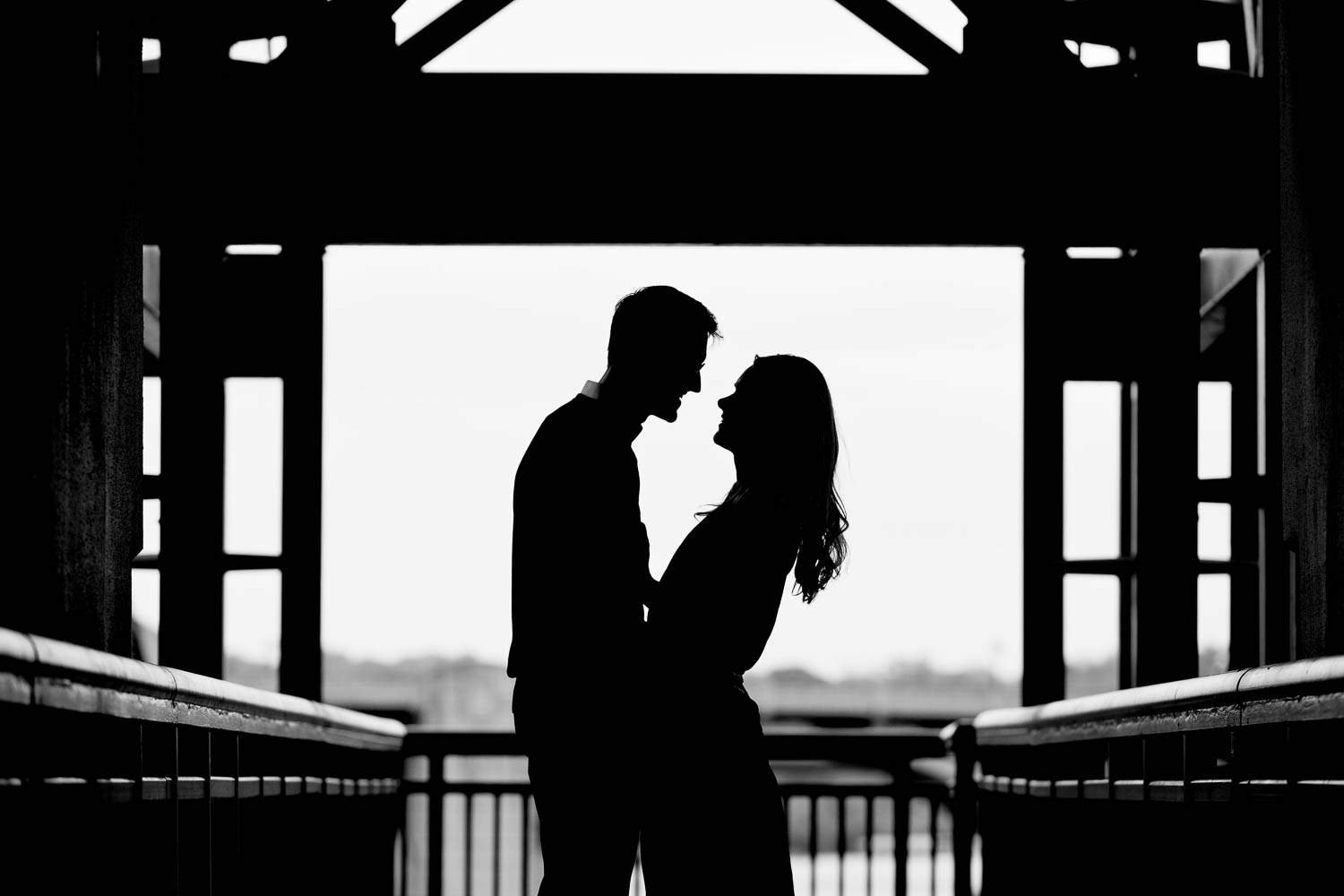 Photos at the Raspberry Island, Saint Paul
Park Next to a Famous Venue
Ask any wedding photographer, the Raspberry Island is famous in the cities offering ceremony and engagement session at breathtaking views on the city skyline.
Facing the park, you will find a well-known wedding venue for celebration, the Boat Club and its Spanish Revival architecture style. If the club is old, the park itself has been recently renovated to host events such as outdoor weddings, concerts, festivals. By the way, when I arrived, there was an entire bridal party (hosting a wedding at the Boat Club) having their portrait taken inside a futurist arch: the Schubert Bandshell.
That's a great place to get married (especially for outdoor events), close to an event venue and having an overlook in the city as a backdrop. That said, for a photo session, I preferred to focus more on the shorefront and the massive bridge.
Photos close to the Mississippi River
When the newly engaged couple arrived, I was pleased to see that Lindsey (who was already frozen by the fresh temperatures that were under 50 degrees), followed my recommendations regarding the pre-wedding session (clothes and hair and makeup) and picked a nice dress that would catch the wind.
We started by capturing pictures on the Mississippi Riverfront, using the bench and young tree leaves around. Wind blew in Lindsey's hair, while she was looking with complicity to Jordan. She was stunning, and this magical moment led to some romantic pictures.
Wabasha Bridge
Quickly after, we moved to the impressive bridge to continue the photo shoot. While we were climbing the steel stairs, I played with the monument architecture and the back-light.
Despite the wind, Lindsey was brave, and had a lot of interaction with her fiancé. I didn't have to ask them to pose, and that allowed me to catch candid shoots.
Then we moved forward to Saint Paul Kellogg Boulevard and the Kellogg Mall parks, another spot I had previously scouted. Finally, we ended this amazing photo session on roof tops in Saint Paul.
If you are planning a photo shoot at Raspberry Island, you may also consider the Harriet Island.
What you should take in consideration if you are planning a session on the Raspberry Island.
It's a great location for sunset light.
It's windy. Keeping in mind that the windshield temperatures are lower by a few degrees dress accordingly.
Take advantage of the wind, chose a dress that takes the wind, and chose a hairstyle allowing your hairs to be "messy".
Make sure there are not even schedule on your day
There is a medium size parking underneath the bridge which might be packed in case of a wedding hosted at the adjacent venue.
It's a small island, so you might need to go in a different location.
A good add-on Location
After boasting this park qualities, let's see its limits.
The less we can say is that the Rapsberry Island doesn't offer enough diversity to take an entire couple's photo session. Indeed, except the pedestrian green line walkways that offer a nice view on the city, and direct access to the river, there are not much photogenic amenities. Unlike the Harriet Island with old oaks and the riverboat harbored, the Raspberry Island is (for the moment), pretty flat (a lawn, surrounded by only short and thin vegetation) and pretty empty (except the hall).
Also, I do recommend adding some extra complementary locations to have a more diverse background. The good news is that there is plenty nearby!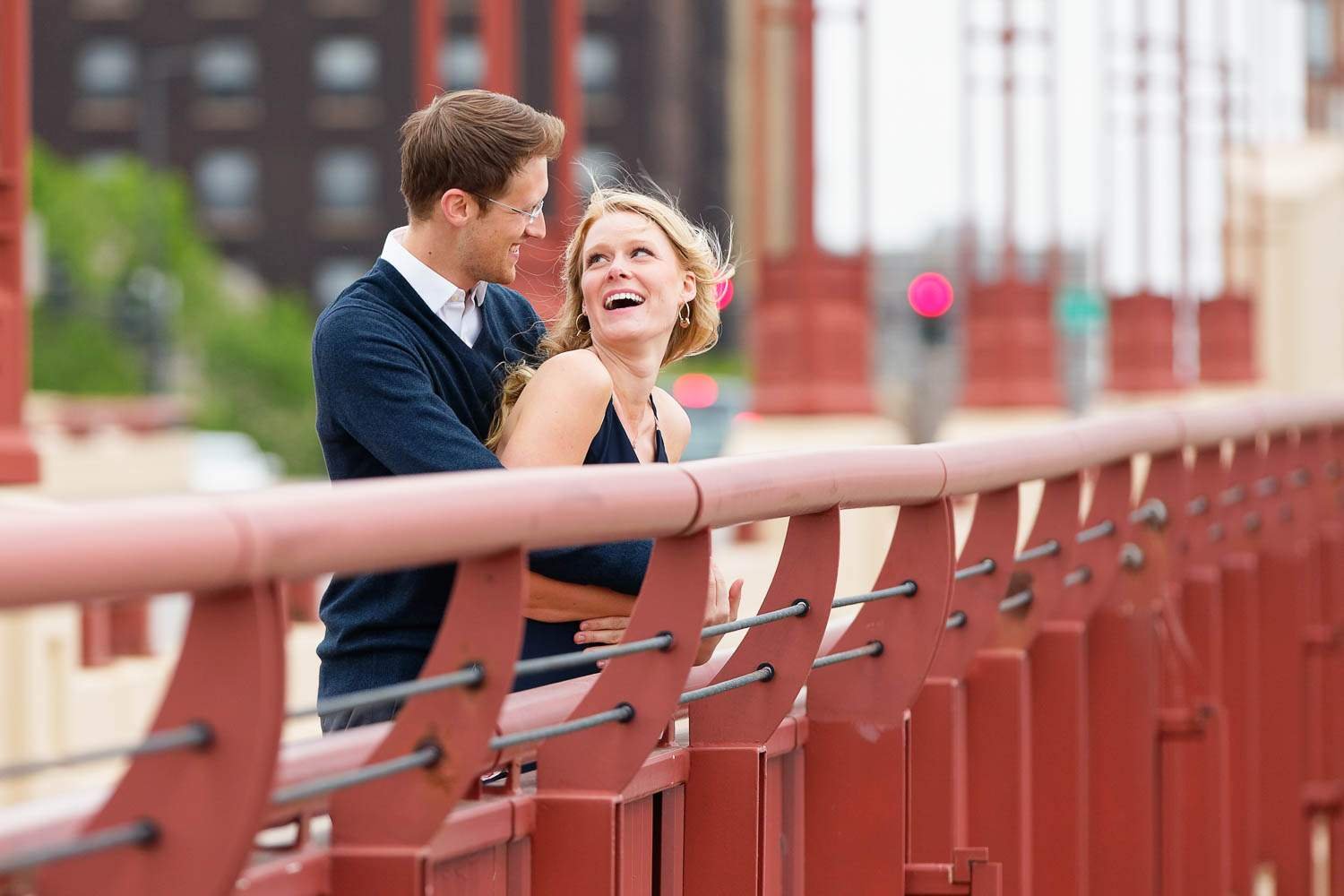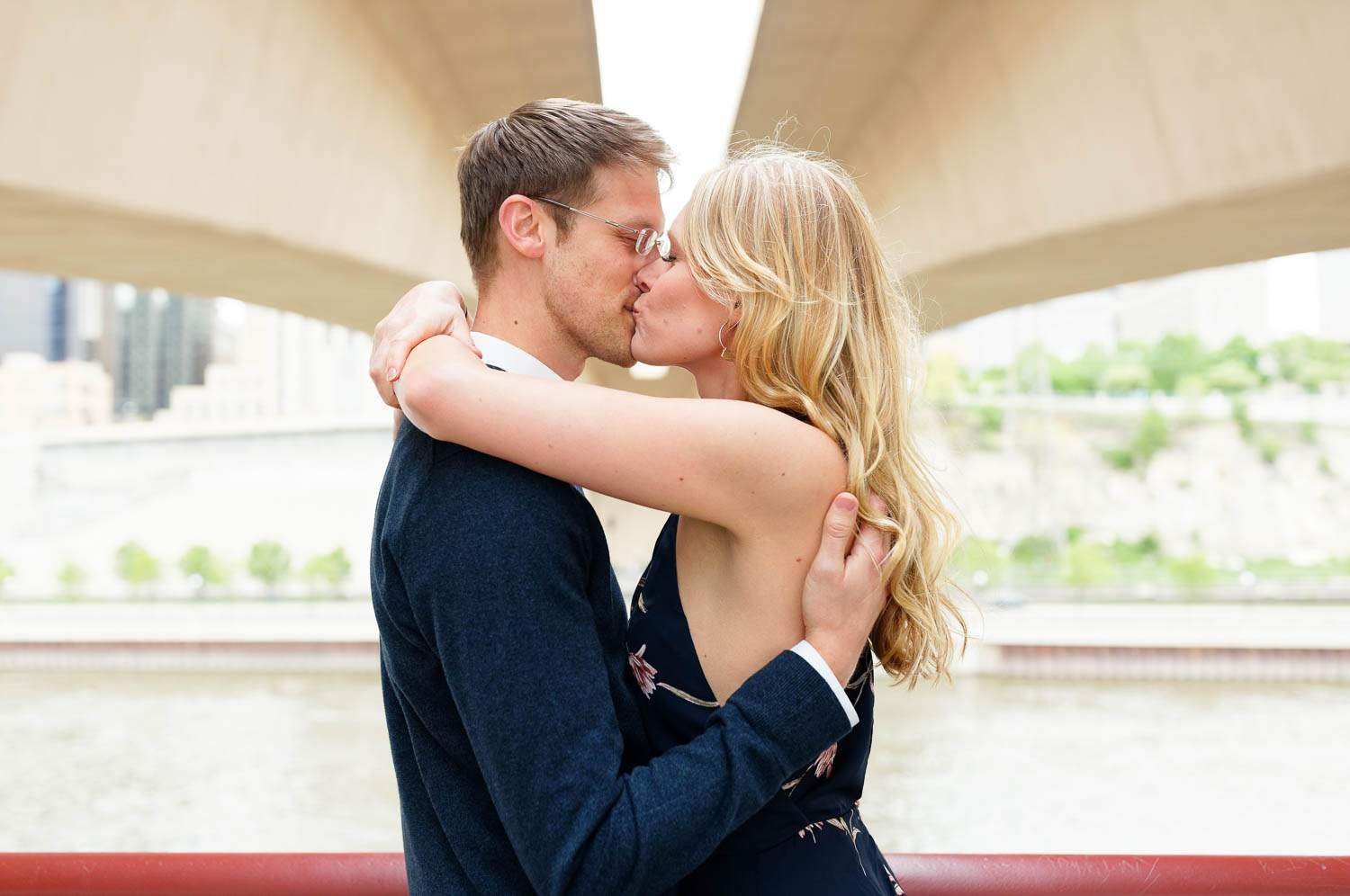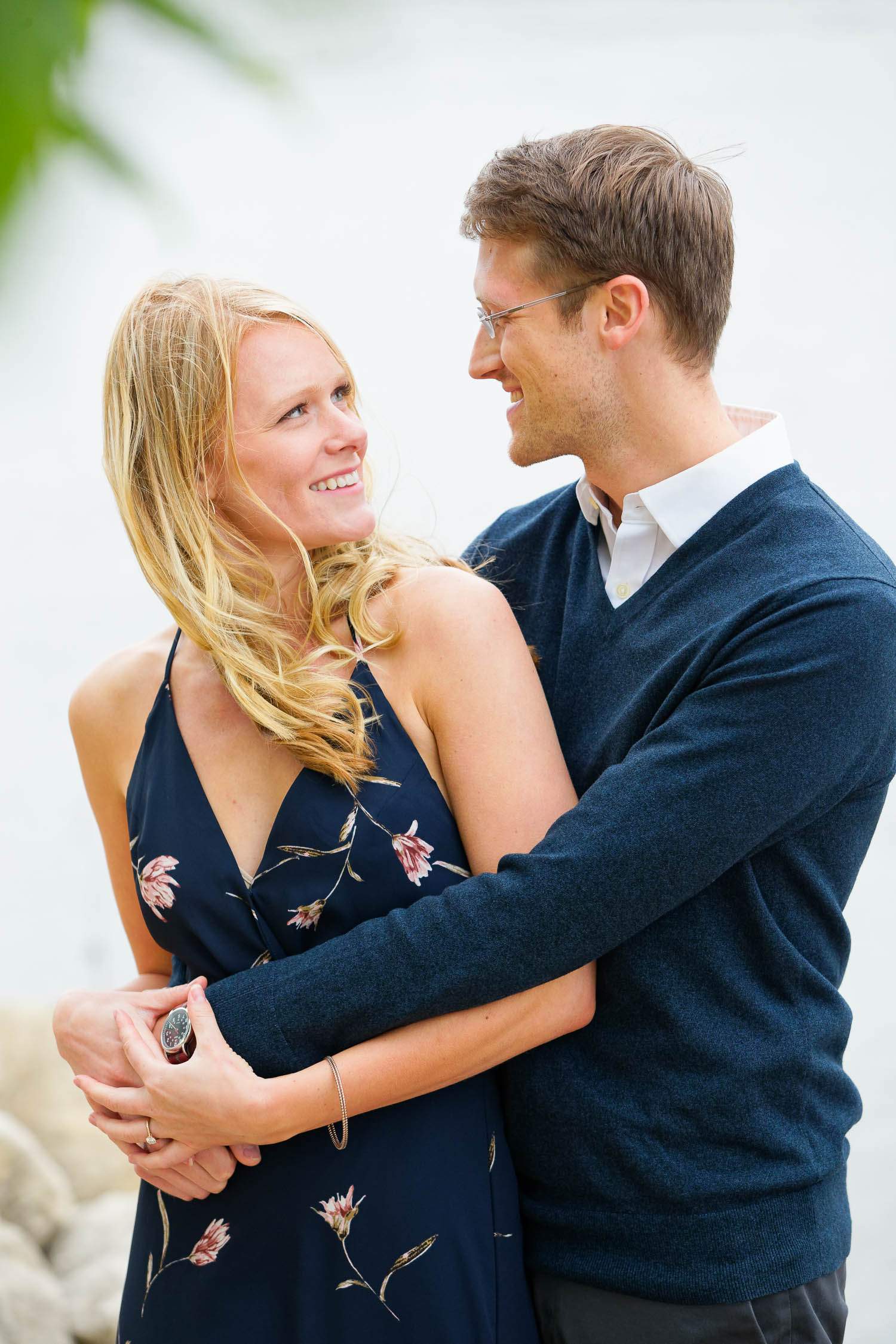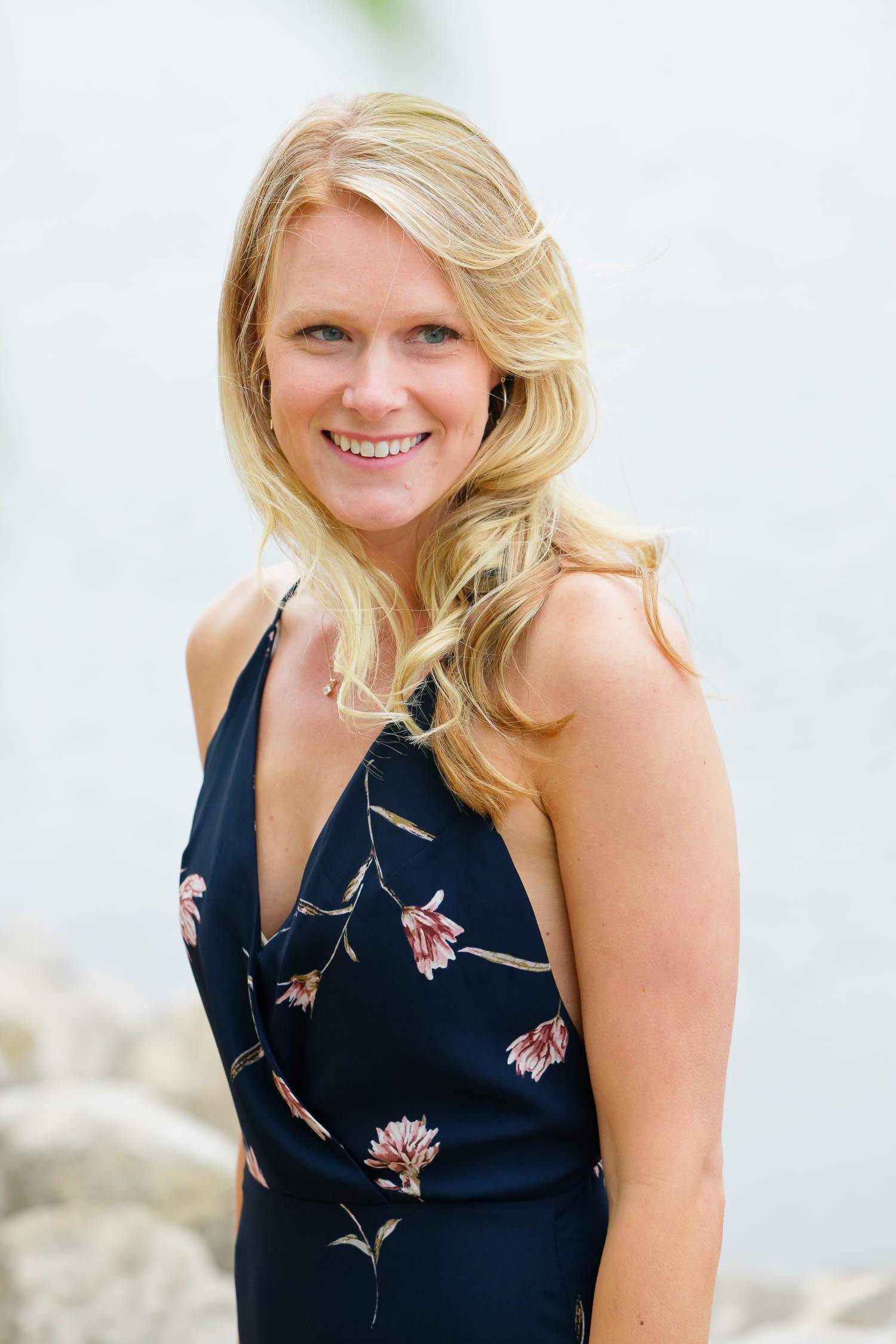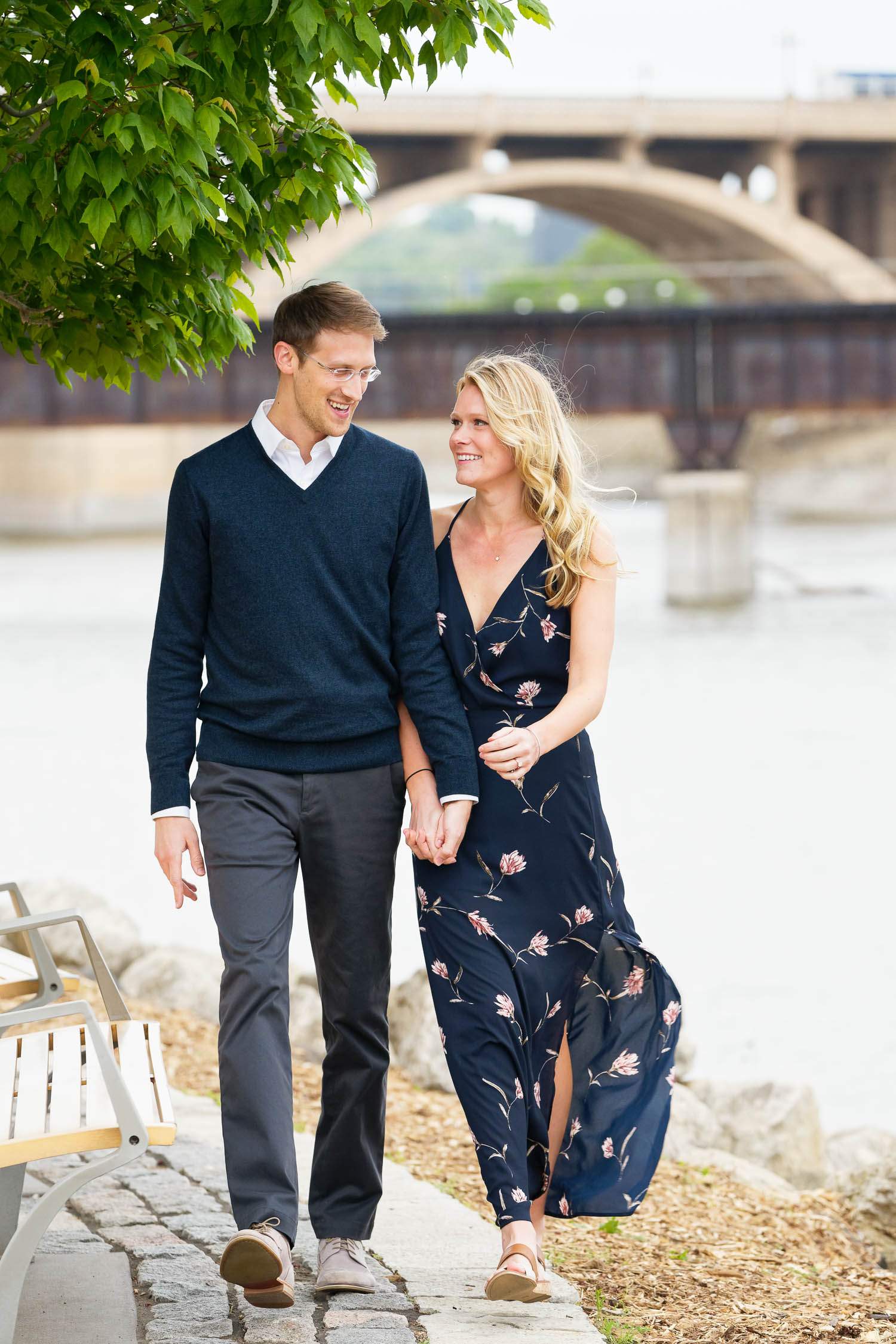 Other places in the neighborhood
Spots located in the immediate proximity
The Irvin Park and its fountain
several of Rooftop
the Kellogg Park
the St. Paul Library
the St. Paul Landmark Center
The Rice Park
The St. Paul Hotel with its gorgeous lobby and stairs
The Mears Park
The Union Depot
The Capitol
The Bruce Vento Nature Sanctuary
If you are not pleased with the previous one, found here 6 other alternatives.
The Lyndal Park Rose Garden
Located on the east side of the Harriett Lake (Minneapolis), the Rose Garden (check this photo session) can welcome an outdoor ceremony, but most of all, offers a large diversity of flowers for your pictures. You can enjoy Rose, lilac, tulips, plum trees, pines, just to name a few. Ideally located in proximity to the lake, it offers you both view on the water and the flowers.
Minnehaha Park
Different from the flatland Harriett Island, the Minnehaha Park, and its dog park feature the renewed Minnesota Minnehaha falls (not to be confused with St. Anthony Falls). With a hilly landscape and a direct access to the Mississippi River, this park offers a large diversity of options to be used as a backdrop of your pictures.
Stone Arch Bridge
Utterly famous for senior high school portraits, proposal and couple session, the Stone Arch Bridge (Minneapolis, MN), faces Anthony falls. It links the college and the University campus, crossing the Mississippi River. With 640 meters in length (2100 foot), the Stone Arch Bridge is a genuine piece of art, and was a masterpiece of engineering feats one century ago. First build by the railroad Tycoon, James J. Hill, to transport passengers, this disaffected bridge was first mocked as the "Hill's Folly." Today, it remains as an iconic and historical monument for the city, loved by tourists and couples. Located one block away from the campus, it's also a location loved by students.
This place can be easily crowded, especially in summer and weekends.
Quiet but charming park for shy couples to reveal their relationship
Like most photographers in St. Paul, MN, and especially as an LGBT friendly photographer I recommend that couples choose a quiet park in Minnesota. Having a place with a couple can be at ease, and reveal their emotion is a necessity for a good session.
The Hennepin Father is located just in front of the Stone Arch Bridge, and offer a sumptuous background for pictures! As you can see, you don't need to travel to find a quiet location.
The Landscape Arboretum
Another renewed location in Chaska, MN (South of the Twin Cities), the Landscape Arboretum welcome surprise proposal, photo session, and even wedding ceremony and celebration. Managed by the State University (Department of Horticultural Science in the College of Food, Agricultural and Natural Resources Sciences), this park offers 1,200-acre horticultural garden and arboretum. That should be enough to please any couple who love beautiful nature to find the ideal background for its pictures.
North Shore of the 10,000 lakes State :
Adored by Duluth photographers, the North Shore of the North State (above Duluth), offer sumptuous landscapes for outstanding portraits in every season! If you are ready to drive two or three hours to the north, it would grant you with the pine forest, the points of view on hills and mountains, the shore of the superior lake. Let's think of Gooseberry Falls State Park, the Gooseberry Falls State Park, just to name a few.