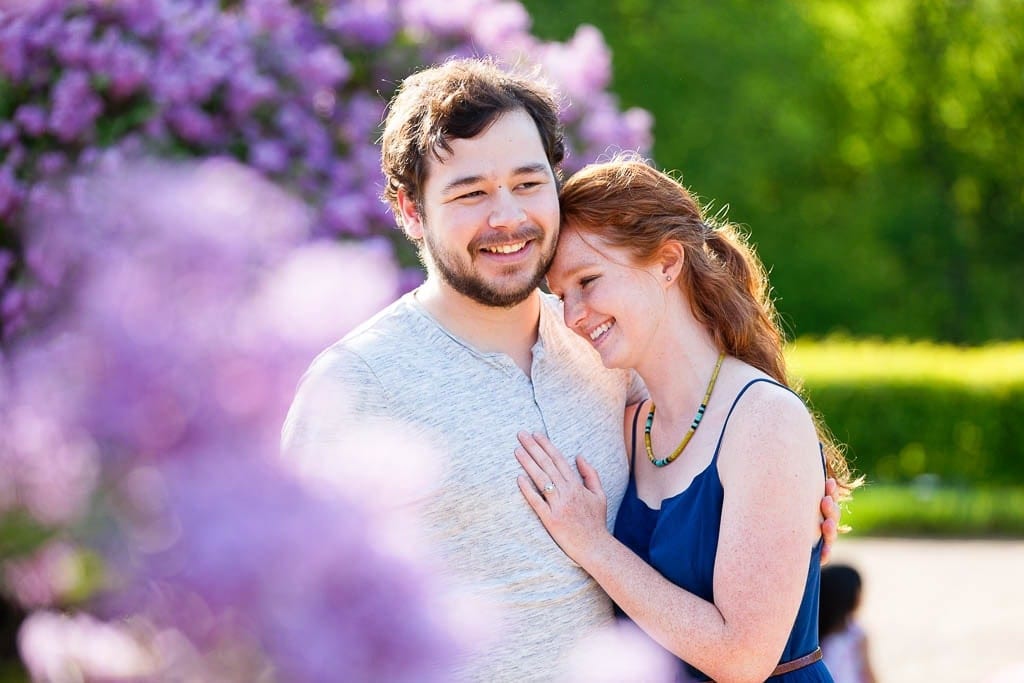 Take advantage of the Blooming season at the Lyndale Park Rose Garden
Nath & Ron Engagement Photos at the Lyndale Park Rose in Minneapolis
For their engagement session on the twin cities, they hesitate between the Raspberry and Harriet Island (perfect to host a wedding ceremony at the sunset with a view on the city skyline), or with a smaller park with flowers. They choose the second option.
Therefore, it is on a sunny afternoon of May that I covered the engagement session of these two lovebirds at the Lyndale Gardens.
After introducing this charming couple and their session, I will present you the advantages and limit of this park.
Ron and Nath attaching couple
I met them a few weeks before, uptown,  at the 514-event center (the wedding venue where their wedding will take place). I don't know if it was my pictures, or maybe my French accent (I won't be on that), but I obviously managed to convince them. They explained to me their project, and I was happy to see them again at the entrance of the Park.
Ron is the kind of groom who make an effort to please his fiancé. He doesn't speak, only when he has something relevant to say. Nath is a very natural woman (compared to girls wearing half a pound of make-up). She is gifted with charm and a large smile that make you feel happy even on a bad day.
If I needed to pick adjectives to describe them both of their relationship, I would say honest, simple, genuine.
Candid photo shot for a relaxed photo session at the Rose Garden
Before their engagement session, and while they were looking to hire their Minneapolis wedding photographer for their ceremony on the Twin Cities, the bride and groom told him (me) that they usually don't feel at ease in front of a camera.
I believe that like most of the couples, it was their first photo session and they just needed to have fun. Namely, they relied on their photographer to make them smile and catch natural pictures instead of cheesy ones.
So, that's what I tried to do! I asked my bride and groom-to-be to make some simple actions, such as hugging, snuggling, and mostly walking and kissing.
Indeed, I believe that when you are concentrated doing something (i.e., one of the actions above), your brain is not focused on the camera anymore and you relax.
Searching for a quiet area in the Lyndale Park
Even if the Rose Garden and the Japanese garden was quite full of visitors in this blooming afternoon, we tried to go on the lawn of these gardens, and find some more intimate places to have relaxed photo shots.
We walked all through the acres of the Park!
During our trip, I was amazed by the luxury house that surrounds the park. Natalie, who works with children in the same area, told me that she makes the kids believe she lives in one of those pavilions. To make it real we used some of those mansions as a backdrop.
The Seasonal Flower Gives Colorful Portraits
The Park is really a good location for photo during the spring. When all flowers bloom, it offers a myriad of colors in the background. For instance, I used the tulip to stage the diamond ring pictures.
Maybe also the smell of all the floral fragrances will make you fill giddy: D
Sunset Light
I really enjoyed playing with the sunset light. Not only does it make the landscape looks better, but also makes the couple be in contrast with the background, especially with Natalie's stunning red hair.
Finally, we left the botanic area and went close to the lake in order to catch the last sun rays.
When we left, I had only one wish, to be in September to catch their wedding day!
Good to Know About the Rose Garden
Either you are planning a pre-wedding photo shot or a wedding, this is what you need to know.
Best Month to go
The spring and the blooming season would give you the more beautiful flowers despite the gardens are covered with perennial flowers and trees.
Of course, you can visit the park in summer. Given the adjacent lake offers a lot of activity, those gardens are actually a family destination for the residents in September, August, July , June.
Fall and would also work, but the gardens themselves won't add anything special compared to another park.
Despite the gardens are open all year long, Winter, from November to March, won't add anything special to your pictures.
The Peace Garden
The adjacent peace garden is a Japanese-style garden. It's small but can be used for a few pictures. It features a nice Japanese bridge over a pound, some evergreen and some rocks.
For Engagements Sessions
The recreation park is big and famous, so on a sunny day, you may need to stroll a bit on the trails if you don't want too many tourists on your pictures. The admission is free and no photography permit is required.
For a surprise proposal, avoid the main aisle, and ask photographers advice
This park can be a perfect location of a marriage asking, but you should pay attention to carefully select the precise spot your chose in order not to have any tourist in your pictures background, and at the same time, to take advantage of the flowers.
Having your professional vendors scouting in the park, during the week prior to the event is recommended.
To Celebrate Wedding Ceremonies
If you are planning an intimate wedding ceremony in MN, the Rose Garden offers you to celebrate the wedding around the fountains. I believe that surrounded by roses, lilies and other plants is a pretty good landscape to celebrate an outdoor ceremony. Check with the park board for more information and restriction that apply to wedding vendors.
What Kind of Outfits to Choose
Avoid formal outfit. Prefer long dress that can catch the wind. Take in consideration that the main color of this recreation area is green. Therefore avoid wearing green clothes. Red, orange, yellow would contrast with nature. Bright (preferred) and dark colors would work.
Not the best place if you want pictures with your dog.
They couldn't have their dog for their ceremony in Minneapolis, MN, but wanted engagement pictures with him. Minnehaha dog park would have been the perfect place. At the contrary to the Rose Garden, such dedicated dog park, allows unleashing dogs. What's more the Minnehaha dog park offers, through a beach, an opportunity for the dogs (and maybe you) to have fun in the Mississippi River.
We talk about heading to this park after the Rose Garden, but unfortunately, it was already sunset time when we ended our session.
Tremendous Excitement during the Blooming season
Most couples who hire me to cover their ceremony in Minneapolis, MN, are shy. As an LGBT friendly photographer in Minnesota, it's a well known problematic. Therefore, for their engagement session, I counsel my clients to pick up quite a day.
Consequently week days are usually preferred. They would let you enjoy the entire park for you alone.
When is the blooming season exactly?
Depending on the year, the blooming season in the Minnesota state can start in April and ended in June. It lasts around 2 or 3 weeks.
After 6 months of dull nature, and cold temperatures, residents are excited to assist and celebrate the nature's transformation. Or they can just lay down on the grass sharing a brunch or playing soccer. In other works, the park might see a peak of visits during the weekends that you wish to avoid.
Add a Complementary Urban Location
Most of photography vendors advise taking advantage of St. Paul and Minneapolis construction (such as the Stone Arch Bridge). After lake Harriet, avoid parks such as Minnehaha falls, and head to the city.
Indeed, the more diverse kind of backdrop you have the better it is.
What's more, urban landscape of the Twin Cities featuring brick, rock, stone, glass and energy allows you to wear formal clothes. In addition to the energy associated with the city, different clothes would offer you a complementary look for your engagement photos.