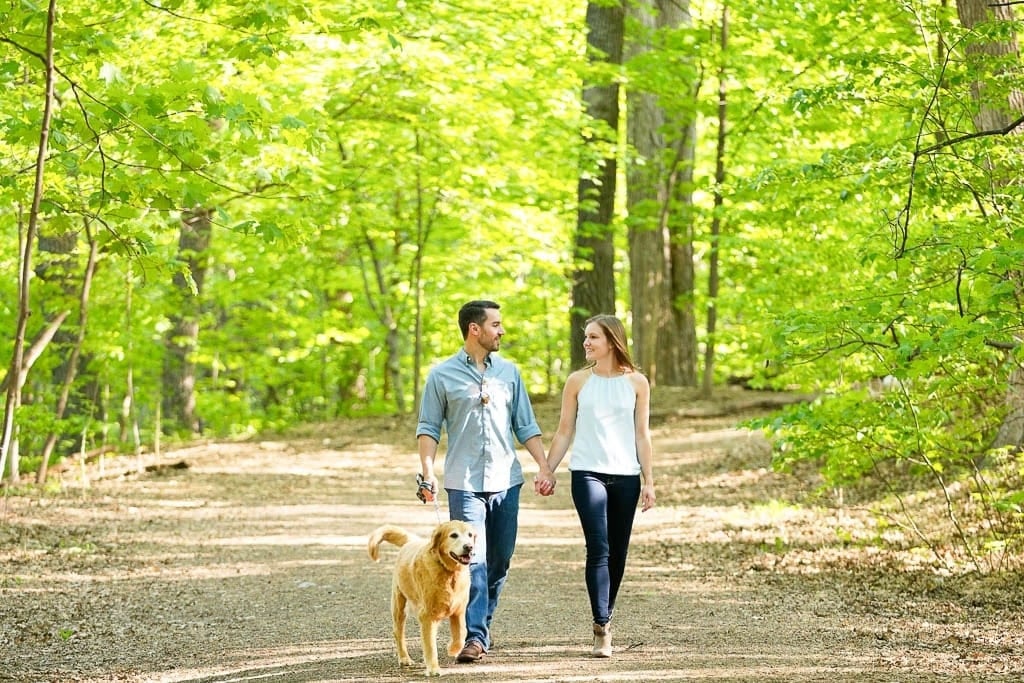 A less known but vast recreation area perfect for pictures: the dog park!
Engagement Session With Dog Photos At Minnehaha Park And Mississippi River
Today, let's come back to a special session, taking place near the Minnehaha falls (not to be confused with Anthony falls that welcome engagement session), and near Raspberry Island, at Harriet Park in St Paul for the second part.
It took place during a warm afternoon of May, when the trees finally bloomed and leaves cover trees. This photo session is special because they invited their best friend, their dog!
You will discover how this one helped them to get in touch, and what to consider if you want to bring your dog for your pre-wedding shoots.
Presentation of those lovely birds
First contact
Steph and Nath live in Minneapolis, and were looking for a professional wedding photographer to cover their wedding in Red Wing, Minnesota, and their engagement photos. As often, it's through the internet that they find me, referred by a colleague who was no longer available, despite the fact that I had luckily still their date open.
Fun Fact, Discover How They Meet
True and funny fact: they meet thanks to the groom's dog who was peeing on the cabin of the bride's family. The groom being very polite apologized several times.
The family, who liked him (despite his pup behavior), invited him for a drink and that's how he first saw the one who will later become his wife!
Moral of the story, you can let your dog pee everywhere but most of all, apology! That may result to a great meeting!
We had a lot of fun at the. Then we left uptown for the second part of the photo session in Saint Paul.
Photos!
Shooting pictures with dogs is always a different challenge, depending on its behavior. It can turn into an exhausting seance if the dog is too young, or too wild.
Their dog was well dressed and give us just enough surprise to have fun.
While the second part of this session was in Saint Paul, with, I was looking forward to cover their big wedding day at a stunning Barn. Indeed, they get married at the Bullard Creek Farm, a red barn nestled in Red Wing hills.
Dare incorporate your dog in your pre-wedding session!
A lot of people love their dog but are afraid to include them in their pre-wedding session fearing the dog will not cooperate, and especially in public spaces. Then choose a Dog Park where your "best friend" can be off leash and, of course, without a muzzle which hides half of his face! So if your dog doesn't want to pose for your photo session, he can still play around and make connections with new friends.
It Can Produce Hilarious Photo Sessions
I appreciate dogs and I believe they can bring a lot of fun to the pictures! They are usually the first kid of the family, and seeing the future married couple taking care of them is always delightful, because it's all about interactions and you don't have to pose!
Your pets can create some hilarious moments that a real gift for me to capture.
My recommendation for a photo session with your dog
These are a few tips to help you consider your animal in your session.
Split your photo session in two parts one with your pet, one without.
If it's a big animal and you are afraid it jumps on you, then it is better to start without him and finish with him.
Have some plastic bag ready in case you need to preserve nature.
Have a nice leash ready in case something does not go as expected. By nice I mean in leather or a color that won't catch the attention. If you don't have any leash, buy one next time you go shopping. Avoid too long leash, he/she must stay close to you. Coordinate your outfit colors with your leash (or outfit if it has one!)
Have some food or treats ready to attract and grant him/her.
Have his favorite toy available to attract him if we need.
Ask a friend family member or a professional dog keeper to take him for a walk after we are done with your pet.
Have a second outfit if he/she soils your clothes.
Avoid moody areas (especially if he/she he a poppy, you don't want him/her to be covered in mood).
You have a female? Pay attention that she is not in heat.
If you have a pup, make sure he is over 4 months old.
Pay attention to the weather. Wet animals are not a great option.
Watch the forecast for the snow, your canine might not be a big fan of cold temperatures.
Should you choose Dog Park for your photo session
Unleash location
The first and most obvious reason to choose this park is probably because they allow you to unleash your animal as far as you can control it.
Ideally Located in the South of Hiawatha neighborhood
The Park is located a few miles in the south-east of downtown, surrounded by the army base and the Mississippi River. The 6.6 acres dog park is actually part of the 170 acres renowned Regional Park.
The entrance is a little bit hidden, close to the highway on byway. Given it's not as famous as the adjacent waterfalls, the result is that there is less Minnesotan visitors. And that's great! We don't want people hiking or biking in the background of your pictures.
That said, we won't be alone in the park, a lot of residents come to walk their dogs in this playground.
A beach that access the river
Located on the hill, you have to hike on a trail down between 350 and 400 feet. The trail is easy, but sloping so it can be slippery after rain in winter.
At the end of this trail, you can find a small (artificial) sand beach (probably 30 feet large). That's the place where your animal should enjoy jumping into the water.
Located after the electric falls, the water had a mild current, allowing swimming.
Calm area
If your animal is sensitive to noise, and like Steph and Nath you have concerns with the adjacent army base, don't worry, we don't hear any noise!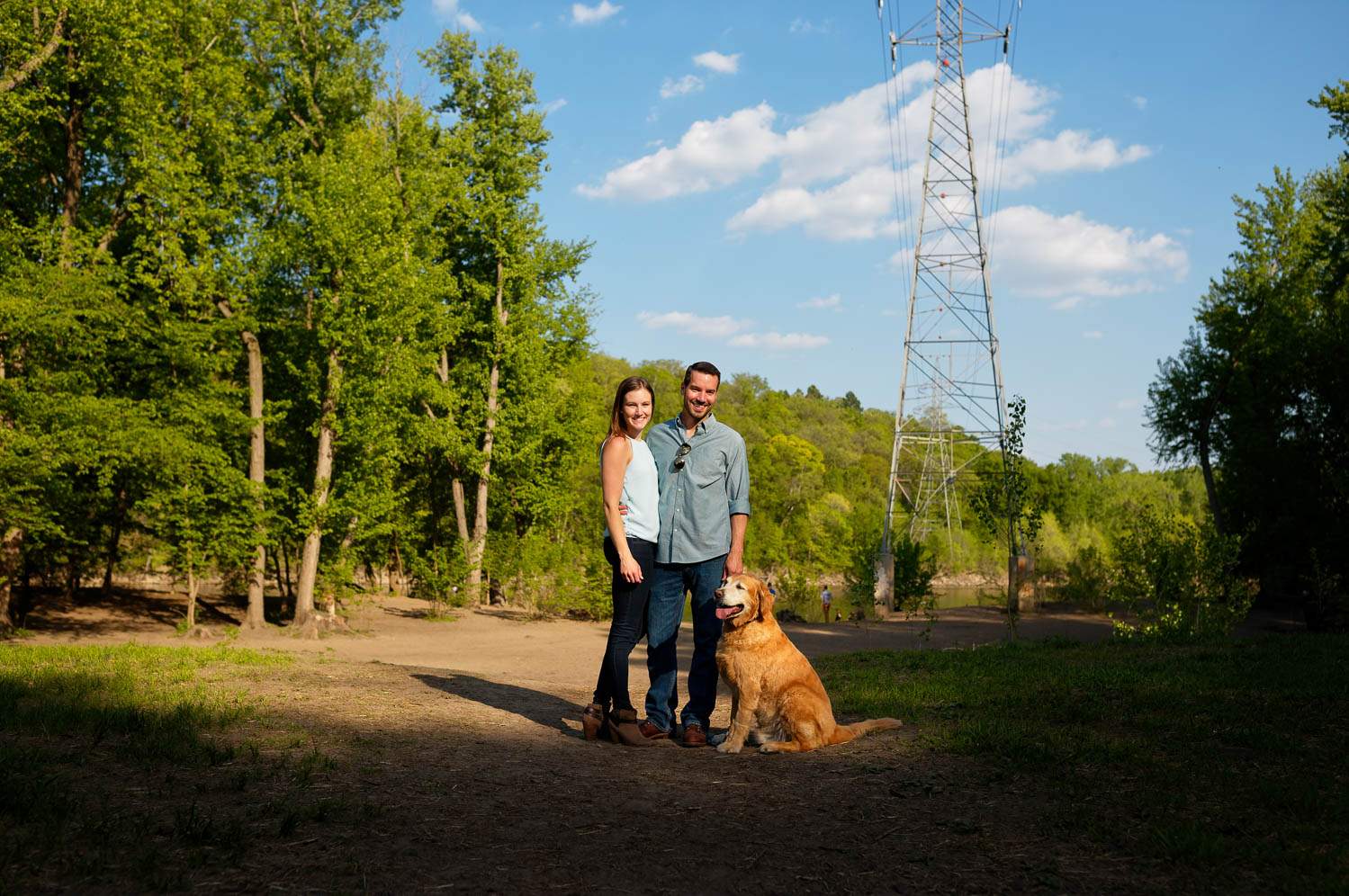 Can you use other park for more variety of pictures?
Minneapolis, offers lots of lakes, such as Harriet, and Park, such as Lyndale Park Rose Garden. Also, if you are tired of the Minnehaha dog park, you might want to consider going to another location.
If you chose so, then you have to keep you doing on a leash, and take care of your dog's stool.
The only city park that is not allowed for pets, for obvious reason, is the Como Zoo.
Friendly and quiet locations
Whereas it is in Minneapolis or in St Paul, MN, as an LGBT friendly photographer in Minnesota, I am used to capture pictures of families that include dogs. Couples love their "kids" and it's natural that they include it in their pictures.
That said, dog, like kids, are easily distracted. You don't want to run after him/her all day, also prefer quiet location.
Another point to take in consideration is your pet safety. Make sure there is no broken glass other things that could hurt him.
Have a 1-mile hike in 267,000 -acre of nature offered in the region
Chose a short trail to hick with your animal among all the regional park available in the North State.
Avoid high touristic place such as the Stone Arch Bridge
North to the Minnehaha Park, facing the Anthony fall, stand the Stone Arch Bridge, iconic monument of Minneapolis, MN.
Despite the fact that it's probably the most famous location for photos, proposals, and other kinds of portraits, I don't recommend this bridge with an animal. Indeed, despite the difficulty to find a window between two groups of tourists, residents, or families doing selfie, your dog would be continually distracted.