Which viewer software to look at your images
You just got married and have downloaded all the photos on your wedding day.
Now, you need to go through all those images and select the one you want to print on-line, and the ones you want to select for your wedding album.
Let's see if you need software for that, and if so, each software is available on the market (for Windows and Mac).
The web gallery offered by your photographer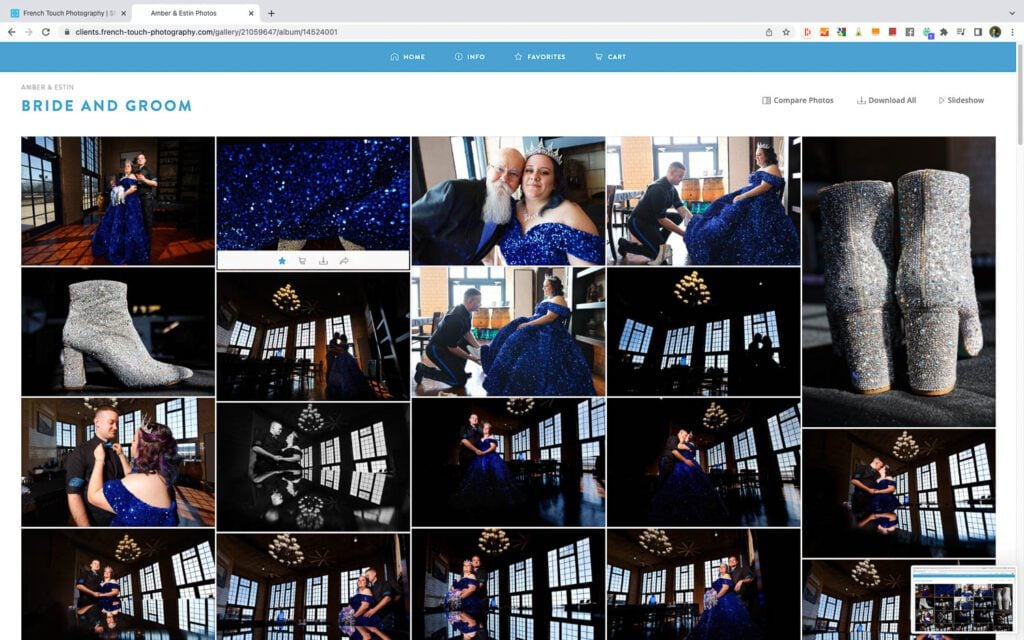 First, keep in mind that the web gallery already allows you to view your images in full-screen mode and to add stars to your favorites.
You can also order print directly through the web gallery.
So, technically speaking you don't need any app other than an internet browser.
What's more, once all your files are selected you MUST use our gallery system to send us back to your selection. So better use it if you have access to the internet.
Now, in some cases you will need a viewer software.
The Basic and free viewer supported by your OS
Whereas you have a Mac or Windows, both systems come with some basic software allowing you to view images in full-screen mode.
Microsoft Photos
Microsoft Photos is a free program already installed in the newest version of the OS.
Among other features it allows you to view images in full resolutions and to add tags to your images to keep your favorite files organized.
Previews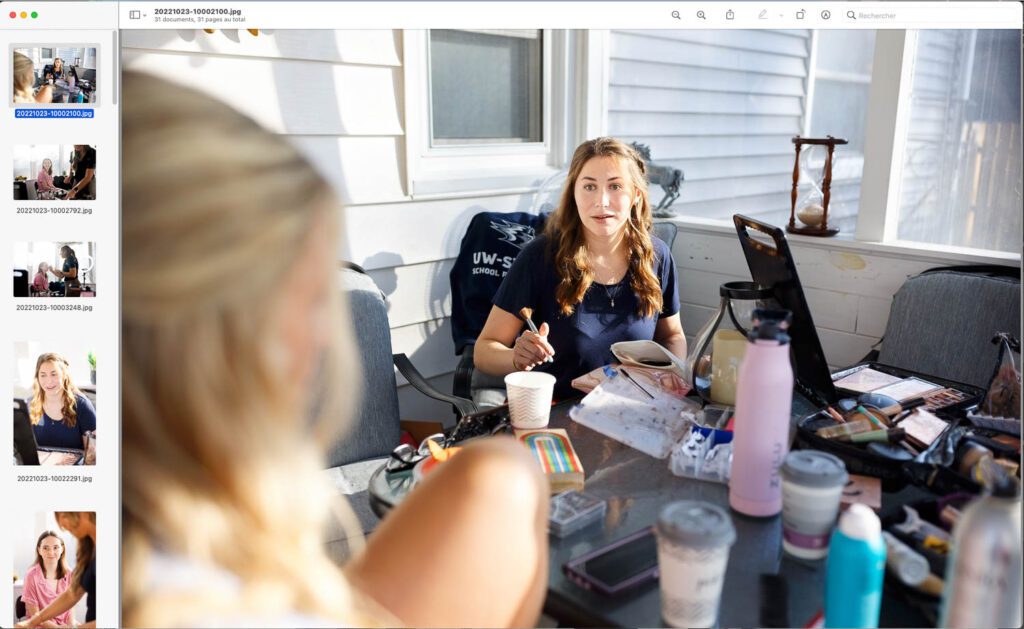 On MacOS, Preview can help you do the job. You see images in full resolutions.
Despite there being no shortcut that quickly adds a color tag to images, there is a hidden trick we will be happy to share with you.
When looking at your image click the pointer to the right of the document title, click the arrow, click on the Tags field, then enter a tag color. Voilà!
Trim using Windows Explorer and Finder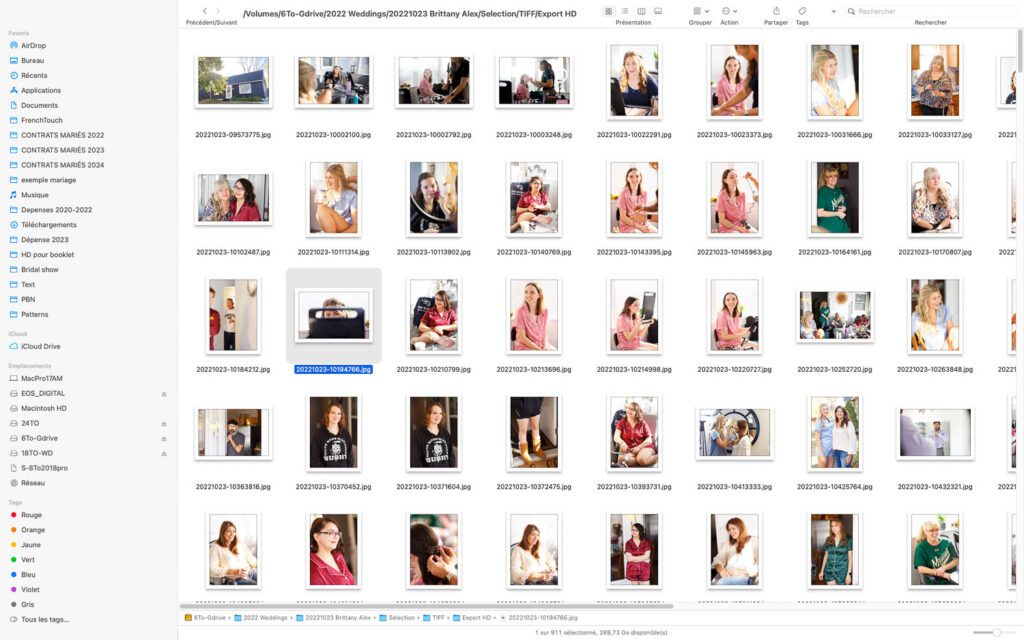 Adding tags to images is great so you can go back if you change your mind.
One radical way of selecting images is to view images directly in the finder using the preview offered by each software.
If you like it, move to the next one, if you don't like it, trim it.
Make sure to have backup for your folders.
What features are needed?
The free options available with your OS are quite limited. As soon as you would like to treat your pictures further, and especially preparing them for printing, you would need a program dedicated to photography.
Let's see what is the basic function you need.

A clear viewing interface
When viewing a photo, you often need to look at it in full resolution. It's what we can: actual size images, or at 100%. That's the only way to see sharpness and small details.
Also you want to see your file using all your screen: in full-screen mode. So you are not distracted by toolbars.

Tool to batch treat photos
When ordering prints, or preparing your files to be printed you might need to export to a specific format, depending on the printing technology used by your lab.
To do that, you have tools that will batch treat the photos at once: increasing sharpness, adjusting colors, etc.

Ability to read different formats
If photographers deliver their clients with jpeg files, you will quickly discover that other formats are used in photography. You just want software that is able to open different formats.
Note that usually raw files are not supported, or at least not opened. If you are looking for an application to develop a raw file check on the Raw converters (Camera Raw, Capture One, DxO PhotoLab).

Ability to crop
It's pretty obvious, if you order a square print, or just a photograph of a different size you need something to crop your digital image.

Effects and filters
If you like Instagram style filters, then check to make sure it's included in the features.
List of viewers for amateur photographers
The free options available with your OS are quite limited. As soon as you would like to treat a picture deeper, you would need a program dedicated to photography.
Here is a short list:
Irfanview (Win)
With an affordable price, it's a reliable image viewer that exists for more than 2 decades. It offers a ton of editing options and great support services. The application supports much of the formats you would need and offers some strong batch processing options. It's one of the best image viewers on Microsoft Windows.
Xnview (MacOS & Win & Linux)
Xnview is the direct concurrent of Irfanview. It supports more than 500 formats, has all the basic editing tools required and lots of filters and effects can be applied to images.
It can also batch treat an entire folder, saving your time.
What's more, you can download and install it not only on Windows, but on MacOS and Linux.
FastStone and Imageglass (Free, Win)
Fastone and Images glass are both freeware working on Windows.
The interface is pretty minimalist, but they would please most people who need an image viewer.
Same for the editing option: crop, turn images and other basic tools.
Best viewers used by professional photographers
Let's quickly mention three software that we support. Today, the limit between image viewers and applications to edit images become more and more blurry (each company pushing their program to handle every step in the post-production of a photo).
If we had to keep only one, we would probably keep Photo Mechanic!
Photo Mechanic (Win, MacOS, Linux)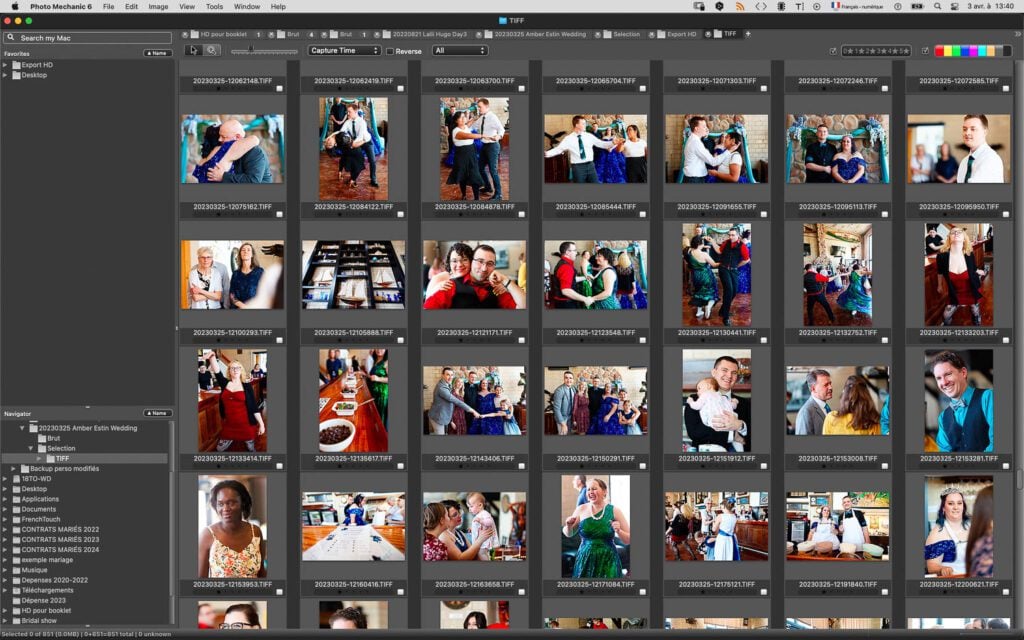 Photo Mechanic is a software design for professional photographers to manage images' libraries. It deals with a tone of metadata, allowing preview of the raw files at the dizzying expense. It can upload and download directly from a camera to an FTP making it a solid tool for photojournalists. It's the best tool to select images, batch process them and keep them organized.
Lightroom (Win, MacOs)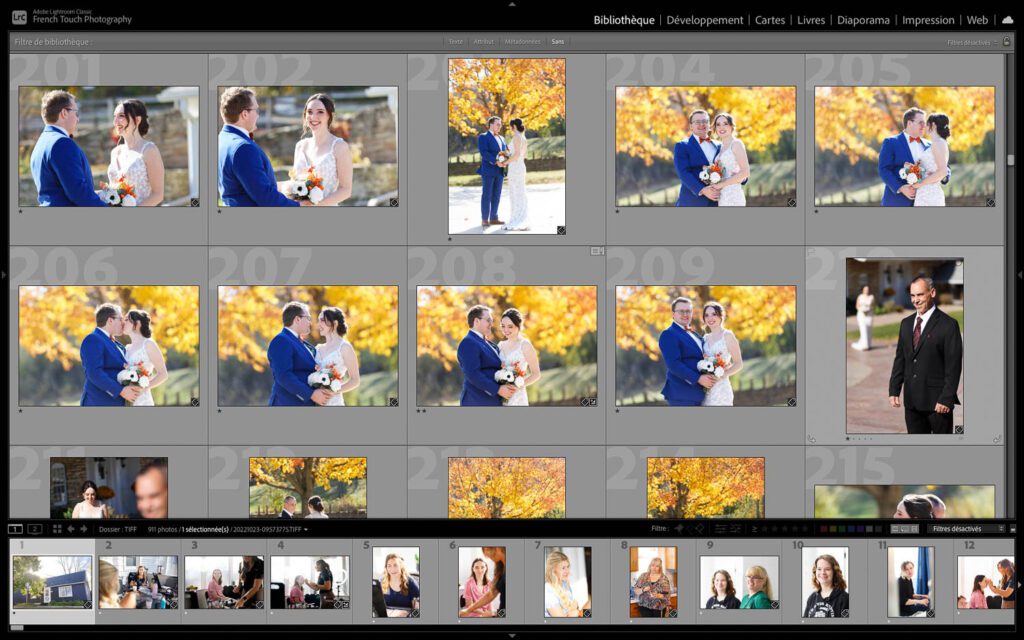 If you are a professional photographer and you know what Lightroom is. It's just the most famous program to treat pictures from A to Z. The first version was created by Adobe in 2007 (the company behind Photoshop). It combines most of the Photoshop features that photographers need to edit images, a photo viewer, a photo library management, and a raw file converter.
Its recognizable dark gray interface has now become a standard in the photography's software.
It is extremely powerful, with a lot of options and plugins available. Today it exists even in app format for iPhones and iPads!
Despite the software requiring quite some time to be handled once you master it, you can do almost anything you want.
ACDSee Ultimate (Win, MacOs)
ACDSee used to be a simple image viewer in its first version (competing with IrfanView). But today, it has been developed to support a lot of editing functions: filters effects, meta data, local adjustment.
Its black interface reminds us of Lightroom (or other professional tools), and it's clearly a cheap and affordable alternative to Lightroom.
Conclusion
In this article we have offered you many software options which should allow you not only to select your photos, but prepare them to print.
Now, have fun, edit your digital files if needed, order some prints, order some albums and keep care of them!