All you need to know before asking her the "ultimate question?"
Photographer for Your Surprise Proposal in Minneapolis and Beyond in Minnesota
As a professional wedding photographer in the Twin Cities, I capture a lot of memories. Engagements session is great, but the gigs that I prefer, is when a man asks his girl friend to marry him. There is so much tension, suspense and finally an explosion of happiness to capture!
So, if you are looking for a photographer for your surprise proposal, you are in the right place. Let me explain to you what services we offer, and give you a couple of advice for a successful photography result.
Do You Really Need Pictures of This Moment?
You are about to ask her. You might have met her a few months ago, or for many years. Maybe you are already living together, or you are in a long-distance relationship. Whatever the situation, you are about to ask her to share your life forever!
For sure, it will be for you and for her, a moment rich in intense emotion! And the last thing you want is to have it ruined by a stupid photographer.
Now you are wondering if you should hire or not a professional Minneapolis wedding photographer to capture this moment forever. That's a good question! Well, if you are reading this, I bet you already have your opinion on the question! Let me develop.
When I was about to ask my girlfriend to marry me, I asked myself the same question.
Did I want someone with a big camera jumping out from a bush and starting to take pictures, putting my fiancé in a difficult situation? The answer was a clear « No." I know she is shy, so I pick a state park offering a breathtaking view on the Mississippi River and Wisconsin shore. When I propose she was nervous and burst laughter.
Luckily, I made sure to hire a wised professional who remained quiet and unnoticed until the end.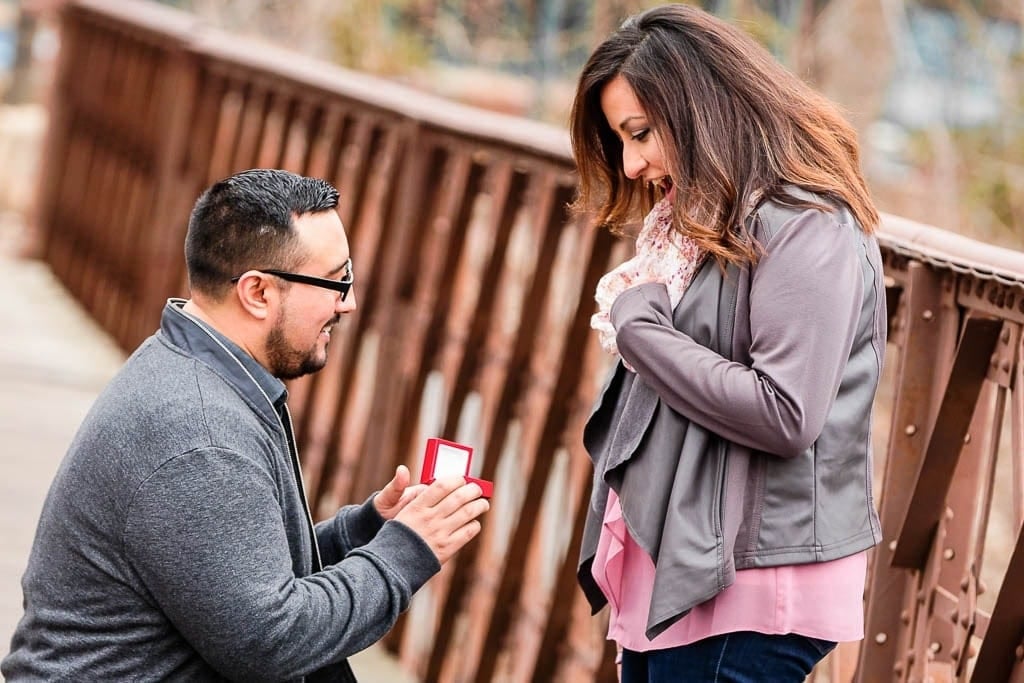 Between Ninja and Paparazzi Services
In such a situation, our key word is discretion! We try to be unnoticed until (and if possible after) you finally put your knee on the ground. For that purpose, we use a very long focal lens, and we work in close collaboration with you to determine both the best place for us to hide, and the best location for you to propose. Those two elements combine guarantee you photos of genius smiles, row emotion that you will cherish forever.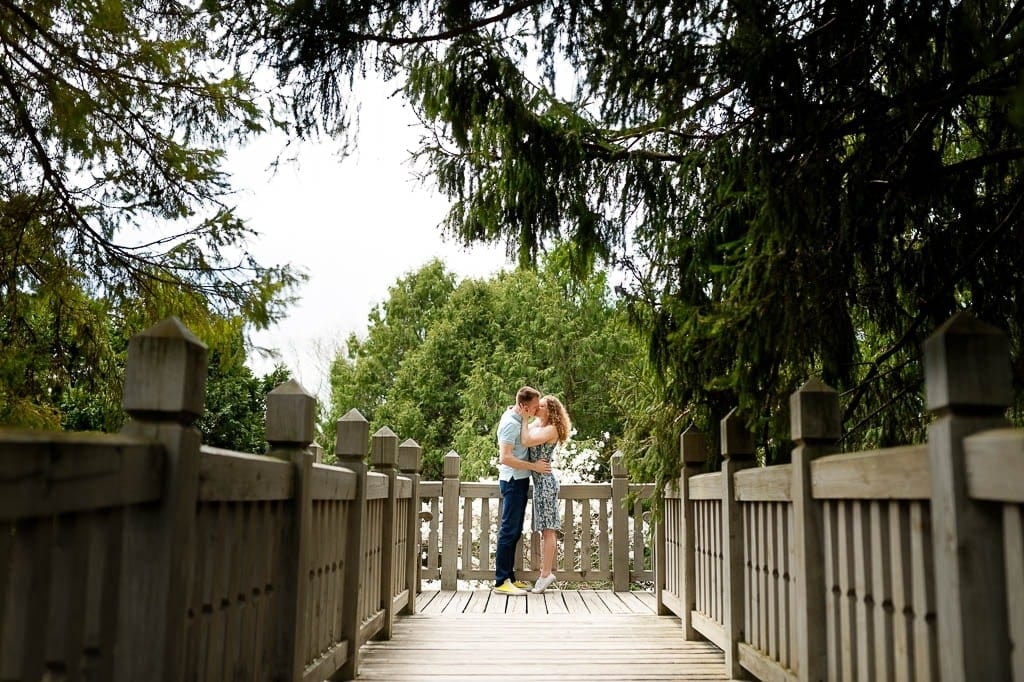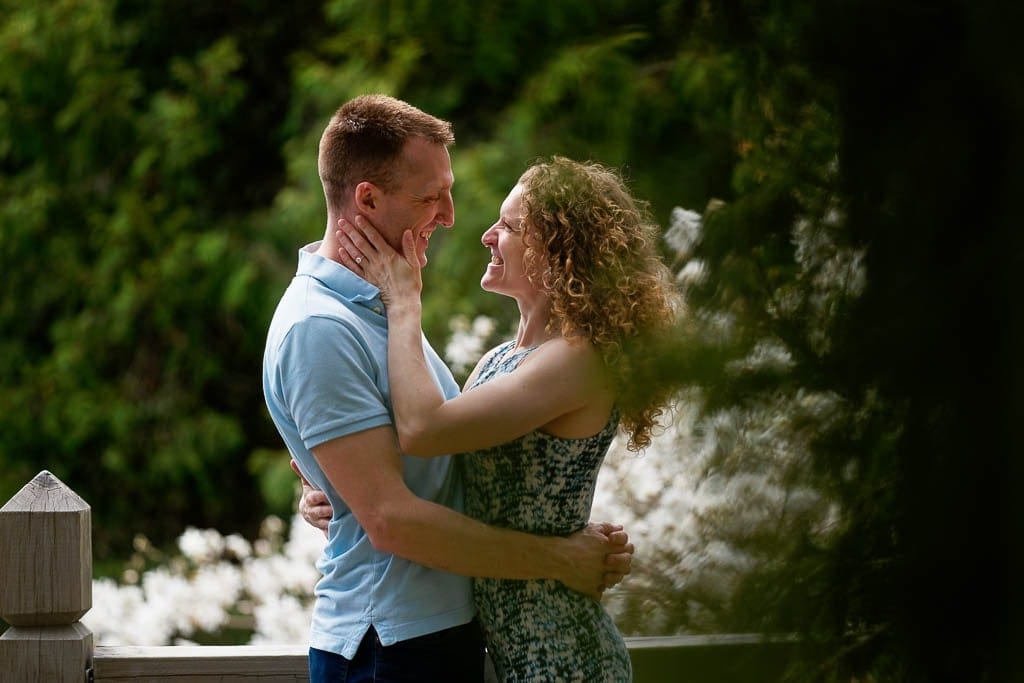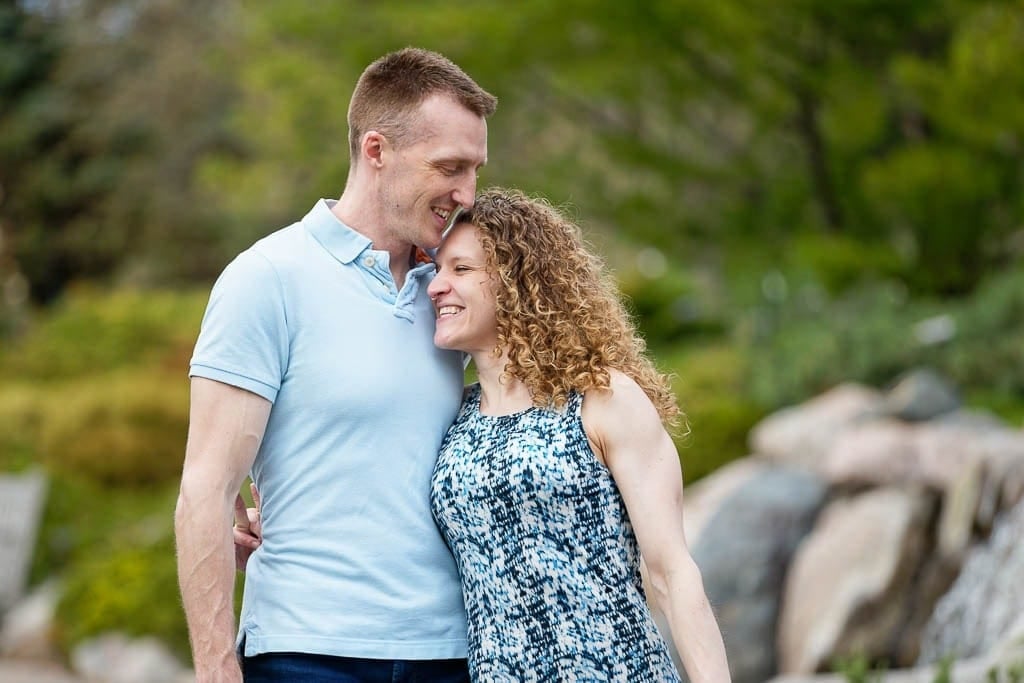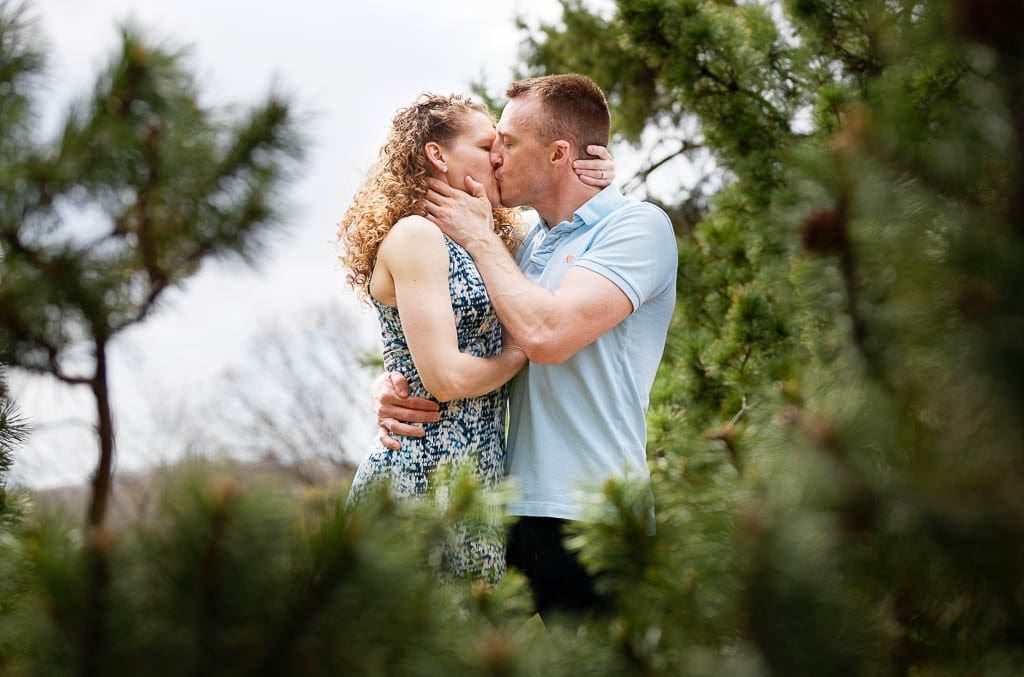 Photography consideration to successfully plan your surprise proposal
As mentioned previously, the two major decisions that would help us set your proposal photo apart is a good location and a good timing.
The perfect place must respond to several criteria.
Option to hide
First and most important, if you want pictures of both of you walking, speaking, seating, before you make your move, then we need something to hide behind. It could be a bush, some big tree, some parked cars, the corner of a building. Though, please avoid a flat field and empty field.
Crowded area or not?
Should you chose a place with no one around (which could be suspicious to bring your beloved in the middle of nowhere), or should you chose crowded location so she does not suspect anything?
Couples' character
The first and major question is to know if you and your fiancé would be, or not, comfortable having someone around you when you ask. I know some shy girls who could turn red and be embarrassed . So you'd better know if you just prefer to be alone (with a guy hiding in an adjacent bush). If it's the case, then you should look for location that offers intimacy, and thus that demanded for maternity session. Indeed, it's easily undesirable that most couples would prefer a quiet place to show their relationship during maternity pictures!
Practical consideration
For practical purpose, I would usually recommend avoiding crowded location for two reasons.
First, you probably don't want a grandma with her red jacket, yellow hat, and rainbow bag standing in the background of your pictures.
Secondly, I don't want to miss the shot because an unexpected group of Chinese come out of a bus, and stay just in front of my lens precisely at the crucial time.
That being said, crowd can also work as an ally. For instance, if you are planning to propose in zoological parks, in a stadium, or during a fair, then I could easily pretend to be a tourist taking pictures and I won't be noticed. But in such a scenario, we have to make sure, I would be in a spot (an empty space) where my view can physically not be obstructed by anything. For instance, you would be protected from the crowd being on the other side of a river.
Time of the Day and Event
Take in consideration the hour of the day. You know that morning would probably be less crowded than the afternoon.
What's more, check for potential events that could occur on the same date: is there any football game taking place one block away?
Lightning and Sun position
Best lights are early in the morning, or late in the afternoon. Of course, I adapt to any situation. Nevertheless, there is one condition you must respect being lightened the same way. That might sound like a detail, but if one of you has his face lightened by a sun ray, and the other one is under the shades, then, capturing an image of both of you with an accurate exposition might become complicated. That's some details we can discuss prior to the D-day.
Forecast
If you live in Minnesota, and the forecast looks terrible, you can still report your proposal. But if you, or some family members, fly to Minnesota, then reporting might not be an option. Also, it's highly recommended that you have a plan B in case of rain or snow storm.
Examples of location near Saint Paul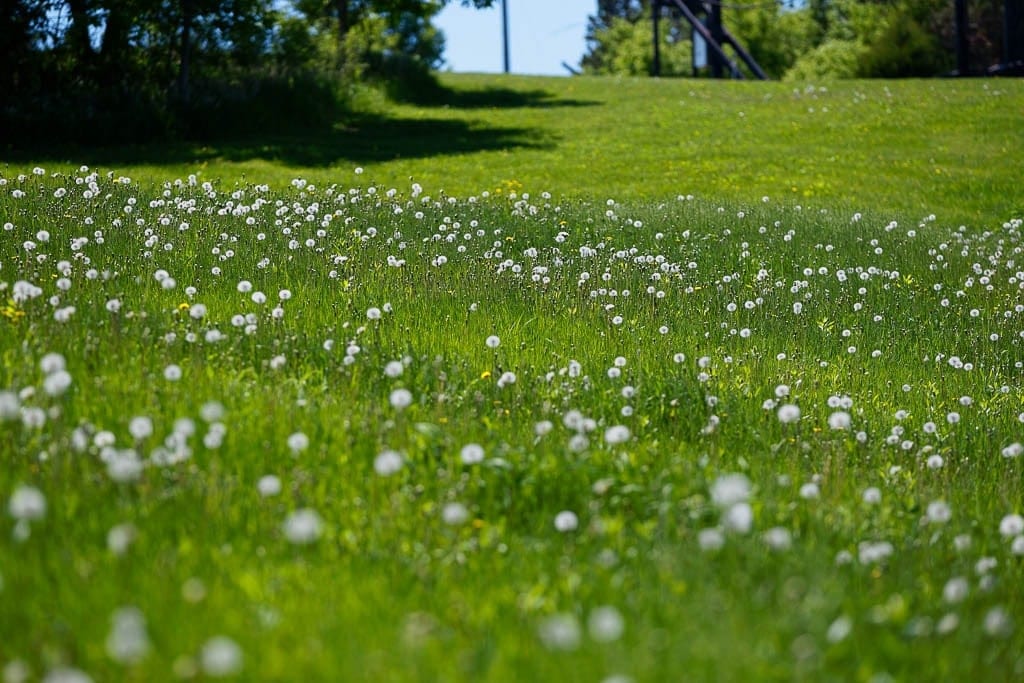 1 / Parks
With an open view on the cities, Boom Island is an ideal location for engagement sessions in Minnesota that work even for winter session. Indeed, despite the fact that it's loved by families, the park is large enough to offer intimacy and offer a variety of landscapes: City Skyline, Mississippi River, and nature.
If you like nature, there is a bunch of the park with natural areas in the city, used by photographers to capture the couple's relationships, such as.
Theodore Wirth Regional Park
The Minnehaha falls
The Hidden Falls
The Mendota height
Como Park and the conservatory
The Harriett Island Park
The Phalen Regional Park
Lake Harriett Park
Lake Nokomis Park
Lebanon Hills Regional Park
The Landscape Arboretum (famous for its flowers)
2/ Urban Style
As a photographer, Stillwater is one of my favorite old towns to shoot photo sessions for the husband and wife. Therefore, it would be a great place for a proposal. More than the view over the St Croix River and the Wisconsin shore, it offers numerous historic buildings that are always a must.
Minneapolis and Saint Paul also have a lot of historic part. Saint Paul Downtown features a lot of magnificent historic buildings. Nevertheless, it's also a place you can meet some weird person.
St Paul rich neighborhoods (summit avenue) could also be used as a background.
If you prefer modern architecture, then you should find glass building near the new U.S. Bank Stadium.
Finally, if you taste is between modern or natural landscape, then think of places such as Centennial Lake, in Edina.
Stone Arch Bridge
This iconic location is this choice for many guys to propose. It can be a very good idea, or a very choice, depending on the weather and the passers.
The Delicate Question of the (Italian) Restaurants
You might have seen in the movie, that restaurants works great to offer a diamond ring. After sharing some delicious food, you tell her a couple of jokes that produce a burst of laughter. Finally, you end the diner with a sublime gift which left to her no alternative (hopefully) that a positive answer to your question. Both of you forget the entire world that surrounds you and it's a magical memory you will never forget.
That's the romantic approach of the story.
From a photographic point of view, you have to make sure that:
The restaurant is bright enough (avoid candle lightened restaurants)
there is a place for your photographer to hide
there will be no one between you and your paparazzi.
3/ A variety of original places in Minnesota
Rooftop
Have a look at this engagement session to understand why photographers in Minnesota are so in love with Minneapolis and Saint Paul rooftops. Indeed, the landscape is spectacular, synonyms of energy and liberty. It's a place for the birds to look at the city.
Fair
Fair, despite some difficulties dues to the crowd, could, under conditions, be an original place to take pictures.
Stadium
Stadium can be a choice on the condition that your photographer has a very long lens, which is usually reserved to shoot tiny birds hundreds of feet away!
Frozen lake and Ice Castle
As a wedding photographer in Minnesota, I always look for new ways to capture real personalities into portraits and thus creating vibrant memories for my clients, in any situation.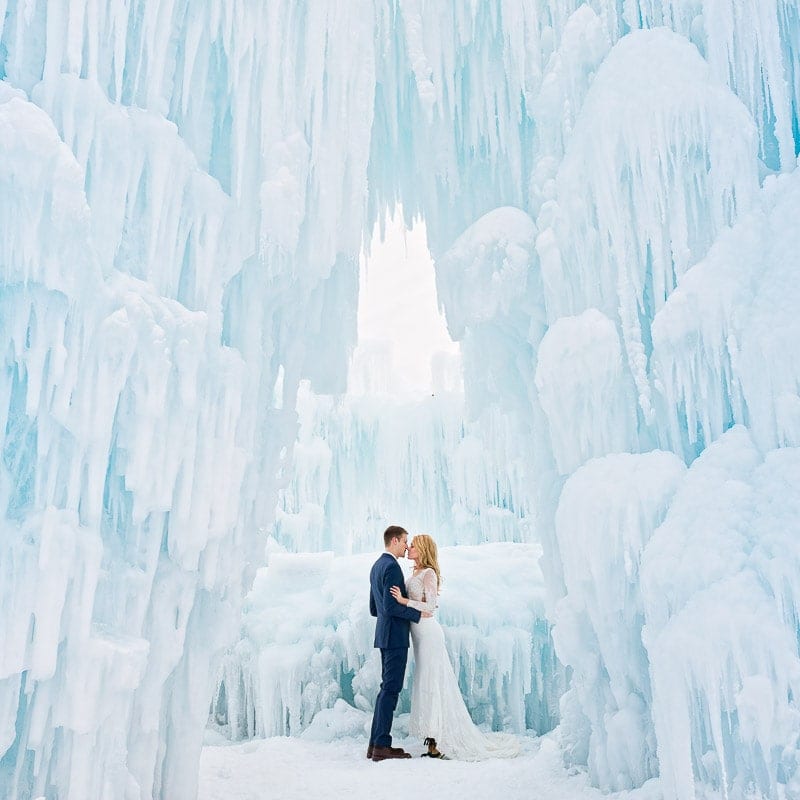 Therefore, during winter, I have found an original way to take advantage of the negative temperature ! Indeed, one good side of 10 000 Lakes State, is that lake is frozen and white during several months. Those backgrounds behave similarly to white studio backdrop allowing viewers to focus the attention of the emotion.
If you want to go further, then you would be happy to learn that a company is building an Ice Castle (almost every year) during winter! With its blue color, this background seems to be taken from a fairytale movie.
Boats
I love boats. Whereas it's a steamboat, or a luxury wood boat.
Air Ballons
Want to take advantage of an amazing trip? Air balloons, under conditions, could be a magical place to ask her.
What to avoid
Beautiful but Crowded coffee shop
You might be familiar with historic places, such as Nina's Cafe, loved by families and photographers, and want to ask your wife to marry you. Despite the exterior of that building works great for engagement pictures, the indoor location is usually pretty dark and crowded. Of course, it may be some exception. But that's in general, not the best scenario.
The Tiny Backyard
Backyard are places that we love, but are usually not spacious enough to be used as background. So, despite the fact that you have an open view on nature, you might want to choose another location.
Malls
Some malls (such as Mall of American) may feature some nice location. But, first, it's a place where professional photography is usually forbidden, and second the crowd is pretty unpredictable.
Night
Night is romantic. You can seat, staring are the star and take this box out of your pocket to propose her. In a romantic point of view that's a good story. In a photography consideration if there is not light, things start to be complicated.
In consequence, it's better to avoid night situations if you want candid shot with no flash.
On the contrary, if you don't mind having a flash bursting near you, then night can work.
Pursue this special moment with a short photo session
Our package includes a short photo session with you and your fiancé. It's the opportunity for a fun experience in front of the camera. What's more it should give you a glimpse of what would look like your bride and groom session on your wedding day!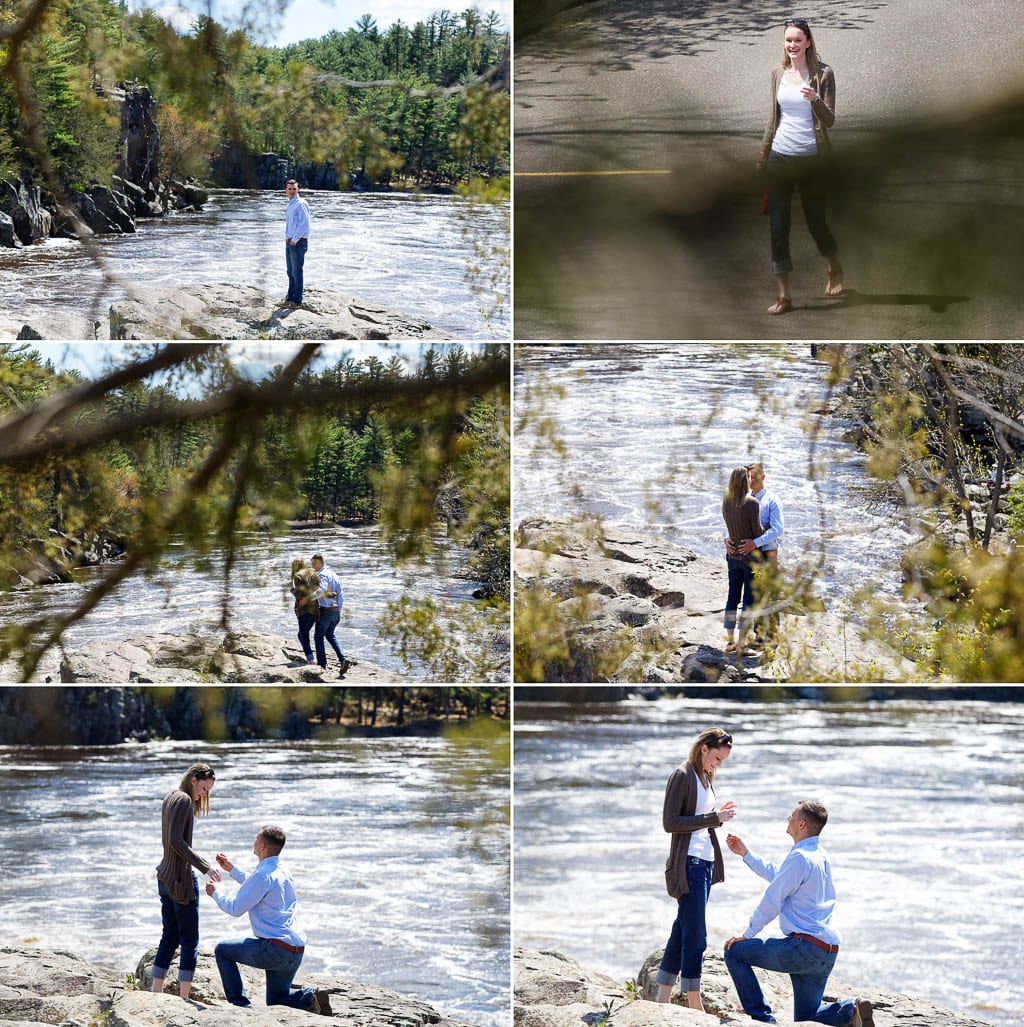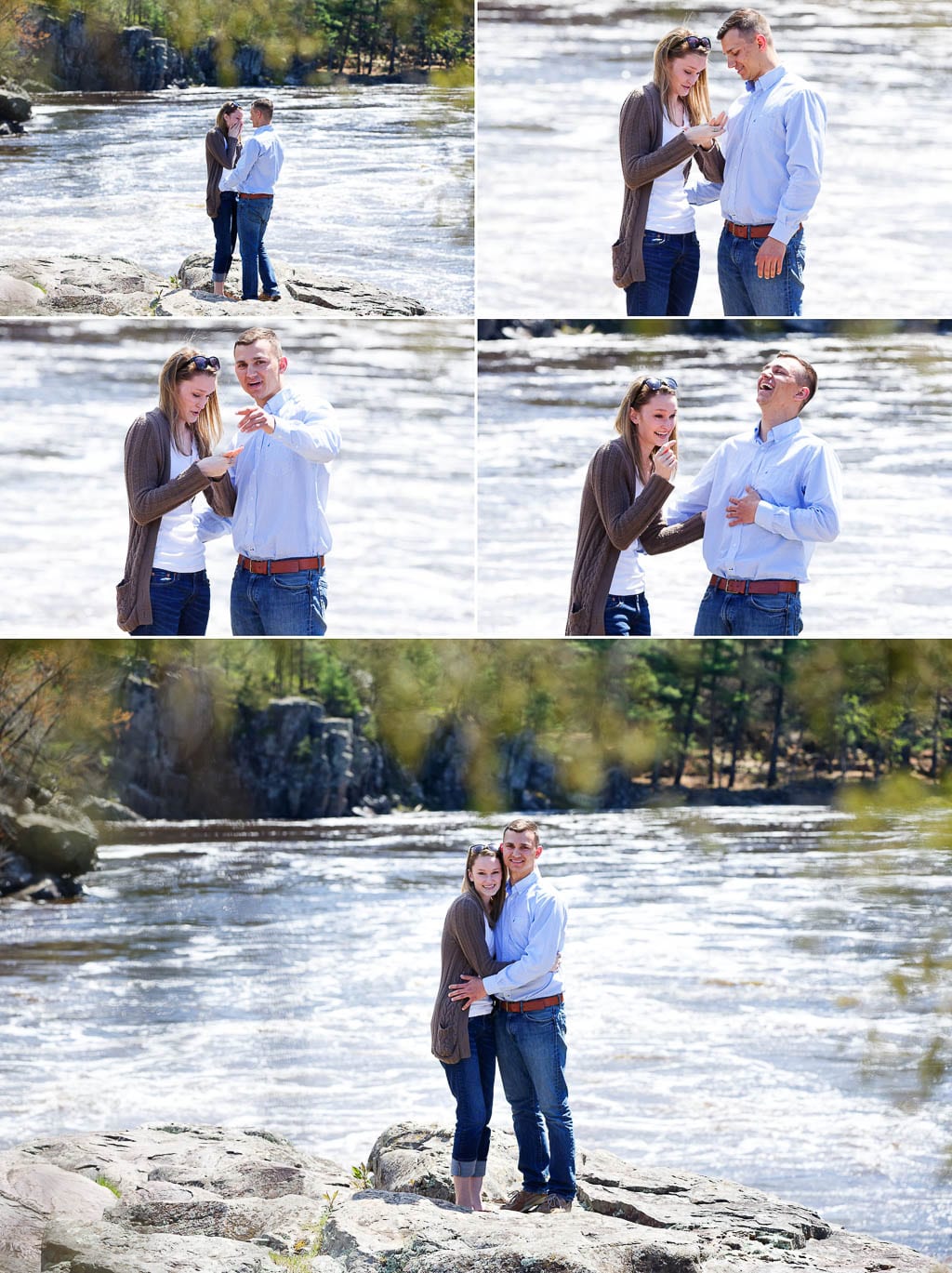 Why you should hire a real professional and not an amateur.
If you want stunning portraits reflecting your personalities, then you should hire a professional photographer. Indeed, contrary to ordinary sessions where photographer can repeat the pose as many times as needed, in such situation, there is not rehearsal possibility.
In consequence, in case of unexpected last-minute change (a cloud coming in front of the sun), an experiment photographer should be able to quickly found a solution (change his camera settings, etc.), while an amateur might be overwhelmed.
And I don't even speak of all the other potential failures: blurry picture due to bad focus, or low speed, over or under-exposed pictures, noisy pictures, etc.
In conclusion, and to keep it short, you have invested a lot of money in an expensive ring because it's a one-life moment in your life and a big step in your relationships. It's something you value. So, if you want good pictures, hire a professional Minneapolis wedding photographer and stay away from amateur photographers.