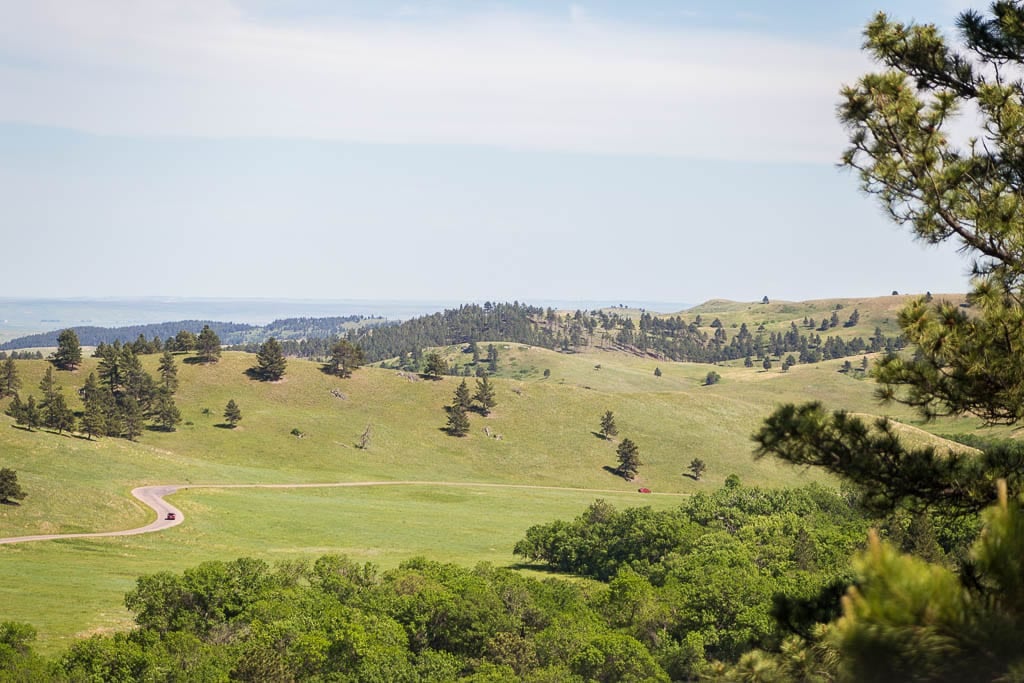 Perfects locations for small ceremonies in MN
Locations for Elopement and small intimate ceremony in MN
There are multiple reasons for a couple to decide for an intimate ceremony, and the result can be nothing but amazing. It can be a personal taste, a legal duty, or a hygienic measures that restrain you from doing a large event (think covid-19 for instance).
If your wedding had been canceled on postpone, I am sorry. I know how much work it is to plan everything and how frustrating it is to see all your dreams go away (at least for a few months).
Anyway, now you need a location to get married, for an elopement of a small ceremony.
There is also different level of intimacy; from a small group of 20 guests (inner circle of family + best friends), to a small group of 10, and no guests at all (called an elopement).
Of course you could rent a very beautiful and expensive wedding venue which would work great for pictures. But it might not make sense from an economic point of view. What's more, much of couples who voluntarily decided to have a small wedding in order to save money.
So here, we will focus on free or (affordable) locations to host an intimate or elopement ceremony.
Before jumping in a new planning process…
Keep in mind that wedding is about you, your beloved, and an engagement for life. Emotions, more than a backdrop, is what needs photographers to do good pictures.
In a way, small intimate ceremonies, help to reconnect with the core of what a wedding is really about!
So, focus on what really matters, your ceremony, your vows (if you exchange some), you guest (if you have a few members of your family), and most of all, to enjoy!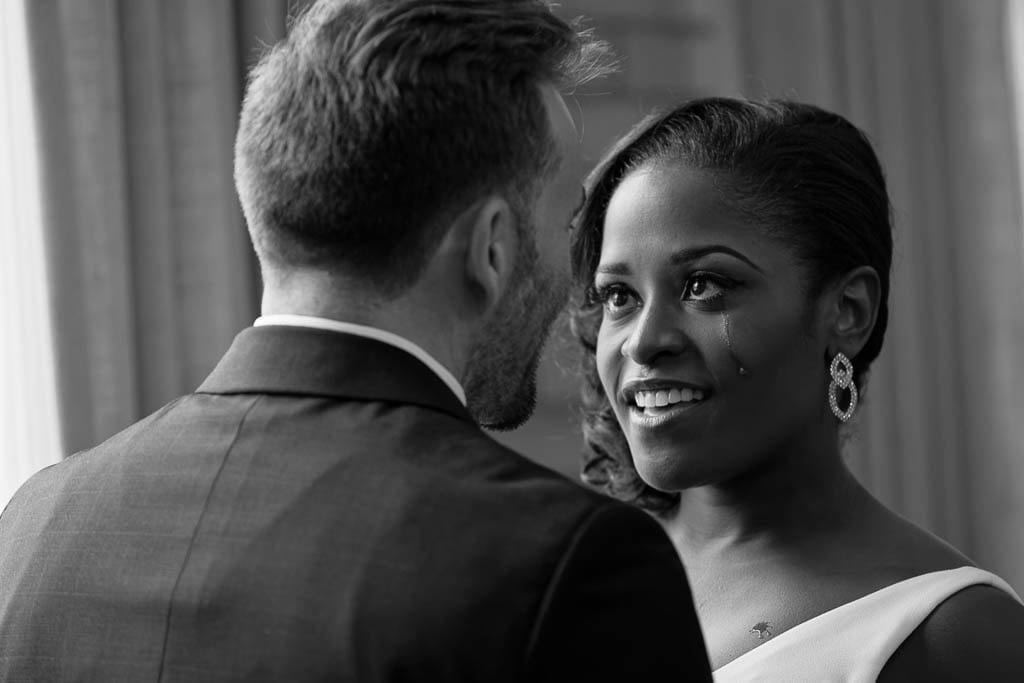 What parameters to take in consideration in the choice of the location (to have nice pictures)
Disclaimer: Most of those places can also work for engagement session. Nevertheless, for engagement session we prefer locations offering a multitude of options, while here, we are just looking for one good point of view.
Season
Landscape is dramatically impacted by the seasons. For instance, falls colors in the tree can turn an ordinary wood into wonderland. In consequence, if you know that a location is more beautiful during one specific month of the year, you might want to wait this month.
Sun
Sun can completely change the aspect of a location. As you probably know, the time of day offering the better light is or early in the morning or late in the afternoon (just before sunset).
But that's not all; photographers need the sun to come from the officiant's back, or from the guests' back (if there is any).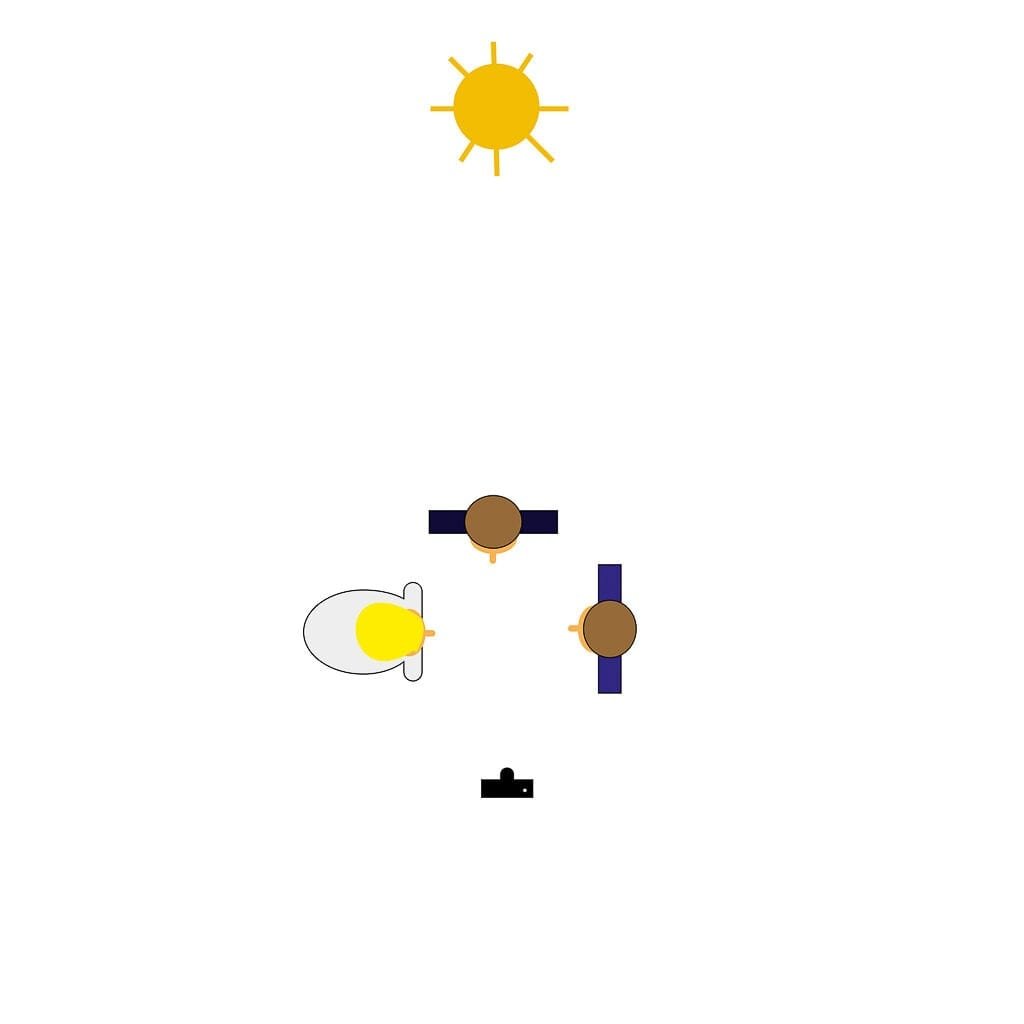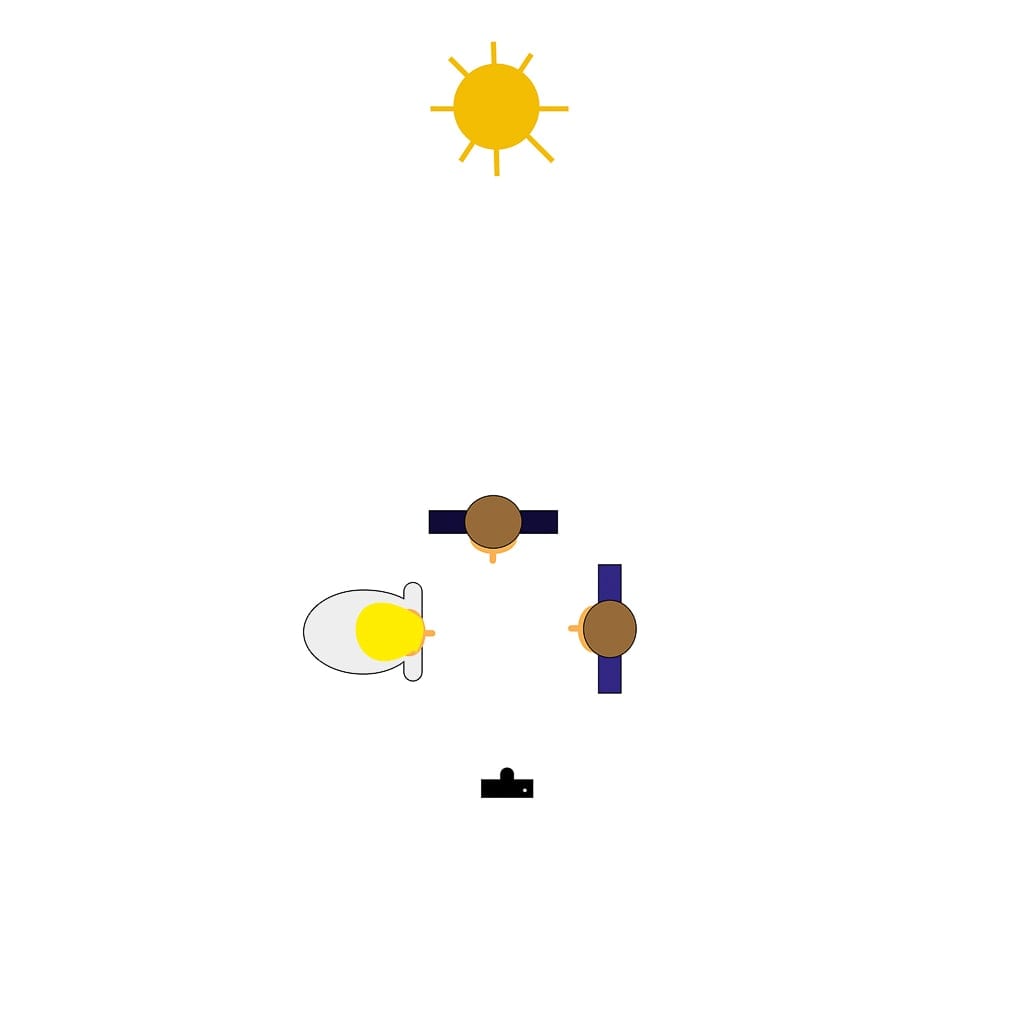 The first solution is the best one for portraits, allowing some artistic effect with sun rays.
The second solution is the best if you have an amazing background that you want perfectly lightened.
In consequence, you might schedule your ceremony time regarding the sun position.
Enough Space For your photographer
Photographers would appreciate if there is enough room to turn around the bride, the groom and other people. If you get married on the top of the bluff, near water, or in front of a wall, then always let some space so your photographer can pass behind you and catch different points of view.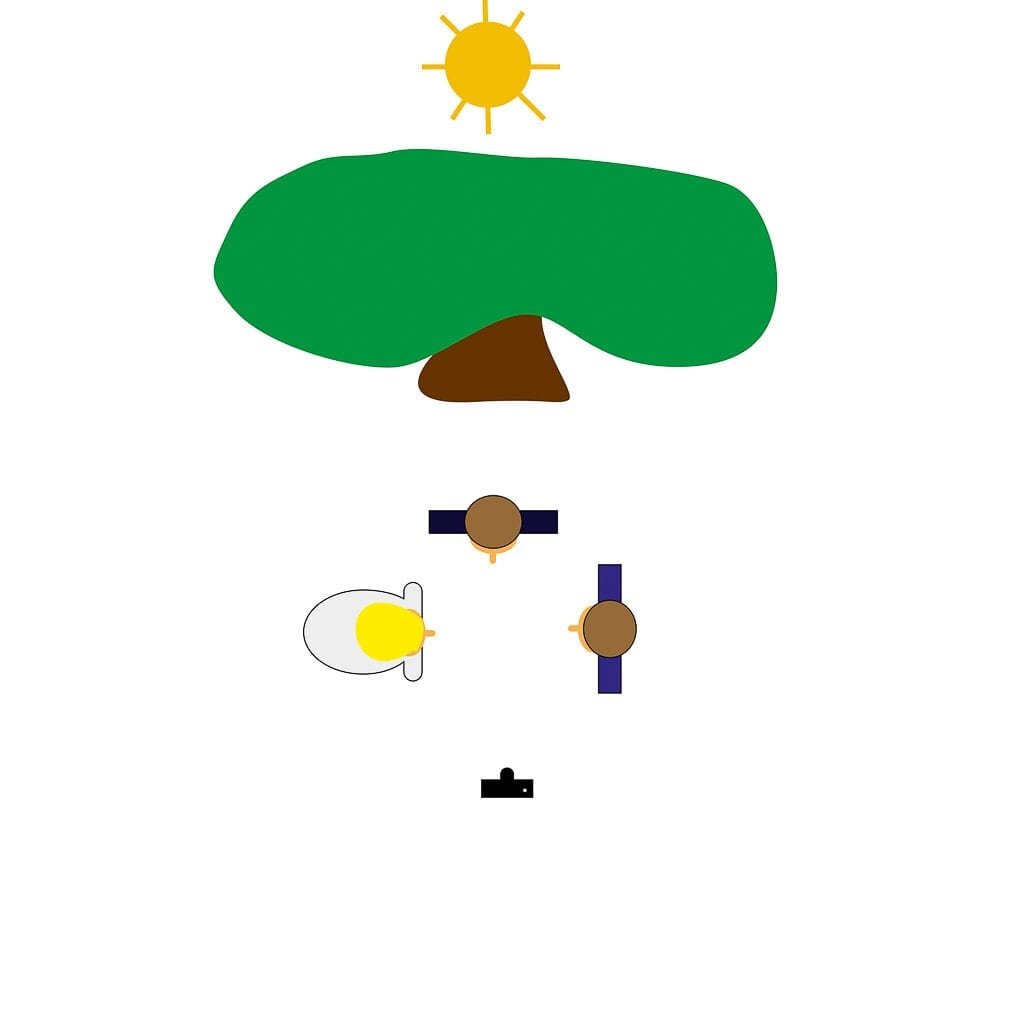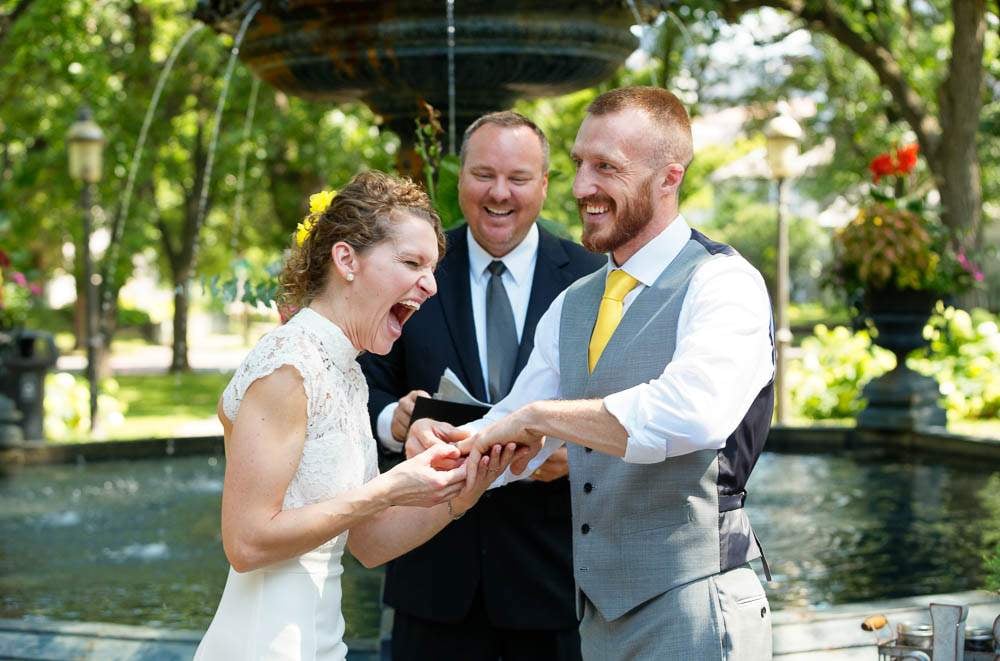 Ritual Duration
Of course, you won't have a 1 hour 30 ceremony. Nevertheless, we would recommend that you have at least 15 min ceremony.
First of all it's time for the bride and the groom to experience the ritual and take measure of what is happening (and to cry a bit).
But also, it's only the time needed for your photographer to catch some good pictures.
A good officiant would speak about half of the time (maybe reading a text, and improvising), and the bride and groom would speak the other half.
You can write some vows, read a poem, or read each other in a letter. It does not have to be religious. It can be traditional, emotional, fun, or completely inappropriate.
Guests
You might decide to have your guests seated or not (depending on their age, and the location).
Seating guests give a solemn side to your event.
If the chosen location doesn't have any bench of chairs, you can bring some white foldable chairs.
Like an ordinary outdoor event, consider weather conditions: bottles of water, fans, blankets, bug repellant (most important).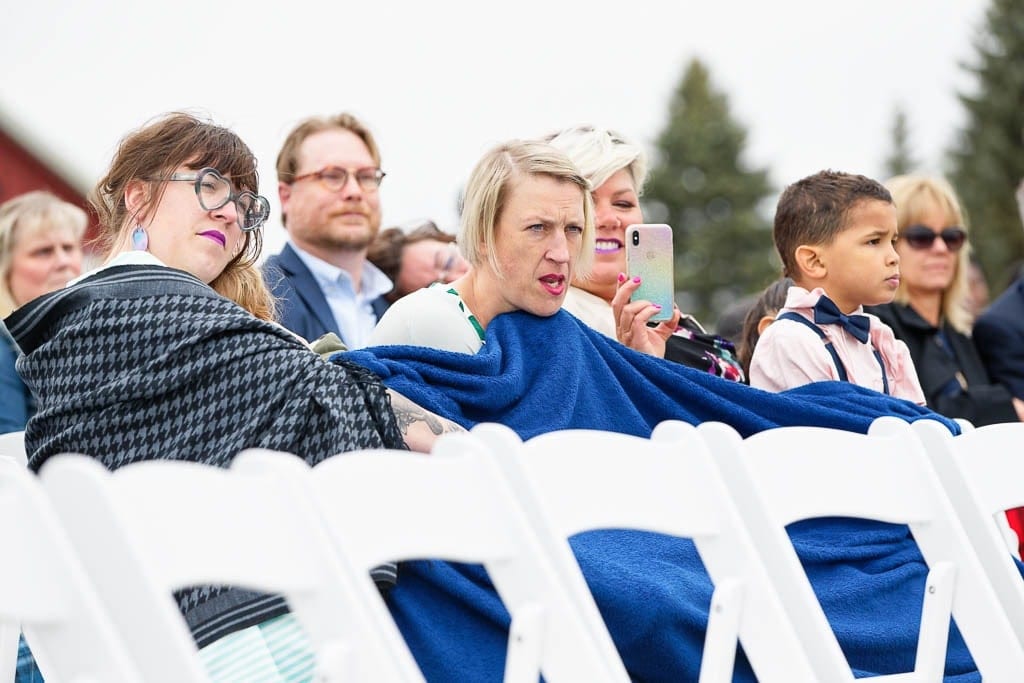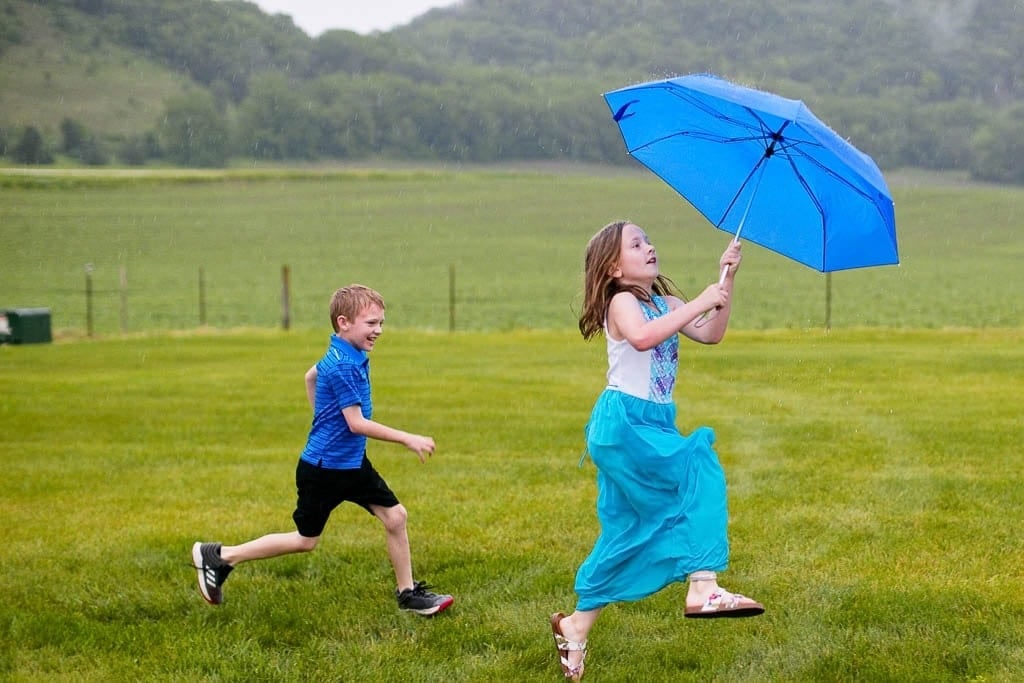 Rain, rain, go away…
Like always in Minnesota, you can never predict of the forecast. So you might need a back-up plan.
Think of a small restaurant that can be great decors for your small event.
Different kinds of backdrops
Now let's go deeper into the backdrop question. What would be the best location for such a moment? 
Should you prefer and natural backdrop or a modern one?
If some spot in the city can work amazingly well for such a small event, such as rooftops, we will first focus on the natural backdrop. Indeed, those the ones chosen most of the time.Secondly will see that cities can also offer some good spots in some precise condition.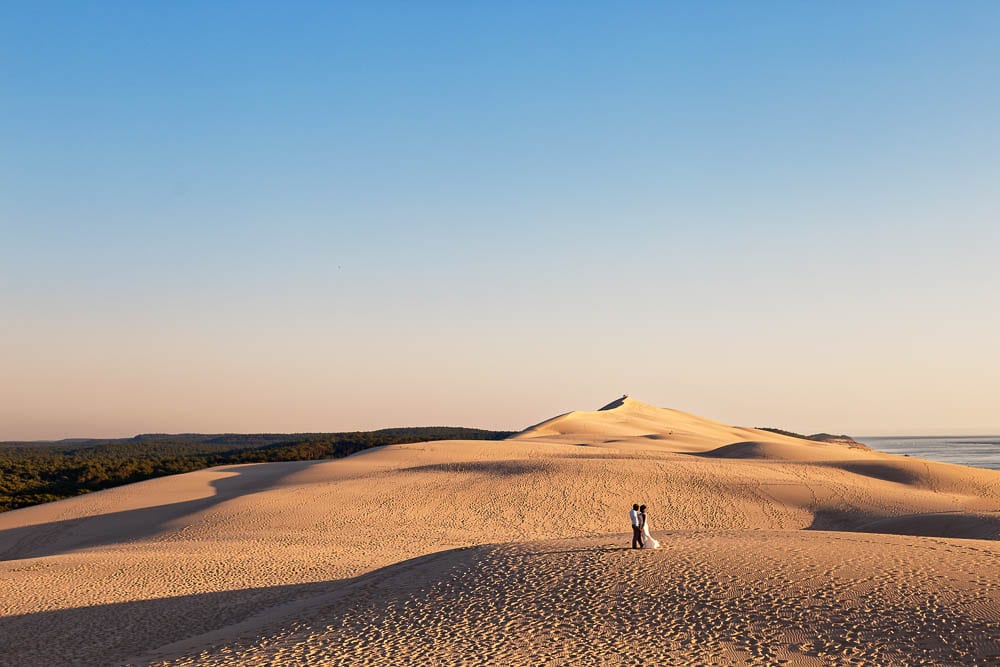 Wild Nature and preserved sceneries
Contrary to some state that offers amazing landscapes (such as Colorado State), The 10,000 States is not especially famous for the beauty of its landscapes (except maybe the winter landscape).
But don't worry, there are some options!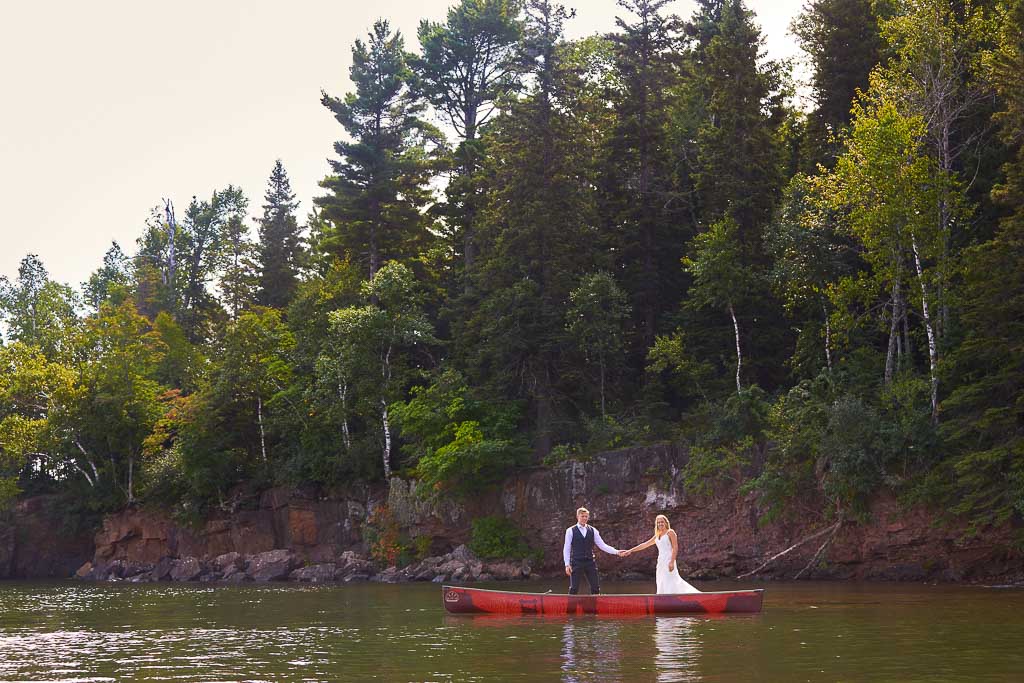 Check the regional park and state park. If you are brave, why not choosing a national park and going to the Boundary Waters!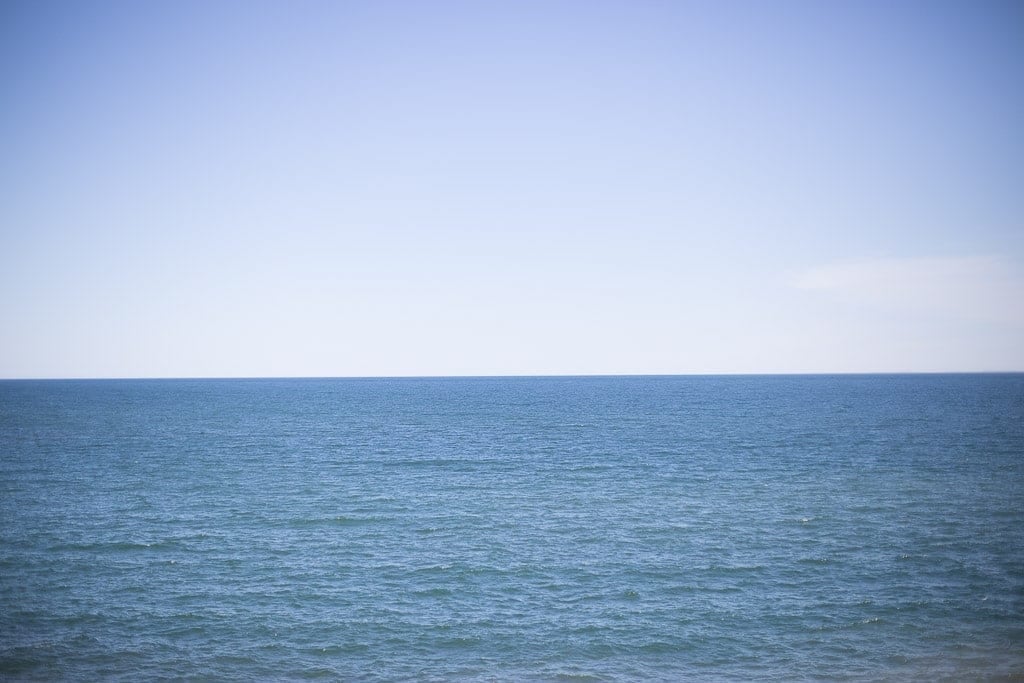 Waterfront
First with 10,000 Lakes and a bunch of rivers, you might find a few ones that you like and that can actually be used.
Why not stand on the shore of a river or on a dock during the sunset time? For instance, take advantage of a rocky beach on the superior lake (if you are ready to drive a bit). Closer, think of all the beach on the Mississippi River and the St Croix River.
Speaking of rivers and lakes, you don't have to say on the shore.
Beachs
Classic and romantic beach would work all the time (even in case of bad weather).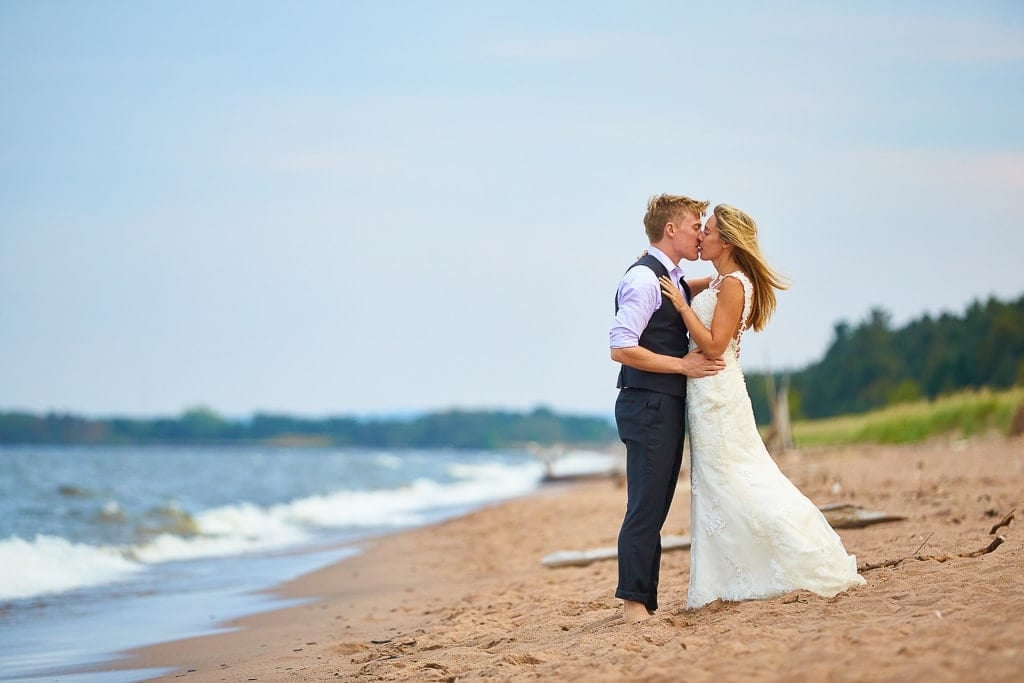 Boats
If you, or your best friend, is the lucky owner of a watch, boat can work great as well! It's elegant, adventurous and inspires a feeling of liberty.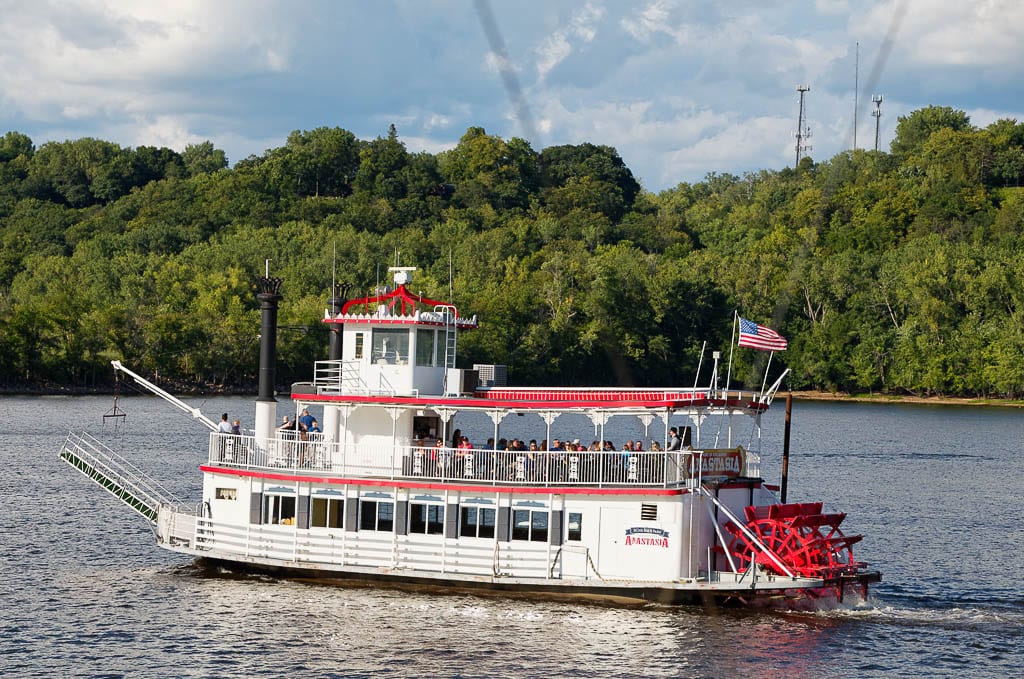 Step into the water
If you are bold, you can make it official with the foot of the water. Get inspired by South American culture who get baptism in the water, for instance.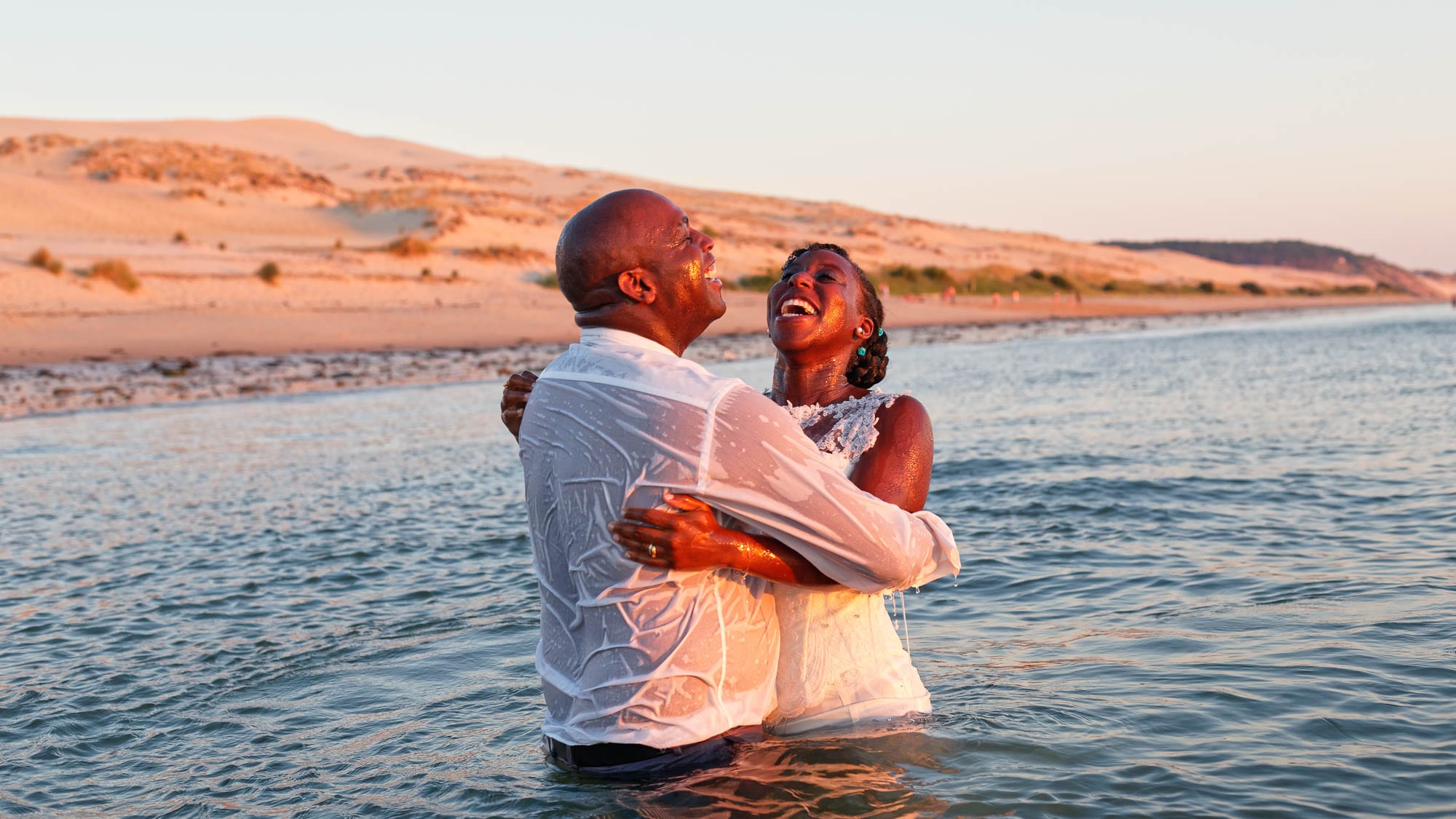 Dock and Rock
A simple rock formation, or a dock over a lake or a raging sea would bring nice images!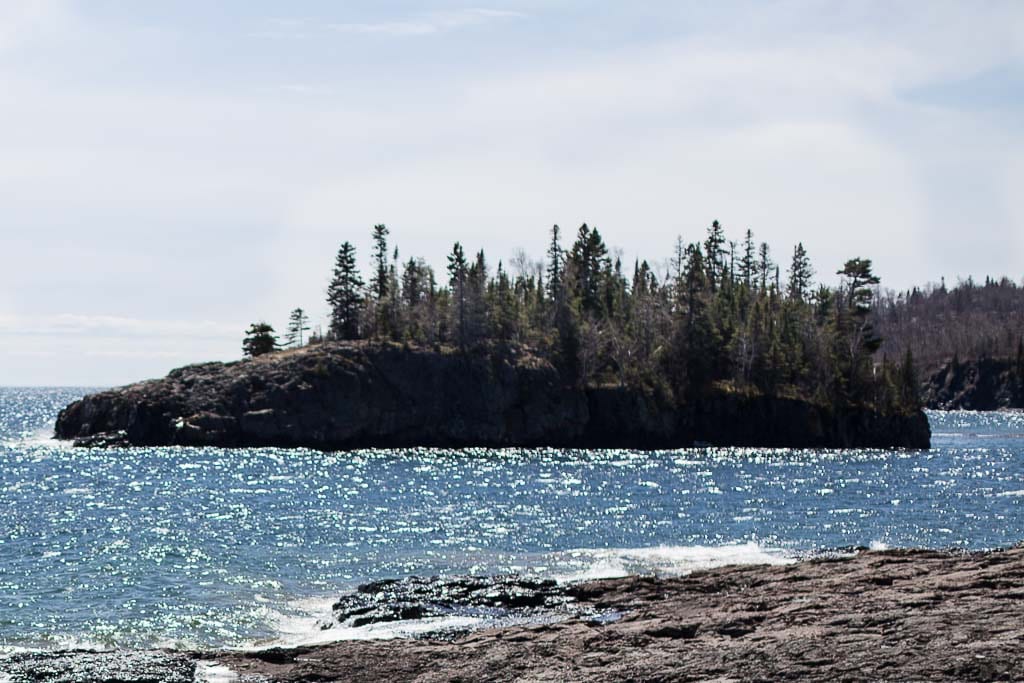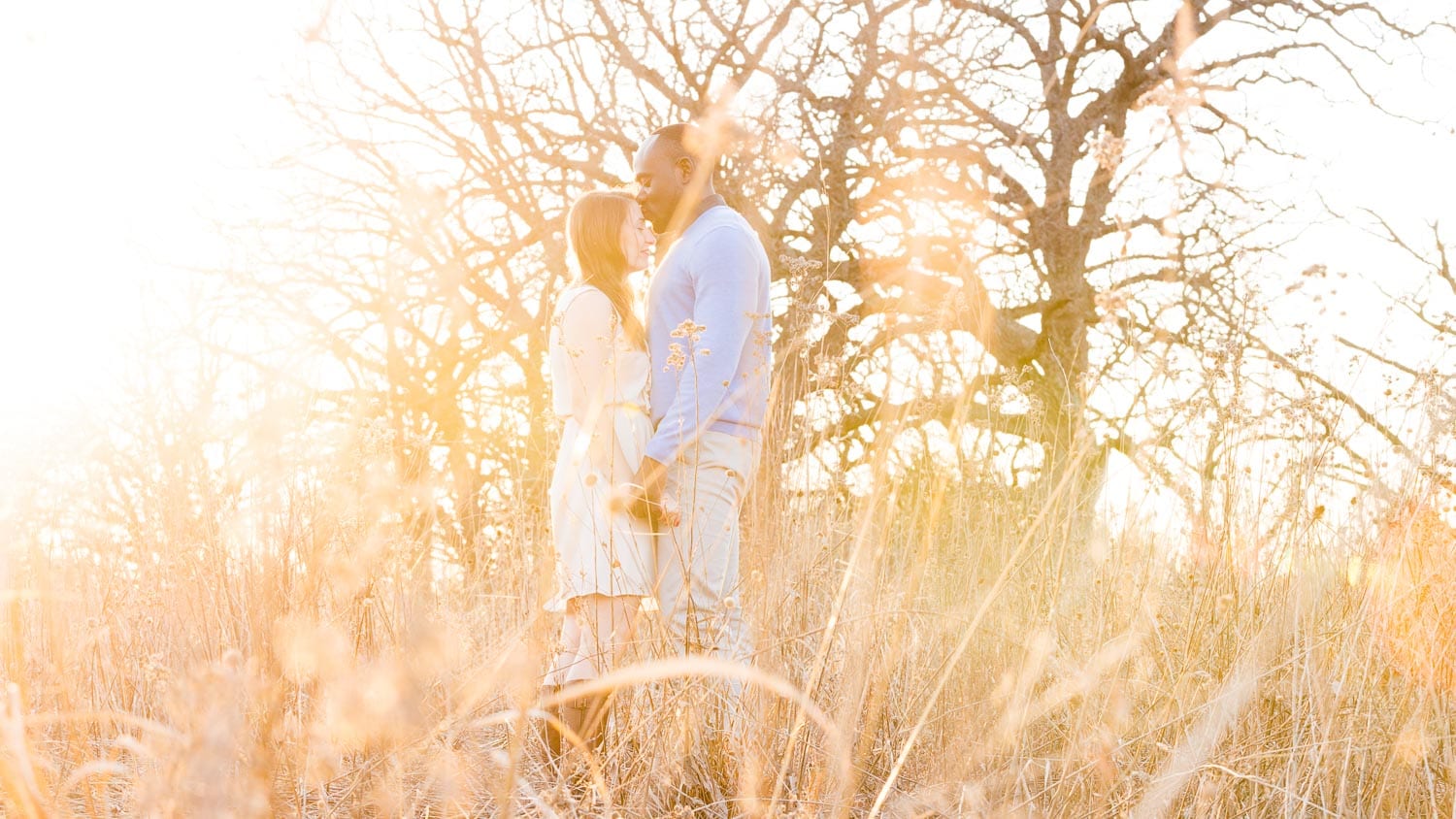 Meadows
Hills covered by meadows would work perfectly. Nevertheless, you would then reserve them for a fall event when the high grass start to dry and turn yellow.
And, if the location is yours (our your grandpa), you can play with your lawnmower, delimiting clean alley and area to stand.

Most of regional and state park have some wild area with high grass that would work great!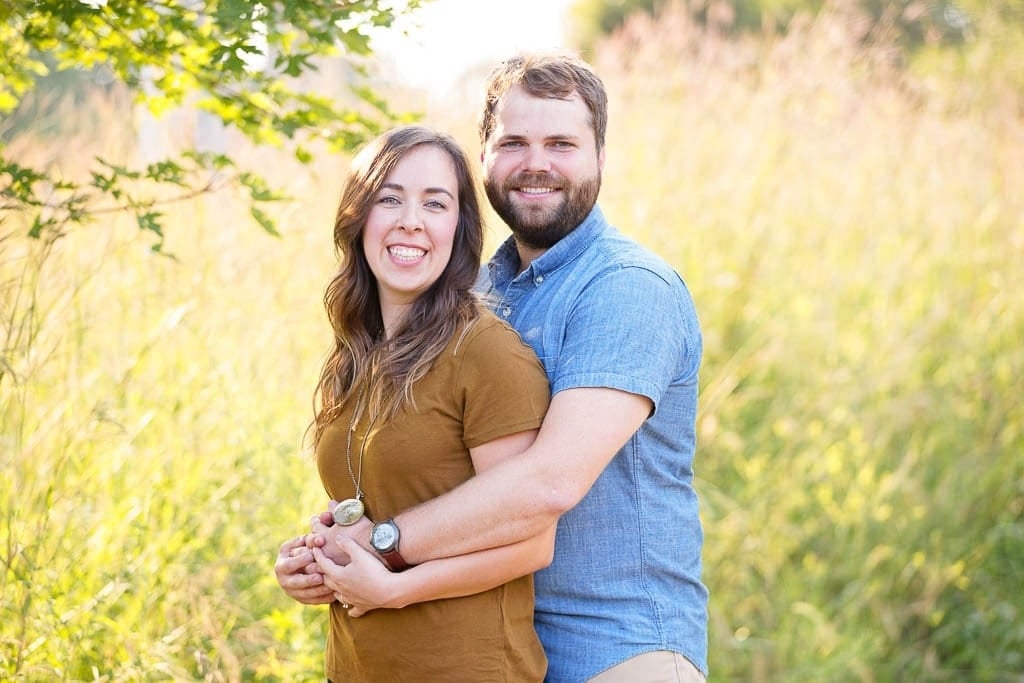 Bruce Vento Nature Sanctuary
Address: 4th St E, St Paul, MN 55106
Accessibility: Easy by trail
Best time: End of the day, Summer and Fall
Cost: free
remark: Located on the Mississippi Shore, it offers a sublime view on St Paul cityscape at the sunset.
Check at Emily & Dustin engagement.It also provides photographers with a railway, and a highway bridge to play with!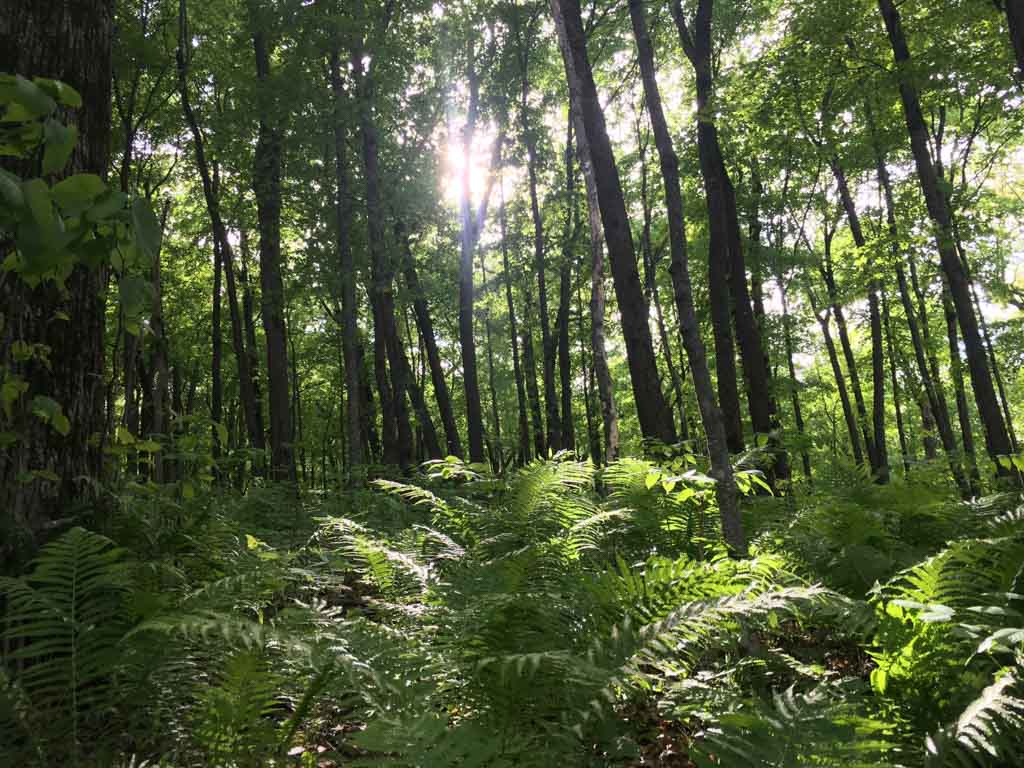 Forest
Dense woodlands are usually not suitable for pictures. Not only is the viewer's eyes obstruct but also distract by close vegetation. 
Conversely, some scattered forest with tall trees can be nothing but just majestic. Let's think of the Sequoia National Forest, for instance. Closer to us, let's think to pine forest.When the trees are big and tall enough, they allow the light to enter, and an open view on the open understory.
You might know a few spots near the cities that have some nice pines area. To find some pines forest, you would need to drive up north, beyond Duluth, or think to old pines farms.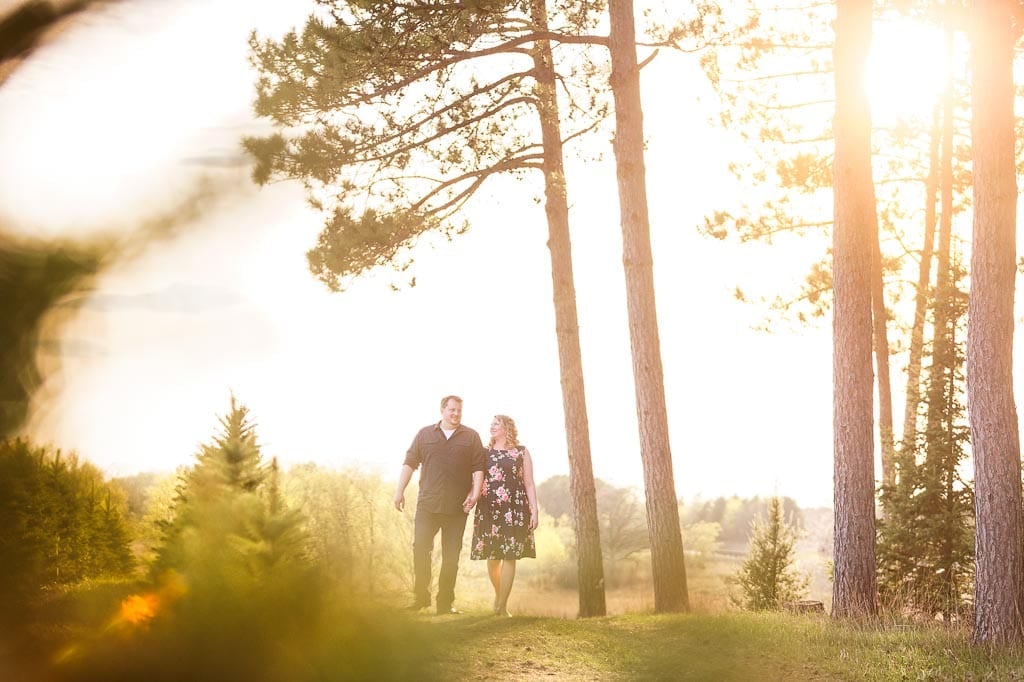 Hansen Tree Farm
Address: 7440 Alpine Dr, Anoka, MN 55303
Accessibility: Easy
Best time: all year long, all day long
remark: a photography permit is needed, but really worth it.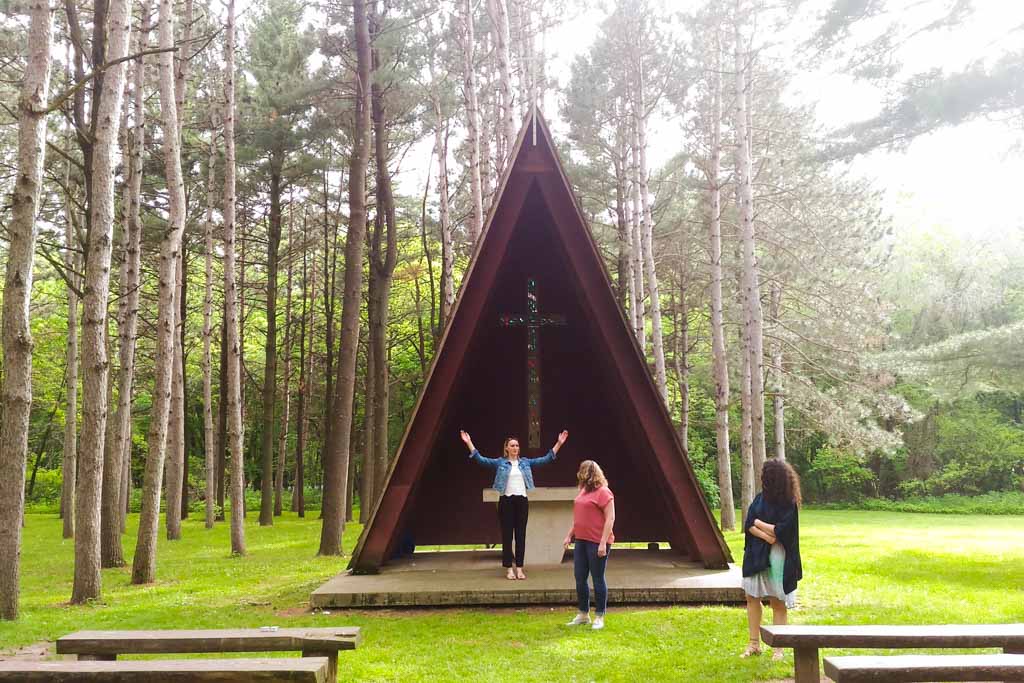 Hok-Si-La Municipal Park
Accessibility: easy
Best time: afternoon
Cost: $100 yes
Remark: Pines trees just around the ceremony area. Public place needs to reserve.
I love the altar design!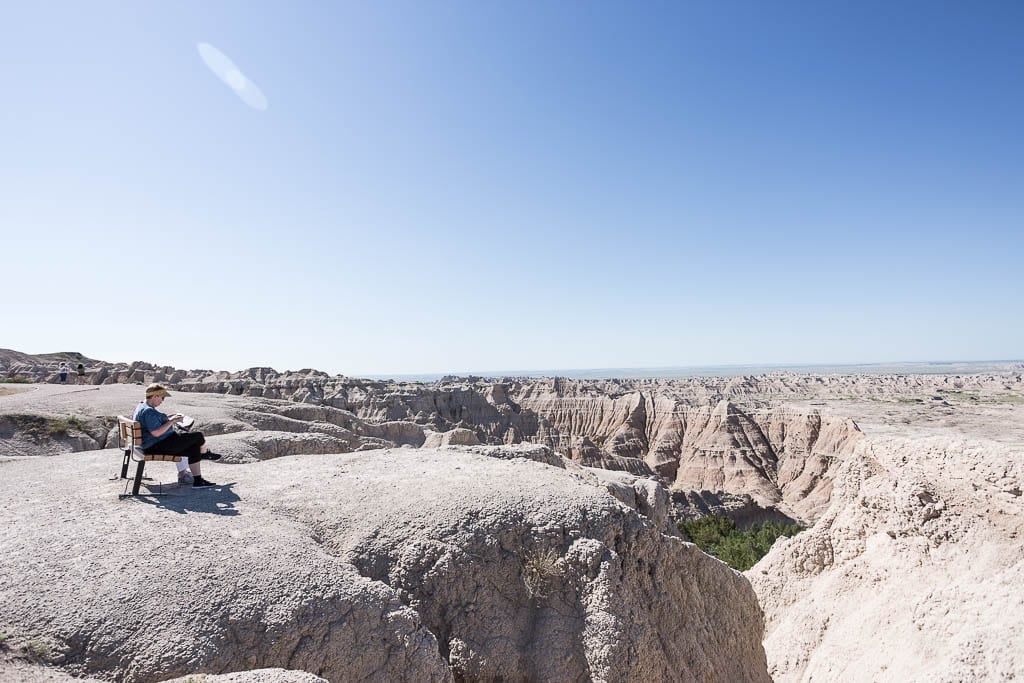 Mountain and bluff
When we mentioned astonishing point of view, we often think of mountains & hills.
Luckily, contrary to Iowa, the North Star State is not completely flat. Indeed, it features some hills and even some mountains.
If miles are not an issue for you, then drive north above Duluth to find some pine forest, and panoramic view on the lake.
If you don't want to go so far, you could just try the Taylors Falls (which are one of our favorite locations).
Finally, if you prefer to stay local, think of parks that offer ski service (such as Theodore Wirth Park, or Hyland Hills in Bloomington). Indeed, such park usually offers a panoramic point of view on the adjacent hills, and or city.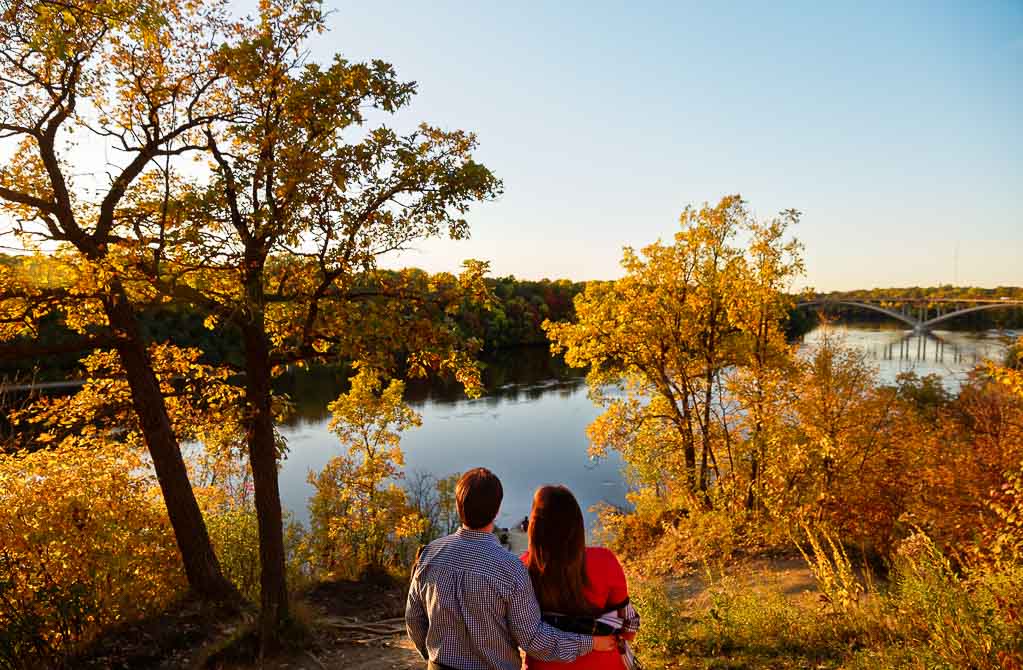 The Monument in Saint Paul
Accessibility: Top easy, but rock formation difficult
Best time: End of the day
Cost: free
Remark: Nice rock formation with a great point of view. Can be crowded. Next to the Shadows Falls.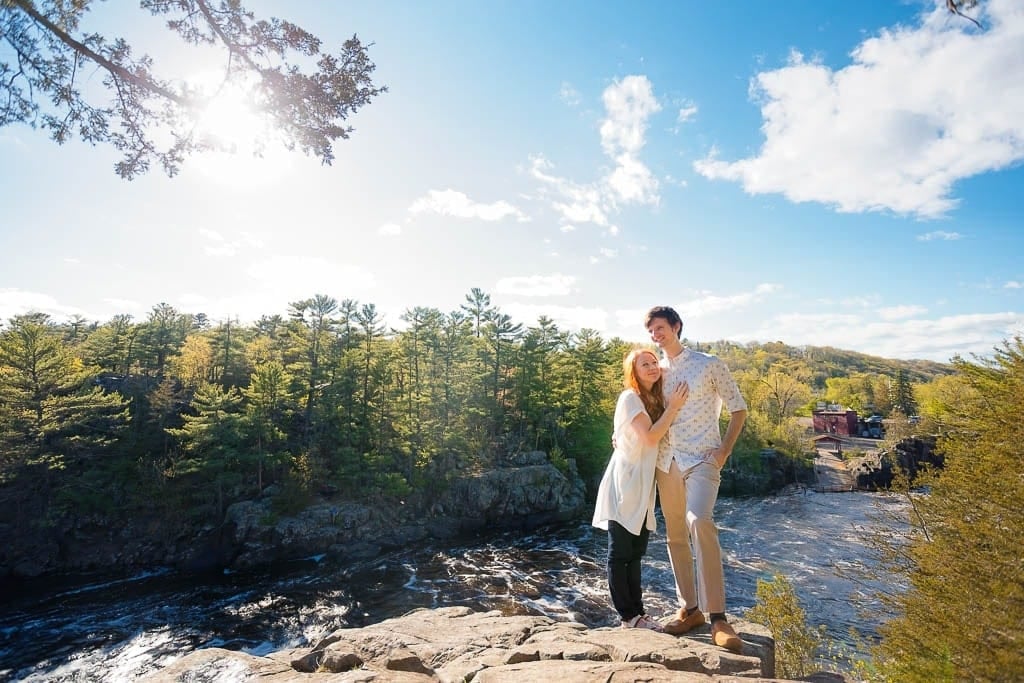 Taylors Falls Interstate State Park
Accessibility: Have to walk on will trail with rocks
Cost: park entrance
Best time: All the years, all the time.
Remark: This park is one of my favorite. It offers a lot of spot for all kinds of lightening.
Check at Gina & Michael session.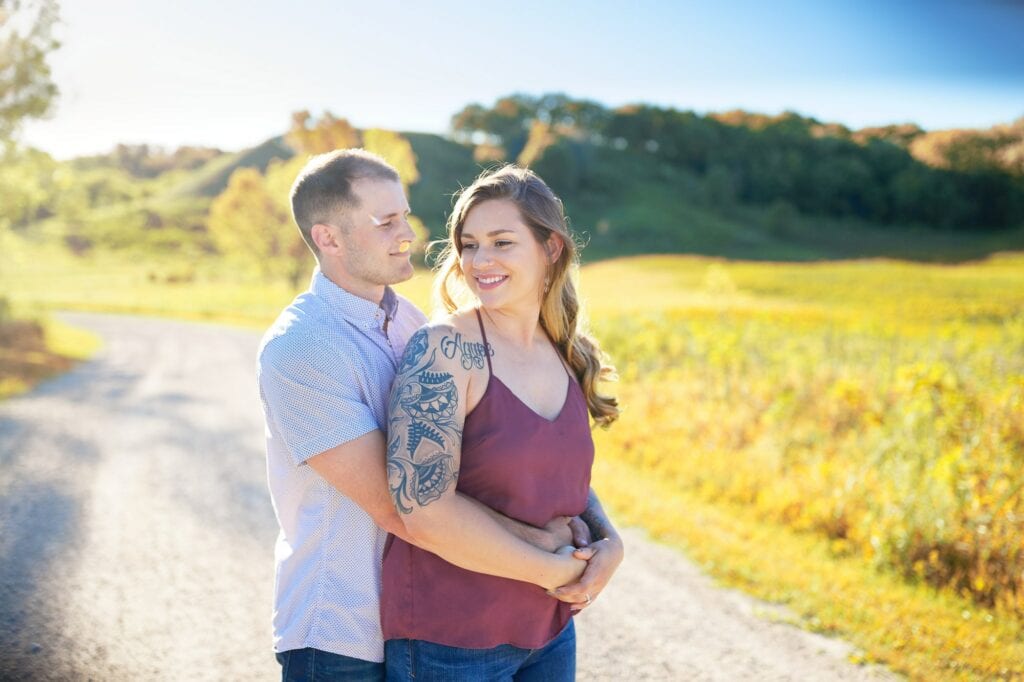 Frontenac State Park
Accessibility: Meadow easy, forest has a few steps
Best time: End of the day
Cost: Park Entrance
remark: Forest, hills, meadow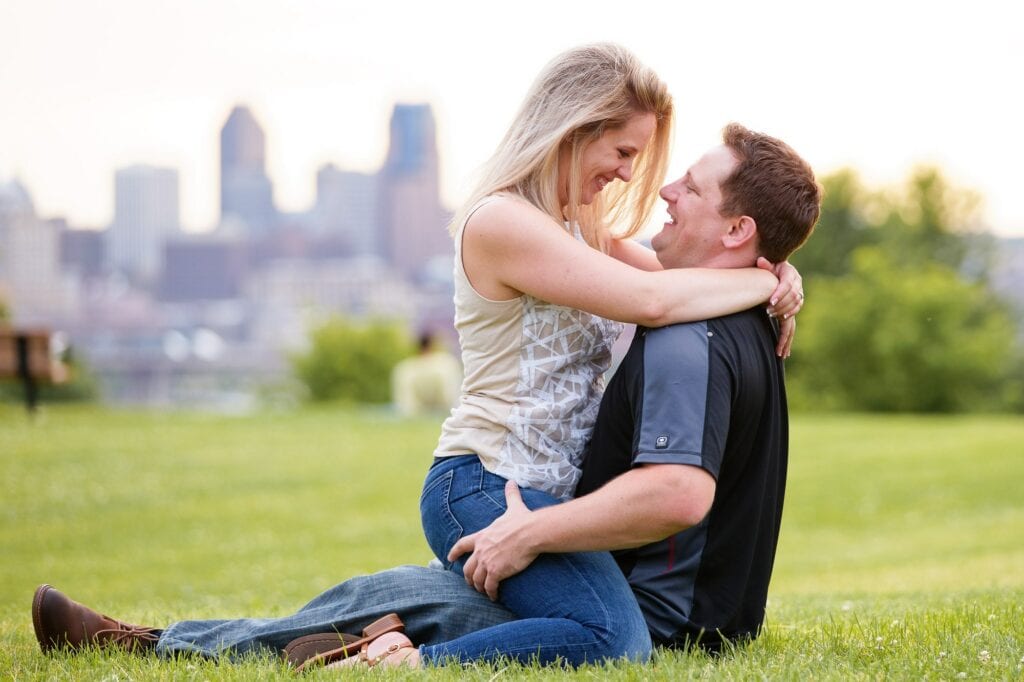 Indian mounds
Address: Indian Mounds Regional Park
Accessibility: easy
Best time: Sun Set
Cost: free
Remark: Clean Lawn, with a view on the St Paul City.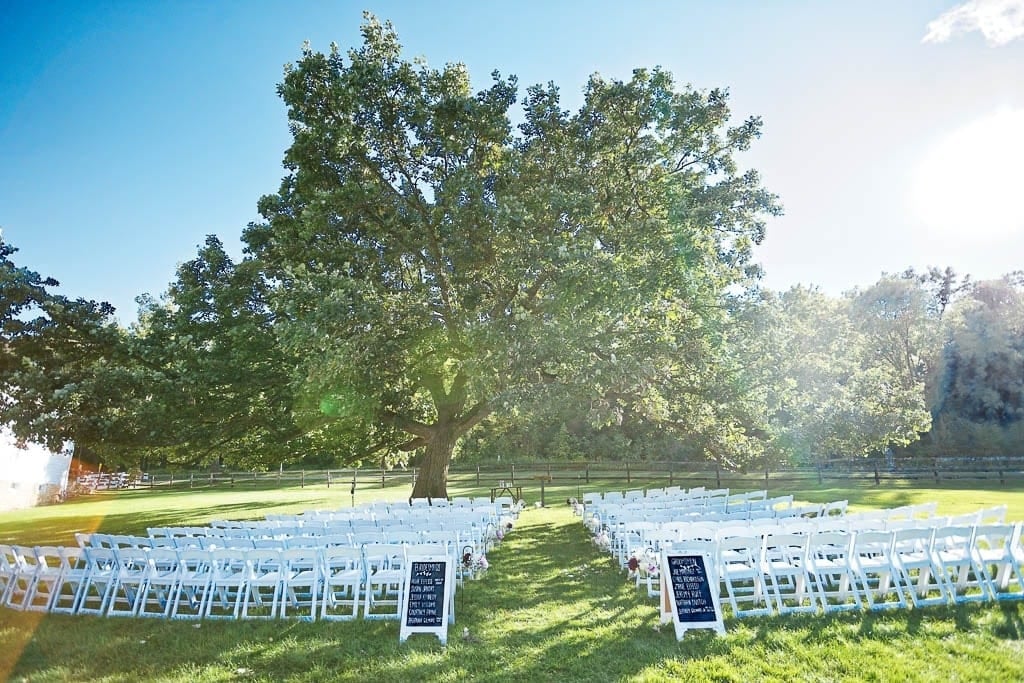 A simple majestic tree
Some trees are nothing but impressive. That's especially applied for a century-old oak trees standing in the middle of a lawn.
Chose one whom foliage goes relatively close to the ground, and pick a time when the sun comes from behind the tree.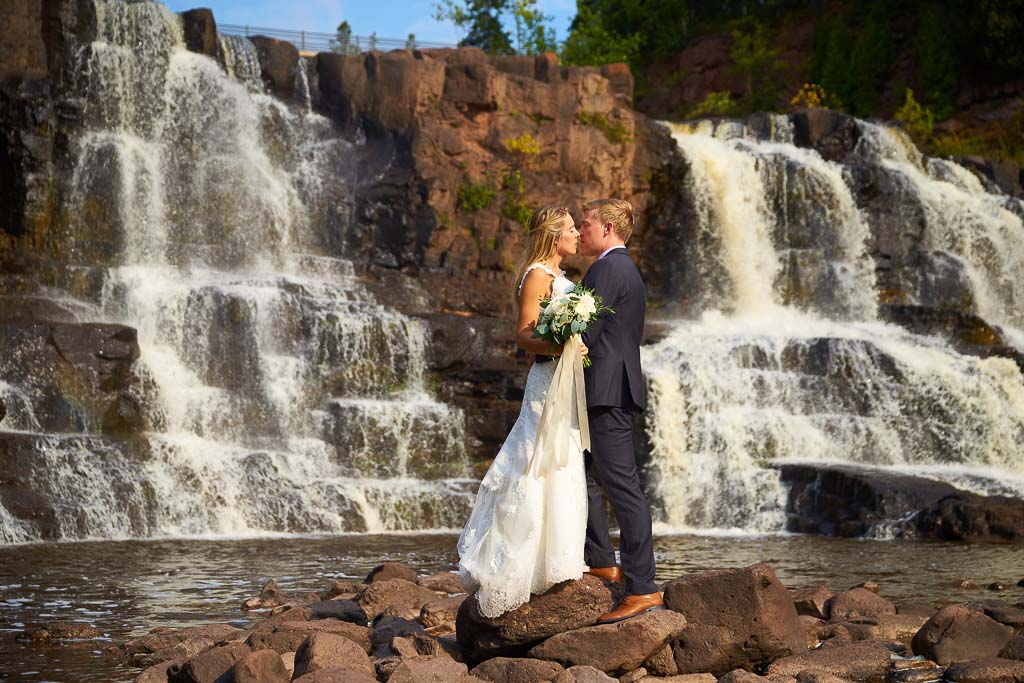 Water Falls
Nice falls, such as the Goosberry falls (north Duluth) can work great. The fall needs to be tall enough to be impressive.
And you would need to be far enough of the falls so we can frame as an element of big background. Indeed, if it's just water falling in a chaotic way, it might just be "messy" or distracting.
Thus, please forget the Hidden Falls, or the Novelty Falls. They can work for a few engagement pics, but not a ceremony.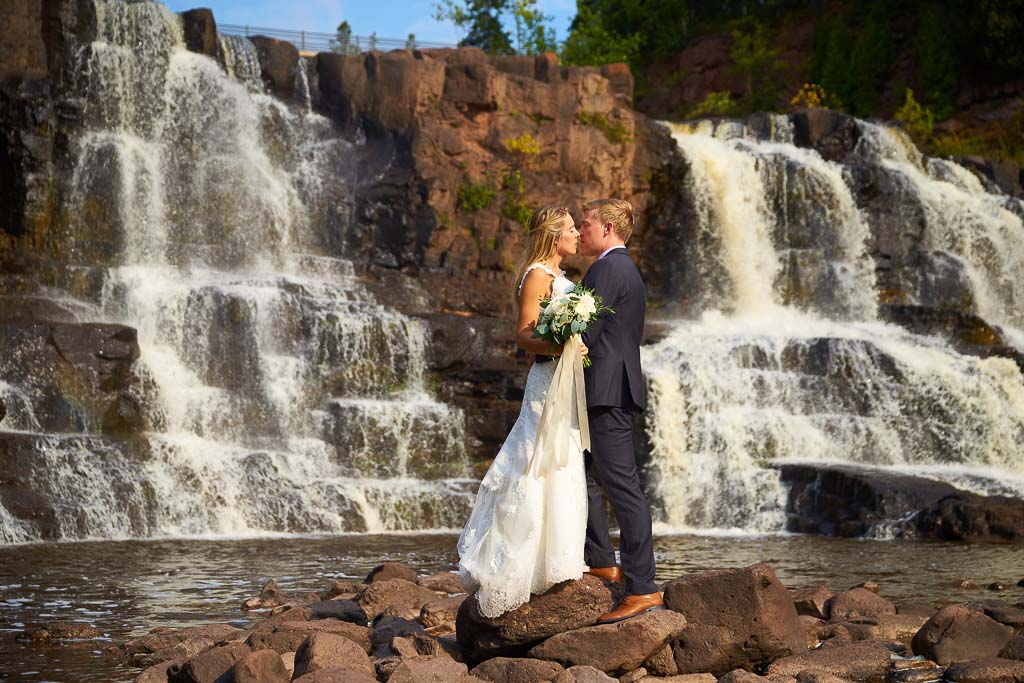 Gooseberry Falls State Park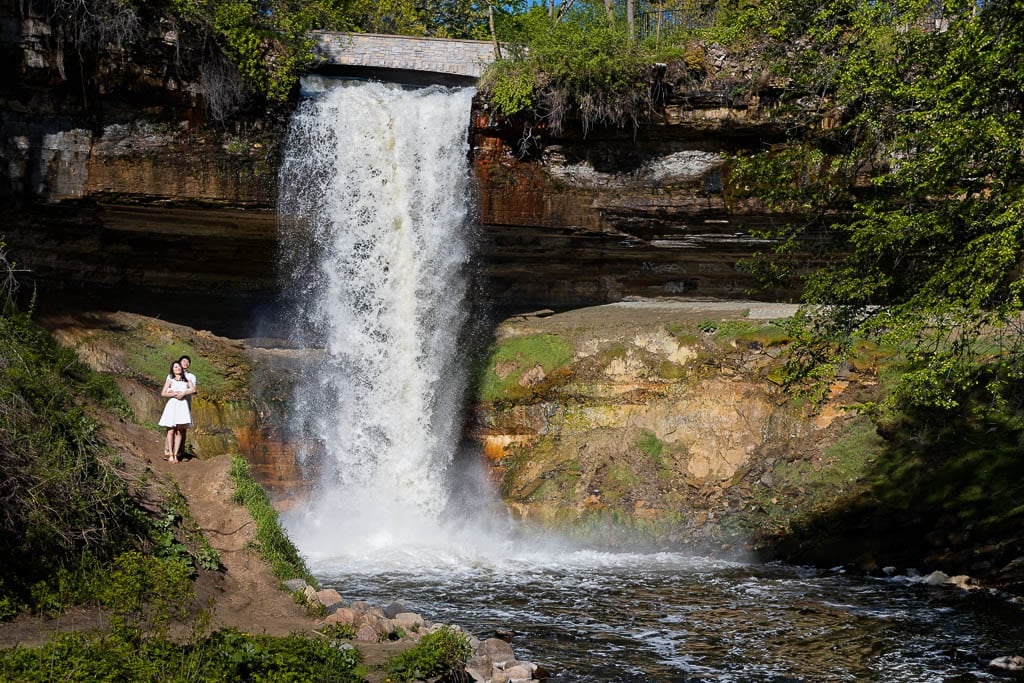 Minnehaha Falls
Address: Minneapolis, MN 55417
Accessibility: Slippery stairs
Cost: Minneapolis Park
Best time: Depending on the Sun
Remark: Nice location, can be crowded. Despite we can see some picture on the net, I am not 100% ceremonies are allowed down there.
Check at this engagement session.
Not wild nature
Keep it easy: your backyard
The simpler and cheaper option is probably your backyard (if you are lucky enough to live in a home). It might not be the most photogenic location, but it's yours, and it's convenient.
You can easily decorate it: flowers, arch, candles, big sign, letters, helium balloons.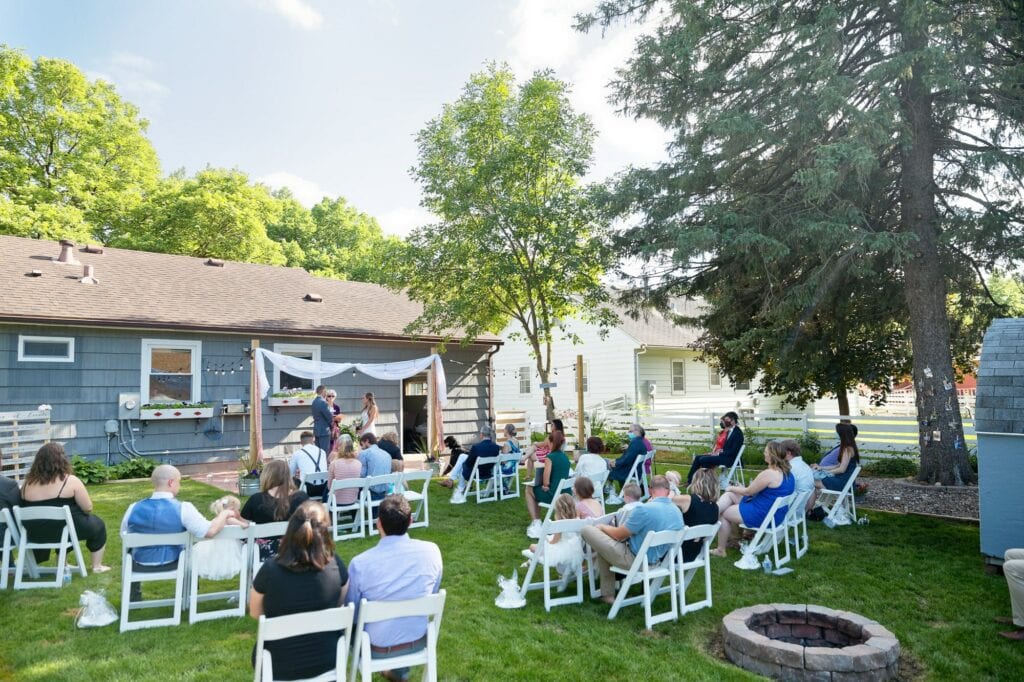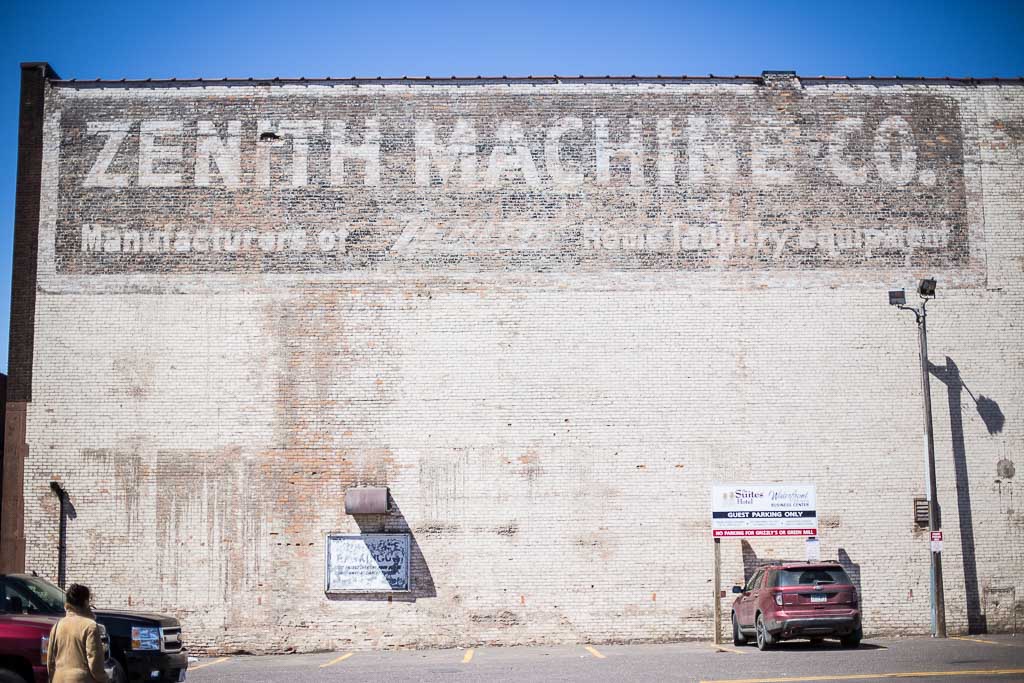 Minimalist: A wall
A nice brick wall, and a nice stone wall, or a wall covered in Virginia creeper.
Of course it's maybe not the more aesthetic option, but it's pretty simple, free and it would help to focus on you.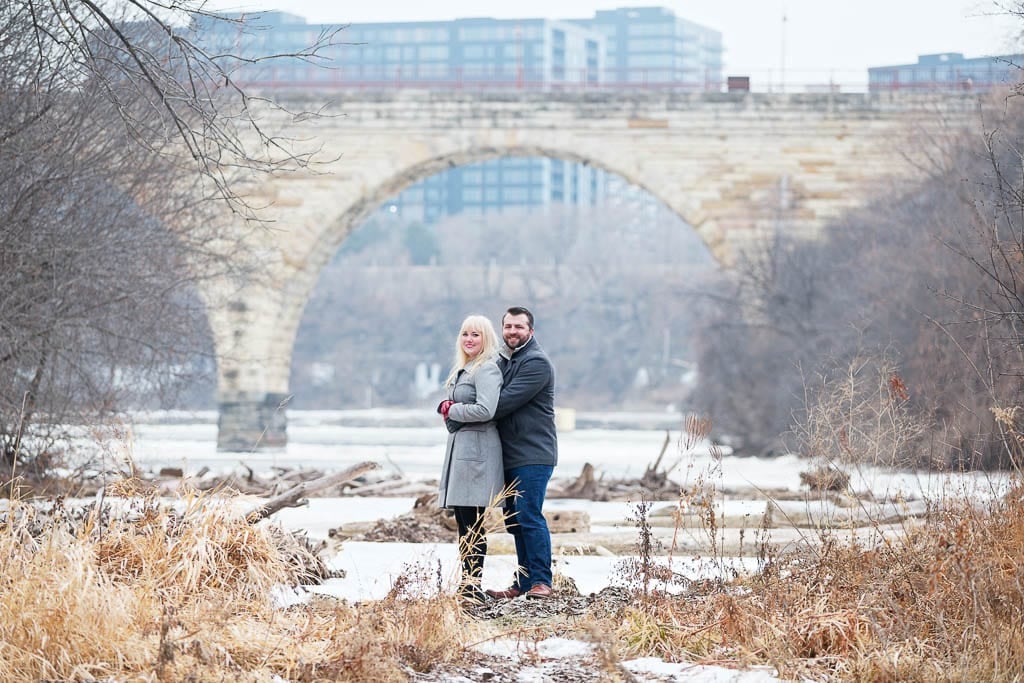 Bridges
A little stone bridge, a charming wood bridge, or even a dock can be a romantic location. You can be standing on it, or include it in the background.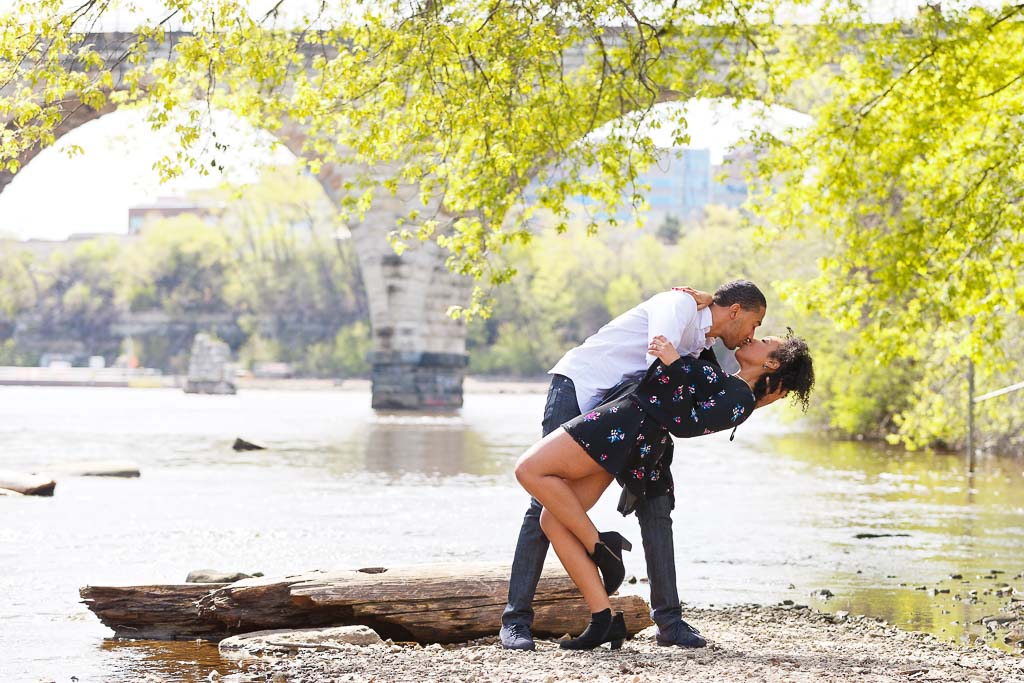 Father Hennepin Bluff Park
Accessibility: Lower trail has many stairs, quite slippery
cost: free
Best time: Morning
Remark: Love the lower trail. Would work in winter. Close to St Anthony's Main area. Check at Jeff & Dinnah photos.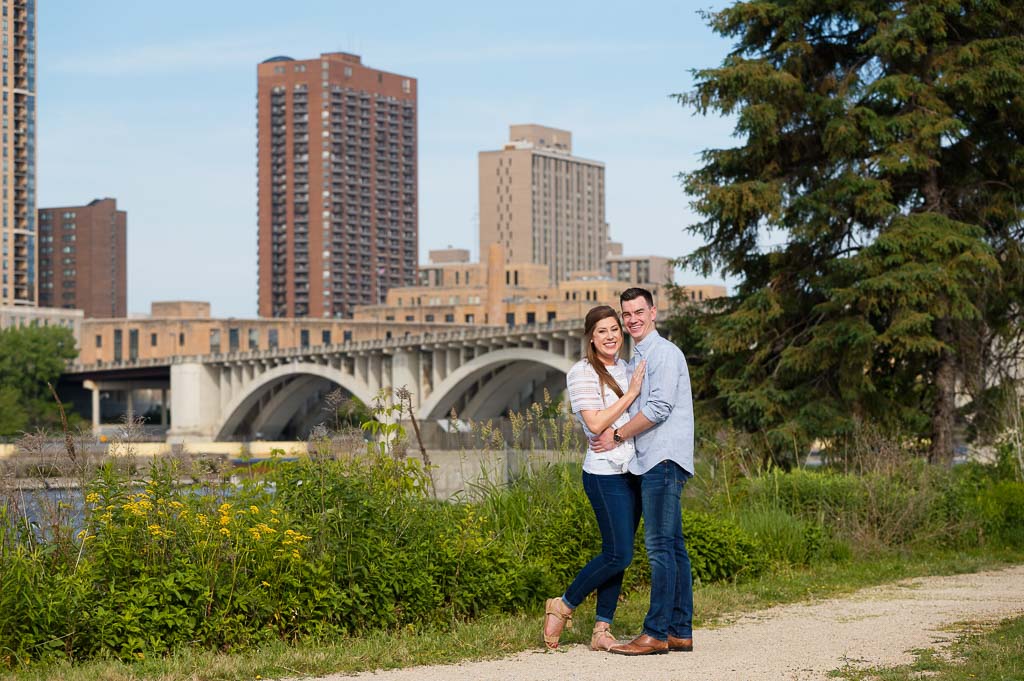 Water Power Park
Accessibility: a few stairs, but not difficult
cost: free
Best time: Sunset
Remark: Pretty Simple and Minimalist. Offer only one good angle. Close to St Anthony's Main area.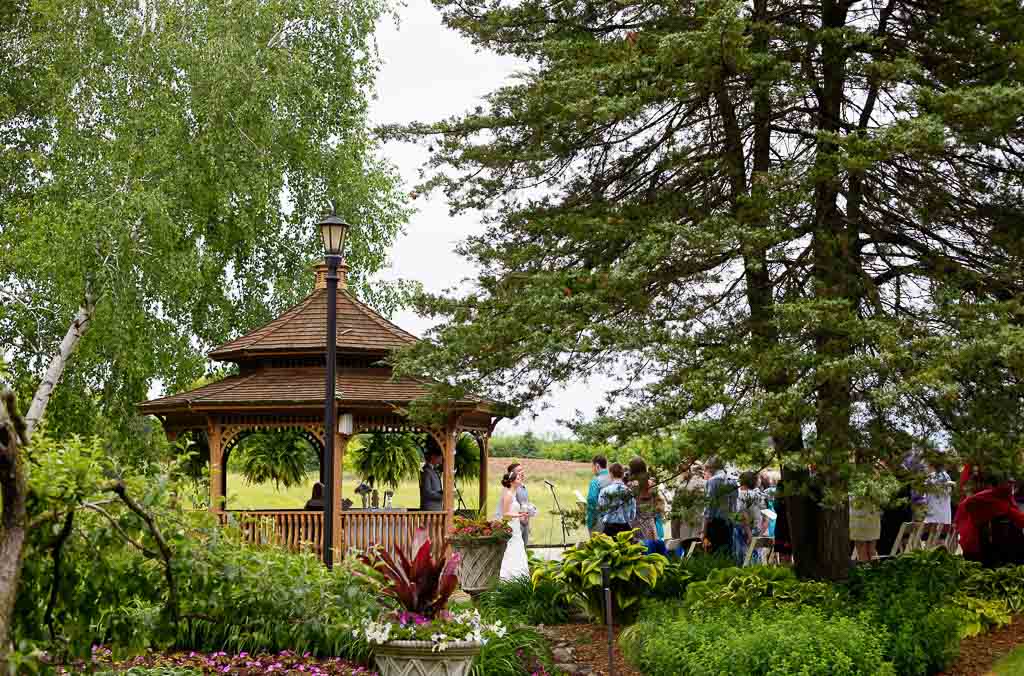 Gazebo, Pergola, amphitheater
You can find them in a lot of location (including public park, houses gardens).
Do you need them? No.
Would they work fine for pictures? If they are well designed, surely, but they are clearly not mandatory.
Sometimes, they bring something more "official" to your rituals. Some religions even include them if the official ritual (for instance: Jewish use a "chuppah").
In other circumstances, their main purpose is to decorate a place that presents a deep lack of soul (public park, garden).
That being said, when they are well made, the result is usually pleasant and photogenic.
It won't make an exhausting list of all the parks that offer such gazebo or pergola.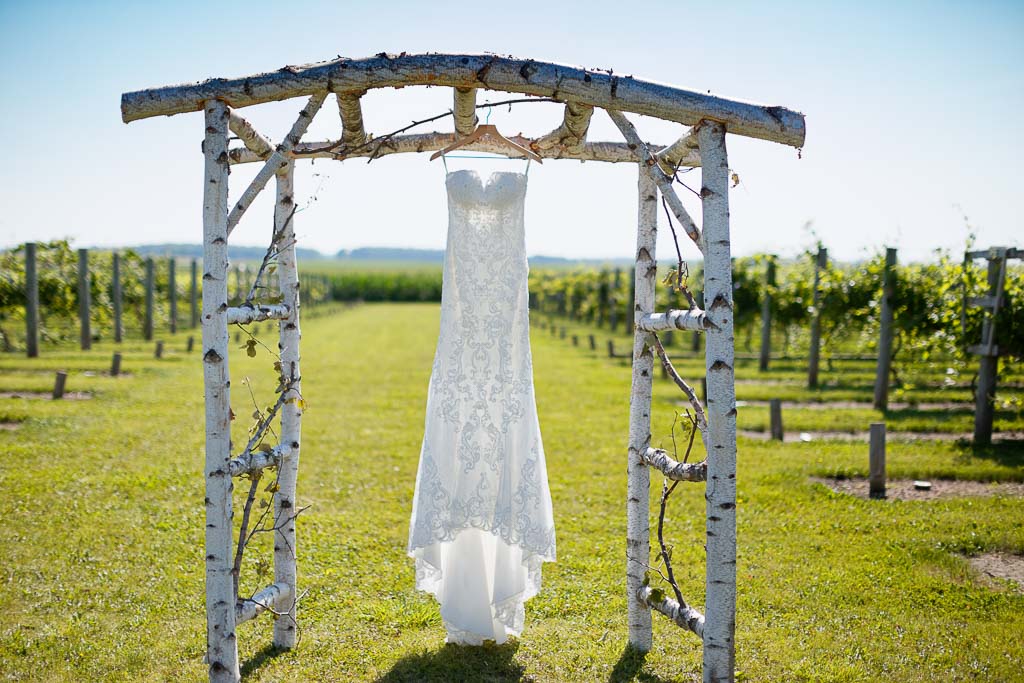 About Arch?
A nice arch can turn a regular (dull) place into an inspiring location. For instance, take a simple river shore, add an arch, you have a wedding venue! That's what Leopold Mississippi Gardens did, for instance.
They really reveal all their potential in 2 circumstances by framing the couple, helping them to pop out of the backdrop:
A flat field: they bring some material in the blue sky, helping the couple to contrast with an empty sky. 
In front of a wall (such as a brick wall).
Can or should you make one yourself? If you are a handy creative woman (or man), or if your best friend is a florist, and you then you might consider building one yourself. They are usually made of wood or copper, but there is no rule. It's pretty simple, but required time and, of course, a bunch of flowers.
One advice if you're starting your own project; think transportation and sun-proof flowers.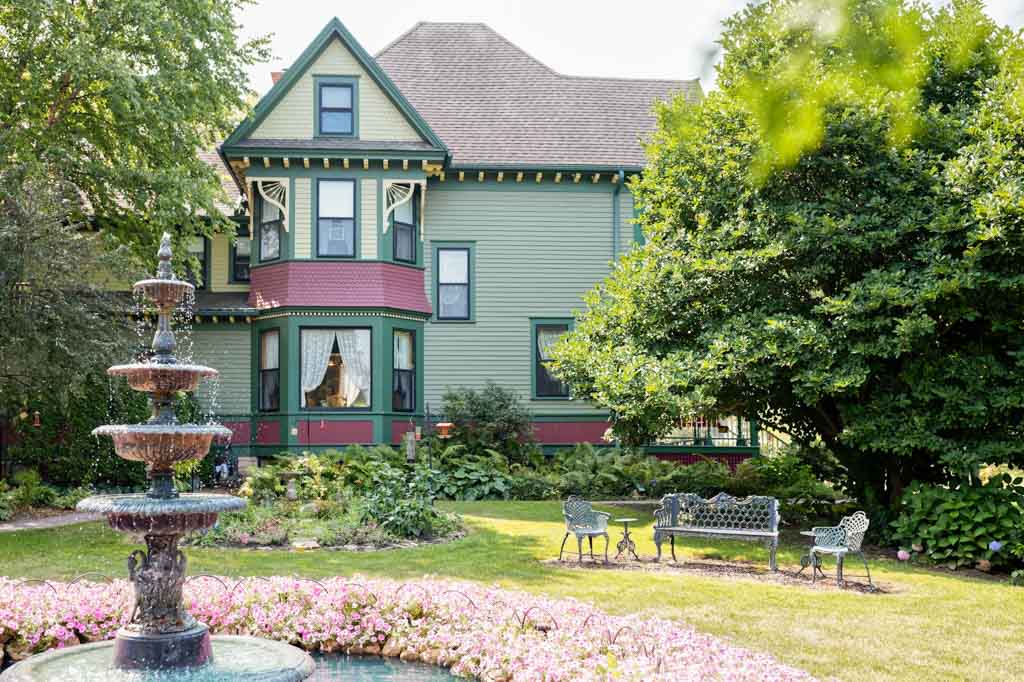 Gardens, Cottages, Arboretums
Of course, beautiful gardens, the result of a landscaper's hard work, is usually perfect for photos. Big and beautiful parks have understood that and usually offer wedding services in exchange for money.
And that's also what has understood wedding venues that don't have any sublime historic house to offer and don't have any astonishing natural place for ceremonies.
Thus they created gardens instead! And that's a smart thing, because nature is always beautiful!
Let think of: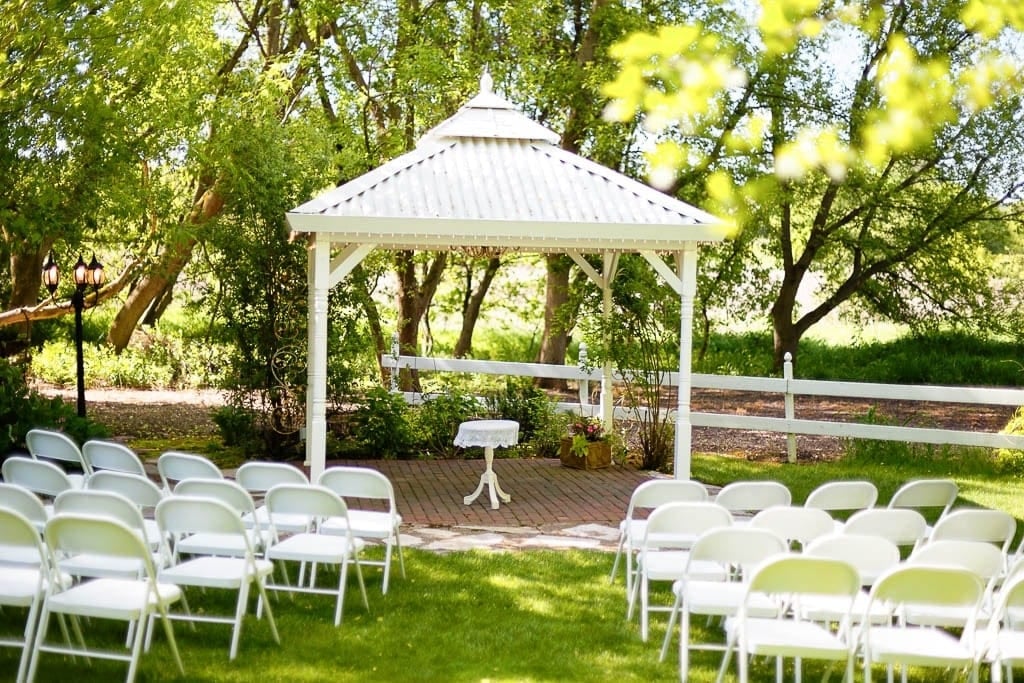 Trellis Outdoor Garden
Accessibility: easy
Cost: yes, garden wedding venue.
Best time: all day
Remark: very nice and it offers bridal suite and groom suite. Check this small wedding.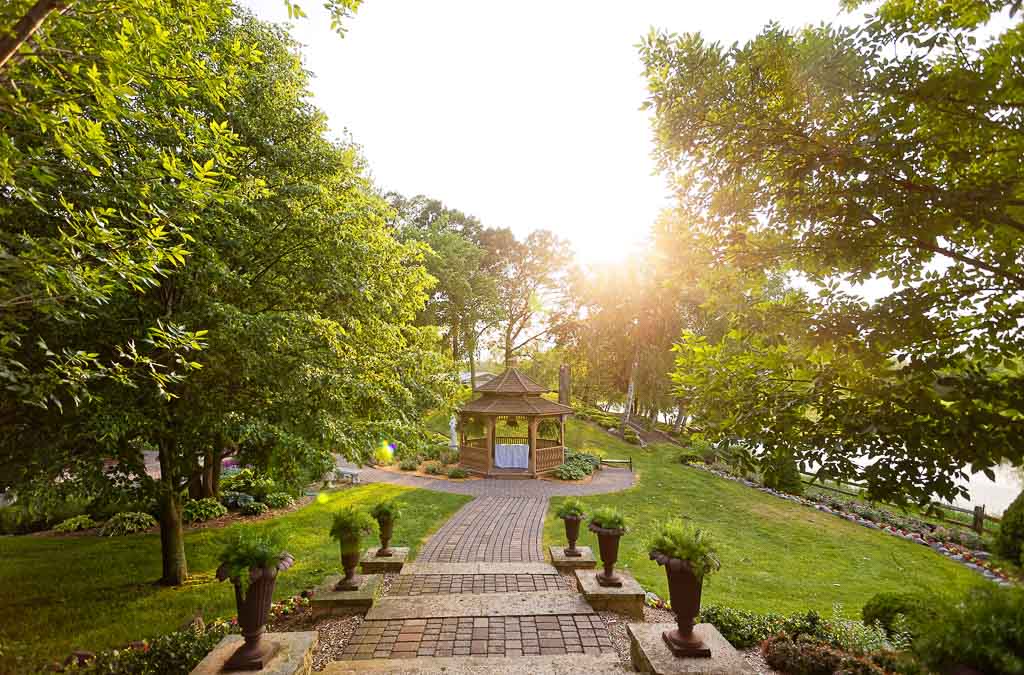 Panola Valley Gardens
Accessibility: easy
Best time: afternoon, end of the day
remark: close to Taylors Falls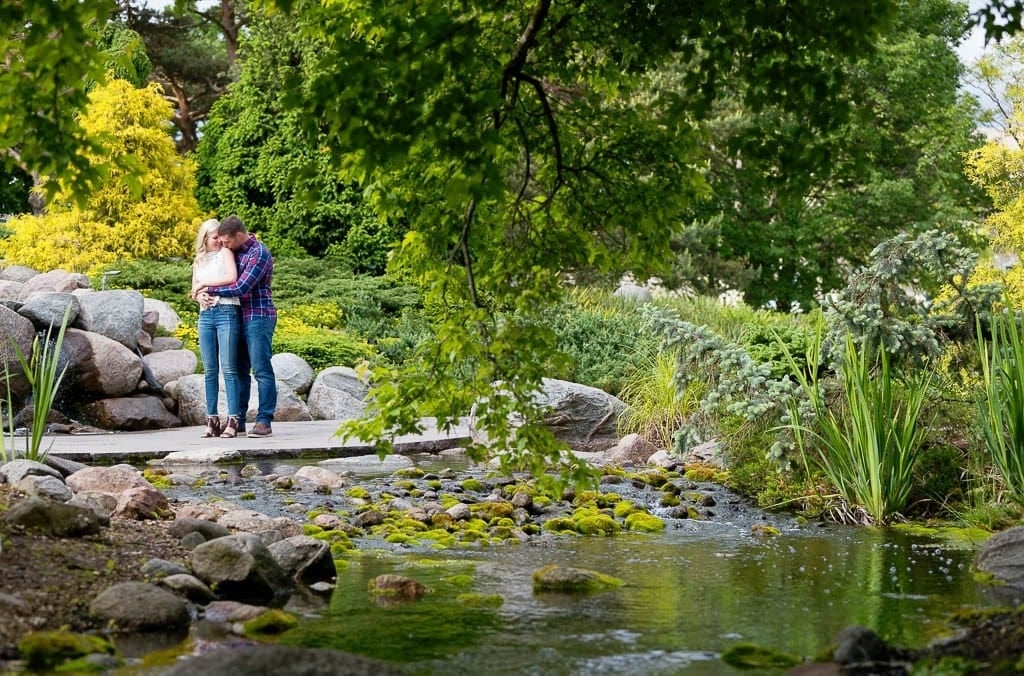 Minnesota Landscape Arboretum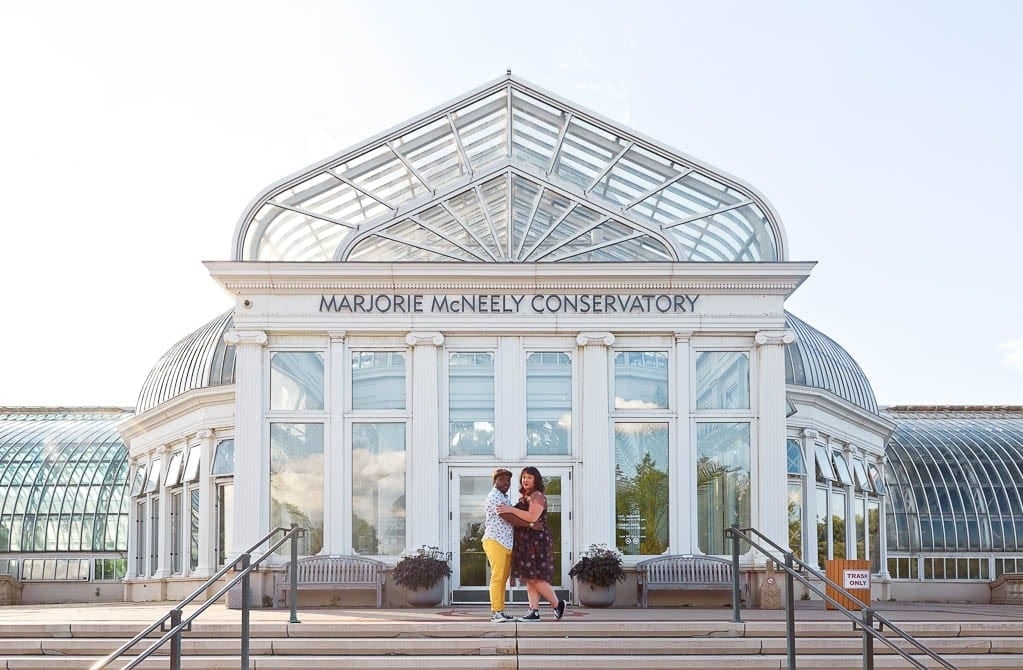 Como Park and Conservatory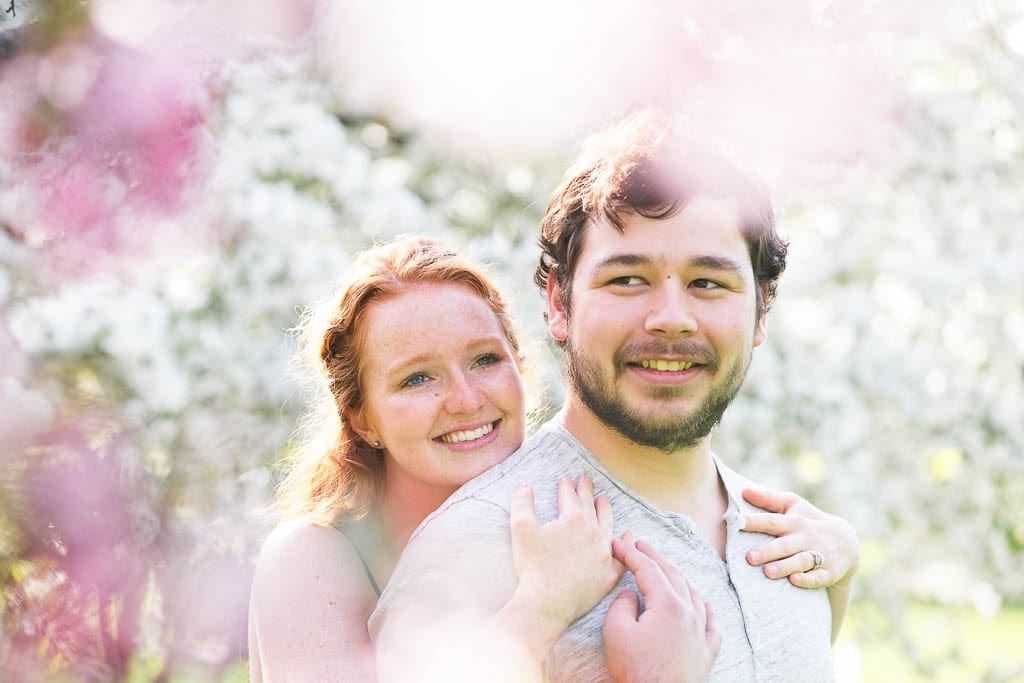 Lyndale Rose Garden
Accessibility: easy
Best time: Afternoon, mid-may
Remark: All the plum tree bloom around Mid-May, and last one to two weeks.
Check at this photo session.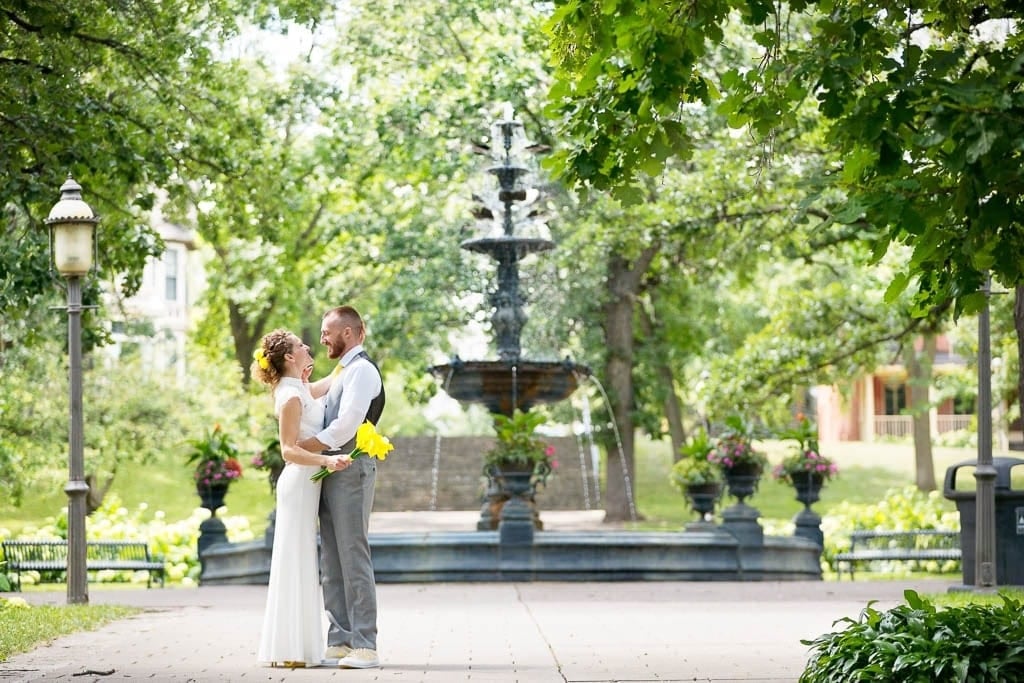 Irvine Park
Other "fancy" parks:
Muriel Sahlin Arboretum
2525 Dale St N, Roseville, MN 55113
It is pretty modern, with a fountain, a pergola.
Longfellow Gardens
3933 E Minnehaha Pkwy, Minneapolis, MN 55417
It features Pergola and trees
Arneson Acres
4711 W 70th St, Edina, MN 55424
It has a large gazebo + large Fontaine + Big alley with flowers bordered by pine trees
Noerenberg Gardens
2854-2992 N Shore Dr, Orono, MN 55356
It offers more than a regular garden. It has a nice Japanese-style gazebo built on the lakeshore and a pergola.
Normandale Japanese Garden
West Lot, 9700 France Ave S, Bloomington, MN 55431
If you like Japanese Style, check at the Minnesota Arboretum and the Como park
The Gardens of Castle Rock
26601 Chippendale Ave, Northfield, MN 55057

Finally, if you need more parks, then you can have a look on this website. It gathers parks all around the State.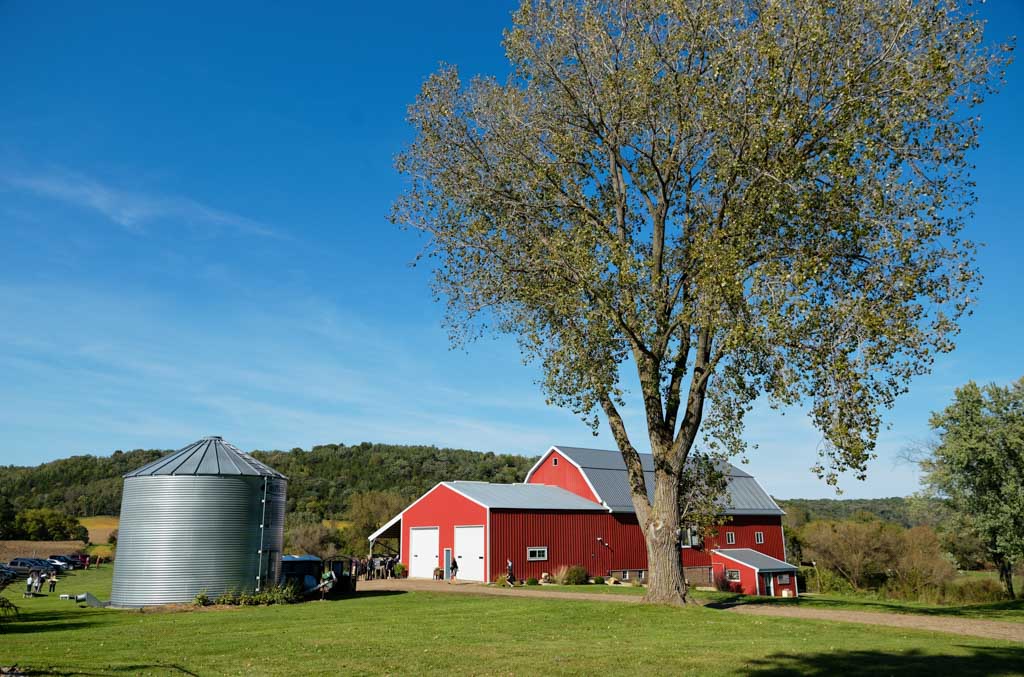 Barns, Farms and Ranchs
Wood barns and farms are photogenic. But it's true that a lot of barns are now offering wedding services at a cost.
If you don't need any reception, you might just use a piece of lawn with a nice tree.
That applies for farms and ranches. Animals are always fun in photography.
If they don't offer event's service, feel free to call them and ask them if it's possible to rent/use a piece of the field for one hour. I am sure that I you are polite they would be pleased to help you.

Check at Nat & Steph's wedding at the Barn.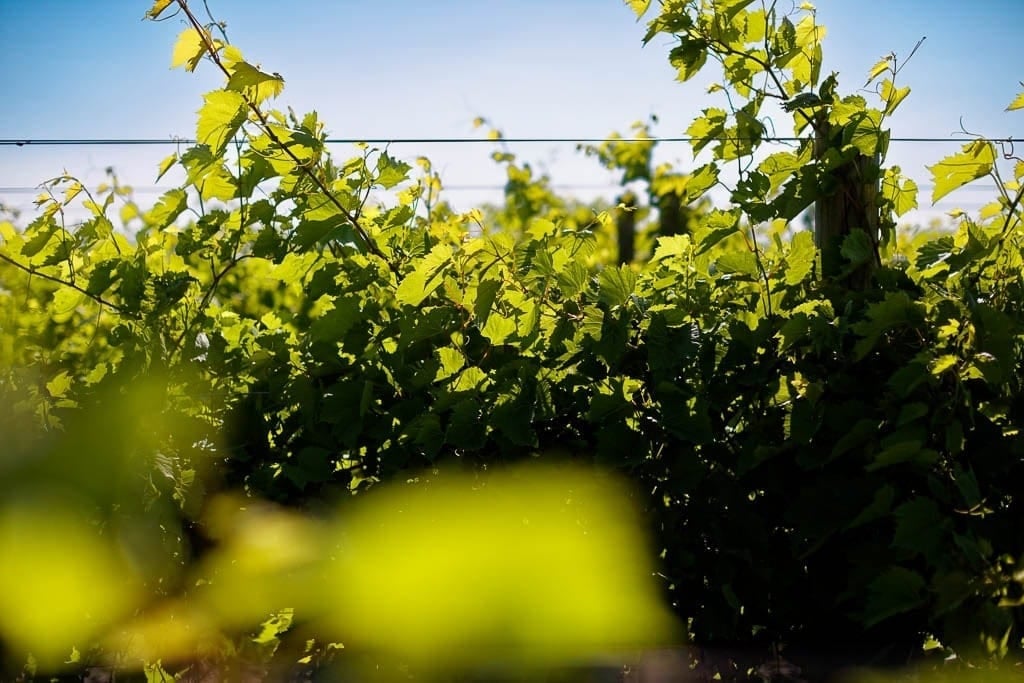 Vineyards, Orchards
Some vineyards and orchards offer restoration services and, in consequence, have developed an entire event alongside their primary business.
Other locations focus only on the core of their production.
But both usually offer a nice background for pictures.
You would probably prefer old locations that have tall trees and tall vines and avoid young fields with small trees.
Check at this amazing wedding at the Four Daughters.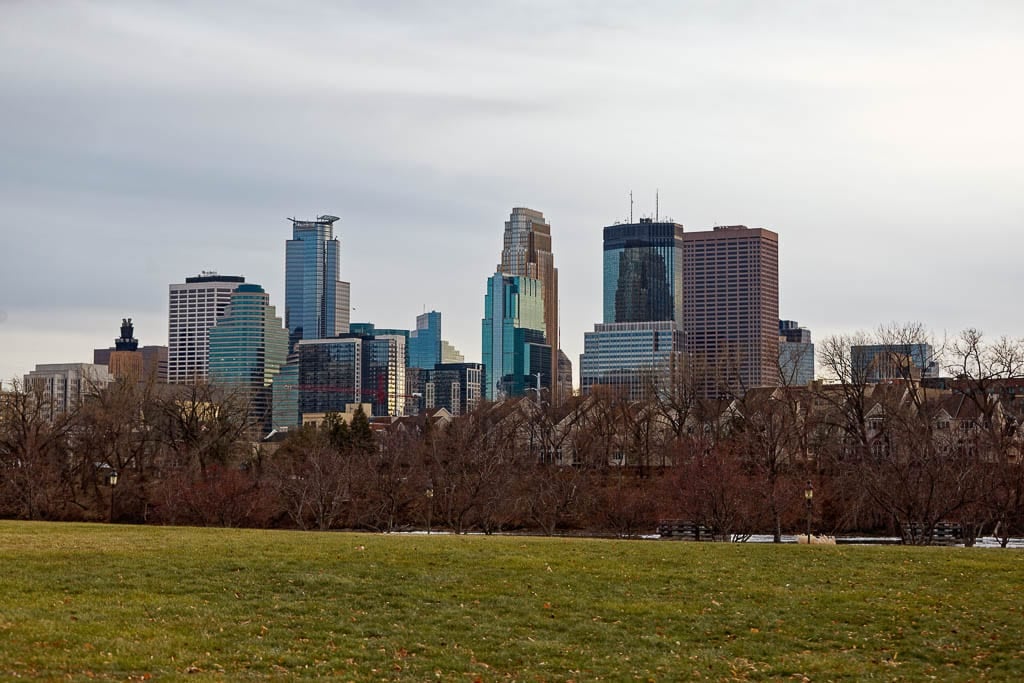 Urban Parks
If you just need some clean lawn and a nice view on the city, find here two parks that should please you.
Let's think of famous parks such: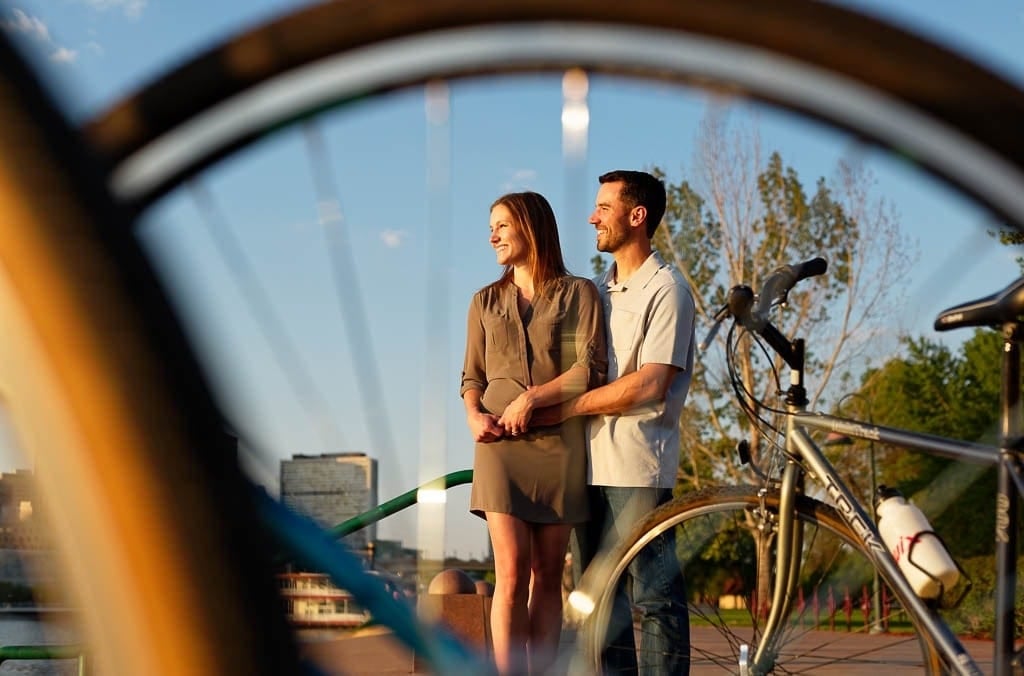 Harriet Island Park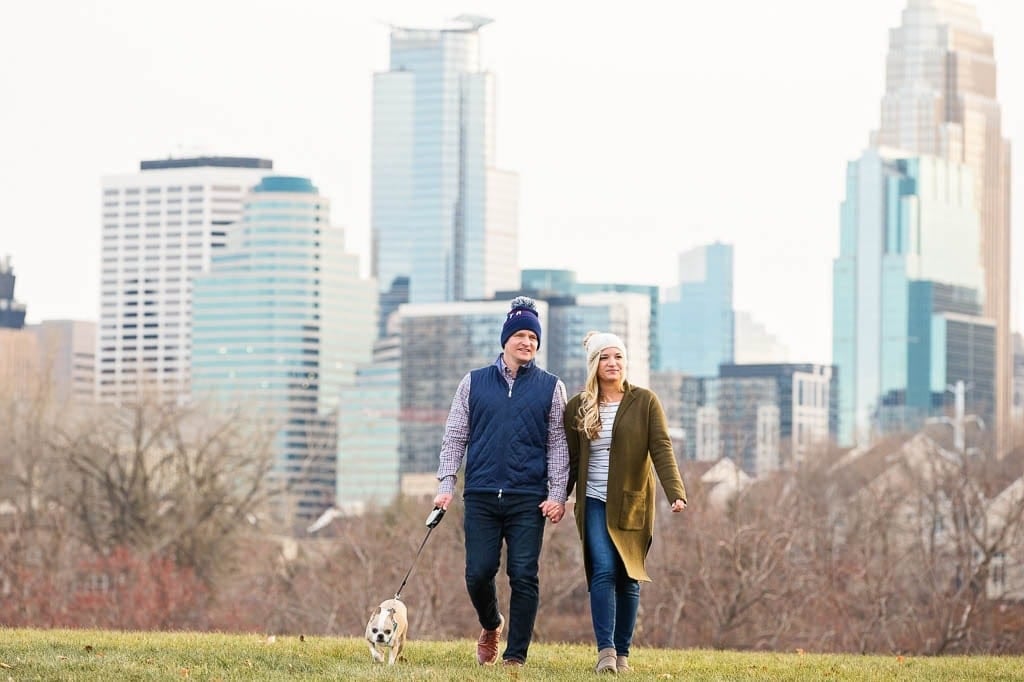 Boom Island
Accessibility: Easy
Cost:
Best time: End of the day
Remark: Close to Anthony Main Street. Check this session.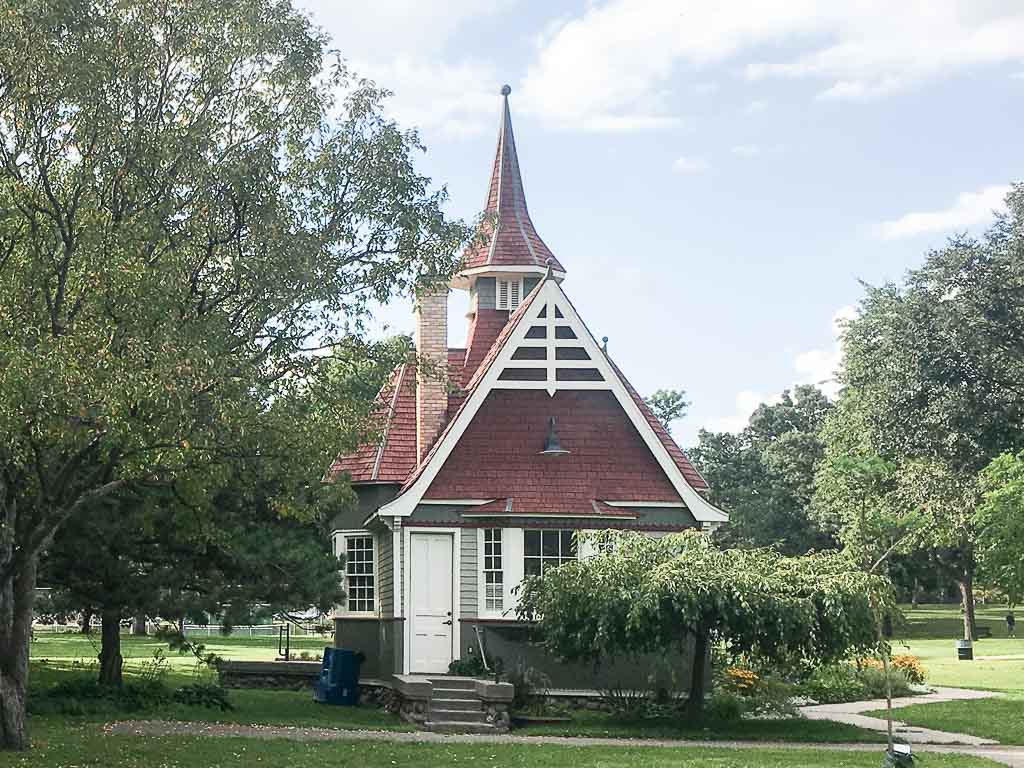 Almost everything old is photogenic.
As a result, the biggest house (manor mansion) is the most expensive wedding venue. Given we focus on intimate wedding, we won't list them here.
But let's take in consideration all the "forgotten" but "remarkable" constructions, heritage of history. It could be a nice wood home, a building, a simple cabin or even little log house.
For the charming little home, Airbnb will be your best friend. For instance, look for Bed and Break first house in Victorian style.
You can check at Emily and Darren who used tow Victorian Houses during their wedding day in Lanesboro.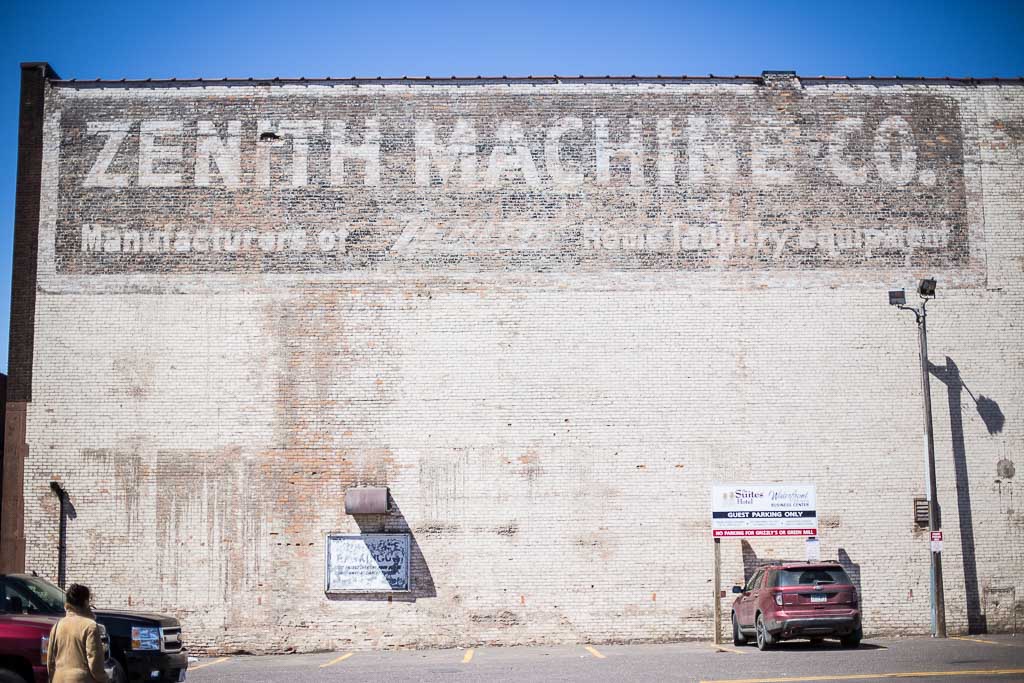 Buildings with red brick work great.
Post-industrial installations and machines are photogenic. That's why you can choose a disaffected building or another post industrial installation. Why not use a train station, for instance?
Let's go deeper. You could rent a vintage a locomotive, vintage bus.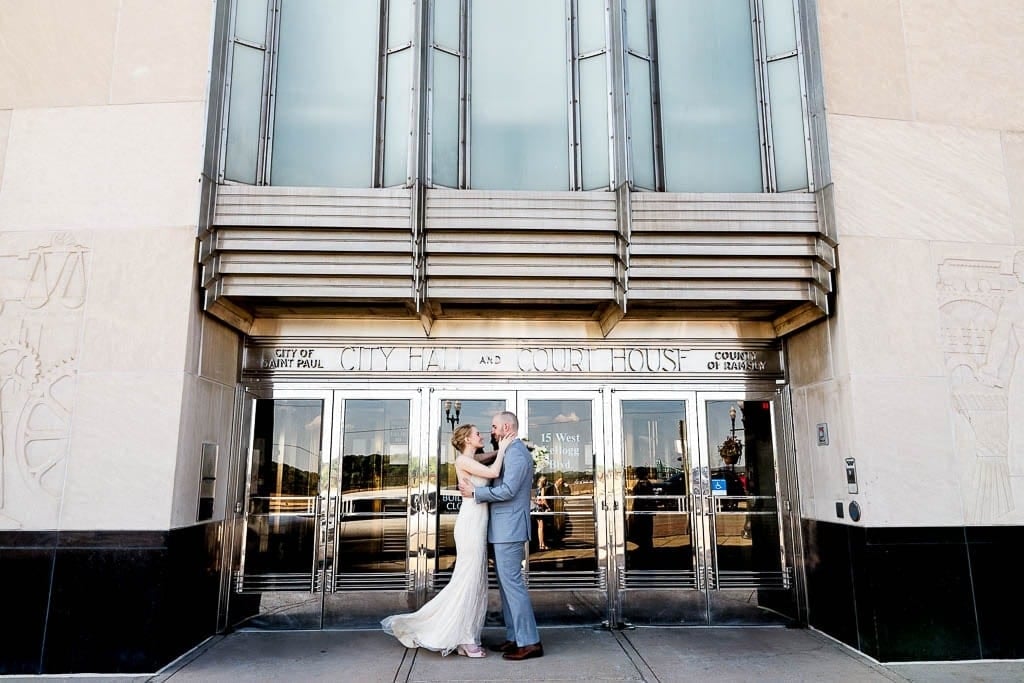 Most couples forget that they can get married at the Courthouse.
That's probably because modern courthouses in little town are usually charmless. But did you know that Saint Paul courthouse and Minneapolis are two photogenic locations?
They would just work great for a mini-ceremony! What's more they are located in the center of the town, which means you can go to a restaurant after that.
Check at Sam & Ben courthouse wedding in St Paul.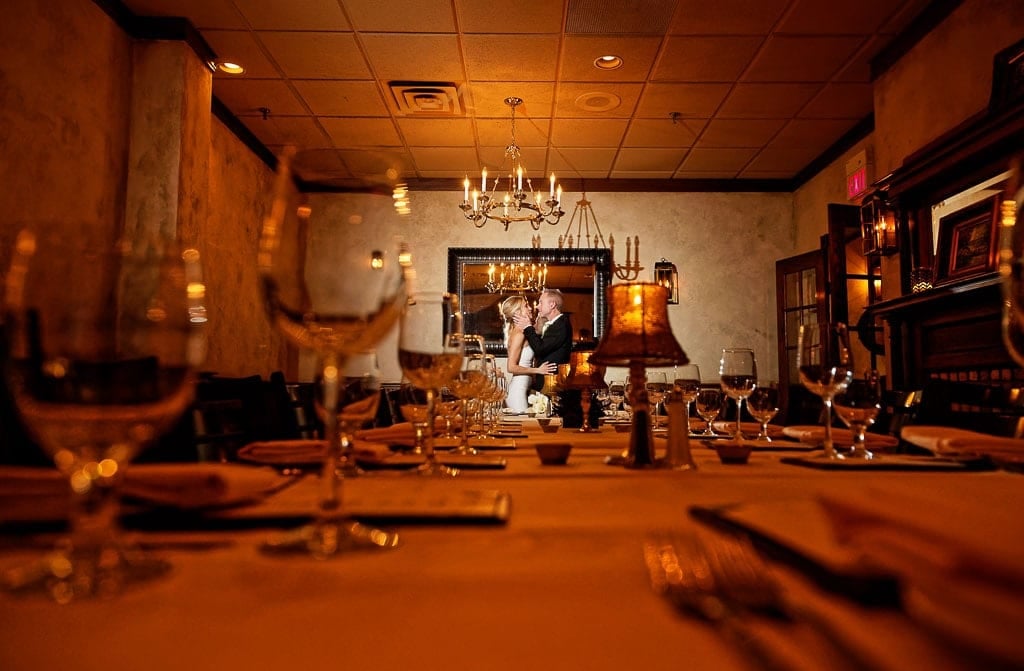 Restaurants
Restaurants are closed by the Stay-at-home Order during the Covid-19 pendemic.
Most people having an intimate ceremony with their immediate family member would go to a restaurant after that.
Some restaurant has a garden, rooftops or immediate park to accommodate a small celebration. Otherwise, for indoor ritual, it's quite easy to move some table a set-up a ceremony spot.
One Obvious advantage compare to outdoor spot, is that they are covered location.
We won't make a long list of restaurants here (you can find plenty on the web). Let just list a few restaurants where we have been and which are charming: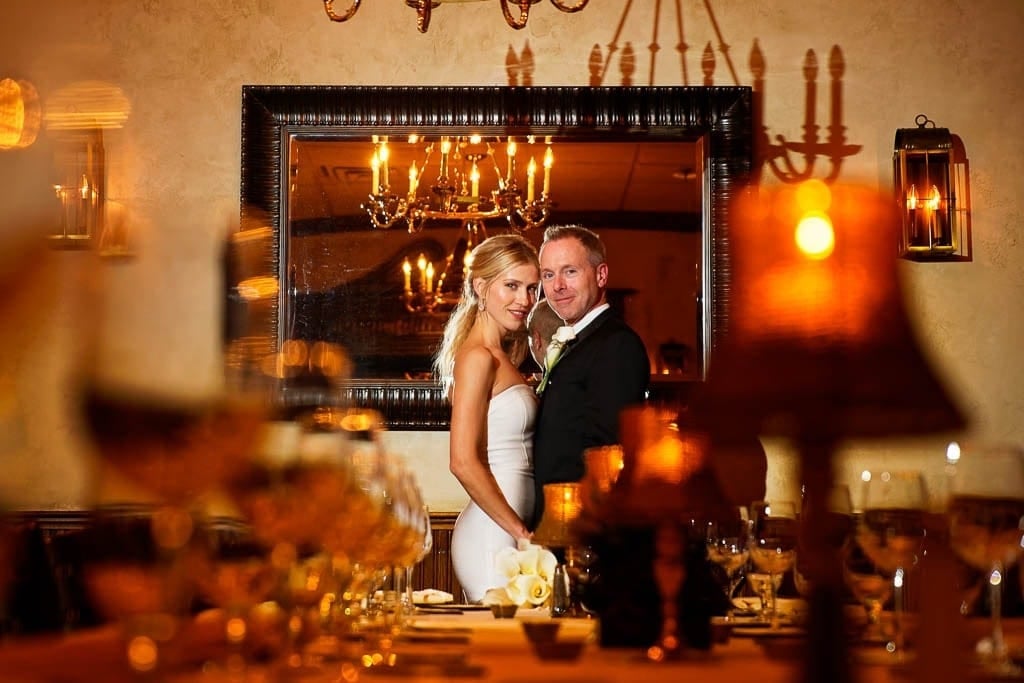 Nicollet Island Inn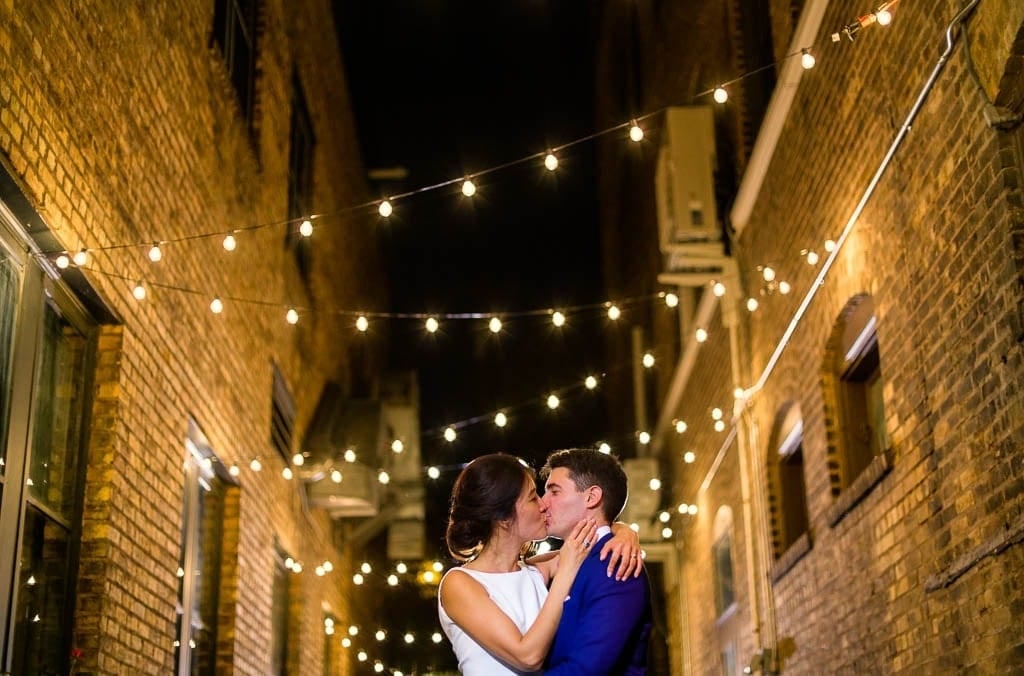 Harriett Brasserie
Accessibility: a few steps
Cost: restaurant
Best time: all year long.
Remark: fusion food. Delicious!
Check at Romain & Julia wedding.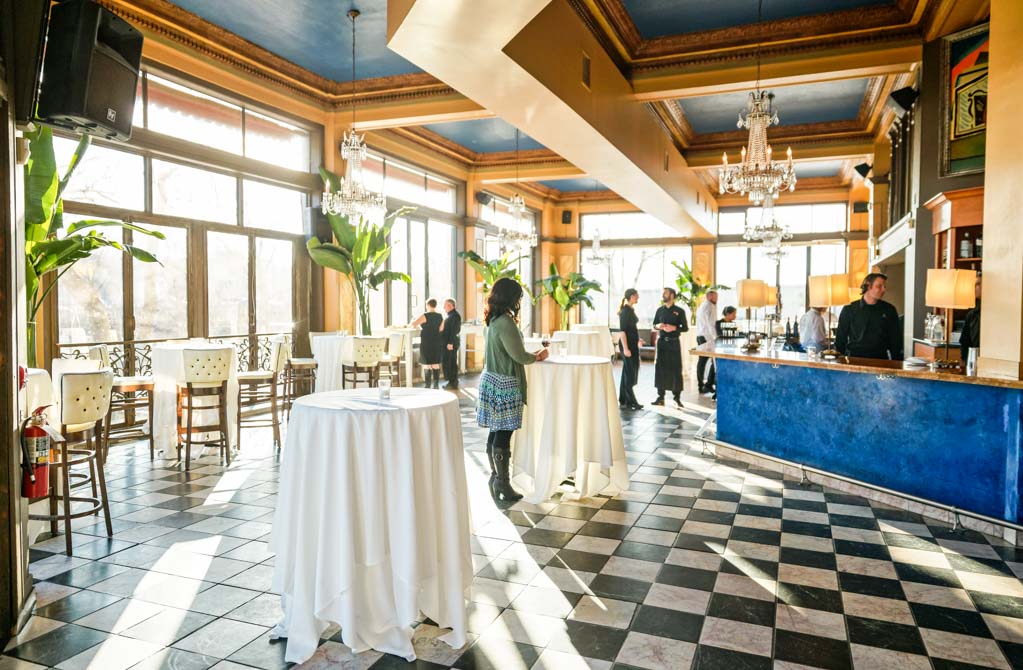 The Lurcat
Accessibility: few steps
cost: restaurant.
Best time: Afternoon to enjoy the sun.
Remark: Host by D'Amico Caterer. Amazing food.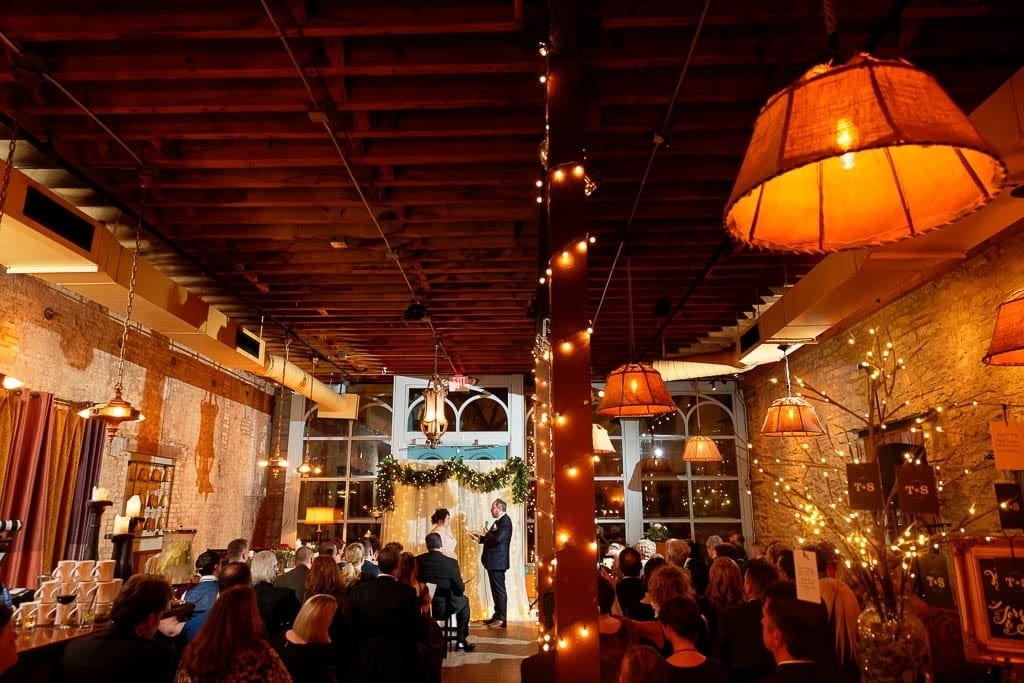 Aster Café
Accessibility: easy
cost: here.
Best time: All year long
Remark: Indoor.
Check at this wedding.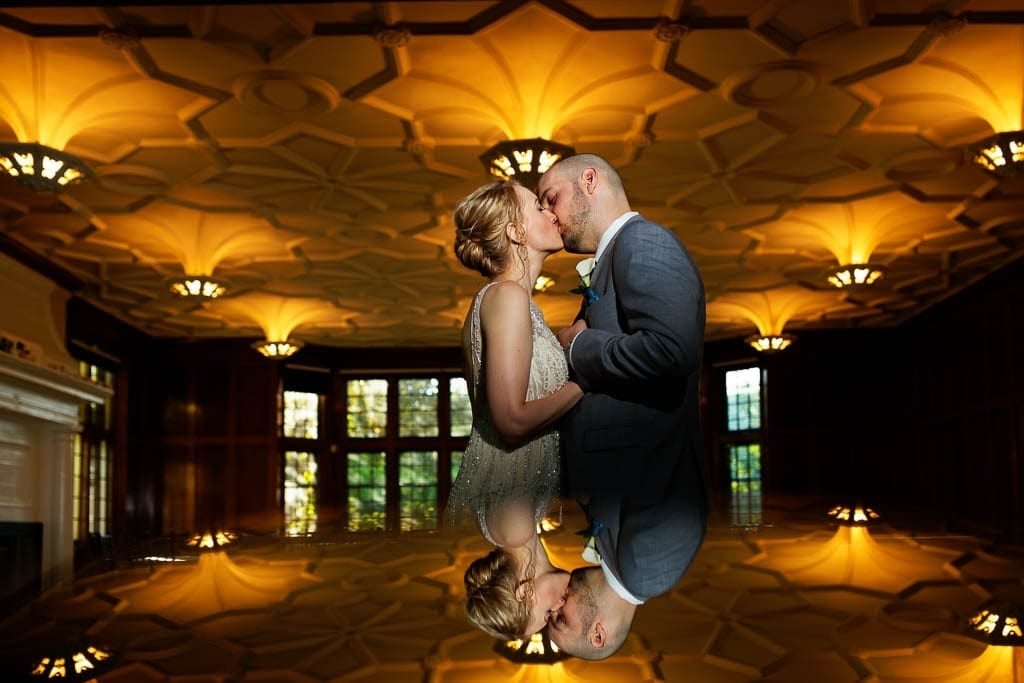 The University Club of Saint Paul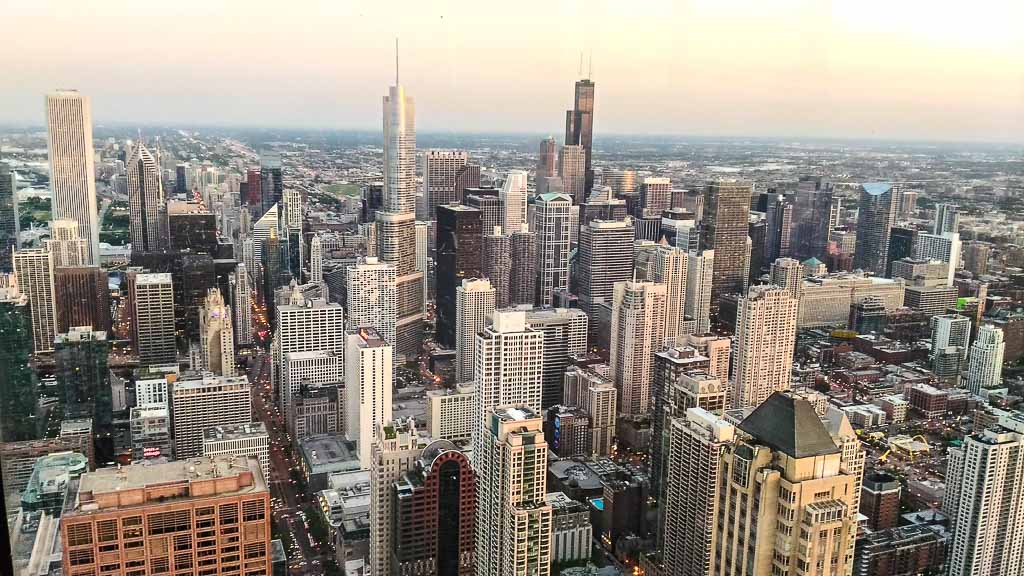 Rooftops
Rooftops is one of our favorite places to shoot pictures, and can also be a perfect location for a ceremony. Nevertheless, all rooftops are not equal and don't offer the same quality.
Check for our entire article on rooftop to lean more.
Add Something More
If elopement means bare necessities for you, then you can stop here.
Conversely, if you want to add extra glitter to this moment, here is a list of things that are easy to set up.

Before the ceremony:
music: bring a portative speaker on batteries.
Alley: you can easily create a rose petal alley.
Or if you are brave, roll out a red carpet!
Smokes bomb alley: Some would even light a few smoke bombs on the grounds.

During the ceremony:
Alternative ritual: If you want to make it different, you can add an alternative ceremony. Check on the internet, there are tons of ideas (sand, ribbons, etc.).
Candles: if you are planning to get married at the sunset, you can light one hundred candles in your background.

After the ceremony:
If you have some guests, they might have fun throwing a few petals on you, or rice, or even soap bubbles.
Sparklers: If your ceremony ends at dusk, you can have fun with sparklers.
Think out of the Box
Finally, you can also be creative and use the opportunity for a kind of ceremony that won't be possible otherwise!
The options are endless. You can include them or hobby that you like.
get married on board of an air balloon
make it official at small airport, in a marina, or why not in front of your job (if you really like it)
travel to national parks or to other cities in the world —as far as it's permitted— (such as Paris)
tie the knot under the water
get married standing on a canoe, paddle boat